Britain Reacts
Jim Burroway
February 24th, 2014
The British Foreign Ministry has issued this statement in reaction to Uganda's enacting the Anti-Homosexuality Bill:
On 24 February 2014 William Hague said:

I am deeply saddened and disappointed that the Anti-Homosexuality Bill in Uganda has been signed into law. The UK strongly opposes all discrimination on any grounds. We question the Bill's compatibility with Uganda's constitution and international treaty obligations. There can be no doubt that this Bill will increase persecution and discrimination of Ugandans, as well as damage Uganda's reputation internationally.

We ask the Government of Uganda to protect all its citizens and encourage tolerance, equality and respect. We will continue to press the Government of Uganda to defend human rights for all, without discrimination on any grounds.
In 2011, British Prime Minister David Cameron warned  Uganda that countries which persecute gay people will find their foreign aid budget cut.
Ugandan LGBT Activists React
Jim Burroway
February 24th, 2014
Frank Mugisha is the executive director of Sexual Minorities Uganda:
Pepe Julian Onziema changed his Twitter name to IAMGoingNowhere:
Kasha Jacqueline heads Freedom and Roam Uganda:
Before He Signed the Anti-Homosexuality Bill…
Jim Burroway
February 24th, 2014
…President Yoweri Museveni was opening a school and already making political hay.
Tucson Pizzeria Refuses Service to Arizona Lawmakers
Jim Burroway
February 21st, 2014
In the wake of Arizona's legislators' enacting a special-right-to-discriminate law for religious people, Tucson's Rocco's Little Chicago Pizza has posted a sign on its front door reading, "We reserve the right to refuse service to Arizona Legislators." Rocco's has received an outpouring of support on Facebook:
Hey, just want to say that all we want to do is cook you some dinner. Not trying to be anything but your neighborhood pizzeria. Thanks for the support!
Also, this:
Same Sex Marriages To Begin in Chicago Tomorrow
Jim Burroway
February 21st, 2014
A Federal judge in Chicago rulled today that same-sex couples don't have to wait until Illinois's marriage equality law goes into effect in June to get married:
There is no reason to delay further when no opposition has been presented to this Court and committed gay and lesbian couples have already suffered from the denial of their fundamental right to marry," U.S. District Judge Sharon Johnson Coleman said in her ruling.

…Cook County Clerk David Orr said his office will issue licenses immediately at the downtown office, and couples can get married as soon as Saturday.
Because the Cook County Clerk's office was the named defendant in the class action lawsuit, the decision applies only to Cook County.
Update: The Cook County Clerk's office has announced that they will stay open late for an extra two hours until 7:00 p.m. tonight. The announcement also quotes County Clerk David Orr: "I'm thrilled same-sex couples who want to get married won't have to wait any longer. We are very excited to celebrate this historic milestone with every loving couple from today onward."
LGBT Advocate Won't Be Deported To Uganda
Jim Burroway
February 20th, 2014
The South Africa-based Coalition of African Lesbians has posted on its Facebook page that South African immigration authorities have released LGBT/AIDS activist Dr. Paul Semugoma from custody and will not deport him back to Uganda. What's more, CAR says that he now has a work permit which will allow him to remain in South Africa indefinitely.
Longtime BTB readers may remember him as the formerly-anonymous blogger GayUganda. He formally revealed his identity at the 2012 International AIDS Conference in Washington, D.C., where he spoke passionately about the  challenges of confronting HIV/AIDS in a country where rampant homophobia makes it dangerous for LGBT people to disclose themselves to their doctors.
By then, he had already moved to South Africa where he had applied for residency. Yesterday, we learned that Semugoma had been detained by South African immigration authorities and was being held at OR Tambo Airport and pressured to board a flight to Uganda. He was detained as he was returning from a meeting in Zimbabwe.
If he had been forcibly returned to Uganda, he would have become dangerously subject to that nation's Anti-Homosexuality Bill. The bill will not only further criminalize homosexuality with life imprisonment, but will also criminalize providing services to LGBT people or engaging in any advocacy on their behalf. This will make Dr. Semugoma a three-times criminal: he's gay, he's a doctor providing health care to LGBT people, and he's an advocate.
Peter LaBarbera and Scott Lively Are Getting Hitched
Jim Burroway
February 20th, 2014
They're joining forces to form a new anti-gay organization:
A press conference will be held to announce the formation of a new organization, the Coalition for Family Values, whose purpose is to unify and coordinate pro-family groups around the United States and the world to more effectively oppose the now-global LGBT agenda.

Press Conference Details

When: Friday, February 21, 10:00 a.m.

Where:
National Press Club,
Zenger Room,
529 14th Street N.W.,
Washington, DC

The coalition is being organized by Dr. Scott Lively of Defend the Family International, based in Springfield, Massachusetts, and Peter LaBarbera of Americans for Truth About Homosexuality (AFTAH), based outside Chicago, Illinois — with the assistance of other existing pro-family groups and leaders in the United States and abroad.

The first action of the coalition will be to issue a statement of support for the Russian pro-family laws of 2013 and 2014 — e.g., the prohibition of pro-homosexual propaganda to minors — and to urge other nations of the world to follow the Russian example.
This is the first instance I've noticed where Lively has appended the word "International" to the name of his outfit.
Ugandan TV: Canada Threatens to Cut Ties
Jim Burroway
February 19th, 2014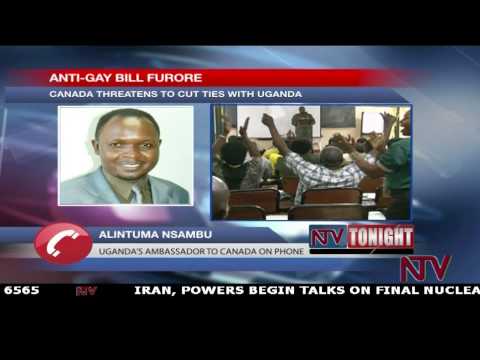 The Canadian government has threatened to cut diplomatic ties with Uganda if the Anti Homosexuality bill is signed into law. Ugandan Ambassador Alintuma Nsambu says he was summoned on Monday by the Canadian Foreign Affairs Minister to explain why Canada should not take that step. Nsambu says if signed, several western countries could isolate Uganda.
Ugandan Press Secretary: Museveni "Cannot Be Intimidated"
Jim Burroway
February 18th, 2014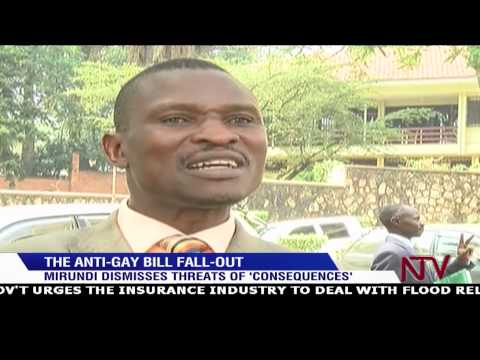 In the above clip from NTV Uganda, President Yoweri Museveni's press secretary Tamale Mirundi responds to US President Barack Obama's statement blasting Museveni for agreeing to sign the Anti-Homosexuality Bill. Mirundi tells reporters that Museveni "cannot be intimidated." On the question of foreign aid, Mirundi said, "we can do without that aid."
Ukraine Poised to Follow Russia's Anti-Gay Example
Jim Burroway
February 17th, 2014
There's a larger debate right now taking place in Ukraine over the question of the country's future direction: will they look to the West or Russia. That larger debate, of course, isn't settled, as the country continues to be rocked by protests against the pro-Russian government. While that is going on, LGBT activists in Ukraine sound the warning that the nation's Parliament will consider six draft laws regarding homosexuality, with many of those proposals sounding eerily similar to those already adopted in Russia:
In particular, the last phase of passing the Draft Law No.0945 (former 8711) entitled "On the Introduction of Changes to Certain Legislative Acts of Ukraine (regarding the protection of the right of children to a safe information environment)" will be soon held. It will include the presentation of profile Committee on Freedom of Speech and Information, headed by Mykola Tomenko, on withdrawal of this draft law from further consideration.

The Draft Law No.1155 entitled "On the Prohibition of Propaganda of Homosexuality Aimed at Children" of authorship by Vadym Kolesnichenko is also ready for discussion. This draft law could easily be adopted in the first reading. In any way this is exactly what was suggested for consideration of the Parliament within the draft resolution introduced by the profile Committee on Legislative Support of Law Enforcement, headed by Andriy Kozhemyakin.

It is also planned to conduct the last phase of passing the Draft Law No.2133 entitled "On amendments to some legislative acts (about non-admittance of adoption of Ukrainian citizens by individuals who are in same-sex marriages)", introduced by MPs from Svoboda Party Igor Miroshnichenko and Alexander Mirny. Profile Committee on Family Affairs considers it necessary to undergo the draft law for follow-up revision
Gay-Alliance Ukraine says that additional legislation is being proposed to remove sexual orientation from the country's anti-discrimination laws. Those laws had been passed by the previous government of ex-Prime Minister Mykola Azarov. Another draft resolution would withdraw Ukraine from prior agreements with the European Union dealing with "implementing legalization of same-sex relationships," despite the fact that the agreements currently do not address same-sex relationships.
Video: "We Shall Have a War With the Homosexual Lobby of the World"
Jim Burroway
February 16th, 2014
Uganda's NTV has posted video of President Yoweri Museveni's announcement that he will sign the Anti-Homosexualty Bill at his ruling party caucus this weekend in Kyankwanzi.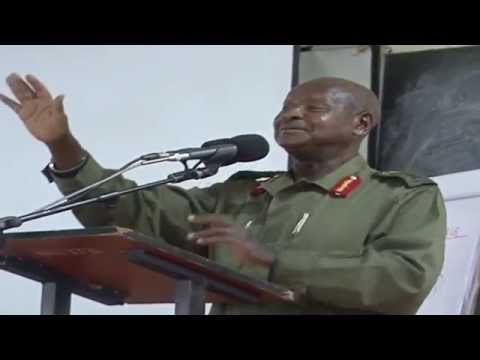 There's more in this broadcast of the program NTV at ONE. Skip ahead to the 25:39 mark:
Obama: Anti-Homosexuality Bill "Will Complicate Our Valued Relationship With Uganda"
Jim Burroway
February 16th, 2014
The WHite House has issued this statement by President Barack Obama on Uganda's pending adoption of the Anti-Homosexuality Bill:
As a country and a people, the United States has consistently stood for the protection of fundamental freedoms and universal human rights. We believe that people everywhere should be treated equally, with dignity and respect, and that they should have the opportunity to reach their fullest potential, no matter who they are or whom they love.

That is why I am so deeply disappointed that Uganda will shortly enact legislation that would criminalize homosexuality. The Anti-Homosexuality Bill in Uganda, once law, will be more than an affront and a danger to the gay community in Uganda. It will be a step backward for all Ugandans and reflect poorly on Uganda's commitment to protecting the human rights of its people. It also will mark a serious setback for all those around the world who share a commitment to freedom, justice and equal rights.

As we have conveyed to President Museveni, enacting this legislation will complicate our valued relationship with Uganda. At a time when, tragically, we are seeing an increase in reports of violence and harassment targeting members of the LGBT community from Russia to Nigeria, I salute all those in Uganda and around the world who remain committed to respecting the human rights and fundamental human dignity of all persons.
Uganda TV Airs MPs' Reactions to Museveni's Promise to Sign Anti-Homosexuality Bill
Jim Burroway
February 15th, 2014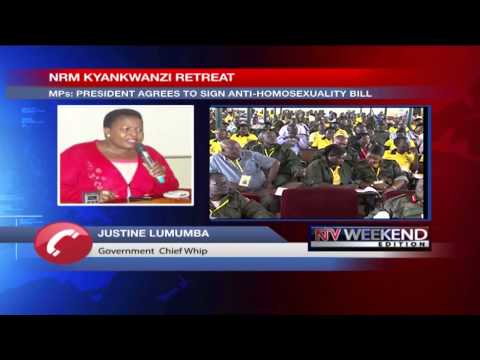 Reactions include that from M.P. David Bahati, who sponsored the legislation in Parliament.
Well, the scientists' conclusion is very clear that homosexuality is not a disease, that it is not an abnormality, there is no definitive … gene that is responsible for homosexuality.
You can read the "scientists' conclusion" here.
Inconvenient Scripture
Timothy Kincaid
February 14th, 2014
In something out of Kansas called The Rolla Daily News, Jim Brock rants about the proposed pro-discrimination bill. He doesn't think it's very Christian:
I guess some members of the Kansas House never read Matthew 25:40-45: "The King will reply, 'Truly I tell you, whatever you did for one of the least of these brothers and sisters of mine, you did for me.' Then he will say to those on his left, 'Depart from me, you who are cursed, into the eternal fire prepared for the devil and his angels. For I was hungry and you gave me nothing to eat, I was thirsty and you gave me nothing to drink, I was a stranger and you did not invite me in, I needed clothes and you did not clothe me, I was sick and in prison and you did not look after me.' They also will answer, 'Lord, when did we see you hungry or thirsty or a stranger or needing clothes or sick or in prison, and did not help you?' He will reply, 'Truly I tell you, whatever you did not do for one of the least of these, you did not do for me.'"

The holy words of Bible can be so inconvenient, especially when they don't come from Exodus or Leviticus.
Uganda President Supports Changing the Constitution to Scrap Bail for Sodomy
Jim Burroway
February 14th, 2014
On the heels of reports that Uganda President Yoweri Museveni intends to sign the Anti-Homosexuality Bill into law comes more distressing news that Museveni also supports a change to the Uganda Constitution to allow holding people suspected of breaking that nation's antiquated anti-sodomy laws in jail without bail:
The ruling party majority yesterday resolved to back President Museveni's proposal to deny bail for sodomy suspects, defilers and rapists and tasked Ministry of Justice to expedite the process of amending the Constitution to that effect.

Mr Museveni, in a renewed call for the scrapping of the bail window for suspects in capital offences, told the NRM Caucus retreat in Kyankwanzi that the status-quo is encouraging crime in the country.

While corruption is not part of President's list of targeted offences, sources told the Daily Monitor that "sodomy" was included at the behest of MPs who told their party leader that it has become such an "insidious" problem in the country.

…Caucus spokesperson Evelyn Anite confirmed the latest developments to the Daily Monitor that the Ministry of Justice was tasked to kick-start the process amid cheers from the ruling party members. "The President had proposed that bail must be denied to those who rape and defile others and MPs amended it to include those that sodomise others. The proposal was overwhelmingly supported," said Ms Anite.
It would appear that Museveni is angling to out-populist the populist Parliament Speaker Rebecca Kadagga, an early supporter of the Anti-Homosexuality Bill who shepherded it through Parliament last December. She is reported to have ambitions for Museveni's job in 2016.
Another Genetic Link?
Jim Burroway
February 14th, 2014
That's what a new study from Chicago suggests:
A region of the X chromosome called Xq28 had some impact on men's sexual behaviour – though scientists have no idea which of the many genes in the region are involved, nor how many lie elsewhere in the genome.

Another stretch of DNA on chromosome 8 also played a role in male sexual orientation – though again the precise mechanism is unclear.

Researchers have speculated in the past that genes linked to homosexuality in men may have survived evolution because they happened to make women who carried them more fertile. This may be the case for genes in the Xq28 region, as the X chromosome is passed down to men exclusively from their mothers.
Michael Bailey, of Northwest University in Chicago, presented his findings at a meeting of the of the American Association for the Advancement of Science yesterday in Chicago. Bailey's findings have yet to be published. Earlier research by Dean Hamer in 1993 also found that 33 out of 40 gay brothers had inherited similar genetic markers on the Xq28 region of the X chromosome.
The data however suggests that this may not explain homosexuality in all gay men. Some may inherit these markers, while others may be gay due to other factors, including potentially other biological factors such as pre-natal hormones. The data also suggests that even for those who do inherit these markers, genetics is likely not the sole influence on sexuality. For example, identical twins are not carbon copies of each other. For example, they still have unique fingerprints, irises, mole patterns, and many other differences.
Wyoming House votes down a marriage bill
Timothy Kincaid
February 13th, 2014
From SFGate
The Wyoming House has defeated a bill that would have changed state law to allow same-sex marriages.

Democratic Rep. Cathy Connolly of Laramie sponsored the bill. It would have removed the state's current legal specification that marriage is a civil contract between a man and a woman.

The House voted 41-to-17 against the bill on Thursday.
I don't think anyone expected this bill to pass. What's interesting, however, is that the Wyoming House has 52 Republicans and 8 Democrats. Which means that a marriage equality bill in Wyoming got the support of 9 Republicans.
And that is a sign of progress.
Professional heterosexual Jeff Johnston takes non-Biblical position on Facebook gender options
Daniel Gonzales
February 13th, 2014
Facebook has updated their site to allow users to select options for their gender beyond "male" and "female."  In a surprise to no one Focus On The Family is worked up about this and trotted out their resident ex-gay-for-pay Jeff Johnston to provide quotes for an AP story:
"Of course Facebook is entitled to manage its wildly popular site as it sees fit, but here is the bottom line: It's impossible to deny the biological reality that humanity is divided into two halves – male and female," Johnston told the AP.
Except the Bible makes repeated reference to eunuchs* in both the Old and New Testaments.  Which gender box would Johnsnton force Heigai from the Book of Esther to choose? How about the Ethiopian eunuch in Acts 8? Or Ebed-melech who rescued Jeremiah from the well?  What box on Facebook would Johnston tell them to check?
Even Jesus spoke of eunuchs in Matthew 19:12
"For there are eunuchs who were born thus from their mother's womb, and there are eunuchs who were made eunuchs by men, and there are eunuchs who have made themselves eunuchs for the kingdom of heaven's sake. He who is able to accept it, let him accept it."
Johnston ignores a direct commandment from Jesus and Biblical record to falsely claim a two choice gender binary exists, when it clearly does not as recorded in his own holy book.  Focus seems to agree with Johnston's position since their PR team tweeted a link to the article.   It's unclear why Focus has adopted a non-Biblical position on the existence and dignity of transgender people.
*As modern medicine has given us hormones and surgery to supersede castration the term "eunuch" is rarely used today. The Biblical context of Matthew 19:12 makes it clear there are multiple reasons for a person being a eunuch beyond involuntary castration, I argue in Biblical times it is was an inclusive term much like "trans" is today. Also, one of the few continuing ancient transgender traditions are the Hijra of South Asia who still today often self identify as both eunuchs and transgender further supporting my assertion the terms are interchangeable.
More about 'liberal' Judge Heyburn
Timothy Kincaid
February 13th, 2014
Yesterday U.S. District Judge John G. Heyburn II ruled that Kentucky's ban on recognizing same-sex marriages from other states violates the U.S. Constitution's Equal Protection clause.
Immediately, the antigay ranting voices started screaming about liberal activist judges.
Family Foundation of Kentucky (Courier-Journal)
Martin Cothran, an analyst for the Family Foundation of Kentucky, said the decision "puts Kentucky voters on notice that if their reasons for defining marriage as between a man and a woman don't correspond with the political ideology of liberal judges, their votes don't count."
National Organization for Marriage
"Today yet another federal judge has entered the competition for lawlessness on the marriage front," said Brian Brown, NOM President.
Family Research Counsel's Tony Perkins
This ruling is another example of the deep betrayal of a judicial system infected with activist judges who are legislating from the bench.
So here's a bit more about 'lawless liberal activist' Judge Heyburn from his bio:
From 1976 until his appointment to the bench, Judge Heyburn was associated with the law firm of Brown, Todd & Heyburn, where he was a partner at the firm from 1982 through 1992. His legal practice focused on civil litigation, with an emphasis on problems within the construction industry. Judge Heyburn also served as special counsel to then Jefferson County Judge Executive Mitch McConnell [who went on to be conservative Republican Senator McConnell]. Judge Heyburn was active in civic and political affairs in Kentucky. He was a delegate to the 1984 and 1988 Republican National Convention.

On March 20, 1992, President Bush nominated Judge Heyburn to the United States District Court for the Western District of Kentucky. He was confirmed by the United States Senate in August, 1992. From December, 2001, to December, 2008, Judge Heyburn served as Chief Judge of the Western District of Kentucky.
(hat tip GoodAsYou)
Disney ad
Timothy Kincaid
February 13th, 2014
Animators love to mess with Disney. Love it, love it, love it.
Mostly they love trying to sneak sexual imagery into Disney's squeaky clean image as a family friendly and trustable production company. I think they may have struck again.
Currently some of you may be seeing an ad running on BTB which links to Disney's Vinylmation site wherein an image can be selected to send to someone special. What shows up in the ad is two images moving towards each other for a split second before being replace with words.
Below is a screen grab of the images.
The two images are stylized Mickey and Minney Mouse.