Go vote
Timothy Kincaid
March 18th, 2014
Something called Ranker allows participants to post things which are then ranked by vote. The wacky folks at World Net Daily were pushing to get WND 'ranked' by this arbitrary polling silliness and, for fun, several gay websites have joined.
I just included Box Turtle Bulletin in the mix. Have yourself a little fun and go join the ranking.
NEWS FLASH: Phelps Expelled For Being Too Nice
Jim Burroway
March 17th, 2014
Who knew he could be such a fag-enabler?
Pastor Fred Waldron Phelps Sr. was excommunicated from the Westboro Baptist Church after advocating a kinder approach between church members.

The excommunication occurred after the formation of a board of male elders in the church. The board had defeated Shirley Phelps-Roper, the church's longtime spokeswoman, in a power struggle, and Fred Phelps Sr. called for kinder treatment of fellow church members.

The board then ejected Fred Phelps Sr., who founded the church in the 1950s.

…Among the members of the church's board of elders are Fred Phelps' sons Jonathan Phelps and Timothy Phelps, and Steve Drain, who is now the church spokesman. In recent months, calls to Shirley Phelps-Roper have been answered by Drain.
I guess that explains why Shirley Phelps-Roper has been out of the limelight lately. Drain says that reports of Phelps' imminent death are "not well informed."
What Happens After Phelps Is Gone?
Jim Burroway
March 17th, 2014
Does Westboro dry up and go away? That's what happens to most personality-driven cults, but if reports of  Phelps's excommunication are true, then it looks like the rest of the Phelps clan is already taking steps to make sure that doesn't happen. Nate Phelps, Fred Phelps Sr.'s estranged and excommunicated son, explains why Phelps pere's own excommunication is so important:
The death of Fred Phelps Sr. will raise a big issue for the church members because they don't believe any of them are going to die, Nate Phelps said.

"They fully expected that Christ is going to return, and they are going to be taken up with him because they think that death is a judgment from God," Nate Phelps said. "So far, that illusion has held because none of them has passed.

"They're clear about that, that they're not going to feel the sting of death," Nate Phelps said. But anytime a prophecy fails, the notion that that will dismantle the system is far from true, and the system is stronger and bigger because they have to dig down deep and come up with "some palatable justification" to move forward, he said.
The excommunication could be the very thing to provide that "palatable justification."
Lithuania Blocks Vote on Anti-Gay Law
Jim Burroway
March 13th, 2014
Buzzfeed reports that the Lithuanian Parliament blocked a proposed anti-gay "propaganda" law that would have imposed fines for "contempt" of "moral values."
Though a plurality of MPs voted to bring the proposal to a vote — 39 in favor, 34 opposed, and 20 abstentions — this was not enough to move the measure to a vote under rules of procedure.

Gražulis responded to the vote by accusing MPs from the Conservative party who did not back the bill of "changing not only their political orientation but their sexual orientation too."

Conservative Vida Marija Čigriejienė shot back that Gražulis should not talk about family values since he had recently split with his wife.
Three other anti-gay initiatives are still before parliament, including one to ban adoptions by same-sex couples, another to exempt anti-gay harassment from the country's anti-discrimination laws, and another that would require event organizers to fully cover police protection and security expenses.
Former Ugandan VP Denounces Anti-Homosexuality Act
Jim Burroway
March 12th, 2014
Uganda's opposition-leaning weekly Observer reports that former Vice President Specioza Wandira-Kazibwe has called for repeal of the Anti-Homosexuality Act, saying that the law would have a negative impact on public health and Uganda's international reputation:
Kazibwe, a special envoy of the UN Secretary General for HIV/Aids in Africa, said in a Monday statement that she had told President Museveni that the criminalization of homosexuality only serves to fuel stigma and discrimination against lesbian, gay, bisexual and transgender (LGBT) persons and risks undermining the national Aids response, which is otherwise making significant progress.

She wrote: "I am in full solidarity with the LGBT community and I will continue to defend their rights in Uganda and across Africa. Rest assured of my unwavering support and action for the realization of the rights for every human being, which has been my struggle since childhood.

I will not reverse my path. I will continue to engage with the government of Uganda and civil society organizations on this important matter, and I continue to urge the Government of Uganda to revise or repeal the Anti-Homosexuality Act at the earliest opportunity."
Wandira-Kazibwe was training as a surgeon before turning to public health policy and serving as Vice President from 1994 to 2003.
Marriage support in two graphs
Timothy Kincaid
March 10th, 2014
Pew research has conducted another poll on marriage equality. You may have heard the headline that now 54% of the US population now supports equality; but here are two graphs that make it clear as to why the picture is much more positive than just "four percent more than half".
Honey Maid graham crackers think you are wholesome
Timothy Kincaid
March 10th, 2014
From AdAge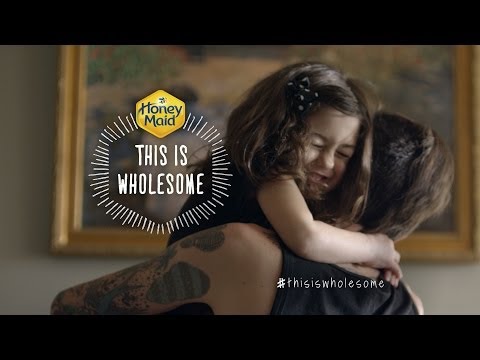 Some Friday Silliness
Rob Tisinai
March 7th, 2014
I'd like to lighten things up with a few fun little items. These are too dumb to feed your outrage monster. They're just good for a chuckle.
You're gay because climate change.
I've seen a lot of gay conspiracies in my time, but this comment at LifeSiteNews has to be one of my favorites.
The gay agenda is part of the greening of the globe. The left considers co2 to be the cause of global warming and that too many people are breathing on the planet .They know that sexual urge is too powerful to sublimate so they go for queering the public so they won't breed.The U.K. did a study last week saying the happiest married couple are gay with no children.
This adds new depth to the classic imperative, It's getting hot in here, so take off all your clothes. By the way, that theory has garnered four up-votes. Read the rest of this entry »
Vatican Cardinal Criticizes Criminalization of Homosexuality
Jim Burroway
March 5th, 2014
Cardinal Peter Turkson of Ghana has called on Uganda to repeal its Anti-Homosexuality Act:
Cardinal Peter Turkson of Ghana, president of the Pontifical Council for Justice and Peace, said Tuesday that "homosexuals are not criminals" and shouldn't be sentenced for up to life in prison. Speaking to reporters in Bratislava where he attended a conference on the Catholic Church and human rights, Turkson said the Vatican also calls on the international community to keep providing aid.
Cardinal Turkson's comments are considered significant in Catholic circles for two reasons: he's a member of the Roman Curia, and he's sometimes mentioned as being among the "papabile" or potential candidates to be elected pope in a future conclave.
Illinois AG Says Counties Can Issue Marriage Licenses to Same-Sex Couples
Jim Burroway
March 5th, 2014
Following the recent ruling by a Federal Judge allowing same-sex marriages to begin in Cook County without waiting for Illinois's marriage equality law to go into effect in June, Illinois Attorney General Lisa Madigan has issued a letter encouraging County Clerks statewide to begin issuing licenses to same-sex couples:
Madigan spelled out her position in a letter to the Macon County clerk's office, which sought legal guidance following a Feb. 21 ruling from U.S. District Judge Sharon Johnson Coleman. The ruling allows Cook County same-sex couples to get married now, before a state law on the matter that takes effect June 1.

In the letter, Madigan said other counties were not bound by last month's ruling, but that her office expects it "to be persuasive" to other courts addressing the matter. If a couple sues an Illinois county after being denied a marriage license before the law otherwise takes effect, she said, her office would intervene on the side of the plaintiffs and argue that the denial is unconstitutional.
More GOP voices for equality
Timothy Kincaid
March 4th, 2014
From the NYTimes
Evoking Ronald Reagan and Barry Goldwater, a group of Western-state Republicans plans to enter the battle in favor of same-sex marriage on Tuesday, urging a federal appeals court to declare gay marriage bans in Utah and Oklahoma unconstitutional.

The most prominent of the approximately 20 signers of the brief are former Senator Alan K. Simpson of Wyoming, a longtime supporter of gay rights, and former Senator Nancy L. Kassebaum of Kansas, who said last year that she had reconsidered her former opposition to same-sex marriage. The document says that "marriage is strengthened" and "the social stability of the family unit are promoted" by allowing gay and lesbian couples to marry.
Neither of those names is exactly surprising, but very welcome. For too long mainstream Republicans have let the far right be the face and voice of the party on social issues so, while they have a long way to go, it is encouraging to see momentum build in the moderate side of the party.
Uganda's Anglican Archbishop "Ready To Break Away"
Jim Burroway
March 3rd, 2014
Uganda's Anglican Archbishop Stanley Ntagali made the threat during a sermon yesterday:
The Archbishop of Church of Uganda (CoU) has responded to the Archbishop of Canterbury, Justin Welby, saying Uganda is ready to break away from the Church of England if its views on homosexuality are not respected.

Addressing Christians at St Andrews Church, Bukoto yesterday, Archbishop Stanley Ntangali [sic] said the Ugandan-born Archbishop of York John Sentamu recently wrote to him, saying the Church of England was concerned about the CoU's anti-homosexuality stand.

"I have written back to Archbishop Sentamu. I told him it does not matter even if we do not work with them because the Church of England is a product of repentance and USA is founded on Christian values but they seem to have become spiritually blind," Bishop Ntangali [sic] said.
Shortly after Parliament passed the Anti-Homosexuality Bill, Ntagali thanked Parliament during a Christmas message.
Tweets of the Week
Jim Burroway
March 1st, 2014
Frank Mugisha, executive director of Sexual Minorities Uganda, met with National Security Advisor Susan Rice and members of the National Security Council.
Scotland to Offer Asylum to LGBT Ugandans
Jim Burroway
March 1st, 2014
Glasgow is set to host the Commonwealth Games this summer, which several athletes and members of the Ugandan government are expected to attend:
Humza Yousaf, Minister For External Affairs, has written to UK Foreign Secretary William Hague detailing the Scottish Government's gesture to welcome "any Ugandan" persecuted by the new laws.

…With prominent members of the Ugandan government due in Glasgow this summer, the Scottish Government will also meet representatives of LGBT (lesbian, gay, bisexual, and transgender) groups to discuss proposals on handling human rights issues during the event.

…In his letter Mr Yousaf has urged Mr Hague "to offer asylum to any Ugandans who feels threatened or persecuted by the legis­lation", adding that "Scotland will play her part in providing asylum for those seeking refuge from this draconian legislation".

He adds that during the Games "no one from any part of the Commonwealth who visits Scotland will be under any doubt about our values as a welcoming, open and tolerant society".

A senior source said: "The issue is now so high profile it is hardly something the Scottish Government or anyone involved in the Games can now shy away from."
Huh?
Rob Tisinai
February 28th, 2014
I've been surveying the anti-gay reaction to the epic crash-and-burn of Arizona's religious freedom law. I can sum it up like this:
The bill failed because liberals lied about it: This bill was needed to make sure Christian bakers wouldn't have to sell wedding cakes to same-sex couples, but it wouldn't have given anyone the right to discriminate against gays and lesbians.
Also,
Laws forbidding discrimination against gays are wrong because they violate the Constitutionally-guaranteed right to freedom of association, but laws forbidding racial discrimination are fine because GAAAAAAY.
And they wonder why they keep losing.
Huge leap in GOP support for marriage
Timothy Kincaid
February 28th, 2014
The New York Times has a new poll showing that Republicans have a slight lead in popular support going into this year's elections. But the take away from this poll is rather surprising:
Further, Republican lawmakers appear out of step with the public on a range of issues, according to the survey. On immigration, same-sex marriage, marijuana legalization and gun control, Republican lawmakers hold to the minority position. Some of these policy matters illuminate the party's internal divisions. Half of people under age 45 who lean Republican support legalizing marijuana, and a majority of the same cohort of Republicans also backs same-sex marriage.

Over all, Republican support for same-sex marriage is on the rise. In the fall of 2012, just 24 percent of Republicans backed legalizing the unions; now 40 percent of Republicans do so.
If accurate, that would be a two-thirds increase in just two years. It would also suggest that the future of anti-gay advocacy in the United States looks dim.
Fournier compares Arizona bill to segregation
Timothy Kincaid
February 27th, 2014
Ron Fournier, a conservative writer, made some interesting comparisons between the (now vetoed) Arizona bill to legalize discrimination against gay people and the efforts to keep segregated schools in the South. Rather than focus on the similarities or differences between the two efforts, he discusses the motivations and justification. (National Journal)
For me, it starts with the time I spent in Arkansas with Faubus, Bates and Clinton, several members of the Little Rock Nine and countless others touched by the 1957 crisis. Faubus began his career as a progressive Democrat who desegregated state buses and public transportation and considered the possibility of introducing multi-race schools after his 1954 election. A challenge from his right prompted Faubus to adopt a segregationist stance, which he disingenuously insisted was not a matter of race. With public opinion so strongly against the Supreme Court ruling in 1957, Faubus argued that integrating would undermine the safety of all students.

Safety was his straw man. Religious liberty, like public safety, is a just cause, except when it's used to justify intolerance.

"This bill … bars government discrimination against religious exercise," Tony Perkins, head of the conservative Family Research Council, said of the Arizona measure, "so by vetoing this bill, Gov. Brewer is saying she supports government discrimination against people's religious freedom."

No, that's not what she's saying. Brewer no more supports religious discrimination than Eisenhower encouraged violence in public schools. Perkins knows better, and his inflammatory language hurts his cause.
Kerry: Uganda's Anti-Gay Law Similar to Apartheid and Nazism
Jim Burroway
February 27th, 2014
U.S. Secretary of State John Kerry, speaking to a group of reporters yesterday, called Uganda's Anti-Homosexuality Act "atrocious" and likened it to the Nazi-era Nuremberg and South Africa's Apartheid laws:
"You could change the focus of this legislation to black or Jewish and you could be in 1930s Germany or you could be in 1950s-1960s apartheid South Africa," Kerry told a group of reporters. "It was wrong there egregiously in both places and it is wrong here," he added.

…"What is happening in Uganda is atrocious and it presents all of us with an enormous challenge because LGBT rights are human rights and the signing of this anti-homosexuality law is flat out morally wrong," Kerry said.

"This anti-gay movement is obviously bubbling up in various places around the world; it is not just an African problem, it's a global problem, and we are wrestling with it and we are going to as we go forward.
Kerry said that the State Department is currently reviewing its relationship with Uganda. The U.S. currently gives more that $486 million in bilateral aid. Norway, Demark and the Netherlands have announced that they are cutting their aid to the Ugandan government. Those three countries collectively had been spending $27 million in aid to Uganda. The value of the Ugandan Shilling has slid more than 2% since President Yoweri Museveni signed the legislation on Monday.
US Ambassador to Uganda: We Will Block Visas for Ugandans Who "Propagate Hate"
Jim Burroway
February 26th, 2014
Scott DeLisi, U.S. Ambassador to Uganda, reacted to yesterday's vigilante campaign launched by the tabloid Red Pepper. In an interview with the BBC World Service, DeLisi said that the U.S. is looking into denying visas to Ugandans who incite violence and hatred:
"We as a government … are appalled by the course that the Red Pepper has chosen," DeLisi said. "What they do within their society I may not be able to control, but I can tell you they will not be welcome in the United States of America…. Visas can be denied for people who incite violence, people who propagate hate, who have used political violence. There are many bases on which we can deny a visa. And I can tell you that we will be examining all of these issues as we move forward."
Meanwhile, the Red Pepper campaign continues for a second day.
Sen. Leahy Calls For Review of All Ugandan Assistance
Jim Burroway
February 25th, 2014
Sen. Patrick Leahy (D-VT) issues this statement earlier today:
I am deeply concerned by the decision of President Museveni of Uganda to sign into law the anti-homosexuality bill.  I support Secretary of State Kerry and others in calling for its immediate repeal.  Much of U.S. assistance to Uganda is for the people of Uganda, including those in the Ugandan LGBT community whose human rights are being so tragically violated.  But we need to closely review all U.S. assistance to Uganda, including through the World Bank and other multilateral organizations.  I cannot support providing further funding to the Government of Uganda until the United States has undergone a review of our relationship.
Sen. Leahy is Chairman of the State Department and Foreigh Operations Appropriations Subcommittee and is a senior member of the Appropriations Committee.