Thanks, YouTube
Timothy Kincaid
June 26th, 2015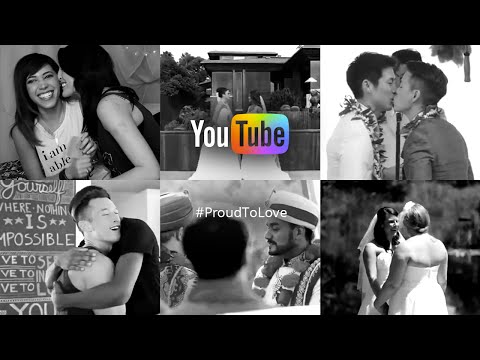 (p.s. hey anti-gays, you're outraged. you probably should boycott youtube.)
Texas Gov. calls on state employees to deny benefits to same-sex couples
Timothy Kincaid
June 26th, 2015
Texas Governor Greg Abbott (GOP) has issued a proclamation to state employees defending their right to deny state services to gay couples.
All state agency heads should ensure that no one acting on behalf of their agency takes any adverse action against any person, as defined in Chapter 311 of the Texas Government Code, on account of the person's act or refusal to act that is substantially motivated by sincere religious belief. This order applies to any agency decision, including but not limited to granting or denying benefits, managing agency employees, entering or enforcing agency contracts, licensing and permitting decisions, or enforcing state laws and regulations.
In other words, if a state employee has a "sincere religious belief" that your marriage license should be run through the shredder, Abbott thinks that he should do so. If a County Clerk has a "sincere religious belief" that you should be tarred and feathered rather than be allowed to marry, so be it. And if the head of the Texas Comptroller of Public Accounts refuses to accept your jointly filed tax returns because he has a "sincere religious belief" that same-sex couples aren't really married, well his rights trump yours.
Of course, this is nonsense.
Undoubtedly individuals in Texas will probably not have to issue licenses. And it will be a hassle. But if a Clerk's office decides not to comply with federal law, I think that the Clerk will soon discover that their beliefs – or those of their employees – do not outweigh a citizen's rights. Irrespective of Abbott's blustering.
What A Lifetime We've Witnessed!
Jim Burroway
June 26th, 2015
In one chart:
Obama's Full Remarks On Same-Sex Marriage
Jim Burroway
June 26th, 2015
God Approves
Jim Burroway
June 26th, 2015
Double rainbows over the White House. #LoveWins pic.twitter.com/EYTxVjNv58

— Betsey Stevenson (@CEABetsey) June 26, 2015
Jim Obergefell: Our Love Is Equal
Jim Burroway
June 26th, 2015
Obama Calls Jim Obergefell
Jim Burroway
June 26th, 2015
The President's call came right in the middle of Obergefell's interview with CNN on the steps of the Supreme Court:
Clarence Thomas's Dissent Is Worse Than Scalia's
Jim Burroway
June 26th, 2015
In his own quieter way, Justice Clarence Thomas out-scaliad Scalia. Thomas argued that gay couples didn't have it so bad:
(p9): Whether we define "liberty" as locomotion or freedom from governmental action more broadly, petitioners have in no way been deprived of it.

Petitioners cannot claim, under the most plausible definition of "liberty," that they have been imprisoned or physically restrained by the States for participating in same-sex relationships. To the contrary, they have beenable to cohabitate and raise their children in peace. They have been able to hold civil marriage ceremonies in States that recognize same-sex marriages and private religiousceremonies in all States. They have been able to travel freely around the country, making their homes where they please. Far from being incarcerated or physically restrained, petitioners have been left alone to order their lives as they see fit.
And even if they had been incarcerated, so what?
(p17): The corollary of that principle (of human dignity) is that human dignitycannot be taken away by the government. Slaves did not lose their dignity (any more than they lost their humanity) because the government allowed them to be enslaved.Those held in internment camps did not lose their dignitybecause the government confined them. And those denied governmental benefits certainly do not lose their dignitybecause the government denies them those benefits. The government cannot bestow dignity, and it cannot take it away.
He also predicts "ruinous consequences for religious liberty":
(p14): Aside from undermining the political processes that protect our liberty, the majority's decision threatens the religious liberty our Nation has long sought to protect.
(p16): Although our Constitution provides some protection against such governmental restrictions on religious practices, the People have long elected to afford broader protections than this Court's constitutional precedents mandate. Had the majority allowed the definition of marriageto be left to the political process—as the Constitution requires—the People could have considered the religious liberty implications of deviating from the traditional definition as part of their deliberative process. Instead, the majority's decision short-circuits that process, with potentially ruinous consequences for religious liberty.
Guerrero legalizes same-sex marriage
Timothy Kincaid
June 25th, 2015
The state of Guerrero (Acapulco) in Mexico has announced that it will no longer enforce its ban on same-sex marriages.
In real terms, this means that Guerrero will not enforce the ampero process which requires the first five couples in a state to hire a lawyer, go to court, and get official permission to marry.
No Marriage Decision Today
Jim Burroway
June 25th, 2015
The Affordable Care Act, also known as Obamacare, won today, as did all of us who depend on it for our health care. The remaining decision days for the marriage case are tomorrow and Monday.
NSW parliament calls for free vote on marriage in Australia
Timothy Kincaid
June 24th, 2015
The Parliament in New South Wales is controlled by the same coalition of political parties as the nation's Parliament, the Liberal Party and the National Party of Australia. It has just voted to encourage the federal Parliament to have "a respectful debate that is tolerant of all views", or in other words, to allow a free vote.
The vote was unanimous and was supported by Premier Mike Baird. (Sydney Morning Herald)
[Independent Sydney MP Alex ] Greenwich called on the federal government to "stop delaying the inevitable".

"The Liberal Party claims to be the party of "individual freedom" and a free vote should be its default position on this issue," he said.
This move increases the pressure on Prime Minister Tony Abbott to allow a free vote on the issue.
And it undoubtedly pisses off Sydney Archbishop Anthony Fisher. I wonder if more letters are forthcoming.
Sydney Catholic diocese writes businesses about marriage
Timothy Kincaid
June 24th, 2015
A number of Australian and global businesses have been putting pressure on the Australian government to support marriage equality. Representing some of the biggest players in the Australian economy, they have been jointly running advertisements in papers announcing their support and asking other businesses to join them.
This obviously concerns the Catholic Church, which opposes equality. But its response is baffling. (ABC)
The Catholic Church in Sydney is sending letters to companies that publicly support same-sex marriage, expressing its "grave concern" about their stance.

The Archdiocese of Sydney has targeted some of the 150 businesses that put their names and logos to recent newspaper advertisements supporting gay marriage.
While it's a bit odd that they write the letters at all, it's the language and tone that are perplexing.
"It is… with grave concern that I write to you about the Marriage Equality for Australians campaign," it reads.

"You are publically supporting a strategic, political and well-funded campaign designed to pressure the Federal Government into changing the Marriage Act.

"For corporations to speak on such issues… is indeed overstepping their purpose and it is to be strongly resisted."
I can't imagine that anyone opening a letter from the Catholic Church informing them that they are "overstepping their purpose" is going to receive that news without objection. And after the Church has been yowling about marriage for months, to tell someone else that they should not express an opinion reveals a level of arrogance that is astounding.
The Church then includes a not-so-subtle threat
"You may be aware that the Catholic Archdiocese of Sydney is a significant user of goods and services from many corporations, both local and international," it reads.
Needless to say, the company providing ABC with the story was not amused. Nor were they inclined to back away from their support.
Maurice Blackburn principal Liberty Sanger said she was not sure what the intention of the letter was, but either way the law firm would not be intimidated.

"Now it may well be that their intention was to try and frighten us into not participating in the debate," she said.

"If that was the objective, well it's had… obviously had the opposite effect.
This heavy-handed tone deaf missive might have been effecting in the 1500's. But I very much suspect that it has only earned ill will from the businesses in Australia, along with the Australian people.
Franklin Graham clarifies his bank move
Timothy Kincaid
June 12th, 2015
Franklin Graham is in the process of moving the accounts of the Billy Graham Evangelical Association from Wells Fargo Bank to BB&T Bank. He cited Wells Fargo's commercial showing a lesbian couple learning sign language so as to adopt a little deaf girl.
Several parties have noted that BB&T also is pro-gay and has sponsored some gay pride events. But as I said then,
But sponsoring a pride entry is not the same as running an inclusive commercial on Franklin Graham's television set. And this makes me curious as to whether BB&T has made assurances to Graham that they will keep their pro-gay visibility solely to gay venues.
BB&T clarified that while they did do sponsorship within the community so as to increase business from gay customers, this should not be interpreted as being supportive of the goals of the gay community. Nor do they advocate in their advertising for "social issues", such as the existence of same-sex couples who might want to adopt a deaf girl.
Franklin Graham has now further clarified the reason that Wells Fargo is unacceptable, but BB&T is okay. (USAToday)
It is true that a local BB&T branch in the Miami area hosted a fundraiser for a program called Legacy Couples, which recognizes same-sex couples who have been in committed relationships for 10 years or more, but the bank did not promote this program through a national advertising campaign (or we would still be looking for another bank).
…
I think there is a difference between being friendly and being a public advocate. By staying at Wells Fargo, we would not only be associating with the promotion of a lifestyle we believe to be wrong, we also would actually be helping to pay for the advertisements by virtue of banking with them — because a bank has no money to advertise with other than the money its customers place in its trust and the interest earned on that money. We simply chose not to continue doing business with a bank that is promoting something that violates our conscience and beliefs.
Graham does not state whether BB&T has given him assurances that none of their national advertising will include same-sex couples. But it certainly seems likely.
I've not heard back from BB&T as to whether they have made any assurances to Graham.
This ad is going to give Franklin Graham a headache
Timothy Kincaid
June 12th, 2015
Last week Franklin Graham, the President of the Billy Graham Evangelical Association, announced that he's moving the group's accounts from Wells Fargo to BB&T Bank because Wells ran a commercial featuring a lesbian couple adopting a little deaf girl.
Well he's really not going to like this ad from Tylenol.
See that middle finger that Corporate America is waving in your face, Franklin? Get used to it.
Florida removes gay adoption ban from its books
Timothy Kincaid
June 12th, 2015
While Michigan is taking steps which will make it more difficult for same-sex couples to adopt, Florida is removing a piece of obsolete law that restricted gay adoption. (tbo.com)
The nearly four-decade-old law that prevents gays from adopting children will disappear from Florida's statutes on July 1.

Republican Gov. Rick Scott signed a bill today that removes the language – though the ban hasn't been enforced for the past five years.