World Congress of Families To Meet in Utah for 2015
Jim Burroway
July 2nd, 2014
The World Congress of Families, a project of the Rockford, Illinois-based Howard Center for Family, Religion and Society and an officially designated hate group by the Southern Poverty Law Center, has announced that it will be holding its 2015 Congress in Salt Lake City:
The World Congress of Families is to be held at the Little America and Grand America hotels in late October 2015. It's an event that could attract a couple of thousand people, said Paul Mero, president of the Sutherland Institute, a Utah conservative think tank that is hosting the gathering.

Mero, who serves on the congress' management committee and used to work for The Howard Center for Family Religion and Society, which founded the Congress, said Salt Lake City is the perfect place for the conference.

"I think there's no better locale more focused on family as the fundamental unit of society than Utah," Mero said. "I think Utah is exceptional in faith, family and in freedom."
I am so there! Anyone with me?
The World Congress of Families typically holds its Congresses outside of the United States with the aim of exporting anti-gay rhetoric and other socially-conservative ideas to other countries. This year's Congress, scheduled to take place in Moscow, was "suspended for the time being" after Russia invaded the Crimea. Not so much because WCF was dumbfounded that Russia would violate human rights on such a massive scale, but because U.S. and European Union sanctions "has raised questions about travel, logistics, and other matters necessary to plan WCF VIII ." The fact that WCF and its partners were happy to heap praise on Russian President Vladimir Putin for passing its so-called "homosexual propaganda" law should tell you everything you need to know about the WCF's concerns over human rights.
They Didn't Know What They Were Up Against
Jim Burroway
July 1st, 2014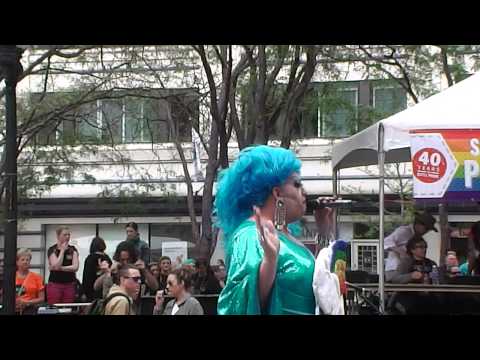 A group of Christians protesters tried to disrupt the start of Seattle's gay pride parade last Sunday. They tried to invoke the power of Jesus Christ, but they failed to take into account the power of Mama Tits:
"I saw them coming up the road pre-Parade and looked at Sylvia and DonnaTella and said, 'Ladies, let's make a wall!' Before I knew it, I was standing tits to nose with the leader guy on the megaphone. It felt like I had the strength of all the people who had ever been hurt by these people standing right behind be me giving me power! I was almost in auto-pilot mode from my days as a Sister of Perpetual Indulgence. I planted myself in his path and wouldn't move. When he walked around me, I got back in front of him again and again.I stared him in the eyes and could see the pain in his eyes, I could see he was scared and he should have been. He tried to hit me with his sign, but like Bianca Del Rio says "Not Today, Satan!"

I pushed his sign away from my face and hair, because you DO NOT TOUCH my hair. And, it was all I could do to NOT get violent, but I didn't because once that happens, we all lose. They tried to surround me in an intimidation tactic, but let's face it, I'm fucking HUGE and it didn't work at all! The police came to me and asked to let them pass, and told me not to let them get me upset. I told the cops I wasn't upset, but I WILL defend myself when assaulted, and they needed to remove them from our Parade. I then walked over and grabbed my mic and started to get the crowd involved. I wanted them to make so much joyful noise to drown out the hate… and, boy did they ever! The crowd made the walls rattle down on 4th and Pine!
Nevada marriage hearing set
Timothy Kincaid
July 1st, 2014
A federal appeals court says it will consider Nevada's gay marriage ban on Sept. 8.

The 9th Circuit Court of Appeals in San Francisco has scheduled 20 minutes of oral arguments in the case of Beverly Sevcik v. Brian Sandoval. The court will also hear arguments that morning over similar cases in Idaho and Hawaii.
You may recall that Attorney General Cortez Masto and Governor Sandoval have pulled all state defense of the marriage ban, leaving only the Coalition for the Protection of Marriage to argue the case.
Supreme Court Declines to Review California's Conversion Therapy Ban
Jim Burroway
June 30th, 2014
In other less-talked about Supreme Court news today, the high court declined to hear an appeal challenging California's ban on sexual orientation change therapy for minors. This leaves in place a Ninth Circuit Court of Appeals ruling stating that the state of California had a legitimate interest in banning professional treatments that were considered harmful. As is customary, the Supreme Court didn't give a reason for declining the appeal.
While California's converstion therapy ban prohibits licensed professionals from providing change orientation therapy to minors, it does not apply to unlicensed religious-based ex-gay ministries, nor does it prohibit licensed professionals from providing sexual orientation change therapy to adults. Nevertheless, it's likely to have a serious financial effect on licensed providers. In 2012, Joseph Nicolosi, co-founder of the National Association for Research and Therapy of Homosexuality (NARTH) which bills itself as the professional arm of the ex-gay movement, admitted that about half of all NARTH clients are teens. NARTH, which had appealed the case to the Supreme Court with the help of Liberty Counsel, has not yet issued a statement responding to the Supreme Court's refusal to hear their case. Liberty Counsel's Mat Staver issued a statement however that is about as nasty as it gets:
I am deeply saddened for the families we represent and for the thousands of children that our professional clients counsel, many of whom developed these unwanted attractions because of abuse of a pedophile. …These children have been victimized twice –  first by the likes of Jerry Sandusky, and second by legislators and judges who have essentially barged into their private therapy rooms and told them that they must pursue their unwanted and dangerous same-sex sexual attractions and behavior.
Google Docs Celebrates Pride
Jim Burroway
June 26th, 2014
Google Docs is celebrating pride with an Easter Egg in the spreadsheet app. Just go to Google Docs, create a new spreadsheet, and type P, R, I, D, and E in the first five cells in the top row. For the nerd in all of us.
Former Arizona AG op-ed in support of equality
Timothy Kincaid
June 25th, 2014
Grant Woods, a Republican, was the Attorney General of Arizona from 1991 through 1999. Today he shares his views with the Arizona Republic:
I had the honor of serving as Arizona's attorney general from 1991 to 1999. If I were serving in that role today, I would make the case that our state's ban on same-sex marriage is unconstitutional.

As Supreme Court Justice Anthony Kennedy wrote in the Windsor decision, DOMA's ban on same-sex marriage "violates basic due process and equal protection principles." I agree with the Supreme Court ruling and believe the same law and principles apply to Arizona's ban.

Also in agreement are the judges who have struck down marriage bans in other states. For example, Judge John E. Jones III, a Republican appointed by President George W. Bush, wrote in his decision striking down Pennsylvania's ban, "Some of our citizens are made deeply uncomfortable by the notion of same-sex marriage. However, that same-sex marriage causes discomfort in some does not make its prohibition constitutional. Nor can past tradition trump the bedrock constitutional guarantees of due process and equal protection."

Equality is not only our founding principle, but also the core of the political and legal convictions of Americans across the political spectrum. Throughout our history, Americans, both famous and forgotten, have fought to ensure that we live up to our ideals.
Meanwhile down in Louisiana
Timothy Kincaid
June 25th, 2014
Today Judge Martin Feldman (a Reagan appointee) was expected to rule on whether same-sex marriages conducted in other states should be recognized by the state of Louisiana. He did not. Rather, he said that he wanted to determine whether the state could ban same-sex marriages at all. (nola)
After hearing more than an hour of argument, only on the question of whether Louisiana must recognize same-sex marriages from other states, Feldman told attorneys and a packed courtroom he wants to address the pending legal questions in one ruling, rather than decide the disputes in a "piecemeal" fashion. That means attorneys must file more legal briefs with the court during the next month. Feldman might hear oral arguments.
Sue Collins endorses marriage equality
Timothy Kincaid
June 25th, 2014

Senator Susan Collins (R – Maine) has announced that she supports marriage equality. (Bangor Daily News)
"A number of states, including my home state of Maine, have now legalized same-sex marriage, and I agree with that decision," Collins said in response to a question from the BDN.
This shocks exactly no one. Collins has been a long-time ally of the community and was instrumental in overturning the ban on open service in the military.
She joins only three other GOP Senators in openly supporting marriage equality: Senators Rob Portman of Ohio, Mark Kirk of Illinois and Lisa Murkowski of Alaska. It is, nevertheless, an important addition and a step in the long road of changing the position of the Republican Party.
It will be interesting to see the response. I suspect the usual loons in the anti-gay special interest groups will whine, but I'm betting that no one in the party leadership is in anyway critical of Sen. Collins.
We are winning. Today was a good day.
Boulder Colorado starts issuing marriage licenses
Timothy Kincaid
June 25th, 2014
Utah is not, of course, the only state impacted by the decisions of the Tenth Circuit Court of Appeals. Also in the Tenth Circuit are Colorado, Kansas, New Mexico, Oklahoma, and Wyoming.
And the Boulder County Clerk and Recorder, Hillary Hill, has decided that this decision gives her the authority to act. (Fox 31)
"Because 10th Circuit decisions are binding in the State of Colorado, the precedent established by Kitchen v. Herbert is applicable to the same-sex marriage ban contained in the Colorado Constitution," said a statement from the Clerk and Recorder's Office.
…
"Couples across Colorado have been waiting a long time to have their right to marry the person they love recognized," said Hall in a statement. "I want to act immediately to let them carry out that wish."
The decision of the Tenth Circuit was stayed, and likely the move by Hall will be halted. But it will be fascinating legal drama in the meanwhile.
The First Indiana Same-Sex Wedding
Jim Burroway
June 25th, 2014
Craig Bowen and Jake Miller were the first couple to get their marriage license and be married in Indianapolis.

The ruling left other county clerks trying to figure out how to respond. The Hamilton County clerk decided not to immediately issue licenses, while the clerk in Monroe County went ahead.
Hamilton County encompases Indianapolis's northern suburbs, while Monroe County includes Bloomington and the University of Indiana.
Add Indiana to the list
Timothy Kincaid
June 25th, 2014
U.S. District Judge Richard Young ruled Wednesday that the state's ban violates the U.S. Constitution's equal-protection clause in a mixed ruling involving lawsuits from several gay couples.
Details are a bit sketchy so far, but the ruling is here.
Update: Here are the details.
Presbyterian Church (USA) votes to allow marriages
Timothy Kincaid
June 19th, 2014
With 2.8 million members, the Presbyterian Church (USA) is the eighth largest Protestant denomination in the United States. And as we reported yesterday, the denomination is meeting this week in Detroit, where its Marriage Committee passed recommendations that the denomination clarify their support for marriage equality. They have now done so.
The U.S. Presbyterian Church's highest council Thursday voted to sanction same-sex marriage.
…
The assembly approved an amendment to the church constitution that would redefine marriage as between "two people" instead of "a man and a woman." It also approved allowing its ministers to perform marriage ceremonies for same-sex couples in states where same-sex marriages are legal.
The amendment to the Book of Order will require ratification by the presbyteries. But, for all practical effect, same-sex marriages may now be officiated and blessed within Presbyterian churches.
A liveblog of the proceedings is provided by More Light Presbyterians.
Michigan GOP former Speaker of House calls for equality
Timothy Kincaid
June 17th, 2014
A number of formerly prominent Republicans have signed a brief urging the Sixth Circuit Court of Appeals to affirm the ruling that Michigan's ban on same-sex marriage is in violation of the US Constitution. (ClickOnDetroit)
The Republicans include former House Speaker Rick Johnson and former House Majority Leader Chris Ward.

Former U.S. Rep. John "Joe" Schwartz has signed on, along with former state lawmakers Leon Drolet, Doug Hart, Dave Honigman and Susan Grimes Gilbert.
It seems to me that in some parts of the country we have now reached the stage in our quest for equality wherein former GOP leaders or power-players are beginning to champion our cause. And while most of those currently in power do not yet appear to be willing to be publicly supportive, many have elected to adopt language such as "let the judicial system decide" or even "it is inevitable, so we should focus on respecting each other".
While Republicans are not speaking in harmony with not the fully supportive language of the Democrats, I think that these shifts in the political stance of Republicans leaders, both current and former, foretell a time not so distantly ahead in which civil equality is assured and not even terribly controversial.
Wisconsin Same-Sex Marriages Put On Hold
Jim Burroway
June 16th, 2014
Federal District Juidge Barbara Crabb, who earlier had ruled that Wisconsin's ban on same-sex marriages violated the U.S. Constitution, has issued her injunction on Friday which also includes a stay.
Judge Crabb's earlier ruling was unusual in that, unlike other rulings, hers did not include an injunction compelling the state to grant marriage licenses to same-sex couples. Instead, Judge Crabb asked the parties to submit proposed language for an injunction that would follow in a couple of weeks. The original deadline for those proposals was today,but when Dane and Milwaukee Counties decided to begin issuing marriage licenses even in the absence of an injunction, Judge Crab accelerated her timetable. By the time she issued her injunction and stay on Friday, some five out of every six Wisconsin counties were issuing licenses. Judge Crabb's injunction does order state and county officials to issue marriage licenses, but she also accompanied that order with a stay pending appeal:
After seeing the expressions of joy on the faces of so many newly wedded couples featured in media reports, I find it difficult to impose a stay on the event that is responsible for eliciting that emotion, even if the stay is only temporary. Same-sex couples have waited many years to receive equal treatment under the law, so it is understandable that they do not want to wait any longer. However, a federal district court is required to follow the guidance provided by the Supreme Court. Because I see no way to distinguish this case from Herbert, I conclude that I must stay any injunctive relief pending appeal.

The remaining question is whether the stay should include all relief, including the declaration, rather than just the injunction. Although I remain dubious that it is necessary to "stay" declaratory relief, I understand that there has been much confusion among county clerks regarding the legal effect of the declaration. To avoid further confusion among theclerks, I will issue a stay of all relief.
Texas Gov. Rick Perry Compares Gays To Alcoholics
Jim Burroway
June 12th, 2014
Texas Gov. Rick Perry was in San Francisco, totally not running for President (wink, wink!) at the Commonwealth Club. He was asked about the Texas Republican Party's endorsement of ex-gay therapy, which California has banned for minors. (That law is currently being challenged in Federal court.)
In response to an audience question about it Wednesday night, Perry said he did not know whether the therapy worked. Commonwealth Club interviewer Greg Dalton then asked him whether he believes homosexuality is a disorder.

"Whether or not you feel compelled to follow a particular lifestyle or not, you have the ability to decide not to do that," Perry said. "I may have the genetic coding that I'm inclined to be an alcoholic, but I have the desire not to do that, and I look at the homosexual issue the same way."