American Idol will include gay participants
Timothy Kincaid
February 13th, 2014
Last night American Idol took a step.
Not just that they presented participants who were recognizably; that has pretty much been the case from the beginning. Rather, they passed on to the viewers an openly and acknowledged gay candidate.
M.K. Nobilette, a young fresh-faced singer whose vocal style reminds me a bit of K.D. Lang, expressed her concerns about being on the show. "For one thing, I'm obviously gay".
The judges, Jennifer Lopez, Harry Connick, Jr., and Kieth Urban, then talked a bit about how the world has changed and how they believe that she has the potential, in this changed world, to win the title of American Idol.
In another segment, they advanced a young man with startlingly strong vocals and a gay vibe that even Aunt Thelma's gaydar couldn't miss. In addition to being loud and sassy (sorry, but that really is the best word), he challenged JLo to a walk-off, if she'd buy him the heels. He's the sort of candidate that we've seen in the run-ups in the past, but which didn't have the "image" necessary to taken seriously.
It has frustrated me for years that AI has been reluctant to include any mention of a gay candidate's orientation. Even Adam Lambert had to reenter a sparkly sequined closet of sorts. But Idol has a large and strong audience in the red states and perhaps they correctly determined that it would not be to a participant's advantage.
I am glad that they are finally taking the risk.
Matt Barber's Offensive
Rob Tisinai
February 10th, 2014
Uber anti-gay Matt Barber has gone on the offensive with his own website called BARBWIRE. Whether that moniker's another sad attempt to bolster his tough masculine toughness, or just his drag name, I can't say. But it is a hoot. Bryan Fischer (!) has a column on "defeating Darwinism in four easy steps" and it's marvelous display of studied ignorance. Scott Lively (!) has an article proving that the anti-gay violence in Russia is probably perpetrated by other gays because, well, Nazis.
Think twice before you visit, though. I already wasted too much time today in the comments, feeding my outrage addiction. You know, one paranoid theory on the right is that the Democratic party pays its minions to post comments on right-wing fringe websites (where's my money?) but I could almost entertain an opposing and corresponding theory that these sites are set up just to suck us into channeling our energy there instead of into more useful activism.
Hell, it's almost more plausible than thinking these folk could be for real.
Indiana Senate Committee Passes Amended Marriage Ban Proposal
Jim Burroway
February 10th, 2014
In a straight 8-4 party line vote, the Indiana Senate Rules Committee gave its approval to a proposed constitutional amendment which, if approved by voters, would ban same-sex marriage. Crucually, the committee opted against restoring a second sentence to the proposed constitutional amendment that would also ban civil unions and domestic parternships. That second sentenced was stripped from the wording by the Indiana House in January.
The absence of that second sentence is crucial in determining when the proposed amendment would go before the voters. Indiana's constitution requires that the identical language must pass two separately elected General Assemblies before a proposal can be placed on the ballot. The prior General Assembly passed the ban with the second sentence included in 2011. If both houses opted to keep the language intact, then then the proposed ban would hit the ballot box during the 2014 mid-term elections. But if the full Senate passes the newest version of the proposed ban, then the clock gets reset and the same ban would have to pass the next elected legislature as well. That would mean the earliest the amended ban could get to the ballot box would be during the 2016 elections, when voters will turn out to elect a president as well as Indiana governor.
Gov. Mike Pence (R) strongly supports the marriage ban, and has made it clear that he wants it decided "once and for all" this year rather than have it as a campaign issue while he's trying to seek re-election in 2016.
Same-sex marriage opponents will have one more opportunity to try to restore the civil union ban when the measure goes before the full Senate. If they are successful, then the differences between the House and Senate versions would have to be hashed out in committee.
Welcome Out Michael Sam, University of Missouri Defensive Lineman
Jim Burroway
February 9th, 2014
Michael Sam, an All-American defensive lineman for the University of Missouri Tigers, has come out as gay in interviews with ESPN and The New York Times. According to statements made to both outlets, Sam came out to his team mates and coaches last August:
"Coaches just wanted to know a little about ourselves, our majors, where we're from, and something that no one knows about you," Sam said. "And I used that opportunity just to tell them that I was gay. And their reaction was like, 'Michael Sam finally told us.' "

Asked what that moment felt like, Sam said, "I was kind of scared, even though they already knew. Just to see their reaction was awesome. They supported me from Day One. I couldn't have better teammates. … I'm telling you what: I wouldn't have the strength to do this today if I didn't know how much support they'd given me this past semester."
Sam was named the Southeastern Conference's Defensive Player of the Year by the Associated Press, and he was unanimously selected to the first-team All-American. He is already the first Division I college football player in history to come put as gay. If he is picked up on the NFL draft in May, then Sam could become the first openly gay player in NFL history.
Olympics Watch
Rob Tisinai
February 8th, 2014
My favorite part of Opening Ceremonies was at the end, when Putin declared the Games open and they lit the Eye of Sauron.
Duck Dynasty's War on Christmas
Timothy Kincaid
February 5th, 2014
I haven't had much time to post lately (still don't), but I thought I'd share with you this little item I saw at the clearance shelf at Bed, Bath and Beyond. It looks like Duck Dynasty didn't realize that their core audience wouldn't appreciate a 'War on Christmas' cup.
Virginia House Approves Bill Allowing Lawmakers to Defend State Laws
Jim Burroway
February 3rd, 2014
In a 65-32 vote, the GOP-controlled Virginia House of Representatives approved HB706, which "[p]rovides that a member of the General Assembly has standing to represent the interests of the Commonwealth in a proceeding in which the constitutionality, legality, or application of a law established under legislative authority is at issue and the Governor and Attorney General choose not to defend the law." The bill was introduced into the House on January 7 in anticipation of Virginia Attorney General Mark R. Herring's announcement that the state of Virginia would not defend the state's ban on marriage equality in Federal court. According to the Washington Post:
The vote fell mostly along party lines, with Democrat Del. Johnny S. Joannou (Portsmouth) joining Republicans to support the bill and Republican Thomas Davis Rust (Fairfax) voting against. There were two abstentions: Robert Dickinson Orrock Sr. (R-Caroline) and Barry D. Knight (R-Virginia Beach).
The bill moves to the Democratic-controlled Senate, where The Post says they will likely kill it.
Federal District Judge Andrea Wright Allen will hear oral arguments challenging the state's marriage ban tomorrow in Norfolk. Last Friday, a Federal Judge Michael F. Urbanski certified a second lawsuit challenging the state's ban as a class action.
India's Supreme Court Refuses to Reconsider Verdict Recriminalizing Homosexuality
Jim Burroway
January 28th, 2014
Last December, India's Supreme Court reinstated a colonial-era sodomy law criminalizing same-sex relationships by overruling a High Court decision four years earlier which struck down the law as unconstitutional. Today, the Supreme Court turned back a request for it to reconsider its decision.
On Tuesday, a bench of Justices H.L. Dattu and S.J. Mukhopadhaya dismissed the review petitions observing that there are no grounds to interfere. In its review petition the Centre had assailed the December 11 judgment contending that law must reflect social change and the aspiration of the society and not operate on vacuum. The review petitions were dismissed in the chamber.

In view of the dismissal of review petitions the next option for the Centre and others is to file a curative petition, which will be heard by a minimum of four senior-most judges and a maximum of five judges.
India's colonial-era law provides a maximum term of ten years' imprisonment.
Indian Supreme Court to reconsider sodomy ruling
Timothy Kincaid
January 27th, 2014
In December, a two-judge panel of India's Supreme Court ruled that the country's Colonial Era law against sodomy, Section 377, was constitutionally permissible. The ruling was issued on the day one of the judges retired.
The government of India, along with many organizations, requested that the Court revisit that decision. Tomorrow they will decide whether to do so: (TimesofIndia)
The Supreme Court will tomorrow take up petitions filed by Centre and rights activists seeking review of its verdict declaring gay sex an offence punishable up to life imprisonment.

A bench of justices H L Dattu and S J Mukhopadhaya will take up the petition in chamber to decide whether the verdict needs to be re-looked or not.
Judge Sets Oral Arguments for Virginia Marriage Ban Challenge for Thursday
Jim Burroway
January 27th, 2014
After Virginia Attorney General, Mark Herring, announced last week that he believed that Virginia's state constitutional amendment banning same-sex marriage violated the U.S. Constitution and that he would not defend it, Federal District Judge Arenda L. Wright asked the parties in a lawsuit challenging the state's ban whether the court should proceed for oral arguments. The deadline for replies was noon today.
The plaintiffs, who are represented by Ted Olson and David Boies of Prop 8 fame, urged the court to issue its judgement based on the briefs already filed. But the Alliance Defending Freedom, which is defending the ban on behalf of the defendant Norfolk Circuit Court Clerk George Schaefer, have asked for a hearing. The Judge has now issued orders reaffirming that oral arguments will proceed as scheduled.
A teary-eyed Grammys
Timothy Kincaid
January 27th, 2014
Even had my pastor at the Hollywood United Methodist Church not told the congregation this morning to watch this year's Grammy Awards because it would have a moment that would reflect our congregation's values of equality, I had heard enough in advance to know that there would be a recognition of marriage in the show this year. And indeed, when Macklemore and Ryan Lewis sang Same Love, their marriage equality anthem, I was prepared for couples to exchange rings.
So when Queen Latifah officiated marriage for a variety of couples, with vocals from Madonna, I was prepared for a celebration of love (though I will admit that I was surprised that the first couple shown included my long-time friend Yawie).
Yet even so, I was composed. It was a nice touch, but that song was not even nominated for Record of the Year.
But tears came to my eyes watching Sir Paul McCartney stand and raise his fist in the air to agree with Daft Punk's spokesman who, in their acceptance speech for the night's highest honor, gave tribute to Macklemore and Ryan's message:
You know I just got a message from the robots [Daft Punk's public image] and what they wanted me to say is that as elegant and as classy as the Grammys has ever been is that moment when we saw those wonderful marriages! And same love is as fantastic … and it was the height of fairness and love and the power of love for all people at any time any combination … is what they wanted me to say.
To take their moment in the spotlight to celebrate equality as expressed by someone else's song was a moment of true generosity and an expression of integrity that few other artists could ever hope to emulate.
Indiana GOP moves gay ban bill to the floor
Timothy Kincaid
January 22nd, 2014
As expected, the hand-selected committee chosen by Indiana House Leader Brian Bosma has given its rubber stamp to the divisive and discriminatory HJR-3, a proposal to put a gay marriage ban before voters in November. (Journal Gazette)
A panel of Indiana lawmakers has approved a proposed constitutional ban on gay marriage, sending the measure to the House of Representatives for consideration.

The House Elections Committee voted 9-3 to advance the measure Wednesday evening. The vote followed weeks of intense lobbying, emotional testimony and widespread uncertainty on the issue.
OK UMC clergy declare support
Timothy Kincaid
January 20th, 2014
Today the Oklahoma United Methodists for Equality ran the following ad in the Tulsa World:
The Herald on three gay GOP candidates
Timothy Kincaid
January 19th, 2014
The Boston Herald
Each ultimately must unseat a Democratic incumbent, overcome brushes with hate and confront passionate divisions within the GOP about the way they live their lives. The Republican Party is trying to soften its tone on divisive social issues, but many religious conservatives see homosexuality as immoral.
Transwoman Dares City Councilman to Cast the First Stone
Jim Burroway
January 18th, 2014
And councilman Rob Webb blinks: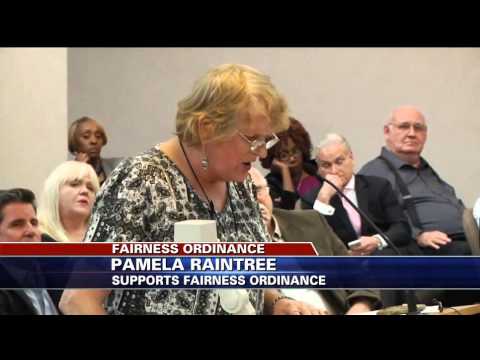 LGBT Ugandans Celebrate
Jim Burroway
January 17th, 2014
In case you missed it, there was a report out late last night that Uganda President Yoweri Museveni has sent the Anti-Homosexuality Bill back to Parliament.
Quackers are less of a draw, after controversy
Timothy Kincaid
January 16th, 2014
Much to my surprise (and probably that of the A&E executives), Duck Dynasty has not benefitted from weeks of defense by those who malign and demean gay people. (Entertainment Weekly)
Though Duck Dynasty was expected by some to return to its biggest ratings yet after its huge controversy last month, the Louisiana-based reality show returned to lower viewership than its previous two premieres.

Wednesday night's Duck Dynasty season 5 premiere had 8.5 million viewers. That's huge for a cable reality show, but down 28 percent from its record-setting fourth season debut in August (11.8 million). It's also slightly down from the show's third season premiere in February last year (8.6 million). A&E notes the number up slightly from the fourth season finale on Oct. 23 (though obviously it's standard to compare premieres to premieres).
What this means is difficult to discern. Perhaps there were more interesting things to distract the show's core audience. Perhaps the weather played some role.
Or, perhaps, we have reached the point where saying truly vile things about gay people will turn off even an audience that identifies as conservative and Christian. It is possible that there is some segment of Middle America that will not argue with the self-appointed spokesmen or talk to the papers, but for whom the rants of Phil Robertson left a bad taste in their mouths.
And, unless it was an anomaly, this drop in ratings does not bode well for A&E's revenues. Undoubtedly a number of viewers tuned in to see what the fuss was about and, if they have any taste at all, they won't stick around. It may be that the quackers have reached their zenith and that it's all downhill from here.
Utah to allow married tax filings for same-sex couples
Timothy Kincaid
January 16th, 2014
Just when you thought it couldn't get any more confusing, the Utah State Tax Commission has announced that same-sex couples who receive Federal recognition as "married" for income tax purposes may also file their Utah State Income Taxes jointly.
2013 UTAH INDIVIDUAL INCOME TAX RETURNS

Same-sex couples who are eligible to file a joint federal income tax return and who elect to file jointly, may also file a joint 2013 Utah Individual Income Tax return as provided in Utah Code § 59-10-503. Eligible married couples may file a joint return if they are married as of the close of the tax year. (As of December 31, 2013, the Supreme Court had not yet issued its stay of the District Court's injunction).
This applies only to the 2013 tax year.
Ex-gay survivors needed to testify in Virginia
Daniel Gonzales
January 15th, 2014
Virginia is attempting to join the list of states which ban ex-gay therapy on minors.  Text of the bill can be found here.  Legislative action is going to happen between now and the end of February and Virginia based survivors of ex-gay therapy are urgently needed to speak in favor of the bill.  Anyone interested can testify in person or send a written testimony to be read. The bill is being sponsored by Delegate Patrick Hope and the Alliance for Progressive Values (APV).
The APV is especially interested in anyone who was forced to undergo therapy as a minor.  Interested parties should contact Victoria Bragunier of the APV at 804-517-5206
OK Gov, AG React
Jim Burroway
January 14th, 2014
Gov. Mary Fallin reacted to today's court ruling striking down Oklahoma's ban on same-sex marriage:
"In 2004, the people of Oklahoma voted to amend the state's constitution to define marriage as 'the union of one man and one woman.' That amendment passed with 75 percent support.

"The people of Oklahoma have spoken on this issue. I support the right of Oklahoma's voters to govern themselves on this and other policy matters. I am disappointed in the judge's ruling and troubled that the will of the people has once again been ignored by the federal government."
Attorney General E. Scott Pruitt also weighed in:
"It is a troubling decision," Attorney General Scott Pruitt said. "As the Supreme Court recently noted in the Windsor case, it is up to the states to decide how to define marriage, not the federal government. There is a case involving the State of Utah currently pending before the 10th Circuit that is identical to the case in Tulsa. The issue most likely will end up at the U.S. Supreme Court and the outcome will dictate whether Oklahoma's constitutional provision will be upheld."