Kerry: Uganda's Anti-Gay Law Similar to Apartheid and Nazism
Jim Burroway
February 27th, 2014
U.S. Secretary of State John Kerry, speaking to a group of reporters yesterday, called Uganda's Anti-Homosexuality Act "atrocious" and likened it to the Nazi-era Nuremberg and South Africa's Apartheid laws:
"You could change the focus of this legislation to black or Jewish and you could be in 1930s Germany or you could be in 1950s-1960s apartheid South Africa," Kerry told a group of reporters. "It was wrong there egregiously in both places and it is wrong here," he added.

…"What is happening in Uganda is atrocious and it presents all of us with an enormous challenge because LGBT rights are human rights and the signing of this anti-homosexuality law is flat out morally wrong," Kerry said.

"This anti-gay movement is obviously bubbling up in various places around the world; it is not just an African problem, it's a global problem, and we are wrestling with it and we are going to as we go forward.
Kerry said that the State Department is currently reviewing its relationship with Uganda. The U.S. currently gives more that $486 million in bilateral aid. Norway, Demark and the Netherlands have announced that they are cutting their aid to the Ugandan government. Those three countries collectively had been spending $27 million in aid to Uganda. The value of the Ugandan Shilling has slid more than 2% since President Yoweri Museveni signed the legislation on Monday.
US Ambassador to Uganda: We Will Block Visas for Ugandans Who "Propagate Hate"
Jim Burroway
February 26th, 2014
Scott DeLisi, U.S. Ambassador to Uganda, reacted to yesterday's vigilante campaign launched by the tabloid Red Pepper. In an interview with the BBC World Service, DeLisi said that the U.S. is looking into denying visas to Ugandans who incite violence and hatred:
"We as a government … are appalled by the course that the Red Pepper has chosen," DeLisi said. "What they do within their society I may not be able to control, but I can tell you they will not be welcome in the United States of America…. Visas can be denied for people who incite violence, people who propagate hate, who have used political violence. There are many bases on which we can deny a visa. And I can tell you that we will be examining all of these issues as we move forward."
Meanwhile, the Red Pepper campaign continues for a second day.
Sen. Leahy Calls For Review of All Ugandan Assistance
Jim Burroway
February 25th, 2014
Sen. Patrick Leahy (D-VT) issues this statement earlier today:
I am deeply concerned by the decision of President Museveni of Uganda to sign into law the anti-homosexuality bill.  I support Secretary of State Kerry and others in calling for its immediate repeal.  Much of U.S. assistance to Uganda is for the people of Uganda, including those in the Ugandan LGBT community whose human rights are being so tragically violated.  But we need to closely review all U.S. assistance to Uganda, including through the World Bank and other multilateral organizations.  I cannot support providing further funding to the Government of Uganda until the United States has undergone a review of our relationship.
Sen. Leahy is Chairman of the State Department and Foreigh Operations Appropriations Subcommittee and is a senior member of the Appropriations Committee.
VIDEO: Ugandan TV Covers the Five Year History of the Anti-Homosexuality Bill
Jim Burroway
February 25th, 2014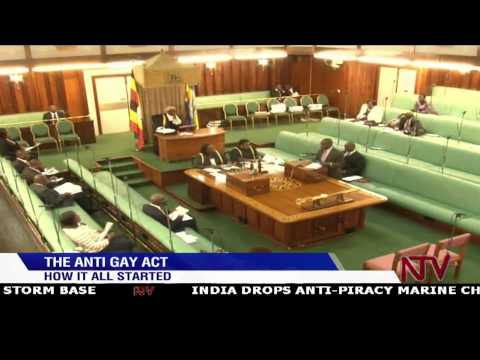 VIDEO: Ssempa, Kyazze Celebrate Anti-Homosexuality Bill
Jim Burroway
February 25th, 2014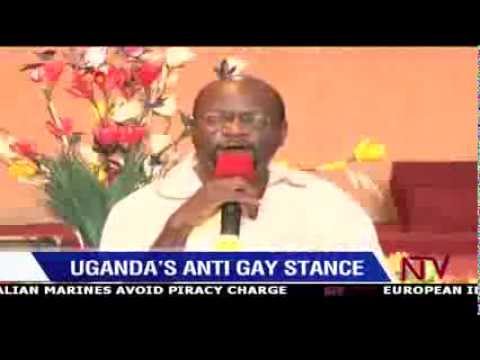 Pastor Michael Kyazze of the Omega Healing Center, a Kampala church, celebrates President Yoweri Museveni's signing of the Anti-Homosexuality Bill into law:
"A law of love, a law of order has been signed, and your future since will be better than what other perpetrators were trying to promote. There is no one who is going to kill homosexuals. No one is going to kill the homosexuals, the law doesn't say so, but the law says the habit itself is unnatural and the habit itself, if it is promoted by anyone, that person is liable for punishment.
Pastor Martin "Eat Da Poo-Poo" Ssempa also celebrates:
"The biggest problem here is confusion. Homosexuals are boys who think they are girls, and girls who think they are boys. So the issue is they want to confuse us, but Africa said, "No confusion!"
In October of 2012, Ssempa, Kyazze, and three others were convicted by a Uganda court of conspiring to tarnish a rival pastor's reputation by accusing him of homosexuality.
NTV also interviews other Ugandan officials and reviews reactions from retired South African Desmund TuTu and and the UN High Commissioner on Human Rights Navi Pillay.
VIDEO: Ugandan Morning TV Devotes Segment to Anti-Homosexuality Bill Debate
Jim Burroway
February 25th, 2014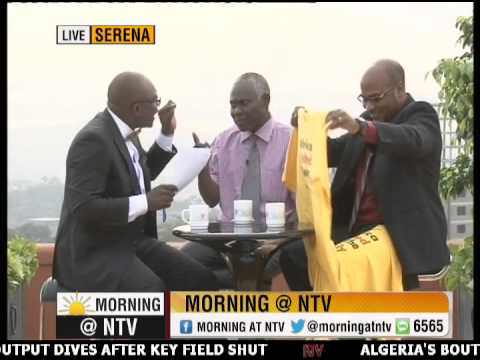 In this video, Morning @NTVhost Simon Kasyate dues his best to referee a debate between and Anti-Homosexuality Act support and virulently anti-gay pentecostal pastor Martin "Eat Da Poo-Poo" Ssempa, and virulently anti-gay pentecostal pastor but Anti-Homosexuality Act opponent Solomon Male, who calls it "a populist bill, it is opportunistic, it is based on nepotism, and it is based on lies." Male's still as anti-gay as ever though. One of his objection now seems centered on an incorrect reading of Uganda's gener-neutral law against pedophilia which madates the death penalty for anyone convicted of child sexual abuse. Male contends that with the removal of the death penalty from the Anti-Homosexuality Bill, that homosexual child abusers (as though they are the only kind of homosexuals in existence) will now have a lesser penalty than heterosexual child abusers. In 2012, Solomon voiced his opposition to the Anti-Homosexuality Bill, accusing security agencies of covering up for prominent people who were supposedly "luring" children in to homosexuality and calling it "a waste of precious time, financial and other resources that should have been applied more productively elsewhere."
Ssempa counters that Uganda "has joined the group of superpower nations such as Russia, Nigeria, Saudi Arabia, in taking a strong stand against sodomy." Ssempa has designs to take the bill to the parliament of the East African Community and then to the African Union.
Male is a former Ssempa ally. In October of 2012, Male and Ssempa were convicted by a Uganda court of conspiring to tarnish a rival pastor's reputation by accusing him of homosexuality.
VIDEO: Ugandan TV Coverage of Signing of Anti-Gay Bill, Reactions from Supporters
Jim Burroway
February 25th, 2014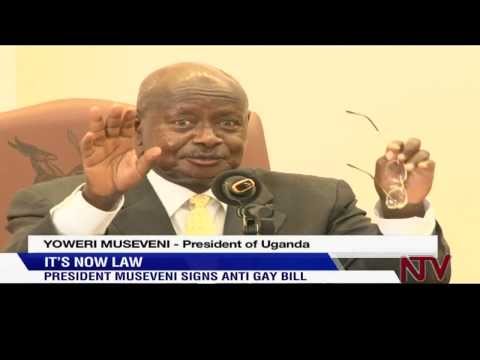 MP David Bahati, who introduced the private member's bill into Parliament, reacted to the signing:
This is a victory for the family of Uganda, the future of our children and certainly a triumph of our sovereignty as a country that got independence fifty years ago.
Ethics and Integrity Minister Simon Lokodo (a defrocked Catholic priest) dismissed the potential international fallout from the bill:
Because I know any sensible person will take this positively and say, oh, this bill as asserted their position, they've asserted their mind, and let's respect them as they are and we'll continue relating.
The NTV report erroneously states that first-time offenders against the new Anti-Homosexuality Act "would face up to fourteen years in jail." In fact, the final act as signed into law sets a penalty of lifetime imprisonment regardless if whether it is a first conviction or not.
VIDEO: Museveni Speaks To Reporters After Signing Anti-Homosexuality Bill
Jim Burroway
February 24th, 2014
You can see the live signing beginning at about the 53:00 minute mark. You can read President Yoweri Museveni's prepared remarks here, although he made several significant departures from his prepared remarks from time to time. At one point, he asked his scientists to introduce themselves individually.
Britain Reacts
Jim Burroway
February 24th, 2014
The British Foreign Ministry has issued this statement in reaction to Uganda's enacting the Anti-Homosexuality Bill:
On 24 February 2014 William Hague said:

I am deeply saddened and disappointed that the Anti-Homosexuality Bill in Uganda has been signed into law. The UK strongly opposes all discrimination on any grounds. We question the Bill's compatibility with Uganda's constitution and international treaty obligations. There can be no doubt that this Bill will increase persecution and discrimination of Ugandans, as well as damage Uganda's reputation internationally.

We ask the Government of Uganda to protect all its citizens and encourage tolerance, equality and respect. We will continue to press the Government of Uganda to defend human rights for all, without discrimination on any grounds.
In 2011, British Prime Minister David Cameron warned  Uganda that countries which persecute gay people will find their foreign aid budget cut.
Ugandan LGBT Activists React
Jim Burroway
February 24th, 2014
Frank Mugisha is the executive director of Sexual Minorities Uganda:
Pepe Julian Onziema changed his Twitter name to IAMGoingNowhere:
Kasha Jacqueline heads Freedom and Roam Uganda:
Before He Signed the Anti-Homosexuality Bill…
Jim Burroway
February 24th, 2014
…President Yoweri Museveni was opening a school and already making political hay.
Tucson Pizzeria Refuses Service to Arizona Lawmakers
Jim Burroway
February 21st, 2014
In the wake of Arizona's legislators' enacting a special-right-to-discriminate law for religious people, Tucson's Rocco's Little Chicago Pizza has posted a sign on its front door reading, "We reserve the right to refuse service to Arizona Legislators." Rocco's has received an outpouring of support on Facebook:
Hey, just want to say that all we want to do is cook you some dinner. Not trying to be anything but your neighborhood pizzeria. Thanks for the support!
Also, this:
Same Sex Marriages To Begin in Chicago Tomorrow
Jim Burroway
February 21st, 2014
A Federal judge in Chicago rulled today that same-sex couples don't have to wait until Illinois's marriage equality law goes into effect in June to get married:
There is no reason to delay further when no opposition has been presented to this Court and committed gay and lesbian couples have already suffered from the denial of their fundamental right to marry," U.S. District Judge Sharon Johnson Coleman said in her ruling.

…Cook County Clerk David Orr said his office will issue licenses immediately at the downtown office, and couples can get married as soon as Saturday.
Because the Cook County Clerk's office was the named defendant in the class action lawsuit, the decision applies only to Cook County.
Update: The Cook County Clerk's office has announced that they will stay open late for an extra two hours until 7:00 p.m. tonight. The announcement also quotes County Clerk David Orr: "I'm thrilled same-sex couples who want to get married won't have to wait any longer. We are very excited to celebrate this historic milestone with every loving couple from today onward."
LGBT Advocate Won't Be Deported To Uganda
Jim Burroway
February 20th, 2014
The South Africa-based Coalition of African Lesbians has posted on its Facebook page that South African immigration authorities have released LGBT/AIDS activist Dr. Paul Semugoma from custody and will not deport him back to Uganda. What's more, CAR says that he now has a work permit which will allow him to remain in South Africa indefinitely.
Longtime BTB readers may remember him as the formerly-anonymous blogger GayUganda. He formally revealed his identity at the 2012 International AIDS Conference in Washington, D.C., where he spoke passionately about the  challenges of confronting HIV/AIDS in a country where rampant homophobia makes it dangerous for LGBT people to disclose themselves to their doctors.
By then, he had already moved to South Africa where he had applied for residency. Yesterday, we learned that Semugoma had been detained by South African immigration authorities and was being held at OR Tambo Airport and pressured to board a flight to Uganda. He was detained as he was returning from a meeting in Zimbabwe.
If he had been forcibly returned to Uganda, he would have become dangerously subject to that nation's Anti-Homosexuality Bill. The bill will not only further criminalize homosexuality with life imprisonment, but will also criminalize providing services to LGBT people or engaging in any advocacy on their behalf. This will make Dr. Semugoma a three-times criminal: he's gay, he's a doctor providing health care to LGBT people, and he's an advocate.
Peter LaBarbera and Scott Lively Are Getting Hitched
Jim Burroway
February 20th, 2014
They're joining forces to form a new anti-gay organization:
A press conference will be held to announce the formation of a new organization, the Coalition for Family Values, whose purpose is to unify and coordinate pro-family groups around the United States and the world to more effectively oppose the now-global LGBT agenda.

Press Conference Details

When: Friday, February 21, 10:00 a.m.

Where:
National Press Club,
Zenger Room,
529 14th Street N.W.,
Washington, DC

The coalition is being organized by Dr. Scott Lively of Defend the Family International, based in Springfield, Massachusetts, and Peter LaBarbera of Americans for Truth About Homosexuality (AFTAH), based outside Chicago, Illinois — with the assistance of other existing pro-family groups and leaders in the United States and abroad.

The first action of the coalition will be to issue a statement of support for the Russian pro-family laws of 2013 and 2014 — e.g., the prohibition of pro-homosexual propaganda to minors — and to urge other nations of the world to follow the Russian example.
This is the first instance I've noticed where Lively has appended the word "International" to the name of his outfit.
Ugandan TV: Canada Threatens to Cut Ties
Jim Burroway
February 19th, 2014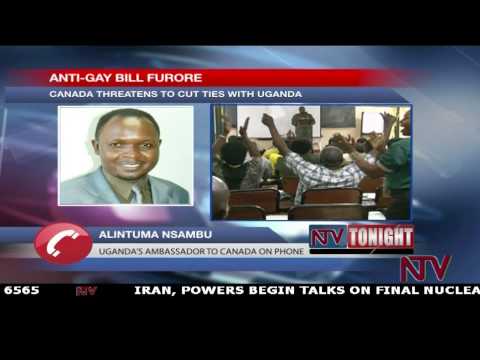 The Canadian government has threatened to cut diplomatic ties with Uganda if the Anti Homosexuality bill is signed into law. Ugandan Ambassador Alintuma Nsambu says he was summoned on Monday by the Canadian Foreign Affairs Minister to explain why Canada should not take that step. Nsambu says if signed, several western countries could isolate Uganda.
Ugandan Press Secretary: Museveni "Cannot Be Intimidated"
Jim Burroway
February 18th, 2014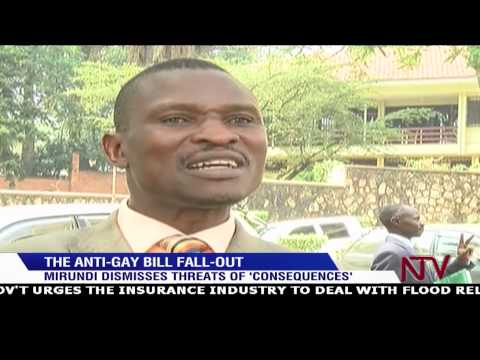 In the above clip from NTV Uganda, President Yoweri Museveni's press secretary Tamale Mirundi responds to US President Barack Obama's statement blasting Museveni for agreeing to sign the Anti-Homosexuality Bill. Mirundi tells reporters that Museveni "cannot be intimidated." On the question of foreign aid, Mirundi said, "we can do without that aid."
Ukraine Poised to Follow Russia's Anti-Gay Example
Jim Burroway
February 17th, 2014
There's a larger debate right now taking place in Ukraine over the question of the country's future direction: will they look to the West or Russia. That larger debate, of course, isn't settled, as the country continues to be rocked by protests against the pro-Russian government. While that is going on, LGBT activists in Ukraine sound the warning that the nation's Parliament will consider six draft laws regarding homosexuality, with many of those proposals sounding eerily similar to those already adopted in Russia:
In particular, the last phase of passing the Draft Law No.0945 (former 8711) entitled "On the Introduction of Changes to Certain Legislative Acts of Ukraine (regarding the protection of the right of children to a safe information environment)" will be soon held. It will include the presentation of profile Committee on Freedom of Speech and Information, headed by Mykola Tomenko, on withdrawal of this draft law from further consideration.

The Draft Law No.1155 entitled "On the Prohibition of Propaganda of Homosexuality Aimed at Children" of authorship by Vadym Kolesnichenko is also ready for discussion. This draft law could easily be adopted in the first reading. In any way this is exactly what was suggested for consideration of the Parliament within the draft resolution introduced by the profile Committee on Legislative Support of Law Enforcement, headed by Andriy Kozhemyakin.

It is also planned to conduct the last phase of passing the Draft Law No.2133 entitled "On amendments to some legislative acts (about non-admittance of adoption of Ukrainian citizens by individuals who are in same-sex marriages)", introduced by MPs from Svoboda Party Igor Miroshnichenko and Alexander Mirny. Profile Committee on Family Affairs considers it necessary to undergo the draft law for follow-up revision
Gay-Alliance Ukraine says that additional legislation is being proposed to remove sexual orientation from the country's anti-discrimination laws. Those laws had been passed by the previous government of ex-Prime Minister Mykola Azarov. Another draft resolution would withdraw Ukraine from prior agreements with the European Union dealing with "implementing legalization of same-sex relationships," despite the fact that the agreements currently do not address same-sex relationships.
Video: "We Shall Have a War With the Homosexual Lobby of the World"
Jim Burroway
February 16th, 2014
Uganda's NTV has posted video of President Yoweri Museveni's announcement that he will sign the Anti-Homosexualty Bill at his ruling party caucus this weekend in Kyankwanzi.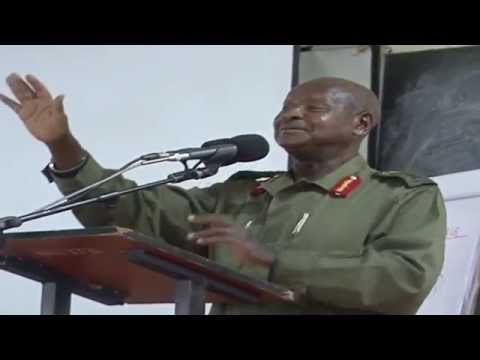 There's more in this broadcast of the program NTV at ONE. Skip ahead to the 25:39 mark:
Obama: Anti-Homosexuality Bill "Will Complicate Our Valued Relationship With Uganda"
Jim Burroway
February 16th, 2014
The WHite House has issued this statement by President Barack Obama on Uganda's pending adoption of the Anti-Homosexuality Bill:
As a country and a people, the United States has consistently stood for the protection of fundamental freedoms and universal human rights. We believe that people everywhere should be treated equally, with dignity and respect, and that they should have the opportunity to reach their fullest potential, no matter who they are or whom they love.

That is why I am so deeply disappointed that Uganda will shortly enact legislation that would criminalize homosexuality. The Anti-Homosexuality Bill in Uganda, once law, will be more than an affront and a danger to the gay community in Uganda. It will be a step backward for all Ugandans and reflect poorly on Uganda's commitment to protecting the human rights of its people. It also will mark a serious setback for all those around the world who share a commitment to freedom, justice and equal rights.

As we have conveyed to President Museveni, enacting this legislation will complicate our valued relationship with Uganda. At a time when, tragically, we are seeing an increase in reports of violence and harassment targeting members of the LGBT community from Russia to Nigeria, I salute all those in Uganda and around the world who remain committed to respecting the human rights and fundamental human dignity of all persons.