Osteen's take on homosexuality
Timothy Kincaid
January 14th, 2014
I've discussed before the odd place that Joel Osteen, pastor of the country's largest church, has staked out on the issue of homosexuality. It's not one that many people like. It doesn't play well into the good guy / bad guy dichotomy that is demanded by the Culture War.
And yet again he has been asked his opinion, and again he has given his answer. (Edge)
"What are your views on homosexuality?" King asked Osteen.

"The same that they've been. I believe that scripture says that it's a sin but I always follow that up by saying you know what, we're not against anybody," Osteen replied.

King asked about his theory of the cause of homosexuality. "How can it be if we don't know what causes it? You don't know why you're a heterosexual."

"There's a lot of things Larry that I don't understand- so I just don't want to preach on it, preach about it," Osteen replied.
And that's about as qualified an answer as you can get. He believes that the scripture says its and sin but he has no clue why or what that means.
So he goes with what I thin is a pretty good policy. If you don't understand something, it's probably best not to preach about it.
NYTimes takes on Utah's no-gay-marriage arguments
Timothy Kincaid
January 13th, 2014
The New York Times takes on the arguments (three, so far) presented by the state of Utah as to why their ban on same-sex couples marrying is a legitimate state interest. It's quite funny. Here's their take on the second argument:
In the Supreme Court, state officials changed tack. They pressed a different argument, one built on a contested premise.

"A substantial body of social science research confirms," the brief said, "that children generally fare best when reared by their two biological parents in a loving, low-conflict marriage."

Lawyers for the couples challenging Utah's ban on same-sex marriage responded that the assertion "is not true." For evidence, they cited "the scientific consensus of every national health care organization charged with the welfare of children and adolescents," and listed nine such groups. The view of the groups, the challengers said, "based on a significant and well-respected body of current research, is that children and adolescents raised by same-sex parents, with all things being equal, are as well-adjusted as children raised by opposite-sex couples."

Utah responded that it would not be swayed by "politically correct trade associations," referring to, among others, the American Academy of Pediatrics, the American Medical Association and the American Psychiatric Association. "We are not ruled by experts," the state's brief said.
Video of Belinda Carlisle / Mason visit to Bakersfield
Timothy Kincaid
January 13th, 2014
If you were unable to attend the discussion with Belinda Carlisle and her son, James Duke Mason, here is video of the event: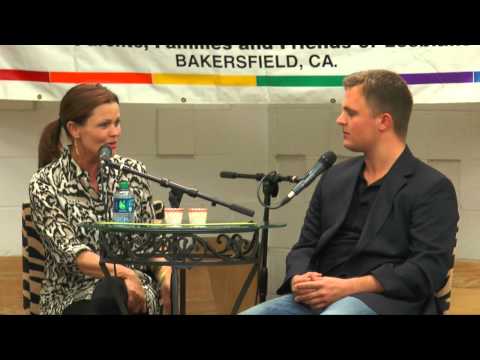 and Part Two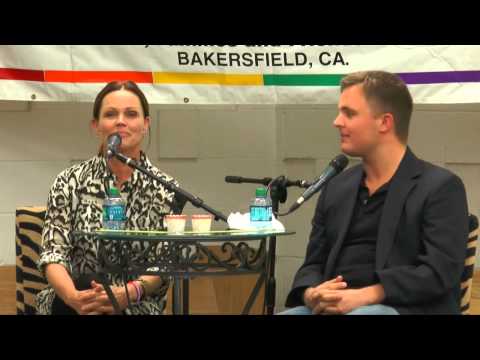 Irony Alert
Rob Tisinai
January 12th, 2014
Noted social science expert Mark Regnerus recently warned people against the use of bad statistical data:
Mark Regnerus, a sociologist at the University of Texas in Austin, says something called "confirmation bias" might be at work. In other words, people like statistics that reinforce their beliefs.
His colleagues responded: Read the rest of this entry »
If you live near Bakersfield
Timothy Kincaid
January 8th, 2014

… and don't have plans for the evening, join Belinda Carlisle and her son, James, in a discussion about his coming out process. (Californian)
On some level, Belinda Carlisle always knew her son was gay. As a child he begged not for action figures but Disney princess dresses and then as a young teen, he threw an on-the-floor-kicking-and-screaming tantrum when his parents told him they'd have to postpone taking him to see "Brokeback Mountain," the acclaimed 2005 film chronicling the love affair of two cowboys.

But there's knowing and knowing, as the singer-actress would discover several years ago when her son was 14.
Carlisle was the lead singer for the Go-Go's, an 80′s all-girl band known for such hits as Vacation, We Got the Beat, and Our Lips are Sealed, before going solo and racking up hits including Mad About You, Heaven is a Place on Earth, and I Get Weak.
The message of acceptance and love is much needed in Kern County and lets hope that a familiar voice can bring that message home to those who need it most.
The event is sponsored by PFLAG and hosted by the
First Congregational Church of Bakersfield-United Church of Christ
5 Real Rd, Bakersfield, California 93309

Doors Open at 6:30
Event at 7:00
I had the opportunity to hear Belinda sing on a cruise I took a few years ago. It was a wonderful show. I still enjoy the Go-Go's and her solo work when I catch 80′s night at the local video bar.
Chilean civil unions bill passed by Senate
Timothy Kincaid
January 8th, 2014
In August 2011, conservative Chilean President Sebastian Pinera fulfilled a campaign promise by proposing a civil unions bill. At that time he pledged to the bills passage by the end of his administration, March 2014.
Now movement has begun on the passage of the bill. (Santiago Times)
In its first session of 2014, Congress took a significant step for gay rights when the Senate approved legislation on same-sex civil union, as emotional supporters cheered and evangelical opponents held up banners with biblical messages aimed at lawmakers from the stands of the upper house.

Senators voted in favor of the Life Partner Agreement (AVP) late Tuesday evening with 28 votes in favor, six against and two abstentions. The bill will now pass to a constitutional assembly before returning to Congress on Jan. 20.

The country's leading LGBTQ organization hailed the outcome as significant step toward passing a law which "the majority of the country" wants.
Incoming Socialist President-Elect Michelle Bachelet has promised support for a marriage bill.
Kansas lawmaker objects to non-discrimination in safe houses
Timothy Kincaid
January 8th, 2014
Here's a tiny little story out of Kansas (Wichita Eagle)
Daric Smith, the Kansas Department of Health and Environment's program director for child placing and residential programs, came before the Joint Committee on Administrative Rules and Regulations on Tuesday to tell legislators how the department planned to implement the law.

Rep. Jan Pauls, D-Hutchinson, asked Smith why sexual orientation was included with gender and race in the nondiscrimination categories for admission to the secure facilities. She said state statutes don't include sexual orientation among attributes for which Kansans are protected from discrimination.

"Anything that's not under our discrimination statutes should be dropped out of the definitions of what legal discrimination is," said Pauls, who helped author Kansas' constitutional amendment banning gay marriage.
Most often when there is an objection to a positive policy, it's a conservative Republican opposing an action or decision by a Democratic administration. But in this case, a Democratic lawmaker is so hostile to gay people that she is objecting to an action of the administration of one of the nation's lease supportive Republicans, Gov. Sam Brownback.
Which reminds us that we must remain vigilant and not forget that anti-gay animus can come from any party or place.
Replacing horns with cowboy hats
Timothy Kincaid
January 7th, 2014
Okay, I didn't see this coming:
Under the direction of Gerard Mortier, the Teatro Real is fast becoming one of the world's most innovative and exciting opera houses. With eight performances scheduled for early 2014-January 29 to February 11-Teatro Real will mount the first-ever production of Charles Wuorinen and Annie Proulx's BROKEBACK MOUNTAIN.

Brokeback began its operatic life when Mortier heard about Wuorinen's wish to write an opera based on Annie Proulx's extraordinary 1997 short story, and set out to commission the score. Proulx's Brokeback Mountain (made into an Academy Award-winning film by Ang Lee) was first published in The New Yorker and subsequently in Proulx's celebrated collection of Wyoming stories, Close Range. In 2007, Wuorinen contacted Proulx with the proposal of turning Brokeback into an opera, and the author signed on to write her first libretto.
But, but, but if it ain't over til the fat lady sings, how would you know when to applaud?
Martinez not supporting proposed NM marriage amendment
Timothy Kincaid
January 7th, 2014
New Mexico Governor Susanna Martinez (R) is confirming her lack of support for any effort to ban same-sex marriage in the state by means of constitutional amendment (New Mexican)
Gov. Susana Martinez said at a news conference Monday that she won't push for a constitutional amendment to ban gay marriage in New Mexico in the upcoming legislative session.
…
Asked whether that meant she wouldn't push for the Legislature to pass a measure like Sen. Bill Sharer's Senate Joint Resolution 6, Martinez responded, "It's the law of the land. The Supreme Court has spoken."
In truth, Martinez is probably delighted at her good fortune. Martinez knows that marriage equality is an unavoidable eventuality but that advocacy on either side by a moderate Republican has either a short term or long term price tag.
Before the state Supreme Court ruled that same-sex couples could marry, she mostly avoided the controversy by saying that any change in the marriage law should be brought about by a vote of the people and changed the subject. But now that the courts have brought about marriage equality – without any political cost to Martinez – she sees the contentious issue in her rear view mirror and is stepping on the gas.
West Virginia Marriage Challenge Likely To Move Forward
Jim Burroway
January 7th, 2014
A lawsuit filed in Federal District Court in Huntington, West Virginia appears likely to move forward, according to this report from the Huntington Herald-Dispatch.
The lawsuit, filed Oct. 1, argues county clerks in Kanawha and Cabell counties violated the 14th Amendment rights of three same-sex couples to due process and equal protection in denying their request for a marriage license. The clerks contend their staffs simply followed state law.

( U.S. District Judge Robert C.) Chambers announced Monday his inclination to deny the clerks' motions to dismiss. Their arguments contend a judicial ruling would interfere with the legislative process.
The lawsuit also seeks to compel the state to recognize marriages from out of state. But because none of the plaintiffs are married, Judge Chambers warned that they lack standing to challenge West Virginia's marriage law banning recognition of same-sex marriages from out of state.
Chambers's ruling remains unofficial until a written ruling is released, which may take a couple of weeks. He will then establish deadlines for both sides to file briefs and counter-briefs. Both sides have already agreed that a full trial will not be necessary.
West Virginia's same-sex marriage ban is statutory only. Attempts to pass a constitutional amendment have stalled in the state legislature.
Suit Filed To Overturn Arizona Marriage Ban
Jim Burroway
January 7th, 2014
Four couples have filed suit in Federal District Court in Phoenix, claiming that a longstanding state law and the 2008 state constitutional amendment banning same-sex marriage violate the equal protection and due process provisions of the U.S. Constitution.
"A state law that singles out homosexuals for disfavored treatment and imposes inequality on them" violates the principle of equal protection under the law, he argued to Sedwick. He said that is precisely the effect of Arizona's restrictions, denying gays the right to marry a chosen partner and denying them the "benefits and protections of marriage."
The lawsuit also asks the court to compel the state of Arizona to recognize marriages from other states.
But Aiken has a fallback position, at least for two of the couples who were legally wed in California but reside in Arizona. Two of the couples are from Maricopa County and one is from Pinal County. The residence of the fourth couple was not available.

He said the U.S. Constitution already requires Arizona to honor opposite-sex marriages performed in other states. Aiken said Arizona has no legal right to decide same-sex marriages performed legally elsewhere are not entitled to legal recognition.
Pope warns against rejecting children of gay parents
Timothy Kincaid
January 5th, 2014
One of the more stupid anti-gay positions taken by American Catholics in the past few years was the decision by some dioceses to disallow children of gay couples to attend parochial schools. It's hard to fathom what that was supposed to accomplish.
But now Pope Francis has called for a reassessment of how the Church responds to children of gay or divorced parents.
"On an educational level, gay unions raise challenges for us today which for us are sometimes difficult to understand," Francis said in a speech to the Catholic Union of Superiors General in November, extracts of which were published on Italian media websites on Saturday.
…
The pontiff said educational leaders should ask themselves "how can we proclaim Christ to a generation that is changing?"

"We must be careful not to administer a vaccine against faith to them," the 77-year-old added.
The Catholic Church and Pope Francis hold and espouse views that are damaging to our community. But unlike his predecessor, Pope Benedict the Malevolent, Francis seems to be aware that the future looks dim for any organization who's approach to expansion is, "Not you, nor you, nor you, nor you, nor you!"
Utah man starves himself to oppose equality
Timothy Kincaid
January 3rd, 2014
Trestin Meacham has convinced himself that the State of Utah could get rid of gay marriages by simply declaring the Federal Judge's decision null. Although the Supreme Court has ruled many times that states cannot nullify decisions that fall under the US Constitution (the Supremacy Clause), Meacham insists otherwise.
And the erstwhile Constitutional Party candidate has vowed not to eat until Utah nullifies Judge Shelby's ruling, subsisting only just water and "an occasional vitamin".
I'm not sure that I believe Meacham. He says he's lost 20 pounds since the decision, but he's still up walking around and that seems a bit suspect to me. Twelve days without food is a very very long time.
But, since Utah isn't going to go with his wacky hypotheses, I guess he'll either he'll break his fast, be institutionalized, or die.
Plaintiffs ask SCOTUS not to stay Utah decision
Timothy Kincaid
January 3rd, 2014
Supreme Court Justice Sonia Sotomayor should ignore Utah's request for a temporary ban on gay marriages, attorneys representing gay couples argued in a Friday morning filing.

"Forcing same-sex couples and their families to wait and hope for the best during the pendency of this appeal imposes an intolerable and dehumanizing burden that no family should have to endure," James Magleby and Peggy Tomsic, attorneys at Magleyby and Greenwood argued in the filing.
It isn't certain when Sotomayor will respond or if she will instead take the stay request to the full court.
One of the reasons that the State of Utah gave for seeking the stay (and one of their arguments as to why they assert they would win on appeal) is that same-sex marriage is one of them there newfangled gadgets and not "deeply rooted in the nation's history and tradition." Which reminds me of this paraphrase of Nathaniel Hawthorne:
Tradition sometimes brings down truth that history has let slip, but is oftener the wild babble of the time, such as was formerly spoken at the fireside and now congeals in websites.
The Seattle Nightclub Was Targeted Once Before
Jim Burroway
January 3rd, 2014
Back in 1990, three white supremacists were found guilty of conspiring the bomb Seattle's Neighbors Bar. The three were arrested the day before they were to plant their four pipe bombs in an alley and phone in a bomb threat. The plan was to detonate the bombs after everyone evacuated out the back emergency exit. The longest sentence handed down was to the ring leader, who was given just a nine year sentence.
Soldiers save Seattle gay club
Timothy Kincaid
January 3rd, 2014
When the Defense Department's "don't ask, don't tell" policy was overturned and gay soldiers could serve openly, anti-gay activists warned of unexpected consequences. And, in a way, they were right.
On New Year's Eve, someone entered Seattle's Neighbors Bar, poured gasoline on the stairway, and set the club on fire. What happened next illustrates one unexpected consequence of having trained soldiers who are a part of all walks of life. (kirotv)
In the first few seconds after the fire roared up the back stairway of Neighbours nightclub in Seattle, US Army Staff Sgt. Christopher Bostick was one of a few New Year's Eve revelers who reacted immediately.

"I'm embarrassed to say, my first move was to go after it with cups of water. Then I quickly realized, this fire is way bigger than that, he said.

In the next breath, the Army Intelligence veteran of Iraq and Afghanistan tours sharpens his tone, as if news of impending violence is to follow.

"You know, in 30 seconds, if that fire did what the arsonist intended, there's no telling how many people could have died."

While 750 people counted down to the new year, Bostick rushed to grab a fire extinguisher from behind the bar. He and Air Force member Mike Casey went to work putting out the gasoline-fueled fire.

"It was like the Carrie movie," Bostick recounted, "you see just fire everywhere. And that's all you can see and for a second, that's all you're focused on."
The crowd evacuated smoothly, no one was hurt, and the police are investigating.
Brendon Ayanbadejo comes to Kluwe's defense
Timothy Kincaid
January 3rd, 2014
Chinese fascination with imaginary gay Brits
Timothy Kincaid
January 2nd, 2014
Most of us have heard of fan fiction, the amature storytelling of romantic liaisons between real or fictional characters who have no relationship otherwise. And we probably are familiar with yaoi, the boy with boy romantic animation that is created and consumed in mass by young Japanese women.
But I was unfamiliar with the fascination that many Chinese seem to have with the BBC show Sherlock. (BBC)
When UK Prime Minister David Cameron visited China in December and opened an account on weibo, China's version of Twitter, the top request for him was to speed up the release of the new series of Sherlock. That day finally arrived.

The show was launched on Youku, a Chinese video-hosting website similar to YouTube, just two hours after its premiere in Britain. It got almost 3m hits overnight, and weibo has been lit up by fans discussing the new episode.
Nor was I aware that many Chinese viewers seem intent on seeing Holmes and Watson as a couple.
But the most fervent fans are those intent on finding a gay subtext to the relationship between Holmes and Watson. There are numerous Chinese sites that host Sherlock fan fiction, depicting the detectives as a couple. And among this group of fans, many identify themselves as funu or "rotten women" – young women who like gay stories.

"I have to say, this show is catering to our rotten girls' taste more and more," said one fan.

"Sherlock tortures Watson a thousand times, and Watson loves him like his first love," wrote another. "I've waited two years, and it didn't disappoint me."
All of which is probably fine with the show's star, Benedict Cumberbatch, who officiated at the same-sex wedding of friends last summer.
Guardian sworn in
Timothy Kincaid
January 1st, 2014
Atlantic City has a new mayor, gay Republican Don Guardian. He has a tough job ahead of him. (PolitickerNJ)
This beleaguered gaming capital swore in a new mayor Wednesday amid the usual hoopla of "a new beginning,'' then promptly had to turn its attention to the same old problem that has plagued it for years: revenue, and the fact the town does not see as much of it from casinos as it used to.

Minutes after Republican Don Guardian took the oath of office from Congressman Frank LoBiondo in a packed council chamber, the new council found itself forced to make decisions on lingering and sometimes contentious issues.

As Guardian took his seat, the council had to make difficult decisions on accelerated tax sales and approving a temporary budget to pay salaries and contracts in the near term all the while realizing that in the long term more unwelcome financial news looms depending on the fallout from the $50 million Borgata tax appeal case and eventual new tax valuations.
Utah files stay request with SCOTUS
Timothy Kincaid
December 31st, 2013
The State of Utah has now requested that the Supreme Court halt the ongoing issuance of same-sex marriage licenses that have been occurring since their ban on same-sex marriage was ruled unconstitutional by federal Judge Richard Shelby (that wascally wepublican "activist judge").
In papers filed Tuesday with Justice Sonia Sotomayor, the state asked her to overturn court decisions to let the marriages go forward. Sotomayor handles emergency requests from Utah and other Rocky Mountain states. She can act by herself or get the rest of the court involved.
As the stay request was filed hours before the New Year holiday, I'm curious to see what argument they made to convince Sotomayor that the federal judges in the Tenth Circuit abused their discretion.