Stay placed on Alabama marriages
Timothy Kincaid
January 25th, 2015
dark purple: marriage equality
light purple: marriage equality in parts of the state
pink: marriage equality on stay
yellow: discrimination upheld on state level
red: discrimination upheld on circuit level
Late Sunday, Judge Grenade has placed a fourteen day hold on her ruling that the Alabama ban on same sex marriages was in violation of the US Constitution. This is to give the state time to appeal and to request a longer stay from either the Eleventh District Court of Appeals or the United States Supreme Court.
The Eleventh Circuit has already refused to stay the Florida ruling, paving the way for marriages to begin there. And SCOTUS has denied all recent requests for stay. So it is not very likely that Alabama can delay marriage equality beyond February 8th.
Alabama ban overturned
Timothy Kincaid
January 23rd, 2015
This just in:
If anything, Alabama's prohibition of same-sex marriage detracts from its goal of promoting optimal environments for children. Those children currently being raised by same-sex parents in Alabama are just as worthy of protection and recognition by the State as are the children being raised by opposite-sex parents. Yet Alabama's Sanctity laws harms the children of same-sex couples for the same reasons that the Supreme Court found that the Defense of Marriage Act harmed the children of same-sex couples. Such a law "humiliates [ ] thousands of children now being raised by same-sex couples. The law in question makes it even more difficult for the children to understand the integrity and closeness of their own family and its concord with other families in their community and in their daily lives." Windsor, 133 S.Ct. at 2694. Alabama's prohibition and non-recognition of same-sex marriage "also brings financial harm to children of same-sex couples." id. at 2695, because it denies the families of these children a panoply of benefits that the State and the federal government offer to families who are legally wed. Additionally, these laws further injures those children of all couples who are themselves gay or lesbian, and who will grow up knowing that Alabama does not believe they are as capable of creating a family as their heterosexual friends.

For all of these reasons, the court finds that Alabama's marriage laws violate the Due Process Clause and Equal Protection Clause of the Fourteenth Amendment to the United States Constitution.
As yet, there doesn't appear to be a stay on the ruling.
UPDATE: Wikipedia has the following:
On the recommendation of Senators Jeff Sessions and Richard Shelby, Granade was nominated to the United States District Court for the Southern District of Alabama by President George W. Bush on September 4. 2001 to a seat vacated Alex T. Howard, Jr. retired from Federal Judicial Service in senior status. Granade was confirmed by the Senate on February 4, and received her commission on February 12, 2002.
Yum! That irony is deeeeelicious!
BTB nominated for GLAAD award
Timothy Kincaid
January 22nd, 2015
So, little Turtlers, the Gay and Lesbian Alliance Against Defamation has released the nominees for its Media Awards. And there's this:
As you can see, we are among excellent company and are honored to be nominated.
Two Americas Watch
Jim Burroway
January 17th, 2015
A tweet from HRC's Chad Griffin:
On same day #SCOTUS granted marriage cases, @HRC Mississippi flagged this hateful graffiti in downtown Jackson. pic.twitter.com/tPMs99DY14

— Chad Griffin (@ChadHGriffin) January 16, 2015
Austria approves couple adoption
Timothy Kincaid
January 14th, 2015
Austria's Constitutional Court has ruled that gay couples have the same right as heterosexuals to adopt children.

Before the decision Wednesday, gay partners could adopt a child only if one of them was the child's biological parent.

Explaining the decision, chief judge Gerhart Holzinger says there is "no objective argument for a differing rule based solely on sexual orientation" of the parents.
Congrats, Austrians
(and for us poor Americans with no sense of global geography, Austria is the birthplace of the Governator, not Pricilla, Queen of the Desert)
Another sad day for Andrew Shirvell
Timothy Kincaid
January 13th, 2015
It seems like every day is Andrew Shirvell's terrible, horrible, no good, very bad day.
For a while it seemed like things were going wonderfully. Shirvell was accepted to Ave Maria School of Law, a Catholic law school with teachings that are "in fidelity to the Catholic Faith as expressed through Sacred Tradition, Sacred Scripture, and the teaching authority of the Church". And after school he got a prestigious position as Michigan Assistant Attorney General.
But things took a tick in the wrong direction in March 2010 when Chris Armstrong was elected Student Body President at University of Michigan. Armstrong was a Radical Homosexual Activist, you see.
And rather handsome.
So Shirvell decided that he needed to keep an eye on things. Not having the distractions of wife or family, Shirvell had plenty of time to keep track of what kind of radical homosexual agenda Armstrong was up to and report on it in a blogsite dedicated to just that purpose.
He hid in Armstrong's bushes, peered in his windows, and followed him on campus taking pictures to post on chris-armstrong-watch.blogspot.com. He posted pictures of Armstrong with swastikas scribbles on his face and accused him of being racist and a pervert and Satan's representative on the Student Council.
His efforts caught him some attention, such as an interview with Anderson Cooper. Shirvell probably thought that was going to be a good day, but… well… it really wasn't.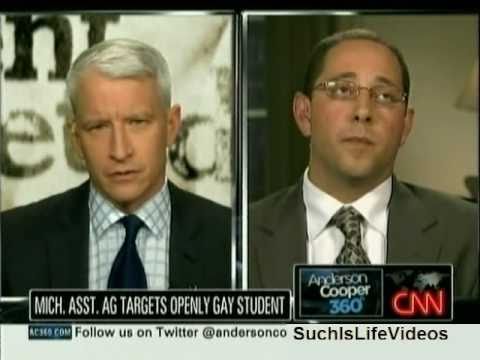 At first his boss, AG Mike Cox defended Shirvell's right to "free speech outside work hours". Cox even went on Cooper's show to defend him. That proved not to be a good day for either of them.
In October 2010, Shirvell took an "indefinite personal leave", with the expectation of returning to his job after things quieted down and people stopped asking his boss if he usually hired escapees from the looney bin. Nevertheless, no, not a good day.
But on November 8, 2010, Andrew was fired. It seems that some of his cyber-stalking was done on office computers. Definitely a terrible, horrible day.
But that wasn't no good, very bad enough. Armstrong sued Shirvell for harassment, asking for $25,000. And being short on funds, Shirvell chose to hire a lawyer that didn't have the best track record: himself.
Maybe he thought it a daring strategy, but when he spent an hour questioning himself on the stand, it probably didn't give quite the impression that he wanted. The jury didn't think that Armstrong's request was reasonable and came back with different verdict: 4.5 million dollars. Definitely a no good day, no good at all.
He then tried to sue Armstrong's attorney for suggesting that he wasn't the brightest bulb in the hallway. (What are they teaching at Ave Maria? Yikes!). But the judge tossed the case saying that the attorneys statements were either her opinion or, perhaps, true. Terrible, check; horrible, check; no good, check; very bad, check.
But there was a bright ray of sunshine in the dark. In December 2012, Judge Paula Manderfield told the state of Michigan that they had to pay Shirvell unemployment. He had a First Amendment right to say crazy wackadoodle things and not be fired for it. So there's that.
But this week he had another terrible, horrible, no good, very bad day. A Michigan appeals court ruled that he doesn't get any unemployment compensation after all. Embarrassing your boss and discrediting the state isn't protected speech, it turns out. (Detroit Free Press)
The attorney general's office was justified in firing Andrew Shirvell in 2010 because his posts on Facebook and an anti-gay blog, as well as his campus visits and TV appearances, clearly had an adverse impact on the agency's credibility, the court said in a 3-0 decision released Friday.

"Shirvell's conduct undermined one of the department's specific missions — i.e. the integrity of its anti-cyberbullying campaign," said judges Stephen Borrello, Christopher Murray and Peter O'Connell. "By employing an individual such as Shirvell, whose conduct Cox agreed amounted to bullying, the department undermined its own message."
Ya think?
Andrew plans on appealing to the Michigan Supreme Court.
"Every public employee, whether liberal or conservative, will now be in fear of what they're doing on their off hours," he said.
Yep, Andrew Shirvell is still nutty as squirrel poo. And he has probably moved his obsession on to some other handsome radical homosexual activist and is busy creeping out whomever he meets.
But at this point all I can feel for him is pity. That's a long string of terrible, horrible, no good, very bad days.
Apply nightly
Timothy Kincaid
January 13th, 2015
At first glance, I immediately thought of Restored Hope Network, the anti-gay ex-gay group that arose after Exodus International closed up shop. But, sadly for Restored Hope, wrinkles are easier to fight off than one's inherent orientation.
South Dakota's marriage ban ruled unconstitutional
Timothy Kincaid
January 12th, 2015
dark purple – marriage equality
light purple – marriage equality in part of the state
pink – marriage equality stayed
yellow – federal ruling for discrimination
red – appellate ruling for discrimination
A federal judge has ruled, on summary judgement, that marriage is a fundamental right and that the ban on same-sex marriage in South Dakota violates the Equal Protections clause of the US Constitution. (Sun Times)
U.S. District Judge Karen Schreier on Monday issued a summary judgment in favor of the six couples who filed the lawsuit. The federal complaint challenges both South Dakota's ban on gay marriage and its refusal to recognize marriages of same-sex couples who legally wed in other states.
Judge Schreier stayed the ruling pending appeal, at least in part because the Eighth Circuit has not heard or ruled on a marriage equality case. The Eighth Circuit also includes:
Iowa – marriage equality due to a state supreme court ruling.
Minnesota – marriage equality as the result of legislation after the voters rejected a constitutional ban
Missouri – in November two judges ruled for marriage equality and did not stay their rulings. However these did not necessarily apply across the state, resulting in a few counties and the city of St. Louis issuing same-sex marriage licenses.
Arkansas – in November a federal judge ruled for marriage equality. That ruling is stayed pending appeal.
Nebraska – to the best of my knowledge, no cases have yet been ruled on.
North Dakota – to the best of my knowledge, no cases have yet been ruled on.
The plaintiffs have indicated that they will appeal the stay.
SCOTUS drops Louisiana appeal
Timothy Kincaid
January 12th, 2015
Among the marriage case appeals under consideration last Friday was Robicheaux v. George, in which U.S. District Judge Martin Feldman had found that the state of Louisiana had a "legitimate interest" in prohibiting same-sex couples from marrying. The plaintiffs appealed to the Fifth Circuit Court of Appeals, but also appealed to the Supreme Court to hear the case before the circuit court decision.
The Supreme Court has now announced that it will not be hearing Robicheaux at this time. This is likely not detrimental to the cause of marriage equality, as the case was heard last week by the Fifth Circuit, and nearly all observers predict that the ruling will be overturned by that court.
SCOTUS has also announced that the four cases in which the Sixth Circuit upheld discrimination will be considered at their conference this Friday. As it stands, if any marriage cases are taken up by the court this year, it will be those in which laws singling out gay people for exclusion have been upheld.
Ninth Circuit slaps down Butch Otter
Timothy Kincaid
January 10th, 2015
Idaho Governor Butch Otter has had his hat handed back to him. Again.
Otter's defense of the state's anti-gay marriage laws hasn't gone well. He lost in federal court. He lost on appeal at the Ninth Circuit. And the Supreme Court is not considering whether to hear Idaho's appeal. On October 10th of last year, Justice Kennedy lifted the last stay and marriages have been occurring since.
But it seems that Otter hasn't met Captain Obvious. So, in what appears to be a pointless effort, he appealed to the Ninth Circuit to hear his case en banc (by a larger panel of judges).
Yeah… no.
He did get the support of three judges, O'Scannlain, Rawlinson, and Bea, but,
The full court was advised of the petitions for rehearing en banc. A judge requested a vote on whether to rehear the matter en banc. The matter failed to receive a majority of the votes of the nonrecused active judges in favor of en banc reconsideration.
The single MOST important thing to Rep. Bill Hayes
Timothy Kincaid
January 9th, 2015
Meet Bill Hayes.
Hayes is the Representative to the Ohio House of Representatives from the 71st District, a rural chunk of dirt between Columbus and Cleveland. And he holds his Republican values with pride (candidate site)
Bill is "Rock Solid" on –

Smaller Government
Protection of the Unborn
Lower Taxes/Less Spending
Gun rights
Quality Education
Securing Our Borders
But though he left if off the list, there is one value, one singular issue, which is more important than any of these. So important, in fact, that Bill Hayes wrote a letter to the Newark Advocate editor to explain how this issue trumps all others.
Here's Bill telling us why he isn't endorsing fellow Republican Senator Rob Portman:
I am very much in line with the Senator on many, in fact most, issues such as his conservative approach to fiscal matters, the 2nd amendment, health care, education, school prayer, and most family issues.

However, as a matter of conscience I do not concur with his position that loving homosexual couples should be permitted to "marry". That view requires me to redefine my strongly held religious view on the institution of "marriage", a view that, because of conscience, I cannot support and that does not allow me to endorse the senator's candidacy due to the influence my endorsement may have on others.
I think that when Rep. Hayes runs for re-election he should just leave off all that stuff about guns and smaller government. After all, the truly important thing to Hayes is stopping gay people from getting married.
No SCOTUS marriage announcement today
Timothy Kincaid
January 9th, 2015
The Supreme Court met today to determine which cases they will accept this year. Among those in consideration were the marriage cases from the Sixth Circuit (Michigan, Ohio, Kentucky, and Tennessee) and Louisiana.
The Louisiana case (which was also heard this morning in the Fifth Circuit Court of Appeals) is one of the few since the Windsor case in which a federal judge has ruled against equality. The Sixth Circuit is the only appellate court, to date, to rule in favor of anti-gay bans on marriage.
There was some expectation that the Supreme Court would release it's decision to hear one or all of these cases today. However, no such decision has been announced.
This does not mean that the court will not hear any of these cases. Further announcements will be made Monday and could be made any time before the end of the month. The possible outcomes of today's deliberation could be:
That none of the cases are heard. This would leave the nation divided as to whether the US Constitution allows legislation and state constitutional provisions designed to disadvantage gay citizens and deny them equal status under the law. This is unlikely.
That one or all of the cases are heard. This would result in another argument before SCOTUS which would probably answer the question once and for all. Marriage equality supporters predict that the court would rule that anti-gay laws are disallowed by the either the Due Process or Equal Protections provision of the US Constitution (or both).
That the court reverses the ruling of the Sixth Circuit outright. While this is not terribly likely, it would be very fitting in that it would treat bigotry with the same measure of cavalier distain that it treated equality 44 years ago in the Baker case.
Fifth Circuit looks promising
Timothy Kincaid
January 9th, 2015
Today the Fifth Circuit Court of Appeals is hearing argument on three marriage equality cases, separately, one from each of Louisiana, Texas, and Mississippi. First in line was Robicheaux vs Caldwell, the case from Louisiana.
The Fifth Circuit panel consists of two Reagan appointees (Jerry Smith and Patrick Higginbotham) and an Obama appointee (James Graves). It was known, going in, that Smith was not sympathetic with the notion that gay people hold the same constitutional rights as heterosexuals and that Graves favored equality. The wild card was Higginbotham.
We cannot, of course, know the outcome until it is determined and announced. However observers are reporting good news from the Louisiana hearing. Higginbotham joined Graves in expressing skepticism towards the arguments presented by the state and those who were there are predicting victory.
UPDATE: the oral arguments have been made available here
Bill Donohue: Charlie Hebdo Had It Coming
Jim Burroway
January 8th, 2015
The Catholic League's Bill Donohue — okay, who am I kidding; Donohue is the entire "league" — has decided to throw his two francs in on yesterday's bombing:
Those who work at this newspaper have a long and disgusting record of going way beyond the mere lampooning of public figures, and this is especially true of their depictions of religious figures. For example, they have shown nuns masturbating and popes wearing condoms. They have also shown Muhammad in pornographic poses.

While some Muslims today object to any depiction of the Prophet, others do not. Moreover, visual representations of him are not proscribed by the Koran. What unites Muslims in their anger against Charlie Hebdo is the vulgar manner in which Muhammad has been portrayed. What they object to is being intentionally insulted over the course of many years. On this aspect, I am in total agreement with them.

Stephane Charbonnier, the paper's publisher, was killed today in the slaughter. It is too bad that he didn't understand the role he played in his tragic death. In 2012, when asked why he insults Muslims, he said, "Muhammad isn't sacred to me." Had he not been so narcissistic, he may still be alive. Muhammad isn't sacred to me, either, but it would never occur to me to deliberately insult Muslims by trashing him. …Madison was right when he said, "Liberty may be endangered by the abuses of liberty as well as the abuses of power."
Donohue threw in the obligatory bone that the violence in Paris "must be unequivocally condemned." But then he adds, "But neither should we tolerate the kind of intolerance that provoked this violent reaction." So let's do the math: 23 words to condemn the violence, 254 to justify it. That pretty much sums it up.
Marriage goes state-wide in Florida
Timothy Kincaid
January 6th, 2015
dark purple – marriage equality states
light purple – marriage in some counties, the state is still fighting
pink – we have won in federal court but the rulings are stayed on appeal to the Circuit court
orange – we have lost in federal court and are appealing to the Circuit court
red – we have lost in the Circuit court and are appealing to the Supreme Court
The stay has lifted across the state of Florida and all 67 counties have joined Miami-Dade in issuing marriage licenses to same-sex couples.
Congratulations to all.