Knowing Gay People Drives Growth in Marriage Equality Support
Jim Burroway
March 25th, 2013
CNN is calling it "the Portman Effect":
One day before the Supreme Court hears a high profile case on same-sex marriage, a new national poll indicates that the percentage of Americans who say they have a family member or close friend who is gay or lesbian is on the rise. And that increase matches a jump in the percent of the public who support legal same-sex marriages

According to a CNN/ORC International survey, 57% say they have a family member or close friend who is gay or lesbian, up 12 points from 2007.

"The number of Americans who support same-sex marriage has risen by almost the same amount in that time – from 40% in 2007 to 53% today – strongly suggesting that the rise in support for gay marriage is due in part to the rising number of Americans who have become aware that someone close to them is gay," says CNN Polling Director Keating Holland.
Sen. Mark Warner Supports Marriage Equality
Jim Burroway
March 25th, 2013
Sen. Mark Warner (D-VA), the senior senator of the exceptionally socially-conservative state of Virginia, has posted on his Facebook page his support for marriage equality.
I support marriage equality because it is the fair and right thing to do. Like many Virginians and Americans, my views on gay marriage have evolved, and this is the inevitable extension of my efforts to promote equality and opportunity for everyone. I was proud to be the first Virginia governor to extend anti-discrimination protections to LGBT state workers. In 2010, I supported an end to the military's 'don't ask, don't tell' policy, and earlier this month I signed an amicus brief urging the repeal of DOMA. I believe we should continue working to expand equal rights and opportunities for all Americans.
This isn't entirely surprising, given his signing onto the amicus brief for DOMA's repeal. But this does make him the only state-wide elected official in Virginia to support marriage equality.
Warner joins Sen.Claire McCaskill (D-MO), who also announced her support for marriage equality yesterday on her Tumblr page. On the Democratic side of the aisle, this has the feel of a mopping-up operation rather than another hard-fought victory in a long-running battle. As Rob Tisinai pointed out last week, the window is rapidly closing for those political leaders who will want their children and grandchildren to remember them as being on the right side of history while it still matters.
Sen. Claire McCaskill Supports Marriage Equality
Jim Burroway
March 25th, 2013
Sen. Claire McCaskill (D-MO), the senior Senator from socially-conservative Missouri, took to her Tumblr page yesterday to announce her support for marriage equality:
I have come to the conclusion that our government should not limit the right to marry based on who you love. While churches should never be required to conduct marriages outside of their religious beliefs, neither should the government tell people who they have a right to marry.

My views on this subject have changed over time, but as many of my gay and lesbian friends, colleagues and staff embrace long term committed relationships, I find myself unable to look them in the eye without honestly confronting this uncomfortable inequality. Supporting marriage equality for gay and lesbian couples is simply the right thing to do for our country, a country founded on the principals of liberty and equality.

Good people disagree with me. On the other hand, my children have a hard time understanding why this is even controversial. I think history will agree with my children.
I don't know how to argue with that.
Rob Tisinai
March 22nd, 2013
As long as I'm all a-twitter, I might as well share this new gem from NOM's Communications Director (whose posts I can read but am blocked from responding to):
if humans were divided into BLUE&RED, instead of MALE&FEMALE, marriage would =1Blue+1Red. Orientation doesnt matter, sexual difference does!

— Thomas Peters (@AmericanPapist) March 22, 2013
I don't know how to argue with that. Literally. I don't know how to argue with that.
Now if we could just get him in front of the Supreme Court.
Colorado Civil Unions Signed Into Law
Daniel Gonzales
March 21st, 2013
After one failed referendum, two years being voted down in the House, civil unions were signed into law today with a high-five and thumbs-up from Governor Hickenlooper.
And video footage of (most of) Sen Pat Steadman's formal remarks followed by the Governor's signing.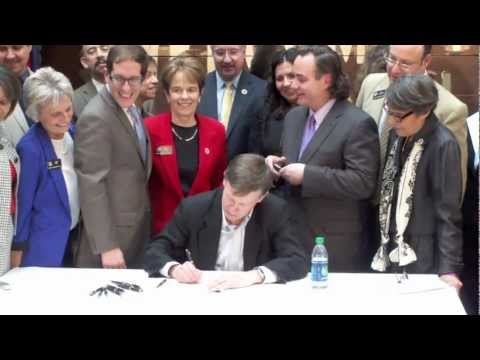 Tiny Bisbee, AZ To Issue Civil Union Certificates
Jim Burroway
March 21st, 2013
The city council of Bisbee, Az, a rough old mining town south of Tombstone that has since re-emerged as a vital arts community (pop. 6.000), has given its initial, unanimous approval to an ordinance that would allow any two unrelated, unmarried adults of any sexual orientation to enter into a civil union. According to the Sierra Vista Herald:
The City of Bisbee supports the right of every person to enter into a lasting and meaningful relationship with the partner of his or her choice, regardless of the particular sexual orientation of that partnership."

City Council members reviewed the language of an ordinance Tuesday night that opposes discriminatory practices against lesbians, gay, bisexual and transgender people and offers them the same rights as any married couple.

The ordinance continues: "The City of Bisbee will exercise its inherent powers of self-government. as established under its city charter, to attempt to lessen the impact of these discriminatory practices upon all citizens within the (city limits)
The City Clerk's Office would issue civil union certificates for $25, and would be given the rights of a married couple within the city of Bisbee. Because of the geographic specificity, this appears to be similar to domestic parnership registries which are in place in other cities like Tucson and Phoenix. But by calling this arrangement a Civil Union, the city council is sending a strong message about the city's commitment to marriage equality. Arizona's constitution prohibits same-sex marriage, but is silent on domestic partnerships or civil unions.
In 2010, Bisbee was named the gay-friendliest city in Arizona, and it remains one of my favorite weekend getaway destinations. You can read more about why I love Bisbee here.
Headline of the Day
Jim Burroway
March 18th, 2013
From comedian/satirist Andy Borowitz:
Portman Inspires Other Republicans to Stop Speaking to Their Children
Hillary Clinton endorses marriage equality
Timothy Kincaid
March 18th, 2013
Former Secretary of State Hillary Rodham Clinton announced her support for gay marriage Monday, putting her in line with other potential Democratic presidential candidates on a social issue that is rapidly gaining public approval.

Clinton made the announcement in an online video released Monday morning by the gay rights advocacy group Human Rights Campaign. She says in the six-minute video that gays and lesbians are "full and equal citizens and deserve the rights of citizenship."

"That includes marriage," she says, adding that she backs gay marriage both "personally and as a matter of policy and law."
Obama admin to argue in opposition to Prop 8
Timothy Kincaid
March 15th, 2013
In court orders on Friday, justices announced the U.S. Solicitor General will be allowed speaking time for oral arguments in the case, which are scheduled for March 26.

"The motion of the Solicitor General for leave to participate in oral argument as amicus curiae and for divided argument is granted," the orders states.
Michigan has its first same-sex marriage
Timothy Kincaid
March 15th, 2013
NBC
The head of an American Indian tribe in Michigan signed a law approving same-sex marriage on Friday, joining at least two other tribes nationwide in doing so, then immediately wed a gay couple who had been together for 30 years but never thought they would see this day come.

Dexter McNamara, chairman of the 4,600-member Little Traverse Bay Bands of Odawa Indians in northern Michigan, wed Tim LaCroix, 53, and Gene Barfield, 60, of Boyne City. After McNamara read the couple's vows and led the ceremony in English, a member of the tribe followed and conducted a traditional tribal ceremony in their language before dozens of wellwishers.
While the Little Traverse Bay Bands comes third in the list of Indian Nations, it is an important addition.
The impact of the Little Traverse Bay decision was unclear, though Fletcher said he thought it would carry weight with other tribes. Little Traverse Bay Bands was an influential, average-sized tribe that has been, along with some other Michigan tribes, "very much in the forefront of some good progressive tribal governance measures in the last couple decades."
…
"We've been a role model, I think, for the federally recognized tribes of Michigan and it seems like we're out in front — and not taking anything away from the other federally recognized tribes — but, you know, it seems like we kind of opened the door for other tribes and I think other tribes will follow," he said.
Could use some help…
Rob Tisinai
March 14th, 2013
Hey everybody, I'm working on a little video project, and it's built around our opposition's most common themes and cliches. Here's what I've got so far.
Gays don't have the right to redefine marriage for everyone.
Marriage is about procreation.
We want to protect traditional marriage.
We hate the sin but love the sinner.
We believe in Biblical marriage.
Marriage is about procreation.
We're fighting for the rights of children.
What have I missed? I'm not looking for fringe stuff. I need mainstream opposition themes, the ones that they build million-dollar campaigns around, the ones that sway moderate voters. For instance, I just thought of another: "Let the people vote!"
Any others?
As NOM often tells us, married people live longer
Timothy Kincaid
March 14th, 2013
The National Organization for Marriage often touts the statistical advantages of marriage. For example, this is from their fact sheet, Why Marriage Matters:
Both men and women who marry live longer, healthier and happier lives. On virtually every measure of health and well-being, married people are better-off than otherwise similar singles, on average.
Which is, to my way of thinking, a good reason to support marriage equality. Unless, I suppose, you don't want gay people to live longer, healthier, and happier lives.
But I think NOM would counter that these statistics of benefit only apply to heterosexual marriages. And it is the magical, mystical, godly coming together of penis and vagina that in some unknown way (similar to the power of wearing your lucky socks on game day) gives better lives. I get the sense that they really do think there's something holy and mysterious about heterosexual married sex.
But they would be wrong. The Danes took a look. (LA Times)
Men in same-sex marriages are living longer, according to Danish researchers, but mortality rates among married lesbians have begun to rise after a long period of decline.

The study, published Tuesday in the International Journal of Epidemiology, used Denmark's civil registry to follow 6.5 million adults from 1982 to 2011. The study is the first of its kind to examine mortality — the risk of death during a specific period of time — and relationship status for an entire nation.
(What do you bet NOM mentions this study… but only the part about married lesbians mortality beginning to increase.)
And it turns out that it isn't penis in vagina, after all, that results in longer lives.
Researchers found that marriage in and of itself did not ensure low mortality during the period studied. For instance, opposite-sex married couples who lived apart faced a two-fold increase in their mortality rate.

Also, heterosexual men and women saw a steep jump in their mortality rate during the study period if they were married two or more times. The rate increased 27% for women with each successive marriage, and it increased 16% for men.
And so, with their usual logic, social conservatives will continue to insist that gay men and women leave their partners and live celibately. Or marry someone of the opposite sex – even though they know that this is likely to result in some poor soul's unhappy divorce and remarriage (and increased mortality).
You're killing me, NOM, you're killing me!
New Zealand Moves Close To Marriage Equality
Jim Burroway
March 13th, 2013
The New Zealand Parliament approved a marriage equality bill 77-44 in the second of three votes yesterday:
Labour MP Louisa Wall's bill passed by 77 votes to 44 votes late last night in front of a near-full public gallery, a drop in support of 3 votes from the first reading. Cabinet ministers Gerry Brownlee, Jonathan Coleman and Murray McCully and National MP Ian McKelvie voted against after initially supporting the bill. An attempt by New Zealand First leader Winston Peters to delay the law change until a referendum could be held at the 2014 general election was voted down by a margin of 83 votes to 33.
The debate surrounding the bill apparently has been acrimonious:
National MP Chester Borrows, who described himself as a conservative Christian, slammed the "abhorrent" way that various groups – including churches – had conducted themselves in the debate. Mr Borrows opposed the bill because he did not believe that changing the definition of marriage helped achieve equality in long-term relationships. But he stressed that the discussion had brought out the worst in Christian communities, saying that some colleagues had changed their opposing vote because of the hatred expressed by some opponents.
The Second Most Powerful Testimony in Favor of Equality (UPDATED)
Jim Burroway
March 12th, 2013
Timothy presented the most powerful testimony from a hearing held by a Minnesota House Committee. For your consideration, I present the second most powerful testimony from the same venue for our side – which just happens to be Mike Frey testifying for their side.
By the way, a Minnesota Senate committee was also holding hearings today on a bill to provide marriage equality to same-sex couples. The Senate Judiciary Committee approved the bill in a 5-3 party-line vote, and it will now go on to the full Senate. Marriage supporters believed that the Senate committee posed a higher hurdle than the House committee, which is expecte to vote later this evening. Full floor votes will likely be weeks or months away, as legislative leaders vow to press on with budget bills before taking up the measure.
Update: The House Civil Law Committee passed the bill this evening on a 10-7 party-line vote. The bill now advances to the full House, but is not expected to be voted on until much later in the legislative session.
For another day the world remains popeless
Timothy Kincaid
March 12th, 2013
It seems that discernment is not a straightforward thing and that God is working in very very mysterious ways today. (Times)
The cardinals of the Catholic Church held their first ballot on Tuesday to elect a pope, with black smoke signaling no winner on the first day of their conclave inside the Sistine Chapel.
Civil Unions pass in Colorado
Timothy Kincaid
March 12th, 2013
The Civil Unions bill in Colorado has passed. The bipartisan vote in the House was 39 to 26 and, having already cleared the Senate, it goes to Governor John Hickenlooper for his expected signature.
Rep. Cheri Gerou, R-Evergreen, and Rep. Carole Murray, R-Castle Rock, joined all 37 Democrats to advance equality.
The most powerful testimony in favor of equality
Timothy Kincaid
March 12th, 2013
Today, former GOP Representative Lynne Osterman testified in favor of marriage equality. Her testimony is, in my opinion, the most powerful argument that can be made for why you must do what is right.
If you watch no other testimony on marriage, watch this.
NARTH Loses Tax Exempt Status
Jim Burroway
March 12th, 2013
Warren Throckmorton reports that the National Association for Research and Therapy of Homosexuality (NARTH) has had its tax exempt status revoked by the Internal Revenue Service after failing to file IRS-990 forms for the last three consecutive years. Throckmorton discovered the notice on the IRS web site, which truncates NARTH's name but identifies NARTH by its Employer Identification Number, which matches the number NARTH listed on its 2009 filing.
NARTH's most recent IRS-990 form for 2009 (via guidestar.org, registration required) indicates that the organization's total revenue was $137,143, and expenses were $166,835. It closed the year with a loss of $29,692 and net assets of only $25,852. Only one person, vice president of operations David Pruden, is listed as drawing a salary of $16,500 for 15 hours per week of work, plus $900 in expenses. When I attended the NARTH convention in Phoenix in 2011, the organization's dire financial situation was a major topic of conversation, particularly when discussing limitations on current projects and ideas for future ones.
Which I think is an important takeaway here, and it's one that I've repeated often. A lot of people dismiss anti-gay activists by saying that if the "cash cow" dies, then they will move on to something else more lucrative. It's my observation however that this misconception couldn't be further from the truth. These people are true believers, and they will do what they're doing even if it doesn't earn them a red cent. NARTH is Exhibit A, but they are far from being the only example, or even a rare one.
By the way, good luck trying to figure out whether NARTH is a tax exempt organization. Its donation page is silent on the issue, but Throckmorton found this membership page which suggests donations are tax deductible.
My apologies
Timothy Kincaid
March 12th, 2013
I know that I've not contributed much at Box Turtle Bulletin recently. I've wanted to and there have been some stories to discuss, but I have been crazy busy at work lately. I hope to get a chance to start back up again soon.
Colorado House Give Initial Approval To Civil Unions Bill
Jim Burroway
March 11th, 2013
The Colorado House of Representatives gave its initial approval to a procedural motion via a voice vote today for Senate Bill 11, which will allow same-sex couples in the state to enter into Civil Unions. The voice vote occurred after an apparently acrimonious debate in which House Republicans tried to add an amendment which would turn the question over to voters. House Speaker Mark Ferrandino, who is openly gay, rejected that proposal, saying, "I don't ask to put your relationships up to a vote of the people."
Another proposed amendment would have extended broad "religious liberties" exemptions (particularly for adoption agencies). The failure of that amendment was particularly ironic because that very provision was part of a previous bill which Republican lawmakers dramatically killed in last year's regular session, and again during a special session two weeks later, when they still controlled the House with a 33-32 edge. This year, the House is solidly in Democratic hands, with a 37-28 margin, including five openly gay House members.
A formal vote will take place tomorrow, where it is expected to pass easily. The Senate already approved the measure last month. Gov. John Hickenlooper is expected to sign the bill when it reaches his desk. it would go into effect May 1.