Uganda TV Airs MPs' Reactions to Museveni's Promise to Sign Anti-Homosexuality Bill
Jim Burroway
February 15th, 2014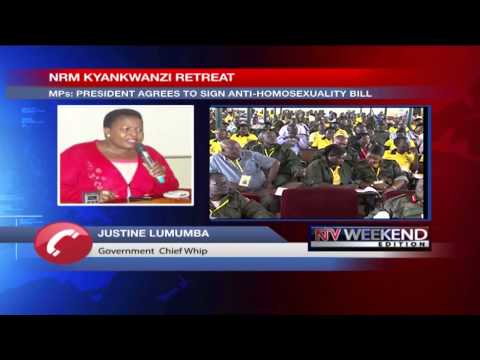 Reactions include that from M.P. David Bahati, who sponsored the legislation in Parliament.
Well, the scientists' conclusion is very clear that homosexuality is not a disease, that it is not an abnormality, there is no definitive … gene that is responsible for homosexuality.
You can read the "scientists' conclusion" here.
Inconvenient Scripture
Timothy Kincaid
February 14th, 2014
In something out of Kansas called The Rolla Daily News, Jim Brock rants about the proposed pro-discrimination bill. He doesn't think it's very Christian:
I guess some members of the Kansas House never read Matthew 25:40-45: "The King will reply, 'Truly I tell you, whatever you did for one of the least of these brothers and sisters of mine, you did for me.' Then he will say to those on his left, 'Depart from me, you who are cursed, into the eternal fire prepared for the devil and his angels. For I was hungry and you gave me nothing to eat, I was thirsty and you gave me nothing to drink, I was a stranger and you did not invite me in, I needed clothes and you did not clothe me, I was sick and in prison and you did not look after me.' They also will answer, 'Lord, when did we see you hungry or thirsty or a stranger or needing clothes or sick or in prison, and did not help you?' He will reply, 'Truly I tell you, whatever you did not do for one of the least of these, you did not do for me.'"

The holy words of Bible can be so inconvenient, especially when they don't come from Exodus or Leviticus.
Uganda President Supports Changing the Constitution to Scrap Bail for Sodomy
Jim Burroway
February 14th, 2014
On the heels of reports that Uganda President Yoweri Museveni intends to sign the Anti-Homosexuality Bill into law comes more distressing news that Museveni also supports a change to the Uganda Constitution to allow holding people suspected of breaking that nation's antiquated anti-sodomy laws in jail without bail:
The ruling party majority yesterday resolved to back President Museveni's proposal to deny bail for sodomy suspects, defilers and rapists and tasked Ministry of Justice to expedite the process of amending the Constitution to that effect.

Mr Museveni, in a renewed call for the scrapping of the bail window for suspects in capital offences, told the NRM Caucus retreat in Kyankwanzi that the status-quo is encouraging crime in the country.

While corruption is not part of President's list of targeted offences, sources told the Daily Monitor that "sodomy" was included at the behest of MPs who told their party leader that it has become such an "insidious" problem in the country.

…Caucus spokesperson Evelyn Anite confirmed the latest developments to the Daily Monitor that the Ministry of Justice was tasked to kick-start the process amid cheers from the ruling party members. "The President had proposed that bail must be denied to those who rape and defile others and MPs amended it to include those that sodomise others. The proposal was overwhelmingly supported," said Ms Anite.
It would appear that Museveni is angling to out-populist the populist Parliament Speaker Rebecca Kadagga, an early supporter of the Anti-Homosexuality Bill who shepherded it through Parliament last December. She is reported to have ambitions for Museveni's job in 2016.
Another Genetic Link?
Jim Burroway
February 14th, 2014
That's what a new study from Chicago suggests:
A region of the X chromosome called Xq28 had some impact on men's sexual behaviour – though scientists have no idea which of the many genes in the region are involved, nor how many lie elsewhere in the genome.

Another stretch of DNA on chromosome 8 also played a role in male sexual orientation – though again the precise mechanism is unclear.

Researchers have speculated in the past that genes linked to homosexuality in men may have survived evolution because they happened to make women who carried them more fertile. This may be the case for genes in the Xq28 region, as the X chromosome is passed down to men exclusively from their mothers.
Michael Bailey, of Northwest University in Chicago, presented his findings at a meeting of the of the American Association for the Advancement of Science yesterday in Chicago. Bailey's findings have yet to be published. Earlier research by Dean Hamer in 1993 also found that 33 out of 40 gay brothers had inherited similar genetic markers on the Xq28 region of the X chromosome.
The data however suggests that this may not explain homosexuality in all gay men. Some may inherit these markers, while others may be gay due to other factors, including potentially other biological factors such as pre-natal hormones. The data also suggests that even for those who do inherit these markers, genetics is likely not the sole influence on sexuality. For example, identical twins are not carbon copies of each other. For example, they still have unique fingerprints, irises, mole patterns, and many other differences.
Wyoming House votes down a marriage bill
Timothy Kincaid
February 13th, 2014
From SFGate
The Wyoming House has defeated a bill that would have changed state law to allow same-sex marriages.

Democratic Rep. Cathy Connolly of Laramie sponsored the bill. It would have removed the state's current legal specification that marriage is a civil contract between a man and a woman.

The House voted 41-to-17 against the bill on Thursday.
I don't think anyone expected this bill to pass. What's interesting, however, is that the Wyoming House has 52 Republicans and 8 Democrats. Which means that a marriage equality bill in Wyoming got the support of 9 Republicans.
And that is a sign of progress.
Professional heterosexual Jeff Johnston takes non-Biblical position on Facebook gender options
Daniel Gonzales
February 13th, 2014
Facebook has updated their site to allow users to select options for their gender beyond "male" and "female."  In a surprise to no one Focus On The Family is worked up about this and trotted out their resident ex-gay-for-pay Jeff Johnston to provide quotes for an AP story:
"Of course Facebook is entitled to manage its wildly popular site as it sees fit, but here is the bottom line: It's impossible to deny the biological reality that humanity is divided into two halves – male and female," Johnston told the AP.
Except the Bible makes repeated reference to eunuchs* in both the Old and New Testaments.  Which gender box would Johnsnton force Heigai from the Book of Esther to choose? How about the Ethiopian eunuch in Acts 8? Or Ebed-melech who rescued Jeremiah from the well?  What box on Facebook would Johnston tell them to check?
Even Jesus spoke of eunuchs in Matthew 19:12
"For there are eunuchs who were born thus from their mother's womb, and there are eunuchs who were made eunuchs by men, and there are eunuchs who have made themselves eunuchs for the kingdom of heaven's sake. He who is able to accept it, let him accept it."
Johnston ignores a direct commandment from Jesus and Biblical record to falsely claim a two choice gender binary exists, when it clearly does not as recorded in his own holy book.  Focus seems to agree with Johnston's position since their PR team tweeted a link to the article.   It's unclear why Focus has adopted a non-Biblical position on the existence and dignity of transgender people.
*As modern medicine has given us hormones and surgery to supersede castration the term "eunuch" is rarely used today. The Biblical context of Matthew 19:12 makes it clear there are multiple reasons for a person being a eunuch beyond involuntary castration, I argue in Biblical times it is was an inclusive term much like "trans" is today. Also, one of the few continuing ancient transgender traditions are the Hijra of South Asia who still today often self identify as both eunuchs and transgender further supporting my assertion the terms are interchangeable.
More about 'liberal' Judge Heyburn
Timothy Kincaid
February 13th, 2014
Yesterday U.S. District Judge John G. Heyburn II ruled that Kentucky's ban on recognizing same-sex marriages from other states violates the U.S. Constitution's Equal Protection clause.
Immediately, the antigay ranting voices started screaming about liberal activist judges.
Family Foundation of Kentucky (Courier-Journal)
Martin Cothran, an analyst for the Family Foundation of Kentucky, said the decision "puts Kentucky voters on notice that if their reasons for defining marriage as between a man and a woman don't correspond with the political ideology of liberal judges, their votes don't count."
National Organization for Marriage
"Today yet another federal judge has entered the competition for lawlessness on the marriage front," said Brian Brown, NOM President.
Family Research Counsel's Tony Perkins
This ruling is another example of the deep betrayal of a judicial system infected with activist judges who are legislating from the bench.
So here's a bit more about 'lawless liberal activist' Judge Heyburn from his bio:
From 1976 until his appointment to the bench, Judge Heyburn was associated with the law firm of Brown, Todd & Heyburn, where he was a partner at the firm from 1982 through 1992. His legal practice focused on civil litigation, with an emphasis on problems within the construction industry. Judge Heyburn also served as special counsel to then Jefferson County Judge Executive Mitch McConnell [who went on to be conservative Republican Senator McConnell]. Judge Heyburn was active in civic and political affairs in Kentucky. He was a delegate to the 1984 and 1988 Republican National Convention.

On March 20, 1992, President Bush nominated Judge Heyburn to the United States District Court for the Western District of Kentucky. He was confirmed by the United States Senate in August, 1992. From December, 2001, to December, 2008, Judge Heyburn served as Chief Judge of the Western District of Kentucky.
(hat tip GoodAsYou)
Disney ad
Timothy Kincaid
February 13th, 2014
Animators love to mess with Disney. Love it, love it, love it.
Mostly they love trying to sneak sexual imagery into Disney's squeaky clean image as a family friendly and trustable production company. I think they may have struck again.
Currently some of you may be seeing an ad running on BTB which links to Disney's Vinylmation site wherein an image can be selected to send to someone special. What shows up in the ad is two images moving towards each other for a split second before being replace with words.
Below is a screen grab of the images.
The two images are stylized Mickey and Minney Mouse.
Ohhh Noes!!! Teh Boy Scouts is shrinking!!!
Timothy Kincaid
February 13th, 2014
When the Boy Scouts of America revised its policies so as not to expel young scouts who are open about their orientation, those who object to honesty and homosexuality warned that there would be a mass exodus from the organization. In addition, a whole new group was created to provide a home for children who are not gay. Or Jews. Or Mormons.
Now the Boy Scouts has quantified the extent to which their policy change has impacted membership. And ohhh noes!! They've lost members!! (Time)
The Boy Scouts of America have lost six percent of their members since changing their policy on gay participants, the group said Wednesday.
Well, actually they may not have lost six percent entirely due to the policy change. Membership in the Boy Scouts has been in decline for years as the decrease in direct heterosexual parental involvement has led to more television and video game playing and less camping and jamboreeing.
"There are many factors that go into a family's decision to join Scouting and it's impossible to point to any single factor that influences our membership numbers," Smith said. "This includes, but is not limited to, the limited amount of discretional time and parents wanting relevant programs for their kids."

Membership has gradually shrunk over the last decade to 2.5 million youth and 1 million adults, including a four percent drop from 2011 to 2012.
But I think we can now say that the predictions of the demise of the Boy Scouts by antigay activists has proven to be consistent with their track record on other predictions.
Homosexual Propaganda
Jim Burroway
February 13th, 2014
A new Tumblr repurposes old Soviet propaganda as gay pride posters.
American Idol will include gay participants
Timothy Kincaid
February 13th, 2014
Last night American Idol took a step.
Not just that they presented participants who were recognizably; that has pretty much been the case from the beginning. Rather, they passed on to the viewers an openly and acknowledged gay candidate.
M.K. Nobilette, a young fresh-faced singer whose vocal style reminds me a bit of K.D. Lang, expressed her concerns about being on the show. "For one thing, I'm obviously gay".
The judges, Jennifer Lopez, Harry Connick, Jr., and Kieth Urban, then talked a bit about how the world has changed and how they believe that she has the potential, in this changed world, to win the title of American Idol.
In another segment, they advanced a young man with startlingly strong vocals and a gay vibe that even Aunt Thelma's gaydar couldn't miss. In addition to being loud and sassy (sorry, but that really is the best word), he challenged JLo to a walk-off, if she'd buy him the heels. He's the sort of candidate that we've seen in the run-ups in the past, but which didn't have the "image" necessary to taken seriously.
It has frustrated me for years that AI has been reluctant to include any mention of a gay candidate's orientation. Even Adam Lambert had to reenter a sparkly sequined closet of sorts. But Idol has a large and strong audience in the red states and perhaps they correctly determined that it would not be to a participant's advantage.
I am glad that they are finally taking the risk.
Matt Barber's Offensive
Rob Tisinai
February 10th, 2014
Uber anti-gay Matt Barber has gone on the offensive with his own website called BARBWIRE. Whether that moniker's another sad attempt to bolster his tough masculine toughness, or just his drag name, I can't say. But it is a hoot. Bryan Fischer (!) has a column on "defeating Darwinism in four easy steps" and it's marvelous display of studied ignorance. Scott Lively (!) has an article proving that the anti-gay violence in Russia is probably perpetrated by other gays because, well, Nazis.
Think twice before you visit, though. I already wasted too much time today in the comments, feeding my outrage addiction. You know, one paranoid theory on the right is that the Democratic party pays its minions to post comments on right-wing fringe websites (where's my money?) but I could almost entertain an opposing and corresponding theory that these sites are set up just to suck us into channeling our energy there instead of into more useful activism.
Hell, it's almost more plausible than thinking these folk could be for real.
Indiana Senate Committee Passes Amended Marriage Ban Proposal
Jim Burroway
February 10th, 2014
In a straight 8-4 party line vote, the Indiana Senate Rules Committee gave its approval to a proposed constitutional amendment which, if approved by voters, would ban same-sex marriage. Crucually, the committee opted against restoring a second sentence to the proposed constitutional amendment that would also ban civil unions and domestic parternships. That second sentenced was stripped from the wording by the Indiana House in January.
The absence of that second sentence is crucial in determining when the proposed amendment would go before the voters. Indiana's constitution requires that the identical language must pass two separately elected General Assemblies before a proposal can be placed on the ballot. The prior General Assembly passed the ban with the second sentence included in 2011. If both houses opted to keep the language intact, then then the proposed ban would hit the ballot box during the 2014 mid-term elections. But if the full Senate passes the newest version of the proposed ban, then the clock gets reset and the same ban would have to pass the next elected legislature as well. That would mean the earliest the amended ban could get to the ballot box would be during the 2016 elections, when voters will turn out to elect a president as well as Indiana governor.
Gov. Mike Pence (R) strongly supports the marriage ban, and has made it clear that he wants it decided "once and for all" this year rather than have it as a campaign issue while he's trying to seek re-election in 2016.
Same-sex marriage opponents will have one more opportunity to try to restore the civil union ban when the measure goes before the full Senate. If they are successful, then the differences between the House and Senate versions would have to be hashed out in committee.
Welcome Out Michael Sam, University of Missouri Defensive Lineman
Jim Burroway
February 9th, 2014
Michael Sam, an All-American defensive lineman for the University of Missouri Tigers, has come out as gay in interviews with ESPN and The New York Times. According to statements made to both outlets, Sam came out to his team mates and coaches last August:
"Coaches just wanted to know a little about ourselves, our majors, where we're from, and something that no one knows about you," Sam said. "And I used that opportunity just to tell them that I was gay. And their reaction was like, 'Michael Sam finally told us.' "

Asked what that moment felt like, Sam said, "I was kind of scared, even though they already knew. Just to see their reaction was awesome. They supported me from Day One. I couldn't have better teammates. … I'm telling you what: I wouldn't have the strength to do this today if I didn't know how much support they'd given me this past semester."
Sam was named the Southeastern Conference's Defensive Player of the Year by the Associated Press, and he was unanimously selected to the first-team All-American. He is already the first Division I college football player in history to come put as gay. If he is picked up on the NFL draft in May, then Sam could become the first openly gay player in NFL history.
Olympics Watch
Rob Tisinai
February 8th, 2014
My favorite part of Opening Ceremonies was at the end, when Putin declared the Games open and they lit the Eye of Sauron.
Duck Dynasty's War on Christmas
Timothy Kincaid
February 5th, 2014
I haven't had much time to post lately (still don't), but I thought I'd share with you this little item I saw at the clearance shelf at Bed, Bath and Beyond. It looks like Duck Dynasty didn't realize that their core audience wouldn't appreciate a 'War on Christmas' cup.
Virginia House Approves Bill Allowing Lawmakers to Defend State Laws
Jim Burroway
February 3rd, 2014
In a 65-32 vote, the GOP-controlled Virginia House of Representatives approved HB706, which "[p]rovides that a member of the General Assembly has standing to represent the interests of the Commonwealth in a proceeding in which the constitutionality, legality, or application of a law established under legislative authority is at issue and the Governor and Attorney General choose not to defend the law." The bill was introduced into the House on January 7 in anticipation of Virginia Attorney General Mark R. Herring's announcement that the state of Virginia would not defend the state's ban on marriage equality in Federal court. According to the Washington Post:
The vote fell mostly along party lines, with Democrat Del. Johnny S. Joannou (Portsmouth) joining Republicans to support the bill and Republican Thomas Davis Rust (Fairfax) voting against. There were two abstentions: Robert Dickinson Orrock Sr. (R-Caroline) and Barry D. Knight (R-Virginia Beach).
The bill moves to the Democratic-controlled Senate, where The Post says they will likely kill it.
Federal District Judge Andrea Wright Allen will hear oral arguments challenging the state's marriage ban tomorrow in Norfolk. Last Friday, a Federal Judge Michael F. Urbanski certified a second lawsuit challenging the state's ban as a class action.
India's Supreme Court Refuses to Reconsider Verdict Recriminalizing Homosexuality
Jim Burroway
January 28th, 2014
Last December, India's Supreme Court reinstated a colonial-era sodomy law criminalizing same-sex relationships by overruling a High Court decision four years earlier which struck down the law as unconstitutional. Today, the Supreme Court turned back a request for it to reconsider its decision.
On Tuesday, a bench of Justices H.L. Dattu and S.J. Mukhopadhaya dismissed the review petitions observing that there are no grounds to interfere. In its review petition the Centre had assailed the December 11 judgment contending that law must reflect social change and the aspiration of the society and not operate on vacuum. The review petitions were dismissed in the chamber.

In view of the dismissal of review petitions the next option for the Centre and others is to file a curative petition, which will be heard by a minimum of four senior-most judges and a maximum of five judges.
India's colonial-era law provides a maximum term of ten years' imprisonment.
Indian Supreme Court to reconsider sodomy ruling
Timothy Kincaid
January 27th, 2014
In December, a two-judge panel of India's Supreme Court ruled that the country's Colonial Era law against sodomy, Section 377, was constitutionally permissible. The ruling was issued on the day one of the judges retired.
The government of India, along with many organizations, requested that the Court revisit that decision. Tomorrow they will decide whether to do so: (TimesofIndia)
The Supreme Court will tomorrow take up petitions filed by Centre and rights activists seeking review of its verdict declaring gay sex an offence punishable up to life imprisonment.

A bench of justices H L Dattu and S J Mukhopadhaya will take up the petition in chamber to decide whether the verdict needs to be re-looked or not.
Judge Sets Oral Arguments for Virginia Marriage Ban Challenge for Thursday
Jim Burroway
January 27th, 2014
After Virginia Attorney General, Mark Herring, announced last week that he believed that Virginia's state constitutional amendment banning same-sex marriage violated the U.S. Constitution and that he would not defend it, Federal District Judge Arenda L. Wright asked the parties in a lawsuit challenging the state's ban whether the court should proceed for oral arguments. The deadline for replies was noon today.
The plaintiffs, who are represented by Ted Olson and David Boies of Prop 8 fame, urged the court to issue its judgement based on the briefs already filed. But the Alliance Defending Freedom, which is defending the ban on behalf of the defendant Norfolk Circuit Court Clerk George Schaefer, have asked for a hearing. The Judge has now issued orders reaffirming that oral arguments will proceed as scheduled.