Rhode Island Did It!
Jim Burroway
May 2nd, 2013
Done:
Rhode Island's House, led by Representative Gordon D. Fox, a Democrat and the country's first openly gay House speaker, first passed a same-sex marriage measure by 51 to 19 in January. On April 24, the Senate approved a modified version by 26 to 12 that expanded protections for religious organizations. That change prompted today's vote, which was largely procedural. It passed, 56 to 15.
and done:
Rhode Island Gov. Lincoln Chafee on Thursday signed a bill that will allow same-sex couples to marry in the Ocean State.

"Today we are making history," he said. "We are living up to the ideals of our founders."

Rhode Islanders United for Marriage Campaign Director Ray Sullivan, gay House Speaker Gordon Fox (D-Providence) and other same-sex marriage supporters joined Chafee on the steps of the State House in Providence as he signed the measure into law.
Rhode Island will become the tenth state, in addition to the District of Columbia, to provide marriage equality when the law takes effect on August 1. All of New England, the Cradle of Liberty, is now a solid mass of equalityness. Interesting to note that four legislators took a last-minute opportunity to go from opposition to support in what was otherwise a procedural vote.
Marriage equality bills are also working their way through the state legislatures in Delaware, Illinois and Minnesota. Meanwhile, NOM's Brian Brown remains in denial:
"I don't know that I would say Rhode Island is a trend."
GOP Leaders Threaten to Sink Immigration Reform If Gay Couples Are Included
Jim Burroway
May 2nd, 2013
In their bid to pick up Hispanic voters in the upcoming mid-term elections, GOP leaders have decided that passing immigration reform would help. Immigration reform has also been a goal of Democratic legislators as well. And so earlier this month, a bipartisan group known as the "Gang of Eight" came up with an immigration reform proposal which, presumably, both sides could support. Except large constituencies on both sides find that they won't support it. The nativist, xenophobic wing of the GOP would rather see the whole issue die, and it would only be icing on their cake if they could blame immigration reform's death on the Democrats. And since the immigration proposal as it stands excludes gay couples, Democrats find themselves at odds with a key constituency:
Gay advocates were sharply disappointed to find that same-sex couples were excluded from the legislation, since the Democrats who wrote it included two of their most consistent champions, Senators Charles E. Schumer of New York and Richard J. Durbin of Illinois, the second highest-ranking Senate Democrat. Senator Patrick J. Leahy of Vermont, the Democrat who is chairman of the Judiciary Committee, where the bill is under consideration, has offered, since as far back as 2003, a separate measure that would allow immigrants in long-term same-sex relationships to obtain residency with a green card.

But in the lengthy closed-door negotiations that produced the overhaul proposal, the four Republicans in the bipartisan group made it clear early on that they did not want to include such a hot-button issue in a bill that would be a challenge to sell to their party even without it, according to Senate staff members. The Republicans are Lindsey Graham of South Carolina, Jeff Flake and John McCain of Arizona, and Marco Rubio of Florida.

…"There's a reason this language wasn't included in the Gang of Eight's bill: It's a deal-breaker for most Republicans," Senator Flake said. "Finding consensus on immigration legislation is tough enough without opening the bill up to social issues."
Sen. Mark Rubio (R-FL), who is being talked up as a possible Presidential contender in 2016, told a conservative talk radio host, ""If that issue is injected into this bill, this bill will fail. It will not have the support. It will not have my support." Jonathan Rauch reacts:
Really? Republicans will deep-six the entire effort, and demolish themselves with Latino voters and business interests and young people in order to prevent gay people from having someone to take care of them?

Even to write those words is to wonder whether they can possibly be true. Surely Republicans know that, according to many polls, support for same-sex marriage has tipped above the majority level and is rising. Perhaps some also know that, according to a recent Huffington Post poll, partner immigration enjoys solid 7-percentage-point support. They certainly know that, from a political point of view, the perception among younger voters that a pro-Republican vote is an anti-gay vote is toxic to the GOP brand. …and Republicans themselves are split down the middle on the more general question of whether "same sex couples should have the same legal rights as heterosexual couples."

Even among Republicans, in other words, the constituency for policies disadvantaging gay and lesbian couples is withering. And this is where Senate Republicans want to make their stand?
The Daily Agenda for Thursday, May 2
Jim Burroway
May 2nd, 2013
TODAY'S AGENDA:
Marriage Equality Bills To Be Signed Into Law: Providence, RI. So this is where we are so far: in January, the Rhode Island House passed a marriage equality bill in a 51-19 vote. Then last week, the Rhode Island Senate passed a similar but not identical marriage equality bill in a 26-12 vote — a vote which, in a historic first, saw all five Republicans in the chamber voting to support same-sex marriage. But because that bill wasn't identical to the House bill, it went back to the House for its final approval. On Tuesday,  House Judiciary Committee unanimously approved the Senate version and sent it on to the House floor for its final approval. That is expected to take place today, and Gov. Lincoln Chaffee has announced that he will sign it at 5:45 p.m. in a ceremony at the State House. And with that, Rhode Island will become the tenth state, in addition to the District of Columbia, to provide marriage equality when the law goes into effect on August 1.
Pride Celebrations This Weekend: Maspalomas, Gran Canaria; Mobile, AL; Norrköping, Sweden; Northhampton, MA; Raleigh, NC.
AIDS Walks This Weekend: Anaheim, CA; Atlantic City / Asbury Park / Morristown / Newark / Ridgewood, NJ; Charlotte, NC; Ft. Wayne, IN.
Other Events This Weekend: Hot Rodeo, Banning, CA; Boston LGBT Film Festival, Boston, MA; Frieberg Gay Film Festival, Frieberg, Germany; Miami Gay and Lesbian Film Festival, Miami, FL;  Urban Bear Weekend, New York, NY; Sitges International Bear Meeting, Sitges, Spain; Tybee Gay Days, Tybee Island, GA.
TODAY IN HISTORY:
Disloyalty vs. Security Risk: 1950. So if you've been following along on the Daily Agendas (for example, Feb 28, Mar 14, Mar 23, Apr 18, Apr 26) you would have a pretty good feel for the incredible anti-gay hysteria that was sweeping the country in 1950. The twin scares — the Lavender Scare and the Red Scare — cemented in everyone's mind the argument that gay people in federal employment, particularly in the State Department and in the armed forces, represented a security risk which, in the words of the GOP chairman, were "as dangerous as the actual Communists" (see Apr 18). On May 2, columnist James Marlow took the opportunity to provide a couple of hypothetical situations to explain to readers the difference between being disloyal and being a security risk:
1. Jones, completely loyal, is a good worker, sober on the job. But at night, sometimes or often, he gets drunk and talks too much. In the non-sensitive agriculture department that might not make much difference, as long as Jones did his work and kept out of trouble when drunk. In the commerce department, if Jones held a sensitive job, he might be considered a security risk: he might blab secrets when drunk.

The commerce department could do one of two things: fire Jones on the ground that he was "unsuitable" for government work; or transfer him to a non-sensitive job. But state department officials say that if Jones worked there and was considered a security risk, he'd be fired. (The say emphatically they keep no known security risks or disloyal persons on the payroll, although Senator McCarthy, Republican of Wisconsin, says the place is full of them.)

2. Smith is found to be a homosexual. He's completely loyal but because of his secret sex habits may some day run into an individual or group which would blackmail him. In the state department, he'd be considered a security risk and out, officials there say.

Officials of other government agencies, sensitive and non-sensitive, told this writer they would get rid of a homosexual on the grounds that he was "unsuitable" for government employment, not because he was a security risk.
"Dr. H. Anonymous" Addresses the APA: 1972. For several years, gay activists Barbara Gittings (see Jul 31) and Frank Kameny (see May 21), among others, saw the American Psychiatric Association's classification of homosexuality as a mental illness as the single greatest impediment to equal rights for gays and lesbians. As long as the APA labeled gay people as sick, the government had an excuse to refuse to hire them, immigration authorities could refuse to allow them into the country, and thousands of therapists could continue to inflict harmful and questionable treatments to try to "cure" their patients (see, for example, Jan 18, Jan 20, Mar 29, Jun 3, Jul 26, Oct 30, Dec 8), and our award-winning investigation, What are Little Boys Made Of?).
For Gittings and Kameny in particular, getting the APA to change its stance was a pressing priority. After years of protesting APA conventions as outsiders (see May 14), they finally were given permission in 1972 to organize a panel on homosexuality for that year's convention in Dallas. The panel's topic was to be "Lifestyles of Non-Patient Homosexuals." Gittings and Kameny were part of the panel, and they had recruited three other prominent psychiatrists, Judd Marmor, Robert Siedenberg and Kent Robinson. But they also felt it was important to include a professional psychiatrist who was gay. Finding one who would agree to speak was virtually impossible. Everyone they asked turned them down, except one: John Fryer (see Nov 7), and he would only do it in disguise. He wore a mask, wig, and a suit several sizes too big (which was not easy to find since Fryer was already a big man to begin with), and he spoke into a microphone which distorted his voice. And with all of those precautions in place, American pschiatrists, for the first time, heard a fellow psychiatrist by the name of "Dr. H. Anonymous" describe what it was like to be gay in a profession that considered him sick. His speech was short, but to the point:
Thank you, Dr. Robinson. I am a homosexual. I am a psychiatrist. I, like most of you in this room, am a member of the APA and am proud to be a member. However, tonight I am, insofar as in it is possible, a "we." I attempt tonight to speak for many of my fellow gay members of the APA as well as for myself. When we gather at these conventions, we have a group, which we have glibly come to call the Gay-PA. And several of us feel that it is time that real flesh and blood stand up before you and ask to be listened to and understood insofar as that is possible. I am disguised tonight in order that I might speak freely without conjuring up too much regard on your part about the particular WHO I happen to be. I do that mostly for your protection. I can assure you that I could be any one of more than a hundred psychiatrists registered at this convention. And the curious among you should cease attempting to figure out who I am and listen to what I say.

We homosexual psychiatrists must persistently deal with a variety of what we shall call 'Nigger Syndromes.' We shall describe some of them and how they make us feel.

As psychiatrists who are homosexual, we must know our place and what we must do to be successful. If our goal is academic appointment, a level of earning capacity equal to our fellows, or admission to a psychoanalytic institute, we must make certain that no one in a position of power is aware of our sexual orientation or gender identity. Much like the black man with the light skin who chooses to live as a white man, we cannot be seen with our real friends — our real homosexual family — lest our secret be known and our dooms sealed. There are practicing psychoanalysts among us who have completed their training analysis without mentioning their homosexuality to their analysts. Those who are willing to speak up openly will do so only if they have nothing to lose, then they won't be listened to.

As psychiatrists who are homosexuals, we must look carefully at the power which lies in our hands to define the health of others around us. In particular, we should have clearly in our minds, our own particular understanding of what it is to be a healthy homosexual in a world, which sees that appellation as an impossible oxymoron. One cannot be healthy and be homosexual, they say. One result of being psychiatrists who are homosexual is that we are required to be more healthy than our heterosexual counterparts. We have to make some sort of attempt through therapy or analysis to work problems out. Many of us who make that effort are still left with a sense of failure and of persistence of "the problem." Just as the black man must be super person, so must we, in order to face those among our colleagues who know we are gay. We could continue to cite examples of this sort of situation for the remainder of the night. It would be useful, however, if we could now look at the reverse.

What is it like to be a homosexual who is also a psychiatrist? Most of us Gay-PA members do not wear our badges into the Bayou Landing, [a gay bar in Dallas] or the local Canal Baths. If we did, we could risk the derision of all the non-psychiatrist homosexuals. There is much negative feeling in the homosexual community towards psychiatrists. And those of us, who are visible, are the easiest targets from which the angry can vent their wrath. Beyond that, in our own hometowns, the chances are that in any gathering of homosexuals, there is likely to be any number of patients or paraprofessional employees who might try to hurt us professionally in a larger community if those communities enable them to hurt us that way.

Finally, as homosexual psychiatrists, we seem to present a unique ability to marry ourselves to institutions rather than wives or lovers. Many of us work twenty hours daily to protect institutions that would literally chew us up and spit us out if they knew the truth. These are our feelings, and like any set of feelings, they have value insofar as they move us toward concrete action.

Here, I will speak primarily to the other members of the Gay-PA who are present, not in costume tonight. Perhaps you can help your fellow psychiatrist friends understand what I am saying. When you are with professionals, fellow professionals, fellow psychiatrists who are denigrating the "faggots" and the "queers," don't just stand back, but don't give up your careers either. Show a little creative ingenuity; make sure you let your associates know that they have a few issues that they have to think through again. When fellow homosexuals come to you for treatment, don't let your own problems get in your way, but develop creative ways to let the patient know that they're all right. And teach them everything they need to know. Refer them to other sources of information with basic differences from your own so that the homosexual will be freely able to make his own choices.

Finally, pull up your courage by your bootstraps and discover ways in which you and homosexual psychiatrists can be closely involved in movements which attempt to change the attitudes of heterosexuals — and homosexuals — toward homosexuality. For all of us have something to lose. We may not be considered for that professorship. The analyst down the street may stop referring us his overflow. Our supervisor may ask us to take a leave of absence. We are taking an even bigger risk, however, not accepting fully our own humanity, with all of the lessons it has to teach all the other humans around us and ourselves. This is the greatest loss: our honest humanity. And that loss leads all those others around us to lose that little bit of their humanity as well. For, if they were truly comfortable with their own homosexuality, then they could be comfortable with ours. We must use our skills and wisdom to help them — and us — grow to be comfortable with that little piece of humanity called homosexuality.
The panel was a sensation. Despite the august credentials held by the other psychiatrists, their contributions to the discussion were all but ignored. Dr. Anonymous's speech was the only thing people talked about. The "Dr. Anonymous" speech proved to be a critical turning point. The following year, Dr. Robert Spitzer, who was editor of the Diagnostic And Statistical Manual, met quietly with the Gay-PA and began the process of removing homosexuality from the authoritative manual. That process was completed by the end of the year (see Dec 15)
But on that day, the end goal still seemed to be very far away. But Fryer, despite his initial hesitation, was elated. The next day as he was flying back to Boston from Dallas, Fryer wrote in his diary:
The day has passed — it has come and gone and I am still alive. For the first time, I have identified with a force which is akin to my selfhood. I am not Black. I am not alcoholic. I am not really addicted. I am homosexual, and I am the only American psychiatrist who has stood up on a podium to let real flesh and blood tell this nation it is so.
[You can see Dr. Fryer's handwritten speech here and his diary entry here.]
TODAY'S BIRTHDAY:
Lesley Gore: 1946. She was still a junior in high school in 1963 when her single, "It's My Party" shot to number one, was nominated for a Grammy, and sold over one million copies. She followed that with a string of top forty hits: "Judy's Turn to Cry", "She's a Fool," "You Don't Own Me," and another Grammy nominated hit, "Sunshine, Lollipops and Rainbows." Her fame led to a cameo in the beach party movie, The Girls on the Beach, which also included an early appearance by the Beach Boys, and she played the villain, Pussycat, one of Catwoman's acolytes, in the Batman TV series. In 1980, she won an Academy Award, with her brother Michael, for the song  "Out Here On My Own" for the Fame soundtrack. In 2005, Gore revealed in an interview that she was a lesbian, and had been living with her partner since 1982.
If you know of something that belongs on the agenda, please send it here. Don't forget to include the basics: who, what, when, where, and URL (if available).
And feel free to consider this your open thread for the day. What's happening in your world?
Robert Gagnon Explains Why Consensual Gay Relationships Are Worse Than Bestiality and Incest
Jim Burroway
May 1st, 2013
Jeremy Hooper was forwarded a lengthy email chain sent to over seventy social conservative anti-gay activists in advance of the National Organization for Marriage's Ruth Institute's conference at the end of May. Among those receiving the email chain was Exodus International Alan Chambers, who tired of the anti-gay rhetoric and, after asking to be removed from the chain, finally added Hooper's email address to it. In one email response, Robert Gagnon called Chambers to task for "secretly adding the name of someone whose whole objective is to promote sexually immoral behavior and abuse those who uphold what Jesus and Scripture regarded as sacred." Gagnon also went on to justify his use of the word "perverse" to describe gay people:
The verb "to pervert" is from the Latin meaning "to turn thoroughly," i.e. away from the truth or right course of action. Applied to sexual practice, a perversion is "any of various means of obtaining sexual gratification that are generally regarded as being unnatural or abnormal." Paul in Scripture makes a point of singling out homosexual practice as sexual behavior that is manifestly contrary to nature in that it is clear that a man and a woman are sexual complements or counterparts, not males with males or females with females. He als refers to such behavior as self-"dishonoring" (Atimazo / atimia) and as "indecent/shameful behavior" (askhemosune). The Levitical prohibitions and some Deuteronomical texts add the description of to'evah, something abominable or abhorrent to God. The latter (along with Revelation) adds the epithet of of "dogs" to men who actively emasculate their appearance to attract male sex partners in a cultic context, treating themselves as "sacred" (hence the Hebrew name qedeshim). Bestiality is an even more unnatural form of sexual practice since it is cross-species. Adult-consensual incest is also a particularly perverse form of sexual practice since it involves sex with someone who is too much of a familial same. But Scripture treats homosexual practice as even more severely unnatural because the male-female requirement for sexual relations is foundational for all that follows (so Genisis and Jesus) and because sex or gender is a more constituent feature of sexual behavior than kinship.
Gagnon has argued that homosexuality is worse than incest before. In one 11-page polemic from 2007 — yes, Gagnon does like to hear himself speak — Gagnon writes (PDF: 61KB/11 pages):
It is my contention that homosexual practice is a more serious violation of Scripture's sexual norms than even incest, adultery, plural marriage, and divorce. (The reader will note that I did not mention bestiality because the evidence from ancient Israel and early Judaism suggests that bestiality is a worse offense than same-sex intercourse.) [Emphasis in the original]
I guess in the six years since then Gagnon's sorted out God's mind on bestiality and, unsurprisingly, Gagnon's God now agrees with Gagnon that gays are worse.
In addition to Gagnon's close association with the NOM, he is also a founding board member of Restored Hope Network, comprised of a group of break-away ex-gay ministries which left Exodus International after Exodus president Alan Chambers acknowledged that "the majority of people that I have met, and I would say the majority meaning 99.9% of them, have not experienced a change in their orientation." Chambers also repudiated the particular type of counseling intended to change sexual orientation known as Reparative Therapy, and he has declared that Exodus will no longer take sides in the political debates surrounding gay rights, including marriage rights.
The Daily Agenda for Wednesday, May 1
Jim Burroway
May 1st, 2013
TODAY'S AGENDA:
Delaware Senate Committee To Hear Marriage Equality Bill: Dover, DE. The Delaware Senate Executive Committee has scheduled a hearing this afternoon for H.R. 75, a bill to provide marriage equality for The First State's same-sex couples. Delaware currently provides civil unions for same-sex couples, and this bill would also allow them to undergo a separate marriage ceremony if they so choose. (All civil unions not converted to marriages will automatically become marriages on July 1, 2014.) The bill cleared the Delaware House last week in a 23-18 vote. The Executive Committee will hear the bill in the Senate Chamber beginning at 2:30 p.m. Seven of the Senate's twenty-one members are cosponsors of the bill.
Pride Celebrations This Weekend: Maspalomas, Gran Canaria; Mobile, AL; Norrköping, Sweden; Raleigh, NC.
AIDS Walks This Weekend: Anaheim, CA; Atlantic City / Asbury Park / Morristown / Newark / Ridgewood, NJ; Charlotte, NC; Ft. Wayne, IN.
Other Events This Weekend: Hot Rodeo, Banning, CA; Boston LGBT Film Festival, Boston, MA; Frieberg Gay Film Festival, Frieberg, Germany; Miami Gay and Lesbian Film Festival, Miami, FL;  Sitges International Bear Meeting, Sitges, Spain; Tybee Gay Days, Tybee Island, GA.
TODAY'S BIRTHDAY:
Romaine Brooks: 1874. The American painter worked mostly in France, where she was surrounded by the brilliant colors of Fauvism and the decompositional attitudes of cubism, but her work hearkened back to the style of James Whistler. She was born Beatrice Romaine Goddard, and in 1903 she married John Ellingham Brooks. He was gay, but he couldn't take her gender-bending manner of dress and hairstyle. Their marriage lasted only a year, but she wound up keeping his name. The following year, she discarded the bright colors of her works which were so fashionable and adopted the darker, more subdued colors which would become her trademark.
Brooks took a string of unconventional lovers, including the American heiress Winnaretta Singer and Lord Alfred Douglas (Oscar Wilde's former lover), and the Russian ballerina Ida Rubinstein, who Brooks painted more than any other subject. Her paintings were almost all portraits, and very nearly all of them of women. By 1925, she had been featured in several successful solo exhibitions in Paris, London and New York, but after that year she produced only four more paintings. She briefly took up line drawing in 1930, but dropped that by 1935. Her longtime partner, Natalie Barney, also became her manager and continued to arrange shows for her. But after the Second World War, Brooks became increasingly reclusive and paranoid. By 1969, Brooks's paranoia led her to stop communicating with Barney entirely. Brooks died in 1970 at the age of 96.
If you know of something that belongs on the agenda, please send it here. Don't forget to include the basics: who, what, when, where, and URL (if available).
And feel free to consider this your open thread for the day. What's happening in your world?
Marriage Map
Timothy Kincaid
April 30th, 2013
In the map above, the dark green nations offer marriage equality. The light green nations are either those which offer civil unions or some variation of partner recognition or those in which some but not all portions of the nation offer marriage or civil unions.
A look at marriage in Brazil
Timothy Kincaid
April 30th, 2013

Brazil has an interesting approach to marriage. Since 2011, same-sex couples have been able to register their unions across the nation. And once registered, they could petition a judge to convert that union into a marriage.
However, many of Brazil's states have eliminated the two-step dance by allowing marriage licenses to be granted directly to same-sex couples. Two more passed marriage equality bills yesterday, bringing the total to 14 of the 27 jurisdictions: the states of Alagoas, Sergipe, Espíritu Santo, Bahía, Piauí, São Paulo, Ceará, Paraná, Mato Grosso do Sul, Rio de Janeiro, Rondônia, Paraíba, and Santa Catarina along with the Brazilian Federal District.
Nine of those were enacted within the last six months (four this month alone).
The Daily Agenda for Tuesday, April 30
Jim Burroway
April 30th, 2013
TODAY IN HISTORY:
"Ellen" Comes Out: 1997. Ellen DeGeneres had already come out as a lesbian publicly two weeks earlier with a Time magazine cover story titled, "Yep, I'm Gay." But Ellen Morgan, her clumsy, nervous, and eager-to-please character on her weekly sitcom, Ellen was as closeted as ever, although hints were dripping out throughout season four. Ellen's character finally came tumbling out in her characteristically awkward fashion when she met Susan, a lesbian television producer who assumed that Ellen was also gay. Although Ellen denied it, much of the episode dwelled on her trying to come to terms with the fact that she really, really liked Susan — in that way. When Ellen was told that Susan was about to leave town, Ellen rushed to the airport and, after much hemming and hawing, finally said it: "I'm gay" — while inadvertently saying it directly into the public address microphone that carried her announcement throughout the terminal.
Getting the episode to air was easier than you might think. Network executives had become antsy about the series' lackluster ratings and lack of focus, and DeGeneres wasn't much interested in fixing the problem by relying on the standard sitcom formulas of dating and relationships. One producer suggested that maybe Ellen could get a puppy, an indication of how desperate the producers were to think that a puppy was all that was missing. That plot element was discarded, but the suggestion lived on in the episode's title, "The Puppy Episode." ABC and Disney agreed to their next plan, which was for Ellen to come out as lesbian. After rejecting the first script for not going far enough — "If we're going to do it, let's do it," Disney executive Dean Valentine reportedly said — they began production on the episode on March 7.
Word spread, and the backlash soon followed. The studio received one bomb threat, and DeGeneres was followed to work by a "suspicious man" at least once. The American Family Association called for an advertiser boycott, as they always do, leading Chrysler to refuse to buy advertising time for the "Puppy Episode," along with did J.C. Penney. (DeGeneres would become the advertising face for J.C. Penney in 2012, prompting yet another AFA boycott.) Wendy's dropped Ellen from its sponsorship altogether, and ABC affiliate WBMA in Birmingham, Alabama refused to air the episode. Jerry Falwell displayed his monumental ingenuity by calling DeGeneres "Ellen Degenerate," to which DeGeneris responded, "I've been getting that since the fourth grade." Laura Dern, who played Susan, was unable to find work for a year and a half because of the episode.
"The Puppy Episode" however was the highest-rated episode of Ellen ever, drawing some 42 million viewers. It won two Emmys, a Peabody, and a GLAAD Media Award. Ellen was renewed for another season, but each subsequent episode was prefaced with a parental warning. Ratings dropped, perhaps because of the backlash, perhaps because of the warning, but also perhaps because so many episodes wound up dealing with gay-specific issues which were of little interest to the larger audience. At any rate, Ellen was cancelled after the end of Season 5.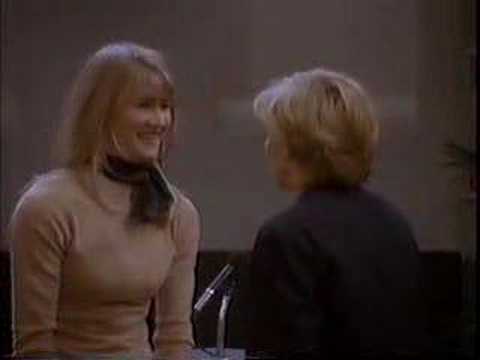 London Gay Pub Bombed: 1999. It was the start of a bank holiday weekend in Britain, and the venerable Admiral Duncan pub in Soho was packed with people getting an early start. Londoners that Friday evening were only somewhat wary following two unsolved bombings earlier that month in Brixton (April 17) and East London (April 24). Fortunately, nobody died in those two bombings, although sixty one were injured, including a two year old toddler with a four inch nail embedded in his brain. Police narrowed the search to neo-Nazi David Copeland based on a CCTV image from the Brixton blast. Brixton was targeted because of its black population, while the East London neighborhood was largely inhabited by South Asian immigrants. Some feared that the next target might be Jewish, or possibly gay. One gay pub in Soho had put up a poster warning customers to be vigilant for any suspicious activity, but most people thought that his motivations were more racist than homophobic. That theory was quickly dispelled at 6:37 p.m. when a nail bomb that had been left in a bag at the Pub's entrance went off. Jonathan Cash, who would later write a play about the bombing, described it this way:
"The loudest, most alien sound I have ever heard ripped through the pub and smashed into my head. I don't know how long it went on – a couple of seconds, perhaps – then the most enormous crunch of something structural and solid. I felt no pain, just terror. My eyes were ringing, my nose filled with sulphurous dust and, in the blink of an eye, I saw unrecognisable shapes flying past towards the doors. With the dust and smoke, I could see little more than six inches in front of me. Somehow I was on the floor. Then I heard the screaming. I didn't make any sound. Or perhaps I did. I can't remember."
Four people were killed that night. Andrea Dykes, 27, who was four months pregnant, was killed instantly, along with two friends, Nick More, 31 and John Light, 32. About seventy were injured, including Dykes's husband, Julian, who remained in a coma for three weeks. Four of the injured required amputations.
Police tracked down Copeland later that night and arrested him. He told them that he had hoped that his bombings would inflame racial tensions, resulting in a backlash that would bring about increased popular support for the radical-right British National Party. On June 30, 2000, a court sentenced Copeland to six life sentences, and in 2007 High Court ruled that he should remain in prison for at least 50 years, guaranteeing that he will remain imprisoned until at least the age of 73. There is now a memorial chandelier with an inscription and a plaque at the Admiral Duncan to remember those where were killed and injured.
TODAY'S BIRTHDAY:
Alice B. Toklas: 1877.Born in San Francisco, she met Gertrude Stein on the very first day that she arrived in Paris, on September 8, 1907. They remained inseparable for the next thirty-nine ears, until Stein's death in 1946. Together, they hosted on of the more illustrious salons that attracted the best writers and painters of the Paris avant-garde, including American expats Ernest Hemingway, Thorton Wilder, and Paul Bowles. Stein and Toklas also became early patrons of Pablo Picasso and Henri Matisse. They also became patrons of some rather unsavory characters before and during World War II — their support for the Vichy government went far beyond considerations of wartime survival. They could have easily escaped to Switzerland, but their friendship with the anti-Semitic Bernard Faÿ and open admiration for Vichy leader Marshal Philippe Pétain (Stein translated a collection of Pétain's speeches into English to bring them to a wider audience) gave them privileges denied ordinary French citizens, let alone those who were both Jewish and gay.
Toklas was Stein's partner in every way: cook, lover, editor, critic and muse. Stein gave her own autobiography the tongue-in-cheek title of The Autobiography of Alice B Toklas, while Toklas's 1954 memoir was titled The Alice Be Toklas Cookbook. It was, technically I suppose, a cookbook — there are three hundred recipes, including the famous brownie recipe titled "Haschich Fudge" — but is was more accurately a memoir of the many dinners that Toklas and Stein hosted for their famous friends over the years. In 1963, Toklas actually did write an autobiography, What Is Remembered, but it ends abruptly with Stein's death in 1946, much as Toklas's own life did in many ways. Their relationship being legally unrecognized, Stein's relatives plundered the couples' art collection and left Toklas in poor financial and physical health. She died in poverty in 1967 at the age of 89, and is buried next to Stein in the Peré Lachaise Cemetery in Paris.
If you know of something that belongs on the agenda, please send it here. Don't forget to include the basics: who, what, when, where, and URL (if available).
And feel free to consider this your open thread for the day. What's happening in your world?
Welcome out, Jason Collins
Timothy Kincaid
April 29th, 2013
Major sports has just had its first openly gay and still playing professional come out, Jason Collins. From Sports Illustrated's May 6 edition.
I'm a 34-year-old NBA center. I'm black. And I'm gay.

I didn't set out to be the first openly gay athlete playing in a major American team sport. But since I am, I'm happy to start the conversation. I wish I wasn't the kid in the classroom raising his hand and saying, "I'm different." If I had my way, someone else would have already done this. Nobody has, which is why I'm raising my hand.
My journey of self-discovery and self-acknowledgement began in my hometown of Los Angeles and has taken me through two state high school championships, the NCAA Final Four and the Elite Eight, and nine playoffs in 12 NBA seasons.

I've played for six pro teams and have appeared in two NBA Finals. Ever heard of a parlor game called Three Degrees of Jason Collins? If you're in the league, and I haven't been your teammate, I surely have been one of your teammates' teammates. Or one of your teammates' teammates' teammates.
I am certain that some sports fans and viewers will try and make life tough for Collins, but he seems confident, skilled, intelligent and articulate. It also doesn't hurt that he has a supportive family, excellent political connections, and is beautiful. I wish that this step is nothing but rewarding and enriching in his life.
The Daily Agenda for Monday, April 29
Jim Burroway
April 29th, 2013
TODAY IN HISTORY:
"I Am Proud Of My Gay Son": 1972. Frustration had been growing in New York City's gay community over the lack of news coverage of the gay rights movement since the Stonewall rebellion nearly three years before. When journalists and politicians gathered for the Fiftieth Annual Inner Circle dinner and comedy roast at the New York Hilton, members of the Gay Activists Alliance saw a perfect opportunity for a protest. But when they entered the ballroom during the intermission to distribute leaflets and briefly take the stage, they were thrown out. A fight ensued in the hallway, where, according to several city officials who witnessed the melee, Michael Maye, president of the city's Uniformed Firefighters Association, thew twenty-one year old Morty Manford down an escalator, then kicked and stopped him. (Despite the numerous witnesses, Maye was later acquitted of the assault.)
Manford's parents were outraged by the attack, and in April 29, Jeanne Manford's letter appeared in the New York Post announcing her unquestioned support for her son:
A Fair Chance

I would like to commend The Post for its coverage last week of the tragic incident that took place at the Inner Circle dinner, when hoodlums who work for our city were allowed to beat up the young men of the Gay Activists Alliance and walk away while our police stood by watching. It might be that these "men" have themselves some deep rooted sexual problems or they would not have become so enraged as to commit violence in beatings.

I am proud of my son, Morty Manford, and the hard work he has been doing in urging homosexuals to accept their feelings and not let the bigots and sick people take advantage of them in the ways they have done in the past and are continuing to do.

I hope that your honest and forthright coverage of the incident has made many of the gays who have been fearful gain courage to come out and join the bandwagon. They are working for a fair chance at employment and dignity and to become a vocal and respected minority. It is a fight for recognition such as all minority groups must wage and needs support from outsiders as well as participants in the movements.

Jeanne Manford
Two months later, Jeanne would walk alongside her son during the New York City Gay Pride Parade, carrying a hand-lettered sign that read, "Parents of Gays United in Support of Our Children." She later recalled that as they walked along the parade route spectators cheered and "young people were hugging me, kissing me, screaming, asking if I would talk to their parents. Very few of them were out to their parents for fear of rejection." That when Jeanne and her husband, Jules, got the idea of starting a local support group for parents of gays and lesbians. That support group grew to become the internationally-renowned Parents, Families and Friends of Lesbians and Gays (PFLAG), with 350 chapters more than 200,000 members in the U.S. Jeane Manford passed away last January at the age of 92.
TODAY'S BIRTHDAY:
David Burroway: 1963. My kid brother is a husband, father, and band director for Logan Middle School in beautiful, picturesque Logan, West Virginia. He describes himself as the foremost authority on PDQ Bach in southern West Virginia. His is also, as of today, an official old fart, at fifty years old. Happy Birthday, David.
If you know of something that belongs on the agenda, please send it here. Don't forget to include the basics: who, what, when, where, and URL (if available).
And feel free to consider this your open thread for the day. What's happening in your world?
The Daily Agenda for Sunday, April 28
Jim Burroway
April 28th, 2013
TODAY'S AGENDA:
Events This Weekend: Purple Party, Dallas, TX; Rodeo in the Rock, Little Rock, AR; AIDS Walk, Miami, FL; Miami Gay and Lesbian Film Festival, Miami, FL; Philadelphia Black Pride, Philadelphia, PA; Tokyo Pride, Tokyo, Japan.
TODAY IN HISTORY:
Gay Bar Bombed in Greenwich Village: 1990. A home-made pipe bomb exploded shortly after midnight early Saturday morning at Uncle Charlies, a popular video-bar in Greenwich Village. Damage to the building was described as minor, but at least three patrons were injured. One patron, Frizzell Green, said he was in the bar when the blast went off in a trash can, about five or six feet away from him. At first, police investigators told reporters that they didn't consider the bombing to be bias-related. Gay rights activists disagreed, and organized a march on Saturday evening. Three to five hundred people gathered at Uncle Charlies and walked the ten blocks to the Sixth Precinct, blocking traffic and chanting "Hey, hey, ho, ho! Homophobia has got to go!"
The bombing went unsolved for five years, until February 1995 when Federal prosecutors charged El Sayyid A. Nosair with the attack. Nosair, one of the leaders of a fundamentalist Islamic terrorist group, was already serving a prison sentence for assault and possession of an illegal firearm in connection with the murder of radical Jewish Rabbi Meir Kahane. Bizarrely, the jury acquitted him of murder, leaving the judge in December 1991 to sentence Nosair to 7⅓ to 22 years in prison, the maximum allowed by law. So when Federal officials charged him again in 1995 for bombing the gay bar, and for conspiring to blow up other New York landmarks, including the World Trade Center. He was found guilty of seditious conspiracy with other defendants, including the blind sheik, Omar Abdel Rahman, and was sentenced to life imprisonment. At last report, Nosair was serving his sentence at the federal Supermax facility in Florence, Colorado.
TODAY's BIRTHDAY:
Ryan Skipper: 1981. Ryan would be celebrating his thirty-second birthday if Joseph Beardon and William Brown, Jr., hadn't stabbed him more than 20 times, slit his throat, stole his car, left his body on a dark rural road in Wahneta, Florida, and bragged to friends that they killed him because he was "a faggot" on March 14, 2007. Jurors in Beardon and Brown's trial were visibly shaken when they saw the autopsy photos. The coroner testified that it was the cut to the throat that killed him.The cut was 3.5 inches deep, tearing through skin, tissue, muscles and, more fatally, an artery. Ryan quickly bled to death within minutes. Bearden and Brown tried to clean the car so they could sell it. But it was too badly soaked with blood to be cleaned and they didn't have a copy of the car's title to sell it, so they abandoned it on a dock on Lake Pansy in Winter Haven and set it on fire. The flames only caused minor damage, and investigators were able to retrieve both of their fingerprints from the car.
Prosecutors had sought the death penalty for Bearden, but jurors found him guilty of second-degree murder instead of first-degree murder as charged. He was also found guilty of theft of a motor vehicle, accessory after the fact, tampering with evidence, and dealing in stolen property. He was sentenced to life in prison. A few months later, Brown was found guilty of first degree murder, robbery, arson, and tampering with evidence. He was sentenced to life in prison without parole for the first degree murder conviction, another life term for the armed robbery with a deadly weapon, fifteen years for arson, and a five for tampering with evidence.
If you know of something that belongs on the agenda, please send it here. Don't forget to include the basics: who, what, when, where, and URL (if available).
And feel free to consider this your open thread for the day. What's happening in your world?
A tale from Oz
Timothy Kincaid
April 27th, 2013
The Marvelous Land of Oz was the first of many sequels L Frank Baum wrote based on the characters he introduced in his masterpiece. The 1904 story tells the tale of a boy named Tip and his adventures in Oz with the Scarecrow, the Tin Woodman, and other characters he met along the way.
The Emerald City is conquered in turn by two opposing armies of girls, as Glenda seeks to find Princess Ozma, who was hidden away by the Wizard when he stole the throne from her father.
But at the end, before the Tin Woodman and the Scarecrow go off to never again be parted, a most amazing discovery is made:
"Yes," said the old Witch, nodding her head; "that is the Princess Ozma—the child brought to me by the Wizard who stole her father's throne. That is the rightful ruler of the Emerald City!" and she pointed her long bony finger straight at the boy."

"I!" cried Tip, in amazement. "Why, I'm no Princess Ozma—I'm not a girl!"

Glinda smiled, and going to Tip she took his small brown hand within her dainty white one.

"You are not a girl just now" said she, gently, "because Mombi transformed you into a boy. But you were born a girl, and also a Princess; so you must resume your proper form, that you may become Queen of the Emerald City."

"Oh, let Jinjur be the Queen!" exclaimed Tip, ready to cry. "I want to stay a boy, and travel with the Scarecrow and the Tin Woodman, and the Woggle-Bug, and Jack—yes! and my friend the Saw-Horse—and the Gump! I don't want to be a girl!"

"Never mind, old chap," said the Tin Woodman, soothingly; "it don't hurt to be a girl, I'm told; and we will all remain your faithful friends just the same. And, to be honest with you, I've always considered girls nicer than boys."

"They're just as nice, anyway," added the Scarecrow, patting Tip affectionately upon the head.

"And they are equally good students," proclaimed the Woggle-Bug. "I should like to become your tutor, when you are transformed into a girl again."

"But—see here!" said Jack Pumpkinhead, with a gasp: "if you become a girl, you can't be my dear father any more!"

"No," answered Tip, laughing in spite of his anxiety. "and I shall not be sorry to escape the relationship." Then he added, hesitatingly, as he turned to Glinda: "I might try it for awhile,-just to see how it seems, you know. But if I don't like being a girl you must promise to change me into a boy again."

"Really," said the Sorceress, "that is beyond my magic. I never deal in transformations, for they are not honest, and no respectable sorceress likes to make things appear to be what they are not. Only unscrupulous witches use the art, and therefore I must ask Mombi to effect your release from her charm, and restore you to your proper form. It will be the last opportunity she will have to practice magic."

"Now that the truth about Princes Ozma had been discovered, Mombi did not care what became of Tip; but she feared Glinda's anger, and the boy generously promised to provide for Mombi in her old age if he became the ruler of the Emerald City. So the Witch consented to effect the transformation, and preparations for the event were at once made."

"Glinda ordered her own royal couch to be placed in the center of the tent. It was piled high with cushions covered with rose-colored silk, and from a golden railing above hung many folds of pink gossamer, completely concealing the interior of the couch.

The first act of the Witch was to make the boy drink a potion which quickly sent him into a deep and dreamless sleep. Then the Tin Woodman and the Woggle-Bug bore him gently to the couch, placed him upon the soft cushions, and drew the gossamer hangings to shut him from all earthly view."

"The Witch squatted upon the ground and kindled a tiny fire of dried herbs, which she drew from her bosom. When the blaze shot up and burned clearly old Mombi scattered a handful of magical powder over the fire, which straightway gave off a rich violet vapor, filling all the tent with its fragrance and forcing the Saw-Horse to sneeze—although he had been warned to keep quiet."

"Then, while the others watched her curiously, the hag chanted a rhythmical verse in words which no one understood, and bent her lean body seven times back and forth over the fire. And now the incantation seemed complete, for the Witch stood upright and cried the one word "Yeowa!" in a loud voice.

The vapor floated away; the atmosphere became, clear again; a whiff of fresh air filled the tent, and the pink curtains of the couch trembled slightly, as if stirred from within."

"Glinda walked to the canopy and parted the silken hangings. Then she bent over the cushions, reached out her hand, and from the couch arose the form of a young girl, fresh and beautiful as a May morning. Her eyes sparkled as two diamonds, and her lips were tinted like a tourmaline. All adown her back floated tresses of ruddy gold, with a slender jeweled circlet confining them at the brow. Her robes of silken gauze floated around her like a cloud, and dainty satin slippers shod her feet."

"At this exquisite vision Tip's old comrades stared in wonder for the space of a full minute, and then every head bent low in honest admiration of the lovely Princess Ozma. The girl herself cast one look into Glinda's bright face, which glowed with pleasure and satisfaction, and then turned upon the others. Speaking the words with sweet diffidence, she said:

"I hope none of you will care less for me than you did before. I'm just the same Tip, you know; only—only—"

"Only you're different!" said the Pumpkinhead; and everyone thought it was the wisest speech he had ever made."
Have a magical weekend.
The Daily Agenda for Saturday, April 27
Jim Burroway
April 27th, 2013
TODAY'S AGENDA:
Events This Weekend: Hill Country Ride for AIDS, Austin, TX; Purple Party, Dallas, TX; AIDS Walk, Kansas City, MO; Rodeo in the Rock, Little Rock, AR; AIDS Walk, Miami, FL; Miami Gay and Lesbian Film Festival, Miami, FL; Philadelphia Black Pride, Philadelphia, PA; Splash South Padre, South Padre Island, TX; Tokyo Pride, Tokyo, Japan.
TODAY IN HISTORY:
Sixty Years Ago: Eisenhower Signs Executive Order Banning Gays from Federal Employment: 1953. By the time Dwight D. Eisenhower began his first term as president, an anti-gay witch hunt had been going on steadily for three years. When Undersecretary of State John Peurifoy, testifying before the US Senate Committee on Expenditures in the Executive Department, revealed that 91 employees "in the shady category" had resigned since 1947 (see Feb 28). Republican Senators took that admission to allege that President Harry Truman's administration's employment of "sexual deviants with police records" was recklessly endangering the country's national security. The Republican Party's national chairman sent a warning to 7,000 party members that, "Perhaps as dangerous as the actual Communists are the sexual perverts who have infiltrated our government in recent years." (See Apr 18).
So when Eisenhower took office, he was keen to demonstrate that he wouldn't be soft on the pansies. Three months after taking office, he signed Executive Order 10450 mandating that all federal employees who were determined to be guilty of "sexual perversion," among other offenses, be fired. As The Los Angeles Time described it, the "tough new loyalty-security program (is) designed to rid the government of homosexuals, alcoholics and 'blabbermouths,' as well as employees deemed subversive and disloyal. The Executive Order deemed all of those categories "security risks," regardless of whether they were actually disloyal or not. It didn't matter how low or innocuous their position was; their mere presence in a government office was deemed a threat. ONE magazine, the first national gay magazine in the U.S., worried about the order's far-reaching consequences:
Every item in the new standards can be used to hound and harry not only every homosexual in government and in basic industry, but all his friends, acquaintances, and associates, be they homosexual, homosexually inclined, bi-sexual, or heterosexual. Further, every name breathed as fact or as rumor, whether they be National Security employees or not, goes into the National Security files for cross-referencing to Armed Services Files and the local records of the Communities in which they live, towards another day of total mobilization, or a National Registration Act, whichever is first.

For the homosexual, to be loyal is not enough. The homosexual is required to be 100% anti-homosexual as well. He must agree, by taking a loyalty oath, to subvert the Constitution of the United States (which is not his to subvert) and testify against himself. Then, as a homosexual, he must testify against his own decency and integrity thereby making possible acts of aggression against every person he has ever known. Then, having destroyed himself as a person not only to the community but to his own conscience, he is to be tossed aside as a basic security risk by one or all of the five standards of the Security Program.

The homosexual's life is no longer a private matter to himself. It has become political by Presidential order.
More than 640 federal employees would lose their job because of allegations of homosexuality over the next year and a half. Unknown numbers of others resigned quietly. State and local governments and government contractors followed suit, tossing countless more innocent Americans out of their jobs.
Unintended consequences are funny things though. In 1957, a young astronomer by the name of Dr. Franklin Kameny was fired from the Army Map service because of his homosexuality (see Dec 20). After all of his court appeals were denied, he founded the Washington, D.C. Mattachine Society. He Daughters of Billitis organizer Barbara Gittings (see Jul 31) organized the first gay rights demonstrations in front of the White House (see Apr 17), State Department and Philadelphia's Independence Hall (see Jul 4) in 1965 to demand an end to the federal employment ban. This demand remained a key component of the whole gay rights movement from the 1950′s through the 1970′s.
The Civil Service ban on gays and lesbians would continue for the next two decades. In 1973, a federal judge ruled that a person's sexual orientation alone could not be the sole reason for termination from federal employment. But even with that ruling, it wasn't until 1975 when the U.S. Civil Service Commission notified Kameny that they had changed their policies and were now allowing gay people to work in federal jobs (see Jul 3).
[Additional source: Anonymous ("R. Noone") "You are a public enemy." ONE 1, no. 5 (May 1953): 5-7.]
If you know of something that belongs on the agenda, please send it here. Don't forget to include the basics: who, what, when, where, and URL (if available).
And feel free to consider this your open thread for the day. What's happening in your world?
Guess who likes the proposed "no gay adults" Scouts policy
Timothy Kincaid
April 26th, 2013
I am not a fan of the new proposed policy of the Boy Scouts of America relating to sexual orientation. The change, which would allow gay youth to participate but ban any positive gay role models, seems to me to be little better than the current policy.
But there is one group who likes the new proposal: The Church of Jesus Christ of Latter Day Saints (The Mormons): (NBC)
"We are grateful to BSA for their careful consideration of these issues. We appreciate the positive things contained in this current proposal that will help build and strengthen the moral character and leadership skills of youth as we work together in the future," the LDS church said Thursday in a statement posted to their website.

"The current BSA proposal constructively addresses a number of important issues that have been part of the ongoing dialogue, including consistent standards for all BSA partners, recognition that Scouting exists to serve and benefit youth rather than Scout leaders, a single standard of moral purity for youth in the program, and a renewed emphasis for Scouts to honor their duty to God."
This welcome should not surprise us as it mirrors the most recent shift in Mormon approach to sexual orientation. The Mormon Church now welcomes and even has an outreach to gay people. With a caveat. You can be gay, but you have to behave heterosexually. The church has been trotting out examples and spokespeople who declare the joys of being married to a person of the opposite sex while also recognizing that they are homosexually oriented.
And that will be what the Scouts will be expected to teach. That 'single standard of moral purity' will be clear: abstinence until marriage to a woman. And there won't be any of those complicating factors brought up by actual real gay people participating.
This, of course, will solve nothing.
Sure some boys will be able to get their Eagle Scout badges without hiding their identity (provided that they haven't turned 18). And the policy change may even allow some sponsors the excuse they need to continue or resume giving. But the core problem will remain the same: the churches and civil organizations that serve as scout sponsors are not in agreement over the issue.
The Mormons may delight in a policy that says that you can have a same-sex attraction but never act on it, but many Methodists, Lutherans, and Presbyterians will not. In fact, those churches who have quietly set policies that banned discrimination and who have at times quietly allowed gay leaders may feel even more pressured by this change. This 'compromise', one that asks almost nothing of anti-gay Scout groups in the way of teaching and inclusion, may be used to force those more supportive troops to abide by this 'single standard'.
The Scouts were considering a policy that would allow conscience and thought to guide the various troops. Much in the way that troop vary on issues such as the divinity of Christ, the nature of God, and whether or not you will be given your own planet to rule over when you die, the issue of whether God approves or disapproves of gay people would be up to the teaching of the individual sponsors.
Instead they are now opting for conformity. You may disagree over whether being "morally straight" allows alcohol, tobacco, and dancing. You can disagree over whether your troop members will wear a yarmulke. You can disagree over the Trinity, over what is acceptable language in society, even – it seems – over masturbation. But you must agree that gay men are a morally inappropriate example for gay youth.
And that is something that many scouting troops will not support.
When polled on the gay ban, half of the administrative local counsels recommended keeping the ban. But thirty-eight percent said it should change. They either believe that gay youth and men should be allowed to participate, or they are sick of the bad press.
So the leadership opted for a change that is not a change. A solution that solves nothing.
The bad press isn't going away. Under this new policy, Tim Griffin would still be barred from working at Camp Winton. Jennifer Tyrrell would still be excluded as a den mother. And Ryan Andresen still won't get his Eagle Badge.
And the confrontation with mainstream churches will not disappear. St. James in the City will continue to ban discrimination. And the gay and lesbian pastors in the Evangelical Lutheran Church in America will continue to be offended by policies that bar them from participating in their own church's troop. And many of the thirty-eight percent will see this move as a pittance, a pretense at inclusion.
The Daily Agenda for Friday, April 26
Jim Burroway
April 26th, 2013
TODAY'S AGENDA:
Events This Weekend: Hill Country Ride for AIDS, Austin, TX; Purple Party, Dallas, TX; AIDS Walk, Kansas City, MO; Rodeo in the Rock, Little Rock, AR; AIDS Walk, Miami, FL; Miami Gay and Lesbian Film Festival, Miami, FL; Philadelphia Black Pride, Philadelphia, PA; Splash South Padre, South Padre Island, TX; Tokyo Pride, Tokyo, Japan.
TODAY IN HISTORY:
State Department Continues Homosexual Purge: 1950. Two months earlier, Deputy Undersecretary of State John E. Peurifoy revealed in testimony before the Senate Appropriations Committee that the State Department had gotten rid of 91 employees accused of being homosexual (see Feb 28). After that news of that testimony exploded onto newspapers across the country (see Mar 23, for example), Peurifoy was appointed ambassador to Greece and Carlisle H. Humelsine took over his post at the State Department. In testimony made public on April 26, 1950, Humelsine told the House Appropriations Committee that the purge of homosexuals from the State Department was continuing, with the number forced out rising to 148 since 1947 and eleven more under investigation.
"There is no doubt whatsoever in my mind and there is no doubt as far as the State Department is concerned, that a homosexual is a security risk," Humelsine told the panel. "We treat homosexuals as security risks. We are not attempting to run a campaign of going after people because of the fact that they have an illness. I think homosexuality is a type of illness. A homosexual, in my opinion, is just as sick as a person who has a cancer or some other disease. But it is absolutely apparent to us that these people are also security risks and we want them off our rolls. And we are going to get them off our rolls."
If you know of something that belongs on the agenda, please send it here. Don't forget to include the basics: who, what, when, where, and URL (if available).
And feel free to consider this your open thread for the day. What's happening in your world?
The Daily Agenda for Thursday, April 25
Jim Burroway
April 25th, 2013
TODAY'S AGENDA:
ENDA To Be Reintroduced In Congress: Washington, D.C. The Employment Non-Discrimination Act will be introduced once again in both houses of Congress. According to Metro Weekly:
ENDA will be introduced in the House and Senate with bipartisan support. Merkley will be joined by Sens. Mark Kirk (R-Ill.), Susan Collins (R-Maine), Tom Harkin (D-Iowa) and Tammy Baldwin (D-Wisc.) as original sponsors of the bill. In the House, Polis and Republican Rep. Ileana Ros-Lehtinen (Fl.) will introduce the bill. If approved by both chambers, President Barack Obama would sign the bill into law, thus prohibiting workplace discrimination on the basis of sexual orientation or gender identity nationwide.
ENDA is expected to move quickly through the Senate, but there are serious doubts that it will go anywhere in the Republican-controlled House of Representatives.
Events This Weekend: Hill Country Ride for AIDS, Austin, TX; Purple Party, Dallas, TX; AIDS Walk, Kansas City, MO; Rodeo in the Rock, Little Rock, AR; AIDS Walk, Miami, FL; Miami Gay and Lesbian Film Festival, Miami, FL; Philadelphia Black Pride, Philadelphia, PA; Splash South Padre, South Padre Island, TX; Tokyo Pride, Tokyo, Japan.
TODAY IN HISTORY:
Miami Police Reveals It Keeps Tabs on 3,000 Homosexuals: 1962. Florida Gov. C. Farris Bryant convened a conference in Miami for area law enforcement officers to discuss the "serious and growing problem of homosexuality and other sexual perversions in the state." The governor's spokesman, Vernon Williams, addressed the conference, saying "The governor feels a diligent effort is required on the part of all agenc' ies to curb the growth of homosexuality. But it s not our intention to start a witch hunt." Williams had no need to announce a new witch hunt, as the Miami area and much of Florida had waged a rather long-standing witch hunt against gays for much of the prior decade, with Williams himself commenting that those investigations discovered gay people "in the ranks of university professors, Sunday school teachers, and Scout leaders, among other professions."
Williams wasn't the only one discussing the results of various witch hunts. Closer to home, Dade County sheriff Thomas Kelly told the gathering that Metro police maintained a list of 3,000 local persons "suspected of being practicing homosexuals." He told the gathering that the list was comprised of people "from 8 to 80," and that they "tend to stay in groups and had many contacts throughout the county. … I feel that these people are sick."
Gay Protesters Arrested At Philadelphia's Dewey's Malt Stand: 1965. Dewey's on 17th Street in Philly's Center City was a popular hangout, but the clientele disturbed the owners who decided to refuse service to those they deemed unworthy. First, it was "rowdy teenagers," then it was those exhibiting "improper behavior" which some employees took to mean gay people and those wearing gender-variant clothing. On April 25, two teen boys and one teen girl were refused service. But instead of getting up and walking out, they remained seated and refused to leave. They were arrested along with Clark Polak, a gay rights leader, and found guilty of disorderly conduct.
The Janus Society, an early Philadelphia gay rights group, had joined with several other east cost gay activist groups to form the East Cost Homophile Organization (ECHO), which, in a 1964 conference, agreed to engage in more direct actions, including protests, to confront provocations against the gay community. That agreement had already spawned two planned protests in April: the first ever pickets for gay rights in Washington D.C. at the White House (see April 17) and in New York at the United Nations (see April 18). The Janus Society saw the sit-in at Dewey's as the perfect opportunity to put ECHO's new-found commitment to direct action to work in Philadelphia by organizing a five-day protest and leafleting campaign. Over 1,500 pieces of literature were distributed in front of the malt stand while gay rights leaders negotiated with the restaurant's management. On May 7, protesters staged another sit-in. Management called police, but this time police determined that they had no authority to force the protesters to leave. After an hour, management gave in and agreed to "an immediate cessation to all indiscriminate denials of service." It is believed to be the first documented instance when a sit-in was held in support of LGBT rights.
St. Paul Voters Overturn Gay Rights Ordinance: 1978. In 1977, a proposed state anti-discrimination law failed to pass the Minnesota legislature. That defeat, which occurred just three weeks before voters in Dade County, Florida voted down a similar measure that had been passed by the Miami-Metro government, emboldened anti-gay activists at St. Paul's Temple Baptist Church to turn their attention to that city's three-year-old gay rights ordinance. Pastor Richard Angwin, in launching the petition drive to put the ordinance's repeal on the ballot, stated frankly, "I don't want to live in a community that gives respect to homosexuals."
Anita Bryant, fresh off her victory in Miami-Dade, joined the fray along with her husband, Robert Green. A week before the vote, Anita Bryant failed to show up at a rally, saying that she didn't feel well. Some suspect that the pie throwing incident in Des Moines the previous fall may have unnerved her. Green showed up in her place and urged the crowd of 10,000 to stand against the forces of "moral breakdown of this nation," saying "the devil is really working overtime." Turnout was heavy for the special election, and St. Paul voters defeated the the gay rights ordinance by more than a two-to-one margin.
If you know of something that belongs on the agenda, please send it here. Don't forget to include the basics: who, what, when, where, and URL (if available).
And feel free to consider this your open thread for the day. What's happening in your world?
Rhode Island Senate Approves Marriage Equality Bills
Jim Burroway
April 24th, 2013
As expected, the Rhode Island Senate this afternoon gave its approval to a set of bills which will provide marriage equality to the Ocean State's same-sex couples. In a historic first, the 26-12 vote included "yes" votes from all five of the chamber's Republican senators. The Senators also rejected a proposed amendment which would have placed the question before voters.
Due to changes made to the Senate version of the legislation, it now goes back to the House, which had already approved an earlier version in January in a 51-19 vote. The House is expected to give its final approval to the legislation on on May 2, where it will then go to Governor Lincoln Chafee for his promised signature. 
Rhode Island will become the tenth state, in addition to the District of Columbia, to provide marriage equality when the law goes into effect August 1.
Former Ex-Gay Spokesman Issues Formal Apology
Jim Burroway
April 24th, 2013
John Paulk, the former ex-gay leader who last week recanted his earlier beliefs in the ex-gay movement's message that change in sexual orientation was both possible and necessary, has followed up with a more full, formal apology for the damage those messages caused:
For the better part of ten years, I was an advocate and spokesman for what's known as the "ex-gay movement," where we declared that sexual orientation could be changed through a close-knit relationship with God, intensive therapy and strong determination. At the time, I truly believed that it would happen. And while many things in my life did change as a Christian, my sexual orientation did not.

So in 2003, I left the public ministry and gave up my role as a spokesman for the "ex-gay movement." I began a new journey. In the decade since, my beliefs have changed. Today, I do not consider myself "ex-gay" and I no longer support or promote the movement. Please allow me to be clear: I do not believe that reparative therapy changes sexual orientation; in fact, it does great harm to many people.

I know that countless people were harmed by things I said and did in the past,
Parents, families, and their loved ones were negatively impacted by the notion of reparative therapy and the message of change. I am truly, truly sorry for the pain I have caused.

From the bottom of my heart I wish I could take back my words and actions that caused anger, depression, guilt and hopelessness. In their place I want to extend love, hope, tenderness, joy and the truth that gay people are loved by God.

Today, I see LGBT people for who they are–beloved, cherished children of God. I offer my most sincere and heartfelt apology to men, women, and especially children and teens who felt unlovable, unworthy, shamed or thrown away by God or the church.

I want to offer my sincere thanks to everyone who encouraged me to take this initial step of transparency. Even while promoting "ex-gay" programs, there were those who called me on my own words and actions. I'm sure I didn't appreciate it at the time, but they have helped me to realize this truth about who I am.

This is a life transition that has been and will continue to be, challenging. Sadly, my marriage of 20 years is in the process of ending. I want to take the time to make sure my next actions come from a place of truth and authenticity. Therefore, I'm drastically limiting my public engagement until my own personal life can be settled. After that I eagerly anticipate giving back to the community.

Finally, I know there are still accounts of my "ex-gay" testimony out there being publicized by various groups, including two books that I wrote about my journey. I don't get any royalties from these publications, and haven't since I left the ministry nearly ten years ago. I discourage anyone from purchasing and selling these books or promoting my "ex-gay" story because they do not reflect who I am now or what I believe today. 



John Paulk
To understand the significance of this statement, it's important to review how deeply embedded Paulk had been, not just in the ex-gay movement in particular, but as an important spokesman for anti-gay activists broadly. Paulk first became active in the early 1990s when he appeared in the infamous 1992 video, The Gay Agenda, which was produced by the Family Research Council. That video was used with great effect by the backers of Oregon's failed Measure 9, which would have amended the state constitution to prohibit all anti-discrimination measures or other so-called "special rights" for LGBT people. In 1993, Paulk appeared in another video, Gay Rights Special Rights, which proved highly influential as it made the rounds on Capitol Hill during the debates about gays in the military which eventually led to the  "Don't Ask, Don't Tell" ban on gays serving openly. That same year, Paul was interviewed for a Wall Street Journal article in which he described his drag-queen past and successful marriage to Anne Paulk his "ex-lesbian" wife who he married the year before.
By the late 1990s, Paulk became a principle spokesman for Focus On the Family on anti-gay issues. He headed Focus's Gender and Homosexuality division and was elected to two terms as chairman of the most prominent ex-gay organization, Exodus International. In 1998, he helped to found Love Won Out, a traveling ex-gay roadshow and infomercial conducted jointly with Exodus International, which was staged in a half a dozen cities across North American each year for the next thirteen years. That same year, he and his ex-lesbian wife, Anne, again became the face of the ex-gay movement in a massive publicity campaign that culminated in their landing on the cover of Newsweek. 
In 2000, Wayne Besen photographed Paulk as he was leaving a gay bar in Washington, D.C. After a brief hiatus due to the highly embarrasing public scandal, Paulk returned to ex-gay ministry, and continued working at Focus On the Family and speaking at Love Won Out conferences for the next four years. But the Paulks eventually left Focus On the Family and moved to Oregon, where John started a catering business, while Anne continued writing books and speaking on the ex-gay circuit. In the past year, Anne helped to form a break-away group of former Exodus ministries following Exodus president Alan Chambers's acknowledgment that change in sexual orientation was not possible. She now serves on the board of directors of that dissident group, Restored Hope Network.
As Paulk's latest statement indicates, he and Anne, who are the parents of three boys, appear to be going their separate ways, professionally as well as personally.
Evangelicals On The Slippery Slope Toward A Big Gay Embrace
Randy Potts
April 24th, 2013
You might have heard that Brittney Griner, who the New York Times called "one of the most dominant basketball players in recent memory," came out recently.  Or, maybe you didn't.  As the Times put it in their headline, "Female Star Comes Out as Gay, and Sports World Shrugs."  While everyone is waiting for the first male player to come out, Griner's news has been received as no news.
What struck me this week was something that's only been passed on by word of mouth, something probably too delicate to survive media scrutiny if reporters were to look into it and ask for official statements.  That's the reaction to Briner's coming out at Baylor where she plans to graduate this spring before joining the Phoenix Mercury who just picked her up in the draft.  Mark Osler, former federal prosecutor and also a former Baylor professor, passes on this little anecdote in the Huffington Post this week about how Baylor's President Ken Starr (remember him?) treated Griner publicly just days after she came out –
"After Baylor clinched another Big 12 Championship, they made confetti angels on the basketball court as the crowd roared."
No, Starr did not hold a press conference wearing a rainbow pin with an arm slung around his college's most famous student.  No theology has been rewritten and, so far, I haven't found anyone with a picture of this hug on the basketball court.  All the same, I'm sure it happened, and I'm confident it will happen again.  This is how evangelicals are going to begin to embrace the LGBT community.  Colleges especially are ground zero because of the tension between the older administration which at many evangelical colleges censors any mention of LGBT people and the students who, polls show, are now solidly behind marriage equality and finding a place for LGBT people.  This hug was Starr's nod to that fact, and the crowd's roar a standing ovation to that nod.  Theology and official statements might take another decade (or two) to catch up to this groundswell, but it will catch up eventually.
NOM and  FRC and co. aren't going to like it, but this scene is going to be played out more and more in the coming years while Bryan Fischer's head begins to spin and he is finally moved to recite T. S. Eliot –
"This is the way the world ends, not with a bang but a whimper."
The Daily Agenda for Wednesday, April 24
Jim Burroway
April 24th, 2013
TODAY'S AGENDA:
Rhode Island Senate To Vote On Marriage Equality: Providence, RI. The last holdout state in New England to withhold marriage equality to same-sex couples is expected to finally address that deficiency this afternoon. An earlier attempt in 2011 to pass a bill allowing same-sex marriage faltered, resulting in the state's General Assembly to opt for Plan B: civil unions. But with full marriage available within a half hour's drive from Providence in any direction, it was hard to get excited. After two months of civil union availability, only nine Ocean State couples bothered with the paperwork.
But it looks like now Rhode Island couples will finally be able to get the real thing at home instead of having to cross state lines to get married. A bill to allow same-sex marriage is scheduled to be brought to a vote during today's Senate session which begins at 4:00. p.m. If it passes, it will then return to the House of Representatives for its approval of some tweaks made to the Senate version of the legislation. (The House passed its original version last January in a 51-19 vote.) From there it goes to Governor Lincoln D. Chafee, who has promised to sign the bill into law.
Events This Weekend: Hill Country Ride for AIDS, Austin, TX; Purple Party, Dallas, TX; AIDS Walk, Kansas City, MO; Rodeo in the Rock, Little Rock, AR; AIDS Walk, Miami, FL; Miami Gay and Lesbian Film Festival, Miami, FL; Philadelphia Black Pride, Philadelphia, PA; Splash South Padre, South Padre Island, TX; Tokyo Pride, Tokyo, Japan.
TODAY IN HISTORY:
University of South Florida President Denies Hiring Homosexuals: 1963. Dr. John Allen, president of the University of South Florida, strongly denied charges that the school "harbored homosexuals" on its faculty. He also denied that the school was "soft on communism," was anti-religious or that controversial writings by "'beatnik" authors were typical of the literature found in the school's reading program.
All of those charges were levied against USF and other Florida state colleges and institutions by the Johns Committee, Florida's version of the McCarthy Red and Lavender Scares in Washington. Named for its first chairman, state Senator and former Governor Charley Johns, the Johns committee was established in 1956 to investigate so-called communist links to the NAACP and the Southern Christian Leadership Conference. In 1957, the Florida legislature broadened the committee's mandate to investigate gays in the state's colleges and universities, and reiterated that mandate again in 1961. Florida's leaders of higher education proved eager to demonstrate that Florida's sons and daughters were safe in their institutions, with many throwing their campuses open to heavy-handed investigators calling individual students and teachers out of class for interrogations.
The results of those investigations were made public in a report in 1963, in which Johns claimed credit for "flush(ing) 71 homosexual public school teachers and 30 homosexual deans and professors of universities." Dr. Allen responded, quite forcefully, that his school was certainly not infested with homosexuals. The committee, he pointed out, established only one clear case of a gay teacher among the entire 500 person-staff, which was only "one-fifth of one per cent," as he put it. That person resigned immediately. Charges had been levied against two others which could not be supported, and reports indicated that they "later left the university for other reasons."
New Orleans Police Institutes Massive Gay Roundup: 1981. In a 1982 article published in the Columbia Journalism Review, Randsell Pierson wrote a very informative piece wondering aloud, "Can the Straight Press get the gay story right?" Pierson had interviewed several closeted gay reporters at the New Orleans Times-Picayune who all said that they feared pitching gay-related stories to their editors for fear of being identified as gay. It was that silence, Pierson said, which helped to explain why homosexuality was still illegal in 25 states and the District of Columbia. Lapses in coverage of gay issues was surprising, and among the many examples that Pierson offered up was this one:
Over a period of three days on the weekend of April 24, 1981, New Orleans police rounded up and jailed more than 100 gay men and women in a series of raids in the French Quarter. Those arrested were charged with "obstructing sidewalks" in front of gay bars. The arrests prompted a vigorous political response from the local gay community, which charged that the police were trying to drive gays out of the French Quarter. A protest meeting attended by 700 gays helped to persuade Mayor Ernest Morial and Police Chief Henry Morris to promise to investigate charges of police harassment. All charges against the arrested gays were subsequently dropped.

Two of the city's three television stations — WDSU (NBC) and WVUE )ABC) — followed the breaking story and sent film crews to the protest meeting held on the Tuesday following the weekend arrests. The Times-Picayine/States-Item waited five days after the first arrests to report on the story. The account, buried in section 5, said nothing about the protest meeting, which would seem to have been the logical peg, and failed to include in its tally the arrests a group of thirty-nine gay men picked up the previous Sunday. Reporter Allan Katz, who wrote the story, says: "They wanted somebody to do something in a hurry. You would think that because the story was four days old before they assigned it to a reporter they didn't consider it a major story. About the only time in my experience we really try to relate to gay news is when something really controversial comes up." Apparently, the arrest of more than 100 men and women in a city not under martial law was not considered "really controversial."
[From Randsell Pierson's "Uptight on Gay News: Can the Straight Press Get the Gay Story Straight? Is Anyone Even Trying?" Chapter 59 in Larry Gross & James D. Woods (eds.) The Columbia Reader on Lesbians & Gay Men in Media, Society, & Politics (New York: Columbia University Press, 1999): 368-376]
If you know of something that belongs on the agenda, please send it here. Don't forget to include the basics: who, what, when, where, and URL (if available).
And feel free to consider this your open thread for the day. What's happening in your world?