The Daily Agenda for Tuesday, February 18
Jim Burroway
February 18th, 2014
TODAY'S AGENDA is brought to you by:
If you've been enduring weeks of repeated snowstorms and much-below-normal temperatures, now might be a good time to book a trip to Key West for some fun-in-the-sun relief. Key West has long been known as a very gay friendly location, with a good number of resorts and guest houses catering the the gay and lesbian markets, with many of the resorts for gay men being clothing optional. In 1983, the Lighthouse Court advertised itself as "an exquisitely relaxed compound." The Lighthouse Court is still in business, but it has changed a bit since then. In 2005, it was mentioned in a New York Times article asking "Is Key West Going Straight?": "You can feel the change at the Lighthouse Court, a popular – some would say notorious – gay-only Whitehead Street guesthouse that recently went 'all welcome,' the local euphemism for accepting heterosexual guests as well as gays."
TODAY IN HISTORY:
Marquess of Queensbury Accuses Oscar Wilde of Being a "Somdomite": 1895. British playwright Oscar Wilde was dining at the Albermarle Club when the Marquess of Queensbury left a calling card with the porter. It read, "To Oscar Wilde posing as a somdomite." The misspelling may have been the product of Queensbury's rage over the relationship between Wilde and his son, Lord Alfred "Bosie" Douglas. Queensbury had ferocious arguments with his son, trying to get him to stop seeing Wilde, but Bosie refused. Queensbury even threatened to go public with what he knew, but Bosie refused to back down. So on February 18, 1895, Queensbury followed through on his threat.
This action led to a long string of events which eventually led to Wilde's disgrace, imprisonment, exile in France, and early death. Perhaps all that could have been avoided if Wilde had decided not to sue Queensbury for libel. His friends advised him against it, but he may have felt he had little choice. Having been called out publicly like that, declining to sue might be taken as an admission of guilt. Unfortunately, Wilde's libel case collapsed when Queensbury's lawyer asked whether he had ever kissed Walter Grainger in greeting. "Oh, dear no," Wilde replied, "He was a peculiarly plain boy. He was unfortunately extremely ugly. I pitied him for it."
Queensbury's lawyer pounced on Wilde's admission that attraction was the reason he didn't kiss him.  In short order, Wilde lost the case, and was charged with gross indecency. Wilde's first criminal trial ended in a hung jury but the second one resulted in Wilde's conviction and sentence to two years at hard labor.
British Quakers Publish "Toward a Quaker View of Sex": 1963. A report published by an influential group of eleven Quaker scholars challenged what it considered a hidebound view of sexuality among Christians. The groundbreaking report insisted on the basic similarity of homosexual and heterosexual emotional experience and placed the two on an equal moral footing, insisting that the morality be judged by the same standard.
"Surely it is the nature and quality of a relationship that matters," the authors wrote. "One must not judge by its outward appearance but by its inner worth … We see no reason why the physical nature of a sexual act should be the criterion by which the question whether or not it is moral should be decided. An act which expresses true affection between two individuals and gives pleasure to them both, does not seem to us to be sinful by reason alone of the fact that it is homosexual."
The report asserted that "sexuality, looked at dispassionately, is neither good nor evil — it is a fact of nature." it also explored the meaning of morality itself. "It seems to us," the report continued," that morals, like the Sabbath, were made for man, not man for morals, and that as society changes and modes of conduct with it, we must always be searching below the surface of human behavior, to discover what is in fact happening to people, what they are seeking to express, what motives and intentions they are satisfying, what fruits good or bad, they are harvesting."
Towards a Quaker View of Sex was not an official Quaker statement on sexuality. But because it was published by the Literature Committee of the Friends Home Service Committee, it would prove to be a profoundly influential document among Quakers for the next several decades. You can read the full report here (PDF: 117KB/7 pages).
North American Conference of Homophile Organizations (NACHO) Forms: 1966. Following the success of the East Coast Homophile Organizations' (ECHO) efforts to organize several gay rights groups for coordinated actions (see Oct 10), forty activists from the East and West Coasts, the Midwest and Texas met in Kansas City for a planning conference for what would become the first attempt at a national coalition of gay rights groups. Fifteen organizations were represented at the Kansas City meeting which was moderated by the Rev. Clarence A Culwell, a straight UCC minister who headed the San Francisco-based Council of Religion and the Homosexual (see Jan 1). The conference agreed to sponsor public meetings in several cities for Armed Forces Day, May 21, to discuss gays and the draft. It also agreed for a follow-up meeting in San Francisco in August to solidify the organization and plan further actions.
If you know of something that belongs on the agenda, please send it here. Don't forget to include the basics: who, what, when, where, and URL (if available).
And feel free to consider this your open thread for the day. What's happening in your world?
The Daily Agenda for Monday, February 17
Jim Burroway
February 17th, 2014
TODAY'S AGENDA is brought to you by:

Not be confused with the more famous Sandpiper on Fire Island, this Staten Island disco was often known as Carmine's Sandpiper. It wasn't a gay bar per se — I'm led to understand there were no gay bars in Staten Island at that time, though I'm open to correction — but the Sandpiper was known as a very gay friendly venue since the 1950s. Located in a frame house on a residential street, the Sandpiper was a modest bar during the week, but hosted DJ's and drag shows on the weekend. Sometime in the 1970s, the Sandpiper became Club Brazil, a full-on gay bar and popular disco. The building has since been torn down and replaced by a cookie-cutter duplex.
TODAY IN HISTORY:
Laredo D.A. Defends City's Reputation: 1953. The District Attorney for Laredo, Texas, defended his fair city's reputation against allegations made by a Mexican newspaper in Nuevo Laredo, just a cross the border, that there were homosexual activities taking place on the American side of the line. D.A. James Kazen was responding to a series of articles by El Manaña, a morning daily with wide circulation in both communities, which claimed that many prominent citizens of Laredo were involved in homosexual activities, and promised to run a list of names in a future article. Kazen denounced the stories as "wholly untrue," and successfully appealed to Judge R.D. Wright to reconvene a grand jury to investigate the reports. Kazen did acknowledge that there were homosexuals on the streets of Laredo — but only four, and two of them were outsiders who had only recently moved to town.
Chicago Police Raid Lesbian Bar: 1961. Chicago police, like New York Police, were always raiding gay bars, often for the same reasons. As in New York, gay bars in Chicago tended to have mob connections, and police raids were planned according to whether the proper protections were paid to the proper officers on the force. While the raids were a routine feature of gay life in Chicago, each one nevertheless was added insult to the daily difficulties of gay life. In March of 1961, a Chicago woman who went by the name of Del Shearer (a pseudonym she used throughout her career in activism) wrote to the Daughters of Bilitis' newsletter The Ladder to describe the latest insult:
On February 17, shortly before midnight, the police arrested some 52 people, herded them off to a Chicago jail, and charged them with presence in a disorderly house. According to Illinois statutes, all "owners, agents, and occupants" thereof are subject to arrest. First, not all were arrested. It was determined by the arresting officers on the basis of "fly fronts" who was to be taken in — "fly fronts" which were made in women's slacks by legally owned and operated manufacturers are not illegal and thus they do not constitute disorderly conduct. Second, on the night this raid occurred, there was no apparent violence, disturbance of the peace, disorderly assembly, or legal violation. At the station those women wearing "fly fronts," regardless of whether they wore lipstick, long hair, or earrings, were made partially to undress in order to determine whether they wore jockey shorts.  (I suppose they will now be charged with indecent exposure.) It now appears that those arrested at the discrimination of the police are to appear in courts in March, where they will face the charge against them.

Though I do not wish to go into the details of their fifteen-hour detention period, I will say that the conditions of the lockup itself, as well as their treatment, violated more than a few Illinois laws.
After briefly describing the raid — we don't know what bar was raided on that night — Shearer then went on to vent her frustration with the general feeling of resignation the gay community had about the raids:
Gay people have let their fears overpower their conscience. They're afraid of publicity and newspapers, of public condemnation and the loss of their families' love. They're afraid of the big, black, threatening cloud that hangs above each and every one.

The object of the homosexual to live without fear of discrimination and persecution will never be attained without a fight. If the gay element wants its freedom, it has no choice but to fight, for freedom in this country or any country is not a thing given or guaranteed to anyone who does not hold it in highest esteem. The word fight is a frightening word.

Gay people, like many Americans, think in terms of jobs, money, reputation, and prestige. Like most Americans, they feel these are more important than either ethics or morals. For this reason, they seem to be primarily concerned about their own necks. Not only have they lost sight of their own rights, but they seem completely to have forgotten homosexual posterity. No legal miracle is going to free us or those who come after us.

If we ever hope to win our battle, we must fight. First, we must unshackle ourselves from fear, for it alone is our omnipresent enemy. We fear sacrifice, though sacrifice is called for. In any war — physical, social, civil, or international — both sides suffer; in the course of warfare, before or after, all involved must suffer. We are afraid to suffer in battle, though it may well be that our sufferings will be augmented a thousand times if we do not fight. If we do not fight, we will continue in ever-increasing numbers to be made the target of society's and the police's blows. We will continue to be ridiculed, persecuted, denied our legal rights, and falsely prosecuted at the command of our discriminating master. Are we to be bound as children by the fear which disorganizes us? Are we to think as children of the world filled with honey trees and sugarplum trees, where we will live happily ever after? We are a minority group and because we are, we consider ourselves orphans of society, without parents to protect us and without love. Orphans grow up, though, as we must. When they realize that they have to look out after their own interests, the sky becomes the limit. Our case is not radically different.

…Homosexuals everywhere have been made the scapegoat of society. The prejudices held against us are in most cases built out of sight of the very same scientific findings and theories with which Americans in this scientific age so cleverly rationalize their behavior — but not that of their fellow man. How long will we sit quietly and watch society kindle the flames beneath the stakes on which we burn with our own legal and moral rights?
Shearer went on to found a Chicago chapter of the Daughters of Bilitis later that year. In 1964, she was the only woman to appear among five panelists for a televised two-hour discussion on WBKB (Channel 7, which later became WLS-TV). Shearer also served as the national vice president for the Daughters of Bilitis. But there were limits to how far she was willing to take the fight. She resigned from the DOB governing board in 1965 due to her strong disagreement "at this time or in the very near future" with the tactic of picketing by East Coast homophile groups (see Apr 17, May 29, Apr 18, Jun 26, Jul 4, Jul 31, Sep 19, and Oct 23). And with her resignation, she also left the homophile movement entirely.
"Chicken And Bulls" Blackmail Ring Busted: 1966. A massive, multi-state blackmail ring stretching from Chicago to New York To North Carolina was broken with the arrest of nine extortionists, with eight more being sought. As The New York Times reported, the gang employed "chickens" (including college students and at least one bodybuilder) who posed as young gay men who would allow themselves to be picked up by other gay men, usually travelling businessmen, to go back to the hotel. Once there, the "chicken" would beat and rob their victims and leave. A few hours later, other men — the "bulls" — posing as policemen would arrive at the hotel for another shakedown. Saying that they had arrested a homosexual prostitute with the victim's wallet in his possession, the "police" needed to victim to go to the station to make a statement. Fearing exposure, the victim would often offer a bribe to the "police" to make the whole problem go away. In another version of the shakedown, "police" would burst into the hotel room just when the men were in a compromising state of undress, and the shakedown would begin with the threat of arrest.
The gang's success hinged on several factors: homosexuality was illegal everywhere except Illinois, and even there the mere threat of being publicly exposed was enough to induce the victim to do just about anything to avoid having his reputation, career and family life ruined. The ring's longevity — it would later be revealed that it had been in operation for about a decade — was further aided by the fact that none of the victims went to the police. And why would they? They already thought they were dealing with the police. Actual police corruption was so rampant, with many of them operating their own blackmail schemes using many of the same tactics, victims had no way to tell the fake cops from the real.
To further add to the confusion, some members of the gang actually had police connections, allowing the gang to imitate police officers with a great deal of precision. John J. Pyne, the ringleader of the gang, was a retired Chicago policeman. In his home, the FBI found police badges and identification papers for almost every state, along with a variety of blank arrest warrants, charge sheets and extradition forms from several jurisdictions. As the investigation and trials unfolded over the next two years, investigators would learn that millions of dollars were extorted from over a thousand victims. The victims themselves were no lo-lifes. They included university deans, professors, military officers (including a navy admiral and two generals), several well-known actors, TV personalities (including, it's been said, Liberace, who refused to testify before a grand jury for fear of ruining his career), and at least one U.S. Congressman. Their boldness knew no limits. Twice, they confronted Rep. Peter Frelinghuysen (R-NJ) in his Capitol Hill office, took him to a private plane to fly to New Jersey, and brought him directly to a bank where he paid a total of $50,000. They pulled a prominent surgeon out of an operating room, forcing his colleague to finish the surgery. They even went into the Pentagon and escorted Admiral William Church out of the building and to a bank where he handed over $5,000. Church later committed suicide to avoid testifying before a grand jury against his blackmailers.
Church's suicide (and Liberace's reticence) was indicative of the greatest problem that the FBI and New York Police Department faced in trying to break the case: almost none of the victims were willing to talk to police, let alone testify. If there is a silver lining in the whole affair, is is probably the fact that investigators had to figure out how to set aside their own prejudices, and through persistence and discretion, build a foundation of trust between themselves and the victims. The Mattachine Society was enlisted as a go-between so that victims might feel less exposed. Some judges, where they could, allowed victims to testify anonymously, or allowed victims to testify about the blackmail without going into any sexual details. These accommodations were a complete turnaround from the way law enforcement and the courts had dealt with gay people during the Lavender Scare of the 1950s. Press coverage was also markedly different. With the roster of victims including the cream of society, it was much easier to portray them with considerable sympathy. As one law enforcement official told The Times, "Extortion of money from well known persons who are homosexual or bisexual is a persistent problem. We want to alert these people who come from all walks of life that such extortion schemes exist and we want to impress upon them also that New York City detectives are no part of this disgusting racket."
Over the next two years, various members of the ring were tried, with most found guilty and sent to prison. Pyne was sentenced to two consecutive 20-year federal prison terms. Weightlifter John Fellabaum, a ringleader who posed as a muscle-bound "chicken," angered the judge when he forced a witness, an antiques dealer from Maine, to take the stand and publicly out himself, after which Fellabaum immediately changed his plea to guilty. The judge was outraged. "I have been sentencing people for twenty-seven years and it has been a a long time since I have come upon a case that was so revolting as your case. I think you are so steeped in filth that as I read the report I cringed, and my flesh crept as I read the depth of inequity to which you allowed yourself to sink."
[Sources: William McGowan. "The Chicken and the Bulls" Slate (July 11, 2012). Available online here.
Angus McLaren. Sexual Blackmail: A Modern History
(Cambridge, MA: Harvard University Press, 2002): 239-242.]
TODAY'S BIRTHDAY:
Friedrich Alfred Krupp: 1854-1902. Fritz had every advantage available to one born to Germany's most prominent industrialist family. Named for his grandfather who founded the family firm in 1811, and heir to the vast steelmaking, mining, and armaments conglomerate assembled by his father, young Fritz, at the relatively young age of 33, stepped in as head of the Krupp empire when his father suddenly died. Under Fritz, the Krupp firm developed nickel steel which would revolutionize battleship armor and cannons, and created a shipbuilding works which would go on to build Germany's first U-Boat in 1906. Fritz also cultivated a very close working relationship and personal friendship with the Kaiser, Wilhelm II, which proved especially fruitful. His wealth and business acumen was such that crowned heads of state often negotiated contracts with him personally, while his tact and charm allowed him to resolve touchy problems whenever they arose.
Fritz's first love though wasn't business, but oceanography, a hobby he would pursue throughout his life. Because of poor health, he frequently traveled to the Mediterranean where he could indulge his hobby, along with another — young, exotic men. From 1898, he took up a semi-permanent residence on Capri, where he could pursue both pleasures, well out of sight of his wife and family. He was also generous with the local community, so much so that the Capri council made him an honorary citizen.
But because the burdens of business required him to spend a considerable amount of time in Berlin, he sent several of his favorites to the Hotel Bristol and arranged for their employment there with the understanding that when he was in town, they were to attend to him rather than their duties. The men quickly proved unsuitable to their tasks.
Between his time in Capri and the men he had stashed away in Berlin, stories began to leak out in the Italian press, and insinuations began to make their way into the German papers in 1902. As the stories began to leak out, Krupp's wife was confined to a mental asylum — whether it was due to her distress or to ensure her discretion, it's hard to say. Finally, on November 15, the Social Democratic magazine Vorwärts published an article, titled "Krupp in Capri, which boldly accused Krupp of homosexuality, including his fondness for Adolfo Schiano, an 18-year-old barber and amateur musician.
Krupp requested an audience with the Kaiser, but one week later, on the day they were to meet,, Krupp was found dead in his home, apparently of suicide, although the circumstances surrounding his death were never revealed. No autopsy was ever performed, and Krupp's body was placed in a closed casket. Within days, Krupp's wife was released from the asylum; her sanity apparently was miraculously restored. In a speech at Krupp's funeral, the Kaiser denounced the Social Democrats for "lying" about Krupp's homosexuality. His heirs then launched a libel suit against Vorwärts, but it was quietly dropped a short time later.
If you know of something that belongs on the agenda, please send it here. Don't forget to include the basics: who, what, when, where, and URL (if available).
And feel free to consider this your open thread for the day. What's happening in your world?
Why Did Uganda's President Turn on Anti-Homosexuality Bill?
Jim Burroway
February 16th, 2014
That's the political question being asked today. Ugandan President Yoweri Museveni is very well aware of the hit he'll be taking internationally by giving his assent to the draconian legislation. A few months after the bill's 2009 introduction amid international outcry, Museveni told his ruling party caucus that the government should "go slow" with the bill, citing foreign policy concerns. Later that year, Museveni's cabinet reported that they had "rejected" the private member's bill sponsored by M.P. David Bahati. His cabinet tried to repeat that assertion again in 2011. When the bill passed last December, Museveni lashed out at House Speaker Rebecca Kadaga for rushing it through without a quorum, and just four weeks ago he told representatives from the Robert F. Kennedy Center for Justice and Human Rights that he would not give his assent to what he called a "fascist" bill.
So why the turnaround? A Ugandan opposition paper thinks it's purely a matter of domestic political calculations:
The Observer Editor Richard M Kavuma believes the president may have been guided by political calculations. Because he was keen to win over MPs on key issues such as denying suspects bail on certain offences, Kavuma said, the president may have decided to sign the popular bill as a concession.

"But it is also true that some of the president's people may challenge the legislation in court and given Uganda's largely progressive Constitution, they may get the bill declared unconstitutional," Kavuma said.

"That way the president comes out looking good to his anti-gay electorate, while the judges will take the flak from Uganda's generally Christian conservative population."

Kavuma added: "Because the law is likely to fail anyway, the president may have found the political cost of signing the bill to be much lower than that of maintaining his locally 'anti-people' stance.  On the contrary, he will be praised across churches, shrines and mosques if he signs the bill."
According to this analysis, there's virtually no political cost in the short term domestically, and, if it plays out in court the way Kavuma believes, there's no long term political cost either. In other words, it's the most cynical plan conceivable. Nobody loses, except of course Uganda's LGBT citizens, who don't count in this calculation anyway.
The Observer also notes that Museveni's announcement, made at a ruling party caucus this weekend, may have been aimed at tamping down internal challengers who may themselves have presidential aspirations. Museveni is all but assured to announce his run for re-election in 2016, when he will have already spent some thirty years as the country's leader following a 1986 civil war.
The Daily Agenda for Sunday, February 16
Jim Burroway
February 16th, 2014
TODAY'S AGENDA:
Events This Weekend: Brighton Half Marathon, Brighton, UK; Arizona Gay Rodeo, Phoenix, AZ; SF Bear Weekend, San Francisco, CA; Sydney Mardi Gras, Sydney, NSW.
TODAY'S AGENDA is brought to you by:

I don't have much information about the Texas Drilling Company, except that it was located in the Virginia-Highland area of Atlanta. Which means that we're now referencing three very different geographies in one little establishment. (Reminds me of the first Latino gay bar I went to, the Arizona Mining Company in El Paso, Texas.) The Texas Drilling Company was apparently an important incubator for Atlanta's cowboy and leather scene. It closed in 1985 when the neighborhood changed from biker bars to frat house hangouts. The building, which had earlier been a neighborhood grocery store, now houses the Fontaine Oyster House.
TODAY'S BIRTHDAY:
Katharine Cornell: 1893-1974. She shared the title of "The First Lady of the Theatre" with Helen Hayes; as good friends and colleagues, they each deferred the title to each other. While Hayes is probably more well known today, Cornell's own acting and contributions to the theater are legendary. Part of her success can be attributed to her collaboration with her husband, Guthrie McClintic, a successful director and producer. Their marriage was both professional and one of convenience: Cornell was lesbian and McClintic was gay. She was a member of New York's "sewing circles, with relationships with Tallulah Bankhead and Mercedes de Acosta, among others. Meanwhile, McClinctic directed Cornell in every play since their marriage.
Cornell's acclaimed Broadway roles include the title character of George Bernard Shaw's Candide, Countess Ellen Olenska in The Age of Innocence, the poet Elizabeth Barrett Browning in The Barretts of Wimpole Street — and that's just before the Great Depression. Her career continued unabated through the 1950s. Her appearance in the title role of 1936′s St. Joan won her a bevy of honorary degrees from several colleges and universities, and she won a Tony Award for Best Actress for Antony and Cleopatra in 1947. After McClintic died in 1961, Cornell decided to retire rather than work with another director. She restored the 300-year-old Association Hall on Martha's Vineyard, which was later rename the Katharine Cornell Theater. She died of pneumonia in 1974, and was buried next to the theater named in her honor.
John Schlesinger: 1926-2003. The British director of film, stage, television and opera became one of the more influential figures in Britain's post-war entertainment industry. He began acting in a small number of small parts in films shortly after leaving Oxford. In the mid-fifties, he began directing short documentaries for the BBC. His first feature film came in 1961 with Terminus, a documentary set on a London train station. It earned him a Venice Film Festival Gold Lion a British Academy Award. He then set about making fictional feature films beginning with the award-winning A Kind of Loving (1962), which was the sixth most popular movie in Britain that year. A string of films followed, many of which were set in "swinging London" of the 1960s, and which established Schlesinger as an influential part of the British New Wave.
His first American film, 1969′s Midnight Cowboy
, starring Dustin Hoffman and Jon Voight, became the first and only X-rated film to win an Oscar. It actually won three: Best Picture, Best Director and Best Adapted Screenplay. By today's standards, the film is much less daring than its x-rating would suggest. The rating came from the story line in which Joe Buck (Voight), a Texas transplant, becomes a hustler soon after arriving in New York. He also begins a relationship of sorts with a con man by the name of "Ratso" Rizzo (Hoffman). MPAA pointed to the film's "homosexual frame of reference" and its "possible influence upon youngsters" in giving it an X-rating. (It has been reclassified as an "R" with no edits to the original film.) In 1994, Midnight Cowboy was designated as "culturally, historically or aesthetically significant" by the Library of Congress and was selected for preservation by the U.S. National Film Registry. In 1970, Schlesinger was made a Commander of the Order of the British Empire (CBE).
Schlesinger went on to make a string of films, some portraying the underbelly of society, others focusing on unusual and often flawed characters, including Sunday Bloody Sunday
(1971), The Day of the Locust
(1975), Marathon Man
(1976), Yanks
(1979), The Falcon and the Snowman
(1985), Pacific Heights
 (1990). In 1999′s The Next Best Thing
, he paired Madonna and Rupert Everett for a one-night stand between a gay man and a straight woman.
Schlesinger lived quite openly with his partner, Michael Childers, since the late 1960s, although he didn't publicly address his sexuality until 1991, when Sir Ian McKellen was attacked for being the first openly gay person to be knighted. Schlesinger was one of a dozen British gay and lesbian artists who signed a letter coming to McKellen's defense.
In 1998, Schlesinger underwent a quadruple heart bypass, and then suffered a stroke in 2000. He remained in poor health until 2003, when he was taken off of life support and died the following day.
If you know of something that belongs on the agenda, please send it here. Don't forget to include the basics: who, what, when, where, and URL (if available).
And feel free to consider this your open thread for the day. What's happening in your world?
Judge Wright Allen's faith
Timothy Kincaid
February 15th, 2014
It seems that those who oppose equality had reason to hope that Judge Arenda Wright Allen would rule in defense of Virginia's constitutional prohibition of same-sex marriage. A profile in the Washington Post reveals her to be a very religious woman:
When Wright Allen testified about her career before the Senate Judiciary Committee, she brought her pastor from the 300-year-old First Presbyterian Church in Norfolk. Besides her husband, Delroy Anthony Allen, the prospective judge said the Rev. Jim Wood was "probably the closest man in my life."

"I first have to thank God, because it's clear to me that if it weren't for him, I would not be here," Wright Allen said then.
And the First Presbyterian Church in Norfolk is so staunchly opposed to equality that they've made it a tenet of their faith:
Regarding Issues Debated in the Church

In 2001, 2009 and again in 2011, the Session of First Presbyterian wrote and affirmed the following three tenets:

1. Jesus Christ is Lord God of all and the only way of salvation.
2. The Holy Scripture is God's revealed Word, the only infallible rule for faith and life.
3. God's people are called to holiness in all aspects of life. This includes honoring the sanctity of marriage between a man and a woman, the only relationship in which sexual activity is appropriate.
We require that judges separate their religious beliefs from civil law. Yet, as judges such as Antonin Scalia illustrate, the chasm between law and religious beliefs about law can sometimes be narrow. And within her ruling she honors the "faith-enriched heritage" of Virginia's laws.
But Wright Allen rightly found the separation between religious beliefs about how society should be and the constitutional rights of those who disagree with her church's position. Which makes Wright Allen's forceful ruling the more powerful.
Ugandan Pro-Government Newspaper: "Uganda Scientists Turn Homosexuality Debate Around"
Jim Burroway
February 15th, 2014
New Vision, the government-owned newspaper, has weighed in on President Yoweri Museveni's announcement that he will sign the Anti-Homosexuality Bill into law by posting on its web site the press release from the NRM ruling party caucus spokesperson:
PRESENTATION BY A TEAM OF SCIENTISTS FROM MOH AND MAKERERE UNIVERSITY ON HOMOSEXUALITY AND GENETICS IN HUMANS

A Ministerial Committee comprising of scientists from MOH and Makerere University was set up to study homosexuality and genetics in human beings and advise the President and the NRM Caucus on the subject of homosexuality.

The committee comprised of;

- Dr. Jane Ruth Aceng – Director General of Health Services

- Dr. Isaac Ezati – Director Planning and Development at MOH

- Dr. Jacinto Amandua – Commissioner Clinical Services

- Dr. Sheila Ndyanabangi – Head, Mental Health Desk

- Prof. Seggane Musisi – Professor of Psychiatry at Makerere

- Assoc. Prof. Eugene Kinyanda – Senior Research Scientist, Medical Research Council

- Dr. David Basangwa – Director, Butabika Hospital

- Dr. Sylvester Onzivua – Senior Pathologist, Mulago Hospital

- Dr. Misaki Wayengera – Geneticist, Makerere

- Dr. Paul Bangirana – Clinical Psychologist, Makerere

- Prof. Wilson Byarugaba – Rtd. Professor and former Head of Human and Molecular Genetics, Dept of Pathology, Makerere

Two medical Parliamentarians names; Dr. Chris Baryomunsi and Dr. Medard Bitekerezo also presented a report whose findings and conclusions concurred with that of the Ministerial Committee.

The following were their observations;

1. There is no definitive gene responsible for homosexuality.

2. Homosexuality is not a disease but merely an abnormal behavior which may be learned through experiences in life.

3. In every society, there is a small number of people with homosexuality tendencies.

4. Homosexuality can be influenced by environmental factors e.g. culture, religion and peer pressure among others.

5. The practice needs regulation like any other human behavior especially to protect the vulnerable.

6. There is need for further studies to address sexuality in the African context.

Presidential Advisor on Science Dr. Richard Tushemereirwe stated that homosexuality has serious Public Health consequences and should therefore not be tolerated.

H.E. the President then made it clear that his work was done and that all he needed was for the Scientists to sign the paper they presented since it would be a historical document forming basis for the signing of the Bill.

H.E. also declared that he would sign the Bill since the question of whether one can be born a homosexual or not had been answered.

The President emphasized that Promoters, exhibitionists and those who practice homosexuality for Mercenary reasons will not be tolerated and will therefore be dealt with harshly.

Hon. Anite Evelyn

NRM Caucus Spokes person

[All emphases in the original]
You can read the full report here.
Ugandan "Scientific Statement on Homosexuality" Surfaces
Jim Burroway
February 15th, 2014
Warren Throckmorton has obtained a copy of the Ugandan Ministry of Health's "Scientific Statement on Homosexuality." He has also posted a Uganda State House press release announcing President Yoweri Museveni's intention of giving his assent to the Anti-Homosexuality Bill that was passed by Parliament last December without a proper quorum.
Soon after Parliament acted, Museveni scolded Speaker Rebecca Kadaga in a letter for rushing to pass the bill, saying that it was important to find a "scientifically correct solution." He then ordered a local team of doctors to report back to him on whether homosexuality was genetic. This question appears to be the sole factor in Museveni's mind on the question of whether people are "born gay," to the exclusion of very broad range of identified biological, non-genetic factors which have surfaced in the scientific literature over the past three decades. The "Scientific Statement" provided by local doctors barely scratches the surface of the genetic question before dismissing it. It does not explore the many studies addressing laterality, brain structures, pre-natal hormones, maternal immunological responses, etc., which suggest multiple and varying biological foundations for homosexuality later in life. The report however states:
Ultimately, all sexual functions are determined by genes and their interactions with the environment. Thus the causes of homosexuality can be traced to biological, social, environmental, psychological or a combination of them. These influence each other. Reparative therapies to change people's sexual practices have not proven successful and their scientific validity has remained questionable.
The report then goes on to dedicate more than two pages to the question of whether homosexuality can be "learned or unlearned." That section again reiterates, "The conclusion from the current body of scientific evidence is that there is no single gene responsible for homosexuality and there is no anatomical or physiological data that can fully explain its occurrence."
This is true, if one were to expect there to be a single point explanation to explain every individual's sexuality. In fact, researchers are studying the question from the basis of multiple potential factors, and they uniformly dismiss that fallacy outright. What the hundreds of studies identifying multiple biological foundations for homosexuality suggest is that there are multiple pathways to different expressions of sexuality, and some of those pathways or combinations of pathways may be present in some individuals, while other individuals may be the product of other factors, including different biological factors. In other words, there appears to be multiple biological foundations, rather than a single, clean explanation for homosexuality for every individual. This report fails to recognize the complexity of the question that is recognized in virtually every piece of published research on the subject.
Instead, the report dismisses known biological and physiological data and devotes considerable space in identifying what it contends to be environmental factors in the development of homosexuality:
Psychosocial causes of homosexuality imply that it may be learned through experiences in life. Previous disastrous heterosexual encounters (e.g. erectile dysfunction, premature ejaculation) may lead to aversion towards homosexual intercourse. A chance homosexual encounter in early life may be associated with sexual pleasure leading to homosexual relationships being associated with pleasure. The increasing influence of Western culture provides homosexuality as a choice one can make, it's therefore seen as a socially acceptable option for a few. In conclusion, homosexual tendencies can be taken up based on the person's judgement on what is pleasurable for them. Why this happens to some people is  not clear, Whereas some homosexuals may take up the behaviour as an open choice, for others it may be due to indoctrination, In summary, homosexuality has no clear cut cause, several factors are involved which differ from individual to individual. It is not a disease that has a treatment. [Emphasis in the original]
The report states that "the essence of homosexuality would be an antithesis for the Darwinian evolution of sex in species largely because homosexuality does not offer an opportunity for the self-propagation of the species," a common argument posed by anti-gay activists. It continues:
This has been a critical and fundamental argument by some scholars against the non-genetic basis of homosexuality, However, the counterargument has been for group survival, that some individuals in a group not overburdened by reproduction responsibilities would be available to give a hand to weak members of the group (e.g, the elderly and children) as happens in social animals. In our view, at least from existing knowledge and literature, there is no basis for a single, definitive structural genetic basis of homosexuality.

That said, the influence of the largely unstudied processes of epigenetics — which involves non-structural modifications of the genetic code, and represent one of the ways by which we learn many of our acquired traits that we can even pass on to our off-springs, cannot be ruled out.
The report then concludes with an argument for "the need to regulate sexualities":
Throughout the world, human activity is regulated to 'safeguard citizens, especially the weak and vulnerable, against the dangers inherent in human activities. Thus human sexuality also needs to be regulated especially as it is the core of the family and hence the nation. At anyone time rules and regulations are based on the current prevailing knowledge and understanding of what is to be regulated. This knowledge and understanding may change depending on the times and circumstances. Today the world has come to the realization that indeed homosexuality is a minority sexual expression practiced by some few members of the community. But, like heterosexuality, it needs to be regulated. No country, in the world today, has come up with a successful way to regulate human sexuality, hence the daily scandals and rapes of this world including sexual and gender based violence or human trafficking for sex. That vulnerable populations (including children, minorities, refugees, the poor, the elderly, mentally ill etc) need to be protected against sexual (and other) exploitations is not in question. African cultures had contained sexual vices. May be we need to revisit them to contain the present explosion of overt and coercive homosexual activity with the exploitation of our young children.
This report appears to have given Museveni the justification he feels he needs to give his assent to the Anti-Homosexuality Bill.  According to the press release from State House, Museveni spoke on the decision before the ruling National Resistance Movement (NRM) caucus "amidst ululations and clapping by NRM members of parliament":
The President emphasized that this is a job for the scientists before reading out a letter from USA scientist about the same debate. (Letter from US scientists to be sent to the media ASAP) "The authorities are these ones, the University Medical School and medical authorities. And since they have put this in writing…me my job is finished. The most important thing is on the three where there is no debate. On the promotion/recruitment of homosexuals no debate; mercenary homosexuals no debate and exhibitionism not debate. Leadership is not a joke. Don't just sit there because somebody is calling you Your Excellency, Honourable and you think you are a God. You are just a servant and a servant does his best to do the right thing. That is why I want a scientific answer not a political answer. Let the scientists answer this. And according to the way they have answered it, if they mislead us they are the ones who are responsible," he said.
A final draft of the Anti-Homosexuality Bill has not been publicly released. According to multiple reports when the bill was passed by Parliament last December, it will impose a life sentence on anyone who is found to be in a gay relationship or who is a "repeat offender" of any other portion of the Anti-Homosexuality Bill. Other provisions include criminal penalties for providing lodgings or services to gay people, officiating a same-sex wedding ceremony, or advocated for or on behalf of LGBT people. Museveni has also reportedly told his caucus that he supports a constitutional revision to prevent suspects charged under the nation's sodomy laws from being released on bail before trial.
Update: You can read the NRM's press release about the report here.
The Daily Agenda for Saturday, February 15
Jim Burroway
February 15th, 2014
TODAY'S AGENDA:
Events This Weekend: Brighton Half Marathon, Brighton, UK; Arizona Gay Rodeo, Phoenix, AZ; SF Bear Weekend, San Francisco, CA; Sydney Mardi Gras, Sydney, NSW.
TODAY'S AGENDA is brought to you by:

Located just northwest of the Massachusetts Institute of Technology in Cambridge, the Marquee was the only gay bar of three clubs owned by Don Holland. The other two were Man Ray and Campus. The building today houses the Phoenix Landing, "an alternative Irish bar."
TODAY IN HISTORY:
Michael Swift's "The Gay Revolutionary": 1987. Think back to what the beginning of 1987 was like. AIDS was ravaging the gay community, with nearly 25,000 dead and AZT, the first U.S. government-approved treatment for HIV therapy, wouldn't become FDA approved for another month. The year would be the year of the cri de coeur, with ACT-Up's formation that year being the most visible manifestation of the growing anger over the apparent indifference on the part of public officials in New York City and Washington, D.C., as well as the overt hostility that the epidemic engendered in much of conservative Christianity.
Another cry rang out from Boston, although it was little noticed at the time. Just another crazy essay from the often-provocative Gay Community News. This one, written under the byline of Michael Swift was printed and then soon forgotten, until two years later when Rep. William Dannemeyer (R-CA) read it into the Congressional Record:
We shall sodomize your sons, emblems of your feeble masculinity, of your shallow dreams and vulgar lies. We shall seduce them in your schools, in your dormitories, in your gymnasiums, in your locker rooms, in your sports arenas, in your seminaries, in your youth groups, in your movie theater bathrooms, in your army bunkhouses, in your truck stops, in your all male clubs, in your houses of Congress, wherever men are with men together. Your sons shall become our minions and do our bidding. They will be recast in our image. They will come to crave and adore us.

…All laws banning homosexual activity will be revoked. Instead, legislation shall be passed which engenders love between men.

All homosexuals must stand together as brothers; we must be united artistically, philosophically, socially, politically and financially. We will triumph only when we present a common face to the vicious heterosexual enemy.

If you dare to cry faggot, fairy, queer, at us, we will stab you in your cowardly hearts and defile your dead, puny bodies.

…We shall be victorious because we are fueled with the ferocious bitterness of the oppressed who have been forced to play seemingly bit parts in your dumb, heterosexual shows throughout the ages. We too are capable of firing guns and manning the barricades of the ultimate revolution.

Tremble, hetero swine, when we appear before you without our masks.
From there, the essay became the anti-gay establishment's favorite example of the so-called "homosexual agenda." Lou Sheldon's Traditional Values Coalition put out a notorious video, "Gay Rights, Special Rights," which repeated passages from the so-called manifesto and paired it with ominous music and pictures of children. In the 2001 book, Bringing Up Boys, Focus on the Family's James Dobson cited Swift's essay (retitling it "Goals of the Homosexual Movement") as evidence that parents must protect their children from homosexuals. "Guard them night and day when they are young," he wrote. "Don't send them into a public bathroom alone." In more recent years, the so-called manifesto has gone international — from Latvia and Russia, to Uganda and Jamaica — and it still re-emerges from time to time here at home.
But every time the essay is repeated by anti-gay extremists, they always carefully omit a vitally important component of the piece, just as that component was skipped when Dannemeyer read it into the Congressional Record. And for the essay to serve their purpose, it's critical this crucial piece be left out, because it's impossible to understand the true nature of the essay without it. That piece that they always leave out is this, the prologue:
This essay is an outré, madness, a tragic, cruel fantasy, an eruption of inner rage, on how the oppressed desperately dream of being the oppressor.
The name of the essay's author, Michael Swift, should also be a clue. Nobody knows who the real author is, but the essayist clearly took his cue from the famous satirist Jonathan Swift, whose 1729 essay A Modest Proposal – in which the other Swift suggested that the easiest way to ease the crushing poverty in Ireland was for the Irish to sell their plentiful babies as a food delicacy for the rich — created a wave of outrage in England for the way that he savaged the condescending attitudes of those behind many of the illogical solutions that had been proposed at that time.
The 20th-century Swift's essay, similarly, satirized the attitudes behind some of the worst homophobic expressions that were then being unleashed in 1987, by perfectly mimicking how those homophobes imagined the worst of the "militant homosexuals." He mimicked their prejudices so well that they took it as a genuine manifesto, and it's that accomplishment which makes it, I think, a perfect satire. But it's also ironic that those whose attitudes Michael Swift satirized so well found such a nearly perfect weapon in that very same essay. Michael Bronski, who had been a features writer for Gay Community News when the first essay ran, later developed second thoughts about it. In 2003, Bronski said, "We printed it thinking that it was sort of funny. It's been picked up by all these lunatic right-wing fringe people. In retrospect, it's caused so much… it keeps getting quoted as being serious by people on the right and it simply was making a political point, using humor. I personally would, knowing how much it's been misrepresented, I would think twice about printing it then."
TODAY'S BIRTHDAY:
Edwin Cameron: 1953. As far as closets go, the outspoken Justice on South Africa's Constitutional Court has obliterated the biggest ones: he's gay and he's HIV-positive. Justice Cameron was a human rights lawyer during Africa's Apartheid years in the 1980s, where he co-drafted the Charter of Rights on AIDS and HIV, co-founded the AIDS Consortium, and was the first director of the LAIDS Law Project. As Apartheid crumbled, he worked to safeguard human rights, including the rights of LGBT people, in the new Constitution of South Africa.
In 1994, President Nelson Mandela appointed him an Acting Judge of the High Court, an appointment that became permanent in 1995. By then, he had long been out of the gay closet, but in in 1998, after a poor black woman living in a township in Durban went on the radio to talk about having AIDS and was killed three weeks later, he decided it was time to come out of the HIV closet. "I thought if [this woman], without any protection, living in a township, not behind a palisade like I do in my middle-class suburb in Johannesburg, not with the income of a judge, not with the constitutional protection… I thought that I should speak out…"
In 1999, he became an Active Justice on the Constitutional Court before being appointed to the Supreme Court of Appeal in 2000. In 2009, he was made a permanent Justice of the Constitutional Court by President Kgalema Motlanthe.
If you know of something that belongs on the agenda, please send it here. Don't forget to include the basics: who, what, when, where, and URL (if available).
And feel free to consider this your open thread for the day. What's happening in your world?
Spokesman: Uganda President to Sign Anti-Homosexuality Bill into Law
Jim Burroway
February 14th, 2014
This news comes by way of J. Lester Feder at Buzzfeed:
Ugandan President Yoweri Museveni has decided to sign a law imposing up to a lifetime jail sentence for homosexuality, announced government spokesman Ofwono Opondo via Twitter on Friday. NRM caucus spokeswoman Evelyn Anite confirmed Opondo's announcement to BuzzFeed.

This is a reversal for Museveni, who had written to members of parliament after the legislation passed in December that he had come to believe that homosexuality was a biological "abnormality" and not something that should be criminalized. He had also told Western human rights activists that he would reject the bill during a meeting last month.
Throughout the years since the Anti-Homosexuality Bill was first introduced in Uganda's Parliament, Museveni has made several attempts to sidetrack the bill. In 2010, four months after the bill's introduction, Museveni told his ruling party caucus that the government should "go slow" with the bill, citing foreign policy concerns. Later that year, Museveni's cabinet reported that they had "rejected" the private member's bill sponsored by M.P. David Bahati. His cabinet tried to repeat that assertion again in 2011, only to be told that because it is a private member's bill, it was not the cabinet's to reject. After Parliament passed the bill last December despite not having a proper quorum as required by the constitution, Museveni denounced the bill in a letter to Parliament Speaker Rebecca Kadaga and vowed to find a "scientifically correct solution." He also told representatives from the Robert F. Kennedy Center for Justice and Human Rights that he would not give his assent to what he called a "fascist" bill.
One possible development in Museveni's reconsideration of the bill may be political. Speaker Kadaga, who is among the bill's earliest supporters, reportedly has presidential aspirations and sees pushing Anti-Homosexuality Bill as a convenient populist move. Her pushing the bill through Parliament set up an interesting dynamic ahead of the annual NRM Caucus in January where Museveni had planned to line up support for his bid for re-election in 2016 to add another 5-year term to what will be thirty years in office. At least one of his ministers had threatened to resign if Museveni were to return the bill to Parliament, a development that would complicate his party's coronation. Another turning point may have occurred two weeks ago when, according to a report in Uganda's Observer, he "surprised his ruling NRM MPs on Friday when he said he would only sign the Anti-Homosexuality Bill into law, if he gets scientific proof that homosexuals are made and not born." Daily Monitor, Uganda's largest independent newspaper, also reported on that development, adding:
A source who attended the Friday meeting said MPs urged the President to sign the Bill. Dr Medard Bitekyerezo, MP for Mbarara Municipality, informed the President that nobody is born a homosexual but the behaviour is only acquired through training. "Homosexuality is not genetically transmitted. It is a behavioural deviation but on the negative side," Dr Betekyerezo reportedly said.

Dr Chris Baryomunsi (Kinkizi East) said: "The President wanted the science which we gave him and he agreed with us that recruiters and promoters should be dealt with accordingly. We told him that homosexuality started as a result of adventurism."
This development comes despite the American Psychiatric Association's recent statement denouncing the bill and calling into question "the quality of the scientific pronouncements about homosexuality by Ugandan mental health organizations." It also comes on the heels of today's news that researchers in Chicago have identified a possible genetic link between homosexuality and the Xq28 chromosome and homosexuality in at least some gay men.
If Museveni signs the Anti-Homosexuality Bill into law, it will impose a life sentence on anyone who is found to be in a gay relationship or who is a "repeat offender" of any other portion of the Anti-Homosexuality Bill. Other provisions include criminal penalties for providing lodgings or services to gay people, conducting a same-sex wedding ceremony, or advocated for or on behalf of LGBT people.
Wyoming House votes down anti-gay marriage bill
Timothy Kincaid
February 14th, 2014
Yesterday we reported that the Wyoming House of Representatives had rejected a marriage equality bill by a 41 to 17 vote. Later in the day, the House also rejected an anti-gay marriage bill. (SFGate)
The state later Thursday voted down a bill sponsored by Casper Republican Rep. Gerald Gay that would have specified that Wyoming wouldn't recognize same-sex marriages performed elsewhere.

Cheyenne Rep. Dan Zwonitzer [R - Cheyenne] spoke against the bill, saying the "Equality State" shouldn't take a step backward.

The House voted against introducing the bill by a vote of 31-to-29.
I suppose the message here is that the Wyoming House of Representatives is not ready to support marriage equality. Yet. But they're on their way.
Perhaps it is time to try again for Domestic Partnerships.
Federal District Judge Declares Virginia Marriage Ban Unconstitutional
Jim Burroway
February 14th, 2014
While I was sleeping, Federal District Judge U.S. District Court Judge Arenda L. Wright Allen found Virginias constitutional amendment banning marriage equality and the recognition of same-sex marriages from other states as a violation of the due process and equal protection clauses of the U.S. Constitution.
Virginia's same-sex marriage ban is considered one of the most sweeping bans in the country. It's only fitting, then, the Judge Allen's ruling is similarly sweeping. In addition to striking down the constitutional amendment, she also set aside portions of the civil code and "any other Virginia law that bars same-sex marriage or prohibits Virginia's recognition of lawful same-sex marriages from other jurisdictions." Marriages won't begin anytime soon however, ah Judge Allen issued a stay pending an appeal to the Fourth Circuit Court. In Judge Allen's 42-page ruling, she concludes:
The Court is compelled to conclude that Virginia's Marriage Laws unconstitutionally deny Virginia's gay and lesbian citizens the fundamental freedom to choose to marry. Government interests in perpetuating traditions, shielding state matters from federal interference, and favoring one model of parenting over others must yield to this country's cherished protections that ensure the exercise of the private choices of the individual citizen regarding love and family.
Judge Allen set the tone for her ruling on the cover page of her opinion, when she took the unusual step to add a preface consisting of a block quotation from Mildred Loving (née Jeter) the African-American Virginia resident who married her white husband, Richard Perry Loving in 1958, in violation of Virginia's Anti-miscegenation law, and whose case went all the way up to the U.S. Supreme Court, which struck those laws down nationwide:
We made a commitment to each other in our love and lives, and now had the legal commitment, called marriage, to match. Isn't that what marriage is? … I have lived long enough now to see big changes. The older generation's fears and prejudices have given way, and today's young people realize that if someone loves someone they have a right to marry. Surrounded as I am now by wonderful children and grandchildren, not a day goes by that I don't think of Richard and our love, our right to marry, and how much it meant to me to have that freedom to marry the person precious to me, even if others thought he was the "wrong kind of person" for me to marry. I believe all Americans, no matter their race, no matter their sex, no matter their sexual orientation, should have that same freedom to marry. Government has no business imposing some people's religious beliefs over others. … I support the freedom to marry for all. That's what Loving, and loving, are all about.

– Mildred Loving, "Loving for All"
Judge Allen turns to another landmark American at the conclusion of her opinion:
Justice has often been forged from fires of indignities and prejudices suffered. Our triumphs that celebrate the freedom of choice are hallowed. We have arrived upon another moment in history when We the People becomes more inclusive, and our freedom more perfect.

Almost one hundred and fifty four years ago, as Abraham Lincoln approached the cataclysmic rending of our nation over a struggle for other freedoms, a rending that would take his life and the lives of hundreds of thousands of others, he wrote these words: "It can not have failed to strike you that these men ask for just. . . the same thing–fairness, and fairness only. This, so far as in my power, they, and all others, shall have. "

The men and women, and the children too, whose voices join in noble harmony with Plaintiffs today, also ask for fairness, and fairness only. This, so far as it is in this Court's power, they and all others shall have. [Emphasis in the original]
The Daily Agenda for Friday, February 14
Jim Burroway
February 14th, 2014
Today's Valentine's Day poem comes to us from the February, 1962 issue of ONE magazine.
John, Passing
Steve, you say your name is, from Columbus, somewhere,
Going through New York on your way to somewhere else.
Oh New York is my home, I offer, smiling secretly
At the handsome aspirant who is really no longer
An aspirant but — John, passing — in one of his legion disguises.
Only last week you were Tim from Maine's lumbering woods
Ending your vacation days here — Steve, you say.
Oh, yes. You've chosen that temporary name, John, passing.
But before we start, and you leave, admiring the neatness of my petite bedroom,
Let me make another plea as I did when you, John, passing, were here as Milo,
A hundred Bobs, Franks, Georges, Bills and one Sylvester ago.
Stay.
John, passing.
Stay.
So I may stop days and weeks searching you,
Finding the many different names you answer to and faces you wear.
So we can weld an iron home from this swirling world
And fend from reality's cruel sunlight
So loneliness' deep ulcers can have end and justification in you
And what's left of this savagely confused pattern can bring a happier existence.
Pause.
You needn't answer.
I'm sorry.
I've embarrassed you.
Steve you say your name is.
We'd better get on before you're late for your train.
– Vincent Synge
TODAY'S AGENDA:
Events This Weekend: Brighton Half Marathon, Brighton, UK; Arizona Gay Rodeo, Phoenix, AZ; SF Bear Weekend, San Francisco, CA; Sydney Mardi Gras, Sydney, NSW.
TODAY'S AGENDA is brought to you by:

Connection was a very popular Phoenix bar, located on North 7th Street across from the VA Hospital. Their parking lot was home to an annual Luau, with trucked in sand converting it into a tropical beach. In its previous incarnation, the club had been known as the Sugar Shack, and it later became simply The Club. The building has since been torn down and replaced with an empty parking lot.
TODAY IN HISTORY:
San Francisco Establishes Domestic Partnership Registry: 1991. The idea had been tossed around since 1979, when gay rights activist Tom Brougham proposed a new category of relationship called "domestic partnership." His cause was taken up in 1982 by San Francisco Supervisor Harry Britt, who had taken the seat of slain Supervisor Harvey Milk. Britt's bill authorizing domestic partnerships was vetoed that year by Mayor Dianne Feinstein, It would be passed again in 1989, but that law was repealed by a voter initiative in 1990. Fortunately, that same year city voters approved Proposition K which established a modified version of domestic partnerships which allowed same-sex and opposite-sex couples to register. Fittingly, on February 14, 1991, the brand new registry was established in San Francisco allowing partners to register. San Francisco however wasn't the first city to provide domestic partnerships. That honor went to West Hollywood in 1985.
TODAY'S BIRTHDAY:
Jim Kepner: 1923-1997. There's no telling exactly when Kepner was born. His mother found him wrapped in newspapers under an oleander bush in an empty lot in Galveston, Texas in late September of 1923. They guessed he was about eight months old, give or take. He never knew exactly how old he really was. I asked around trying to get more clues, but Paul Cain, author of Leading the Parade: Conversations with America's Most Influential Lesbians and Gay Men
checked his notes and didn't have anthing either. He then suggested, "If you just want to pick a day in February, maybe you could pick Feb 14 — Jim really was a sweetheart!"
And so I shall.
Kepner may have been abandoned because of his deformed leg and club foot, which despite corrective surgery and physical therapy, gave him a limp for the rest of his life. That limp, more than his attempt to classify himself as a Conscientious Objector, probably kept him out of the draft during World War II. That he was open about his homosexuality may have been a factor as well. In 1942, he moved with his father to San Francisco, where he discovered the underground gay scene. He also began searching for books and other material on homosexuality. Over the years, that search would lead him to compile one of the largest archives of LGBT literature in the U.S.
Between 1943 and 1951, he moved to Los Angeles, New York, Miami, back to San Francisco, then back to Los Angeles. Along the way, he became involved with the Communist party while the U.S. was still allied with the Soviet Union, but was kicked out when his homosexuality became known. Upon returning to L.A., Kepner became involved with the Mattachine Society. Soon after, he met up with other former Mattachine members who had just launched ONE, the first nationally-distributed gay magazine (see Oct 15).
Kepner's first article in ONE appeared in March, 1954, titled "The Importance of Being Different" under the pseudonym of Lyn Pedersen. His debut article went to the very heart of a critical debate taking place in the gay community. Mattachine founder Harry Hay, for example (see Apr 7), argued that gay people were a distinct cultural minority, while others like Dale Jennings (see Oct 21) held that the only difference between gay people and straight people was who they went to bed with. Kepner threw his support with Hay, announcing "Vive la Différence!" But he also urged readers not to let the controversy split the nascent movement. "What can a Society accomplish if half of it feels its object is to convince the world we're just like everyone else and the other half feels homosexuals are variants in the full sense of the term and have every right to be? … Only by allowing the free action of individual groups within the structure of an elastic society can such diverse philosophies work together."
By the fall of 1954, Kepner was working more or less full time at ONE, although he didn't draw a salary until 1957. Kepner continued writing under his own name as well as several pseudonyms, mainly as a marketing ploy to mask the fact that ONE had such a tiny staff. Meanwhile, ONE had also established an educational branch, the ONE Institute, in addition to the publication arm of ONE magazine. The competing goals, education versus publication, put a strain on the organization, with the two arms competing for priorities and scarce resources. Kepner finally resigned from ONE in 1960, frustrated by the infighting and lax management in the organization.
Kepner stayed out of gay advocacy until the mid sixties. In 1966, he became the secretary of the Southern California Council on Religion and the Homophile, and edited ten issues of their newsletter. He also began publishing his own magazine, Pursuit & Symposium, which focused on gay history. He mortgaged his house to fund it. After two years, the magazine failed and he lost his house. In 1967, he helped to organize a rally in response to the LAPD raid on the Black Cat bar (see Jan 1), where he declared that "the nameless love would never again shut up." Out of that rally came a new gay rights group, PRIDE (Personal Rights in Defense and Education), and Kepner served as the editor for the group's newsletter. In October, that newsletter would become The Los Angeles Advocate, then later simply The Advocate. Kepner remained a regular with The Advocate through 1976, and contributed sporadically afterwards. Kepner also helped to form the Society of Pat Rocco Enlightened Enthusiasts (SPREE), and is credited with convincing the Park Theatre's (straight) owners to program for gay audiences (see Feb 9). In 1969, he became an active member of the Los Angeles Gay Liberation Front, and he served on the Christopher Street West committee from 1970 to 1977. He was a founder of the Los Angeles Gay and Lesbian Community Services Center, and would would come to work as a member of their paid staff for their education program from 1978 to 1980.
Beginning in 1971, Kepner made his vast collection of gay documents and memorabilia available to the public. In 1975, he dubbed his collection the Western Gay Archives, then renamed them again in 1984 as the International Gay and Lesbian Archives. By then, the collection consisted of 25,000 books and thousands of other items. In 1994, Kepner's collection was merged with ONE's archives at the University of Southern California. That archive today is known as the ONE National Gay and Lesbian Archives. (If you ever have a chance to stop in, I heartily recommend it.) Kepner died in 1997, at about the age of 74. A month later, his anthology, Rough News, Daring Views: 1950s' Pioneer Gay Press Journalism
, was published by Haworth Press.
If you know of something that belongs on the agenda, please send it here. Don't forget to include the basics: who, what, when, where, and URL (if available).
And feel free to consider this your open thread for the day. What's happening in your world?
Indiana's anti-gay marriage ban delayed two years
Timothy Kincaid
February 13th, 2014
The Indiana Senate has passed the House version of a bill to amend the state constitution to define marriage as one man and one woman.
This is actually good news.
In order to amend the constitution, the bill must pass two separately elected legislatures with identical language and then be ratified by a vote of the electorate. In 2011 the legislature passed a bill that would ban same-sex marriage and also civil unions. Had it passed again, it would have gone to the voters this fall.
But this year the Indiana House of Representatives revised that bill to remove the civil unions restrictions.
There was some concern that the Senate might put the original language back into the bill. But now that the Senate has opted to accept the House's version, it resets the clock and the earliest that the bill can be on the ballot is 2016.
And by then, political will may bring the death of the bill entirely. Or, perhaps, the conservatives may decide that they really really do want to put the civil unions ban back in and push it even further down the road.
Religious Freedom and the Destruction of Civil Marriage
Rob Tisinai
February 13th, 2014
Two and a half years ago, I offered up this ridiculous, extreme scenario as I tried to puzzle out just how far the advocates of "religious liberty" want to take us:
Suppose an on-duty police officer sees a known homosexual getting stomped to death in an alley by two men shouting, "Die, faggot, die!"  He does nothing to stop it, and he lets the thugs escape, because he believes in Leviticus 20:13:

If a man also lie with mankind, as he lieth with a woman, both of them have committed an abomination: they shall surely be put to death. Their blood shall be upon them.

His religious beliefs make it impossible for him to intefere with what he views as God's will, or even to hold the assailants responsible.

Should this officer be penalized?  Or would that violate his religious freedom?
That's not ridiculous or extreme anymore. Kansas is right now passing a law that could make this a reality.
Kansas House Bill No. 2453 (already passed by the state House and on its way to the Republican Senate and Governor) begins like this:
Section 1. Notwithstanding any other provision of law, no individual  or religious entity shall be required by any governmental entity to do any  of the following, if it would be contrary to the sincerely held religious  beliefs of the individual or religious entity regarding sex or gender:

(a) Provide any services, accommodations, advantages, facilities,  goods, or privileges; provide counseling, adoption, foster care and other  social services; or provide employment or employment benefits, related to,  or related to the celebration of, any marriage, domestic partnership, civil  union or similar arrangement;

(b) solemnize any marriage, domestic partnership, civil union or  similar arrangement; or

(c) treat any marriage, domestic partnership, civil union or similar  arrangement as valid.
And later in Section 2, police and other government employees are explicitly exempted:
(d) If an individual employed by a governmental entity or other non religious entity invokes any of the protections provided by section I, and amendments thereto, as a basis for declining to provide a lawful service that is otherwise consistent with the entity's duties or policies, the individual's employer, in directing the performance of such service, shall either promptly provide another employee to provide such service, or shall otherwise ensure that the requested service is provided, if it can be done without undue hardship to the employer. 
That bit I emphasized is a great loophole. It means if you simply change my scenario from a gay individual to a gay couple, then police officers could invoke their religious right to let the bashing continue, and then the station would have to send out another officer — unless this would cause "undue hardship to the employer," in which case…sorry!
(Actually, as Mark Joseph Stern points out in Slate, it may not even need to be a couple; it could be an individual as long as the officer perceives that individual as celebrating a — well, not necessarily a marriage, but even just a "similar arrangement" to marriage.)
I have to hope the bill's authors never intended this, or even better, that I'm misinterpreting the words that appear on the page. Perhaps the gay bashing would be such clear danger to public safety that it would override this new law. But the major effect, the simpler, obviously deliberate effect, is this:
No one in Kansas will have to recognize a same-sex marriage as valid. No one. Which leads to an inevitable conclusion:
Either these religious activists are frauds who don't give a damn about religious liberty, or they're on a path to destroying civil marriage for everyone.
Let's take up the fraud question first. If religious liberty is such an issue, why does the bill focus on the gender of married persons — in other words, why only carve out a religious exemption for same-sex marriage? Some religions don't recognize the unions of those who have divorced and remarried. Or who married outside the faith. Why not include those as exemptions, too? Basically, this Kansas law privileges some religious beliefs above others, which not only raises constitutional questions, but also signals that its advocates don't care about religious liberty in general, but only leap into action when it comes to dealing with those homosexual people. They aren't champions of religious freedom at all. They're just frauds.
Unless I'm judging them too harshly, and this is just a first step. Unless they're really not motivated by anti-gay animus, and want to create this exemption for all sincerely-held religious beliefs.
In that case we face the complete destruction of civil marriage. You can always find some religious reason not to recognize a union. I listed a few above but it's easy to come up with more. The couple's using birth control; the man is permanently sexually incapacitated; one partner is gold-digger and married under false pretenses; the bride was not a virgin and should have been stoned the next day; the bride is a widow, and should have only married her husband's brother.
These reasons don't have to be good or rational or even traditional. They just have to be sincere. And what an incentive to put on a show of sincerity. Employers could calculate all the money they'd save by refusing spousal benefits to their divorced/remarried staff and pow! they have a new sincere religious belief. Hell, sudden conversions happen all the time. Sudden conversions are traditionally a cause for joy.
Once that happens, the legal status of marriage means nothing. No individual, privately or publicly employed, will be legally obliged to acknowledge married couples as married. We'll have nothing but a loophole so big it ravages marital law to the point where nothing is left.
But let me pull back from this slippery-slope argument. Instead of spinning wild-yet-perfectly-plausible scenarios, let's put the burden on the people pushing these laws. Let's hammer them with a few simple questions:
If this is about the principle of religious freedom, why the narrow focus on same-sex marriage?
Do you believe all sincere religious beliefs about marriage should be likewise privileged (and if not, why not)?
Do you a have a limit, a line beyond which religious beliefs no longer supersede law (and if so, where is it and why)?
I don't mean these as rhetorical questions. They may have answers, good ones, but I haven't seen them articulated. And in their absence, we see only two choices: either these religious freedom advocates are frauds, or they're initiating the destruction of civil marriage.
GOP Campaign ad features partner
Timothy Kincaid
February 13th, 2014
It is not uncommon for a political candidate to feature a spouse in a campaign ad. It's a quick way to send a signal to the constituents that this is a good family man (or woman) who is settled and responsible and just like they are.
What is unusual, however, is for a gay candidate to make mention of their spouse or partner. Generally, that is seen as a difference from the voters, something to be minimized. Though many had partners, or were married, most presented a public image that could be mistaken for a sexless bachelor or spinster.
Until now.
Carl DeMaio, a Republican running for Congress from San Diego, has become the first serious candidate to do so. (Wall Street Journal)
Carl DeMaio is one of three openly gay Republicans running for Congress this year, and he would be at least the third to serve in the House if he wins. But Mr. DeMaio on Thursday will take a step that none of them has, airing a campaign ad that features a shot of him with his same-sex partner.

The clips are brief: A shot of Mr. DeMaio holding hands with his partner, Johnathan Hale, as they march in a gay pride parade in 2012, followed by a clip of the San Diego candidate waving a rainbow flag that symbolizes the gay-rights movement.

Several GOP campaign officials and Elizabeth Wilner, who tracks campaign ads for the nonpartisan firm Kantar Media, said it was the first time they knew of a candidate of either party airing an ad featuring a gay partner.
It's possible that there were other ads missed by Wilner. And some spouses have been publicly acknowledged or have been part of a campaign.
But, nevertheless, this is a rather remarkable moment. This signals that DeMaio, at least, believes that his relationship makes him a more connectable candidate than were he to be seen as single. And this is more noteworthy when considering that DeMaio's ad comes in the primary season when he has a conservative GOP opponent.
It could be that we are reaching the point where, in some circles, gay relationships are no longer just tolerated but are an expectation, a sign that this is a serious responsible person. Just like the voters.
The Daily Agenda for Thursday, February 13
Jim Burroway
February 13th, 2014
TODAY'S AGENDA:
Events This Weekend: Brighton Half Marathon, Brighton, UK; Arizona Gay Rodeo, Phoenix, AZ; SF Bear Weekend, San Francisco, CA; Sydney Mardi Gras, Sydney, NSW.
TODAY'S AGENDA is brought to you by:

First opened in 1975 on Colfax Avenue in the west side of Denver, The Den was one of those places that managed to get along for some three decades despite having neither a sign, street number or parking. About five years ago — I'm not sure exactly when — the bar was reportedly sold. It is now the Pit Stop Tavern, a straight sports bar.
TODAY'S BIRTHDAY:
Grant Wood: 1891-1942. Born a few miles outside of Anamosa, Iowa, the great expanse of the upper great plains and the solid simplicity of its people would always be near to his heart. He studied at the Art Institute in Chicago, and from 1920 to 1928, he made four trips to Europe where he studied Impressionism and Post-Impressionist styles of painting, but his heat never strayed far Iowa, nor did his style stray from simplicity and directness which are the bedrock of Iowa's people. His style became known as Regionalism, which depicted rural American themes in a style which recalled the severe Calvinism of Northern Renaissance paintings.
This is best exemplified in his iconic 1930 painting American Gothic, perhaps among the best known, best loved, and best parodied of American paintings. Art critics, at least those who assumed the painting was meant to be satire of small-town life, praised it. When a copy was printed in the Cedar Rapids Gazette, locals denounced their depiction as "pinched, grim-faced, puritanical Bible-thumpers." Wood himself defended the painting as simply a a depiction of the American pioneer spirit. He also became a vocal critic of modernist trends and the dominance of the East coast art world. No other American artist before or since has earned such national fame without ever showing his work in New York.
In 1932, he founded the Stone City Art Colony to help other artists get through the Great Depression, and from 1934 to 1941 he taught at the University of Iowa's School of Art, where his teaching career was very nearly derailed over accusations that Wood was gay. The only report that contains the complete details of those accusations was buried in a time capsule of the Art and Art History Building in 1934, and the details will remain hidden until the cornerstone is opened some twenty years from now. New allegations arose in 1941 when university colleagues, most of whom embraced the European trends that Wood so clearly disdained, tried to get Wood removed from the faculty. Their accusations centered around a very brief marriage that ended in divorce in 1938 and the handsome young roommates who lived in his home. When a reporter from Time came sniffing, the university president managed to get the story spiked, and reorganized the Art Department so that Wood would be placed in an entirely separate division and away from his detractors. But before Wood could resume teaching, he was diagnosed with pancreatic cancer and died in February 12, 1942.
Most biographies which have come out since Wood's death have either avoided his homosexuality or dismissed it. Tripp Evans's 2010 Grant Wood: A Life
changes that by delving into previously unreleased documents and taking a closer look at Wood's highly symbolic paintings, some of which toy with cross-gender depictions.
If you know of something that belongs on the agenda, please send it here. Don't forget to include the basics: who, what, when, where, and URL (if available).
And feel free to consider this your open thread for the day. What's happening in your world?
Federal Judge Strikes Down Kentucky's Prohibition Against Recognizing Marriages from Other States
Jim Burroway
February 12th, 2014
Now it's Kentucky. U.S. District Judge John G. Heyburn II today has ruled that Kentucky's ban on recognizing same-sex marriages from other states violates the U.S. Constitution's Equal Protection clause. Judge Heyburn cited last year's U.S. Supreme Court ruling in Windsor v. US which struck down a portion of the Defense of Marriage Act for invalidating the portion of Kentucky's state constitutional amendment excluding same-sex marriage as "valid or recognized as a marriage in Kentucky".
As in other cases that have rejected the amicus's arguments, no one in this case has offered factual or rational reasons why Kentucky's laws are rationally related to any of these purposes. Kentucky does not require proof of procreative ability to have an out-of-state marriage recognized. The exclusion of same-sex couples on procreation grounds makes just as little sense as excluding post-menopausal couples or infertile couples on procreation grounds. After all, Kentucky allows gay and lesbian individuals to adopt children. And no one has offered evidence that same-sex couples would be any less capable of raising children or any less faithful in their marriage vows. Compare this with Plaintiffs, who have not argued against the many merits of "traditional marriage." They argue only that they should be allowed to enjoy them also.

Other than those discussed above, the Court cannot conceive of any reasons for enacting the laws challenged here. Even if one were to conclude that Kentucky's laws do not show animus, they cannot withstand traditional rational basis review.
Heyburn, a 1992 George H.W. Bush appointee on the recommendation of Sen. Mitch McConnell, dedicated much of his brief to addressing his ruling in light of Kentucky's socially conservative norms. "To the extent courts clash with what likely remains that majority opinion here, they risk some of the public's acceptance," he wrote. His first concern was the religious one:
Many Kentuckians believe in "traditional marriage." Many believe what their ministers and scriptures tell them: that a marriage is a sacrament instituted between God and a man and a woman for society's benefit. They may be confused—even angry—when a decision such as this one seems to call into question that view. These concerns are understandable and deserve an answer.

Our religious beliefs and societal traditions are vital to the fabric of society. Though each faith, minister, and individual can define marriage for themselves, at issue here are laws that act outside that protected sphere. Once the government defines marriage and attaches benefits to that definition, it must do so constitutionally. It cannot impose a traditional or faith-based limitation upon a public right without a sufficient justification for it. Assigning a religious or traditional rationale for a law, does not make it constitutional when that law discriminates against a class of people without other reasons.

The beauty of our Constitution is that it accommodates our individual faith's definition of marriage while preventing the government from unlawfully treating us differently. This is hardly surprising since it was written by people who came to America to find both freedom of religion and freedom from it.
Heyburn reiterated that his decision does not require Kentucky to allow same-sex couples to marry in the state because "the Court was not presented with the particular question." He strongly suggested however that "there is no doubt that Windsor and this Court's analysis suggest a possible result to that question." He then addressed the concerns expressed that his opinion would somehow affect so-called "traditional" marriages:
Second, allowing same-sex couples the state recognition, benefits, and obligations of marriage does not in any way diminish those enjoyed by opposite-sex married couples. No one has offered any evidence that recognizing same-sex marriages will harm opposite-sex marriages, individually or collectively. One's belief to the contrary, however sincerely held, cannot alone justify denying a selected group their constitutional rights.

Third, no court can require churches or other religious institutions to marry same-sex couples or any other couple, for that matter. This is part of our constitutional guarantee of freedom of religion. That decision will always be based on religious doctrine.
He also anticipated the argument that his ruling was going against "the vote of the people," which added the marriage ban to the Kentucky constitution in 2004:
So now, the Constitution, including its equal protection and due process clauses, protects all of us from government action at any level, whether in the form of an act by a high official, a state employee, a legislature, or a vote of the people adopting a constitutional amendment. As Chief Justice John Marshall said, "[i]t is emphatically the province and duty of the judicial department to say what the law is." Marbury v. Madison, 5 U.S. 137, 177 (1803). Initially that decision typically rests with one judge; ultimately, other judges, including the justices of the Supreme Court, have the final say. That is the way of our Constitution.

For many others, this decision could raise basic questions about our Constitution. For instance, are courts creating new rights? Are judges changing the meaning of the Fourteenth Amendment or our Constitution? Why is all this happening so suddenly?

The answer is that the right to equal protection of the laws is not new. History has already shown us that, while the Constitution itself does not change, our understanding of the meaning of its protections and structure evolves.16 If this were not so, many practices that we now abhor would still exist.

Contrary to how it may seem, there is nothing sudden about this result. The body of constitutional jurisprudence that serves as its foundation has evolved gradually over the past forty-seven years. The Supreme Court took its first step on this journey in 1967 when it decided the landmark case Loving v. Virginia, which declared that Virginia's refusal to marry mixed-race couples violated equal protection. The Court affirmed that even areas such as marriage, traditionally reserved to the states, are subject to constitutional scrutiny and "must respect the constitutional rights of persons." Windsor, 133 S.Ct. at 2691 (citing Loving).
The lawsuit was brought by four Kentucky couples who were married in Canada, Iowa, California, and Connecticut.
Portion of KY ban on equality ruled unconstitutional
Timothy Kincaid
February 12th, 2014
From the Courier-Journal
A federal judge Wednesday struck down Kentucky's ban on recognizing valid same-sex marriages performed in other states, saying it violates the U.S. Constitution's guarantee of equal protection under the law.

U.S. District Judge John G. Heyburn II joined nine other federal and state courts in invalidating such bans.
…
Heyburn did not rule that Kentucky must allow gay marriages to be performed in the state.
Heyburn is a Kentucky native and former Army Reservist. He was appointed by President George H.W. Bush at the recommendation of Senator Mitch McConnell (R). Predictably, the antigay groups are already calling him a "liberal judge".
Asked and Answered
Rob Tisinai
February 12th, 2014
What can you say about Jennifer Thieme, Finance Director of NOM's former affiliate, the Ruth Institute? Well, as my southern friends would slyly declare: Bless her heart. She tries her best to be a good anti-gay activist, with decidedly mixed results. Now she has a post up at Matt "Barb Wire" Barber's new website, and she ends it by suggesting that folks on her side should engage people with a series of "conversation starters" — leading questions that turn out to be remarkably easy to answer. This strategy has been tried before and it didn't work out well for them. Let's see how it turns out this time:
Did you know that man/woman marriage is being removed from legal recognition?
No, because that's not happening. Every man/woman marriage that was recognized before the passage of marriage equality will be recognized after the passage of marriage equality.
Is removing the gold standard from policy going to increase or decrease the power of the government over the individual over the long term? Will it be good for children?
Opponents of marriage equality tried and failed to show that same-sex parenting is inferior to opposite-sex parenting, so the whole premise of the question is false. Meanwhile it's obvious that giving people more freedom over  their personal lives will decrease the power of the government over the individual. And of course it will help children: the children of same-sex couples who will now have the legal family protections they deserve.  It will help other kids too — see my next answer for more.
What sort of a message are we sending to children by removing the gold standard from policy?
It sends the message to gay kids that they are not disgusting, deviant, loathsome creatures incapable of love and doomed to life of loneliness, regardless of what they might hear from anti-gay activists.
Further, the message that you can live a life of love, commitment, and fulfillment, whether you're straight or gay, will help all kids navigate the fears and uncertainties of adolescence. We've learned that gay-straight alliances in schools reduce the risk of suicide for all students, gay and straight, so there's every reason to believe this message sent by marriage equality will help all kids, gay and straight.
Why is the radical Left in love with marriage now, when they have historically reviled marriage?
Have they? All of them? Anyway, I don't know — I'm not part of the radical Left. But perhaps because they believe in equality under the law for all citizens? Really, though, you should just ask them — while remembering that the "radical Left" represents only a small fraction of all those who now support marriage equality.
If this was only about civil marriage, why are we seeing religious liberty issues arise?
These "religious liberty" issues arise from non-discrimination law, and some people are using their religion to demand a special right to ignore those laws. I understand that this demand for special rights is not how you want to spin your cause, but that's what it is.
You really ought to advocate abolishing all discrimination law, because it all restricts the liberty (including the religious liberty) of people to choose whom they will associate and work with. That's a much harder sell, of course, but if this is a sincere issue of principle then that shouldn't dissuade you. If this is just about disliking gay people, though, then stick to your present course.
Should we take the radical Left seriously when they tell us where they're going?
Again, the "radical Left" represents only a small fraction of all those who now support marriage equality, so I'm not sure how this is relevant.
Well, that was easy. And you know what? It just gets easier every year.
Gordon Klingenschmitt Says Gay Soldiers Need to "Take Breaks on the Combat Field to Change Diapers"
Jim Burroway
February 12th, 2014
Two weeks ago, four retired military chaplains sent out a press release denouncing the implementaiton of the repeal of "Don't Ask, Don't Tell." (Yes, they're still fighting over that.) The press release is full of outright lunacy — "before civilizations crumble…" it begins, and goes downhill from there:
Before civilizations crumble, the last thing to hit the fan is government-sponsored, government-forced, homosexuality, sodomy, and pedophilia. Homosexuality is a psychiatric disorder and probably the worst sin described in the Holy Bible due to the permanent damage caused to what was or is or might have been a temple of the Spirit. The consequences are said to be nothing short of eternal damnation, by choice. It's a shame that the US military, historically known to be a beacon of morality and religious tolerance and freedom, while the civilian sector has engaged in immorality, is now having its nose shoved in the dirt of filth to make the Sinners-in-Chief in the highest echelons of politics–the perverts, the pedophiles, and the psychiatrically ill–feel better about themselves.
The press release by these four retired military chaplains, Jim Linzey (Baptist), Valerie Potter (Methodist), Frank Johnson (Baptist), and John R. Kauffman (Pentecostal) was so off the charts that no one took it seriously when it came out. It was just another piece of over-the-top craziness put out by people nobody ever heard of hoping to make a name for themselves.
And so nobody paid attention. Well, almost nobody. Former Lt. Gordon Klingenschmitt, who was fined $3,000 for wearing his uniform at a protest in 2006 and has made the propagation of lunacy his life's work since then, was sufficiently impressed with that press release to mention it in his program, "Pray in Jesus Name." Klingenschmitt, who calls himself "Dr. Chaps," decided the quote above wasn't crazy enought, and reached down to pull this quote from Kaufman:
Marriage is a combat multiplier in that it gives married troops hope and a reason to fight well, defending ones country, of which marriage and families are the foundation … But homosexuality is a combat divider, dividing one's reason to live while taking breaks on the combat field to change diapers all because their treacherous sin causes them to lose control of their bowels. [Emphasis in Klingenschmitt's version]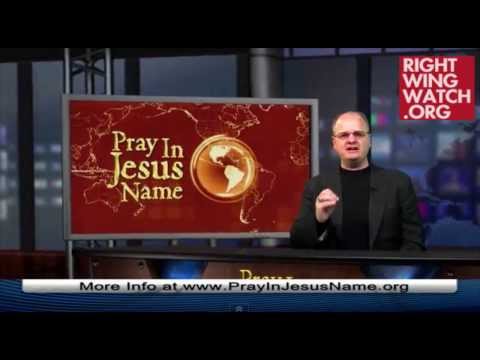 After reading that passage, Klingenschmitt added, "Forgive me for the graphic image there, but there are physical and biological consequences of that kind of conduct and he's just pointing that out."