The Daily Agenda for Friday, March 21
Jim Burroway
March 21st, 2014
TODAY'S AGENDA:
Events This Weekend: European Gay Ski Week, Alpe d'Huez, France; Amsterdam Bear Pride, Amsterdam, Netherlands; Los Angeles Leather Pride, Los Angeles, CA; Black Party, New York, NY; Gay Snow Happening, Sölden, Austria; European Snow Pride, Tignes, France.
TODAY'S AGENDA is brought to you by:

Two different discos have taken the Limelight name in New York. There was the famous one on the Avenue of the Americas from 1983 through the 1990s that was located in a former Episcopal Church. That Limelight was part of a chain of nightclubs, all called the Limelight, in South Florida, Atlanta, Chicago and London. But the earlier Limelight had nothing to do with that one. Located on Seventh Avenue in Greenwich Village, the building had long been associated with the Limelight name, having opened as the Limelight gallery and coffee bar in the 1950s. When it became the Limelight disco in 1973, it drew a mainly Puerto Rican crowd. The dance floor featured a lit stained-glass ceiling overhead, and thanks to the DJ's who played a formative role in disco's early years, the Limelight quickly became the place to be for those who took their disco dancing seriously. The dancing ended in 1980 as the disco area came to a close. The building has been Disneyfied to house the Jekyll and Hyde restaurant "for explorers and mad scientists."
TODAY'S BIRTHDAY:
Vadim Alekseevich Kozin: 1903-1994. The great Russian tenor Vadim Alekseevich Kozin was celebrated throughout the Soviet Union in the 1920s for his recordings and concerts specializing in gypsy romances and love songs. He sang those songs, which he wrote himself, with such passion and tenderness that garnered him the title of the "Russian Orpheus." He once gave a concert with American Paul Robeson and is said to have performed for Winston Churchill, Franklin Delano Roosevelt and Joseph Stalin at the Tehran conference in 1943. But in those precarious days during Stalin's rule, Kozin fell out of favor with the Kremlin and was arrested in 1944. He was sent to a prison camp near Magadan in the Russian Far East for five years for political offenses, "corruption of youth" and homosexuality. From that moment on, his songs disappeared from the radio and his public concerts came to an end.
After his release in 1950, Kozen resumed performing in local theaters in the Russian Far East and Siberia, but he was prohibited from performing in Moscow and Leningrad. It was during this period when Kozen began to keep a diary. "How I would like even just once," he wrote of one unnamed man in 1956, "even for one instant, to look into the depth of those green eyes. Why does it happen like this? One person appears, and there is nothing else sacred in the world. He has filled it all himself. Who that person is, no one will ever find out."
Kozin also used his diary to express his impatience with the official attitude toward homosexuality. "There is nothing unnatural in the life I want to live," he wrote. "There is real, good friendship and complete mutual trust." In another entry, he criticized actors with their "demonstration of fictional family values" and waving of party cards. "Do I have the moral right, with my defects, to see them that way? After torturous and long thought, I have realized that I do. They are much more rotten people."
But Kozin worried that he risked further imprisonment. In another entry, he was alarmed by another actor while on tour. "His behavior will lead him to the camp. I must tell him that his sexual motives shouldn't affect me at all. … I don't want people to think about me like that again. I will try to suffer alone."
Kozin's fears were well-founded. He was arrested again in 1959 for homosexuality and was forced to write a humiliatingly detailed confession. Despite a brief revival in the 1980′s when his records were reissued, he was never officially rehabilitated. He died in Madagan in 1994 at the age of 91. Since his death, Vadim Kozin has become an icon in Russia's gay community. One of his most famous songs is one called "Friendship" which, he later confided to a friend, was dedicated to another man:
"We are so close that words do not have to be repeated. Our tenderness and our friendship are stronger than passion and greater than love."
Vadim Kozin with friends in Madagan in 1993:
Rosie O'Donnel: 1962. Times change, don't they? During her years hosting her popular daytime talk show, The Rosie O'Donnell Show, from 1996 to 2002, she developed a reputation for being "The Queen of Nice" and for her self-professed crush with actor Tom Cruise. Two months before her talk show ended, she came out, saying, "I'm a dyke!" When she became a moderator for The View in 2006, her "queen of nice" persona was ancient history, as she engaged in several public controversies and on-air disputes. She was encouraged by the program to be provocative and outspoken, and she certainly delivered. She picked a public fight with Donald Trump, she compared the Mark Foley congressional page scandal to the Catholic Church's child sexual abuse scandals, and she condemned the Bush Administration's Iraq war policies. The final straw for O'Donnel was during an on-air argument with co-host Elizabeth Hasselbeck, the producers showed O'Donnel and Hasselbeck in a split screen, which, O'Donnel, said, "they (the producers) had to prepare that in advance… I felt there was setup egging me into that position." Tired of the confrontations, O'Donnel left the show in May, 2007. Parade magazine named her "The Most Annoying Celebrity of 2007," while Time called her one of their "100 Most Influential People."
Since then, O'Donnell has been involved in several projects, including acting as Executive Producer of a Lifetime movie, hosting SiriusXM's "Rosie Radio" from 2009 to 2011, a short-lived talk show on Oprah Winfrey's OWN, and a collaborative partner in the LGBT family vacation company R Family Vacations. She has also been involved with several charitable causes, including early childhood care and education, adoption and foster parenting, and rehabilitation therapies for Iraq and Afghanistan war veterans. Her For All Kids Foundation has awarded more than $22 million in grants to 1,400 child-related organizations. Overall, O'Donnell has given more than $100 million to charity. O'Donnel herself is a foster and adoptive mother, and in February of 2004, she married Kelly Carpenter in San Francisco when Mayor Gavin Newsom launched an ill-fated effort to grant marriage licenses to same-sex couples, but the couples split in 2007. (Their marriage, by then, had been invalidated by the California Supreme Court, along with all of the other 2004 "winder of love" marriages.) In 2012, O'Donnel married Michelle Rounds in a private ceremony in New York, and they adopted a daughter, Dakota, in early 2013.
If you know of something that belongs on the agenda, please send it here. Don't forget to include the basics: who, what, when, where, and URL (if available).
This your open thread for the day. What's happening in your world?
Fred Phelps is dead
Timothy Kincaid
March 20th, 2014
Fred Phelps was the founder of Westboro Baptist Church, a small group of extreme Calvinists who made a loud splash by picketing gay events – and then military funerals, other churches, and eventually anything that caught their fancy – with signs designed to shock and offend. With "God Hates Fags" as their chief rallying cry, they soon found themselves as Bad Example #1, even for many who shared their religious opposition to gay rights.
It's easy to think of Phelps as solely as a vaudeville villain. And, indeed he caused much harm.
But, interestingly, despite their theological rancor, most first-hand reports I've seen suggest that the Phelps clan is personally engaging, amusing and perhaps a bit charming. They see their obligation is to tell you that you are vile and hell-bound and hated by God. But since you're eternally damned anyway, why not have a sense of humor about it.
And while Fred Phelps has wasted his life and caused far more pain than any person should, his life was not always on this track. Before he allowed his narrow faith to warp his thinking, Phelps was an attorney fighting for civil rights and against racial discrimination.
Fred Phelps was a bit of a conundrum. But by the end of his days, his rallying call for hate and his fervor for offense outweighed any good he had performed. Following a seventeenth century vengeful deity into the abyss of hatred and condemnation, Phelps turned himself and his family into a living morality play about the dangers of extremism and self-righteousness.
As his life came to a close, his sole redeeming quality might be that he had, inadvertently, galvanized moderate people of faith into countering his message and silenced many who might have expressed similar views in a much less strident fashion. And perhaps his legal defense of his right to cause offense has helped protect the rights to free speech for other dissident voices.
Now Fred Phelps is dead. (ksn)
The Rev. Fred Phelps Sr., who founded Westboro Baptist Church widely known for its protests at military funerals and anti-gay sentiments, has died according to his son Tim Phelps and daughter Margie Phelps.

Margie says her father died shortly before midnight. She didn't give the cause of death or the condition that recently put him in hospice care.
Few will mourn his passing.
The Daily Agenda for Thursday, March 20
Jim Burroway
March 20th, 2014
TODAY'S AGENDA:
Events This Weekend: European Gay Ski Week, Alpe d'Huez, France; Amsterdam Bear Pride, Amsterdam, Netherlands; Los Angeles Leather Pride, Los Angeles, CA; Black Party, New York, NY; Gay Snow Happening, Sölden, Austria; European Snow Pride, Tignes, France.
TODAY'S AGENDA is brought to you by:
 
If you Google the address today, you get a business called Costumes, Etc., but when you go to Google Streetview, you get this.
TODAY IN HISTORY:
Florida Supreme Court: Gays Can't Be Barred From State Bar: 1978. In 1976, Robert F. Eimers, a recent graduate of Hastings College of Law in San Francisco, had already been certified for admission to the Pennsylvania bar when he moved to Florida and took the exam for the Florida bar. He passed, but the Florida Board of Bar Examiners found that he might fail to meet the "good moral character" standard for admission because, in response to a question at a hearing, Eimers said that he was gay. The twelve member board deadlocked on whether to admit him and referred the matter to the Florida Supreme Court. On March 20, the Supreme Court ruled in a 6-1 decision that a "substantial connection" between private behavior and the ability to carry out professional responsibilities would be required to bar Eimers from practicing law, and his homosexuality did not rise to that level. "Otherwise, the bar will be virtually unfettered in its power to censor the private morals of Florida bar members, regardless of any nexus between the behavior and the ability to responsibly perform as an attorney."
That's where the "Today in History" part of the story ends, but Eimers' story continues. While Florida's Supreme Court was correct in ruling that a gay man cannot be prohibited from practicing law because of his "private morals," that same court nine years later would wind up disbarring Eimers because of his dismal public morals, not to mention breaking a few laws along the way. In 1982 Eimers, his law partner (who was not licensed to practice law) and husband-and-wife clients Daniel and Sally Phelps, were the subjects of an undercover sting involving money laundering and prostitution. In November 1982, they were all charged with two counts of money laundering, and the Phelps's, in addition, were charged with three counts associated with the prostitution ring. After their arrest and indictment, they were all released on bail. The Phelps and Eimers were tried and convicted in June, 1983, but Eimers's conviction was in absentia due to his becoming a fugitive in March. Eimers was sentenced to ten years and fined $100,000. In 1987, the Florida Supreme Court officially disbarred him (PDF: 176KB/6 pages) because of his felony conviction and allegations that he had misappropriated funds from three of his clients. I can't find any record of his having served his sentence, but in 1993 the Pennsylvania Supreme Court also ordered his disablement in that state as well. He apparently died in 1998 at the age of 51.
And that, as they say, is the rest of the story.
TODAY'S BIRTHDAY:
Samuel-Auguste Tissot: 1728-1797. You know you'll go blind if you keep doing that, don't you? Ever wonder where those old medical "facts" came from? Blame this eighteenth-century Swiss physician from Lausanne, but also consider his time. In his day, the medical establishment was built on little more than folk medicine and superstitions, some of which where handed down from as far back as ancient Greece.
To his credit, Tissot tried to change that and turn the practice of medicine into a scientific endeavor. His 1761 textbook Avis au Peuple sur sa Santé (Advise to the Public Concerning their Health) became the best-selling medical self-help book of the century and it established his international reputation. In a 1769 essay, he argued that doctors must have a working knowledge of physics and the natural sciences: "Whoever is unacquainted with the powers and properties of bodies and the laws of motion will never be able to learn the art of healing." He became an early proponent of exercise for "literary and sedentary persons," observing that exercise "strengthens the fibres, preserves the fluids in their proper state, procures an appetite, facilitates the secretions particularly perspiration, raises our spirits, and produces an agreeable sensation in the whole nervous system." His 1789 Traité des Nerfs et de Leurs Maladies (Treatise on the Nerves and Nervous Disorders) included an 83-page chapter devote to the study of migraines, which is today considered a foundational work for future doctors' understanding of the phenomenon.
So you can see he was off to a pretty good start in professionalizing the practice of medicine. But his efforts were ultimately constrained by the state of medical knowledge in the 1700s which still came mainly from two sources: ancient manuscripts, from Greek and Roman times through the Renaissance, and ongoing observations by physicians who knew nothing about viruses, bacteria, hormones, genetics or even the precise functions of a number of organs. And so Tissot believed, like many of his contemporaries, that the human body was governed by a balance between the excretion of vital fluids — the ancient Greeks called them "humours" — and their replenishment through eating and drinking. Blood, obviously, was an essential humour. Lose too much of it, and death is certain. Perspiration was a humor, as was mother's milk, which he called a "non-essential" humour — for the mother, anyway. Also, in the tally of humours:
There is another, the seminal fluid, which has so much influence on the strength of the body and on the perfection of digestion which restores it, that physicians of every age have unanimously admitted, that the loss of one ounce of it, enfeebles more than forty ounces of blood. We may form some idea of its importance by observing the effects it produces; when it begins to form, the voice, the countenance, and even the features change; the beard grows, and the whole body often assumes another appearance, since the muscles become so large and firm that they form a sensible difference between the body of an adult, and that of one who has not arrived at puberty. All these developments are prevented by debilitating the organ which serves to separate the fluid producing them. Correct observations prove that the extirpation of the testicles, at the period of virility, causes the loss of the beard, and the return of an infantile voice. Can we doubt, after this of its action on the whole body, and not perceive the many bad consequences with which the emission of so precious a fluid must be attended.
That passage is from the introduction of Tissot's most enduring work, his highly influential L'onanisme, ou Dissertation Physique, sur les Maladies Produites par la Masturbation (Onanism: Or a Treatise Upon the Disorders produced by Masturbation), published first in Latin in 1758, then in French in 1760. According to Tissot, the loss of just an ounce of semen brought about a terrible blow to the body. During the sexual act, Tissot observed that other humours were excreted through perspiration and heavy breathing, leading to the "evacuation of the semen," which is accompanied by:
a general shock, a convulsion of all the parts, an increase of the rapidity of the movements of all the fluids, to displace and expel it. Is it too great presumption to say, we must regard this necessary concurrence of the whole system, at the moment of its evacuation, as a rational proof of its influence on the body? …The promptitude with which the weakness follows the act, appears to many people, and with reason, a proof that this cannot be occasioned by merely a loss of semen; but the debility of all those affected with convulsive diseases, proves that the weakness is produced by the spasm…
Men weren't alone in their susceptibility to masturbation's dangers. Semen's analog in women was the fluids of vaginal lubrication. Like men, women also experienced the perspiration, the "rapidity of the movements of all the fluids," the general shock and convulstions, and so forth. But masturbation posed an even greater danger to women because their weaker nerves made the loss of those vital fluids all the more serious. The consequences, for men and women both, were numerous: pimples, hemorrhoids, tuberculosis, weak-mindedness, weakness or partial paralysis in the limbs, ashen skin, pain, digestive problems, epilepsy, blindness, and even death.
The loss of semen was always bad, but it was worse when the loss occurred during non-procreative sex, all forms of which he grouped under the umbrella term "Onanism." At least with ordinary vaginal intercourse, he reasoned, there was a reciprocity taking place which helped to lower the dangers:
A person perspires more during coition than at any other time, because the power of the circulation is quickened. This perspiration is perhaps more active and more volatile than at any other time: it is a real loss, and occurs whenever emissions of semen take place, from whatever cause, since it depends on the agitation attending it. In coition it is reciprocal, and the one inspires, what the other expires. This exchange has been verified by certain observations. In masturbation there is a loss without this reciprocal benefit.
Tissot's L'onanisme wasn't the first anti-masturbation tract. Some thirty-five years earlier, an unknown London doctor and clergymen published the final edition of Onania; or the Heinous Sin of Self-Pollution (see Oct 16), which warned about the many dangers of masturbation from both a medical and moral standpoint. But Tissot criticized the English Onania for its "theological and moral trivialities" which made it  "truly a chaos, the most unfinished work written for a long time." Tissot's L'onanisme, on the other hand, sought to correct those errors and re-cast sexual morality solely on the basis of the physical imperative rather than a divine one. It became a best-seller. Twelve authorized editions appeared between 1760 and 1799 in the original French, with translations into German, Italian, Spanish, Russian and English. Thanks to Tissot, the idea that masturbation was the source of a number of serious physical, medical and social diseases quickly became medical dogma all the way up to the beginning of the twentieth century.
[Source: Samuel-Auguste Tissot. Treatise on the Diseases Produced by Onanism. Translated by "A Physician" (New York: Collins & Hannay, 1832). Available online at Archive.org. The original 1760 French edition of L'onanisme is available at Google Books.]
 If you know of something that belongs on the agenda, please send it here. Don't forget to include the basics: who, what, when, where, and URL (if available).
This your open thread for the day. What's happening in your world?
The Daily Agenda for Wednesday, March 19
Jim Burroway
March 19th, 2014
TODAY'S AGENDA:
Events This Weekend: European Gay Ski Week, Alpe d'Huez, France; Amsterdam Bear Pride, Amsterdam, Netherlands; Los Angeles Leather Pride, Los Angeles, CA; Black Party, New York, NY; Gay Snow Happening, Sölden, Austria; European Snow Pride, Tignes, France.
TODAY'S AGENDA is brought to you by:

This is another one of those San Francisco bars that is difficult to find anything about. It appears to have opened around 1972 near the corner of Market and Sanchez, at about the time the area was still a down-on-its-luck Irish neighborhood known as Eureka Valley, rather than the gay mecca of the Castro as it's known today. The storefront today is now a Venetian seafood restaurant called Pesce.
TODAY IN HISTORY:
835 YEARS AGO: Final Session of the Third Lateran Council, Orders Excommunication for the "Unnatural Vice": 1179. Upon Pope Hadrian IV's death in 1157, the divided Cardinals split into two camps backing two separate popes: Roland of Siena, who took the name of Alexander III, and Octavian of Rome who assumed the name of Pope Victor IV. While Pope Alexander III had majority of the Cardinals' support, Pope Victor had the crucial support of Emperor Frederick I of the Holy Roman Empire. Frederick declared war on the Italian states and the Church in support of his candidate, causing a schism in the Church. Victor died in 1164, and two further Popes were declared in Frederick's faction: Paschal III (1164–1168) and Callistus III (1168–1178).
Finally, the forces supporting Pope Alexander III proved victorious at the Battle of Legnano of 29 May 1176. WIth the Treaty of Venice in 1177, Pope Alexander III promised to hold an ecumenical council to bring the Church back together. That council, known as the Third Council of the Lateran established new regulations on papal elections to try to prevent future schisms, and laid down new Canons on the qualifications and proper conduct of the clergy. Twenty-seven Canons were promulgated in all, with some tying up some loose ends in civil matters: they abolished usury, forbade Jews and Muslims from employing Christian servants, and required that the evidence of Christians would always be accepted against Jews. In addition, Canon 11 read:
11. Clerics in holy orders, who in open concubinage keep their mistresses in their houses, should either cast them out and live continently or be deprived of ecclesiastical office and benefice. Let all who are found guilty of that unnatural vice for which the wrath of God came down upon the sons of disobedience and destroyed the five cities with fire, if they are clerics be expelled from the clergy or confined in monasteries to do penance; if they are laymen they are to incur excommunication and be completely separated from the society of the faithful. If any cleric without clear and necessary cause presumes to frequent convents of nuns, let the bishop keep him away; and if he does not stop, let him be ineligible for an ecclesiastical benefice.
Africans Identified As AIDS Risk Group: 1983. As I've said before, by the time 1983 came around the panic surrounding the emerging HIV/AIDS crisis had already reached epic proportions, with anti-gay groups and individuals pinning everlasting blame on the gay community. When they had bothered to notice, some would acknowledge that Haitians, drug addicts and hemophiliacs were also at risk for AIDS. But it was the gay community which bore the brunt of the responsibility for the new "plague."
If ignorance among many Americans was running a fevered pitch, things were very different in Europe, particularly in Belgium and France where doctors had been noticing a strange development for quite some time. For several years, they had been treating wealthy Africans from their former colonies who were suffering from diseases which were remarkably similar to those reported by AIDS patients in America. While AIDS was also showing up in gay communities in Europe, these African patients signaled to European specialists that AIDs was neither a homosexual nor Western disease. Finally on March 19, 1983, the rest of the world would learn what they have been noticing with the publication of this brief letter by Dr. Nathan Clumeck of the Université Libre de Bruxelles in the respected journal The Lancet:
Acquired Immune Deficiency Syndrome in Black Africans

SIR,-Acquired immune deficiency syndrome (AIDS) has been described in homosexual or bisexual men, in drug addicts, in haemophiliacs, and in Haitian immigrants. To our knowledge there is no report of AIDS and opportunistic infections in previously healthy Black Africans with no history of homosexuality or drug abuse.

Tables I and II show the clinical and immunological data on five Black patients seen in Brussels and who were from Central Africa (Zaire and Chad). Three of them had been living in Belgium, for between 8 months and 3 years. All were of good socioeconomic status. They presented with prodromes of fever, weight loss, and generalised lymphadenopathy, and extensive investigations did not reveal any neoplasia. Patients A and E died; the three survivors are still ill.
Because the HIV virus had not been discovered yet, there was no test for it. Doctors had to rely on a process of elimination to determine whether the patient really had AIDS:
These patients fulfilled all the criteria of AIDS. Two of them had severe herpes simplex infections and to exclude the possible role of herpes virus in their immune deficiency we did lymphocyte subset analyses in a control group of eight patients with HSV-2 infections. None had OKT4+ deficiency and their OKT4/OKT8 ratios were between 0.99 and 2.52 (mean 1.80), so it is unlikely that HSV-2 alone was responsible for the AIDS in the African patients.

Responses to mitogen stimulation (phytohaemagglutinin, concanavalin A, pokeweed) were well below normal in all cases. In eleven healthy Black Africans reactions to intradermal tuberculin, candida, and streptodornase were >5 mm: all five patients were skin test negative to these antigens.

This preliminary report suggests that Black Africans, immigrants or not, may be another group predisposed to AIDS.
This small letter to the editor would later prove to be an important first indication of the horror that had been stalking the Congo river region for decades. Clumeck and his colleagues would follow up that letter with a larger study a year later in the New England Journal of Medicine. That study presented detailed data on 23 Africans treated for AIDS from as far back as May 1979. That would be a full two years before the CDC reported on the five gay patients in Los Angeles (See Jun 5). Eighteen of the patients treated in Brussels were from Zaire (now the Democratic Republic of Congo), one from Chad, two from Rwanda, and two from Burundi. By then, ten had died. On further investigation, researchers found that the husband of one patient had died in 1976 in Belgium at the age of 27 from diseases "consistent with AIDS."
In December 1984, Clumeck and associates published another paper in the Annals of the New York Academy of Sciences expanding their study to 40 patients who had undergone treatment in Belgium. Only two of them were gay male Belgians; the rest were Africans. By then, they had concluded, "It is likely that AIDS is endemic now in Central Africa, and that the cases seen in Belgium represent only the tip of the iceberg."
[Sources: N. Clumek, F. Mascart-Lemone, J. de Maubeuge, D. Brenez, L. Marcelis. Letter to the editor: "Acquired Immune Deficiency Syndrome in Black Africans." Lancet 1, no. 8325 (March 19, 1983): 624.
Nathan Clumeck, Jean Sonnet, Henri Taelman, et al. "Acquired immunodeficiency syndrome in African patients." New England Journal of Medicine 310, no, 8 (February 23, 1984): 492-497.
Nathan Clumeck, Jean Sonnet, Henri Taelman, et al. "Acquired immune deficiency syndrome in Belgium and its relation to Central Africa." Annals of the New York Academy of Sciences 437 (December 1984): 264-269.]
FDA approves AZT to treat AIDS: 1987. Dr. Jerome P. Horwitz, a researcher at Wayne State University's cancer center, developed azidothymidine (AZT) as cancer drug in 1964. Part of a new approach to curing cancer, AZT was was made as a synthetic form of nucleosides, which is a fundamental building block of genetic material. The idea was to inject AZT into cancer cells and watch it confuse the cell's real nucleosides and render the cancer unable to reproduce. It failed. Horwitz never bothered to patent it, and moved on to other avenues of investigation. For the next two decades, AZT would remain, in Horwitz's words, "a very interesting set of compounds that were waiting for the right disease."
Fast forward twenty years to 1984. The pharmaceutical company Burroughs-Wellcome  (now GlaxoSmithKline) asked the National Cancer Institute to investigate AZT's potential in combatting AIDS. The investigation, conducted by government scientists under government funding, began clinical trials of AZT provided by Burroughs-Wellcome, and found that the drug was able to interfere with the reproduction of HIV's DNA and reduce the viral load (the amount of the virus in the blood). Burroughs-Wellcome patented the drug in 1985, and with no other drugs available and AZT proving to be a real benefit, the FDA gave its approval in 1987, in record time, despite the drug only having gone through a phase one trial.
Marketed as Retrovir, AZT cost $10,000 for a one-year supply (that would be about $20,600 in today's money), making it the most expensive drug in history. It's cost was prohibitive for the estimated thirty-five percent of people with AIDS who either had no health insurance or whose policies didn't cover the drug. And because it only went through a phase one trial, optimum dosage was still unknown. Consequently, and under the FDA's recommendation, doctors prescribed it at very high doses which revealed its toxic side effects, which included anemia, depressed white blood count, liver damage, heart muscle damage, muscular weakness, changes in abdominal body fat, acid reflux, headache and loss of appetite.
But while there were a patchwork of medications to treat the various opportunistic diseases that befell people with aids, AZT remained the only FDA-approved drug for treating AIDS itself for several more years. Over time, researchers discovered that AZT's dosage could be reduced to minimize the side effects without hindering its effectiveness. But AZT's effectiveness was limited, regardless of dosage, by HIV's remarkable ability to mutate into an AZT-resistant form. ATZ by itself prolonged life, on average, by a year or so, which was an eternity for a disease with a 100 percent mortality rate. It wouldn't be until two other drugs entered the market in 1995 and AZT became a part of the three-drug cocktail (see Dec 6) when an effective treatment regimen to combat AIDS would finally become available. As for Dr. Horwitz, he never did see any royalties from his invention of AZT.
If you know of something that belongs on the agenda, please send it here. Don't forget to include the basics: who, what, when, where, and URL (if available).
This your open thread for the day. What's happening in your world?
The Daily Agenda for Tuesday, March 18
Jim Burroway
March 18th, 2014
TODAY'S AGENDA is brought to you by:

Lambda Lounge opened in Appleton sometime in 1977. Before that, it was another gay bar called Doris' Super Bar. Lambda Lounge remained in business until 1982. The building now houses an Irish pub called the Durty Leprechaun.
TODAY IN HISTORY:
NYPD Back Down From Gay Demonstrators: 1966. The Stonewall Rebellion is often described as the first time that the gays fought back in the face of police repression. That's not entirely true, as indicated by a brief notice in the May 1966 copy of the Homosexual Citizen, which was published by the Mattachine Societies of Washington, D.C. and Miami.
Police Retreat from Angry Villagers
Greenwich Village has long been known as a homosexual Bohemia. On March 18, New York police erected baracades in an unsuccessful attempt to curb "undesirables" by preventing their entrance to a 14-block area. The barricades attracted a howling, chanting mob of 1500 "assorted undesirables" who forced the police to retreat and remove their barricades. The police experiment was part of Mayor Lindsay's current push to "clean up and quiet down Greenwich Village." The police are mapping new strategy while members of the Mattachine Society, Inc. of New York are distributing "If You Are Arrested" leaflets to the surging crowds.
[Source Warren D. Adkins (Jack Nichols, see Mar 16). "Newsfronts." The Homosexual Citizen 1, no. 5 (May 1966): 13.]
William F. Buckley, Jr. Proposes Tattooing "All AIDS Carriers": 1986. Two op-eds appeared in The New York Times's editorial page under the heading, "Critical Steps in Combating the AIDS Epidemic." One was written by Harvard Law professor Alan Dershowitz, and the other by conservative pundit William F. Buckley, Jr. Dershowitz's column, in keeping with the general hysteria of the day, was not without its alarmist elements. He repeated the belief that "AIDS may, in fact, be transmissible by tears, saliva, bodily fluids and mosquito bites" — a contention that was quickly refuted by those more familiar with the disease. But he also pleaded that "the flow of solid data should not be polluted by personal moralism. … We have a right to know the hard facts about AIDS, unvarnished by moralistic prejudgments."
That recommendation contrasted sharply with Buckley's op-ed that appeared on the same page. Buckley acknowledged that many who see homosexuality as morally wrong also saw AIDS as a "special curse of the homosexual, transmitted through anal sex between males." But that didn't stop him from trying to claim that those who "tend to disapprove forcefully of homosexuality … (tend) to approach the problem of AIDS empirically." And how did Buckley "empirically" approach the AIDS crisis?
We face a utilitarian imperative, and the requires absolutely nothing less than the identification of the million-odd people who, the doctors estimate, are carriers.

How?

Well, the military has taken the first concrete step. Two million soldiers will be given the blood test, and those who have AIDS will be discreetly discharged. …The next logical step would be to require of anyone who seeks a marriage license that he present himself not only with a Wassermann test but also an AIDS test.

But if he has AIDS, should he then be free to marry?

Only after the intended spouse is advised that her intended husband has AIDS, and agrees to sterilization. We know already of children born with the disease, transmitted by the mother, who contracted it from the father.

…The next logical enforcer is the insurance company. Blue Cross, for instance, can reasonably require of those who wish to join it a physical examination that requires tests. Almost every American, making his way from infancy to maturity, needs to pass by one or another institutional turnstile. Here the lady will spring out, her right hand on a needle, her left on a computer, to capture a blood specimen.

Is it then proposed …that AIDS carriers should be publicly identified as such?

The evidence is not completely in as to the communicability of the disease. But while much has been said that is reassuring, the moment has not yet come when men and women of science are unanimously agreed that AIDS cannot be casually communicated. Let us be patient on that score, pending any tilt in the evidence: If the news is progressively reassuring, public identification would not be necessary. If it turns in the other direction and AIDS develops among, say, children who have merely roughhoused with other children who suffer from AIDS, then more drastic segregation measures would be called for.

But if the time has not come, and may never come, for public identification, what then of private identification?

Everyone detected with AIDS should be tattooed in the upper forearm, to protect common-needle users, and on the buttocks, to prevent the victimization of other homosexuals.
A year later, Buckley "withdrew" his proposal under the unique kind of protest that only Buckley could muster:
Sixteen months ago, in a thinking-out-loud exchange with Professor Alan Dershowitz, I suggested that perhaps AIDS carriers should be tattooed discreetly, to guard uncontaminated sexual or needle partners from danger. This proposal reminded everyone of Auschwitz, and I have seen, in print, that Mr. Buckley "wants to tattoo all homosexuals." It is as though anyone who found a use for barbed wire was secretly a concentration-camp fetishist. Never mind: I quickly withdrew the proposal for the simple reasoning that it proved socially intolerable. I have ever since been waiting for a socially tolerable alternative to be proposed…
But in 2005 when the news media would initiate a new round of hysteria over an imaginary AIDS "superbug," Buckley was there again, suggesting that the tattoo idea be revived:
The objective is to identify the carrier, and to warn his victim. Someone, 20 years ago, suggested a discreet tattoo the site of which would alert the prospective partner to the danger of proceeding as had been planned. But the author of the idea was treated as though he had been schooled in Buchenwald, and the idea was not widely considered, but maybe it is up now for reconsideration.
The so-called "superbug" was a phantom; but Buckley's Buchenwaldist proposal was, apparently, serious — serious enough for him to raise it again unapologetically 20 years later.
Michelangelo Sigornile Reports That A Very Wealthy Businessman Was Gay: 1990. Malcolm Forbes was gay. You knew that, right? Playwright George Osterman knew. He had had sex with Forbes a few times, and was one of the very few willing to talk about it under his own name. "To a degree, he was very charming. I did it for the experience, I mean, I was having sex with a millionaire, It was an experience. It was fine," he said. A host of New York City waiters knew; Forbes seemed to have had a particular thing for waiters. A former employee at Forbes magazine said that half of the staff knew and the other half just didn't want to know about it. New York's gossip columnists knew: Newsday's James Revson, The Daily News' Billy Norwich, Village Voice's Michael Musto. Liz Smith, also at The Daily News, undoubtedly knew, though she claimed to be "too square" to be aware of it. Besides, she was still tending to her own closet at the time. Even Elizabeth Taylor knew — even though the New York Times implied in Forbes's obituary that he had wanted to marry her, only to strike that reference in the paper's later editions. And because Michelangelo Signorile put all of that in a cover story for OutWeek three weeks after Forbes died of a heart attack, you know it too:
People talked and, in quite a few segments of the gay male community at least, it seamed that everyone knew someone who'd done it with Malcolm Forbes. He was also quite showy, liking to ride around with his "dates" on his motorcycle. It was not uncommon to spot Forbes on Christopher Street taking a break next to his bike with a hot, young, leathered bikemate by his side. He also would show up — often with young men — at such mixed clubs as Love Machine and Celebrity Club at the Tunnel, where the crowed was predominately gay but was never listed as such or considered a gay club per se. This the contradiction of Forbes: While he tried to keep it all very hush-hush, he behaved many times in a sloppy, seemingly deliberate way, yearning to have fun, and testing the limits of living a closeted life.
Signorile's first job out of college was with a public relations firm that specialized in getting their clients mentioned in gossip columns. That's where he became increasingly aware of the double standard with which gossip columnists — and journalists generally — treated gay people. Every hint of a heterosexual dalliance was given press, but whenever they became aware of a romance involving a gay celebrity, there was nothing but silence — or a manufactured story of a heterosexual romance. As Signorile became involved with ACT UP in 1989, the group's motto "SILENCE = DEATH" took on a special meaning. As long as gay people were an abstraction to the general public — as long as gay people were those people, relatively nameless and faceless because those who were well known remained silent — the unique combination of apathy and hysteria surrounding AIDS would continue.
Forbes wasn't the first celebrity whose homosexuality Signorile reported on. As the features editor of OutWeek, Signorile also wrote a regular column titled "Gossip Watch," in which he sought to hold New York's other gossip columnists accountable. Beginning in 1989, he launched a second column called "Peek-A-Boo," in which he listed the names of some ninety allegedly closeted celebrities. Critics, including many in the gay community, lambasted Signorile for publishing private and "salacious" details, as though being gay itself was somehow salacious. By 1990, the mainstream media began to notice, when Time magazine published "Forcing Gays Out of the Closet," in which media critic William Henry III coined the word "outing" as a verb, a term that Signorile has always disliked. As he saw it, what he was doing was reporting, and was in no way different from what other journalists were writing about heterosexual celebrities.
As for the Forbes article, Signorile's portrait was actually somewhat sympathetic. But in the end, Signorile said that setting the record straight, so to speak, was important "for the sake of posterity:
Is our society so overwhelmingly repressive that even individuals as all-powerful as the late Malcolm Forbes feel they absolutely cannot come out of the closet? It would seem so. Much like Congressman Barney Frank before he came out, Forbes was the victim of a virulently homophobic society which he too fed into regularly. He was forced to lead a life of secret pursuits and dark, dirty doings; of exploitation and abuse, His own internalized homophobia far outweighed the commanding authority that any amount of dollars could possibly wield.

And what is the significance of bringing all of this out now?

First, for the sake of posterity the truth must be told. All too often history is distorted. One of the most influential men in America just died, and regardless of how we may or may not see him as a proper public figure, he was gay, And that must be recorded.

Second, it sends a clear message to the public at large that we are everywhere.

Third, perhaps gays and lesbians at all levels of society can learn a great deal from the story of Malcolm Forbes, In researching this piece, in an attempt to try to obtain more information about Forbes and get to people who were close to him, I came upon someone who kneW the family very well and who would have been able to discuss intimate details about the man; not merely about sex, but about the the real inner-workings of Forbes' mind, It was a person who could perhaps provide an insight into what Forbes thought about such issues as gay rights and AIDS, But, after considerable thought, he decided not to speak to me. Currently living a closeted existence with regard to his own family and business, he said, "My choice in speaking to you is between myself and the greater gay community, And — at this moment — I have to go with myself."

Ultimately, that was the tragedy of Malcolm Forbes' entire life, Under the guise, perhaps, of doing the best for "himself," Forbes initiated a senseless, self-imposed prison sentence which benefited no one.
Despite what had become rather common knowledge — and despite Signorile's efforts to promote to story to other news organizations, the mainstream press remained silent. Several months later, The New York Times, in an article about the "outing" controversy, refused to mention Forbes's name, referring to him simply as "a famous businessman who had recently died."
[Sources: Michelangelo Signorile. "The other side of Malcolm." Outweek (March 18, 1990): 40-45. Available online here (PDF: 21.3 MB/108 pages).
William Henry III. "Forcing gays out of the closet." Time (January 29, 1990). Available online with subscription here.]
If you know of something that belongs on the agenda, please send it here. Don't forget to include the basics: who, what, when, where, and URL (if available).
This your open thread for the day. What's happening in your world?
Fred Phelps Near Death, Excommunicated By Family
Jim Burroway
March 17th, 2014
Whatsoever a man soweth, that shall he also reap. Nathan Phelps, the estranged son of Westboro Baptist founder Fred Phelps, posted this on Facebook last Saturday:
I've learned that my father, Fred Phelps, Sr., pastor of the "God Hates Fags" Westboro Baptist Church, was ex-communicated from the "church" back in August of 2013. He is now on the edge of death at Midland Hospice house in Topeka, Kansas.

I'm not sure how I feel about this. Terribly ironic that his devotion to his god ends this way. Destroyed by the monster he made.

I feel sad for all the hurt he's caused so many. I feel sad for those who will lose the grandfather and father they loved. And I'm bitterly angry that my family is blocking the family members who left from seeing him, and saying their good-byes.
The Topeka Capital-Journal has just a little bit more:
After Phelps was voted out of Westboro Baptist Church this past summer, he was moved out of the church and into a house, where he was watched to ensure he wouldn't harm himself, a son estranged from the church said Sunday.

Phelps eventually stopped eating and drinking, and on Sunday, he was near death, son Nate Phelps said in a Facebook posting. The information also is based on an email sent by Nate Phelps to a Topeka Capital-Journal reporter.

"(Fred) is at Midland Hospice House where, as of yesterday (Friday), he is comfortable without the respiratory difficulty that he was having the day before and is unresponsive," Nate Phelps wrote, quoting a message sent to him.
Westboro spokesman Steve Drain confirmed that Phelps was in a nursing home but refused to discuss the excommunication. Drain is believed to be the only member of the church who is not related to the Phelps clan by blood or marriage. His estranged and excommunicated daughter, Laura Drain, reacted to the news yesterday on Facebook:
If the rumors are true regarding Fred Phelps, & I have strong reason to believe that they are – this news to me is incredibly devastating. When I was back in the church 8 years ago, I witnessed various members get ex-communicated & watched in horror & fear as families were ripped apart at the seams.

There was one summer, that I can draw upon perfectly clear as to the nature of the harshness & severity of our beliefs. Our very own pastor, who supposedly was guided by God & helped guide our ministry, his own membership was being called into question by the remaining members (most of which were his own sons, daughters & progeny). This notion devastated me & I remember as a church we became obsessed with hiding it from the media. I couldn't realize why. To protect the reality that all humans, including a pastor could sin? To protect the fact that we as a church could possibly make a mistake? To protect our "name" to the world? It was hypocritical that we weren't more focused on how to treat one another! How to forgive! How to leave God's judgments in His hands! Did we really reach the point where we thought we owned salvation to discard people like trash? The pastor was forgiven that summer & I saw a glimmer of humility in his eyes that day, that all of us are human & subject to feeling vulnerable & hopeless.

It stopped me in my tracks from ever considering leaving myself, feeling family love & connection was something I felt was most precious in life, to my very core. Because of my non-compliance to church policy, which I witnessed change day to day, I became ex-communicated myself, cut off from my family that I held so dear.

…I pray that despite all the many families & people affected by the WBC, that they will not have vengeance in their heart, but rather pity. …Consider this, there are members still there, like my younger siblings, who can and will learn from experiencing compassion from others, not polarizing hate.

Prove the WBC wrong. We all seek peace not vengeance.
Equality Kansas echoes that plea:
Equality Kansas (formerly the Kansas Equality Coalition) today urged members of the Kansas, United States, and worldwide LGBT communities to respect the privacy of the family of Fred W. Phelps, notorious pastor of the Westboro Baptist Church.

"If the reports of Fred Phelps' declining health are accurate, then his family and friends are certainly saying their good-byes and preparing to mourn his loss," said Sandra Meade, chairwoman of Equality Kansas. "We ask that everyone understand the solemnity of the occasion, and honor the right of his family and friends to remember and mourn his loss in private without interruption or unseemly celebration," Meade said.

…"For over 20 years, Phelps and the members of his Topeka-based church have harassed the grieving families of LGBT Kansans and others," said Thomas Witt, executive director of Equality Kansas. "He and his followers showed utter disregard for the privacy and grief of others for many years. This is our moment as a community to rise above the sorrow, anger, and strife he sowed, and to show the world we are caring and compassionate people who respect the privacy and dignity of all," Witt said.
I agree. We are certainly much better than them. Besides, Fred Phelps was undoubtedly the best gay rights campaigner we ever had.
There's an old saying about some enemies that if they didn't exist, we'd have to create them. Phelps is his own creation, and now he is reaping the rewards of his creation. He taught his family the deepest intricacies of hate, and now his gift to them has earned dividends that are being rewarded back to him. That alone is justice.
The Daily Agenda for Monday, March 17
Jim Burroway
March 17th, 2014
TODAY'S AGENDA is brought to you by:

Clara Houllis bought a run-down old liquor store in 1969 and spent the next few years pouring everything she had into it to turn it into a Daytona landmark. The Zodiac Lounge was famous for its drag shows, and it hosted the Miss Florida Female Impersonator Pageant in 1979. The club boasted one of the first psychedelic light shows in town and its giant neon red rocket sign was a landmark. It was also right next to city hall. In 1989, the city of South Daytona acquired the Zodiac Lounge through eminent domain after a protracted battle in court, bulldozed the building and turned the site into a parking lot.
TODAY IN HISTORY:
50 YEARS AGO: Florida Legislature Issues Report On Homosexuality: 1964. In 1956, the Florida Legislature established the Legislative Investigations Committee, known popularly as the Johns Committee for its chairman, state senator and former governor Charley Johns. The committee's broad mandate was, more or less, to carry on the work of the already-discredited Sen. Joseph McCarthy's hearings from earlier in the decade. In addition to the red- and homo-baiting, the Johns committee also sought to rid the state of the NAACP and anyone else who "could constitute violence, or a violation of the laws of the state, or would be inimical to the well being and orderly pursuit of their personal and business activities by the majority of the citizens of this state." In 1961, the legislature again tasked the committee to investigate "extent of [homosexuals'] infiltration into agencies supported by state funds." The concern here was with the state's college campuses. The legislature's renewed directive came after the Johns committee had been searching for homos under the dorm room beds since at least 1958 (see for example Mar 22, Apr 24).
That effort culminated in a report released in 1964, nicknamed the "purple pamphlet" for the abstract purple cover that was added to obscure the more provocative cover inside. The report called for "increased research efforts to expose the underlying causes of homosexuality and its possible cures" and defined homosexuality as a problem "of control, and that established procedures and stern penalties will serve both as encouragement to law enforcement officials and as a deterrent to the homosexual hungry for youth." It included a dictionary of slang terms and included confiscated photos from gay people who had undergone various anti-gay investigations over the previous years. The report lamented that "little has been done to reveal the role of the male muscle and physique magazines, the pinup books of homosexuality," and it called for mandatory psychiatric evaluations of anyone convicted of homosexuality, the creation of outpatient treatment centers, a registry that potential employers could check, and making a second conviction a felony.
The report provoked an immediate outcry, but not for the reasons the committee expected. The State Attorney for Dade County warned that the purple pamphlet was "becoming the object of curiosity in every school in the state and could engender perversion." If the Johns Committee sent any more copies of the report to his county, he warned, he would file obscenity charges. A Daytona Beach politician criticized the committee for "becoming engaged in the publication of such vile material." The Miami Herald ran an editorial saying, "It is shocking to see that it bears the Great Seal of Florida and the governor's office as the return address. We feel that the immediate resignation of every state official who had a hand in it, and the full investigation of possible violations of obscenity laws, are called for."
As if to prove the point, the Guild Press, publisher of male physique magazines including Grecian Guild Pictorial and other homoerotica, also saw the pamphlet's prurient value and reprinted a facsimile edition of the non-copyrighted pamphlet and marketed it in their nationally-distributed catalogue enticing customers with "an action photograph of a rest room 'glory hole' scene that is unbelievable." The ad described the photo as "the only scene such as this that we have ever seen in print anywhere." It quickly became on of the Guild Press's best sellers.
Rep. Richard Mitchell, then the committee's chairman, responded to the controversy with a special news conference and said that the report would not be distributed "indiscriminately." But the damage to the committee's reputation was insurmountable. The next year, the Florida Legislature pulled funding for the Committee and it disbanded on July 1, 1965. The Committee's decade-long inquisition was over, but its influence continued on. Jacksonville Mayor Haydon Burns ran for governor, saying he was "astounded at the number of pinks and Communists on the campuses of higher education in this state" and he pledged "to get rid of them." He won.
The Johns Committee Report is available online here.
TODAY'S BIRTHDAY:
Bayard Rustin: 1912-1987. Many African-Americans are offended whenever some assert that "gays are the new Black." That controversy isn't a new one; just try to imagine the blowback when, in a 1986 speech, the venerable civil rights leader and aid to Dr. Martin Luther King, Jr. declared "The new niggers are gays":
Today, blacks are no longer the litmus paper or the barometer of social change. Blacks are in every segment of society and there are laws that help to protect them from racial discrimination. The new "niggers" are gays. No person who hopes to get politically elected, even in the deep South, not even Governor Wallace, would dare to stand in the schoolhouse door to keep blacks out. Nobody would dare openly and publicly to argue that blacks should not have the right to use public accommodation. Nobody would dare say any number of things about blacks that they are perfectly prepared to say about gay people. It is in this sense that gay people are the new barometer for social change.

Indeed, if you wan to know whether today people believe in democracy, if you want to know whether they are true democrats, if you want to know whether they are human rights activists, the question to ask is, "What about gay people?" Because that is now the litmus paper by which this democracy is to be judged. The barometer for social change is measured by selecting the group which is most mistreated. … The question of social change should be framed with the most vulnerable group in mind: gay people.
Rustin insisted on the connection between civil rights for gay people and civil rights for African-Americans. He had a special authority to assert that connection: openly gay his whole life, he was the main organizer of King's 1963 March on Washington. By then, he had already devoted nearly two decades to Mahatma Ghandi's teachings on non-violent resistance and three decades to his pacifist Quaker faith, which led to his imprisonment for refusing to fight in World War II. He is credited with teaching King about the principles of nonviolent protest when he met King during the Montgomery bus boycott, techniques Rustin honed during the first Freedom Rides in 1947 (and for which Rustin spent 22 days on a chain gang for violating North Carolina's Jim Crow laws). Rustin later helped found the Congress for Racial Equality and the Southern Christian Leadership Conference.
Rustin's open sexuality was not without its complications. It was often used against him by enemies of segregation and, later, by more militant members of the Black Power movement. He was forced to resign from King's organization during the bus boycott, but King turned to Rustin to organize the 1963 March on Washington. In the end, King and other civil rights leaders refused to abandon him and expressed their confidence in Ruston's abilities.
After the passage of the Civil Rights Act in 1964 and the Voting Rights Act of 1965, Rustin became more active directly in the Democratic Party. He also became more involved in the labor movement and the gay rights movement. And through it all, he insisted that all fights for equal rights were connected by a common thread, running from Auschwitz to Montgomery to Stonewall:
There are four burdens, which gays, along with every other despised group, whether it's blacks follow slavery and reconstruction, or Jews fearful of Germany, must address. The first is recognize one must overcome fear. The second is overcoming self-hate. The third is overcoming self-denial. The fourth is more political. It is to recognize that the job of the gay community is not to deal with extremists who would castigate us or put us on an island and drop an H-bomb on us. The fact of the matter is that there is a small percentage of people in America who understand the true nature of the homosexual community. There is another small percentage who will never understand us. Our job is not to get those people who dislike us to love us. Nor was our aim in the civil rights movement to get prejudiced white people to love us. Our aim was to try to create the kind of America, legislatively, morally, and psychologically, such that even though some whites continued to hate us, they could not openly manifest that hate. That's our job today: to control the extent to which people can publicly manifest antigay sentiment.
Rudolf Nureyev: 1938-1992. The world-famous dancer was born on the move, on a Trans-Siberian train while his mother was traveling to Vladivostok, where his father was stationed with the Red Army. Despite auditioning and earning a spot with the prestigious Bolshoi, he decided instead to hitch his rising star to the Kirov in Leningrad (now St. Petersburg), where he danced fifteen roles in three years. His early reputation as a rebel meant that the Soviet Union kept Nureyev at home whenever the Kirov traveled abroad. But in 1961, the Kirov's leading male dancer was injured and Nureyev was chosen to replace him for a European tour.
His performance in Paris created a sensation among audiences and critics. Kirov's management couldn't have been happier, except for one thing: they noticed that he had broken the rules about mingling with foreigners. The Kirov and KGB wanted to send him back to the Soviet Union immediately. In one subterfuge, he was told that instead of traveling on to London, he was needed for a special performance at the Kremlin. When that didn't work, they told him his mother was dying. Convinced (correctly, it turned out) that he was being lied to, he defected at the Le Bourget Airport in Paris.
Already a well-known among ballet aficionados, his dramatic defection made him a household name among those who knew nothing of ballet except for the local Christmas Nutcracker productions in the elementary school gyms. But Nureyev brought a style and verve to ballet that transformed the art. Before Nureyev, male dancers were little more than accessories to the star ballerinas, flinging them around and holding them aloft as on-stage props. Nureyev changed that by putting the male performance — his performance — first.
Ironically, Nureyev found employment difficult in the years immediately following his defection, as top companies were loath to jeopardize their relationships the the prestigious Bolshoi and Kirov. Nureyev picked up a low paying position with a middling Paris company. While on tour in Denmark, he met Erik Bruhn, a dancer with the Royal Danish Ballet, who would become his off-and-on lover until Bruhn's death in 1986. Nureyev's career eventually included two decades at the Royal Ballet in London, and a stint as director of the Paris Opera Ballet in the 1980s, where he also acted as chief of choreography and dancer until 1989. Nureyev also became famous in the gay community — some would say notorious – for his less artistic appearances in various bathhouses and other cruising venues. By the late 1970′s his health was declining due to what may have been various opportunistic infections brought on by AIDS. He was diagnosed in 1984, but continued dancing, although his capacity was becoming obviously diminished. His last public appearance was on October 8, 1992 for the premiere of a new production of La Bayadère, which he choreographed. He entered the hospital for the last time in November, and died two months later at the age of 54.
If you know of something that belongs on the agenda, please send it here. Don't forget to include the basics: who, what, when, where, and URL (if available).
And feel free to consider this your open thread for the day. What's happening in your world?
The Daily Agenda for Sunday, March 16
Jim Burroway
March 16th, 2014
TODAY'S AGENDA:
Events This Weekend: Scandinavian Ski Pride, Hemsedal, Norway; Elevation Mammoth Gay Ski Week, Mammoth Lakes, CA; Carnival Maspalomas, Maspalomas, Gran Canaria.
TODAY'S AGENDA is brought to you by:
For those who could afford it, a trip to Europe often meant breaking free from the constraints of being gay in America. Then, as now, Amsterdam was a favorite destination. But as you can see, businesses elsewhere also sought the gay dollar, pound, franc and mark. The two Amsterdam hotels, Hotel Floca and Hotel Zwitserland Amsterdam, are now both private apartment houses. Cafe Tusculum was still there in Hamburg until very recently, although it appears to no longer be in business. But Hotel P.L.M. is still operating as an inexpensive but well-regarded hotel in the heart of Cannes.
THIS MONTH IN HISTORY:
55 YEARS AGO: ONE Asks, When Will Homosexuals Stop Pitying Themselves?: 1959. Never to leave well enough alone in its early years, the staff of ONE magazine staked out a bold-for-the-fifties argument for gay equality in the face of a generalized broad-based fear in the gay community in the wake of the Lavender Scare earlier that decade. ONE's founders consisted of disaffected former Mattachine members who grew tired of the endless, aimless discussions taking place in Mattachine meetings (see Oct 15). ONE's first issue opened with a stirring re-telling an exceptionally rare, early gay-friendly ruling in a court of law when Dale Jennings fought and won against lewd conduct charges resulting from a case of entrapment (see Jun 23). ONE fought vigorously against postal authorities that tried to shut the magazine down on indecency grounds, a fight that ultimately led to the very first gay rights Supreme Court victory (see Jan 13). ONE's board chairman Dorr Legg (who went by the name of William Lambert, see Dec 15) even found himself face-to-face with FBI agents sent on J. Edgar Hoover's orders demanding that he retract a statement that appeared in ONE alleging that gays occupied key positions in the FBI. Legg refused (see Jan 26).
So ONE, at least in its early years, was aggressive, sometimes too aggressing in the view of some in the gay community. In a March 1959 editorial, Legg pushed back against that criticism, hard.
"Too aggressive! Just asking for trouble!" Comments such as these have been thrown at ONE many times over the years by the timorous. As, for instance, the criticisms back in 1953 over an editorial which vigorously proclaimed, "ONE is not grateful." The Los Angeles Postmaster had jusl released copies of an issue he had been withholding from the mails, The editorial continued, "ONE thanks no one for this reluctant acceptance… Never before has a governmental agency of this size admitted that homosexuals not only have legal rights but might have respectable motives as well. The admission is welcome, but it's tardy and far from enough."

Whether or not this was "too aggressive" it has always been ONE's position that homosexuals are, first of all, citizens, and entitled to exactly the same rights and privileges accorded all citizens. Neither second-class citizenship nor discrimination could be tolerated, we devoutly believed. It was our indignation over police brutalities, the peephole spying, and other such incidents which supplied us with the energies and "recklessness" that kept ONE going in the face of all obstacles.

We have always felt sad, even a little ashamed, for those who "just couldn't afford to be associated with such a group." For this attitudes showed how many Americans were forgetting that Constitutional freedom also included the freedom from being pushed around by public officials, and that if one class of citizens is deprived of its rights, all can and eventually would be.

However, in trying to be "the voice of U.S. homosexuals," ONE Magazine had to steer a course between what only a rare few were discerning as an issue of the highest moral order, and the all-too-evidence inability of most homophiles to get out from under the crushing load of guilt imposed upon them by a society which hated queers, laughed at fairies, or gladly beat-up homos, all with the deepest feelings of self-satisfied virtue. This same society could not and would not listen to the proposition that homosexuals were, by and large, no better or no worse than other people. "Preposterous," they snorted, while the homophiles themselves rather pitifully asked, "Do we dare claim this?" or else struck back at ONE for even proposing such a heresy.
Legg noticed that all of the legal victories won so far came about because heterosexual lawyers were willing to take up the causes that "homosexuals have hitherto been too spineless to do for themselves.":
When are American homosexuals going to stop sitting around pitying themselves, excusing themselves, hiding their faces and bemoaning their lot? When are they going to roll up their sleeves and do some of the hard work and the fighting that any segment of society must do to defend its own rights. These attorneys are pointing out some of the ways of going at these things. How embarrassing that this should be necessary! …

A salute to the attorneys for waking us up! Once awakened, what are we going to do about it? Let it never be forgotten that evils unchallenged grow even worse, nor that few evils are more vicious than the suppression of personal freedoms. ONE proposes to strengthen its battle for the social and civil rights of homosexuals. The ride may be bumpier from here on out. But what is anyone with a shred of self-respect to do about that?
[Source: William Lambert (Dorr Legg). Editorial. ONE 7, no. 3 (March 1959): 4-5.]
TODAY'S BIRTHDAYS:
Karl (Rolf) Meier: 1897-1974. Karl Meier's first love was the theater. He began training as an actor in Zurich in 1917, and he began performing in Swiss plays and operettas starting in 1920. Between 1924 and 1932, he was part of several productions touring Germany, although he never appeared an any of the famous cabarets of Berlin. He returned to Switzerland in 1934 and joined the cabaret Cornichon, which proved to be a huge success for the next thirteen years. He resigned from Cornichon in 1947 and moved to children's theater, radio, and then television and minor roles in film. He also moved into stage production, direction and set design, became the leading producer of independent amateur theater productions in Switzerland. He remained involved with Swiss theater until his stroke in 1970. His life partner of thirty years, Alfred Brauchli, cared for him until his death in 1974.
The mention of his life partner brings us to Karl Meier's other life, a parallel one but not a hidden one. While Meier never performed in Berlin during his tours of Germany, he did come in contact with the gay subculture there, where he met Adolf Brand (see Nov 14), editor of the world's first gay journal, Der Eigene (often translated as The Unique, The Special One, or The Self-Owned; there is no direct English equivalent.) Meier contributed a number of articles to Der Eigene and, from 1934, for the Schweizerisches Freundschafts-Banner (Swiss Banner of Friendship) in Zurich, a gay journal that was founded in 1932.
In 1943, one year after Switzerland decriminalized homosexuality, Meier took over the editorship of the journal, which by then had added a French section to the original German. Under the pseudonym of "Rolf" (even though his association with the journal was well-known), he changed the title to Der Kreis (The Circle), and by 1952 made the journal trilingual with the appearance of an English language section.
He also took the journal into a much more conservative direction. Before Switzerland decriminalized homosexuality, the journal had been very vocal in the political sphere. But after changing to Der Kreis, Meier feared that pushing for any further political reform would incite a backlash. From then on, Der Kreis limited itself to philosophical, cultural and medical/psychological topics while promoting a much more heteronormative model for gay men and women. And while the French and English sections of Der Kreis had their own editors, Meier's influence was supreme. The German sections made up about half of the journal, and Meier's articles, under various pseudonyms, made up close to a fifth of the entire German output. He also included a section of  photos and illustrations — always tasteful and never showing frontal nudity — including some fifty photos by George Platt Lynes (see Apr 15) over the course of several years.
Der Kreis would prove to be profoundly influential to would-be gay publishers around the world, including the band of brothers who founded ONE magazine in Los Angeles (see Oct 15). ONE often reprinted articles from Der Kreis, and it regularly carried advertisements for Der Kreis subscriptions. For its part, Der Kreis encouraged gay men in America and all over Europe to travel to Zurich for its conferences, festivals, and a large Christmas celebration each year. But by the 1950s Der Kreis was already being criticized for being too conservative. When the 1960s rolled in with its greater freedoms of expression and more daring gay publications from Germany and Scandinavia, Der Kreis's popularity declined precipitously. It finally ceased publication in 1967.
Jack Nichols: 1938-2005. The co-founder, with Frank Kameny, of the Washington, D.C., chapter of the Mattachine Society, Nichols was out to his parents since he age of twelve. His mother, described as an Auntie Mame figure, accepted him with aplomb; his father, an agent with the FBI who had divorced his mother after returning from World War II, not so much. His mother's Scottish immigrant parents, with whom he and his mother lived in affluent Chevy Chase, Maryland, were similarly accepting: his grandmother allowed him to neck with his male dates in the driveway. They also encouraged Nichols's self-education through their own devotion to the Scottish "free thinker" tradition. By the time he was fifteen, Nichols had read over a thousand books on philosophy, poetry, and religion.  By the time he was nineteen, Nichols and his first boyfriend bought a house and lived together openly as a couple.
In 1960, he met Frank Kameny (see May 21), and together they co-founded the Mattachine Society of Washington, D.C. Beginning in 1963, Nichols chaired the Washington Mattachine's committee on religious concerns, which eventually became the Washington Area Council on Religion and Homosexuality. With Kameny, he led the first gay rights March in front of the White House in April, 1965. Afterword, when Nichol's presence at the protest drew the attention of J. Edgar Hoover, Nichols's father, who feared that it would jeopardize his career, threatened to kill him. For obvious reasons, that would mark their final parting.
That same year, Nichols participated in the first of five annual pickets at Philadelphia's Independence Hall on Jul 4, and he began to lead the challenge to remove homosexuality from the APA's list of mental disorders. Nichols was among those who appeared on the 1967 documentary CBS Reports: The Homosexuals (See Mar 7). In 1969, he and his partner, Lige Clarke, moved to New York and founded GAY, reputed to be the first gay weekly newspaper in the US distributed on newsstands. He and Clarke also wrote a column, "The Homosexual Citizen," for Screw magazine. That column was the first gay-interest column in a non-gay publication. Nichols would later serve as editor for Sexology magazine, the San Francisco Sentinel, and GayToday.com. He also wrote four books: 1974′s Roommates Can't Always be Lovers: An Intimate Guide to Male-Male Relationships, 1975′s Men's Liberation: A New Definition of Masculinity, 1996′s The Gay Agenda: Talking Back to the Fundamentalists
, and 2004′s The Tomcat Chronicles: Erotic Adventures of a Gay Liberation Pioneer
. He died in 2005 at his home in Florida of complications from cancer.
If you know of something that belongs on the agenda, please send it here. Don't forget to include the basics: who, what, when, where, and URL (if available).
And feel free to consider this your open thread for the day. What's happening in your world?
The Daily Agenda for Saturday, March 15
Jim Burroway
March 15th, 2014
TODAY'S AGENDA:
Events This Weekend: Scandinavian Ski Pride, Hemsedal, Norway; Elevation Mammoth Gay Ski Week, Mammoth Lakes, CA; Carnival Maspalomas, Maspalomas, Gran Canaria.
TODAY'S AGENDA is brought to you by:
THIS MONTH IN HISTORY:
Harper's Examines New York's "Middle Class" Homosexuals: 1963. By the early 1960s, reporting on gay people followed a predictable arc: homosexuals were sad and lonely people, desperate for love and acceptance, and incapable of living a fulfilling life. With fulfillment being defined as the achievement of the middle class American Dream: with a home in the suburbs, a car, two kids and a dog, and a lovely June Cleaver waiting at home with a fresh batch of cookies. The classic middle class American Dream was out of reach for gay people, but that didn't keep Harper's William J. Helmer from providing a very interesting and well-balanced look at New York's gay middle class. In "New York's 'Middle-class' Homosexuals" — were the quotation marks ironic or emphatic? — Helmer's profile was anything but sensationalistic. For example, here's his description of a typical gay club in West Greenwich with a bar in the front and a dance floor in the back:
Although we went on a Thursday night, the back room was so crowded that many were standing, and the atmosphere was that of a speakeasy: dim lights, loud noise, cigarette smoke, music, and, I was told, a signal to stop dancing in the event of a police raid. My reaction to the unusual sight of men embracing each other on the dance floor was one more of curiosity than aversion, probably because the dancers appeared so casual and others in the room so indifferent. I was far more surprised to see no one who "looked" homosexual. A few were a little too well-groomed or elegant in their behavior, and a few were dressed younger than their age (though all looked to be under thirty), but otherwise the only noticeable difference was that everyone resembled the dashing young men in college sportswear advertisements. At other bars I did see a few obviously effeminate persons, but they were not flamboyant. and I was told that the better class of gay bar usually discourages conspicuous homosexuals in order to avoid police crackdowns.
If it was all about appearances in 1963 America generally, it's easy to imagine that appearances were similarly important in the gay community. There was, of course, what respectable Americans would consider the "dark underbelly," but in Helmer's description, the respectable gay counterpart was equally eager to keep its distance from those unseemly scenes. "The genuine orgy," he wrote," is less common and regarded by some as rather jading and degrading, but still 'okay if you like that sort of thing'." But as for the parties:
A colorful — but not necessarily sexual — event in the gay world is the "drag party" to which guests may come dressed as women. Unlike genuine transvestitism, however, such masquerading is often done as a titillating joke, the idea being to dress like a ridiculous parody of the female in order to humorously exaggerate one's "perversion." The term gay, which often strikes a heterosexual as inappropriate if not ironic becomes meaningful at parties and dancing bars. Any private gathering is an opportunity to relax and "drop the mask" one wears in public, and there is usually an air of conspiracy and intrigue which is not without its appeal. Such conditions tend to promote a spirit of good-fellowship, and everyone tries to outdo each other in being friendly, sociable, and "gay." Part of this is artificial — the same sort of attempt at jolly behavior that may go on between males and females after a few drinks at a dull cocktail party. But no doubt homosexuals do feel a genuine exuberance in temporarily escaping the sense of rejection implicit in their frequent need to conceal their nature from employer, acquaintances, and family.
But like the rest of society, appearances and neighborhood were important marks to social standing:
Wealth and family background themselves usually are not sources of status within the homosexual community, though their manifestations — possessions, manners, etc. — may be. Since most homosexuals have no dependents and only personal expenses, a modest income will usually provide the obvious luxuries of "sophisticated" city life, reducing the importance of real wealth. Most homosexuals who participate exclusively in gay social life have a relatively low income, so there exists no real moneyed class within the community toward which to aspire. A prominent family background brings little status since few homosexuals can afford to mix their gay life with their straight life.

…In gay society an individual is often typed (not always accurately) according to his neighborhood. The "East Side Snob" is described as an elegant, high-class dandy, or a bland, pseudosophisticated "organization man with a flair," and both tend to confine themselves to their own more private social circles. The West Sider is thought to be a lower-class, sometimes bizarre person, and the two extremes seem to meet in the Village where stereotypes mix. To some homosexuals, Forty-second Street between Sixth and Eighth Avenues is practically a taboo area because of the hustlers, hoodlums, and generally undesirable types who often congregate there. The West Seventies are said to be a "pansy patch" because of the number of obviously effeminate homosexuals, often Puerto Rican, who live there; and some areas of the Upper East Side are called "fairy flats" because they are supposedly inhabited by "conspicuously elegant types usually walking poodles," as one informant put it. Brooklyn Heights, just across the East River from Lower Manhattan, is thought of as a kind of homosexual suburbia popular with "young marrieds."
[Source: William J. Helmer. "New York's 'Middle Class' Homosexuals." Harper's Magazine (March 1963): 85-92. Thanks to BTB reader Rob for providing a copy of the Harper's article.]
If you know of something that belongs on the agenda, please send it here. Don't forget to include the basics: who, what, when, where, and URL (if available).
And feel free to consider this your open thread for the day. What's happening in your world?
Uganda's Inter-Religious Council Calls On Government to Revisit Anti-Homosexuality Act
Jim Burroway
March 14th, 2014
While the rest is outraged over Uganda's passage of the Anti-Homosexuality Act which imposes lifetime imprisonment for LGBT people and lengthy prison sentences for their supporters, the controversy inside Uganda is being augmented over a recently passed Anti-Pornography Act, which, according to reports (caveat: I haven't seen the text of the Act itself), allegedly bans women from wearing miniskirts. This has led to a number of mob assaults on women throughout the country who are seen wearing clothing that others perceive to be in violation of the law. In many of these cases, the women have been forcibly stripped of their clothing in public.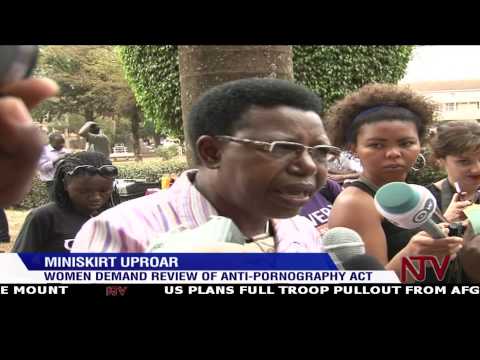 This is just part of the background behind a letter from the Inter-Religious Council of Uganda that appeared in yesterday's Daily Monitor, Uganda's largest independent newspaper. The letter from the Council's General Secretary calls on the government to revisit the Anti-Pornography Act somewhat in passing while arguing for major changes to the Anti-Homosexuality Act.
The Inter-religious Council of Uganda would like to comment on the homosexuality and pornography debate particularly the anti-homosexuality and anti-pornography laws.

Having studied the two laws in detail, we have come to the conclusion that the laws actually seek to protect the moral fibre of our society by stopping recruitment and promotion of homosexual acts, and indecent behaviour.

In our earlier statements on the Anti-Homosexuality Bill, we demonstrated availability of evidence to prove that recruitment into and promotion of homosexuality was indeed taking place in some of our schools and society as a whole, and this was targeting mainly young people.

However, we discovered that a number of clauses in the laws could be subject of abuse. For example: Section 2 of the Anti-Homosexuality Act is too broad as it talks about incriminating someone on the basis of "touching a person of the same sex with the motive of having sex with them". The interpretation of "touch" is subjective, and may imply that anyone can be accused of homosexuality and fail to defend himself.

Section 13 of the same Act stipulates that it is an offence for "any person to use electronic devices (internet, films and mobile phones) for purposes of abetting or promoting homosexuality. The problem here is that if a person/media house writes an article trying to show homosexuality as 'natural' then he/she commits an offence earning a stiff penalty to either the individual or the media house.

In light of the above, we propose the following:

Parliament revisits certain provisions in the Act, especially those relating to punishment of offenders. Our view, which is informed by pastoral considerations and our earlier position in which we advised government to drop certain provisions in the then Bill, is that the sentences prescribed for homosexual acts must be proportional to the gravity of such acts.

Government stops the media from publishing names of persons it purports to be homosexuals, or promoting homosexuality in Uganda. Politicians and sections of religious leaders also stop using inflammatory language in the debate on homosexuality. Government also revisits the Anti-Pornography law in light of recent attacks of women.

Government provides clear frameworks for implementation of both laws.

Government dialogues with the donor community on the looming suspension of aid to our country.
The Daily Agenda for 3.14
Jim Burroway
March 14th, 2014
Today is International Pi Day (although I have to wonder just how international it really is. In most countries the date is written as day/month/year. Anyway.)  Here are some interesting facts about pi:
The letter π is the first letter of the Greek word "periphery" and "perimeter." The symbol π in mathematics represents the ratio of a circle's circumference to its diameter. In other words, π is the number of times a circle's diameter will fit around its circumference.
The Rhind Papyrus was the first attempt to calculate pi by "squaring the circle," which is to measure the diameter of a circle by building a square inside the circle.
Ludolph van Ceulen (1540-1610) spent most of his life calculating the first 36 digits of pi (which were named the Ludolphine Number). According to legend, these numbers were engraved on his now lost tombstone.
William Shanks (1812-1882) worked for years by hand to find the first 707 digits of pi. Unfortunately, he made a mistake after the 527th place and, consequently, the following digits were all wrong.
In 2002, a Japanese scientist found 1.24 trillion digits of pi using a powerful computer called the Hitachi SR 8000, breaking all previous records.
If the circumference of the earth were calculated using π rounded to only the ninth decimal place, an error of no more than one quarter of an inch in 25,000 miles would result.
Thirty-nine decimal places of pi suffice for computing the circumference of a circle girding the known universe with an error no greater than the radius of a hydrogen atom.
Since there are 360 degrees in a circle and pi is intimately connected with the circle, some mathematicians were delighted to discover that the number 360 is at the 359th digit position of pi.
Computing pi is a stress test for a computer—a kind of "digital cardiogram."
In the Star Trek episode "Wolf in the Fold," Spock foils the evil computer by commanding it to "compute to the last digit the value of pi."
TODAY'S AGENDA:
Events This Weekend: Scandinavian Ski Pride, Hemsedal, Norway; Elevation Mammoth Gay Ski Week, Mammoth Lakes, CA; Carnival Maspalomas, Maspalomas, Gran Canaria.
TODAY'S AGENDA is brought to you by:

Weldon Webb and Kevin Hartley moved from Salina, California, to Monterey and bought a little dive bar, Johnny's Dew Drop In, and transformed it into a flashy gay bar and discotheque. In addition to an inviting dance floor and top-notch sound system, After Dark featured a spacious multi-level patio with two fireplaces and a quieter bar out back. Meanwhile, the dance floor featured some of the finest D.J.s in the country. But by the 1990s, times had to changed. After Dark finally turned dark on January 31, 1999. The building now houses a low key straight bar, Carbone's, which still features the multi-level patio and one of the fire pits.
TODAY IN HISTORY:
Naval Intelligence Police Raid Gay Brothel: 1942. Prostitution was against the law, and police regularly raided brothels whenever they found them. On that point, this raid wouldn't be much different, at least at the start, when Navy police raided one at 329 Pacific Street in Brooklyn. But because the Brooklyn Naval Yards had been the center of Brooklyn's gay life since Walt Whitman's days there after the Civil War, and Naval intelligence was very sensitive to the goings-ons in the area. They also had received tips that the brothel had become a hangout for Nazi spies and sympathizers. They arrested the brothel's manager, Gustave Beekman, and then told him that if he cooperated with federal authorities, they'd go easy on his sentence. His cooperation led to the arrest of several foreign agents. So far, so good, right?
Well, when the New York Post broke the story of the raid on May 1, the paper all but named as one of the brothel's patrons Sen. David Walsh (D-MA), a confirmed bachelor with a reputation as a dandy — and, more to the point of this story, Chairman of the Senate Naval Affairs Committee. The FBI moved quickly to clear Walsh of wrongdoing and the case was closed, despite his homosexuality being one of the worst kept secrets in Washington and Massachusetts. As for Beekman, federal agents reneged on their promise. He was charged with sodomy and given the maximum sentence: twenty years in Sing Sing. He entered prison on October 5, 1942 and wasn't released until April 1, 1963, at the age of 78.
[Sources: Jonathan Katz. Gay American History: Lesbians and Gay Men in the U.S.A. (New York: Thomas Y. Crowell, 1976): 580-581.]
Joseph McCarthy Adds Names to His Famous List: 1950. In February, Sen. Joseph McCarthy's national profile went through the roof when, during a speech at the Republican Women's Club if Wheeling, West Virginia, he announced, "I have here in my hand a list of 205 — a list of names that were made known to the Secretary of State as being members of the Communist Party and who nevertheless are still working and shaping policy in the State Department." He never did make that list public, but on this date in history he submitted 25 more names of State Department employees that he said should be investigated to the Senate Foreign Relations Subcommittee. He also claimed, according to press reports, "that a homosexual had been hired by the Central Intelligence Agency after the State Department allowed him to resign. He did not name the man, but said his perversion made him a bad security risk." And thus, the Lavender Scare was born.
"1,112 and Counting…": 1983. More than a year had passed since playwright Larry Kramer helped to found the Gay Men's Health Crisis (see Jan 12) to provide the kind of social services to gay men with AIDS that New York's public health agencies were loathe to address. In the succeeding fourteen months, the death toll continued to rise and the paralysis which had struck local public health officials seemed no closer to abating. Kramer, who was never known for squelching his anger whenever or wherever it arose, took his frustrations out in an essay, titled "1,112 and Counting…" in the March 14, 1983 edition of The New York Native, which at that time was just about the only source the gay community could turn to for the latest news (and obituaries) on the epidemic. It began:
If this article doesn't scare the shit out of you, we're in real trouble. If this article doesn't rouse you to anger, fury, rage, and action, gay men may have no future on this earth. Our continued existence depends on just how angry you can get.

I am writing this as Larry Kramer, and I am speaking for myself, and my views are not to be attributed to Gay Men's Health Crisis.

I repeat: Our continued existence as gay men upon the face of this earth is at stake. Unless we fight for our lives, we shall die. In all the history of homosexuality we have never before been so close to death and extinction. Many of us are dying or already dead.

Before I tell you what we must do, let me tell you what is happening to us.

There are now 1,112 cases of serious Acquired Immune Deficiency Syndrome. When we first became worried, there were only 41. In only twenty-eight days, from January 13th to February 9th [1983], there were 164 new cases – and 73 more dead. The total death tally is now 418. Twenty percent of all cases were registered this January alone. There have been 195 dead in New York City from among 526 victims. Of all serious AIDS cases, 47.3 percent are in the New York metropolitan area.

These are the serious cases of AIDS, which means Kaposi's sarcoma, Pneumocystis carinii pneumonia, and other deadly infections. These numbers do not include the thousands of us walking around with what is also being called AIDS: various forms of swollen lymph glands and fatigues that doctors don't know what to label or what they might portend.
When Kramer wrote his essay, the announcement of the discovery of HIV, the virus that causes AIDS, was still two months away (see May 20):
And, for the first time in this epidemic, leading doctors and researchers are finally admitting they don't know what's going on. I find this terrifying too – as terrifying as the alarming rise in numbers. For the first time, doctors are saying out loud and up front, "I don't know."

For two years they weren't talking like this. For two years we've heard a different theory every few weeks. We grasped at the straws of possible cause: promiscuity, poppers, back rooms, the baths, rimming, fisting, anal intercourse, urine, semen, shit, saliva, sweat, blood, blacks, a single virus, a new virus, repeated exposure to a virus, amoebas carrying a virus, drugs, Haiti, voodoo, Flagyl, constant bouts of amebiasis, hepatitis A and B, syphilis, gonorrhea.

I have talked with the leading doctors treating us. One said to me, "If I knew in 1981 what I know now, I would never have become involved with this disease." Another said, "The thing that upsets me the most in all of this is that at any given moment one of my patients is in the hospital and something is going on with him that I don't understand. And it's destroying me because there's some craziness going on in him that's destroying him." A third said to me, "I'm very depressed. A doctor's job is to make patients well. And I can't. Too many of my patients die."
Not that finally knowing that a virus was causing this mayhem was going to ease the sense of panic among those who saw the devastating effects first hand. Whatever panic Kramer experienced, he channeled it towards anger. He lashed out at the National Institutes of Health for its delays in grant funding, at The New York Times for its lack of coverage, at city Health Commissioner David Spencer for the "appalling" lack of health education, at the publishers of medical journals for the excruciatingly slow pace of the peer review process which had the effect of withholding vital information — sometimes by as much as a year — from doctors on the front lines, at The Advocate for soft-peddling the growing epidemic, and at the gay community itself:
If all of this had been happening to any other community for two long years, there would have been, long ago, such an outcry from that community and all its members that the government of this city and this country would not know what had hit them.

Why isn't every gay man in this city so scared shitless that he is screaming for action? Does every gay man in New York want to die?
But his sharpest barbs were reserved for the (barely) closeted New York Mayor Ed Koch:
Our mayor, Ed Koch, appears to have chosen, for whatever reason, not to allow himself to be perceived by the non-gay world as visibly helping us in this emergency. Repeated requests to meet with him have been denied us. Repeated attempts to have him make a very necessary public announcement about this crisis and public health emergency have been refused by his staff. I sometimes think he doesn't know what's going on. I sometimes think that, like some king who has been so long on his throne he's lost touch with his people, Koch is so protected and isolated by his staff that he is unaware of what fear and pain we're in. No human being could otherwise continue to be so useless to his suffering constituents. When I was allowed a few moments with him at a party for outgoing Cultural Affairs Commissioner (and Gay Men's Health Crisis Advisory Board member) Henry Geldzahler, I could tell from his responses that mayor Koch had not been well briefed on AIDS or what is happening in his city. When I started to fill him in, I was pulled away by an aide, who said, "Your time is up." … One can only surmise that our mayor wants us treated this way.
Kramer closed by listing his friends who had died of AIDS, twenty-one names long, "and one more, who will be dead by the time these words appear in print. If we don't act immediately, then we face our approaching doom." The article also included a call to direct action. In doing so, it forever changed the way AIDS was discussed in the gay community. Randy Shilts, writing in And the Band Played On
, called Kramer's essay "inarguably one of the most influential works of advocacy journalism of the decade. '1,1112 and Counting…' swiftly crystallized the epidemic into a political movement for the gay community at the same time it set off a maelstrom of controversy that polarized gay leaders."
You can read the full essay here.
TODAY'S BIRTHDAY:
Sylvia Beach: 1887-1962. The daughter of a Presbyterian minister and a doting mother, Beach became enthralled with Paris while her father was posted there as an assistant pastor at the American Church. The family returned to America in 1906 when her father took a post at a church in Princeton, New Jersey, but Beach returned to Europe for several return trips, including a two year stint in Spain. During the First World War, she served in the Red Cross in Serbia before finally settling in Paris to study contemporary French literature.
It was during the course of her studies that she discovered Adrienne Monnier's bookshop, La Maison des Amis des Livres. The two took an instant liking to each other, became lovers, and remained together for the next thirty-six years until Monnier's death in 1955. In 1919, Beach opened her own bookstore, Shakespeare and Company, as an English-language counterpart to Monnier's bookshop and lending library. Beach's bookshop quickly became a favorite meeting place for American expatriate writers, and in 1921, she moved Shakespeare and Company to larger quarters at 12 rue de l'Odéon, right across the street from Monnier's.
For the next two decades, Shakespeare and Company would operate as a kind of a community center, bank, library, post office, crash pad, office, and even publishing company, when Beach took the chance to publish James Joyce's Ulysses when no other publisher would touch it. Loyal customers and patrons included Ernest Hemmingway (she called him "my best customer"), T.S. Elliot, Paul Valery, André Gide, Ezra Pound, F. Scott Fitzgerald, Natalie Barney, Gertrude Stein and Man Ray. Her supporters rallied to Beach's aid when she thought she would be forced to close the shop in 1936. She remained open after the Germans entered Paris, but she was forced to close in 1940 and was interned for six months. She kept her books in a vacant upstairs apartment. In 1944, Hemmingway famously "liberated" Shakespeare and Company, but the shop never re-opened for business.
In 1955, Beach wrote her memoir, Shakespeare and Company
, about the cultural life of Paris during the inter-war years. She remained in Paris until her death in 1962. Columbia University Press published an edition of Sylvia Beach's letters
in 2010.
In 1964, George Whitman, an American bookseller in Paris, renamed his bookstore Shakespeare and Company as a tribute to Beach's shop. He also named his daughter Sylvia Beach Whitman, who runs that store today.
If you know of something that belongs on the agenda, please send it here. Don't forget to include the basics: who, what, when, where, and URL (if available).
And feel free to consider this your open thread for the day. What's happening in your world?
Too Much Safety is a Dangerous Thing
Rob Tisinai
March 13th, 2014
I went to grad school at Stanford and I am appalled that the university has decided to protect its students from anti-gay speech.
Is appalled the right word? "to fill or overcome with horror, consternation, or fear; dismay"
Yes, that's the word.  Apparently this happened:
Last Wednesday evening, the Graduate Student Council (GSC) denied funding for an event hosted by the Stanford Anscombe Society (SAS) following community outcry over alleged "anti-LGBT" content.

SAS's April conference, titled "Communicating Values," has a two-fold purpose, according to SAS president Judith Romea '14, between educating attendees on the public policy issues surrounding marriage and family and exploring how media, entertainment and technology can be used to better facilitate the communication underlying marriage and the family.

SAS had sought $600 in honoraria funds from the GSC for conference speakers. However, members of GradQ, the queer graduate student organization, criticized the speaker list–which included Robert Lopez, Kellie Fiedorek and Ryan Anderson–as inappropriately controversial.
Okay, that's not the appalling part. Some speakers get funded and some speakers don't. No, the appalling part is why.
Bringing the speakers to Stanford would threaten the safety of campus for the queer population, according to Brianne Huntsman '15, who started a Facebook event to organize a rally at the GSC meeting on Wednesday night.

"A lot of students who are queer come to Stanford because it's one of the most LGBT-friendly places in the world," Huntsman said. "I grew up in Utah, where it was really conservative and a lot of us come from similar backgrounds, and we feel that we every time we go home. Stanford is supposed to be a safe space for us."
I am so flipped out that I have to get my mockery out of the way before I can give a measured response.
Oh, I'm sorry, Brianne, did you apply to one of the world's great universities just so you could have your own precious thoughts reinforced? Is disagreement enough to make you feel unsafe?
Are you longing for the queer equivalent of Liberty Baptist or Bob Jones University, places where frightened evangelicals send their kids to avoid dissenting voices? Are you longing for a world-class education in a place where you never have to defend your views, where you never have to pick apart a deeply flawed argument and tear it to shreds?
Are you under the impression that the university as a "safe space" means anything except a safe space for vigorous and rigorous disagreement and discourse? Are you hoping to enter a diverse and discordant world without having to practice the critical thinking you'll need to make a change?
When you hear, "Ideas are dangerous," do you shout an exultant Yes! with a fist in the air, or do you take it as a signal to protect yourself and others from improper thoughts? 
In case you're wondering, that started as sarcasm and ended as a growl.
I can rephrase this with more equanimity using two quotes. First, this from Thomas Jefferson:
For here we are not afraid to follow truth wherever it may lead, nor to tolerate any error so long as reason is left free to combat it.
I believe that completely. I believe it rationally, and I believe it with all my heart. I believe it because I have to.
And this from William Butler Yeats:
Education is not the filling of a bucket, but the lighting of a fire.
The purpose of a great education is not to fill you with appropriate ideas. It's to bring you into the battle for truth, to arm you, and to sharpen your skills. Now, I don't know who Kellie Fiedorek is, and Robert Lopez is, frankly, an idiot — or at least so consumed by his own demons that he can't think clearly. But Ryan Anderson is co-author of What is Marriage? with tenured Princeton professor Robert George. It's an ill-reasoned piece of crap, but an ill-reasoned piece of crap that showed up in Supreme Court Justice Alito's Windsor dissent.
I shredded that thing (in my humble opinion) and I did it because I wanted to, because I loved doing it. I did it because I got an education that didn't just fill me like a bucket. It lit me like a fire. It prepared me to deal with dangerous ideas and maybe offer a few of my own. That's what Brianne Huntsman and her friends need. Ryan Anderson ought to be welcome to speak at the school, not because his influential ideas are safe, but precisely because they're not.
Report: U.S. Suspends Portion of Governmental Aid to Uganda
Jim Burroway
March 13th, 2014
Reuters, which is the only outlet so far reporting the story, quotes " a senior U.S. government official":
"As a result of this review process, a portion of the U.S. Centre for Disease Control's (CDC) cooperative agreement with the Ministry of Health has been put on hold pending this review," a senior U.S. government official told Reuters on Thursday.

The U.S. official did not say how much aid was withheld but added the CDC had spent $3.9 million on a ministry of health program last year.

Uganda's health ministry said it had been told it would no longer be able to access money from a fund used to buy antiretroviral drugs and HIV testing kits.
There has been a great deal of concern that with the passage of the Anti-Homosexuality Act, LGBT people in Uganda would either face discrimination when trying to access health care or would fear their exposure and arrest if they were to try to go to a government-run health care clinic or health care facility. Given that the Anti-Homosexuality Act threatens imprisonment to anyone who "aids, abets, (or) counsels …another to engage in acts of homosexuality " — which can easily be interpreted as banning safer-sex counseling, or providing information or health care related to the sexual health to gay people – these are not unreasonable fears.
Total U.S. aid to Uganda is estimated at $723 million for 2013. As far as I can tell, this figure includes aid to the Ugandan government as well as non-governmental grants.
Norway, Demark and the Netherlands, which collectively had provided $27 million in aid to Uganda, announced that they are cutting aid to the Ugandan government. Two weeks ago, the World Bank announced that it was putting on hold a $90 million loan to Uganda's health service. Last week, Sweden announced that they were cutting just a little over $1 million in direct government-to-goverment aid, but was continuing to provide aid to non-govermental programs.
Marriage Equality (Partly) Arrives In Britain
Jim Burroway
March 13th, 2014
Today, registrars across England and Wales began accepting declarations of intent to marry from same-sex couples as major portions of the recently enacted same-sex marriage legislation went into effect at midnight. This means that the first weddings taking place in England and Wales will take place on March 29 following the required 15-day waiting period. There are exceptions to that waiting period:
The official guidance states: "The Registrar General can allow a marriage to take place without the normal 15-day notice period where one of the couple is seriously ill and is not expected to recover, and in other urgent cases such as where a person is due to be deployed overseas in the armed forces. Such marriages of same sex couples will be possible from Thursday, 13 March 2014."
They won't however been the first same-sex married couples in England and Wales. Couples who were married overseas got a head start in becoming legal spouses today as their marriages became legally recognized at the stroke of midnight.
Procedures for converting civil partnerships into marriage will be put in place later this year.
Meanwhile, Queen Elizabeth II has given her Royal Assent to Scotland's same-sex marriage law today. Same-sex marriages in Scotland will become legal sometime later this year.
Northern Ireland remains the only corner of the United Kingdom where there has been no movement on marriage equality. This is despite more than half of residents supporting same-sex marriage, with particularly strong support among Catholics.
Crisis Notwithstanding, World Congress of Families Presses Ahead in Kiev, Moscow
Jim Burroway
March 13th, 2014
The crisis in Crimea will naturally continue to consume the world's attention. Forgotten, of course, is last month's report of proposals before Ukraine's Parliament to institute a Russian-style anti-gay "propaganda" law. With the new Ukraine government still trying to find its footing and expending every energy on the ongoing crisis, this legislative effort appears to have fallen off everyone's radar. Well, almost everyone. Here's an email from the Rockford, Illinois-based World Congress of Families that landed in my inbox this morning.
World Congress of Families managing director Larry Jacobs today called on the international pro-life and pro-family network to pray for peace in Ukraine. "We are concerned about the crisis in Ukraine and pray for world leaders to come together to promote peace and resolve the conflict," Jacobs said. "We echo Pope Francis's prayer, 'that all parts of the country work to overcome misunderstandings and to build together the future of the nation.' "We have many Christian friends and pro-family leaders of all faiths in all regions of Ukraine. We pray for their safety and their important work to promote authentic human rights, encourage the natural family, and protect human life from conception to natural death.

Jacobs announced that planning for a special World Congress of Families event in Ukraine's capital city of Kiev would continue. "After speaking with our friends and supporters in Ukraine, we are pleased to announce that they are continuing their efforts to organize a World Congress of Families regional meeting in Kiev this summer in collaboration with WCF leaders from Eastern Europe and Russia to promote the natural family as the fundamental unit of a free and stable society that transcends all political differences and the interests of nations and armies," he said.
In 2007, Jacobs was a key speaker at a Watchmen On the Walls conference in Riga, Latvia, which also featured  American anti-gay extremists including Don Federer and Scott Lively.
World Congress of Families is pressing ahead with its main congress this year in Moscow, at the Kremlin with finding from Vladimir Putin allies and a joint session with the Russian Parliament. Planned participants in Moscow are said to include Brian Brown of the National Organization for Marriage, Tom Minnery of Focus on the Family, Benjamin Bull of Alliance Defending Freedom, Justin Murff of the Christian Broadcasting Network and Austin Ruse of the Catholic Family & Human Rights Institute.
The Daily Agenda for Thursday, March 13
Jim Burroway
March 13th, 2014
TODAY'S AGENDA:
Events This Weekend: Scandinavian Ski Pride, Hemsedal, Norway; Elevation Mammoth Gay Ski Week, Mammoth Lakes, CA; Carnival Maspalomas, Maspalomas, Gran Canaria.
TODAY'S AGENDA is brought to you by:

Rocks went through three incarnations in Palm Springs/Cathedral City. The first at 67977 East Palm Canyon Drive was built around a palm tree, which stood inside the bar and poked out of the building through a hole in the roof. That location burned down a few years later, and a Volvo dealership now stands at its location. The second location, not far from the first, didn't last long either. It was apparently torn down and the property was redeveloped. Rocks then moved to the second level of a shopping center at 67555 E. Palm Canyon. That location later became Sidewinders until it closed a few years ago.
TODAY IN HISTORY:
Michigan Man Commits Suicide Ahead of Sentencing: 1960. The crackdown against homosexuality being waged by Ann Arbor police and officials at the University of Michigan (see yesterday) took a tragic turn when one man who was due in court for sentencing was found dead in a hotel in St. Louis.
James P. Wiles had been found guilty of "attempting to procure an act of gross indecency" on March 7. The judge set sentencing for March 15, while Wiles's lawyer announced that he would appeal the case to the Michigan Supreme Court, contending that Wiles had been the victim of police entrapment. But two days before that sentencing date, the 53-year-old Detroit resident's body was discovered by a hotel clerk at the Melbourne Hotel when the clerk called to check in on the man after he failed to answer his phone. He had checked into the hotel under an assumed name on Thursday, March 10, three days after his conviction, and on the same day when he was reported missing from his home.
[Source: "Michigan Campus Purge Felt with Added Fury." Mattachine Review 6, no. 5 (May 1960): 10, 21.]
If you know of something that belongs on the agenda, please send it here. Don't forget to include the basics: who, what, when, where, and URL (if available).
And feel free to consider this your open thread for the day. What's happening in your world?
Lithuania Considers Anti-LGBT Law; Is This A Problem For U.S. State Department?
Randy Potts
March 12th, 2014
As more countries consider the anti-LGBT legislation passed by the Russian Duma in June of 2013, the U.S. State Department and anti-gay U.S.-based evangelical Christian movements are heading towards an unavoidable clash.
LGL, the National LGBT Rights Organization, reports that (NATO member) Lithuania is now considering laws based on the Russian Duma's anti-LGBT legislation from June 2013:
 The bill was proposed by MP Petras Gražulis in reaction to the upcoming Baltic Pride 2013 March for Equality. MP hasstated that the rationale for the amendment arose from the "current weaknesses of Lithuanian legal system, when promotion of the harmonious, traditional family values is often estimated as unfounded and illegal discrimination against sexual minorities for their sexual orientation". According to the proponent of the amendment, "the faulty practice appears when the fight against discrimination on the grounds of sexual orientation is being used as a shield. As a consequence, traditional family values are being discriminated, which are appreciated by the people who value heterosexual sexual relations".
Jim Burroway recently reported that Ukraine is considering similar legislation.  The news from Lithuania is brand new so it's difficult as yet to see where the proposals have come from and if there is a link to U.S.-based anti-gay Christian groups.  In Ukraine, however, the link seems clear.  The WCF leader Don Feder is in Ukraine this very week; WCF will also be holding a values summit in Russia in fall of 2014.
U.S.-based World Congress of Families' Don Feder is in Ukraine "to defend the natural family" & fight the gay agenda https://t.co/E6SWQrRXHk

— randy r. potts (@randyrpotts) March 11, 2014
When asked about this summit recently the WCF stated that "Putin doesn't threaten our national security, Obama does." Jeff Sharlet in his 2011 book C Street tied anti-gay U.S.-based Christian groups to a burgeoning evangelical movement in Ukraine; presumably, the WCF is working with this same movement, helping push the new anti-LGBT laws now under consideration.
It seems this is going to be a big problem for the U.S. State Department which it has, so far, been able to ignore.  Hillary Clinton set a new tone on gay rights, explicitly stating that the U.S. will support LGBT people and announcing a "global initiative to promote LGBT rights as human rights." At the same time, groups like WCF and individuals like Scott Lively are actively undermining this initiative, and openly supporting Putin over Obama.
Your move, John Kerry.
The Daily Agenda for Wednesday, March 12
Jim Burroway
March 12th, 2014
TODAY'S AGENDA:
Events This Weekend: Scandinavian Ski Pride, Hemsedal, Norway; Elevation Mammoth Gay Ski Week, Mammoth Lakes, CA; Carnival Maspalomas, Maspalomas, Gran Canaria.
TODAY'S AGENDA is brought to you by:

The name pretty much says it all. You can read Jack Fritscher's memories of the Brothel Hotel here.
TODAY IN HISTORY:
Nine Plead Guilty To "Gross Indecency" In Ann Arbor, MI: 1960. The city of Ann Arbor, Michigan is sometimes called the Berkeley of the Midwest for its reputation for progressive politics. In 1974, Ann Arbor voters elected the nation's first openly lesbian candidate to its city council (See Apr 1). But in 1960, things weren't so comfortable for gay people. Earlier in the year, Ann Arbor and University of Michigan police had embarked on a series of raids around campus which netted at least 34 arrests, and they were scheduled to appear in court on March 12. The arrests were generally involving homosexuality in some respects, including "acts of gross indecency and attempting to procure between males."
On March 12, attorneys for nine of the men asked for jury trials, whereupon Judge James R. Breakey, Jr., announced that if the defendants insisted on wasting his "valuable time" and the jury found them guilty, he would sentence them to six months in Southern Michigan Prison in Jackson, and add increased fines for good measure. But if the defendants change their plea to guilty and "throw themselves on the mercy of the court," they would be sentenced to thirty days in jail, a $250 fine plus court costs, and five years' probation. All nine took the bargain and changed their pleas to guilty.
[Source: "Michigan Campus Purge Felt with Added Fury." Mattachine Review 6, no. 5 (May 1960): 10.]
New York Times Magazine's "Homosexuality On Campus": 1978. In February of 1978, the U.S. Supreme Court, in declining to review a lower court ruling, let stand a decision requiring the University of Missouri to recognize a gay student group as an official campus organization. That ruling became the backdrop for journalists Grace and Fred Hechinger's profile on the state of homosexuality on the nation's campuses for the New York Times Magazine. The Hechingers traveled to six campuses — Yale, Stanford, U.C. Berkeley, Northwestern, Missouri, and Hood College (a small women's college in Frederick, Maryland) — to explore the extent to which attitudes had changed on campus toward gay people, and the growing visibility of gays themselves. There were inevitable conflicts, but the journalists focused less on overt displays of homophobia and concentrated instead on the interpersonal challenges:
For many members of the homosexual minority, being homosexual is still almost as much a disadvantage as it was 30 years ago. As freshmen, they enter into a peer culture that, for the first time, is free of most parental and general adult restraints. A new world of experimentation opens up. The homosexuals — many of them for the first time confronting, or perhaps merely suspecting, their homosexuality — are thrown into a world in which they must function without feeling fully part of it. It is a world dominated by powerful traditional and communal mores and symbols. All around them, heterosexual preoccupations with dating and mating are at a peak. Sex looms large among student concerns and conversation. The basic difference in interest is bound to erect a barrier between homosexual and heterosexual roommates….

An editor of an undergraduate daily admitted that he felt a certain sickness about homosexuals," but on the political level I'm supportive." As a junior he had picked a homosexual roommate from a choice of two. The heterosexual candidate was addicted to loud music; the homosexual one had a lot of books, was interested in history. "On a conscious level," the editor, now a senior, said, "there was no problem. But still I didn't get to be good pals with him. His life outside school was different from mine. There was a gap. I feel like the white liberal kid talking about a black roommate."
But most of the article focused on gay students themselves, mainly on issues surrounding how and whether to come out on campus and with their families. Some campuses had responded with group programs to aide in navigating the complex waters:
At Northwestern, James E. Avery, the university's young and articulate chaplain, arranged for us to meet with a group of homosexual students and Samuel Todes, the associate professor of philosophy, who is one of the rare species of homosexual faculty members willing to "come out." Professor Todes reported that every Wednesday evening a discussion group is held, attended by some 40 students, most of whom are in the process of "coming out." The discussion group, said Professor Todes, "is a small breathing hole in what is still a pretty airtight closet."

…At Standord, we joined The Bridge, a peer-counseling group, in an informal afternoon discussion. Sitting in a circle, cross-legged on pillows, the group of young men and women looked like any other college rap session. Although we had been told that at least half of those present were homosexual, it would have been impossible to tag them, confirming our observation that on campuses, as elsewhere, only a small number of homosexuals matched popular stereotypes.

In sharing the emotional strain of many of their follow students, these young people underscored the tough side effects of coming out, even the tentative declarations to a few friends. One heterosexual student described her reaction when a member of the group had told her he was homosexual. "What was I supposed to say? You can't just reply, 'That's interesting, what else is new?' "

…"Coming out," said Dave, a peer counselor as well as a leader in the Gay People's Union, "is a very liberating experience, but you have to be awfully sure of yourself to handle negative attitudes."
TODAY'S BIRTHDAY:
Edward Albee: 1928. The playwright best known for The Zoo Story (1958), The Sandbox (1959), Who's Afraid of Virginia Woolf? (1962), Albee was adopted just a few weeks after he was born by a wealthy theatrical management family involved with the Keith-Albee vaudeville circuit in New York. His parents gave him all of the advantages of wealth, but he never felt close to them. He figured out he was gay when he was twelve and away at boarding school. He never really came out to his parents — "There were many things they never discussed with me – that being one of them – but I didn't feel close enough to them to impose on them to discuss anything, not that I felt I needed any discussion about it."
Friends and collaborators describe him as crusty and curmudgeonly. Writers, when writing about him, find it impossible to resist titling their efforts, "Who's Afraid of Edward Albee?" His reaction to being labelled a "gay writer" illustrates this trait. When he was given the Pioneer Award at the 2011 Lambda Literary Awards, he said, "A writer who happens to be gay or lesbian must be able to transcend self. I am not a gay writer. I am a writer who happens to be gay. Any definition which limits us is deplorable." Many artists in attendance took offense at that remark, but Albee stuck to his guns, explaining to NPR "Who goes around talking about abstract expressionist painters and making a definition or a distinction between those of them that were straight and those of them who were or are gay? Nobody does it. People only do it with writers and I find that so ridiculous." But that doesn't mean he's a fan of assimilation:
Why do all gay people wish to vanish into this society? Is it self-protection? I don't know. I just don't want us to be forced to think that we must imitate other people and behave the way they do in order to become invisible.

I had a 35-year relationship. Were we married? Yeah, I guess we were. We certainly felt that we were. We certainly treated each other like we were married to each other. Did we ever feel the need to get a marriage license? No, of course not. We knew we were married to each other. All this legality that people seem so involved with nowadays, it troubles me just a little bit. I understand all the problems to come with wills and families denying access to the loved one and all of that, but come on, do we really want to be exactly like straight people?
Albee has received three Pulitzer Prizes, for A Delicate Balance (1967), Seascape (1975), and Three Tall Women (1994). The Pulitzer's drama jury selected Who's Afraid of Virginia Woolf for the 1963 prize, but the jury was overruled by the advisory committee which decided not to give a drama award for that year. Who's Afraid of Virginia Woolf  did get a Tony for best play that year, as did 2002′s The Goat, or Who Is Sylvia? In 2005, Albee was honored with a special Tony for lifetime achievement.
If you know of something that belongs on the agenda, please send it here. Don't forget to include the basics: who, what, when, where, and URL (if available).
And feel free to consider this your open thread for the day. What's happening in your world?
Marriage in the Western states, brought to you by Abbott Labs
Timothy Kincaid
March 11th, 2014
In January, the Ninth Circuit Court of Appeals ruled on a HIV drug pricing dispute between GlaxoSmithKline and Abbott Laboratories. Part of the dispute was over whether a potential juror could be excused because he was gay. Although Abbott insists that they excused him for other reasons, the Ninth Circuit found otherwise and ruled that just as one cannot exclude racial minorities or women from the jury pool, gay people also could not be excluded.
But the more important portion of their ruling had to do with why a gay man could not be excluded. For the first time at the Appeals Court level, it was determined that discrimination based on sexual orientation is subject to heightened scrutiny. This was a game changer.
Although courts have increasing held that gay people are entitled to equality in marriage and other matters, they've done so on 'reasonable basis' determinations, the lowest level of consideration. It is generally agreed that if laws that segregate by orientation are held to heightened scrutiny, few if any can survive.
In fact, so certain is this conclusion that the Democratic Attorney General and Republican Governor of Nevada decided that they would not even defend their state's anti-gay marriage ban, citing the Ninth Circuit's ruling.
However, all of this is subject to the US Supreme Court upholding or striking down the Ninth Circuit's standard of scrutiny. If they were to hear Abbott Lab's appeal (or that of AbbVie, the spin-off that is now the legal party in the dispute), they could strike down this decision and deal a rather heavy blow to the community.
But they won't.
Because they are not going to hear the appeal.
Because Abbott Labs has decided that some things are more important than winning in court. (BuzzFeed)
An AbbVie spokesman, Dirk van Eeden confirmed that the company would not be pursuing further appeals in the case.

"AbbVie recognizes that the implications of the Court's findings extend far beyond the underlying case. For that reason, we chose not to appeal," van Eeden told BuzzFeed.
This is a potentially multi-million dollar decision. Frankly, I'm a bit stunned.
They may still appeal another section of the ruling. And perhaps they figured they'd lose anyway so why put out the cost of appeal. Or maybe they didn't want to alienate customers.
But on the face of it, AbbVie chose to behave like a good citizen and neighbor. And because of that decision, I believe that probably before the end of the summer all area covered by the Ninth Circuit – Alaska, Arizona, California, Hawaii, Idaho, Montana, Nevada, Oregon, Washington, and possible Guam and the Mariana Islands – will have marriage equality.
Marriage comes to United Methodist Church, in New York
Timothy Kincaid
March 11th, 2014
The United Methodist Church has been split for decades over the issue of where gay people fit within the body of faith. Many churches, even districts, have made loud gestures of inclusion and advocated for equality. But the UMC is a global, rather than national, denomination and representatives from Asia and Africa have allied with conservatives in the US to block advancement and inclusion. And so gay members remain banned from the clergy and officiating at same-sex marriages is forbidden.
Consequently, there is a growing sense of frustration by many of the UMC laity and clergy and an increasing likelihood of schism. This has been exacerbated by the ferocious and punitive responses by conservative Methodists who, holding the advantage of votes from foreign delegates, have arrogantly imposed their values on the majority of American Methodists.
The latest example was in November when a church trial in Pennsylvania convicted Frank Schaefer of violating the Methodist Book of Discipline by officiating at his son's wedding. Those leading the charge were vile in their attack and succeeded in having Schaefer de-credentialed.
In response, Minerva Carcaño, UMC Bishop of Los Angeles, invited Schaefer to Southern California to work out of her office and to minister, though in a somewhat lesser capacity.
But while Schaefer's trial caught the attention of the church and the public, it promised to pale in comparison to the scheduled trial of another Methodist minister accused of breaking the church's doctrine by officiating at his son's wedding. Schaefer was somewhat obscure, but Rev. Dr. Thomas W. Ogletree is not. (Yale)
Professor Ogletree has served as dean of Yale Divinity School (1990–96) and the Theological School at Drew University (1981–90). He was director of graduate studies in religion at Vanderbilt University (1978–81). He is the author of five books… He was also one of the principal drafters of the current United Methodist Disciplinary statement on doctrinal standards. Under the auspices of a Guggenheim Fellowship and a Cross-Disciplinary Fellowship from the Society for Values in Higher Education, he pursued postdoctoral studies at the Free University in West Berlin, and at the Center for Advanced Studies at the Sorbonne in Paris. He is a life member of Clare Hall at Cambridge University.
Defrocking a pastor of a rural Pennsylvania church is one thing. But seeking to expel the former dean of Yale Divinity School from your denomination commands global news coverage, and not in a way that makes your church look more Christian.
And so, with less than a week before trial, the bishop responsible for Ogletree's trial made a dramatic decision. (NYTimes)
Bishop McLee, who oversees about 460 churches in lower New York State and Connecticut, agreed to drop all charges against Dr. Ogletree; in exchange, he asked only that Dr. Ogletree participate in a dialogue about the church and its stance on matters of sexuality. Promoting dialogue, the bishop said, could be a model for other United Methodist bishops to follow.

"While many insist on the trial procedure for many reasons, I offer that trials are not the way forward," Bishop McLee said in a statement attached to the resolution of Dr. Ogletree's case. "Church trials result in harmful polarization and continue the harm brought upon our gay and lesbian brothers and sisters."
McLee said that he would not prosecute cases in his district in which UMC ministers violated the Book of Discipline by officiating at same sex weddings, effectively giving permission to begin UMC gay marriages in New York.
It is too soon to know whether other bishops follow McLee's lead, but I think it likely. And the consequence will be either to disunite the Methodists, or to result in an uneasy alliance under which each bishop or church can follow their conscience and the conservatives will fade into the corners. But irrespective of the eventual consequence to the denomination, to gay and lesbian Methodists this is an exciting and joyous moment.