Researchers Discover Antibodies Which Block HIV From Developing AIDS
Jim Burroway
September 4th, 2009
According to the journal Science via the Los Angeles Times:
After nearly two decades of futile searching for a vaccine against the AIDS virus, researchers are reporting the tantalizing discovery of antibodies that can prevent the virus from multiplying in the body and producing severe disease. They do not have a vaccine yet, but they may well have a road map toward the production of one.

A team based at the Scripps Research Institute in La Jolla reports today in the journal Science that they have isolated two so-called broadly neutralizing antibodies that can block the action of many strains of HIV, the virus responsible for AIDS.

Crucial to the discovery is the fact that the antibodies target a portion of HIV that researchers had not considered in their search for a vaccine. Moreover, the target is a relatively stable portion of the virus that does not participate in the extensive mutations that have made HIV able to escape from antiviral drugs and previous experimental vaccines.
Researchers Catch HIV Infection In The Act
Jim Burroway
March 27th, 2009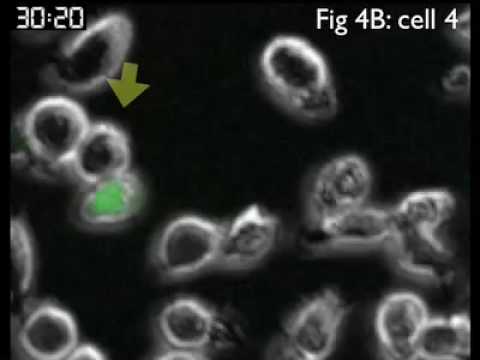 Researchers found that the virus is transferred from infected cells to healthy ones in a previously unknown way. It is hoped that the discovery will help researchers create a vaccine to combat the virus, which has led to the deaths of more than 25 million people.

The study was made possible after experts created a molecular clone of infectious HIV and inserted a protein into its genetic code which glows green when exposed to blue light. This allowed scientists to see the cells on digital video, and capture the way HIV-infected T-cells interact with uninfected ones.

They noted that when an infected cell came into contact with a healthy one, a bridge was created between them, called a virological synapse.Researchers were then able to observe the fluorescent green viral particles moving towards the synapse and into the healthy cell.

The US study has broken new ground by revealing that it is the synapse through which the viral proteins are gathered and moved into uninfected cells.

… [P]revious efforts to create an HIV vaccine have focused on priming the immune system to recognise and attack proteins of free-circulating virus. The new video footage indicates that HIV avoids recognition by being directly transferred between cells. Dr Huser said: "We should be developing vaccines that help the immune system recognise proteins involved in virological synapse formation and antiviral drugs that target the factors required for synapse formation."
The study's findings are available in advance of publication ($15) at the website for the journal Science. The journal has made eleven movies available online for free here.
HIV Gene Therapy Trials Begin
Jim Burroway
February 3rd, 2009
Human trials are about to begin on a form of gene therapy that could immunize people against the most common type of HIV. Recruiting for the human trials began yesterday.
According to Wired.com:
Since the discovery that a small portion of people who are exposed to HIV do not get infected, scientists have been working to discover the secret to those people's resistance and how to make others resistant as well.

It turns out that most people have a gene called CCR5, which makes them vulnerable to HIV infections. The naturally resistant people have mutant CCR5 genes that inhibit HIV.

Previously, scientists found that by cutting the CCR5 gene out of white blood cells involved in the immune response known as T-cells, they could protect a tube full of human cells from the virus. The gene editing technique relies on proteins called zinc finger nucleases that can delete any gene from a living cell.
Zinc finger nucleases are compounds that can slice open molecules. This one is is designed to go after the CCR5 gene. The treatment calls for removing CD4 T-cells,the immune cells affected by HIV, treating them with the drug, and re-infusing them into the patient. The hope is that these damaged cells will multiply and give the patient an immune system which is resistant to HIV.
The human trials are being conducted by Sangamo BioSciences, Inc., a California biotech company. The first phase is meant to look at safety and tolerably of a single infusion. The first people to receive the new treatment will be six patients who have developed drug-resistance to HIV and six other patients who are currently responsive to their existing drug regimen.
No More Dog Whistles: Introducing the Obama LGBT Scorecoard:
This commentary is the opinion of the author and does not necessarily reflect those of other authors at Box Turtle Bulletin.
Jim Burroway
January 22nd, 2009
We've had eight years of listening for dog whistles. We learned quickly that whenever President Bush or members of Congress spoke, we had to dissect every utterance, split every infinitive, and scoop every dangling participle to try to discern the secret message that was being sent to the base. For all of his assaults on English, President Bush was particularly adept at speaking that unique language which only his base could understand without raising the ire of moderates.
Along the way, we learned that the Dred Scott decision somehow related to abortion and that God prefers commas over periods. We analyzed every message, the way the CIA dissects audio tapes from Osama bin Ladin in case there might be a secret message for a far-flung branch of Al Qaida — which, coincidentally, just happens to be Arabic for "the base."
And I think that affected to how we approached statements from erstwhile allies as well. Was that a flinch we saw when "Don't Ask, Don't Tell" came up? Why won't she come straight out against "DOMA"? Why can't he come out more forcefully against Prop 8? Every statement became a possible clue, and every omission appeared to boom louder than words.
This continued after the election. I was certainly part of it. Why Rick Warren? Why not Gene Robinson? And why was Gene Robinson's invocation omitted from the broadcast? Why didn't Obama give us a shout-out in his Inaugural address?
Well, we can stop listening for dog whistles. We can stop jumping up and down in excitement whenever he mentions gays, and we can stop pouting when he doesn't. Because when the WhiteHouse.gov web site switched hands at 12:01 Tuesday afternoon, a very important document appeared: an LGBT civil rights agenda.
I said then that it looks like a very good scorecard on which we can judge the Obama administration. In fact, the more I look at it, the more I've concluded that no gay rights organization could have created a better scorecard in their wildest dreams.
That's why I decided to condense it into a simple checklist form. And here it is: Barack Obama's LGBT Civil Rights Scorecard. It's the one he himself signed up to. And it's one that I intend to refer to often over the next four years.
I doubt there will be immediate action on any of these items. After all, I can see how a crashing economy and a war in Iraq might be something of a distraction, to say the least. With people losing their jobs, homes, and health care, there's a lot that needs to be done.
But I have to admit that I labor under the possibly mistaken impression that our elected representatives can walk and chew gum. They should be able to squeeze in a few of these promises in due course amongst the other things that need to be done. But even I know that we can't sit back and assume that all of those wonderful politicians who made so many swell promises will actually get right on all those promises they made. I mean, c'mon — they're politicians.
Besides when we're talking about civil rights, the door has never opened because someone pulled the door open from the inside. It's always been opened by a strong push from that outside.
That's where we come in. They signed up for an impressive checklist. But it's up to us to hold them to it.
Predictions of The Demise of AIDS
Jim Burroway
November 26th, 2008
Don't get your hopes up, but the Associated Press is reporting on a study published online Tuesday in the respected journal The Lancet, which, using complex mathematical models, predicts that HIV could theoretically disappear within a decade if everyone living in countries with high infection rates are regularly tested and treated.
Caution is always wise when reading about research like this. Mathematical models on HIV/AIDS regularly come and go. I'm not aware of very many which have proven to be accurate as a predictive tool, and I doubt this one will be either since it's is loaded with assumptions which simply aren't realistic. I don't have the full-text article, but the short abstract alone doesn't give much reason for optimism.
The predictive model was based on data from South Africa and Malawi using a number of assumptions. The model assumed that people would be voluntarily tested each year and immediately given drugs if they tested positive for HIV, regardless of whether they were sick. That last assumption alone is problematic. Even if drugs were available for everyone, having them take it even when their HIV infection hasn't progressed to AIDS is fraught with controversy. AIDS medication has several serious side-effects, and the long-term effect of taking these powerful drugs is unknown. The longest that most of these drugs have been available is only about ten years.
The model also assumes that all HIV transmission in South Africa is heterosexual. While HIV is predominantly transmitted heterosexually in South Africa, this assumption  does represent a strange gap in the model.
Another concern not mentioned in the abstract is the assumptions they used concerning the transmissibility of HIV in people who are infected but are on Highly Active Anti-Retroviral Therapy (HAART). We do know that HAART can drive viral loads to undetectable levels in most cases, and thus reduce the risk of transmitting the virus onto others. But that risk of transmission is not zero, and besides that, viral loads can fluctuate — for example, when the patient has a cold or flu.
But if all the model's assumptions did hold true, this model suggests that HIV could be theoretically eliminated in a decade. The cost test and treat everyone as the study suggests would be staggering, but no more staggering than the way we are doing things now:
"We estimate that in 2032, the yearly cost of the present strategy and the theoretical strategy would both be US$1-7 billion; however, after this time, the cost of the present strategy would continue to increase whereas that of the theoretical strategy would decrease.
I doubt that we will see the demise of AIDS within ten years, but its incidence could be significantly reduced. This model clearly demonstrates the benefits  of universal testing and treatment to society overall, not just to those who are infected today. Sticking with current policies all but guarantees the continued growth of the pandemic worldwide.
Hope for a Cure
Timothy Kincaid
November 10th, 2008
1990's Longtime Companion ends with an imagined day in which AIDS and the HIV virus is overcome, a day of celebration. Now there is a story that hints that such a day may come.
It has been long known – and seldom discussed – that some persons are immune to most strains of the HIV virus. I've wondered whether there couldn't be a way of using that immunity to kill the virus in those who are infected. Now it seems that a German doctor has done just that. (WSJ)
The breakthrough appears to be that Dr. Hütter, a soft-spoken hematologist who isn't an AIDS specialist, deliberately replaced the patient's bone marrow cells with those from a donor who has a naturally occurring genetic mutation that renders his cells immune to almost all strains of HIV, the virus that causes AIDS.
This treatment for leukemia yielded an unexpected result
The patient, a 42-year-old American living in Berlin, is still recovering from his leukemia therapy, but he appears to have won his battle with AIDS. Doctors have not been able to detect the virus in his blood for more than 600 days, despite his having ceased all conventional AIDS medication. Normally when a patient stops taking AIDS drugs, the virus stampedes through the body within weeks, or days.
This case may be a fluke. And this bone marrow procedure is so risky, and has such a high death rate, that this cannot become a method for treating HIV infected persons. And we have seen many promising treatments turn out to be failures later.
Nonetheless it is stories like this one that give us continued hope for a cure. It certainly provided hope to this patient.
Nearly two years later, standard tests haven't detected virus in his blood, or in the brain and rectal tissues where it often hides.
Circumcision Less Helpful in Reducing HIV in Gay Sex
Timothy Kincaid
October 7th, 2008
JAMA is reporting that circumcision, which may eliminate HIV transmission in heterosexual sex by up to 50%, is less helpful in male-male anal sex.
The study's authors wrote that circumcision appears to provide "not statistically significant" protection from HIV in men who engage in anal sex with other men. The researchers said however that more research may be necessary to quantify the amount of protection — or lack thereof — provided by circumcision.
It seems counter-intuitive that a virus' ability to infect a man would be impacted by the gender of his partner, assuming penetrative-only sex. Somehow I suspect some relevant questions were not addressed.