Two Big Oscar Nods
Jim Burroway
February 22nd, 2009
Sean Penn, who won the Oscar for Best Actor for his portrayal of Harvey Milk, gave a great shout-out to those who voted to strip California's gays and lesbians of their right to marry:
For those who saw the signs of hatred as our cars drove in tonight, and, I think that it is a good time for those who voted for the ban against gay marriage to sit and reflect and anticipate their great shame and the shame in their grandchildren's eyes if they continue that way of support. We've got to have equal rights for everyone.
Earlier, Milk's screenwriter Dustin Lance Black won the Oscar for Best Original Screenplay. His acceptance speech was undoubtedly the most moving: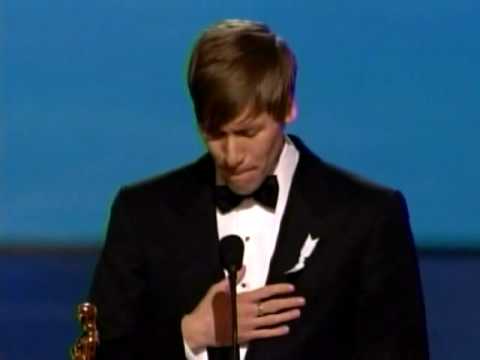 …When I was 13 years old, my beautiful mother and my father moved me from a conservative Mormon home in San Antonio, Texas to California and I heard the story of Harvey Milk. And it gave me hope. It gave me the hope to live my life, it gave me the hope to one day live my life openly as who I am and that maybe even I could fall in love and one day get married.

(He chokes up, audience begins to applaud.)

I want to thank my mom who has always loved me for who I am, even when there was pressure not to. But most of all, if Harvey had not been taken from us 30 years ago, I think he'd want me to say to all of the gay and lesbian kids out there tonight who have been told that they are less than by their churches or by the government  or by their families that you are beautiful, wonderful creatures of value and that no matter what anyone tells you, God does love you and that very soon, I promise you, you will have equal rights, federally, across this great nation of ours. (Wild applause from the audience.) Thank you, thank you, and thank you God for giving us Harvey Milk.
Some Movies to Cheer On
Timothy Kincaid
February 22nd, 2009
IN 2006 the Academy of Motion Picture Arts and Sciences decided not to award its Best Picture Oscar to Brokeback Mountain, the film that until that point had been one of the most awarded films in history. They selected Crash. Now I'm sure that Crash is a Very Important Movie About Race Relations but it is pretty universally acknowledged that homophobia gave it its win.
After that I lost interest in the Academy's selection. Prior to that time I made a point of seeing all the major nominated films, found a great Oscars party, and made the even a high-point of my year. This year I'm not even sure where I'm going tonight or if I'll just stay home and watch there.
But, nonetheless, I will watch the awards show and there are a few movies and actors for which I'll be rooting. And there are quite a few that have connection to our community. The following does not pretend to be comprehensive, but here's some things to think about as The Oscar Goes To… is called.
Best Picture
Milk – This is the story of the political life and assassination of Harvey Milk, the nation's first openly gay elected official.
Milk is a very good film, though probably not the best this year. However, the Academy will sometimes award a consolation Oscar when they feel that a previous award went wrong. Because many voters may feel shame for anti-gay sentiments four years ago, there may be a compensating emotion to reward "the gay movie" this year. Also Milk does not portray gay folk as uncomfortably similar to the straights, you know, but keeps them safely fey and gay (which is not really a criticism of Milk – the folks portrayed actually were fey and gay).
But, alternately, the Academy may still not be ready for that kind of movie.
Actor in a Leading Roll
Sean Penn – His portrayal of Harvey Milk was spot-on and the Academy loves these type of roles. He also may benefit from guilt over Brokeback losing both best picture and best actor awards.
Brad Pitt – This is a heterosexual role, but during the last year Brad has been an outspoken and generous advocate for marriage equality.
Actress in a Leading Role
Anne Hathaway – Anne has also been a vocal gay advocate in the past year.
Angelina Jolie – Angelina has, with significant other Pitt, spoken strongly for marriage equality. They have publicly tied the prospect of their own marriage to the ability of gay people to marry.
Meryl Streep – Doubt is based on a stage play of the same name. Set in 1964, it tells the tale of a conservative nun in a Catholic school suspicious that a more modern priest is behaving inappropriately with a gay student.
Actor in a Supporting Role
Josh Brolin – Josh plays Milk's villain, conservative supervisor Dan White.
Robert Downey, Jr. – Tropic Thunder is not a gay flick and the one surprising gay role is not Downey's. However, Downey has taken a number of gay roles and giving them charm and ease. One of my favorite actors, it's nice to see him finally conquering his demons.
Phillip Seymour Hoffman – Hoffman also has his list of gay roles going back to Boogie Nights. And while he is an accomplished actor, his gay roles seem to always leave me a little on edge. Unlike Downey, Hoffman seems to be playing gay rather than playing a gay character and consequently leans a little too much on stereotype for my taste. In Doubt he plays a priest accused of being inappropriate with a gay student.
Heath Ledger – Heath's Joker gives this movie the thrills and chills that made it a mega-hit. The role is Oscar worth. Ledger's odds are increased by the realization that if the Academy doesn't award him, it will not have another change and also because they passed him by for Brokeback.
Actress in a Supporting Role
Amy Adams – Amy's role in Doubt wins her a second nod from Oscar.
Penelope Cruz – Although I found Vicky Christina Barcelona unwatchable (I turned it off after 20 minutes), the story is of interest because Cruz' character is involved in a relationship with man and another woman.

Writing
Dustin Lance Black – Gay writer of Milk, Black is a vocal opponent of Proposition 8 and if he wins is likely to bring up parallels. Black was raised Mormon so the issues surrounding the passing of the proposition is doubly important to him.
Art Direction, Score, Editing, Makeup
Somewhere in these rolls we'll probably see some man thank his husband (or woman thank her wife).
I'm sure there are other interesting connections to the community, but if nothing else this will give you a few discussion points during the commercials.