Supremes refuse to lift stay on DADT injunction
Timothy Kincaid
November 12th, 2010
After Judge Phillips found that the Military's Don't Ask, Don't Tell policy violated the constitutional rights of gay soldiers, she issued an injunction requiring the Military to cease enforcement of the ban on service by openly gay men and women. The Ninth Circuit Court of Appeals placed a stay on the injunction until the case could be heard in appeal.
Log Cabin Republicans (the plaintiffs in the case) requested that the Supreme Court lift the stay and today they responded by denying that request. (Fox)
Kennedy's order simply said, "the application to vacate the stay entered by the United States Court of Appeals for the Ninth Circuit on November 1, 2010, presented to Justice Kennedy and by him referred to the Court is denied." The order also noted that Justice Elena Kagan, who until this summer was Solicitor General, didn't take part in the case.
This is not surprising and says little about the attitudes of the various justices about the constitutionality of the law. But if Kagan recuses herself from the case, that is one vote that was likely to be favorable that is now out of the count.
Kagan confirmed
Timothy Kincaid
August 5th, 2010
From the WaPo
Elena Kagan, the former solicitor general of the United States, is now the 112th Justice of the Supreme Court. The eminently qualified former Harvard Law School dean who has never donned the judge's robe will replace liberal jurist John Paul Stevens, who retired in June after 35 years on the bench. Because Kagan is considered a liberal, the ideological makeup of the court is not expected to change.
My gut tells me that this is good for gay issues, including marriage, but Justices have a long tradition of thwarting expectation and presumption.
Supreme Court Nominee Addresses Same-Sex Marriage — Sort Of
Jim Burroway
June 30th, 2010
The subject of same-sex marriage came up in today's Senate confirmation hearing for Elena Kagan's nomination to the Supreme Court. In it, Sen. Chuck Grassley (R-IA) asked about the 1972 case of Baker vs. Nelson, in which the US Supreme Court refused to review the decision by the Minnesota State Supreme Court, which held that denying same-sex marriage was not a violation of the Due Process Clause. That US Supreme Court Decision consisted of a single sentence dismissing the case "for want of a substantial federal question."
Here is how Kagan fielded Grassley's question: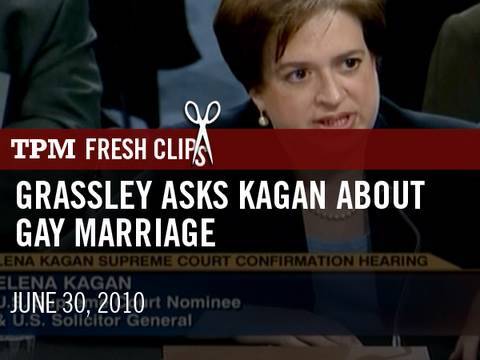 Click here for an unofficial transcript.