The Nation: LGBT Youth Face Violence Behind Bars
Jim Burroway
July 12th, 2010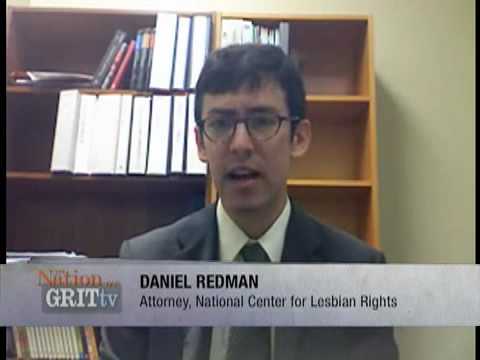 Kids screw up. But in some cases, they're thrown into situations that very few mature adults can handle effectively, let alone adolescents. Sometimes those situations mean they land in our juvenile justice systemm which is intended to both punish and rehabilitate youths who break the law. But as in adult prisons, juvenile detentions centers are also very violent and dangerous places, particularly for those who happen to be gay or transgender:
"I was scared to sleep at night because I didn't know if I was going to wake up in the morning," writes one incarcerated youth at Louisiana's Swanson Center for Youth. One 15-year-old who was shuttled back and forth from group homes and secure facilities in Shreveport, New Orleans and Baton Rouge reports that staff did nothing when he reported a rape because he "reported it too late," that he was "whipped with a clothes hanger" for rule violations and that the abuse from staff and other youth was so bad that he tried to kill himself. Two of Krystal's gay friends were raped in prison by other youths. One of them was assaulted so viciously that the injuries required internal stitches. Staff put Krystal's other friend in isolation to protect him from further assault.

Krystal [a transgender woman who identified as a male when she entered Louisiana's system at the age of twelve] reports that she was physically attacked by other youth nearly every day that she was in the system. Shortly after arriving, Krystal found her shoes in the trash, covered in urine and spit. Frequently, youths attacked Krystal for refusing to perform sex acts. Other queer youth in the facility had similar experiences. "We're all in the same category," she says. And there was nowhere to hide. "It was basically like a big dorm—one big room where everybody sleeps, that's what's going on," Krystal says. "Sometimes you would get sent to lockdown for fighting back, but there's nothing else you can do." Krystal reported the abuse to staff, but "they would just wait till things happened. Sometimes the staff would tell the other youth to stop. Sometimes they wouldn't."
Daniel Redman, who wrote this story in last months's The Nation, is a Law Project Fellow for the National Center for Lesbian Rights. He reports that according to U.S justice department statistics, LGBT youth are twelve times more likely to be sexually assaulted by fellow inmates than straight youth. To compound the problem, many of these LGBT youths turned to crime to support themselves after they were kicked out of their homes for being gay or transgender. Redman uncovered some more statistics:
LGBT youth make up 15 percent of the prison population. Indeed, one-quarter of all LGBT youth are kicked out of their homes or run away. Compared to their heterosexual peers, incarcerated LGBT youth are twice as likely to report abuse at the hands of family members, homelessness or state-ordered foster placement. A shocking estimated 20-40 percent of homeless youth identify as LGBT.
Redman also discovered that the ex-gay movement has a hand in this. Given the tragedies behind this, my only complaint is that his report is too short. I hope Redman will be able to find an editorial outlet that will allow him to expand on what he learned.
This is an issue that too few LGBT advocates have been willing to touch. Advocating for LGBT youth in prison, I guess, leads one to be exposed to the charge of being soft on crime. Standing up for these kids can be touchy, unfortunately. Yet who can deny that this story illustrates the worst consequences of homophobic violence and rejection, often beginning in the very homes of these youth?