Laura Bush on Marriage Equality
Jim Burroway
May 12th, 2010
I may be parsing words a bit too closely, but what I hear is that she recognizes the need for partnership rights. However, she is speaking overall about same-sex marriage and that the opposition to it is a "generational thing" for people who have difficulty adjusting their religious views to meet the real world. It's too bad no one listened to her or the Cheneys in 2004. It's also too bad she and the Cheneys weren't more vocal about this in 2004.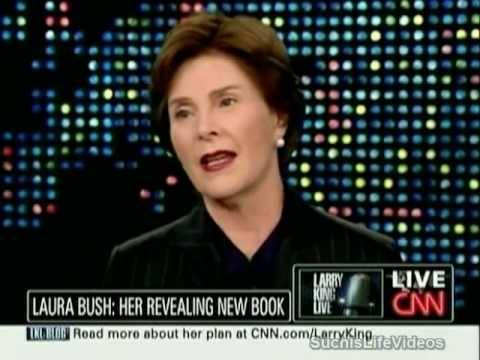 Laura Bush Cautioned Against Anti-Gay Campaign
Jim Burroway
April 28th, 2010
The Politico's Mike Allen has gotten a look at Larua Bush's new memoirs:
LAURA BUSH's memoir, "Spoken from the Heart" (Scribner, 456 pages), is officially out Tuesday. $16.20 on Amazon http://amzn.to/bP6eKd The New York Times has published an account based on a copy obtained at a bookstore, freeing POLITICO to report the contents of an embargoed hardback provided by the publisher.

…"In 2004 the social question that animated the campaign was gay marriage. Before the election season had unfolded, I had talked to George about not making gay marriage a significant issue. We have, I reminded him, a number of close friends who are gay or whose children are gay. But at that moment I could never have imagined what path this issue would take and where it would lead." (p. 303)
John Avarosis beat me to the punch:
George sure didn't listen to Laura on this one — or even Dick Cheney. Nope. He listened to Karl Rove, who had a gay stepfather, and Ken Mehlman. More on those two here.