Another Teen Takes His Life
Jim Burroway
December 8th, 2011
The bullying got so bad, friends say, that Jacob Rogers dropped out at Cheatham County Central  High School in Ashland City, Tennessee, just a few miles northwest of Nashville. He took his own life Wednesday:
"He started coming home his senior year saying 'I don't want to go back. Everyone is so mean. They call me a f****, they call me gay, a queer,'" friend Kaelynn Mooningham said.

Kaelynn said her friend Jacob felt ignored.

"Jacob told me no one was helping him. He constantly was going to guidance," she said.
The school says they were only aware of one bullying incident, and said they intervened. But the fact that Jacob quit going to school around Thanksgiving should have been a red flag. Jacob's grandmother, who was his primary guardian, found some notes Jacob let behind which included passwords to his email and phone to allow investigators to determine why he killed himself.
For more information on suicide prevention, research and help-seeking resources, see the American Foundation for Suicide Prevention (AFSP). If you or someone you know needs help, see The Trevor Project's web site or call the Trevor Lifeline: 866-4-U-TREVOR (866-488-7386).
Tenn High School Principal Allegedly Threatens Student Over Pro-Gay Tee-shirt
Jim Burroway
October 5th, 2011
A seventeen-year-old senior at Sequoyah High School in Madisonville, Tennessee, was reportedly shoved, bumped in the chest and verbally harassed by the school's principal for wearing a tee-shirt supporting students' efforts to launch a gay-straight alliance. In response, the ACLU of Tennessee is calling on the school district to protect the students' rights to free speech in the classroom.
According to a press release from the ACLU of Tennessee:
[Chris] Sigler wore a homemade T-shirt to school last Tuesday that said "GSA: We've Got Your Back." A teacher ordered Sigler to cover up the shirt in the future. Sigler, knowing he had a right to wear the shirt, wore it again Friday, and resisted an order to remove the shirt. Sigler says that [Principal Maurice] Moser then ordered all students out of the classroom, except for Sigler's sister Jessica, who refused to leave. According to both students, Moser then grabbed Sigler's arm, shoved him, and chest-bumped him repeatedly while asking "Who's the big man now?" Sigler's mother reported that when she arrived at the school, she saw her son seated in a desk with Moser leaning over him and shouting in Sigler's face. The Siglers filed a report about the incident that afternoon with the Monroe County Sheriff's Department.
Students at  Sequoyah have been trying to start a GSA during the school year, but have been blocked and threatened with suspension by the school's principal.
The ACLU says that if the school doesn't receive an satisfactory answer by October 11, they will explore legal options, including filing a complaint in federal court. Assistant Director of Schools Tim Blankenship responded:
"The Monroe County School System is aware of the alleged accusations. We have received written statements from all eyewitnesses. Our documentation clearly indicated that there are always two sides to every story. We'll gladly provide more information as it becomes available."
Gay Couple Assaulted — At Church
Jim Burroway
October 4th, 2011
Jerry Pittman, Jr., and his boyfriend, Dustin Lee, were attacked when they tried to go to church at Grace Fellowship in Fruitland, Tennessee:
I went over to take the keys out of the ignition and all the sudden I hear someone say 'sick'em,'" said Gibson County resident, Jerry Pittman Jr.

Pittman said the attacked was prompted by the pastor of the church, Jerry Pittman, his father.

"My uncle and two other deacons came over to the car per my dad's request. My uncle smash me in the door as the other deacon knocked my boyfriend back so he couldn't help me, punching him in his face and his chest. The other deacon came and hit me through my car window in my back," said Pittman. He said bystanders did not offer assistance. He said the deacon yelled derogatory homosexual slurs, even after officers arrived. He said the officers never intervened to stop the deacons from yelling the slurs.
The younger Pittman says that there were about twenty people standing around the front of the church when the assault took place, but no one intervened to stop the assault or call the police. He also says that the sheriff's deputy refused to take a statement from the victims or allow them to press charges. Gibson County Sheriff Chuck Arnold said, "If I was on the scene I would not have allowed that. The deputy should not have allowed it if he did,… I haven't talk to him but that would be out of character for my deputy to say unless they were causing a problem themselves."
The couple later filed assault charges against Deacons Billy Sims and Eugene McCoy. The younger Pittman is also pressing charges against his father and Deacon Patrick Flatt. They are due in court today. The pastor and his wife are also going through a divorce.
Nashville Paramedic Suspended for Anti-Gay Postings
Jim Burroway
September 22nd, 2011
A twenty-year veteran paramedic for the Nashville Fire Department was suspended after making anti-gay comments on his own Facebook page, as well as on the Nashville Fire Department Emergency Medical Services' web page. Paramedic Keven Kennedy wrote that homosexuality was a perversion and that two gay EMS workers should "crawl back into the closet." According to The Tennessean:
"We have a diverse group of employees in the fire department who respond to the needs of a diverse community," (Deputy Chief Kim) Lawson said. "This disrupts the order of discipline. We have an important job. These actions in no way are tolerated."

Kennedy, who lives in Shelbyville, had no prior disciplinary record and earned "acceptable" performance evaluations over his career with the department, said Robin Brown, Metro Human Resources spokeswoman.

He will be required to pay for and show proof of his participation in an anger management program and diversity training before he returns to work, Lawson said. Before the suspension, Kennedy was charged with five counts of misconduct, including participation in a pattern of harassment toward a Metro employee and using threat of violence or intimidation toward others, according to his charge sheet.
Tennessee School Alledgedly Threatens Students Over Gay-Straight Alliance
Jim Burroway
September 12th, 2011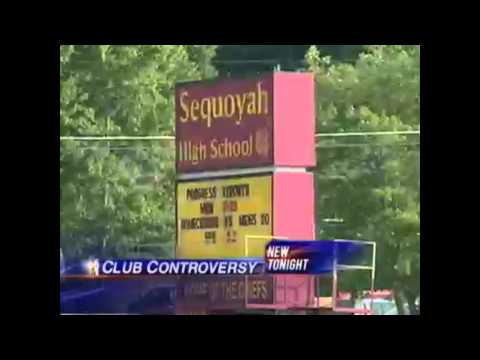 Students at Sequoyah High School in Madisonville, Tennessee, have identified a need:
Just yesterday, students across the room would yell, 'God hates gays,'" said (SQHS Senior Nathan) Carroll. "There is not going to be a gay club in this school. We don't deserve it."
Carroll says he has experienced bullying since the sixth grade, and so he and other students decided to try to start a Gay-Straight Alliance to serve as a support group. He and other students approached school officials about starting a GSA, but they were denied permission. They then decided to circulate a petition to gain support. Opposing students have also started a competing petition. The school's principal, Maurice Moser, then announced over the school's P.A. that any student found with a petitions would have the petition torn up and thrown away and the individual would be immediately sent to his office for further punishment. Another parent says:
"These students have been following policy and they approached the principal," said Linda Sigler, who has two children involved in getting the alliance started. "They've done this petition and now the school is telling them if they continue with the petition, they will be suspended."
Love In Action Suspends Residential Ex-Gay Program
Jim Burroway
September 2nd, 2011
Memphis-based Love In Action has announced that they have "suspended indefinitely" their residential ex-gay program:
Love In Action's Residential program has been suspended indefinitely. Simply put, there is a significant need to bring all of LIA under one location for it to be more cost effective.  We continue to counsel and grow through our 4-Day Intensives, Hourly Counseling, Conferences, Support Groups, and Church Assistance Program.
LIA refers web visitors to Woodstock, Georgia-based HopeQuest for those interested in an ex-gay residential program.
Love In Action became the focus of international attention in June 2005, when sixteen-year-old Zach Stark announced on his MySpace blog that his parents were sending him away to an ex-gay non-residential youth program after he came out to them. He also posted the program's rules that he would be forced to live under while locked away in the "therapy" program. Advocates protested for several days outside the main offices of Love In Action. That incident has become the basis for a new documentary film, This is What Love In Action Looks Like.
Love In Action's residential program maintained group homes throughout Memphis in residential neighborhoods for their charges. Clients were placed three to a bedroom, and shared household duties as part of their treatment program. The program itself was horrendously abusive. As former clients related to me, one important element of their treatment program involved undergoing an exhausted "personal inventory" in which they recount in explicit detail each and every sexual "sin" they have ever committed — whether it was detailed descriptions of sexual acts, or if they had been celibate then detailed descriptions of their sexual fantasies. Over the course of weeks and months, they revisit their personal inventory and add to it anything else that they may remember.
Then during the "Friends and Family Weekend," friends and family members were invited to come to the Love In Action campus to visit with their "struggling" loved one. They were ushered into a room and are seated on one side, but not before undergoing a counseling session before hand. The clients are then brought into the room and made to stand before their families and friends. They are then ordered to read aloud from their personal inventory — with complete details over their most humiliating sexual act or fantasy. This, they read aloud in front of their parents, friends, siblings — whoever happens to be there for the weekend.
In that counselling session before seeing their loved ones, visitors were advised ahead of time that they will likely hear something very disturbing from their loved one, and that a key component of this "therapy" is that they were not to offer any approval for their client. They couldn't say, "we love you anyway", they couldn't say "we forgive you," they couldn't say anything positive. Instead, they were instructed to condemn their loved one, to tell them how disappointed they were, how disgusted they were, and so forth. The effects of this encounter was often devastating to clients and family members alike.
Peterson Toscano, a former LIA client and current ex-gay survivor and gender advocate reacts to today's news:
I am thrilled that the sun has finally set on this part of the program–one that housed and harassed many of us these past 30 years. While they will continue to offer some limited services, it appears that they have begun to dismantle operations.

What better way to celebrate than you see the new documentary by LIA protester and filmmaker Morgan Jon Fox. This is What Love in Action Looks Like chronicles what happened when a 16 year old boy was forced to attend Love in Action and how his friends responded and ultimately help shut down the youth program back in 2007. Or pop in your DVD of Doin' Time in the Homo No Mo Halfway Housse, now a HISTORICAL satire of the Love in Action program.
Tennessee Senate Committee Passes "Don't Say Gay" Bill
Jim Burroway
April 21st, 2011
A Tennessee Senate committee approved a bill that would prohibit teachers from discussing homosexuality before the ninth grade, a measure that would jeopardize anti-bullying programs in middle schools.
The measure, SB49 (PDF: 36KB/1 page), was introduced by Sen. Stacey Campfield (R-Knoxville). As originally written, it stated, "Notwithstanding any other law to the contrary, no public elementary or middle school shall provide any instruction or material that discusses sexual orientation other than heterosexuality." Sen. Jim Tracy (R-Shelbyville) tried to sidetrack the measure, noting that current state law already prohibits such instruction because it falls outside the "family life curriculum" adopted by the state Board of Education. His amendment to refer the matter to the Board of Education for further study passed. But his efforts were effectively derailed when Sen. Brian Kelsey (R-Germantown) proposed a further amendment, requiring that the Board of Education "shall adopt" Campfield's original ban after the study is completed by February 1.
The bill now goes to the full Senate for a vote. Campfield has unsuccessfully pushed the "don't say gay" bill for the past six years. An identical measure, HB229, has been introduced in the House by Rep. Bill Dunn (R-Knoxville) where it has been assigned to the Education Committee.
Campfield has come under criticism for trying to profit from his bill. He sought a $1000 "retainer" fee to debate his bill with an LGBT advocate. Tennessee law prohibits legislators from seeking payment related to their legislative duties outside their salary.
Catholic priest champions non-discrimination ordinance
Timothy Kincaid
March 15th, 2011
It isn't that often that I have anything complimentary to say about the current state of the Catholic Church and its practices, so I'm not letting this opportunity pass by. (Gay Socialites)
Rev. Joseph Breen of the St. Edward Church in Nashville, Tennessee is standing up for the LGBT community.

Breen penned a letter to the Metro Council that also ran in the Tennessean this week encouraging the elected officials to get behind a bill meant to eliminate anti-gay bias when it comes to contracts with the city.

"I ask you to approve this bill banning discrimination by city contractors against gay, lesbian and transgender people," Breen wrote in a letter sent to each member of Nashville's Metro Council (and also published in the Tennessean). "I fully support the spirit of inclusion rather than exclusion in our great city and ask you to do the same with your vote of approval," he added.
Clearly Father Breen has given up on any hope of ever becoming bishop and is now just seeking to better the lives of those in his parish, his city, and his community. I wonder if the Diocese will retaliate.
Tennessee Lawmakers Propose Ban on Mentioning LGBT People in Schools
Jim Burroway
February 23rd, 2011
Two Tennessee lawmakers, State Sen. Stacey Campfield and Rep. Bill Dunn, have introduced a bill in the state's legislature that would ban schools from discussing any sexual orientation other than heterosexuality. The bill, House Bill 229 and Senate Bill 49 (PDF 36KB/1 page), says in part: "No public elementary or middle school shall provide any instruction or material that discusses sexual orientation other than heterosexuality."
The "Don't Say Gay" bill presents serious problems for students whose family members may be gay, or who may be gay themselves:
"The Don't Say Gay bill raises all kinds of issues about anti-gay bias, free speech and government overreach," said Ben Byers with the Tennessee Equality Project. …"It limits what teachers and students are able to discuss in the classroom," Byers said. "It means they can't talk about gay issues or sexuality even with students who may be gay or have gay family."
Tenn. Lesbian Couple's Home Torched
Jim Burroway
September 12th, 2010
The home of Carol and Laura Stutte in Vonore, Tennessee was destroyed by a fire on Saturday, Sept 4, that investigators are now calling an act of arson. The couple had been harassed and threatened by one of their neighbors for the entire five years that they had lived in the home. An anti-gay slur was spray painted on their garage.
The fire occurred while the couple was away in Nashville with a neighbor, celebrating their fifth anniversary of moving into the home from Oklahoma. Carol's adult daughter from a previous marriage were also with them in Nashville. Carol says that her partner is too afraid to come back to the property since the fire. The home and everything in it was a total loss.
Carol says that, despite the arson, she has been very appreciative of the support from people in the area who have offered to help. The Maryville chapter of Parents, Families and Friends of Lesbians and Gays is taking donations of clothing and money for the Stutte family. They can be reached at 865-368-6665.
Tennessee appeals court slaps down anti-gay activist judge – again
Timothy Kincaid
June 30th, 2010
It's hard to think of a definition of "activist judge" that would not have Chancellor George Ellis of the 28th Judicial District in West Tennessee as Exhibit A.
In May 2008, Angel Chandler and her ex-husband Joseph Barker went before the judge to modify their parenting plan. But Ellis didn't like that Angel was living with her female partner of nine years and decided that he was going to do a little legislating from the bench.
Now the 28th judicial district in Tennessee has Local Rule 23, whereby agreements have a "paramour clause," a decision that denies custody or even visitation rights to parents who allow an unmarried partner to stay overnight. But this can be overridden by a court, something that Ellis decided he wasn't going to do.
Now this is not the case of a judge siding with the straight parent; her ex-husband (who has remarried) didn't ask for the clause or object to its removal. And it wasn't over-reliance on a hostile child services worker; reports showed no harm to the children. This was simply the case of a judge going against the wishes of the parents and the children and the advice of the psychologist, and taking it upon himself to disrupt the life of this family out of his own personal biases and bigotries.
Angel's and her partner moved into two halves of a duplex so they could live near each other but apart while they appealed the decision, but soon found the double households to be prohibitively expensive. But fortunately they won their appeal, with the court reminding Ellis that the state law requires the primary consideration for custody arrangements be what's in the best interest of the children.
Well, Ellis didn't need no stinkin' law to do what he wanted to do, so he insisted that the paramour clause remain in place until he could have a hearing. Well in March of this year he had his hearing at which time he decided – without any evidence as support – that it was in the best interest of the children that Chandler and her partner be forced to live apart in order for her to have her kids visit. (Citizen Times)
"A paramour overnight, abuse of alcohol and abuse of drugs are clearly common sense understanding that children can be adversely affected by such exposure…."
(There is no mention of there actually having been abuse of alcohol or drugs, Ellis just sort of threw that in there for comparison. Ya know: alcohol, drug, lesbians – all just obviously not in the kids' best interest to be around these things.)
So back to the court they went. And this time the appeals court was not amused that Chancellor Ellis had decided to impose his agenda over that of the law.
"The record is devoid of any evidence whatsoever to support the finding that a paramour provision is in the best interests of the children. In fact, the record contains evidence demonstrating that a paramour provision is contrary to the best interests of the children," the court wrote.
So far I've been unable to locate any mention of this story by the usual crowd of anti-gay ranters. I guess their definition of "activist judge" is one who disagrees with them.
LaBarbera Award: Two Tennessee Tea Party Candidates
Jim Burroway
May 1st, 2010
Today's LaBarbera Award is a two-fer, and goes to two Republican candidates for Tennessee's 8th Congressional District. Ron Kirkland of Jackson and Randy Smith of Mercer were among the candidates speaking at a Tea Party forum in Paris, Tennessee, on Thursday evening. That forum included discussions about the "Don't Ask, Don't Tell" policy, the military's ban on LGBT people serving openly. All five Tea Party candidates opposed the repeal of "Don't Ask, Don't Tell," but Mercer and Smith excused violence toward gay people as a method for keeping them out of the military:
Kirkland, a Vietnam veteran, said of his time in the military: "I can tell you if there were any homosexuals in that group, they were taken care of in ways I can't describe to you."

Smith, who served in the first Iraqi war, added: "I definitely wouldn't want to share a shower with a homosexual. We took care of that kind of stuff, just like (Kirkland) said."

The Tennessee Republican Party had no comment about the candidates statements when contacted by The Associated Press on Friday.
The Tennessee Equality Project has demanded an apology from Kirkland and Smith. A spokesperson for the Kirkland campaign said that the candidate has no plans to do so. Smith, who has a 19-year-old lesbian daughter,  said on Friday that he apologizes to those who were offended, but he maintained that he was "telling it how it is actually."
When asked later whether either candidate had personal knowledge of violence against gay people, Smiths said that he only knew of it "in concept" but never learned of a specific incident. Kirkland dismissed the question, saying "it was a joke."
Jonathan Cole, of the Tennessee Equality Project responded, "Without a sincere apology, I don't consider it to be a joke. I would question his fitness to serve in elected office if he can't show common respect for those who've put their lives on the line to protect the freedoms we enjoy in this country."
Lesbian Couple Say They Were Assaulted At Baptist Church
Jim Burroway
August 24th, 2009
Rev. Kenneth Whalum, Jr., of New Olivet Baptist Church is running for Memphis mayor this fall. Monique Stephens and her partner were interested in supporting the Reverend in his mayoral run, and decided to attend the 11 a.m. service to get an up-close look at the man. That's when things went awry:
An hour into service, Whalum told the congregation to bow to the ground and blow kisses to God, Stephens said, but she and her partner, who are agnostic, did not move. She said Whalum and church members began calling them "devil worshippers" and "gay," among other derogatory names. Security guards surrounded and pushed them out of the sanctuary. Stephens said her glasses were broken and both she and her partner of three years have bruises and scratches from the altercation. No arrests were made, police said.
Rev. Whalum says the couiple were removed because they were being disruptive, not because they were lesbian. "If I put every lesbian out of church, we\'d be putting people out of church all day long," he said.
Nashville, Knoxville Schools Unblock LGBT Web Sites
Jim Burroway
June 5th, 2009
School districts in Nashville and Knoxville have responded to the American Civil Liberties Union's lawsuit demanding that Tennessee school systems remove Internet filtering software which blocks students' access to legitimate LGBT educational and informational web sites. The Knoxville superintendent said that the blocking software was against school board policy.
The school systems used filtering software provided by Education Networks of America, which categorized some 1,000 web sites as "LGBT" and blocked access to them. The same software however allowed access to ex-gay ministries. David Pierce, CEO of ENA, said that they have upgraded the system to distinguish between web sites which provide information and those are more adult oriented.
The ACLU says that they will now likely drop their lawsuit but they are holding off for now, pending assurances that the filtering software won't re-block access to LGBT sites in the future.
ACLU: Tenn Schools Illegally Blocking Access To LGBT Websites, Allows Ex-Gay Sites
Jim Burroway
April 15th, 2009
According to the American Civil Liberties Union (ACLU), as many of 107 Tennessee public school districts could be illegally preventing students from accessing accurate and balanced online information about LGBT issues. The same Internet filtering software however allows access to ex-gay groups. In a letter sent to Knox County Schools, Metro Nashville Public Schools, and the Tennessee Schools Cooperative, the ACLU demanded that they unblock access to LGBT sites.
This is from the ACLU's press release (not yet available online):
"When I found out about this web filtering software, I wasn\'t looking for anything sexual or inappropriate – I was looking for information about scholarships for LGBT students, and I couldn\'t get to it because of this software," said Andrew Emitt, a 17-year-old senior at Central High School in Knoxville . "Our schools shouldn\'t be keeping students in the dark about LGBT organizations and resources."

…In its demand letter, the ACLU notes that websites that urge LGBT persons to change their sexual orientation or gender identity through so-called "reparative therapy" or "ex-gay" ministries – a practice denounced as dangerous and harmful to young people by such groups as the American Psychological Association, the American Psychiatric Association, the American Medical Association, and the American Academy of Pediatrics – can still be easily accessed by students.

"One of the problems with this software is that it only allows students access to one side of information about topics that are part of the public debate right now, like marriage for same-sex couples," said Karyn Storts-Brinks, a librarian at Fulton High School in Knoxville, pointing out that the software blocks access to organizations that support marriage for same-sex couples like the Religious Coalition for Freedom to Marry or the Interfaith Working Group while allowing access to organizations that oppose marriage equality. "Students who need to do research for assignments on current events can only get one viewpoint, keeping them from being able to cover both sides of the issue. That\'s not fair and can hinder their schoolwork."
The schools in question use filtering software provided by Education Networks of America (ENA). The software's default settings blocks sites categorized as LGBT, which include:
Parents, Families, and Friends of Lesbians and Gays (PFLAG)
The Gay Lesbian Straight Education Network (GLSEN)
Human Rights Campaign (HRC)
Marriage Equality USA
Religious Coalition for the Freedom to Marry
The Gay and Lesbian Alliance Against Defamation (GLAAD)
Dignity USA (an organization for LGBT Catholics)
The ACLU is giving the districts until April 29 to come up with a plan to provide access to LGBT sites or any other category that blocks non-sexual websites advocating the fair treatment of LGBT people by the beginning of the 2009-2010 school year.