Study Author Says Franken Is Right
Jim Burroway
July 21st, 2011
In response to yesterday's takedown of Focus On the Family's Tom Minnery by Sen. Al Franken over a study that Minnery misrepresented, Politico spoke to the study's author to see who got it right:
"Sen. Franken is right," the lead author of the study told POLITICO. The survey did not exclude same-sex couples, said Debra L. Blackwell, Ph.D., nor did it exclude them from the "nuclear family" category provided their family met the study's definition.

The study's definition of nuclear family is: "one or more children living with two parents who are married to one another and are each biological or adoptive parents of all the children in the family."
U.S. Health and Human Services study in 2010 found better health outcomes for children in "nuclear families," which Minnery claimed included only children with heterosexually married parents.
Sen. Al Franken Is My New Favorite Senator
Jim Burroway
July 20th, 2011
During today's Senate Judiciary Committee hearings on repealing the so-called Defense of Marriage Act, Sen. Al Franken (D-MN) eviscerated the testimony of Thomas Minnery, Senior Vice President for Public Policy at Focus on the Family. Minnery was caught red-handed what anti-gay activists reflexively do: they lie about the research: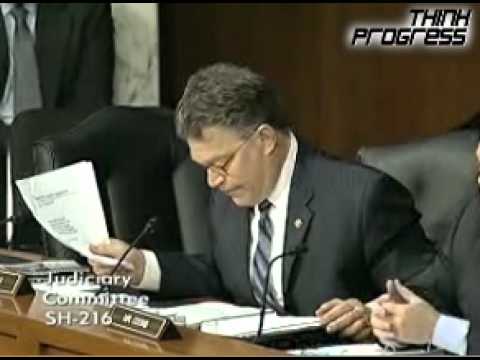 Franken: Mr Minnery, on page eight of your written testimony, you write, quote "Children living with… their own married, adoptive or biological mothers and fathers were generally healthier and happier, had better access to health care, were less likely to suffer mild or severe emotional problems, did better in school, were protected from physical, emotional, or sexual abuse, and almost never live in poverty compared to children in any other family form."

You cite a Department of Health and Human Services Study, that I have right here, from December 2010, to support this conclusion. I checked this study out. (Laughter) And I would like to enter it into the record, if I may. And it actually doesn't say what you said it says. It says that "nuclear families," not "opposite sex married families" are associated with those positive outcomes. Isn't it true, Mr Minnery, that a married same-sex couple that has had or adopted kids would fall under the definition of a nuclear family in the study that you cite?

Minnery: I would think that the study, when it cites "nuclear families," would mean a family headed by a husband and a wife.

Franken: It doesn't. [Laughter] The study defines a nuclear family as "one or more children living with two parents who are married to one another and are each biological or adoptive parents to all the children in the family." And I frankly don't really know how we can trust the rest of your testimony if you are reading studies these ways.
Sen. Patrick Leahy (D-VT) comes in at a photo-finish second in the race for my new favorite Senator: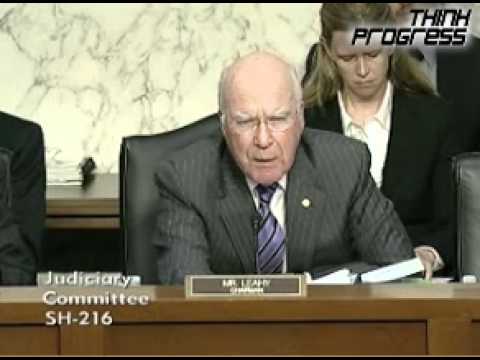 Leahy: Are those children benefited by saying that in that family, they will not have the same financial benefits that another family, a maried couple of opposite sex would have? Are those children not put at a disadvantaved by denying those same benefits to them, and I'm talking about now a legal marriage under the state laws of the state they live in?

Minnery: No. Without question, those children are certainly better off than having no parents. But…

Leahy: Wait a minute. I don't understand.  They'd be better off if they had no parents?

Minnery: No, they're certainly better of than if they had no home headed by parents. But same-sex marriage is a whole lot more than that, Senator.

Leahy: But I'm trying to go specifically to the financial. Are they not disadvantaged by not having the same financial benefits that in a…. an opposite sex family would have?

Minnery: Well, as I say, not knowing the details of which families you are speaking off, certainly those families are better off… children are better off with parents in the home. But what I'm saying…

Leahy: But, I'm talking about… Yes or no, it's not a trick question. I'm just asking. [Laughter] Please. If you have parents legally married under the laws of the state. One set of parents are entitled to certain financial benefits for their children, the other set of parents are denied those same financial benefits for their children. Are not those children, at least in that aspect of finances, are not those  children of the second family, are they not at a disadvantage, yes or no?

Minnery: That would be yes, as you asked the question narrowly, Senator.

Leahy: Thank you. I was asking it narrowly. I used to have a career where I had to ask questions all the time.