Sen. Leahy Calls For Review of All Ugandan Assistance
Jim Burroway
February 25th, 2014
Sen. Patrick Leahy (D-VT) issues this statement earlier today:
I am deeply concerned by the decision of President Museveni of Uganda to sign into law the anti-homosexuality bill.  I support Secretary of State Kerry and others in calling for its immediate repeal.  Much of U.S. assistance to Uganda is for the people of Uganda, including those in the Ugandan LGBT community whose human rights are being so tragically violated.  But we need to closely review all U.S. assistance to Uganda, including through the World Bank and other multilateral organizations.  I cannot support providing further funding to the Government of Uganda until the United States has undergone a review of our relationship.
Sen. Leahy is Chairman of the State Department and Foreigh Operations Appropriations Subcommittee and is a senior member of the Appropriations Committee.
Sen. Al Franken Is My New Favorite Senator
Jim Burroway
July 20th, 2011
During today's Senate Judiciary Committee hearings on repealing the so-called Defense of Marriage Act, Sen. Al Franken (D-MN) eviscerated the testimony of Thomas Minnery, Senior Vice President for Public Policy at Focus on the Family. Minnery was caught red-handed what anti-gay activists reflexively do: they lie about the research: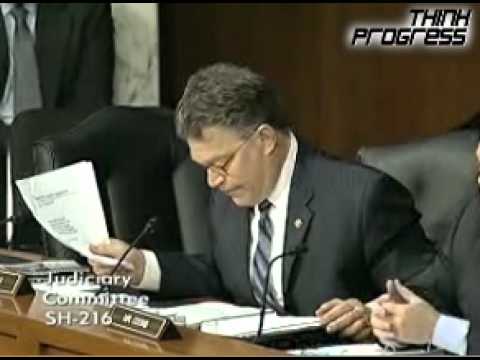 Franken: Mr Minnery, on page eight of your written testimony, you write, quote "Children living with… their own married, adoptive or biological mothers and fathers were generally healthier and happier, had better access to health care, were less likely to suffer mild or severe emotional problems, did better in school, were protected from physical, emotional, or sexual abuse, and almost never live in poverty compared to children in any other family form."

You cite a Department of Health and Human Services Study, that I have right here, from December 2010, to support this conclusion. I checked this study out. (Laughter) And I would like to enter it into the record, if I may. And it actually doesn't say what you said it says. It says that "nuclear families," not "opposite sex married families" are associated with those positive outcomes. Isn't it true, Mr Minnery, that a married same-sex couple that has had or adopted kids would fall under the definition of a nuclear family in the study that you cite?

Minnery: I would think that the study, when it cites "nuclear families," would mean a family headed by a husband and a wife.

Franken: It doesn't. [Laughter] The study defines a nuclear family as "one or more children living with two parents who are married to one another and are each biological or adoptive parents to all the children in the family." And I frankly don't really know how we can trust the rest of your testimony if you are reading studies these ways.
Sen. Patrick Leahy (D-VT) comes in at a photo-finish second in the race for my new favorite Senator: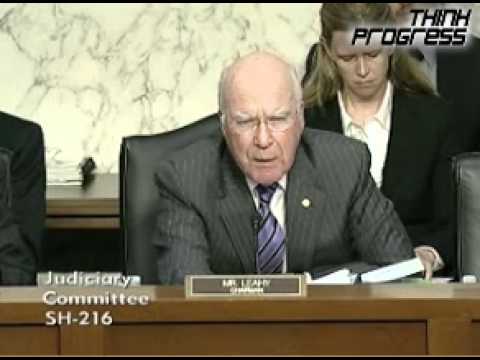 Leahy: Are those children benefited by saying that in that family, they will not have the same financial benefits that another family, a maried couple of opposite sex would have? Are those children not put at a disadvantaved by denying those same benefits to them, and I'm talking about now a legal marriage under the state laws of the state they live in?

Minnery: No. Without question, those children are certainly better off than having no parents. But…

Leahy: Wait a minute. I don't understand.  They'd be better off if they had no parents?

Minnery: No, they're certainly better of than if they had no home headed by parents. But same-sex marriage is a whole lot more than that, Senator.

Leahy: But I'm trying to go specifically to the financial. Are they not disadvantaged by not having the same financial benefits that in a…. an opposite sex family would have?

Minnery: Well, as I say, not knowing the details of which families you are speaking off, certainly those families are better off… children are better off with parents in the home. But what I'm saying…

Leahy: But, I'm talking about… Yes or no, it's not a trick question. I'm just asking. [Laughter] Please. If you have parents legally married under the laws of the state. One set of parents are entitled to certain financial benefits for their children, the other set of parents are denied those same financial benefits for their children. Are not those children, at least in that aspect of finances, are not those  children of the second family, are they not at a disadvantage, yes or no?

Minnery: That would be yes, as you asked the question narrowly, Senator.

Leahy: Thank you. I was asking it narrowly. I used to have a career where I had to ask questions all the time.
Lieberman introduces a bill to repeal DADT
Timothy Kincaid
March 3rd, 2010
Senator Joseph Lieberman, a formerly Democrat and currently Independent Senator from Connecticut, has introduced a senate bill which would "replace the current policy concerning homosexuality in the Armed Forces, referred to as "Don't Ask, Don't Tell", with a policy of nondiscrimination on the basis of sexual orientation."
Specifically, it would repeal Section 654 of title 10 ("unacceptable risk to the high standards of morale, good order and discipline, and unit cohesion") and subsections (b), (c), and (d) of section 571 of the National Defense Authorization Act for Fiscal Year 1994 (Don't Ask, Don't Tell).
Instead, this bill would:
create Section 656 would be created which would ban discrimination based on sexual orientation
authorize a Pentagon Working Group which would have nine months to recommend implementation of the new policy, after which the Secretary of Defense would have two months to revise regulations
require the Secretary of Defense to report back in six months as to whether universities are allowing or welcoming ROTC onto their campus (some had banned or discouraged them due to discrimination policies)
Co-signing with Lieberman were:
Carl Levin (D-MI)
Mark Udall (D-CO)
Kirsten Gillibrand (D-NY)
Roland Burris (D-IL)
Jeff Bingaman (D-NM)
Barbara Boxer (D-CA)
Ron Wyden (D-OR)
Patrick Leahy (D-VT)
Arlen Specter (D-PA)
Jeff Merkley (D-OR)
Dianne Feinstein (D-CA)
Al Franken (D-MN)
Obama Urges Action On Hate Crimes Bill
Jim Burroway
April 28th, 2009
The White House has released this statement:
STATEMENT BY THE PRESIDENT ON H.R. 1913, THE LOCAL LAW ENFORCEMENT HATE CRIMES PREVENTION ACT OF 2009
This week, the House of Representatives is expected to consider H.R. 1913, the Local Law Enforcement Hate Crimes Prevention Act of 2009.  I urge members on both sides of the aisle to act on this important civil rights issue by passing this legislation to protect all of our citizens from violent acts of intolerance – legislation that will enhance civil rights protections, while also protecting our freedom of speech and association.  I also urge the Senate to work with my Administration to finalize this bill and to take swift action.
The House is expected to debate and vote on the bill Wednesday. The Human Rights Campaign urges everyone to call their representative and ask them to vote for the bill's passage.
Meanwhile, Sen. Ted Kennedy (D-MA) introduced the hate crimes legislation in the Senate. Co-sponsors include  Sens. Susan Collins (R-ME), Patrick Leahy (D-VT), Olympia Snowe (R-ME) and Arlen Specter (R D-PA).