Homosexuality Is Like An Ice Cream Flavor
Jim Burroway
August 11th, 2011
Either that, or it's like riding a scooter:
Rep. Allen West (R-FL): You cannot compare me and my race to a behavior. Sexuality is a behavior. And so yeah, I say it: I cannot change my color. People can change their sexual behavior. And I've seen people do that. You know, I grew up in Atlanta, Georgia, so I've seen a very different perspective on human behaviors. So that's where I'm coming from with that. Now everyone has the same basic rights. No one is telling people in the gay community that they don't the same basic rights that any American has.

Q: You say people can change their behavior. Do you think gay people should change their behavior?

West: Oh, Tony, come on, no. I don't think that. I mean, I like chocolate chip ice cream, and I will continue to like chocolate chip ice cream. So there's no worry about me changing to vanilla. I like to, you know, I like to ride my motorcycle. What do you want me to do? You want me to change my behavior and ride a scooter? I'm not into that.
Yeah, more crappy metaphors, and reaching for ice cream flavors puts him dangerously close to becoming a political Forrest Gump. But at least I can find two silver linings here: 1) West doesn't think gay people should change, and 2) he finds homosexuality to be kinda vanilla. Both opinions put him at odds with several other fellow party-members. But on the other hand, he also can't seem to understand that marriage is "the same basic right" that he enjoys. Talk about your oxymorons.
Update: West took some flack for comparing homosexuality to ice cream flavors and hit back by saying that vanilla ice cream should be banned form the military. Or something like that:
I think that what I said is that is behavior, and so what I talked about is, look, I prefer or I like chocolate chip ice cream, and I'm not going against what someone prefers or has as their behavioral preference in their life. But when you start to understand about the United States military, the United States military serves one mission — that's to fight and win our nation's wars. And if we start to take the military and try to conform it to individual behaviors, no matter what those individual behaviors are, we're going to lose the essence of what the United States military is.
FL Congressman: Gay Marriage Will End Society
Jim Burroway
June 3rd, 2011
Right Wing Watch is following the proceedings at Phyllis Schlafly's Eagle Forum Collegians, and caught this video of Rep. Allen West (R-FL) warning that marriage equality is an "oxymoron" and will end society: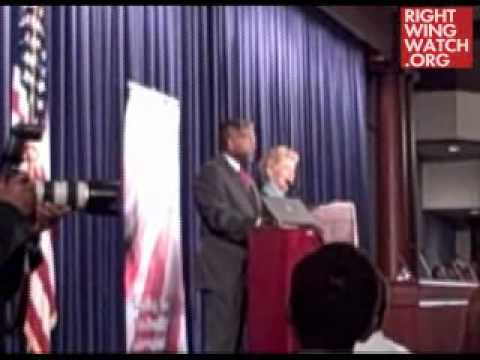 The term 'gay marriage' is an oxymoron. Because marriage is a union and a bond between a man and a woman to do one single thing: the furtherance of society by procreation, through creating new life. Have you ever read the book America Alone by Mark Steyn? It's about demographics. And if we continue with a cycle of debt and punishing our unborn then it just becomes a matter of time before you don't have society.