GOP Slams Brakes On Rebranding Effort
Jim Burroway
April 11th, 2013
The Republican National Committee is meeting in Los Angeles over the next three days beginning today, and one of the first items on the agenda for consideration is a resolution that states:
WHEREAS, the institution of marriage is the solid foundation upon which our society is built and in which children thrive; it is based in the conjugal relationship that only a man and a woman can form; and

WHEREAS, support for marriage has been repeatedly affirmed nationally in the 2012 Republican National Platform, through the enactment of the Defense of Marriage Act in 1996, signed into law by President Bill Clinton), and passed by the voters of 41 States including California via Proposition 8; and

WHEREAS, no Act of human government can change the reality that marriage is a natural and most desirable union; especially when procreation is a goal; and

WHEREAS, the future of our country is children; it has been proven repeatedly that the most secure and nurturing environment in which to raise healthy well adjusted children is in a home where both mother and father are bound together in a loving marriage; and

WHEREAS, economically, marriage is America's greatest weapon against child poverty no matter what ethnic background individuals are; and, based on the facts of stunning recent articles, marriage is the best way for society to get out of poverty and raise emotionally healthy children; and

WHEREAS, The U.S. Supreme Court is considering the constitutionality of laws adopted  to protect marriage from the unfounded accusation that support for marriage is based only on irrational prejudice against homosexuals; therefore be it

RESOLVED, the Republican National Committee affirms its support for marriage as the union of one man and one woman, and as the optimum environment in which to raise healthy children for the future of American; and be it further

RESOLVED, the Republican National Committee implores the U.S. Supreme Court to uphold the sanctity of marriage in its rulings on California's Proposition 8 and the Federal Defense of Marriage Act.
The GOP platform last summer was probably the most anti-gay platform in the party's history. After Barack Obama won re-election in a campaign which included support for marriage equality, there were some suggestions that the Republican Party should soften its anti-gay positions. But after RNC Chairman Reince Priebus issued the official "autopsy" of the 2012 presidential elections which called on the party to become more "inclusive and welcoming," a coalition of social conservatives responded with a letter to GOP leadership warning that "an abandonment of its principles will necessarily result in the abandonment of our constituents to their support." The letter writers also protest that their anti-gay stance does not mean the party can't can't attract gay voters:
Many homosexuals are active in the GOP because they agree with Republicans on economic issues. The fact that the Party is strongly committed to traditional marriage has not prevented their involvement through GOProud or Log Cabin Republicans. We deeply resent the insinuation that we have treated homosexuals unkindly personally.

And we would like to point out that in the four blue states where voters narrowly voted for same sex marriage in 2012, Mitt Romney, who refused to discuss the issue, lost by an average of five points more than the state initiatives to preserve marriage.

Republicans would do well to persuade young voters why marriage between a man and a woman is so important rather than abandon thousands of years of wisdom to please them.

…Real and respectful communication is needed with our organizations. Alleged gaffes by candidates in 2012 on social issues could have been avoided if Party leadership had consulted us, the experts on how to articulate those positions.
Those so-called "experts" who signed the letter were:
Gary Bauer, President, American Values
Paul Caprio, Director, Family-Pac Federal
Marjorie Dannenfelser, President, Susan B. Anthony List
Dr. James Dobson, President and Founder, Family Talk Action
Andrea Lafferty, President, Traditional Values Coalition
Tom Minnery, Executive Director, CitizenLink
William J. Murray, Chairman, Religious Freedom Coalition
Tony Perkins, President, Family Research Council
Sandy Rios, VP of Government Affairs, Family-Pac Federal
Austin Ruse, President, Catholic Family & Human Rights Institute
Phyllis Schlafly, President, Eagle Forum
Rev. Louis P. Sheldon, Founder, Traditional Values Coalition
Tim Wildmon, President, American Family Association
According to Politico, the anti-gay resolution is expected to pass overwhelmingly tomorrow when it goes before the full committee, although it's not clear whether the resolution's final form will be the same as the version that has circulated today.
Tags:
American Family Association
,
Andrea Lafferty
,
CitizenLink
,
Eagle Forum
,
Family Research Council
,
Focus On
,
Gary Bauer
,
James Dobson
,
Lou Sheldon
,
Paul Caprio
,
Phyllis Schlafly
,
Republicans
,
Tim Wildmon
,
Tom Minnery
,
Tony Perkins
,
Traditional Values Coalition
COMMENTS (21)
|
LINK
Chik-Fil-A's Anti-Gay Contributions
Jim Burroway
November 1st, 2011
Chick-Fil-A's charitable arm, the WinShape Foundation, has received $7.8 million in funding from Chick-FilA, Inc. WinShape, which was founded by Chick-Fil-A's founder and chairman S. Truett Cathy, turned around and gave more than $1.7 million to several anti-gay groups in 2009, including the Marriage and Family Legacy Fund ($994,199), Fellowship Of Christian Athletes ($480,000), National Christian Foundation ($240,000), Focus On The Family ($12,500) Eagle Forum ($5,000), Exodus International ($1,000), and Family "Research" Council ($1,000). Equality Matters has the details. Remember that the next time you're hankering to "Eat Mor Chikin."
FL Congressman: Gay Marriage Will End Society
Jim Burroway
June 3rd, 2011
Right Wing Watch is following the proceedings at Phyllis Schlafly's Eagle Forum Collegians, and caught this video of Rep. Allen West (R-FL) warning that marriage equality is an "oxymoron" and will end society: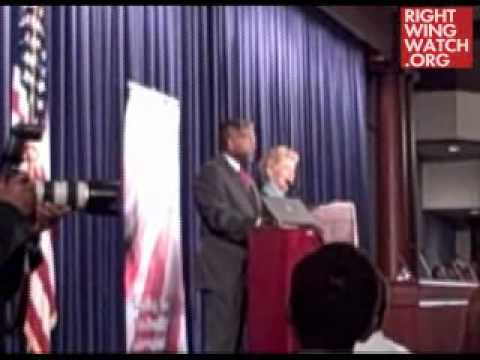 The term 'gay marriage' is an oxymoron. Because marriage is a union and a bond between a man and a woman to do one single thing: the furtherance of society by procreation, through creating new life. Have you ever read the book America Alone by Mark Steyn? It's about demographics. And if we continue with a cycle of debt and punishing our unborn then it just becomes a matter of time before you don't have society.