Report on Tony Perkin's impact on General Mills
Timothy Kincaid
September 15th, 2013
It has been barely three days since I brought you the glorious news that media darling Tony Perkins had lent all of his prestige and influence to bringing General Mills to its knees. And I can now report on the tremendous response from good family-supporting people from across this great nation's fruited plain.
Yes, in the brief moment since last Friday, the Dump General Mills signatory list has shot through the roof. In a mere 70-some hours, good wholesome people have rushed en masse to the site to add their name, promising that they too will "look for substitutes that I can purchase". Today I can tell you, though I am humbled to do so, that the National Organization for Marriage's project has grown to 26488 Signatures. Yes, dozens of people, a stunning total of 41 new dedicated souls have made that anonymous commitment.
And Tony Perkins should feel gratified that he has truly contributed. And though he is but doing what he knows is best, surely in a quiet moment he must be buoyed by the knowledge that his word alone can drive tens of people to join him in his battle for a more godly nation.
So supporters of traditional biblical marriage, take heart. While General Mills' annual revenues are roughly seventeen billion dollars, and though the company's sales are up some 7.5% from a year ago, just think, if each and every signatory 'looks for a substitute' for their Betty Crocker Devil's Food Cake Mix, if each and every signatory 'looks for a substitute' to their Pillsbury rolls, why in no time General Mills may feel it on their bottom line.
Tony Perkins joins NOM's big dump
Timothy Kincaid
September 12th, 2013
It's been a while since we've discussed NOM's Dump General Mills project (it just seemed the kind thing to do). But now there's news to report.
Back in July 2012, the National Organization for Marriage (theirs, not yours) decided that they would boycott General Mills due to its opposition to an anti-gay marriage amendment in Minnesota. They asked for concerned Americans to pledge to "look for substitutes" to General Mills products.
NOM held a publicity event and the American Family Association pushed the project on their "news" network, and immediately Dump General Mills got 14,000, then 18,000 and then as many as a stunning 23,054 by mid July. And we stopped counting at that point.
But now that more than a year has passed, they're back in the news. Now Tony Perkins has become a part of NOM's big dump. (FRC)
At Betty Crocker, the only thing they're mixing up is their priorities. Hi, I'm Tony Perkins of the Family Research Council in Washington, D.C. If you ask conservatives, Betty Crocker's latest promotion is a recipe for disaster. This summer, the famous dessert line decided to jump on the same-sex "marriage" bandwagon-and bring cakes to celebrate. In Minnesota, where parent company General Mills is headquartered, Betty Crocker decided to donate wedding cakes to the first homosexual couples who exchanged vows on the first day that counterfeit marriage was legal. "Betty celebrates all families," said manager Laura Forero. "We don't want to be old fashioned," the company explained. Unfortunately for General Mills, the majority of Americans think natural marriage is anything but old fashioned. And they've made it tough on companies like Target, Starbucks, and JC Penney who disagree. Know where your money is going. When you're at the store, think outside the Betty Crocker box! For a full list of products that are undermining marriage, check out DumpGeneralMills.com.
With Perkins' tremendous influence over the nation's cereal buying habits, the Big Dump is likely to heap high. But so as to truly measure Tony's impact, let's see where they are today.
Clearly NOM has really made a push, because since last year they've added 3,393 names to the pile, for a staggering total of 26,447. Numbers like that strain the imagination. Why, that's nearly a quarter of the population of Broken Arrow, Oklahoma. It's more than half the number of people in the US who bought a Yugo in 1987. It's astonishing that General Mills does not quake at the notion that one-fortieth of a million people have pledged to see if their grocery store has a bargain-brand substitute for their usual purchases.
But undoubtedly, now that Tony's on board, he will really make a difference. With his help, I'm sure NOM will be able so squeeze out support that will make NOM's Big Dump truly colossal, perhaps record breaking. Look out, General Mills, because with Perkins' help, NOM with be able to really apply pressure.
We will, of course, let you know how it all comes out.
Tony Perkins Calls for Withholding GOP's Allowance Until It Learns To Be More Anti-Gay
Jim Burroway
April 12th, 2013
In a blog post and email blast to supporters yesterday, the Family "Research" Council's Tony Perkins called on supporters to stop donating to the Republican Party until Grandpa's Old Party learns to be more anti-gay:
As the RNC debates its future at meetings in Los Angeles this week, we called on the Committee to pass a resolution reiterating the GOP's support for the party platform that was overwhelmingly adopted in Tampa last year. In the meantime, instead of trying to appease millennials, Republicans should try educating them on why marriage matters. …

Until the RNC and the other national Republican organizations grow a backbone and start defending core principles, don't give them a dime of your hard-earned money. If you want to invest in the political process, and I encourage you to do so, give directly to candidates who reflect your values and organizations you trust–like FRC Action. At least then you can relax, knowing that your money will be spent advancing faith, family, and freedom!
Efforts by Republican National Committee chairman Reince Priebus to nudge the party to become more "inclusive and welcoming" have stoked a fierce backlash from the GOP's anti-gay wing. As a result, the RNS is expected to overwhelmingly approve today an anti-gay resolution opposing same-sex marriage and supporting Prop 8 and DOMA.
GOP Slams Brakes On Rebranding Effort
Jim Burroway
April 11th, 2013
The Republican National Committee is meeting in Los Angeles over the next three days beginning today, and one of the first items on the agenda for consideration is a resolution that states:
WHEREAS, the institution of marriage is the solid foundation upon which our society is built and in which children thrive; it is based in the conjugal relationship that only a man and a woman can form; and

WHEREAS, support for marriage has been repeatedly affirmed nationally in the 2012 Republican National Platform, through the enactment of the Defense of Marriage Act in 1996, signed into law by President Bill Clinton), and passed by the voters of 41 States including California via Proposition 8; and

WHEREAS, no Act of human government can change the reality that marriage is a natural and most desirable union; especially when procreation is a goal; and

WHEREAS, the future of our country is children; it has been proven repeatedly that the most secure and nurturing environment in which to raise healthy well adjusted children is in a home where both mother and father are bound together in a loving marriage; and

WHEREAS, economically, marriage is America's greatest weapon against child poverty no matter what ethnic background individuals are; and, based on the facts of stunning recent articles, marriage is the best way for society to get out of poverty and raise emotionally healthy children; and

WHEREAS, The U.S. Supreme Court is considering the constitutionality of laws adopted  to protect marriage from the unfounded accusation that support for marriage is based only on irrational prejudice against homosexuals; therefore be it

RESOLVED, the Republican National Committee affirms its support for marriage as the union of one man and one woman, and as the optimum environment in which to raise healthy children for the future of American; and be it further

RESOLVED, the Republican National Committee implores the U.S. Supreme Court to uphold the sanctity of marriage in its rulings on California's Proposition 8 and the Federal Defense of Marriage Act.
The GOP platform last summer was probably the most anti-gay platform in the party's history. After Barack Obama won re-election in a campaign which included support for marriage equality, there were some suggestions that the Republican Party should soften its anti-gay positions. But after RNC Chairman Reince Priebus issued the official "autopsy" of the 2012 presidential elections which called on the party to become more "inclusive and welcoming," a coalition of social conservatives responded with a letter to GOP leadership warning that "an abandonment of its principles will necessarily result in the abandonment of our constituents to their support." The letter writers also protest that their anti-gay stance does not mean the party can't can't attract gay voters:
Many homosexuals are active in the GOP because they agree with Republicans on economic issues. The fact that the Party is strongly committed to traditional marriage has not prevented their involvement through GOProud or Log Cabin Republicans. We deeply resent the insinuation that we have treated homosexuals unkindly personally.

And we would like to point out that in the four blue states where voters narrowly voted for same sex marriage in 2012, Mitt Romney, who refused to discuss the issue, lost by an average of five points more than the state initiatives to preserve marriage.

Republicans would do well to persuade young voters why marriage between a man and a woman is so important rather than abandon thousands of years of wisdom to please them.

…Real and respectful communication is needed with our organizations. Alleged gaffes by candidates in 2012 on social issues could have been avoided if Party leadership had consulted us, the experts on how to articulate those positions.
Those so-called "experts" who signed the letter were:
Gary Bauer, President, American Values
Paul Caprio, Director, Family-Pac Federal
Marjorie Dannenfelser, President, Susan B. Anthony List
Dr. James Dobson, President and Founder, Family Talk Action
Andrea Lafferty, President, Traditional Values Coalition
Tom Minnery, Executive Director, CitizenLink
William J. Murray, Chairman, Religious Freedom Coalition
Tony Perkins, President, Family Research Council
Sandy Rios, VP of Government Affairs, Family-Pac Federal
Austin Ruse, President, Catholic Family & Human Rights Institute
Phyllis Schlafly, President, Eagle Forum
Rev. Louis P. Sheldon, Founder, Traditional Values Coalition
Tim Wildmon, President, American Family Association
According to Politico, the anti-gay resolution is expected to pass overwhelmingly tomorrow when it goes before the full committee, although it's not clear whether the resolution's final form will be the same as the version that has circulated today.
Tony Perkins Reacts
Jim Burroway
November 7th, 2012
It looks like they had a conference call to coordinate their responses:
This was supposed to be the morning when Americans got up and shook off the nightmare of the last four years. Instead, they awakened to a new one: a profound drubbing of the Republican Party that is supposed to be the guardian of the conservative vision our nation so desperately needs. On every level–presidential, congressional, social–it was a bruising day for our movement that no amount of spin can improve…

Among the more demoralizing losses yesterday were the outcomes in Maryland, Minnesota, Washington, and Maine, where natural marriage lost for the first time in America by popular vote. It was a significant moment for the radical Left, which was helped to victory by the most pro-gay President in American history. But contrary to what the Left will say, the narrow margin for victory in these four states offers plenty of evidence that a solid majority of Americans still opposes same-sex "marriage." Despite being outspent 8-to-1 in some of the most liberal states in the country, we witnessed record-setting petition efforts that crossed every racial, party, and socioeconomic divide. And while homosexuals may be celebrating an end to our movement's perfect record, they still have a long way to go to match the 32 states where Americans voted overwhelmingly to protect the union of a man and woman. And that includes North Carolina, where President Obama's endorsement of same-sex "marriage" likely cost him the state's electoral votes.

In a glimmer of good news on the marriage front, the support for marriage in these four states actually out-polled Mitt Romney, who won 48% of the popular vote. In the weeks and months ahead, we're confident that as voters see and experience the consequences of redefining marriage, many will reconsider their support. How can I be so certain? Forty years after Roe v. Wade, the nation is more pro-life, and the abortion issue is far from settled. As with same-sex "marriage," the Left can make it legal, but they can never make it right.
Tony Perkins: "I Wrote" GOP Platform
Jim Burroway
August 21st, 2012
The Log Cabin Republicans yesterday were all kinds of proud over the impact they had in helping to shape the Republican platform this week. LCR chief R. Clarke Cooper told BuzzFeed's Chris Geidner that the draft platform's preamble approved yesterday morning includes the statement, "We embrace the principle that all Americans have the right to be treated with dignity and respect," which they took as some kind of an olive branch to the gay community. Bless their little hearts. And they also sold themselves a little short. I managed to find another reference to dignity and respect in the main body of the draft platform. Maybe you can find it too.
Marriage

The Institution of marriage is the foundation of civil society. Its success as an institution will determine our success as a nation. It has been proven by both experience and endless social science studies that marriage is best for children. Children raised in intact married families are more likely to attend college, and are physically and emotionally healthier, are less likely to use drugs or alcohol, are less like to to engage in crime, and are less likely to get pregnant outside of marriage. The success of marriage directly impacts the economic wellbeing of individuals. Furthermore, the future of marriage affects freedom. The lack of family formation not only leads to more government costs, but also more government control over the lives of its citizens in all facets. We recognize and honor the courageous efforts of those who bear the many burdens of parenting along, even as we believe that marriage, the union of one man and one woman must be upheld as a national standard, a goal to stand for, encourage, and promote through laws governing marriage. We embrace the principle that all Americans should be treated with respect and dignity.
There's more:
Marriage and the Judiciary

A serious threat to our country's constitutional order, perhaps even more dangerous than presidential malfeasance, is an activist judiciary, in which some judges usurp the powers reserved to other branches of government. A blatant example has been the court-ordered redefinition of marriage in several States. This is more than a matter of warring legal concepts and ideals. It is an assault on the foundation of our society, challenging the institution which, for thousands of years in virtually every civilization, has been entrusted with the rearing of children and the transmission of cultural values.

Defense of Marriage

That is why congressional Republicans took the lead in enacting the Defense of Marriage Act, affirming the right of States and the federal government not to recognize same-sex relationships licensed in other jurisdictions. An activist judiciary usurps the powers reserved to other branches of government and endangers the foundation of our society. We oppose the Administration's open defiance of this constitutional principle — in its handling of immigration cases, in federal personnel benefits, in allowing same-sex marriage at a military base, and in refusing to defend DOMA in the courts — makes a mockery of the President's inaugural oath. We commend the United States House of Representatives and those State Attorneys Generals who have defended these laws when they have been attacked in the courts. We reaffirm our support for a constitutional amendment defining marriage as a union of one man and one woman. We applaud the citizens of the majority of States which have enshrined in their constitutions the traditional concept of marriage, and we support the campaigns underway in several other states to do so.
That doesn't sound like a platform influenced by the Log Cabin Republicans. It sound much more like — actually, virtually identical to — something that would have come out of an email blast from the Family "Research" Council:
Family Research Council president Tony Perkins told BuzzFeed: "You should read the entire plank on marriage, which I wrote. I feel very happy about it. I feel pretty optimistic about the outcome here." [Emphasis added]
Ordinarily, whenever you read someone claiming sole credit for something, you can usually be safe in ignoring the boast. But when you go back and read these sections again, especially the first one, Perkins's boast appears to be well-founded. Just try to find one iota of difference between these platform statements and the daily blasts from the Family "Research" Council. I mean, hell, even the FRC can include a throw-away line about dignity and respect for all Americans.
Michelangelo Signorile Challenges FRC's Tony Perkins To Debate
Jim Burroway
August 20th, 2012
Radio host and Huffington Post Gay Voices editor Michelangelo Signorile is tired of the Family Research Council's attempt to pin the blame for last week's shooting on the Southern Poverty Law Center's ranking the FRC as among just twenty-six anti-gay hate groups. Signorile has penned an open letter to FRC's Tony Perkins challenging him to a discussion about hate and its consequences:
But let's be clear about why FRC is in that category. After all, there are thousands of conservative and religious groups across the country that are opposed to marriage equality, many of which also believe homosexuality to be a sin, but the SPLC does not deem them all hate groups. It's only a tiny handful of conservative groups that have been given that distinction by the SPLC. They are listed as hate groups "based on their propagation of known falsehoods — claims about LGBT people that have been thoroughly discredited by scientific authorities — and repeated, groundless name-calling." Also, two years ago, an FRC official said "homosexual behavior" should be outlawed. You wouldn't repudiate him. It was also revealedthat the FRC contributed $25,000 to stop a congressional resolution to condemn the "kill the gays" bill in Uganda, which would have made homosexuality punishable by death. You worried that the resolution could make it appear as if homosexuality is acceptable. If that Ugandan bill, and even tacit approval of it, isn't "hate," what is?

Perhaps you recall that in July 2008, a man armed with a shotgun went on a shooting rampage inside a church in Knoxville. The Tennessee Valley Unitarian Universalist Church, like many Christian churches and denominations across the country, is welcoming of LGBT people. The gunman killed two people and severely wounded several others. Police said that the killer's motive was to target gays and liberals. "This isn't a church, it's a cult," the killer wrote in a four-page letter he had left behind. "They embrace every pervert that comes down the pike…. [T]he only way we can rid ourselves of this evil is kill them in the streets, kill them where they gather."

I wouldn't claim, as you did with regard to the SPLC, that the FRC gave that killer a "license to shoot." No one knows what's inside the mind of a premeditated killer. But I would ask: Where do people like this killer get the distortions and ugly mischaracterizations that convince them that gay people are evil? More so, where do others who wouldn't engage in gun violence but who do harm to LGBT people in other ways — firing them from their jobs, throwing them out of their homes, bullying them in schools — get their misinformation about gay people? They get it from a wide array of sources that contribute to a culture that demonizes LGBT people. And you and the Family Research Council are among those who feed into that culture.
This is what Tony Perkins's Head Looks Like On A Platter
Jim Burroway
May 25th, 2012
GLAAD couldn't be more thrilled, calling Brooke Baldwin's intervew "an almost textbook example of how to tell a complete story when dealing with an anti-gay activist."
Guess Whose Fault It Is That Heterosexual Secret Service Agents Were Caught In A Straight Prostitution Scandal
Jim Burroway
April 17th, 2012
Family "Research" Council's Tony Perkins is the Einstein who connected these dots:
Perkins: Yeah, you know that's a great point. Just for a moment step back and look at the implications of (Don't Ask, Don't Tell repeal), over the weekend we saw the news of the President's Secret Service detail in Colombia and the issue of them hiring prostitutes and now the White House is outraged about that. Actually in a meeting this morning my staff asked, 'why should the President be upset'? It was actually legal; it was legal there to do that, so why should we be upset? Well, the fact is we intuitively know it's wrong, there's a moral law against that.

The same is true for what the President has done to the military enforcing open homosexuality in our military. You can change the law but you can't change the moral law that's behind it. You can change the positive law, the law that is created by man, but you can't change the moral law, it's wrong. So what you have is you have a total breakdown and you can't pick and choose. Morality is not a smorgasbord; you can't pick what you want. I think you're absolutely right, this is a fundamental issue going forward because if we say 'let them do what we want,' what's next? You cannot maintain moral order if you are willing to allow a few things to slide.
Santorum's Pastor Problem
Jim Burroway
March 20th, 2012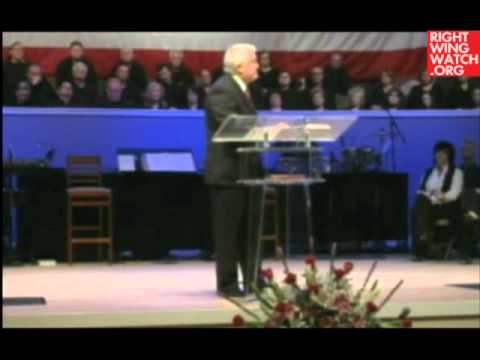 I don't care what the liberals say, I don't care what the naysayers say, this nation was founded as a Christian nation! The God of Abraham, the God of Isaac, the God of Jacob, there's only one God! There's only one God, and his name is Jesus! I'm tired of people telling my I can't say those words. I'm tired of people telling us that as Christians we can't force or beliefs, or we can no longer pray in public. I'm — Listen to me! If you don't like… love American and you don't like the way we do things, I got one thing to say. GET OUT! We don't worship Buddha, we don't Mohammed, we don't woship Allah, we worship God. We worship God's son, Jesus Christ.

…I believe the church is to be the conscience of the nation. The church needs to be the conscience of our state and our local community. Listen closely. Now hold on for just a moment. As long as they continue to kill little babies in our mother's womb, somebody's got to take a stand and say it's not right! God be merciful to us as a nation. As long as sexual perversion is becoming normalized, somebody needs to stand up and say God forgives us, God have mercy upon us! As long as they continue to tell our children they cannot pray in public schools or pray in open public places today, somebody's got to take a stand and say God forgive us, God have mercy upon us! As long as they continue to tear down traditional marriage… Listen! God intended for marriage to be between a man and a woman, and as long as they continue to attack marriage, somebody needs to take a stand and say NO! NO! NO! NO!

…I'm telling you my friend I believe the Christians in American are the key to revival. I believe that Christians in America is (sic) the key to the economy to turn it around. I believe that Christians in America is (sic) the key to the jobless rate continue (sic) to go down. I believe its a spiritual thing. If we would put God back in America, put God back in our pulpits, put God back in our homes and in our statehouse and then in Washington, D.C., then we can have revival in America! And the Holy Spirit will show up and great and mighty things will happen for this country!
The video closes with the camera on Sen. Rich Santorum, standing and clapping, after Greenwell Springs Baptist Church pastor Dennis Terry's fiery speech yesterday calling on anyone who does not adhere to his particular brand of Christianity to leave the country so that they can finally establish their talibanic regime in the White House. Terry made those comments at a rally in Louisiana, which is the home of Family Research Council's Tony Perkins. To tighten that circle just a little, Terry is also Perkins's pastor, who was also on hand at the event.
If anyone wonders at the collapse of the so-called "Catholic vote" (I, for one, believe that Catholics never voted as a block to begin with), one only has to watch this video. Despite Santorum's identification as a conservative Catholic, despite his reportedly attending Mass daily, what you see here is as alien — and as disturbing — to the majority of Catholics as it is to any other (yes, I'll say it) ordinary American. Catholics have acquired a long history of shunning the pronouncements of the hierarchy on issues of private morality, and they have a much longer history of fearing the interference of government in religious affairs. Co-mingling the two are anathema to most Catholics in the pews, even as the Bishops have become increasingly politically active. That partly explains how Romney has been picking up most of the Catholic vote in recent contests.
At the rally's close, Terry prayed over Santorum and asked God to "have favor upon Rick Santorum," as Perkins stood next to them. When Jeremaiah Wright "goddamned" American, Obama was nowhere in sight, but he got the blowback anyway. Terry laid his hands on Santorum and — more relevant to our point here — Santorum obediently bowed his head for Terry's blessing, nodding in agreement.
When pressed by reporters afterward, Santorum tried to half-heartedly back away from Terry's comments that American "heretics" — and let's be clear: that's who Terry's talking about — need to leave America. But the sad truth is, Santorum fully owns Terry and all of the other dominionists who would turn this nation into a theocratic Ameristan as the first opportunity. And to those who say that dominionism is a myth, all I have to say is that we have video proof of it right there, right at the top of this post. And one of them is running for President.
The Daily Agenda for Saturday, October 8
Jim Burroway
October 8th, 2011
TODAY'S AGENDA (OURS):

First Openly Gay Ordination for the Presbyterian Church, USA: Madison, WI. Last May, the Presbyterian Church USA became the fourth mainline Protestant Church to allow the ordination of openly gay clergy. Today, that promise becomes a reality as Scott Anderson is ordained at Covenant Presbyterian Church in Madison, Wisconsin. The Princeton Theological Seminary graduate had served as Co-Moderator of More Light Presbyterians before moving to Madison to become the Executive Director of the Wisconsin Council of Churches.
Anderson's ordination will mark his return to a ministry he was forced to abandon twenty-one years ago. In 1990, while working as a parish minister in Sacramento, he was threatened with exposure by a couple who wanted him to help raise money for a cause they were advancing that he disagreed with. Rather than submit to the couple's threats, he outed himself instead, and in keeping with the church's rules he stepped down as minister and embarked on the long process of working to change the church's stance toward ordination of openly gay people. Anderson will be supported by his partner of twenty-one years at today's ordination. Anderson is being ordained by the John Knox Presbytery, which consists of 60 congregations in Iowa, Minnesota, and Wisconsin.
AIDS Walks This Weekend: Columbus, OH; Indianapolis, IN and Kent/Sussex, DE.
Pride Celebrations This Weekend: Atlanta, GA; Orlando, FL; Rio de Janeiro, Brazil and Tucson, AZ.
Also This Weekend: Iris Prize Film Festival, Cardiff, UK.
TODAY'S AGENDA (THEIRS):
Values Voter Summit: Washington, D.C. Whenever the Family "Research" Council and the American Family Association team up to put on their annual Values Voter Summit, you can pretty much guarantee that they will more than live up to their reputation for being on the Southern Poverty Law Center's list of anti-gay hate groups. Yesterday, we saw GOP presidential candidate Sen. Rick Santorum give his most bizarre qualification yet for the presidency, when he told the conference that voters should "look at who they lay down with at night and what they believe." That will be hard to top, although Liberty Counsel's Mat Staver gave it his best shot by saying that gay equality will lead to the destruction of Western Civilization.
Today's lineup will be about as crazy as yesterday's. The AFA's Bryan Fischer, whose sheer lunacy knows no bounds, will be a featured speaker, along with FRC's Tom McClusky and Tony Perkins, National Organization for Marriage's Brian Brown, American Values' Gary Bauer, AFA's Ed Vitagliano, Alliance Defense Fund's Alan Sears, Eagle Forum's Phyllis Schlafly, Glenn Beck and Bishop Harry Jackson, among many others. GOP Presidential candidates speaking today will be Texas Rep. Ron Paul and former Massachusetts Gov. Mitt Romney.
If you know of something that belongs on the agenda, please send it here. Don't forget to include the basics: who, what, when, where, and URL (if available).
And feel free to consider this your open thread for the day. What's happening in your world?
Full Page Ad Reminds Voters Who's Behind "Values Voter Summit"
Jim Burroway
October 7th, 2011
The Southern Poverty Law Center has taken out a full page ad in the Washington Post reminding readers why the two organization's sponsoring the event, the Family "Research" Council and the American Family Association, have been included in their very short list of anti-gay hate groups. The ad reads:
Just whose values are represented at the Values Voter Summit?Prominent public figures will attend the Values Voter Summit in DC this weekend.

But what values are they promoting?

The summit is hosted by the Family Research Council and co-sponsored by the American Family Association — organizations that have mounted a long-running campaign of falsehoods that demonize the LGBT community.

They portray gay people as child molesters, deviants, public health threats and more. Their outrageous claims have been thoroughly debunked by numerous scientific authorities and respected professional associations such as the American Psychological Association and the American Academy of Pediatrics.

Their words have consequences: Gay men, lesbians, bisexuals and transgender people are far more likely than any other group to be victimized by violent hate crimes. Many have been driven by relentless demonization to seek a "cure" for their sexual orientation through dangerous therapeutic practices. Many have been driven to suicide by relentless bullying in our schools.

Whose values are these?

Is bearing false witness a "family" value? Is bigotry?
The ad goes on to list several quotes from the FRC and AFA equating homosexuality with pedophilia, criminality, Nazi's, and Adolf Hitler. The SPLC and Wayne Besen's Truth Wins Out held a joint press conference this morning to release a report on the AFA and FRC's "false propaganda that demonizes the LGBT community." FRC's Tony Perkins is furious, and equates the SPLC's exercise of free speech:
Perkins said the SPLC news conference reflected an attempt to prevent free discussion of ideas and noted that he doesn't show up at SPLC events to protest the civil rights organization's beliefs.

"Southern Poverty Law Center is obviously desperate to try to shut down public debate," he said.
Conservative churches welcome homosexuals
Timothy Kincaid
August 18th, 2011
Tony Perkins, lead anti-gay activist at Family Research Council tweeted the following
And he's right.
As long as you are a "homosexual" – as Tony and fellow believers define the term – the church doors are open wide. To them, a homosexual is someone who engages in sex with persons of the same sex, and has nothing whatsoever to do with attractions, instincts, love, or family. If you show up looking to be delivered from a sinful homosexual lifestyle then you are not only welcomed but celebrated.
Church members will joyously go online to leave comments on the Militant Homosexual Activist Blogsites reporting that the saving grace of Jesus healed a broken and wounded soul right that very morning. Of course, they don't actually want to associate with that person, "do you know what he's done? And he's so very, well, flamboyant still", but nevertheless they are happy to report deliverance.
Yes indeed, homosexuals are welcome.
Ah, but as for conservative churches welcoming gay people? The folks that do not believe that their orientation – that immutable, natural, and powerful force – is inherently evil? Those folk?
Yeah, not so much.

(hat tip: Joe My God)
Anti-Gay Activists React to DOMA Announcement
Jim Burroway
February 23rd, 2011
Brian Brown from National Organization for Marriage lost his already limited capacity for original thought and channels John Paul Jones:
We have not yet begun to fight for marriage," said Brian Brown, president of NOM."The Democrats are responding to their election loss with a series of extraordinary, extra-constitutional end runs around democracy, whether it's fleeing the state in Wisconsin and Indiana to prevent a vote, or unilaterally declaring homosexuals a protected class under our Constitution, as President Obama just did," said Brown. "We call on the House to intervene to protect DOMA, and to tell the Obama administration they have to respect the limits on their power. This fight is not over, it has only begun!"
Maggie Gallagher chimes in:
On the one hand this is a truly shocking extra-constitutional power grab in declaring gay people are a protected class, and it's also a defection of duty on the part of the President Obama," said Maggie Gallagher, Chairman of NOM, "On the other hand, the Obama administration was throwing this case in court anyway. The good news is this now clears the way for the House to intervene and to get lawyers in the court room who actually want to defend the law, and not please their powerful political special interests."
Liberty Counsel's Mat Staver, who charged that allowing same-sex marriages would lead to an epidemic of violent crime, called Obama the most divisive President in US History:
Regardless of President Obama's own ideological agenda, as President, he and his Attorney General have a duty to defend lawfully passed legislation, especially when the essence of the law has been upheld by many courts. Thirty states have passed marriage amendments affirming marriage as one man and one woman. Today President Obama has abandoned his role as President of the United States and transformed his office into the President of the Divided States. He has been the most divisive president in American history. He has today declared war on the American people and the fundamental values that are shared by most Americans. His radicalism resulted in the historical push-back in the 2010 elections. His radicalism today will come back around when the people respond to this betrayal in 2012," said Staver.
Focus On the Family's Tom Minnery wants Congressional Republicans to drop whatever they're doing and pick up the flag:
"We would hope Congress uses the tools at its disposal to counter this decision and defend marriage," Minnery said.
What should Congress do? Family Research Council's Tony Perkins wants Congress to take Holder's bait by dropping their "only interested in the deficit" mantra and reveal what many suspect to be their true colors:
"With this decision the President has thrown down the gauntlet, challenging Congress. It is incumbent upon the Republican leadership to respond by intervening to defend DOMA, or they will become complicit in the President's neglect of duty," concluded Perkins.
American Family Association's Bryan Fischer, who recently said that he would "fight to the last ditch" for marriage discrimination, has Perkins's back:
"I think it's a clear sign that we simply cannot avoid engaging on the social issues," Bryan Fischer, director of issue analysis for the group, told TPM. "Mitch Daniels has called for a truce on social issues and that would be fine if the homosexual lobby was willing to lay down arms, but they're obviously not and this proves it. A truce is nothing more than a surrender."
So far, House Speaker John Boehner is staying on message and has declined to take the bait:
A spokesman for House Speaker John Boehner, R-Ohio, criticized the administration change of position. "While Americans want Washington to focus on creating jobs and cutting spending, the president will have to explain why he thinks now is the appropriate time to stir up a controversial issue that sharply divides the nation," said spokesman Brendan Buck.
Update: Potential GOP Presidential candidate and former Arkansas Governor Mike Huckabee found a clever way to blame gay marriage for increasing the deficit:
Nonetheless, Huckabee opposes gay marriage on the grounds that, according to him, it destroys traditional families.  "There is a quantified impact of broken families," Huckabee said. "[There is a] $300 billion dad deficit in America every year…that's the amount of money that we spend as taxpayers to pick up the pieces because dads are derelict in their duties."
David Boies: Junk Science, Fear and Prejudice Were Put On Trial and Lost
Jim Burroway
August 9th, 2010
David Boies, one of plaintiff's lawyers for the gay couples successfully challenging the constitutionality of California's Prop 8 in Federal District Court, was on CBS's Face The Nation yesterday morning, where he eviscerated the Family Research Council's Tony Perkins on their "junk science."
It's easy to sit around in debate and throw around opinions and appeal to people's fear and prejudice, cite studies that either don't exist or don't say what you say they do. In a court of law, you've got to come in and you've got to support those opinions. You've got to stand up under oath and cross examination.

And what we saw at trial is that it's very easy for people who want to deprive gay and lesbian citizens the right to vote [sic]  make all sorts of statements in campaign literature or in debates where they can't be cross examined. But when they come into court and they have to support those opinions, and they have to defend those opinions under oath and cross examination, those opinions just melt away.

And that's what happened here. There simply wasn't any evidence. There weren't any of "those studies." There weren't any empirical studies. That's just made up. That's just junk science. And it's easy to say that on television, but the witness stand is a lonely place to lie. And when you come into court, you can't do that. And that's what we proved. We put fear and prejudice on trial, and fear and prejudice lost.
Meanwhile, Ted Olson was on Fox New Sunday defending Judge Vaughn Walker against claims of "judicial activism." Olson deftly defined "judicial activism" this way: "Most people use the term judicial activism to explain decisions they don't like."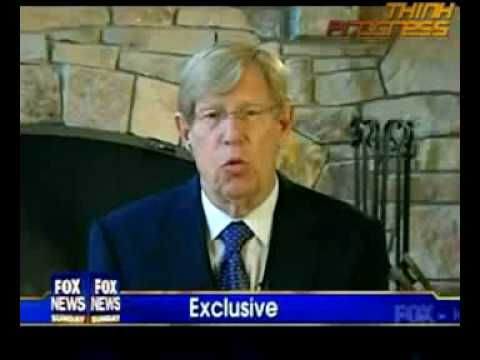 Olson cited the case of Reitman v. Mulkey, in which the U.S. Supreme Court struck down California's Prop 14 of 1963 because it violated the U.S. Constitution due to its racial discrimination, despite the fact that Californians overwhelmingly supported it at the ballot box. Money quote: "Would you like Fox News' right to free press put up to a vote?"
Also this, on conservative values: "We believe that a conservative value is stable relationships and stable community and loving individuals coming together and forming a basis that is a building block of our society, which includes marriage."
Prop 8 Supporters React
Jim Burroway
August 4th, 2010
First, we go to Andy Pugno, general counsel for the Alliance Defense Fund, which represented the losing side in today's decision:
"Today's ruling is clearly a disappointment. The judge's invalidation of the votes of over seven million Californians violates binding legal precedent and short-circuits the democratic process. But this is not the end of our fight to uphold the will of the people for traditional marriage, as we now begin an appeal to the Ninth Circuit Court of Appeals.

"It is disturbing that the trial court, in order to strike down Prop 8, has literally accused the majority of California voters of having ill and discriminatory intent when casting their votes for Prop 8.

"But the reality is that Prop 8 was simply about restoring and strengthening the traditional definition of marriage as the unique relationship of a man and a woman, for the benefit of children, families and society.

"At trial we built a solid record to show that marriage has served as the foundation of the family and society as a whole, has universal functions and features attributable only to unions between a man and woman, has been defined in both law and language as a union between a man and a woman, and acts as the predominate relationship in which to create and support children.

"We are confident that the trial court record we built will help us ultimately prevail on appeal and reverse today's ruling.
Newt Gingrich, who believes in the sanctity of marriage between on man and three consecutive women, warns that this should be another knock against confirming Elena Kagan to the Supreme Court:
"Judge Walker's ruling overturning Prop 8 is an outrageous disrespect for our Constitution and for the majority of people of the United States who believe marriage is the union of husband and wife. In every state of the union from California to Maine to Georgia, where the people have had a chance to vote they've affirmed that marriage is the union of one man and one woman. Congress now has the responsibility to act immediately to reaffirm marriage as a union of one man and one woman as our national policy. Today's notorious decision also underscores the importance of the Senate vote tomorrow on the nomination of Elena Kagan to the Supreme Court because judges who oppose the American people are a growing threat to our society."
Wendy Wright, Concerned Women for America stomps her foot and demands that the decision be overturned immediately:
Judge Walker's decision goes far beyond homosexual 'marriage' to strike at the heart of our representative democracy. Judge Walker has declared, in effect, that his opinion is supreme and 'We the People' are no longer free to govern ourselves. The ruling should be appealed and overturned immediately.

"Marriage is not a political toy. It is too important to treat as a means for already powerful people to gain preferred status or acceptance. Marriage between one man and one woman undergirds a stable society and cannot be replaced by any other living arrangement.
Robert George of the American Principles Project, sees this as ensuring "additional decades fo social dissension and polarization":
Another flagrant and inexcusable exercise of 'raw judicial power' threatens to enflame and prolong the culture war ignited by the courts in the 1973 case of Roe v. Wade," said Dr. Robert P. George, Founder of the American Principles Project. "In striking down California's conjugal marriage law, Judge Walker has arrogated to himself a decision of profound social importance—the definition and meaning of marriage itself—that is left by the Constitution to the people and their elected representatives."

"As a decision lacking any warrant in the text, logic, structure, or original understanding of the Constitution, it abuses and dishonors the very charter in whose name Judge Walker declares to be acting. This usurpation of democratic authority must not be permitted to stand."

…"The claim that this case is about equal protection or discrimination is simply false," George said. "It is about the nature of marriage as an institution that serves the interests of children—and society as a whole—by uniting men and women in a relationship whose meaning is shaped by its wonderful and, indeed, unique aptness for the begetting and rearing of children.

…"Judge Walker has abandoned his role as an impartial umpire and jumped into the competition between those who believe in marriage as the union of husband and wife and those who seek to advance still further the ideology of the sexual revolution. Were his decision to stand, it would ensure additional decades of social dissension and polarization. Pro-marriage Americans are not going to yield to sexual revolutionary ideology or to judges who abandon their impartiality to advance it. We will work as hard as we can for as long as it takes to defend the institution of marriage and to restore the principle of democratic self-government," concluded Dr. George.
Focus On the Family's Judicial Analyst Bruce Hasknecht (he apparently didn't get layed off last week) warns that this could have repurcussions for the other 49 states in the union:
"Judge Walker's ruling raises a shocking notion that a single federal judge can nullify the votes of more than 7 million California voters, binding Supreme Court precedent, and several millennia-worth of evidence that children need both a mom and a dad.

"During these legal proceedings, the millions of California residents who supported Prop 8 have been wrongfully accused of being bigots and haters. Nothing could be further from the truth. Rather, they are concerned citizens, moms and dads who simply wanted to restore to California the long-standing understanding that marriage is between one woman and one man – a common-sense position that was taken away by the actions of another out-of-control state court in May 2008.

"Fortunately for them, who make up the majority of Californians, this disturbing decision is not the last word.

…"We do want Americans to understand the seriousness of this decision, however. If this judge's decision is not overturned, it will most likely force all 50 states to recognize same-sex marriage. This would be a profound and fundamental change to the social and legal fabric of this country.
Tony Perkins at the Family Research COuncil anticipates that the decisionwill be upheld by the Ninth Circuit Court of Appeals ("the most liberal appeals court in America"), and will only make the anti-gay rhetoric "more volatile":
"This lawsuit, should it be upheld on appeal and in the Supreme Court, would become the 'Roe v. Wade' of same-sex 'marriage,' overturning the marriage laws of 45 states. As with abortion, the Supreme Court's involvement would only make the issue more volatile. It's time for the far Left to stop insisting that judges redefine our most fundamental social institution and using liberal courts to obtain a political goal they cannot obtain at the ballot box.

"Marriage is recognized as a public institution, rather than a purely private one, because of its role in bringing together men and women for the reproduction of the human race and keeping them together to raise the children produced by their union. The fact that homosexuals prefer not to enter into marriages as historically defined does not give them a right to change the definition of what a 'marriage' is.

"Marriage as the union between one man and one woman has been the universally-recognized understanding of marriage not only since America's founding but for millennia. To hold that the Founders created a constitutional right that none of them could even have conceived of is, quite simply, wrong.

"FRC has always fought to protect marriage in America and will continue to do so by working with our allies to appeal this dangerous decision. Even if this decision is upheld by the Ninth Circuit Court of Appeals-the most liberal appeals court in America-Family Research Council is confident that we can help win this case before the U.S. Supreme Court."
Randy Thomasson, of Save California thinks the oath of office should be updated to force judges to only issue conservative rulings:
"Natural marriage, voter rights, the Constitution, and our republic called the United States of America have all been dealt a terrible blow. Judge Walker has ignored the written words of the Constitution, which he swore to support and defend and be impartially faithful to, and has instead imposed his own homosexual agenda upon the voters, the parents, and the children of California. This is a blatantly unconstitutional ruling because marriage isn't in the U.S. Constitution. The Constitution guarantees that state policies be by the people, not by the judges, and also supports states' rights, thus making marriage a state jurisdiction. It is high time for the oath of office to be updated to require judicial nominees to swear to judge only according to the written words of the Constitution and the original, documented intent of its framers. As a Californian and an American, I am angry that this biased homosexual judge, in step with other judicial activists, has trampled the written Constitution, grossly misused his authority, and imposed his own agenda, which the Constitution does not allow and which both the people of California and California state authorities should by no means respect."
Tim Wildmon of the American Family Association goes further, and calls for Judge Walker's impeachement:
"This is a tyrannical, abusive and utterly unconstitutional display of judicial arrogance. Judge Walker has turned 'We the People' into 'I the Judge.'

"It's inexcusable for him to deprive the citizens of California of their right to govern themselves, and cavalierly trash the will of over seven million voters. This case never should even have entered his courtroom. The federal constitution nowhere establishes marriage policy, which means under the 10th Amendment that issue is reserved for the states.

"It's also extremely problematic that Judge Walker is a practicing homosexual himself. He should have recused himself from this case, because his judgment is clearly compromised by his own sexual proclivity. The fundamental issue here is whether homosexual conduct, with all its physical and psychological risks, should be promoted and endorsed by society. That's why the people and elected officials accountable to the people should be setting marriage policy, not a black-robed tyrant whose own lifestyle choices make it impossible to believe he could be impartial.

"His situation is no different than a judge who owns a porn studio being asked to rule on an anti-pornography statute. He'd have to recuse himself on conflict of interest grounds, and Judge Walker should have done that.

"The Constitution says judges hold office 'during good Behavior.' Well, this ruling is bad behavior – in fact, it's very, very bad behavior – and we call on all members of the House of Representatives who respect the Constitution to launch impeachment proceedings against this judge."
Richard Land demands the revival of the Federal Marriagae Amendment
"This is a grievously serious crisis in how the American people will choose to be governed. The people of our most populous state—a state broadly indicative of the nation at large demographically—voted to define marriage as being between one man and one woman, thus excluding same-sex and polygamous relationships from being defined as marriage.

"Now, an unelected federal judge has chosen to override the will of the people of California and to redefine an institution the federal government did not create and that predates the founding of America. Indeed, 'marriage' goes back to the Garden of Eden, where God defined His institution of marriage as being between one man and one woman.

"This case will clearly make its way to the 9th Circuit Court of Appeals and then to the Supreme Court of the United States, where unfortunately, the outcome is far from certain. There are clearly four votes who will disagree with this judge—Roberts, Thomas, Scalia, and Alito. The supreme question is: Will there be a fifth? Having surveyed Justice Kennedy's record on this issue, I have no confidence that he will uphold the will of the people of California.

"If and when the Supreme Court agrees with the lower court, then the American people will have to decide whether they will insist on continuing to have a government of the people, by the people and for the people, or whether they're going to live under the serfdom of government by the judges, of the judges and for the judges. Our forefathers have given us a method to express our ultimate will. It's called an amendment to the Constitution. If the Supreme Court fails to uphold the will of the people of California—if we are going to have our form of government altered by judicial fiat—then the only alternative left to us is to pass a constitutional amendment defining marriage as being between one man and one woman.

"Many senators who voted against the federal marriage amendment the last time it came up said publicly if a federal court interfered with a state's right to determine this issue, they would then be willing to vote for a federal marriage amendment. Ladies and gentlemen, prepare to vote.
Lou Sheldon of the Traditional Values Coalition is losing his creativity. In fact, his statement is rather boring. I won't bother posting it. But TVC state lobbyist Benjamin Lopez thinks this will motivate the Tea Party Movement even more:
"If folks think that the Tea Party movement is a force to be reckoned with now, wait until the silent majority of pro-family voters flex their political muscle once again. Judges beware, you will go the way of Rose Bird, stripped of their robes and kicked off the bench," Lopez added.
Oops! Lopez's statement appears to have been deleted, which just leaves Sheldon's uncreative outrage.
Fact Checking the Family "Research" Council Straw Man Argument
Jason Cianciotto
March 13th, 2010
In response to a Washington Post article about the economic benefits of same-sex marriage in DC, the Family Research Council (FRC) provides a classic example of how right-wing organizations manipulate data and statistics to suit their anti-LGBT positions.
Here's the quote:
When same-sex weddings kicked off in D.C. yesterday, the city wasn't seeing anything but dollar signs. In an absurd article in today's Washington Post, reporters tried to argue that counterfeit marriage could be the economic salvation of the city's economy. In a region with 12% unemployment, local officials claim that redefining marriage "will create 700 jobs and contribute $52.2 million over three years to the local economy."

Not so fast, says FRC. The last census counted 3,678 same-sex partner homes in D.C. Assuming that number has stayed roughly the same, then the 150 who applied for marriage licenses yesterday would amount to a whopping four percent of the local homosexual population–hardly the stuff of economic recovery. For the Post's $52.2 million projection to come true, all 3,678 of those D.C. couples would have to get married and spend over $14,000 per wedding. (I don't know about you, but my wife and I spent a LOT less!) These "marriages" (which have yet to meet financial expectations in other states) may make a fast buck in the short term, but they will do nothing but drain the economy down the road. Consider the massive health care expenses incurred by taxpayers every year to cope with the diseases spread by homosexual behavior. According to the Kaiser Foundation, federal funding grew to more than $18 billion in 2004 to deal with the HIV/AIDS epidemic. Over half of all U.S. infections are in men having sex with men! That means taxpayers spend roughly $10 billion a year treating the diseases caused by a behavior celebrated in same-sex "marriage." So much for economic development!
Not so fast FRC.
Yes, according to the Washington, DC Census Snapshot published by the Williams Institute, there are an estimated 3,678 same-sex couple households in the district, and the Associate Press did report that 150 same-sex couples applied for licenses on the first day same-sex marriage became legal there. This is about all that is factually correct in FRC's statement.
FRC's claim that the 150 couples represent "four percent of the local homosexual population" is a classic manipulation used by the religious right and discredited "researchers" like Paul Cameron. They take an estimate of one portion of a minority population and pretend that it is generalizeable to the population as a whole. In this case, the number of same-sex couple households willing to self-identify in the Census is not equivalent to the total population of lesbian, gay, or bisexual DC residents, which according to the Williams Institute is approximately 33,000.
Even more importantly, it is laughable for FRC to base its argument on the number of couples who applied for licenses on the first day. The Washington Post article references another Williams Institute report, which estimates that 2,000 same-sex couple in DC would marry over the next three years. In addition, another 12,500 couples are expected to come from out of state to get married. This is a more complete picture of the estimates used to create the projection of 700 new jobs and $52.2 million in revenue, but FRC simply ignores this information.
Where to begin with FRC's last argument about same-sex marriage being a long-term drain on the economy because of "diseases spread by homosexual behavior?"
We could cite CDC data on transmission rates caused by "heterosexual behavior." We could also estimate federal funding spent on prevention efforts that address the damage caused by social, and familial environments created by FRC. As they say, so much for economic development!
However, it would be a waste of time to feed into FRC's "straw man" arguments.
They have no interest in examining real facts. Nor do they see the folly in their position against allowing same-sex couples access to an institution that fosters monogamy as well as mutual caring and support. As so many articles and special reports on Box Turtle Bulletin have illustrated, there is no place for scientifically supported facts in the anti-gay playbook.
Mt. Vernon Statement – how can they not see the irony?
Timothy Kincaid
February 20th, 2010
A collection of America's most extreme social conservatives have signed onto a new declaration of unanimity called the Mt. Vernon Statement. It has all the usual suspects, including virtually every anti-gay activist out there.
The basic premise of this statement is that they, unlike the rest of the country, truly support the Constitution and the Declaration of Independence:
Each one of these founding ideas is presently under sustained attack. In recent decades, America's principles have been undermined and redefined in our culture, our universities and our politics. The selfevident truths of 1776 have been supplanted by the notion that no such truths exist. The federal government today ignores the limits of the Constitution, which is increasingly dismissed as obsolete and irrelevant.
And they call for a return to upholding the principles of our founding documents. They so revere these documents that they met to sign their statement at Mt. Vernon, George Washington's estate.
The only problem is that they don't value the ideals of the Constitution. They support life, liberty, and pursuit of happiness… just as long as it is their own. But they most certainly do not support our right to life, liberty or the pursuit of happiness.
Now – to be fair – most of these folks really wouldn't call for our execution. Or not publicly. Though in private some probably share the view of Joel McDurmon, the Director of Research for American Vision, who thinks we should be executed. And, of course, Tony Perkins was on hand to oppose tracking those who target us for murder.
But as for "liberty" this group includes its most devoted enemies. Elaine Donnelly is there to oppose our liberty to serve in the military. Richard Viguerie doesn't think we should have the liberty to "be out there trying to re-order society".
And oh do they hate our pursuit of happiness. Surely there is no single issue more related to happiness than family, yet not a single signatory believes that I have the right to choose whom I marry, certainly not Ken Blackwell or Edwin Meese. And David McIntosh is on hand to make sure we can't adopt. Heck, many of them don't even believe that we should have the right to pursue a little happiness in the privacy of our own bedroom.
Signatory Brent Bozell… he even objects to our playing baseball together and Wendy Wright even objects to our being counted in the US Census. There is not a single right for gay people that these folks support.
I really wish that the signers of this statement would actually embrace the Mt. Vernon Statement. I wish they would champion life, liberty and the pursuit of happiness. The irony is that they think that they do.
CPAC Overboard on DADT
Jim Burroway
February 19th, 2010
Die-hard supporters of "Don't Ask, Don't Tell," the military's ban on LGBT people serving openly, held a news conference at the Conservative Political Action Conference on February 18 in Washington, DC. It was a truly priceless exercise in surrealism that has to be seen to believe.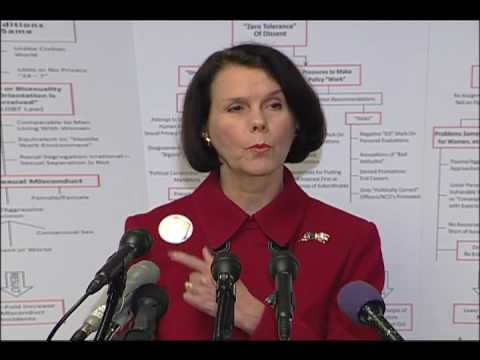 Here are my favorites. Tom Minnery of Focus On the Family thinks repealing DADT is a bad idea, but not because he dislikes gay people. In fact, he's worried all to pieces over what repealing DADT would do to gay men:
There are going to be a number of young gay men who have been shoved in the middle of this social engineering debacle and told that it is their right to serve. In the confines of barracks life, the sexual tension that will result when you try to develop a warrior culture and put these two very different ideas of sexuality in the middle of that culture, it's going to produce a lot of abuse, a lot of angry, a lot of severely disappointed young gay men.
Tony Perkins, of the Family "Research" Council has a hard time with polling data:
When you look at the polling data of the sixty percent of Americans or whatever saying they thing that homosexuals should be open, should be able to serve openly in the military, well do they really understand the conditions under which their sons and daughters and their neighbor's kids would have to serve in.
People understand the conditions of war very well, and nobody understands it better than those who are in the military currently. The Military Times finds that there has been a sharp decline in the percentage of men and women currently in uniform supporting DADT. Fewer still who personally know a gay person serving are willing to report them to their command.
But the most surreal statement comes from Retired Admiral James "Ace" Lyons:
You know in the Navy in the late nineteen hundreds, homosexuality was rampant in the United States Navy. It was so bad that mothers would not let their sons enlist in the Navy until the Navy cleaned its act up, and fortunately they did. …On board ship the Navy found that there are three things unacceptable to good order and discipline and its impact on readiness. You cannot have a thief aboard, you cannot have a drug-user or a drug-pusher, and we found out you could not have a homosexual.
And as anyone who has ever been to Fleet Week in San Francisco, New York, San Diego and Ft. Lauderdale can tell you, they don't have any homosexuals in the Navy anymore.
A review of the Manhattan Declaration
This commentary is the opinion of the author and does not necessarily reflect that of other authors at Box Turtle Bulletin.
Timothy Kincaid
November 20th, 2009
A group of conservative Christians released today their manifesto of their agreement across lines of faith and tradition. Entitled Manhattan Declaration: A Call of Christian Conscience, this document lays out areas in which the signatories declare commonality of purpose.
Who they are
First, let us say what this document is not. It is not, as the NY Times described it, a situation in which "Christian Leaders Unite on Political Issues". Indeed, this is but a segment of Christian thought, claiming the mantle of Christian history and tradition but excluding broad segments of the faith.
One need only glance at the signatories to know the nature of the alliance. Present are some who are well known names in the political culture wars who have long striven to impose their religious views by force of law on the unbelievers: Dr. James Dobson, Chuck Colson, Gary Bauer, and Tony Perkins. Some are religious leaders who have been recently shifting their realm of influence away from faith towards secular domination: Ravi Zacharias, Dr. Albert Mohler, and Jonathan Falwell.
But this is not just broadly social conservatives. There is, instead, a concentration of those who focus on "opposing the homosexual agenda". There are a few religious activists who seem dedicated and committed (obsessed, one might think) to fighting equality for gay people: Ken Hutcherson, Bishop Harry Jackson, and Jim Garlow. And then, inexplicably, some who are not religious leaders at all but social activists whose primary occupation is in seeking the political institutionalizing of inequality to gay people: Maggie Gallagher, Frank Schubert, and William Donohue.
Perhaps the most difficult to explain, and by far the most troubling name present, is The Most Rev. Peter J. Akinola, Primate, Anglican Church of Nigeria.
There is no explanation provided as to what relevance Akinola has on what is a uniquely American collection. But his participation is not accidental. And, as I will discuss momentarily, his is perhaps the key that explains the true nature of this manifesto.
This could be seen as nothing more that "the usual suspects", a rehashing of the Moral Majority or the Christian Coalition or any other of the loose groupings of religious authoritarians, were it not for one import inclusion. There are nine Catholic Archbishops who signed on to this document.
Ideologically as dissimilar as possible, these two Christian extremes – one whose doctrine is based in tradition, liturgy, and hierarchy, the other whose doctrine is based in reform, spirit-led worship, and direct divine revelation – have set aside ancient hostilities and theological beliefs that doubt the other's right to be considered "Christian" and have now joined in a common purpose: denying your rights.
But as important as who is present, is who is absent.
Among the signatories I was unable to find any members of the United Church of Christ, Episcopal Church, Presbyterian Church (USA), Friends (Quaker), Disciples of Christ, Unitarian Universalists or American Baptists. There was one United Methodist minister.
In short, a whole branch of Christianity, Mainline Christianity, was missing, including many who no doubt would agree with the goals of banning abortion and forbidding same-sex marriage. This exclusion is, I believe, integral to understanding the true purpose of this manifesto.
The agreed upon issues
While this alliance is one that does not reflect the face of Christianity, it also is not a declaration of a new-found position of agreement based on shared Christian teaching and ideology. There is no mention of shared faith in creeds or teachings, no virgin birth, no resurrection, no divine redemption.
Rather, this is a statement of political purpose by an alliance of socially conservative activist who oppose abortion and marriage equality. Indeed, although the document speaks in lofty terms of Christian tradition and religious freedom, the only commitments it makes are to oppose legal abortion (some day down the road) and the immediate attack on the ability of gay people to avail themselves of civil equality.
This is, in short a political alliance. It is a pact and a threat.
What it means
While on the face of it, this manifesto purports to be a rededication to fight two specific political issues, I think that this is but surface dressing for a deeper meaning.
This is not a war over civil marriage definition – nor, indeed, has that ever been the real motivation behind anti-gay marriage drives. Rather, this is a war over religious domination, a fight over who is "really a Christian" and an effort on the part of a long-suffering religious subset to spite those who have long had what they coveted.
Political power in the United States had long been in the hands of what is now called Mainline Christianity. Our presidents have included over a dozen Episcopalians (as is the National Cathedral), about ten Presbyterians, with most of the rest being Methodists, Unitarians, Disciples of Christ, and Quakers.
There has been exactly one Catholic. There have been four Baptists, of whom the two Southern Baptists were Jimmy Carter and Bill Clinton. There have been no Pentecostals and no members of mega-Churches. In fact, though some Republican presidents have been religious and conservative, there has never been a President of the United States that was both denominationally and ideologically within the fold represented by the signatories of this Manhattan Declaration.
And now they want theirs. And, not content at the rise of their own political power, they will not be happy unless they can diminish those denominations whom they seek to replace.
Note the presence of the second signatory, Peter Akinola? He is the Nigerian Anglican who has been missionizing the United States in an effort to hurt the Episcopal Church. His inclusion is a very clear message sent to the EC that they are a target for the Catholic Church and the evangelical churches who will use whatever political power they may wield in the future to thwart her position in the nation.
This manifesto is, I believe, less a declaration of war on gay people and those with unplanned pregnancies than it is a declaration of war on other Christian faiths.
One absence that seems to confirm this alliance is a denomination that one might have expected to be quick to affirm its commitment to the right to life and protection of the family. But there are no representatives from the Church of Jesus Christ of Latter Day Saints (the Mormons). The exclusion of this church, considered by most conservatives to be "NOT Christian", suggest that this manifesto has less to do with social goals and more to do with Christian definition.
This manifesto says, in effect, "We are the Christians. We are the 'heirs of a 2,000-year tradition of proclaiming God's word', and we alone will speak for the faith."
What the manifesto reveals
In addition to highlighting the division in the Christian body, there are also some clues as to future items on the agenda of this newly affirmed political alliance. Here is how I translate some of their declarations.
we note with sadness that pro-abortion ideology prevails today in our government … truly Christian answer to problem pregnancies is for all of us to love and care for mother and child alike
Only lip service will be paid to the shared objection to abortion. Little time, money, or political capital will be spent on this already lost goal. However, should opportunity ever swing in their direction, they will stop at nothing short of a full ban on all abortions without any consideration of rape, quality of life, or the life of the mother.
But absent the abortion issue, these allies have but one other shared issue: attacking you and your life.
Around the globe … take steps necessary to halt the spread of preventable diseases like AIDS
The situations in Nigeria and Uganda are not accidental nor unrelated to the efforts of conservative Americans. Although virtually all of the spread of AIDS in Africa is related to heterosexuality, this will be an excuse to pass draconian laws seeking to repress, incarcerate, or execute gay men and women.
In addition to being a slam against the Episcopal Church, the inclusion of Akinola announces that pogroms against gay Africans will have the endorsement of both the Catholic Church and conservative evangelical churches.
We should not expect the calls for criminal prosecution of gay people to be limited to foreign soil. Should such a fervor be fostered internationally, it is unquestionable that this will lend support to efforts to reinstate or bolster oppression here.
It is no longer a matter of curiosity that the Catholic Church has not spoken out against the Kill Gays bill in Uganda. Nor had Dr. Mohler or Dr. Dobson. Nor, indeed, has any signatory of this document.
The impulse to redefine marriage in order to recognize same-sex and multiple partner relationships … there are those who are disposed towards homosexual and polyamorous conduct and relationships … Some who enter into same-sex and polyamorous relationships no doubt regard their unions as truly marital … the assumption that the legal status of one set of marriage relationships affects no other would not only argue for same sex partnerships; it could be asserted with equal validity for polyamorous partnerships, polygamous households, even adult brothers, sisters, or brothers and sisters living in incestuous relationships
The Manhattan document does not in any place refer to same-sex relationships without simultaneously mentioning multiple-party relationships. This will no doubt translate to a new commitment on the part of the signatories to try and tie the two together in their political campaigns.
Frankly, I wish them godspeed in that decision. Americans have, I believe, moved beyond the point in which gay couples are viewed as identical to polygamists.
as Christ was willing, out of love, to give Himself up for the church in a complete sacrifice, we are willing, lovingly, to make whatever sacrifices are required of us for the sake of the inestimable treasure that is marriage.
This probably tells us nothing but the extent to which these people are self-righteous and truly deeply smarmy. They are willing, lovingly, to sacrifice your life and freedom and equality, not their own. Oh how loving. Oh how Christ-like.
Because we honor justice and the common good, we will not comply with any edict that purports to compel our institutions to participate in abortions, embryo-destructive research, assisted suicide and euthanasia, or any other anti-life act; nor will we bend to any rule purporting to force us to bless immoral sexual partnerships, treat them as marriages or the equivalent, or refrain from proclaiming the truth, as we know it, about morality and immorality and marriage and the family.
There are, as we all know, no requirements for any churches or ministers to act contrary to their faith. We have long since debunked their claims of oppression and shown them to be nothing more than a retraction of special privilege when the religious groups in question wanted to use taxpayer dollars to discriminate against gay taxpayers. There are no instances in their recitation in which religious groups were forced to compromise in any areas of faith in the administration of their own funds or time.
That is of no consequence. Liars lie. We expect the morally bankrupt to behave without integrity.
But what I think we can anticipate, based on their conclusion, is a concerted effort at political stuntery. A dedication to dishonesty. And an ongoing campaign of lies.
As a Christian, it distresses me to see the name of my faith and the mantle of its history usurped by those who have no respect for its greater principles but instead gleefully glom onto its darker bloody history. Rather than exalt in the liberties that have evolved from Christian thought, they seek to equate the faith with its most prejudicial, superstitious, exclusionary and dictatorial moments.
But perhaps something good may come of this.
It is possible that out of this declaration of war, the moderate and liberal branches of the faith may find common cause, if nothing else in defense of their own good name. Perhaps they will decide that they have a purpose and meaning in modern America and will let go of residual guilt and angst and take up the mantle of protector of the oppressed and champion of justice and mercy.
Let us hope and pray that they do.