Schadenfreude Alert: "A Spiritual 9/11"
Jim Burroway
June 26th, 2015
America Family Association's Tim Wildmon calls it a "Spiritual 9/11"
"We're not surprised but extremely disappointed by the Supreme Court's decision. I fear for our country, quite frankly, because this is a spiritual 9/11, I believe. We have said to God Almighty, We don't care what you say about marriage and your definition of what's natural and normal.

"If you look in the scripture, often times when God's people rebelled against Him, He turned them over to destruction. Christians need to pray for mercy and we need to pray for a revival in the land.

"I think the next line of defense is religious freedom. We must take a stand for religious freedom in this country and fight back in the courts and in the state legislatures, if not the federal legislature, to uphold religious freedom."
The Family "Research" Council's Tony Perkins's reaction was a veritable word salad of anti-equality talking points:
"Five justices on the Supreme Court have overturned the votes of 50 million Americans and demanded that the American people walk away from millennia of history and the reality of human nature.

"In reaching a decision so lacking in foundation in the text of the Constitution, in our history, and in our traditions, the Court has done serious damage to its own legitimacy.

"No court can overturn natural law.  Nature and Nature's God, hailed by the signers of our Declaration of Independence as the very source of law, cannot be usurped by the edict of a court, even the United States Supreme Court.

"Marriage is rooted not only in human history, but also in the biological and social reality that children are created by, and do best when raised by, a mother and a father. No court ruling can alter this truth.

"It is folly for the Court to think that it has resolved a controversial issue of public policy. By disenfranchising 50 million Americans, the Court has instead supercharged this issue.

"Just as with Roe v. Wade in 1973, the courts will not have the final say on this profound social matter.  The American people will stand up for their right to have a voice and a vote, especially as they experience the ways in which redefining marriage fundamentally impairs their freedom to live and work in accordance with their beliefs.

"With this ruling, the Supreme Court has set our government on a collision course with America's cherished religious freedoms, explicitly guaranteed in the First Amendment of the Constitution.

"Americans will not stop standing for transcendent truth, nor accept the legitimacy of this decision.  Truth is not decided by polls or the passage of time, but by the One who created time and everything that exists therein.
Perkins may have been long-winded, but not nearly as much as National Organization for Marriage's Brian Brown. I won't post the full thing — it's way to long — but one way to sum it up is to imagine him stamping his foot and screaming, "We're not irrelevant, damn it!":
Though expected, today's decision is completely illegitimate. We reject it and so will the American people. It represents nothing but judicial activism, legislating from the bench, with a bare majority of the Justices on the Supreme Court exercising raw political power to impose their own preferences on marriage when they have no constitutional authority to do so. It is a lawless ruling that contravenes the decisions of over 50 million voters and their elected representatives. It is a decision that is reminiscent of other illegitimate Court rulings such as Dred Scott and Roe v Wade and will further plunge the Supreme Court into public disrepute.

Make no mistake about it: The National Organization for Marriage (NOM) and countless millions of Americans do not accept this ruling. Instead, we will work at every turn to reverse it.

The US Supreme Court does not have the authority to redefine something it did not create. Marriage was created long before the United States and our constitution came into existence. Our constitution says nothing about marriage. The majority who issued today's ruling have simply made it up out of thin air with no constitutional authority.
Mission America's Linda Harvey says your children are in danger:
"Parents, it's time to make some hard decisions. Your children will now be told in public schools that there is only one view of sexuality and it is that anything goes. Thirteen year olds can 'date' people of the same sex and go full speed into the homosexual life, and any efforts to prevent them from doing so will be subject to restraint by the full force of law. And so, God help us," she said.

"The majority on this court has defied the testimony of nature, anatomy, history and Almighty God. Jesus declared marriage to be one man and one woman in Matthew 19," Harvey stated. "Because of this arrogant and unsustainable decision, America now stands in defiance of God, and we can only pray now for His mercy on our nation."
Austin Ruse gets his dystopian imagination worked up over  "what's next":
What's next? It is hard to tell.

Proponents of abortion thought Roe v. Wade effectively ended that debate, but recent history has shown that to be abundantly false.

But the road ahead is decidedly uphill for those who support traditional marriage. Some have already called for a Constitutional Amendment to define marriage as between a man and a woman. Others have called for an incremental battle that would include federal and state protections for those who oppose same-sex marriage. This would include protection for county clerks who may resist issuing same-sex marriage licenses.

The fear now is that the federal government, under urging from the gay community, will work to stamp out any vestige of opposition or even dissent, including eliminating accreditation and tax exempt status for religious schools that do not recognize same-sex marriages.
Rose's imagination isn't nearly as colorful as Scott Lively's though. Lively is positively apocalyptic:'
In response to the ruling, Mr. Obama called it an example of "justice that arrives like a thunderbolt." That phrase turns logic and morality on its head as it relates to official government endorsement of sexual perversion. But I suspect it will eventually, perhaps very soon, be recognized in retrospect as an unwitting prophecy about God's punishment on America for what she has just done.

###

12:30pm  I just received an email from my ex-'gay' friend Greg Quinlan informing me that today's "gay marriage" ruling happens to fall on the anniversary of the fall of Jerusalem and the Kingdom of Judah in 586BC to Babylonian King Nebuchadnezzer: the ninth day of the fourth month of the Hebrew calendar.

"Coincidentally," in our daily chapter by chapter Bible study at Holy Grounds Coffee House that we began in Genesis more than two years ago, we arrived today at Jeremiah 39, which reads in verse 2:  2And on the ninth day of the fourth month of Zedekiah's eleventh year, the city wall was broken through.

Amazing.

###

Now consider all of this in light of Revelation 16: 17Then the seventh angel poured out his bowl upon the air, and a loud voice came out of the temple from the throne, saying, "It is done." 18And there were flashes of lightning and sounds and peals of thunder; and there was a great earthquake, such as there had not been since man came to be upon the earth, so great an earthquake was it, and so mighty. 19The great city [Jerusalem] was split into three parts, and the cities of the nations fell. Babylon the great [America] was remembered before God, to give her the cup of the wine of His fierce wrath. 20And every island fled away, and the mountains were not found. 21And huge hailstones, about one hundred pounds each, came down from heaven upon men; and men blasphemed God because of the plague of the hail, because its plague was extremely severe.
Tony Perkins: "Winning!"
Jim Burroway
October 6th, 2014
Family "Research" Council's Tony Perkins has cornered the market on rose-colored glasses this afternoon:
If liberals should be anything, it's worried. When it comes to marriage, time is not on their side. Deep down, the Left knows it needed the Court to force same-sex "marriage" on America before more people saw the fallout for Christians like Aaron and Melissa Klein. Or sportscasters like Craig James. Or CEOs like Brandon Eich. Ask them if same-sex "marriage" is just about two people who love each other. For them, it was about losing their business, their livelihood, and their freedom.

If the Supreme Court thinks America isn't ready for same-sex "marriage," they're right. As more states are forced to recognize it, people will see the ensuing attacks on religious freedom. They'll feel the wedge driven between parents and their children when school curriculum is changed to contradict the morals moms and dads are teaching at home. They'll shudder as more people lose their jobs because they refuse to celebrate (not just tolerate) same-sex "marriage." Maybe then they'll realize that the true goal is not about the marriage altar — but fundamentally altering society.

As disappointing as the Supreme Court's silence is, the good news is that the debate over same-sex "marriage" will continue. With 92 cases on marriage flooding the courts, conservatives have a chance to push back and demand that Congress step in where SCOTUS has not. By refusing to get involved in a mess it helped create, the justices are leaving our laws vulnerable to rogue judges on the lower courts. With the exception of one district court, the benches have been filled with black-robed tyrants who insist on substituting their radical ideology for history, legal precedent, and the consensus of voters and the law. That has to stop.
Schadenfreude Alert
Jim Burroway
October 6th, 2014
It's civil disobedience time in #Oklahoma + other states: OK (76% opposed) offers the best chance to reject the SCOTUS ruling on SSM. #tcot

— Peter LaBarbera (@PeterLaBarbera) October 6, 2014
The Supreme Court, by doing nothing, just issued the de facto Roe v. Wade ruling of sodomy-based marriage.

— Bryan Fischer (@BryanJFischer) October 6, 2014
SCOTUS refuses to issue stays, redefined marriage soon in UT, WI, IN, VA and OK. Religious freedom under greater threat now. Here we go…

— Thomas Peters (@AmericanPapist) October 6, 2014
#SCOTUS decision is cowardly–failing to (rightly) uphold state laws OR (wrongly) redefine #marriage. http://t.co/OSXwgdQUqC

— Peter Sprigg (@spriggfrc) October 6, 2014
The Family "Research" Council's Tony Perkins says the sky is falling:
"Unfortunately, by failing to take up these marriage cases, the High Court will allow rogue lower court judges who have ignored history and true legal precedent to silence the elected representatives of the people and the voice of the people themselves by overturning state provisions on marriage. Even more alarming, lower court judges are undermining our form of government and the rights and freedoms of citizens to govern themselves. This judicially led effort to force same sex 'marriage' on people will have negative consequences for our Republic, not only as it relates to natural marriage but also undermining the rule of and respect for law.

"The Court decision ensures that the debate over natural marriage will continue and the good news is that time is not on the side of those who want to redefine marriage. As more states are forced to redefine marriage, contrary to nature and directly in conflict with the will of millions, more Americans will see and experience attacks on their religious freedom. Parents will find a wedge being driven between them and their children as school curriculum is changed to contradict the morals parents are teaching their children. As more and more people lose their livelihoods because they refuse to not just tolerate but celebrate same-sex marriage, Americans will see the true goal, which is for activists to use the Court to impose a redefinition of natural marriage on the entire nation.
Ryan T. Anderson is not throwing in the towel:
This is an unfortunate setback for sound constitutional self-government and a setback for a healthy marriage culture. …Declining to review these cases does not speak one way or the other to the merits of the cases. But it does leave in place bad rulings from lower courts—and it will make it harder for courts to do the right thing in the future.

Nevertheless, as citizens, we must rally in support of our constitutional authority to pass laws making marriage policy. We must insist that law and culture promote the truth about marriage.
Neither is NOM's Brian Brown:
…[G]iven what the Supreme Court has allowed to happen, the only alternative to letting unelected judges impose their view of marriage on Americans across the country is to pursue a process that will allow the American people to decide for themselves what is marriage. It is critical not only to marriage but to the republican form of government in this country to amend the Constitution to reaffirm the meaning of marriage. We therefore call on the US Congress to move forward immediately to send a federal marriage amendment to the states for ratification.

"We call upon Americans vigorously to contest this development by turning to the political process, starting with the upcoming mid-term elections. We urge voters to hold politicians accountable and demand to know if they will accept the illegitimate act of attempting to redefine marriage or whether they will stand with the American people to resist. In particular, we urge Republicans to hold their party leaders to account, and to demand that they remain true to their belief that marriage is the union of one man and one woman which was a pillar of the party's founding in 1856, and remains essential to society's well-being today.
Alliance Defending Freedom (formerly the Alliance Defense Fund), which is defending several of these states' marriage bans, is doing all it can to keep that lipstick on the pig:
US Supreme Court holds off on taking up marriage issue

Monday, October 06, 2014

The following quote may be attributed to Alliance Defending Freedom Senior Counsel Byron Babione regarding the U.S. Supreme Court's decision Monday declining to hear cases involving marriage laws in several states, including petitions ADF attorneys filed in defense of Oklahoma's and Virginia's marriage laws:

"The court's decision not to take up this issue now means that the marriage battle will continue. Several federal courts – including those in the 5th, 6th, 8th, and 11th circuits – still have cases working their way to the Supreme Court. ADF will continue to remain a leader in the critical effort for the freedom of the people. The people should decide this issue, not the courts."
Report on Tony Perkin's impact on General Mills
Timothy Kincaid
September 15th, 2013
It has been barely three days since I brought you the glorious news that media darling Tony Perkins had lent all of his prestige and influence to bringing General Mills to its knees. And I can now report on the tremendous response from good family-supporting people from across this great nation's fruited plain.
Yes, in the brief moment since last Friday, the Dump General Mills signatory list has shot through the roof. In a mere 70-some hours, good wholesome people have rushed en masse to the site to add their name, promising that they too will "look for substitutes that I can purchase". Today I can tell you, though I am humbled to do so, that the National Organization for Marriage's project has grown to 26488 Signatures. Yes, dozens of people, a stunning total of 41 new dedicated souls have made that anonymous commitment.
And Tony Perkins should feel gratified that he has truly contributed. And though he is but doing what he knows is best, surely in a quiet moment he must be buoyed by the knowledge that his word alone can drive tens of people to join him in his battle for a more godly nation.
So supporters of traditional biblical marriage, take heart. While General Mills' annual revenues are roughly seventeen billion dollars, and though the company's sales are up some 7.5% from a year ago, just think, if each and every signatory 'looks for a substitute' for their Betty Crocker Devil's Food Cake Mix, if each and every signatory 'looks for a substitute' to their Pillsbury rolls, why in no time General Mills may feel it on their bottom line.
Tony Perkins joins NOM's big dump
Timothy Kincaid
September 12th, 2013
It's been a while since we've discussed NOM's Dump General Mills project (it just seemed the kind thing to do). But now there's news to report.
Back in July 2012, the National Organization for Marriage (theirs, not yours) decided that they would boycott General Mills due to its opposition to an anti-gay marriage amendment in Minnesota. They asked for concerned Americans to pledge to "look for substitutes" to General Mills products.
NOM held a publicity event and the American Family Association pushed the project on their "news" network, and immediately Dump General Mills got 14,000, then 18,000 and then as many as a stunning 23,054 by mid July. And we stopped counting at that point.
But now that more than a year has passed, they're back in the news. Now Tony Perkins has become a part of NOM's big dump. (FRC)
At Betty Crocker, the only thing they're mixing up is their priorities. Hi, I'm Tony Perkins of the Family Research Council in Washington, D.C. If you ask conservatives, Betty Crocker's latest promotion is a recipe for disaster. This summer, the famous dessert line decided to jump on the same-sex "marriage" bandwagon-and bring cakes to celebrate. In Minnesota, where parent company General Mills is headquartered, Betty Crocker decided to donate wedding cakes to the first homosexual couples who exchanged vows on the first day that counterfeit marriage was legal. "Betty celebrates all families," said manager Laura Forero. "We don't want to be old fashioned," the company explained. Unfortunately for General Mills, the majority of Americans think natural marriage is anything but old fashioned. And they've made it tough on companies like Target, Starbucks, and JC Penney who disagree. Know where your money is going. When you're at the store, think outside the Betty Crocker box! For a full list of products that are undermining marriage, check out DumpGeneralMills.com.
With Perkins' tremendous influence over the nation's cereal buying habits, the Big Dump is likely to heap high. But so as to truly measure Tony's impact, let's see where they are today.
Clearly NOM has really made a push, because since last year they've added 3,393 names to the pile, for a staggering total of 26,447. Numbers like that strain the imagination. Why, that's nearly a quarter of the population of Broken Arrow, Oklahoma. It's more than half the number of people in the US who bought a Yugo in 1987. It's astonishing that General Mills does not quake at the notion that one-fortieth of a million people have pledged to see if their grocery store has a bargain-brand substitute for their usual purchases.
But undoubtedly, now that Tony's on board, he will really make a difference. With his help, I'm sure NOM will be able so squeeze out support that will make NOM's Big Dump truly colossal, perhaps record breaking. Look out, General Mills, because with Perkins' help, NOM with be able to really apply pressure.
We will, of course, let you know how it all comes out.
Tony Perkins Calls for Withholding GOP's Allowance Until It Learns To Be More Anti-Gay
Jim Burroway
April 12th, 2013
In a blog post and email blast to supporters yesterday, the Family "Research" Council's Tony Perkins called on supporters to stop donating to the Republican Party until Grandpa's Old Party learns to be more anti-gay:
As the RNC debates its future at meetings in Los Angeles this week, we called on the Committee to pass a resolution reiterating the GOP's support for the party platform that was overwhelmingly adopted in Tampa last year. In the meantime, instead of trying to appease millennials, Republicans should try educating them on why marriage matters. …

Until the RNC and the other national Republican organizations grow a backbone and start defending core principles, don't give them a dime of your hard-earned money. If you want to invest in the political process, and I encourage you to do so, give directly to candidates who reflect your values and organizations you trust–like FRC Action. At least then you can relax, knowing that your money will be spent advancing faith, family, and freedom!
Efforts by Republican National Committee chairman Reince Priebus to nudge the party to become more "inclusive and welcoming" have stoked a fierce backlash from the GOP's anti-gay wing. As a result, the RNS is expected to overwhelmingly approve today an anti-gay resolution opposing same-sex marriage and supporting Prop 8 and DOMA.
GOP Slams Brakes On Rebranding Effort
Jim Burroway
April 11th, 2013
The Republican National Committee is meeting in Los Angeles over the next three days beginning today, and one of the first items on the agenda for consideration is a resolution that states:
WHEREAS, the institution of marriage is the solid foundation upon which our society is built and in which children thrive; it is based in the conjugal relationship that only a man and a woman can form; and

WHEREAS, support for marriage has been repeatedly affirmed nationally in the 2012 Republican National Platform, through the enactment of the Defense of Marriage Act in 1996, signed into law by President Bill Clinton), and passed by the voters of 41 States including California via Proposition 8; and

WHEREAS, no Act of human government can change the reality that marriage is a natural and most desirable union; especially when procreation is a goal; and

WHEREAS, the future of our country is children; it has been proven repeatedly that the most secure and nurturing environment in which to raise healthy well adjusted children is in a home where both mother and father are bound together in a loving marriage; and

WHEREAS, economically, marriage is America's greatest weapon against child poverty no matter what ethnic background individuals are; and, based on the facts of stunning recent articles, marriage is the best way for society to get out of poverty and raise emotionally healthy children; and

WHEREAS, The U.S. Supreme Court is considering the constitutionality of laws adopted  to protect marriage from the unfounded accusation that support for marriage is based only on irrational prejudice against homosexuals; therefore be it

RESOLVED, the Republican National Committee affirms its support for marriage as the union of one man and one woman, and as the optimum environment in which to raise healthy children for the future of American; and be it further

RESOLVED, the Republican National Committee implores the U.S. Supreme Court to uphold the sanctity of marriage in its rulings on California's Proposition 8 and the Federal Defense of Marriage Act.
The GOP platform last summer was probably the most anti-gay platform in the party's history. After Barack Obama won re-election in a campaign which included support for marriage equality, there were some suggestions that the Republican Party should soften its anti-gay positions. But after RNC Chairman Reince Priebus issued the official "autopsy" of the 2012 presidential elections which called on the party to become more "inclusive and welcoming," a coalition of social conservatives responded with a letter to GOP leadership warning that "an abandonment of its principles will necessarily result in the abandonment of our constituents to their support." The letter writers also protest that their anti-gay stance does not mean the party can't can't attract gay voters:
Many homosexuals are active in the GOP because they agree with Republicans on economic issues. The fact that the Party is strongly committed to traditional marriage has not prevented their involvement through GOProud or Log Cabin Republicans. We deeply resent the insinuation that we have treated homosexuals unkindly personally.

And we would like to point out that in the four blue states where voters narrowly voted for same sex marriage in 2012, Mitt Romney, who refused to discuss the issue, lost by an average of five points more than the state initiatives to preserve marriage.

Republicans would do well to persuade young voters why marriage between a man and a woman is so important rather than abandon thousands of years of wisdom to please them.

…Real and respectful communication is needed with our organizations. Alleged gaffes by candidates in 2012 on social issues could have been avoided if Party leadership had consulted us, the experts on how to articulate those positions.
Those so-called "experts" who signed the letter were:
Gary Bauer, President, American Values
Paul Caprio, Director, Family-Pac Federal
Marjorie Dannenfelser, President, Susan B. Anthony List
Dr. James Dobson, President and Founder, Family Talk Action
Andrea Lafferty, President, Traditional Values Coalition
Tom Minnery, Executive Director, CitizenLink
William J. Murray, Chairman, Religious Freedom Coalition
Tony Perkins, President, Family Research Council
Sandy Rios, VP of Government Affairs, Family-Pac Federal
Austin Ruse, President, Catholic Family & Human Rights Institute
Phyllis Schlafly, President, Eagle Forum
Rev. Louis P. Sheldon, Founder, Traditional Values Coalition
Tim Wildmon, President, American Family Association
According to Politico, the anti-gay resolution is expected to pass overwhelmingly tomorrow when it goes before the full committee, although it's not clear whether the resolution's final form will be the same as the version that has circulated today.
Tony Perkins Reacts
Jim Burroway
November 7th, 2012
It looks like they had a conference call to coordinate their responses:
This was supposed to be the morning when Americans got up and shook off the nightmare of the last four years. Instead, they awakened to a new one: a profound drubbing of the Republican Party that is supposed to be the guardian of the conservative vision our nation so desperately needs. On every level–presidential, congressional, social–it was a bruising day for our movement that no amount of spin can improve…

Among the more demoralizing losses yesterday were the outcomes in Maryland, Minnesota, Washington, and Maine, where natural marriage lost for the first time in America by popular vote. It was a significant moment for the radical Left, which was helped to victory by the most pro-gay President in American history. But contrary to what the Left will say, the narrow margin for victory in these four states offers plenty of evidence that a solid majority of Americans still opposes same-sex "marriage." Despite being outspent 8-to-1 in some of the most liberal states in the country, we witnessed record-setting petition efforts that crossed every racial, party, and socioeconomic divide. And while homosexuals may be celebrating an end to our movement's perfect record, they still have a long way to go to match the 32 states where Americans voted overwhelmingly to protect the union of a man and woman. And that includes North Carolina, where President Obama's endorsement of same-sex "marriage" likely cost him the state's electoral votes.

In a glimmer of good news on the marriage front, the support for marriage in these four states actually out-polled Mitt Romney, who won 48% of the popular vote. In the weeks and months ahead, we're confident that as voters see and experience the consequences of redefining marriage, many will reconsider their support. How can I be so certain? Forty years after Roe v. Wade, the nation is more pro-life, and the abortion issue is far from settled. As with same-sex "marriage," the Left can make it legal, but they can never make it right.
Tony Perkins: "I Wrote" GOP Platform
Jim Burroway
August 21st, 2012
The Log Cabin Republicans yesterday were all kinds of proud over the impact they had in helping to shape the Republican platform this week. LCR chief R. Clarke Cooper told BuzzFeed's Chris Geidner that the draft platform's preamble approved yesterday morning includes the statement, "We embrace the principle that all Americans have the right to be treated with dignity and respect," which they took as some kind of an olive branch to the gay community. Bless their little hearts. And they also sold themselves a little short. I managed to find another reference to dignity and respect in the main body of the draft platform. Maybe you can find it too.
Marriage

The Institution of marriage is the foundation of civil society. Its success as an institution will determine our success as a nation. It has been proven by both experience and endless social science studies that marriage is best for children. Children raised in intact married families are more likely to attend college, and are physically and emotionally healthier, are less likely to use drugs or alcohol, are less like to to engage in crime, and are less likely to get pregnant outside of marriage. The success of marriage directly impacts the economic wellbeing of individuals. Furthermore, the future of marriage affects freedom. The lack of family formation not only leads to more government costs, but also more government control over the lives of its citizens in all facets. We recognize and honor the courageous efforts of those who bear the many burdens of parenting along, even as we believe that marriage, the union of one man and one woman must be upheld as a national standard, a goal to stand for, encourage, and promote through laws governing marriage. We embrace the principle that all Americans should be treated with respect and dignity.
There's more:
Marriage and the Judiciary

A serious threat to our country's constitutional order, perhaps even more dangerous than presidential malfeasance, is an activist judiciary, in which some judges usurp the powers reserved to other branches of government. A blatant example has been the court-ordered redefinition of marriage in several States. This is more than a matter of warring legal concepts and ideals. It is an assault on the foundation of our society, challenging the institution which, for thousands of years in virtually every civilization, has been entrusted with the rearing of children and the transmission of cultural values.

Defense of Marriage

That is why congressional Republicans took the lead in enacting the Defense of Marriage Act, affirming the right of States and the federal government not to recognize same-sex relationships licensed in other jurisdictions. An activist judiciary usurps the powers reserved to other branches of government and endangers the foundation of our society. We oppose the Administration's open defiance of this constitutional principle — in its handling of immigration cases, in federal personnel benefits, in allowing same-sex marriage at a military base, and in refusing to defend DOMA in the courts — makes a mockery of the President's inaugural oath. We commend the United States House of Representatives and those State Attorneys Generals who have defended these laws when they have been attacked in the courts. We reaffirm our support for a constitutional amendment defining marriage as a union of one man and one woman. We applaud the citizens of the majority of States which have enshrined in their constitutions the traditional concept of marriage, and we support the campaigns underway in several other states to do so.
That doesn't sound like a platform influenced by the Log Cabin Republicans. It sound much more like — actually, virtually identical to — something that would have come out of an email blast from the Family "Research" Council:
Family Research Council president Tony Perkins told BuzzFeed: "You should read the entire plank on marriage, which I wrote. I feel very happy about it. I feel pretty optimistic about the outcome here." [Emphasis added]
Ordinarily, whenever you read someone claiming sole credit for something, you can usually be safe in ignoring the boast. But when you go back and read these sections again, especially the first one, Perkins's boast appears to be well-founded. Just try to find one iota of difference between these platform statements and the daily blasts from the Family "Research" Council. I mean, hell, even the FRC can include a throw-away line about dignity and respect for all Americans.
Michelangelo Signorile Challenges FRC's Tony Perkins To Debate
Jim Burroway
August 20th, 2012
Radio host and Huffington Post Gay Voices editor Michelangelo Signorile is tired of the Family Research Council's attempt to pin the blame for last week's shooting on the Southern Poverty Law Center's ranking the FRC as among just twenty-six anti-gay hate groups. Signorile has penned an open letter to FRC's Tony Perkins challenging him to a discussion about hate and its consequences:
But let's be clear about why FRC is in that category. After all, there are thousands of conservative and religious groups across the country that are opposed to marriage equality, many of which also believe homosexuality to be a sin, but the SPLC does not deem them all hate groups. It's only a tiny handful of conservative groups that have been given that distinction by the SPLC. They are listed as hate groups "based on their propagation of known falsehoods — claims about LGBT people that have been thoroughly discredited by scientific authorities — and repeated, groundless name-calling." Also, two years ago, an FRC official said "homosexual behavior" should be outlawed. You wouldn't repudiate him. It was also revealedthat the FRC contributed $25,000 to stop a congressional resolution to condemn the "kill the gays" bill in Uganda, which would have made homosexuality punishable by death. You worried that the resolution could make it appear as if homosexuality is acceptable. If that Ugandan bill, and even tacit approval of it, isn't "hate," what is?

Perhaps you recall that in July 2008, a man armed with a shotgun went on a shooting rampage inside a church in Knoxville. The Tennessee Valley Unitarian Universalist Church, like many Christian churches and denominations across the country, is welcoming of LGBT people. The gunman killed two people and severely wounded several others. Police said that the killer's motive was to target gays and liberals. "This isn't a church, it's a cult," the killer wrote in a four-page letter he had left behind. "They embrace every pervert that comes down the pike…. [T]he only way we can rid ourselves of this evil is kill them in the streets, kill them where they gather."

I wouldn't claim, as you did with regard to the SPLC, that the FRC gave that killer a "license to shoot." No one knows what's inside the mind of a premeditated killer. But I would ask: Where do people like this killer get the distortions and ugly mischaracterizations that convince them that gay people are evil? More so, where do others who wouldn't engage in gun violence but who do harm to LGBT people in other ways — firing them from their jobs, throwing them out of their homes, bullying them in schools — get their misinformation about gay people? They get it from a wide array of sources that contribute to a culture that demonizes LGBT people. And you and the Family Research Council are among those who feed into that culture.
This is what Tony Perkins's Head Looks Like On A Platter
Jim Burroway
May 25th, 2012
GLAAD couldn't be more thrilled, calling Brooke Baldwin's intervew "an almost textbook example of how to tell a complete story when dealing with an anti-gay activist."
Guess Whose Fault It Is That Heterosexual Secret Service Agents Were Caught In A Straight Prostitution Scandal
Jim Burroway
April 17th, 2012
Family "Research" Council's Tony Perkins is the Einstein who connected these dots:
Perkins: Yeah, you know that's a great point. Just for a moment step back and look at the implications of (Don't Ask, Don't Tell repeal), over the weekend we saw the news of the President's Secret Service detail in Colombia and the issue of them hiring prostitutes and now the White House is outraged about that. Actually in a meeting this morning my staff asked, 'why should the President be upset'? It was actually legal; it was legal there to do that, so why should we be upset? Well, the fact is we intuitively know it's wrong, there's a moral law against that.

The same is true for what the President has done to the military enforcing open homosexuality in our military. You can change the law but you can't change the moral law that's behind it. You can change the positive law, the law that is created by man, but you can't change the moral law, it's wrong. So what you have is you have a total breakdown and you can't pick and choose. Morality is not a smorgasbord; you can't pick what you want. I think you're absolutely right, this is a fundamental issue going forward because if we say 'let them do what we want,' what's next? You cannot maintain moral order if you are willing to allow a few things to slide.
Santorum's Pastor Problem
Jim Burroway
March 20th, 2012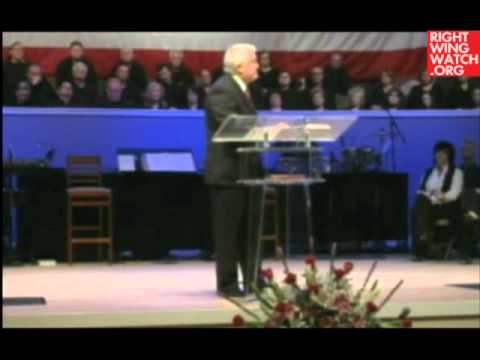 I don't care what the liberals say, I don't care what the naysayers say, this nation was founded as a Christian nation! The God of Abraham, the God of Isaac, the God of Jacob, there's only one God! There's only one God, and his name is Jesus! I'm tired of people telling my I can't say those words. I'm tired of people telling us that as Christians we can't force or beliefs, or we can no longer pray in public. I'm — Listen to me! If you don't like… love American and you don't like the way we do things, I got one thing to say. GET OUT! We don't worship Buddha, we don't Mohammed, we don't woship Allah, we worship God. We worship God's son, Jesus Christ.

…I believe the church is to be the conscience of the nation. The church needs to be the conscience of our state and our local community. Listen closely. Now hold on for just a moment. As long as they continue to kill little babies in our mother's womb, somebody's got to take a stand and say it's not right! God be merciful to us as a nation. As long as sexual perversion is becoming normalized, somebody needs to stand up and say God forgives us, God have mercy upon us! As long as they continue to tell our children they cannot pray in public schools or pray in open public places today, somebody's got to take a stand and say God forgive us, God have mercy upon us! As long as they continue to tear down traditional marriage… Listen! God intended for marriage to be between a man and a woman, and as long as they continue to attack marriage, somebody needs to take a stand and say NO! NO! NO! NO!

…I'm telling you my friend I believe the Christians in American are the key to revival. I believe that Christians in America is (sic) the key to the economy to turn it around. I believe that Christians in America is (sic) the key to the jobless rate continue (sic) to go down. I believe its a spiritual thing. If we would put God back in America, put God back in our pulpits, put God back in our homes and in our statehouse and then in Washington, D.C., then we can have revival in America! And the Holy Spirit will show up and great and mighty things will happen for this country!
The video closes with the camera on Sen. Rich Santorum, standing and clapping, after Greenwell Springs Baptist Church pastor Dennis Terry's fiery speech yesterday calling on anyone who does not adhere to his particular brand of Christianity to leave the country so that they can finally establish their talibanic regime in the White House. Terry made those comments at a rally in Louisiana, which is the home of Family Research Council's Tony Perkins. To tighten that circle just a little, Terry is also Perkins's pastor, who was also on hand at the event.
If anyone wonders at the collapse of the so-called "Catholic vote" (I, for one, believe that Catholics never voted as a block to begin with), one only has to watch this video. Despite Santorum's identification as a conservative Catholic, despite his reportedly attending Mass daily, what you see here is as alien — and as disturbing — to the majority of Catholics as it is to any other (yes, I'll say it) ordinary American. Catholics have acquired a long history of shunning the pronouncements of the hierarchy on issues of private morality, and they have a much longer history of fearing the interference of government in religious affairs. Co-mingling the two are anathema to most Catholics in the pews, even as the Bishops have become increasingly politically active. That partly explains how Romney has been picking up most of the Catholic vote in recent contests.
At the rally's close, Terry prayed over Santorum and asked God to "have favor upon Rick Santorum," as Perkins stood next to them. When Jeremaiah Wright "goddamned" American, Obama was nowhere in sight, but he got the blowback anyway. Terry laid his hands on Santorum and — more relevant to our point here — Santorum obediently bowed his head for Terry's blessing, nodding in agreement.
When pressed by reporters afterward, Santorum tried to half-heartedly back away from Terry's comments that American "heretics" — and let's be clear: that's who Terry's talking about — need to leave America. But the sad truth is, Santorum fully owns Terry and all of the other dominionists who would turn this nation into a theocratic Ameristan as the first opportunity. And to those who say that dominionism is a myth, all I have to say is that we have video proof of it right there, right at the top of this post. And one of them is running for President.
The Daily Agenda for Saturday, October 8
Jim Burroway
October 8th, 2011
TODAY'S AGENDA (OURS):

First Openly Gay Ordination for the Presbyterian Church, USA: Madison, WI. Last May, the Presbyterian Church USA became the fourth mainline Protestant Church to allow the ordination of openly gay clergy. Today, that promise becomes a reality as Scott Anderson is ordained at Covenant Presbyterian Church in Madison, Wisconsin. The Princeton Theological Seminary graduate had served as Co-Moderator of More Light Presbyterians before moving to Madison to become the Executive Director of the Wisconsin Council of Churches.
Anderson's ordination will mark his return to a ministry he was forced to abandon twenty-one years ago. In 1990, while working as a parish minister in Sacramento, he was threatened with exposure by a couple who wanted him to help raise money for a cause they were advancing that he disagreed with. Rather than submit to the couple's threats, he outed himself instead, and in keeping with the church's rules he stepped down as minister and embarked on the long process of working to change the church's stance toward ordination of openly gay people. Anderson will be supported by his partner of twenty-one years at today's ordination. Anderson is being ordained by the John Knox Presbytery, which consists of 60 congregations in Iowa, Minnesota, and Wisconsin.
AIDS Walks This Weekend: Columbus, OH; Indianapolis, IN and Kent/Sussex, DE.
Pride Celebrations This Weekend: Atlanta, GA; Orlando, FL; Rio de Janeiro, Brazil and Tucson, AZ.
Also This Weekend: Iris Prize Film Festival, Cardiff, UK.
TODAY'S AGENDA (THEIRS):
Values Voter Summit: Washington, D.C. Whenever the Family "Research" Council and the American Family Association team up to put on their annual Values Voter Summit, you can pretty much guarantee that they will more than live up to their reputation for being on the Southern Poverty Law Center's list of anti-gay hate groups. Yesterday, we saw GOP presidential candidate Sen. Rick Santorum give his most bizarre qualification yet for the presidency, when he told the conference that voters should "look at who they lay down with at night and what they believe." That will be hard to top, although Liberty Counsel's Mat Staver gave it his best shot by saying that gay equality will lead to the destruction of Western Civilization.
Today's lineup will be about as crazy as yesterday's. The AFA's Bryan Fischer, whose sheer lunacy knows no bounds, will be a featured speaker, along with FRC's Tom McClusky and Tony Perkins, National Organization for Marriage's Brian Brown, American Values' Gary Bauer, AFA's Ed Vitagliano, Alliance Defense Fund's Alan Sears, Eagle Forum's Phyllis Schlafly, Glenn Beck and Bishop Harry Jackson, among many others. GOP Presidential candidates speaking today will be Texas Rep. Ron Paul and former Massachusetts Gov. Mitt Romney.
If you know of something that belongs on the agenda, please send it here. Don't forget to include the basics: who, what, when, where, and URL (if available).
And feel free to consider this your open thread for the day. What's happening in your world?
Full Page Ad Reminds Voters Who's Behind "Values Voter Summit"
Jim Burroway
October 7th, 2011
The Southern Poverty Law Center has taken out a full page ad in the Washington Post reminding readers why the two organization's sponsoring the event, the Family "Research" Council and the American Family Association, have been included in their very short list of anti-gay hate groups. The ad reads:
Just whose values are represented at the Values Voter Summit?Prominent public figures will attend the Values Voter Summit in DC this weekend.

But what values are they promoting?

The summit is hosted by the Family Research Council and co-sponsored by the American Family Association — organizations that have mounted a long-running campaign of falsehoods that demonize the LGBT community.

They portray gay people as child molesters, deviants, public health threats and more. Their outrageous claims have been thoroughly debunked by numerous scientific authorities and respected professional associations such as the American Psychological Association and the American Academy of Pediatrics.

Their words have consequences: Gay men, lesbians, bisexuals and transgender people are far more likely than any other group to be victimized by violent hate crimes. Many have been driven by relentless demonization to seek a "cure" for their sexual orientation through dangerous therapeutic practices. Many have been driven to suicide by relentless bullying in our schools.

Whose values are these?

Is bearing false witness a "family" value? Is bigotry?
The ad goes on to list several quotes from the FRC and AFA equating homosexuality with pedophilia, criminality, Nazi's, and Adolf Hitler. The SPLC and Wayne Besen's Truth Wins Out held a joint press conference this morning to release a report on the AFA and FRC's "false propaganda that demonizes the LGBT community." FRC's Tony Perkins is furious, and equates the SPLC's exercise of free speech:
Perkins said the SPLC news conference reflected an attempt to prevent free discussion of ideas and noted that he doesn't show up at SPLC events to protest the civil rights organization's beliefs.

"Southern Poverty Law Center is obviously desperate to try to shut down public debate," he said.