The Daily Agenda for Saturday, November 19
Jim Burroway
November 19th, 2011
TODAY'S AGENDA (OURS):
Transgender Day of Remembrance: Several locations. While tomorrow is officially the day set aside to remember those who have been murdered as a result of transphobia, some TDoR events are taking place today. TDoR began in reaction to the brutal murder of Rita Hester, who was killed on November 28, 1998. Her murder resulted in the creation of the Remembering Our Dead web site and a candlelight vigil in 1999. In the first nine months of 2011, 116 transgender people have been killed around the world, according to Trans Murder Monitoring (TMM). They also say that there have been at least 681 murders in 50 countries since 2008. Observances for the Transgender Day of Rememberance typically consist of the reading of the names of those who have died because of their gender identity, expression, presentation or perception of gender variance. Observances are being held in cities all around the world. Click here to find an observance near you.
TODAY'S AGENDA (THEIRS):
Thanksgiving Family Forum: Des Moines, IA. The anti-gay Family Leader will host a Thanksgiving Family Forum with GOP presidential candidates Sen. Rick Santorum, Texas Gov. Rick Perry, Rep. Ron Paul, former House speaker Newt Gingrich, pizza magnate Herman Cain, and Rep. Michele Bachmann "sitting shoulder to shoulder around a 'Thanksgiving table'." That hokey piece of stagecraft is the brainchild of organizer Bob Vander Plaats, who has this as a dress code: "the audience attire will be 'business casual,' but the candidates were asked 'to dress like they're going to Thanksgiving dinner'." Which means that one of them will be wearing a loud green sweater with a giant white snowflake.
Noticably absent from the banquet is Gov. Mitt Romney, which has Family Leader's Bob Vander Plaats steamed at the snub. "Mitt Romney has dissed this base in Iowa and this diss will not stay in Iowa," he told Fox News. "This has national tentacles. … This might prove that he is not smart enough to be president. …I think what will happen is what happened in 2008. He's been in this position before. He's been on top of polls only to find his campaign tanking and sucking air." Tell us how you really feel, Bob.
Family Leader promises that "ALL the questions will be centered around issues relating to the family and are designed to gauge the constitutional and biblical worldviews of the candidates." And to make sure none of the candidates move too far from an anti-gay agenda, two ten-minute segments of the two-hour forum will be headed by Focus On the Family's Tom Minnery, and the National Organization for Marriage's Brian Brown. The remainder of the one hour and forty minutes will be moderated by Fox News' Frank Lutz. It begins at 4:00 p.m. at the First Federated Church in Des Moines. While the event is open to the press, the latest word has it that no major network will be televising it. Thank God for small favors.
TODAY IN HISTORY:
American Council of Christian Churches Calls AIDS "God's Wrath": 1989. Peter Steinfels wrote in the New York Times about a gathering earlier in November of U.S. Catholic Bishops in Baltimore that had met to hammer out a document responding to the AIDS crisis. The bishops decided overwhelmingly to reject the theological proposition that AIDS was in any way a punishment from God, a position held by one in four Americans, according to a recent poll. J. Gordon Melton, director of the Institute for the Study of American Religion in Santa Barbara, had published 68 statements on AIDS from 45 different religious groups in the United States, Canada and Great Britain, and found "a remarkable" across both liberal and conservative religious groups recognizing that AIDS was not just a gay problem, and "that special ministries should be established to serve AIDS victims, their families and friends, and that the civil rights of homosexuals or of those with the AIDS virus should be protected." But, The Times learned, that consensus wasn't unanimous:
The Bible repeatedly describes God as employing all kinds of terrors, natural and human, to punish those who disobey his commands. These biblical accounts naturally governed the reaction of the American Council of Christian Churches, a fundamentalist group that recently expressed dismay at the consensus discovered by Mr. Melton. The council, which claims to represent about two million "Bible Christians," promptly went on record upholding the idea that AIDS is God's wrath visited on homosexuals and drug addicts, although for their ultimate benefit if they turn to Jesus.
If you know of something that belongs on the Agenda, please send it here. Don't forget to include the basics: who, what, when, where, and URL (if available).
As always, please consider this your open thread for the day.
"In Iowa, You Can't Smoke A Fag But You Can Marry One"
Jim Burroway
July 19th, 2011
That's the punchline to a joke that had Iowa's The Family Leader's Bob Vander Plaats laughing and saying, "That's pretty good! Oh shoot!"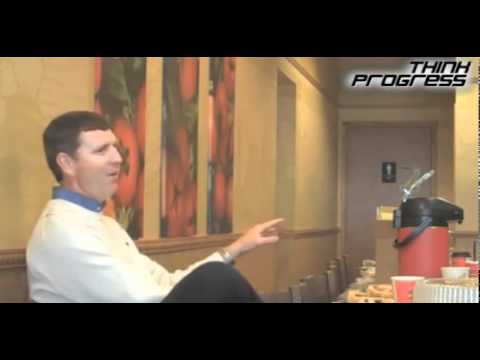 Igor Volsky at ThinkProgress reacts:
Vander Plaats' reaction is not entirely surprising, since the group has previously compared homosexuality to the cancerous effects of second-hand smoking and links supporters to ex-gay reparative therapy. What's more telling is the willingness of Republican presidential candidates like Tim Pawlenty and Newt Gingrich to attend the group's presidential forum and Michele Bachmann's and Rick Santorum's eagerness to sign its pledge.
Nobody Pays Attention To Preambles Anyway
Jim Burroway
July 11th, 2011
When the Iowa-based Family Leader began asking GOP presidential candidates to sign its anti-gay "Marriage Vow," it originally contained this statement in the pledge's preamble:
Slavery had a disastrous impact on African-American families, yet sadly a child born into slavery in 1860 was more likely to be raised by his mother and father in a two-parent household than was an African-American baby born after the election of the USA's first African-American President.
Never mind the abject ignorance of that statement — slave marriages weren't legally recognized in the south and families were routinely split up and sold, making the likelihood of actually being raised by a mother and a father rather shaky — that part of the preamble was criticized by the left and right alike for its suggestion that African-American children were better off under slavery. Late Saturday night, Family Leader bowed to criticism and quietly removed that statement from its preamble. But by then, Rep. Michele Bachmann had already raced to put her signature on the document, only to be followed a very short time later in a photo finish by Sen. Rick Santorum.
Bachmann's campaign has been fending off criticisms for signing the racially-offensive document ever since.
A Bachmann spokeswoman said earlier Saturday that reports the congresswoman had signed a vow that contained the slavery language was wrong, noting it was not in the "vow" portion.

"She signed the 'candidate vow,' " campaign spokeswoman Alice Stewart said, and distanced Bachmann from the preamble language, saying, "In no uncertain terms, Congresswoman Bachmann believes that slavery was horrible and economic enslavement is also horrible."
Totally understandable when you think about it. I bet almost none of our founding fathers like John Quincy Adams paid much attention to the Preamble to the Constitution before they signed it either.
Bachmann Is First To Sign Iowa Anti-Gay Pledge
Jim Burroway
July 8th, 2011
GOP presidential candidate Rep. Michele Bachmann (R-MN) was the very first out of the gate to sign a new Anti-Gay pledge drafted by Bob Vander Plaats and Iowa's Family Leader. Titled, "The Marriage Vow – A Declaration of Dependence upon Marriage and Family" (PDF: 1.02MB/8 pages), its points include (page 3):
Social protections, especially for women and children, have been evaporating as we have collectively "debased the currency" of marriage. This debasement continues as a function of adultery; "quickie divorce;" physical and verbal spousal abuse; non-committal co-habitation; exemplary infidelity and "unwed cheating" among celebrities, sports figures and politicians; anti-scientific bias which holds, in complete absence of empirical proof, that non-heterosexual inclinations are genetically determined, irresistible and akin to innate traits like race, gender and eye color; as well as anti-scientific bias which holds, against all empirical evidence, that homosexual behavior in particular, and sexual promiscuity in general, optimizes individual or public health.
Under "The Candidate Vows," candidates are required to affirm that they will perform "Vigorous opposition to any redefinition of the Institution of Marriage — faithful monogamy between one man and one woman — through statutory-, bureaucratic-, or court-imposed recognition of intimate unions which are bigamous, polygamous, polyandrous, same-sex, etc." The vow also requires the "Steadfast embrace of a federal Marriage Amendment to the U.S. Constitution which protects the definition of marriage as between one man and one woman in all of the United States."
During last month's GOP debate in New Hampshire, Bachmann reaffirmed her support for the federal marriage amendment.
Footnote 8 of the document includes an explicitly pro- ex-gay plank, indicating the political utility that social conservatives find in the movement: "No peer-reviewed empirical science or rational demonstration has ever definitively proven, nor even has shown an overwhelming probability, that homosexual preference or behavior is irresistible as a function of genetic determinism or other forms of fatalism."
The footnote also claims that LGBT people have an average life expectancy of about 40 years, and cites a 1997 report by Robert S. Hogg et al., from the International Journal of Epidemiology. That study, which has become a favorite study for anti-gay extremists to distort, was based on research performed in Vancouver from 1987 through 1992, at the very height of the AIDS crissis The question that they were trying to answer was not about the mortality of gay men overall, but rather the impact that HIV might have on the Vancouver's gay population. Vancouver was one of the epicenters of the epidemic in the early 1990s. When anti-gay extremists misrepresented that study to claim that the average lifespan was forty years, Hogg and his colleagues responded in a 2001 letter to that same journal, saying:
The aim of our research was never to spread more homophobia… [I]f we were to repeat this analysis today the life expectancy of gay and bisexual men would be greatly improved. Deaths from HIV infection have declined dramatically in this population since 1996. As we have previously reported there has been a threefold decrease in mortality in Vancouver as well as in other parts of British Columbia .
In fact, several recent studies have shown that people with HIV have near-normal life expectancies, and there is no peer-reviewed data showing that gay people overall have a life expectancy that is any different from anyone else's.
The same vow also requires candidates' "rejection of Sharia Islam and all other anti-woman, anti-human rights forms of totalitarian control." Because, you know, the imminent imposition of sharia law is the pressing issue right now in the U.S.
Utah Gov. Jon Huntsman has declined to sign the pledge, saying that he has a policy of not signing any pledges. Rep. Rom Paul (R-TX) has said he has reservations. Former Minnesota Gov. Tim Pawlenty said last night he was reviewing the pledge. The agreement to "personal fidelity" to his or her wife could be a thorn to former House Speaker Newt Gingrich. Massachusetts Gov. Mitt Romney, Gingrich, former Pennsylvania Sen. Rick Santorum, and retired Georgia businessman Herman Cain have not yet responded to the pledge. Vander Plaats has set a deadline of August 1.