GOP Presidential Candidates Debate Marriage, DADT
Jim Burroway
June 14th, 2011
Last night, seven candidates for the GOP presidential nomination appeared in a debate in New Hampshire, home to the nation's first primay. Participating were Godfather Pizza magnate Herman Cain, former Minnesota governor Tim Pawlenty, Texas Congressman Ron Paul, former Massachusetts governor Mitt Romney, former House speaker Newt Gingrich, Minnesota Congresswoman Michelle Bachman, and former Pennsylvania Senator Rick Santorum. And of course, LGBT issues came up in the debate.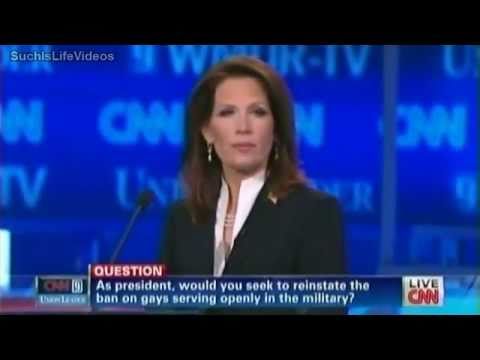 Only Herman Cain and Ron Paul opposed a Federal Marriage Amendment to ban marriage equality in the states.
Herman Cain said that he didn't support repealing DADT, but he didn't want the distractions that it would take to put it back into effect. Pawlenty says that he would seek the advice of "combatant commanders." This wiggle room leaves open the likelihood that he would re-instate DADT. Ron Paul appeared to say the would keep it in place. He talked about punishing behavior, without specifying whether a consensual relationship between two people of the same gender would be punishable. Romney dodged the question altogether, saying that DADT should not have been repealed "until this conflict is over." Gingrich answered by building a case for its reinstatement, an indication that he would work to restore the discriminatory policy. Bachmann said she "would keep the 'Don't Ask, Don't Tell' policy." When asked to clarify, she indicated that she would reinstate the policy after sufficiently cloaking it with "advice" from the military. Santorum took a lot of words to more or less repeat what Ron Paul said, but given the context of Santorum's overall policies and attitudes toward gay people, I don't think his eagerness to reimpose the policy would be much in doubt.
Not one candidate spoke about gay people as though they were taxpayers, patriots, or fellow citizens.
Comments