Are We There Yet?
Jim Burroway
April 3rd, 2012
I think this tweet from Andy Borowitz sums it up nicely:
Gov. Mitt Romney handily won all three Republican primaries this evening, including in Wisconsin, where Sen. Rick Santorum stood the best chance of pulling out a victory. The exit polls tell a familiar story: Santorum generally does better with the blue collar workers, rural voters, evangelicals, and those who believe that the most important quality in a candidate is being a "true conservative" and having a "strong moral character." Everyone else, including those who just want the whole damn thing to be over already, went for Romney. One interesting item for pundits to ponder: in the Wisconsin exit poll, Santorum took the lion's share of the vote among those who disapprove of Scott Walker as governor, who faces a recall election. Unfortunately for Santorum, they only made up 21% of the GOP primary voters.
| | DC | MD | WI |
| --- | --- | --- | --- |
| Romney | 70% | 49% | 42% |
| Santorum | — | 29% | 38% |
| Paul | 12% | 10% | 12% |
| Gingrich | 11% | 11% | 6% |
Santorum was not on the D.C. ballot.
Meanwhile, a New York Times editorial today deplored the National Organization for Marriage's "divide and discriminate" strategy, noting the document dump which revealed NOM's secret strategy to drive wedges between African-Americans and gays, and between Latinos and gays. The Times went on:
Mitt Romney, Rick Santorum and Newt Gingrich have publicly aligned themselves with the group and signed its pledge to work aggressively from the White House against same-sex marriage.

Now that the group's poisonous political approach is out in the open, Mr. Romney and the others should be racing to make clear their disapproval.

We detect no stampede.
Romney Wins It, Chicago Style
Jim Burroway
March 21st, 2012
One of the most consistent trends in the GOP primaries has been Romney's strength in urban areas. That matters in Illinois, where Chicago and its greater suburbs (the Illinois portion, at least) make up almost 9 million of Illinois' 12.8 million statewide. This wasn't an Illinois primary so much as it was a Chicago primary. In addition, there are another 1.5 million urban-and-suburbanites in Peoria, Champaign-Urbana, Springfield, and the the eastern metro area of St. Louis. With those kind of demographics, should come as no surprise that Romney did very well. Santorum dominated the rural areas, but when that is less than a fifth of the state's population, that's not much to draw on. This chart and map from CNN tells the story:
| | IL |
| --- | --- |
| Romney | 47% |
| Santorum | 35% |
| Gingrich | 9% |
| Paul | 8% |
The exit polls also tell a story. First of all, 98% of the GOP electorate is white?
Okay. Delving deeper, Santorum continues to hold the blue-collar vote, winning among those who have no college education. Unfortunately for hom, they were only 16% of the GOP electorate. He also pulled in the votes from those earning less than $30,000 (only 10% of the GOP electorate). And he wins among those who are "very conservative" and who identify as white born-again Evangelicals, and again he lost among Catholics, including those who attend Mass weekly. And in heavily urban Illinois, all of those factors add up to a convincing win for Romney.
So it's Romney's night to celebrate, right? Well, okay, but he still needs to worry that his support is weak. Of the 42% of GOP voters who "have reservations" about their candidate, 54% of them ended up supporting Romney anyway. Another dark cloud: Voters in this exit poll were asked whether they prefer their candidate ultimately wins or the primary ends soon. Of the 66% who want their candidate to win no matter how long it takes, it was very nearly an easy split between Romney and Santorum, with a slight tilt to Romney. But of the 31% who just want it over now, 54% were Romney voters. In other words, those who want this over aren't getting their wish.
Third, Y'all
Jim Burroway
March 14th, 2012
My favorite headline of the day came from the Associated Press yesterday morning: "Voting in Alabama, Mississippi could clarify race." As if. If anything's clear, it's that Republican voters don't want anybody to win the nomination, and it looks like they just might get their way.
| | AL | MS | HI |
| --- | --- | --- | --- |
| Santorum | 35% | 33% | 25% |
| Gingrich | 29% | 31% | 11% |
| Romney | 29% | 30% | 45% |
| Paul | 5% | 4% | 18% |
The man with the money, the candidate with not only every issued covered but every position for each issue, the establishment's favorite who who came in second in the race for the 2008 nomination and is therefore "next" — that's who came in third in Alabama and Mississippi. Third! That's, you know, after second. Ronmey managed to pull in a first place showing in the Hawaii caucuses, and he also captured all nine delegates in the American Samoan caucuses.
In this race, every delegate counts. The delegate count, which is always an approximation, looks like this according to CNN.
| | Delegates |
| --- | --- |
| Romney | 489 |
| Santorum | 234 |
| Gingrich | 139 |
| Paul | 66 |
A total of 1,144 delegates are needed to win the nomination. It's hard to see Romney getting there before the convention. According to the CNN count, there are still 1,356 delegates, including superdelegates, up for grabs. Romney needs to win 48% of all the remaining delegates to capture the nomination. The next big prize is Illinois, which if Michigan and Ohio are any indication, means that Romney will probably split that state. Whether its enough to make up for the loss he's likely to receive in Louisiana and the Missouri caucuses, it's hard to say. April will be kinder to Romney, with Deleware, Maryland, D.C., New York, Connecticut, and Rhode Island coming up, but Santorum is likely to win Pennsylvania. Wisconsin may end up a tie like Ohio. But the primaries go south, literally, in May, with contests in Nebraska, Arkansas, Kentucky, West Virginia, North Carolina, and Texas. That will be rough territory for Romney.
The only way he can win is for the superdelegates to step in and throw their weight behind Romney. That is a very real possibility. Romney's picked up some powerful endorsements in the party, but those endorsement's haven't meant much when it comes to votes. Santorum  or Gingrich won despite major establishment endorsements for Romney in Tennessee (Gov. Bill Haslam), Oklahoma (Sen. Tom Coburn), South Carolina (Gov. Nikki Haley), Minnesota (former Gov. Tim Pawlenty) and Kansas (former Sen. Bob Dole)
But as hard is it will be for Romney to wrap up the nomination, it'll be even harder for anyone else to catch up and surpass him. If Gingrich's ego were to somehow deflate like a popped balloon and all of his delegates went to Santorum, he'd only increase his haul to 373. (And there's no way Paul's giving up his delegates.) In the unlikely event that happens, Santorum would still have to pick up 57% of the delegates outstanding. Without it, he needs to win 67% of those remaining. Gingrich needs to pick up 74% and Paul needs 79%. So it means that when the Republicans hit Tampa this summer, there will still probably be a lot of horse trading going on.
Battered and Bruised
Jim Burroway
March 7th, 2012
Romney hangs in there again like a punch-drunk fighter staggering toward the finish of the sixth round (ooh look at me, I'm using a sports metaphor), picking up wins in six of the states up for grabs yesterday including a very hotly contested Ohio, where Santorum very nearly pulled off an upset. Romney did best in his home state of Massachusetts, and he did well in neighboring Vermont. He also did very well in the Idaho caucuses, where 23% of spudsters are fellow Mormons. There were no exit polls in Idaho, but in Arizona where Mormons made up 14% of the vote, they broke 96-4 for Romney on Feb 28.
Romney also did very well where he had very little actual competitors (Virginia, where Santorum and Gingrich weren't on the ballot). Which is to say that he has done very well where he had the home field advantage (as did Gingrich) or where his most potent opponent was missing. Or Alaska.
| | AK | GA | ID | MA | ND |
| --- | --- | --- | --- | --- | --- |
| Romney | 32% | 26% | 62% | 72% | 24% |
| Santorum | 29% | 20% | 18% | 12% | 40% |
| Gingrich | 24% | 47% | 2% | 5% | 8% |
| Paul | 14% | 6% | 18% | 10% | 28% |
| | OH | OK | TN | VT | VA |
| --- | --- | --- | --- | --- | --- |
| Romney | 38% | 28% | 28% | 40% | 60% |
| Santorum | 37% | 34% | 37% | 24% | — |
| Gingrich | 15% | 27% | 24% | 8% | — |
| Paul | 9% | 10% | 9% | 25% | 40% |
Which goes to day that Romney is still having trouble closing the deal with Santorum racking up rack up wins in the more conservative middle bits of the continent. In Oklahoma, Santorum's first place finish came in spite of Sen. Tom Coburn's endorsement of Romney, while Romney actually came in third in North Dakota and just barely avoided that same fate in Oklahoma. And in Ohio, where Romney poured massive amounts of dollars into the race, he only managed to pull out a 1% win over Santorum in the bellwether state. But even there, he he lost among Evangelical, blue collar and rural voters, but won among those who were 50 and older.
But here's the stat I find most telling: When Ohio voters were asked whether they'd support Romney in the general election regardless of who they voted for in the primary, 36% said they would not be satisfied with a Romney candidacy, versus 33% who said they'd reject a Santorum candidacy. In other words, Ohio Republicans are less willing to settle for Romney than Santorum.
| | Delegates |
| --- | --- |
| Romney | 404 |
| Santorum | 165 |
| Gingrich | 106 |
| Paul | 66 |
But this is a race for delegates, not popular votes. And whatever weaknesses that exist in Romney's popular support within the GOP, he's still by far the frontrunner in the delegate race according to CNN's count, with more delegates than his opponents combined. But at only about half way through the primaries, Romney's still a long way from the 1,144 needed to secure the nomination. Kansas, US Virgin Islands and Guam hold caucuses next week, followed by primaries in Alabama, Mississippi and Hawaii the week after that. Which means that for Romney, the long slog continues. But for the other candidates in the field, the slog is even longer.
The idea behind Super Tuesday was to bring the nomination process into clearer focus. The only thing made clear yesterday is that GOP voters would still prefer another candidates. But that's not the choice available to them. Which means that Romney will almost certainly be the nominee when all is said and done, but what is said and done before then will continue to be the story. As Ezra Klein at the Washington Post put it, "For three guys who profess to not like the media very much, Mitt Romney, Rick Santorum, and Newt Gingrich are really making all our dreams of a long, unpredictable primary come true."
Rick Rolls Romney
Jim Burroway
February 8th, 2012
It was a huge night for Sen. Rick Santorum, whose triple-play win last night seems to show that Republican primary voters and caucus voters are still looking for that anybody-but-Mitt candidate. And it was that dissatisfaction with the presumptive nominee that allowed Santorum to dominate the field like a man on a dog.
In Missouri's primary, Santorum captured his biggest win with 55% of the vote, more than twice as much as Gov. Mitt Romney's 25% showing. Rep. Ron Paul came in at 12%, and 4% selected "uncommitted," which can be read either as a Newt Gingrich vote (Gingrich failed to qualify for Missouri's ballot) or as "none of the above." Santorum scored a total shutout in Missouri, winning every single county in the state.
Missouri's primary election is an oddity. There are no delegates up for grabs. In fact, the voting there is largely meaningless because the delegates won't be selected until the state party convention on April 21, and there is no relationship between last nights votes and how the party's state delegates are ultimately chosen. Missouri GOP leaders are free to heed or ignore last night's vote altogether. So how well last night's results will translate into delegates remains an open question.
But in the Minnesota and Colorado caucuses, the fight for delegates was real, and Santorum had a similarly spectacular night there as well. In Minnesota, Santorum pulled in 45% of the vote and six delegates. Paul came in second with 27% of the vote (3 delegates), followed by Romney at 17% (2 delegates) and Gingrich at 11% (1 delegate). Yes, you read that right: Paul beat Romney in Minnesota. And like in Missouri, Romney didn't win a single county in Minnesota either.
But the real surprise was Colorado, where Romney was expected to do well. Instead, Santorum took the state with 40% of caucus voters (earning 5 delegates) against Romney's 35% (4 delegates), followed by Gingrich's 13% (2 delegates) and Paul's 12% (1 delegate).
The worst loser of the night would have to be Gingrich. He had a terrible showing, which is bound to have an impact to his already troubled fundraising. Santorum, on the other hand, may be able to use these wins to convince Republican voters to give him another look — and GOP anybody-but-Mitt donors somewhere else to put their money.
But speaking of money, Romney's drubbing shows that there are limits to how far nearly-unlimited financial resources can go. Romney's win last week in Florida had pundits believing that it was now his election to lose. It now looks like Midwesterners are thinking maybe he should. Lose, that is.
Gingrich Defeats Romney!
Jim Burroway
February 1st, 2012
That's Gingrich's takeaway anyway, vowing to keep on campaigning in the 46 remaining states (even though he failed to make Virginia's ballot). And he did trounce Romney among those who identified as Tea Party supporters, Evangelicals, and the "very conservative." Gingrich's geographical strength also was revealing. Romney carried central and southern Florida, home to a lot of people who moved there from the north, while Gingrich carried northern Florida and the panhandle, which is more representative of the type of voters found in the rest of the South.
But after trouncing Romney in South Carolina, Gingrich couldn't hold up against Romney's improved debate performance and overwhelming financial advantages.Romney won with 46%, taking all 50 delegates up for grabs, while Gingrich came in a very second with 32%. The real story in the next few weeks will be how that affects Gingrish's ability to raise money between now and Super Tuesday. As for the rest of the lineup, Santorum trailed the Box of Rocks with 13% of the vote, and Paul pulled up the rear with 7%. It should be noted however that Paul wasn't really contesting Florida. While the other three are campaigning for votes and momentum, Paul is in it for the delegates. With Florida's winner-take-all contest and the impossibility that Paul could come in first, the ability to rack up any delegates in this contest was nill. So he wisely decided not to spend much time and money campaigning there. And if there's one thing we know about Paul, it's that he may not be rich, but he certainly knows how to deal with money.
WaPo: Ron Paul Signed Off On Newsletters
Jim Burroway
January 28th, 2012
As we have said many times before, it is inconceivable that Texas Rep. Ron Paul, who is waging a libertarian campaign for the GOP presidential nomination, could not have known about the many scores of newsletters that went out under his name for the better part of the decade containing virulently homophobic, racist, anti-Semitic, rants embedded with some of the most incredibly imaginative conspiracy theories which would gave Art Bell a run for his secretly-stashed bullion. Paul has tried to distance himself from those newsletters, claiming that only "eight or ten sentences" were offensive (I'm still waiting to see how he narrows the tranche down to "eight to ten sentences") and besides, he didn't pay any attention to what he sold — and sold at a very handsome profit — under his own name.
But squaring the incredibly neanderthalic views expressed in the newsletters with his votes in Congress (he voted to repeal DADT, for example) and his positions in the GOP debates has represented one of the greater mysteries in politics. Today, the Washington Post reveals that there's no mystery to it whatsoever. In fact, the explanation couldn't be simpler: it all comes down to the root of all evils, the love of money. According to the Post, Paul was a "sharp-eyed businessman" whose company, Ron Paul & Associates, published the newsletters, with Paul himself signing off on articles and speaking to his staff on a daily basis:
It was his newsletter, and it was under his name, so he always got to see the final product… He would proof it," said Renae Hathway, a former secretary in Paul's company and a supporter of the Texas congressman…

A person involved in Paul's businesses, who spoke on condition of anonymity to avoid criticizing a former employer, said Paul and his associates decided in the late 1980s to try to increase sales by making the newsletters more provocative. They discussed adding controversial material, including racial statements, to help the business, the person said.

"It was playing on a growing racial tension, economic tension, fear of government," said the person, who supports Paul's economic policies but is not backing him for president. "I'm not saying Ron believed this stuff. It was good copy. Ron Paul is a shrewd businessman."
Ed Crane, longtime president of the Cato Institute, met with Paul during this time and they both concurred that "people with extreme views" were more likely to respond to sales pitches. Paul told Crane that he got his best response from ads taken out in the anti-Semitic and racist newspaper Spotlight. That led to a calculated strategy that proved to be a gold mine for Paul.  In 1984, Paul was in debt to the tune of $765,000. By 1995 toward the end of his run of newsletters, his net worth was $3.3 million. It's the oldest trick in the book: incitement for influence, demagoguery for dinero, provocation for power. It's worked for everyone from Coughlin to Goebbels to McCarthy to the Family "Research" Council. How's that for integrity?
Hey, Ron Paul, now I'm starting to think you want to kill me
Timothy Kincaid
January 17th, 2012
You would think that after touting the endorsement of one Christian reconstructionist who favors executing gays – and being called on it – you'd be careful before you starting talking about another. Unless, I guess, you agree with them.
But today there's another preacher, Voddie Baucham, Pastor at Grace Family Baptist Church, who is one the front page of Ron Paul's website singing Ron's praises:
While I am not looking for a "Pastor-in-Chief," it is important to me that the man for whom I cast my vote be a Christian, if at all possible… I also want to know that the foundational ideology motivating a man's decisions is biblical. I know it will not always mirror my own, but I trust God's word, and appreciate those who look to it for aid in making decisions. To that end, I support Dr. Paul because he is not just a conservative, but a Christian Conservative.
Unlike, I guess, the Mormon and the Catholic options.
Now some of what Baucham says makes sense. He, like me, has no desire to elect a Pastor in Chief. And he notes that when you send a guy to change the moral standards to be to your liking, then the next guy is free to change them to his liking and "How's that workin' for ya?"
But what isn't mentioned is Baucham's other writings, like – for example – this response to President Obama's 2009 statement of support for LGBT Pride Month that Dr. Warren Throckmorton found:
As I have noted elsewhere, President Obama is committed to a radical pro-homosexual agenda. Since day one of his administration, he has made no secret of his intent to move the ball forward on the full acceptance of homosexuality and the criminalization of all disapproval thereof. Just this week he appointed the founder of GLSEN to a post in the Department of Education. Then, in another brazen act, the Obama administration took another bold step forward as he declared June LGBT Pride Month. In a statement on the White House website he wrote:

LGBT Americans have made, and continue to make, great and lasting contributions that continue to strengthen the fabric of American society. There are many well-respected LGBT leaders in all professional fields, including the arts and business communities. LGBT Americans also mobilized the Nation to respond to the domestic HIV/AIDS epidemic and have played a vital role in broadening this country's response to the HIV pandemic.

Hence, sodomites, who who are in large part responsible for the introduction and spread of the HIV/AIDS epidemic are praised for responding to this plague in an attempt to avoid annihilation (by the way, I know you don't have to engage in sodomy to get HIV, but that doesn't change the facts… see the book, And the Band Played On for an honest look at this issue). This is revisionism at its worst.

The President goes on to celebrate the fact that this abomination (Lev 18:22) worthy of the death penalty (Lev 20:13) is now being celebrated in the open. He writes, "Due in no small part to the determination and dedication of the LGBT rights movement, more LGBT Americans are living their lives openly today than ever before." This is a clear sign of the devolution of culture. As Paul writes in Romans, "Though they know God's decree that those who practice such things deserve to die, they not only do them but give approval to those who practice them." (Rom 1:32 ESV)
So what's going on here, Ron Paul? Why is it that you keep talking up the endorsements you get from people who want to execute me?
Once is an error. Twice… well, twice means that you need to start explaining in terms that leave no doubt.
More of Ron Paul's "Bad Stuff" Revealed
Jim Burroway
January 17th, 2012
A few weeks ago, GOP presidential candidate Rep. Ron Paul sought to defend himself in the controversy over the newsletters which he promoted and published under his name for nearly a decade. In his latest defense, he said that he only acted as publisher of the newsletters, and said that there were only "a total of about eight or ten sentences" of "bad stuff."
The New Republic, which released the original newsletters, has responded to that last statement by releasing several dozen more — far more than the "eight or ten sentences" of "bad stuff." The latest dumpcovers much of the same ground as before: blatant racism, anti-Semitism, homophobia, praise for tax evaders, defense of anti-government militias, and whacked-out conspiracy theories. Under the anti-gay/AIDS-hysteria banner, TNR released the following (all links PDFs):
That, combined with previous releases, is way, way more than the "eight or ten sentences" of "bad stuff — just counting the anti-gay/AIDS-hysteria pieces alone. And the AIDS-hysteria pieces are especially troubling given that Paul is a medical doctor. Surely, he knew better, didn't he?
We still have no explanation from him about how these newsletters came to be and why he promoted them so strongly under his name, evengoing so far as to give the impression that he wrote them when he was selling them. Maybe he really was just a "publisher." Maybe he really didn't write this stuff. But the fact that he allowed it to go out for eight years under his name, I believe, disqualifies him for any serious public office. If he's willing to show such an appalling carelessness with his own good name, how can we be assured he would be any better with America's?
What New Hampshire Means
Jim Burroway
January 11th, 2012
As with Iowa, not much in national terms, but for different reasons. It remains to be seen whether New Hampshire or Iowa will stand out as an anomaly. But it may mean something in state politics where there are murmurings that the state legislature may take up a bill repealing that state's marriage equality law. If state lawmakers looked to these results as an indication of their own electoral futures, they may notice that two of the three top finishers have kept the National Organization for Marriage at arm's length. Yes, Romney signed and won the primary, but 40% of the the GOP's own voters backed candidates who didn't. What's more, audiences openly booed Santorum's making Teh Gays a central talking point of his campaign, making that the most visible indication of how Granite Staters feel about anti-gay politics.
Whether that matters in the state legislature or not however isn't a given. State Sen. Kelly Ayotte (R) seems to understand the temperature of the state electorate, and warned the GOP candidates to avoid discussing the state's effort to repeal its 2009 marriage equality law, declaring such talk "off message" even though she herself is a staunch opponent of marriage and adoption rights for same-sex couples, having resigned as Attorney General in protest after Governor John Lynch signed the marriage equality bill into law. But social conservatives have an amazing capacity for self-delusions of power and grandeur. Gingrich's victory speech last night, which didn't mention Romney's inconvenient existence, had Gingrich crowning himself the winner of "the conservative primary" as he all but measured the White House's drapes. And in a related late-breaking development, a box of rocks moved ahead to edge him out of his third place finish. Meanwhile Perry has already saddled up for South Carolina after pulling out an upset victory over the write-in candidates. Santorum is already there as well, where he hopes his Iowa streak will leave a mark.
Romney Again
Jim Burroway
January 10th, 2012
The results are in for last night's New Hampshire GOP Primary. There weren't too many surprises with the final results: Romney, as expected, came in with a strong first place showing. Given that he was governor of neighboring Massachusetts, he was practically a native son in political terms, making his strong showing unsurprising. Also, as expected, Ron Paul came in second. Huntsman was expected to do well in the state, having put all of his eggs in the Granite State basket. He came in third, and it's not clear where his campaign goes from here.
Gingrich came up short, pulling on only 10% of the vote, as further evidence of his rapidly dropping popularity. A Box of Rocks came on surprisingly strong, ahead of Santorum and Perry. Cowboy Perry barely outpaced the write-ins to finish at the rear, with Santorum settling in just a short distance up it.
And that's a wrap at BTB Elections Central for New Hampshire. Now it's on to South Carolina where the fun really begins.
Out Of Many, Fewer
Jim Burroway
January 4th, 2012
One aspect of the GOP race which greatly benefited former Massachusetts Gov. Mitt Romney was the splintered tea-party/Evangelical vote across five other candidates: Sen. Rick Santorum, Rep. Ron Paul, former House Speaker Newt Gingrich, Texas Gov. Rick Perry and Rep. Michele Bachmann. It's worth noting that while Romney is the front-runner by virtue of his narrow Iowa win, his massive war chest and a well-established national organization, three out of four Iowa Republican caucus-goers nevertheless voted against him.
Today, with Bachmann dropping out and Perry going back to Texas to ask God if he still wants him to run, we may begin to see a consolidation of the tea party/Evangelical vote around Santorum. That could be significant.  If the Iowa votes cast for those three "Not Mitt" candidates — Santorum, Bachmann and Perry — all went to Santorum, it would have brought his total up to 40% against Romney's 25%. Sure, not all of those votes would have consolidated to Santorum; some would have likely drifted over to Romney or Paul, but take a quick glance at the polling data (as all of the campaigns are doing right now) and you can quickly see how the Iowa race would have been very different without that split.
Ron Paul, who came in a solid third in Iowa, probably won't benefit much from such a consolidation, especially in closed primary states where non-Republicans can't easily cross over to vote in the GOP primary. Whether a smaller field will help Santorum overcome his huge deficit in money and organization is still an open question. I doubt it.  But social conservative extremists are beginning to see this consolidation as the only way to stay in the game. Bob Vander Plaats, head of Iowa's anti-gay Family Leader, endorsed Santorum just two weeks ago, not long after Santorum's campaign admitted that Vander Plaats indirectly solicited money from Santorum's campaign. (The asking price for an endorsement was reportedly as high as one million dollars.) Today, Vander Plaats is calling on Bachmann, Perry and Gingrich to step out of the race:
"The worst thing that can happen to Mitt Romney is to run head to head against Rick Santorum," he told reporters at Santorum's campaign headquarters here tonight. "He wants to have a multiple candidate field, so I think some of these candidates — they need to reassess where they are at tonight."

…"We did this drill four years ago. Had Fred Thompson not stayed in the race in South Carolina and takes nine percentage points, Huckabee wins South Carolina," he said.

"If Huckabee wins South Carolina, McCain is out of the race and it's Huckabee-Romney going into Florida. So what I'm saying is that we have to be smart about getting a pro-family conservative to go up against Mitt Romney."
Perry is re-assessing and Bachmann has announced that she is "suspending" her campaign. And now we have this shot from Newt Gingrich, which should cause the Romney camp a few headaches this morning:
Laura Ingraham: Can you see a scenario under which the two of you would align together to try to defeat the establishment candidate, Mitt Romney?

Newt Gingrich:Absolutely. Of course. I mean Rick and I have a 20-year friendship, we are both rebels, we both came into this business as reformers, we both dislike deeply the degree to which the establishment sells out the American people. We both think Washington has to be changed in very fundamental ways, and we have lots of things that fit together. And the thing that's interesting is if you take the votes, you add to that Perry and Bachmann, you begin to see the size of the conservative vote compared to Romney…if you take, you know, Santorum and Perry and Bachmann and Gingrich you get some sense of what a small minority Romney really represents.
Update: Mother Jones's David Corn says that Newt is ready to settle scores in the time-honored tradition he established as the bomb-throwing House Speaker. Meanwhile, it looks like Perry still thinks he's in the race despite his fifth place showing in Iowa.
It's Romney By A Perfectly Coiffed Hair
Jim Burroway
January 4th, 2012
After spending millions of dollars and campaigning more or less nonstop for four years, former Massachusetts Gov. Mitt Romney barely squished passed the late surging Sen. Rick Santorum by a mere eight votes. Santorum is now the last Not Mitt in the race, having dethroned a long line of other Anyone-But-Mitts who had held the frontrunner or near-frontrunner status over the past several months. And what a line that was, beginning with Rep. Michele Bachmann, then Texas Gov. Rick Perry, then pizza magnate Herman Cain, then former House Speaker Newt Gingrich, all of whom courted the tea party and Evangelical wings of the GOP. When caucus day came, it just happened to line up with being Santorum's turn. According to entrance and exit polls, Santorum came in first with the tea party vote and the Evangelical vote, both by wide margins. If you were against abortion or wanted a candidate with "strong moral character," then you almost certainly voted for Santorum. You also voted for him if you had only made up your mind in the past few days, indicating that he likely captured the vote that had been shifting from one candidate to another in search of the socially conservative Not Mitt for the past several months.
While Santorum soundly won the expectations race in Iowa, it's hard to see how he can carry the momentum forward through the rest of the long primary season. He's been effectively broke throughout the race, although this win will likely bring a huge fundraising bonus with it. But it will come too late to put together badly needed organizations in the upcoming races. Already, he has lost the ability to appear on the ballot in Virginia; he had no organization there to collect the signatures and turn them in. And so far, he's been relatively untouched by the so-called super-PACs which played such a huge role in the campaign. That won't last long now that he has their attention.
Meanwhile, third place Ron Paul's entrance and exit poll results reveal his challenges ahead. If his critics charge that he is not a "true Republican" — whatever that's supposed to mean these days — they can probably find data to back that up. Iowa is an open caucus state, meaning that it's easy for anyone to show up at a caucus and participate even if they hadn't been registered as a Republican for very long. Of those who identified as independent, Paul captured 43% of those votes, smashing the rest of the filed with that segment. He also captured 40% of those who claimed they were "moderate or liberal" and 33% of those who had never participated in a caucus before.  These numbers demonstrate the challenge he faces. He came in third in a state with a relatively open caucus. We might expect him to do similarly well in other open primary states as well. But his base of support will almost certainly be sharply curtailed in closed primary states where non-Republicans won't be allowed to easily change their registration or participate.
Which means that it now looks like the GOP nomination is Mitt's to lose.
But while we're discussing Paul, here's another surprising thing about his numbers. He came in second place among Evangelicals, capturing 18% of the vote behind Santorum's 32%. That's comfortably ahead of Romney's 14%. It's also well ahead of Gingrich's and Perry's 14% each and Bachmann's 6%. The latter three assiduously courted that vote and lost. Paul's play for the Evangelical vote took place mostly behind the scenes by hiring anti-gay activist Michael Heath to serve a leading role in the Iowa campaign. It won him the endorsement of a prominent Christian Reconstructionist, who advocated for the death penalty for gay people. Not that Rev. Phil Kayser thought it should be necessary to kill very many homosexuals. Just killing a few of them "would have a tendency of driving homosexuals back into their closets." It turns out that Paul's campaign platform of effectively demolishing the role of the Federal Government in most affairs fits in very nicely with Christian Reconstructionsist theology, and Paul's campaign was initially thrilled with Kayser's endorsement. "We welcome Rev. Kayser's endorsement and the enlightening statements he makes on how Ron Paul's approach to government is consistent with Christian beliefs.," his campaign announced, before quietly erasing that announcement from Ron Paul's web site with nary an explanation. "We're thankful for the thoughtfulness with which he makes his endorsement and hope his endorsement and others like it make a strong top-three showing in the caucus more likely." A top three showing is exactly what he got.
As for the rest, Rick Perry is going back to Texas to find out what God wants him to do next, Michele Bachmann is bowing out so her husband can keep on buying doggie sunglasses in a totally not-gay way, Gingrich has become bored by the whole thing now that he's not the center of attention, and Jon Huntsman — well, we're not quite sure where he is exactly.
Woops, There It Goes
Jim Burroway
December 28th, 2011
The press release from Ron Paul's presidential campaign bragging about Christian Reconstrucitonist pastor Phil Kayser's endorsement is gone. Poof! Just like that.  The Google Cache version is here. And for archival purposes, we're keeping a copy of that announcement below. I wonder if the Paul Campaign is going to issue a statement, or if they're going to try to sweep it under the rug just like they did with the newsletters? Anyone taking any bets?
Click here to see the original endorsement announcement
NOM runs anti-Ron Paul ad
Timothy Kincaid
December 28th, 2011
While our community may be noting with discomfort the peculiar affiliations or view of a number of Ron Paul's prominent supporters, that doesn't mean that he is viewed favorably by those who dedicate themselves day in and day out to obsessing about Teh Ghey. It seems that Ron Paul is "a radical who would destroy traditional marriage in America."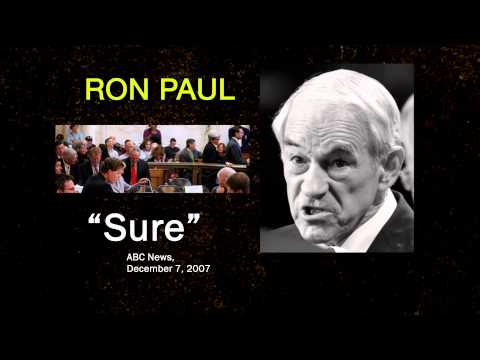 Whodathunkit? So pro-equality is Ron Paul that NOM has created an entire website for the purpose of "spotlighting Ron Paul's unwillingness to defend marriage."
But it seems that Ron Paul is not the only nefarious secret supporter of equality, Michele Bachmann has learned that Mitt Romney is pro-equality as well:
"Mitt Romney has defended gay marriage and even signed marriage licenses for same-sex couples and Ron Paul doesn't believe the government should protect the institution of marriage," Bachmann said. "I have a record of defending life, marriage and the family and I'll protect them as president of the United States."
But I just don't think that Hatin' on Teh Ghey is getting as much traction as it has in the past. There's something about having real issues like a stagnant economy and high unemployment to make such issues seem as silly as they really are.