Colorado makes 25 – half of US States have marriage equality
Timothy Kincaid
October 7th, 2014
Yesterday the state of Colorado began offering marriage licenses to same-sex couples under the determination that the denial of certiorari in the Tenth Circuit substantively applied the circuit court's ruling about the unconstitutionality of anti-gay marriage bans to all states in the circuit.
They also took the step of requesting that the Tenth Circuit dismiss Colorado's appeal of a district judge's ruling on their own ban. Today the court dismissed their appeal and marriage equality became official.
Colorado became the 25th state (along with the District of Columbia) to have marriage equality.
In the next couple of days or weeks, that number will swell to 30, as other states in the Fourth and Tenth Circuit are so directed by federal judges, likely by means of summary judgment.
Colorado Joins the Marriage Equality Bandwagon
Jim Burroway
October 6th, 2014
Colorado Attorney General John Suthers on Monday said all 64 county clerks must begin issuing same-sex marriage licenses after the U.S. Supreme Court declined to hear all appeals on gay marriage bans.

A same-sex couple in Pueblo County received the first license within hours — apparently the first gay marriage in Colorado after the high court's action. Soon after, Larimer County Clerk and Recorder Angela Myers announced that her office would also begin issuing the licenses.

Clerks in Boulder and Denver said they were awaiting final clearance. Once the legal formalities are finalized, same-sex marriage will be legal throughout Colorado.
Colorado wasn't one of the marriage cases rejected by the Supreme Court today, but the Denver-based Tenth Circuit Court of Appeals removed its stay after the high court declined to take the Utah case from the Tenth.
The Most Momentous Supreme Court Non-Decision Ever Made
Jim Burroway
October 6th, 2014
With today's Supreme Court non-decision, about 53% of all Americans now live in jurisdictions with marriage equality. That's twenty-four states and the District of Columbia. Indiana, Oklahoma, Virginia, Wisconsin and Utah will open their clerk offices to same-sex couples as soon as the various Federal District Courts go through their formalities. Those formalities are already out of the way in Colorado, Oklahoma, Virginia and Utah. Things are happening so fast I wouldn't be surprised if Indiana gets the go-ahead before I finish writing this post. Meanwhile, you can expect that Colorado, Kansas, North Carolina, South Carolina, West Virginia and Wyoming will follow suit any day now, since they too are now bound by the decisions already handed down in the in the 4th Circuit, 7th Circuit, and 10th Circuit Courts of Appeals.
The biggest wild card remains the Sixth Circuit, which heard oral arguments last August in a Michigan challenge to that state's constitutional amendment banning same-sex marriage. That court also heard oral arguments from four other states — Ohio, Kentucky and Tennessee — challenging those states' bans on recognizing legal marriages from out of state. If the Sixth Circuit goes all contrarian and upholds any of those bans, then we could expect the issue to be dropped once again at the Supreme Court's footsteps.
And to think that barely over a decade ago, our relationships were still criminalized in fourteen states.
Now, it's possible that the three-judge panel in Cincinnati may rule against marriage equality. It's also conceivable that a three-judge panel in the Fifth, Eighth and Eleventh Circuits could uphold a same-sex marriage ban in, say, Louisiana, for example.
But if one did, it seems much more likely that the entire circuit would step in for an en banc decision. But even if that didn't happen, then sure, maybe an anti-equality decision could conceivably make its way to the U.S. Supreme Court. But by then, some two-thirds or more of all Americans are likely to be living in marriage equality states. Would the Supreme Court go back and overturn all of that? That now seems preposterous. Today's non-decision is the new law of the land.
Federal Judge Strikes Down Colorado's Marriage Ban, Issues Stay Until August 25
Jim Burroway
July 23rd, 2014
As expected, Federal District Judge Raymond P. Moore has Issued an injunction against the State of Colorado, prohibiting it from enforcing its ban on same-sex marraige. Judge Moore has also issued a stay of his injunction until 8:00 a.m. on August 25.
Judge Moore's ruling is rather brief, as he only considers two questions: whether to issue an injunction and whether to issue a stay. The first question was partly settled by the Tenth Circuit's rulling in Kitchen v. Herbert, which last month upheld a lower court ruling which found Utah's marriage equality ban unconstitutional. It was also partly settled by the fact that the state did not oppose the injunction, and that the plaintiffs have a high probablility of success in overturning Colorado's marriage ban. Other factors which argue for issuing the injunction now, interestingly, is partly supported by the recent Hobby Lobby decision:
Next, Plaintiffs have also shown that substantial irreparable injury will result if the injunction does not issue. Where the harm is "great" or "substantial," the deprivation of constitutional rights, for even minimal periods of time, constitutes irreparable harm. See Hobby Lobby Stores, Inc. v. Sebelius, 723 F.3d 1114, 1146 (10th Cir. 2013) ("establishing a likely [Religious Freedom Restoration Act] violation satisfies the irreparable harm factor"), aff'd on other grounds …Here, Plaintiffs' establishment of a violation of their constitutional rights – their fundamental right to marry and to have their marriages recognized – satisfies the irreparable harm factor. See Hobby Lobby, 723 F.3d at 1146.

Third, the threatened injury to Plaintiffs by the enforcement of Colorado laws which are unconstitutional outweighs any damage the injunction may cause to Defendants. Due to Defendants' non-opposition to the granting of an injunction, they did not address in that context how this or any other factor favored them. Nonetheless, in arguing for a stay of the injunction, Defendants contend that enjoining a state law as unconstitutional creates irreparable injury. But here, the Court is enjoining state laws without opposition from Defendants, which laws the Court has further found to be clearly unconstitutional. Thus, the equities tip strongly in favor of Plaintiffs.

Finally, the issuance of the injunction would not be adverse to the public interest as "'it is always in the public interest to prevent the violation of a party's constitutional rights.'" Hobby Lobby, 723 F.3d at 1147 (quoting Awad v. Ziriax, 670 F.3d 1111, 1132 (10th Cir. 2012)). Accordingly, this factor also favors Plaintiffs.
As for the question of whether Judge Moore's injunction should be stayed, he wrote:
In this case, in terms of a stay of the preliminary injunction, Defendants have not met their burden. As previously discussed, on the state of the record currently before the Court, it is Plaintiffs who have shown a likelihood of success on the merits; it is Plaintiffs who suffer irreparable harm if Colorado's unconstitutional same-sex marriage ban is not enjoined; and it is Plaintiffs to whom the balance of harm and the public interest favor. Additionally, in light of Defendants' express non-opposition to the entry of the injunction, Defendants cannot reasonably contend that this Court abused its discretion in granting the preliminary injunction and, concomitantly, no stay.

For these reasons, the posture of this case differs from many other cases being litigated in the federal court system where stays have issued. While the Court acknowledges that Defendants may file a protective appeal in this matter, Defendants cannot meet the burden required for a stay pending such appeal under the applicable standard. Defendants have elected to adopt a practical approach before this Court in recognizing the significance of Kitchen, but one consequence of that approach and the "non-opposition" to the requested injunction is that Defendants have not met their burden with respect to a stay pending appeal under the traditional rules. The factors used to assess whether an injunction should enter are largely the same as those used to determine whether a stay should enter. Having elected largely to stand silent with respect to such factors in the context of the injunction, Defendants have not put before this Court sufficient support for the factors determining entitlement to a stay of the injunction.
Judge Moore however noted that stays in marriage cases appear to be following a different standard, noting that the Supreme Court recently stayed an injunction requiring Utah to recognize same-sex marriages that took place before a stay was isssued on the marriages themselves:
The wild card in the analysis is the recent stay entered by the Supreme Court in Herbert v. Evans, No. 14A65, 2014 WL 3557112 (U.S. July 18, 2014). Evans involved a preliminary injunction issued by the district court to require Utah to recognize same-sex marriages resulting from licenses issued in the "gap" between the time that an injunction issued in Kitchen and the Supreme Court issued a stay. The Evans defendants requested a stay which the Tenth Circuit denied after analyzing the request under the accepted standards and concluding that defendants failed to meet their burden of showing a stay should be issued. Evans v. State of Utah, No. 14-4060 (10th Cir. July 11, 2014). Notwithstanding this denial, and the fact that the Tenth Circuit has already spoken in Kitchen, on July 18, 2014, the Supreme Court still issued a stay "pending final disposition of the appeal by the United States Court of Appeals for the Tenth Circuit." Herbert v. Evans, No. 14A65, 2014 WL 3557112 (July 18, 2014). But, making extraction of the meaning of the stay in Evans more difficult, Evans is a "companion" case to Kitchen, both addressing the application of Utah's same-sex marriage laws.

Based on the most recent stay, it appears to the Court that it may well be that a message is being sent by the Supreme Court. But this Court is not some modern day haruspex skilled in the art of divination. This Court cannot – and, more importantly, it will not – tell the people of Colorado that the access to this or any other fundamental right will be delayed because it "thinks" or "perceives" the subtle – or not so subtle – content of a message not directed to this case. The rule of law demands more.
I had to look up "haruspex":
ha·rus·pex/həˈrÉ™sËŒpeks,ˈharəˌspeks/ noun. (in ancient Rome) a religious official who interpreted omens by inspecting the entrails of sacrificial animals.
Hah! Good one! So, at any rate, Judge Moore gave the state until Monday to seek a stay from the Tenth Circuit:
Defendants are not entitled to a stay order under the applicable rules. This is where this Court's analysis must  end. The Court recognizes that the Tenth Circuit or the Supreme Court may choose to issue a stay in this matter. And this Court will not foreclose Defendants from having a fair opportunity to seek such stay. Accordingly, as it pertains to the preliminary injunction, this Court will temporarily stay the preliminary injunction order until 8:00 a.m. on August 25, 2014, to permit Defendants time to seek a stay of the injunction from a higher court.
State Judge Strikes Down Colorado's Marriage Ban, Stays Ruling
Jim Burroway
July 9th, 2014
A state judge has declared Colorado's ban on same-sex marriage unconstitutional. Adams County District Court Judge C. Scott Crabtree issued his ruling this afternoon, and accompanied that ruling with a stay pending appeal. He also declared Colorado's civil unions law "further evidence of discrimination against same-sex couples" and is not a constitutionally-acceptable substitute for marriage.
Judge Crabtree's ruling (PDF: 156KB/49 pages) begins with a comprehensive 28-page summary of the various briefs and reply briefs before delving into addressing the questions before the court. Judge Crabtree found that "There is no question that the right to marry is a fundamental right." He then went on to agree with the recent Tenth Circuit Court of Appeals decision in the Utah case which struck down that state's ban on same-sex marriage:
"The Court heartily endorses the recent holding by the Tenth Circuit in Kitchen v. Herbert that the marital right at issue was never framed as the "right to interracial marriage in Loving or the "prisoner's right to marriage" in Turner or the "dead-beat dad's" right to marriage in Zablocki. See Kitchen, 961 F.Supp.2d at 1200. Instead, the Supreme Court has repeatedly utilized the term "fundamental right to marry" without any limitations. The Court rejects the State's attempt to too narrowly describe the marital right at issue to the right to marry a person of the same sex. The Court also concurs with the growing number of courts which have held that the fundamental right to marry includes the right to remain married.

The Court also concurs with the growing number of courts which have held that the fundamental right to marry includes the right to remain married.
He then addressed whether the state had a compelling interest in banning same-sex marriage:
The avowed State interest can be distilled down to encouraging procreation and marital commitment for the benefit of the children. The problem with this post-hoc explanation is that it utterly ignores those who are permitted to marry without the ability or desire to procreate. It is merely a pretext for discriminating against same-sex marriages.

This recently fabricated "state interest" is also belied by legislative history which accompanied the enactment of the 2000 amendments to C.R.S. § 14-2- 104. On February 21, 2000, at the second reading on HB 1249, Rep. Mark Paschall stated, "What we're opening the door here to, and even though the issue is being framed around same sex relationships, we're talking about opening the door to polygamy, polyandry, and polyamorous relationships." Later in the debate, Rep. Paschall stated that "[t]his is going to allow incestuous relationships. We don't want to be allowing any kind of solemnized relationship in the State of Colorado, and that's what this is going to do." Rep. Doug Dean stated, "[b]ut where I think it's important for me as a legislator to say that we don't want to recognize same-sex unions, same-sex marriages, because we believe that it contributes to the decay of society … it will be harmful to our state." Out of more than a dozen comments on the bill, only one comment was made about marriage providing a stable environment for children to be brought into the world and raised. But that same senator, John Andrews completed his comments noting that, "marriage, as an institution, thousands of years old, I would argue, is strengthened, when we maintain that traditional definition."

Likewise, when Amendment 43 was being submitted to the voters, the Amendment 43 Blue Book told voters that one reason to pass Amendment 43 was to "preserv[e] the commonly accepted definition of marriage. Marriage as an institution has historically consisted of one man and one woman." …To the extent the State's interest is in preserving the historical tradition of one-man one-woman marriage, it cannot survive any level of scrutiny.

…The Court holds that the State does not have a sufficiently important/compelling interest in forbidding same-sex marriages or nullifying Colorado residents' valid out-of-state same-sex marriages. The Marriage Bans are unconstitutional because they violate plaintiffs' due process rights.
Judge Crabtree also ruled that the marriage ban violated the equal protection clause for the same reasons. He then ruled on whether civil unions should survive "as a separate but equal institution."
"The dissimilitude between the terms 'civil marriage' and 'civil union' is not innocuous; it is a considered choice of language that reflects a demonstrable assigning of same-sex, largely homosexual, couples to second-class status." In re Opinions of the Justices to the Senate, 802 N.E.2d at 570. The fact is that those in a civil union do not and cannot obtain the same benefits and protections of federal law as married couples including filing joint tax returns, Family Medical Leave Act benefits, and facing loss of social security and veterans benefits. If civil unions were somehow the equivalent of marriage, there would be no real need for this second tier relationship. The State paid only lip-service to the plaintiffs' arguments that civil unions were not unlike the "separate but equal" black and white educational systems. …The Court finds that confining same-sex couples to civil unions is further evidence of discrimination against same-sex couples and does not ameliorate the discriminatory effect of the Marriage Bans.
During last month's oral arguments, Judge Crabtree was pretty clear about his skepticism about the state's arguments in support of the marriage ban:
During arguments last month, Suthers' office defended the state's ban on gay marriage, arguing that 15 state and federal judges who have struck down similar measures in other states were wrong.

But Crabtree mocked the state's argument that Colorado's ban on same-sex marriage protects the "nature of marriage" and the ability to produce children.

The judge also was skeptical of the state's claim that previous judges had erred in their rulings.

"They all got it wrong?" Crabtree asked. "What am I supposed to do then when presented with this? Just punt?"
Boulder Colorado starts issuing marriage licenses
Timothy Kincaid
June 25th, 2014
Utah is not, of course, the only state impacted by the decisions of the Tenth Circuit Court of Appeals. Also in the Tenth Circuit are Colorado, Kansas, New Mexico, Oklahoma, and Wyoming.
And the Boulder County Clerk and Recorder, Hillary Hill, has decided that this decision gives her the authority to act. (Fox 31)
"Because 10th Circuit decisions are binding in the State of Colorado, the precedent established by Kitchen v. Herbert is applicable to the same-sex marriage ban contained in the Colorado Constitution," said a statement from the Clerk and Recorder's Office.
…
"Couples across Colorado have been waiting a long time to have their right to marry the person they love recognized," said Hall in a statement. "I want to act immediately to let them carry out that wish."
The decision of the Tenth Circuit was stayed, and likely the move by Hall will be halted. But it will be fascinating legal drama in the meanwhile.
Is Arizona a Turning Point?
Jim Burroway
February 27th, 2014
It would appear that the outcry over Arizona's license-to-discriminate bill that was finally vetoed by Gov. Jan Brewer last night may have reached something of a high water mark. Major companies, business group, professional organizations, and major league sports all came out with strong statements denouncing the bill in the moments leading up to Brewer's veto. Typical was this one from Yelp's CEO Jeremy Stoppelman:
SB 1062 would serve to create an environment where consumers would not know how they would be treated – or whether they would even be served – when they patronize a business. This bill goes against the rule that every great business subscribes to, which is that the customer is always right. It will not only be bad for customers, but also bad for local business in the state. I also believe that it would be in consumers' interests to be made aware of businesses within the state that did engage in discriminatory behavior. Since early 2010, Yelp has hired over 650 employees in Arizona. Over the next few years, we hope to hire hundreds more. It would be unconscionable for the state to encourage discrimination against any of them.
Arizona joins three other states in putting an end to their license-to-discriminate bills in just the past twenty-four hours:
Sponsors of Ohio's license-to-discriminate bill withdrew their support yesterday. Moments later, the chairman of the House Judiciary Committee announced that the bill was dead.
 The Mississippi House of Representatives Civil Subcommittee late yesterday voted to strike almost all of the provisions of their license-to-discriminate bill, leaving only a provision adding "In God We Trust" to the state seal. This move came after the state Senate gave its unanimous approval in January.
Florida Gov. Rick Scott announced yesterday that he will veto a proposed license-to-discriminate bill if it reaches his desk. Earlier that day, he had refused to address the question during an interview on MSNBC.
Over the past several weeks, license-to-discriminate bills have been defeated or withdrawn in Colorado, Kansas, Maine, Tennessee, and Utah. But we're not out of the woods yet. Similar bills are still working their way through Idaho, Missouri, South Dakota, and Georgia, where Atlanta-based Delta Airlines has announced its opposition. The Idaho bill was returned to a House committee last week, with the sponsor saying he wants to "find the right language." In addition, there's a push to put a similar measure on the ballot in Oregon in November.
Civil Unions come to Colorado
Timothy Kincaid
May 1st, 2013

At Midnight, Anna Sher and Fran Simon became the first couple in Colorado to become civil unioned (civilly unioned?). They were one couple of many that have been waiting for a long time to have the state recognize their relationship and it is a joyous day. Mazel Tov!
Video: Seminar for Coloradans considering a civil union
Daniel Gonzales
April 18th, 2013
Yesterday our state equality org One Colorado held a webinar / conference call to help educate Coloradans on civil unions, which will be issued starting May 1st.  The event covered issues from navigating paperwork to conceiving children once a civil union is established. Several staffers from One Colorado spoke as well as estate law and family law experts from the Colorado Bar Association.
Although this was originally a live, for record purposes I produced a video of the event couples can use in the future if they are considering entering into a civil union here in Colorado.
Colorado Civil Unions Signed Into Law
Daniel Gonzales
March 21st, 2013
After one failed referendum, two years being voted down in the House, civil unions were signed into law today with a high-five and thumbs-up from Governor Hickenlooper.
And video footage of (most of) Sen Pat Steadman's formal remarks followed by the Governor's signing.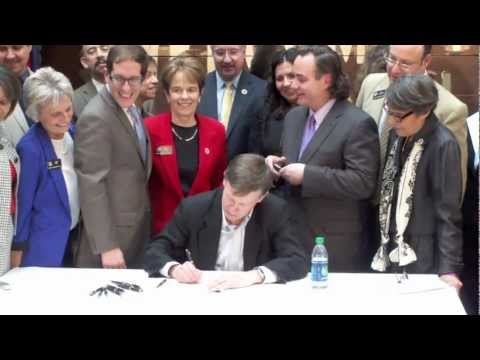 Civil Unions pass in Colorado
Timothy Kincaid
March 12th, 2013
The Civil Unions bill in Colorado has passed. The bipartisan vote in the House was 39 to 26 and, having already cleared the Senate, it goes to Governor John Hickenlooper for his expected signature.
Rep. Cheri Gerou, R-Evergreen, and Rep. Carole Murray, R-Castle Rock, joined all 37 Democrats to advance equality.
Colorado House Give Initial Approval To Civil Unions Bill
Jim Burroway
March 11th, 2013
The Colorado House of Representatives gave its initial approval to a procedural motion via a voice vote today for Senate Bill 11, which will allow same-sex couples in the state to enter into Civil Unions. The voice vote occurred after an apparently acrimonious debate in which House Republicans tried to add an amendment which would turn the question over to voters. House Speaker Mark Ferrandino, who is openly gay, rejected that proposal, saying, "I don't ask to put your relationships up to a vote of the people."
Another proposed amendment would have extended broad "religious liberties" exemptions (particularly for adoption agencies). The failure of that amendment was particularly ironic because that very provision was part of a previous bill which Republican lawmakers dramatically killed in last year's regular session, and again during a special session two weeks later, when they still controlled the House with a 33-32 edge. This year, the House is solidly in Democratic hands, with a 37-28 margin, including five openly gay House members.
A formal vote will take place tomorrow, where it is expected to pass easily. The Senate already approved the measure last month. Gov. John Hickenlooper is expected to sign the bill when it reaches his desk. it would go into effect May 1.
Log Cabin speaks to the Colorado Republicans
Timothy Kincaid
February 11th, 2013
Alexander Hornaday, Vice-President of the Colorado Log Cabin Republicans, spoke some truth to Colorado's Republican legislators. They mostly chose to ignore his warning, but it is, nevertheless, something they needed to hear.
The tide has moved on this issue, and it's not just Coloradans generally who are reconsidering their past opposition, it's many Republicans too. I am not the only Republican here offering support. Mr. Nicolais already testified to the support in the Colorado Republican Convention for civil unions. A month earlier at the Denver Republican Assembly, for which I also serve as treasurer, 56% of delegates voted to support civil unions.
…
Look at our young Republicans. Yesterday the Colorado Federation of College Republicans reaffirmed its support for civil unions, and gosh, until it became cost prohibitive the Denver Metro Young Republicans met at Hamburger Mary's, a gay bar! Most striking, though, is that with the possible exception of a few primary races, opposition to civil unions did not prove to be electorally useful for Republicans. In the General Election it was quite the opposite, in fact.
Only one Republican Senator voted for civil unions. But those who opposed did so mostly quietly and any outcry has mostly been a whimper. They know he's right.
Colorado Senate votes for civil unions
Timothy Kincaid
February 11th, 2013
Today the Colorado Senate voted for a civil unions bill (Denver Post)
A bill allowing gay couples to form civil unions passed the Senate on Monday morning on a 21-14 with Sen. Ellen Roberts of Durango providing the lone Republican "yes" vote.
All Democrats voted for the bill. On Monday the bill goes to the House where it is expected to pass easily. The bill is expected to become effective in May.
Marriage update – North America
Timothy Kincaid
January 25th, 2013
It's getting marriagey all over the place. And it's also getting hard to keep track of what is going on where. So here is an update to help (which will probably be outdated by the time I hit "publish").
North America:
Canada – Marriage has been equal since 2005.
Mexico – Marriage is equal in Mexico City, and marriages conducted there are recognize throughout the nation. However, in December, the Supreme Court unanimously found that an anti-gay marriage law in Oaxaca was unconstitutional. Due to Mexico's complicated legal system, this means that marriages are highly likely to eventually be legal throughout the nation, but the process requires that five same-sex couples in each state file an amparo (civil rights claim) and that the court issue the same ruling on each. It may take some time for the legality of the state by state process to catch up, but the reality is that any Mexican couple wishing to marry probably can, either immediately or through petition.
United States – Several locales provide or have provided marriage equally:
Massachusetts – 2005 2003
California – 2008, but rescinded that year
Connecticut – 2008
Vermont – 2009
Iowa – 2009
New Hampshire – 2010
The District of Columbia – 2010
New York – 2011
Washington – 2012
Maryland – 2012
Maine – 2013
In addition, two Native American tribes, the Coquille in Oregon and the Suquamish in Washington provide marriage equally to their members.
Current and upcoming movement on the marriage front includes:
* DOMA3 – several federal courts have found the federal prohibition on recognition of legally married same-sex couples – the Defense of Marriage Act, Section 3 – to be unconstitutional on several grounds. The Supreme Court of the United States has agreed to hear one case, Windsor v. the United States, a case in which Edie Windsor was assessed in excess of $300,000 in inheritance tax from her wife's estate, a tax that does not apply to heterosexuals. On Tuesday, the special counsel for the House Bipartisan Legal Advisory Group (at the direction of House Speaker John Boehner) filed its arguments in defense of the law (I'll try to get an analysis up soon). It argued that BLAG has standing to support the law, that only rational basis should apply to anti-gay discrimination, that the nation needs uniform recognition, and that states should be allowed to decline to offer equality if they so choose (thus, I assume, vetoing other states in the name of uniformity). Today Professor Victoria C. Jackson will, at the court's request, filing a brief insisting that BLAG has no standing and on February 26th, Windsor's team will present arguments as to why she should not be discriminated against. Oral arguments before SCOTUS will be on March 27th, and the Court will likely release it's ruling in June. Whichever way it goes, it will probably only impact couples in states which allow marriage.
* Proposition 8 – this is the highest profile case, but it could end up having the least legal effect. In 2008, the California Supreme Court found the state's law prohibiting same-sex marriage to be a violation of the state's constitution. For several months, same-sex couples could legally marry, but in November the voters approved Proposition 8 by 52%, ending marriage equality in the Golden State. In May 2009, Ted Olson, one of the most prominent Republican attorneys and David Boies, one of the most prominent Democratic attorneys, teamed up to fight for the legal overturn of that proposition. In January 2010, though cameras were banned from the courtroom, the nation was captivated by the reporting about the case – a trial not only on the legality of the proposition but also on its merits. Federal Judge Vaughn Walker eventually found the proposition to violate the US Constitution on broad grounds. The Ninth Circuit Court of Appeals upheld the decision, but on much narrower grounds: that a state cannot provide a right to all citizens and then take it away from a select few. Last month the Supreme Court agreed to hear the appeal, but added the question as to whether the proponents defending the law (the Governor and Attorney General declined to do so) have standing. On Tuesday the proponents of the law filed their brief (I'll try to get an analysis up soon). Olson and Boies have until February 21st to respond, and oral arguments will be on March 26th with a likely result in June. While the Court could find that the US Constitution guarantees marriage equality across the land, it could also choose to narrow its ruling to the unique issues of the case and only impact Californians.
* Rhode Island – on Tuesday, the House Judiciary Committee unanimously approved the marriage bill. The full House voted in favor today 51-19. However, the Senate is less certain. Although Rhode Island is virtually a single-party state (the Senate has 32 Democrats, 5 Republicans, and 1 Independent), the Senate President, Teresa Paiva-Weed, is an opponent to equality. She has said that she will allow a committee to hear the matter, but in times past she has made certain that committees were selected to prevent equality.
I have started a petition at Change.org to request that should Paiva-Weed obstruct or block the passage of this bill, that Rhode Island State Senators remove her from power. Please go sign this petition.
* Illinois – a marriage bill was submitted during the first week of the year in a lame-duck session. Due to difficulty in corralling members returning from holiday, the vote never took place.
After the new legislature was is session, the bill was reintroduced. Currently the status is a bit in limbo as the bill is yet to be sent to committee.
However, that does not mean that there is no excitement, just that it's happening outside the legislature and in an unexpected arena. The GOP chairman has come out in favor of marriage, which has angered social conservatives in the state. Bit though they are demanding his resignation and threatening ouster, the party insiders are lining up behind the chairman. At the moment it seem like the prevailing position may end up, "we may not support equality, but we support those who do." In any case, this latest public squabble serves our community well.
* Minnesota – fresh off a victory in turning back an anti-marriage bill in November, Minnesotans for All Families is fighting on and will present a marriage bill to the legislature next month. The political strategist who generaled the battle is staying on to finish the war.
Polls are breaking even in the state and the DFL (Democratic) party has a slim lead in each house, so they will have their work cut out for them. But I would be surprised if the state did not take some movement towards couple recognition.
* Colorado – supporters filed an everything-but-the-name Civil Unions bill which is pretty much guaranteed to pass. More than half of each house has signed on as sponsors. This is as far as that state can go at present, as there is a state constitutional ban on equality.
* Wyoming – out of pretty much nowhere and flying way below the radar, lesbian Sen. Cathy Connolly has file both a domestic partnership bill and a marriage bill. Both have significant Republican support.
They may not be attracting much buzz on these bills due to party power; Republicans dominate both houses by overwhelming numbers. But Wyoming Republicans are traditionally pretty libertarian in their thinking and local papers are mostly quoting the bills' Republican cosponsors. It may be early yet, but so far there doesn't appear to be any visible organized opposition. I would not be altogether shocked if one of the bills passed or, at least, got a decent vote.
* New Jersey – the legislature of this state has already passed a marriage bill which was vetoed by the governor. However there are the paths to equality that might be achievable.
One is to take it to the people. But though a supporter brought such a bill, it was quickly dismissed due to the inherent insult of voting on a minority's civil rights. (Personally, I'd rather win at the polls that fight over whether its an insult to do so.)
The second path, the one favored by equality leaders in the state, is to continue building support one by one until we have the numbers to override a veto. That would require substantial Republican support and this would be held off until after the next primary to minimize conservative backlash.
The third possibility doesn't appear likely, but it shouldn't be written off. Governor Chris Christie is a politician, and politicians are susceptible to evolution.
Christie made his mark in the Republican Party by being hard nose on fiscal issues but being more progressive on social issues. He was the poster boy for supporting civil unions, a position that made him seem ahead of the curve. As the Party moves away from anti-gay hostility, he may find it necessary to move as well. It's not a bet I'd take, but it's not outside the realm if possible for the Governor to hold to his views but still find some way to allow marriage to become law.
* Hawaii – I've no idea why marriage hasn't already become law.
I think it can be hardest sometimes in states in which one party dominates. In mega-red states, we have little hope (though i just made a case for Wyoming). But in all-blue states, its not always much better. There's no reason for Democrats to show the voters the difference between them and Republicans, so they fell less pressure to live up to their potential.
I'm sure I've missed some state in there. And, of course, you have to always expect that something completely unexpected will happen.
Tomorrow I'll try to provide an update for Europe and South America.
UPDATE:
Yesterday, a state representative in Hawaii filed a bill for marriage equality. She had no cosponsors. Also yesterday, 15 representatives filed a bill calling for a constitutional amendment banning equality. It was also introduced in the senate. Additionally, a state senator filed a pair of 'take it to the people' bills which would have voters choose to either allow or ban marriage in the constitution (he's an opponent of equality). All in all, it looks dire for marriage in Hawaii.