New Hampshire Elects First Openly Transgender Legislator
Jim Burroway
November 8th, 2012
The historic LGBT gains from Tuesday's watershed election keep coming at the state level. Many of those, unfortunately, have gone unnoticed but they are nevertheless worth noting. Particularly in New Hampshire, where Stacie Laughton won one of three seats in the state House of Representatives for Ward 4. She earned 1,588 votes, easily beating two Republican candidates for the third seat:
"I believe that at this point, the LGBT (lesbian, gay, bisexual, transgender) community will hopefully be inspired," Laughton said Wednesday. "My hope is that now maybe we'll see more people in the community running, maybe for alderman. Maybe in the next election, we'll have a senator."
This is significant because usually when we talk about "LGBT," transgender advocates complain, with considerable justification, about the "silent T." More electoral victories like this can go a long way toward changing that.
I'd like to pivot to other LGBT races, but I haven't been able to track our victories at the state or local level. I do know that in Colorado, the Democrats have taken control of the state's House of Representatives, which means that openly gay Rep. Mark Ferrandino (D-Denver) is poised to become the chamber's next speaker, which bodes well for another try at civil unions. Florida now has at least two openly gay legislators that I know of. I'm sure there are many more. I'd appreciate it if you can fill in some of the blanks in the comments below.
The Impossible Happened In New Hampshire, Ctd.
Jim Burroway
March 22nd, 2012
Building on Timothy's post yesterday, the New Hampshire General Court's website has been updated with the roll callon a vote on the proposed marriage repeal vote. A "yea" vote was to agree that the bill was "inexpedient to legislate," thus killing the bill. The vote tally was:
|   | Yea | Nay | Not Voting |
| --- | --- | --- | --- |
| Republicans: | 119 | 115 | 59 |
| Democrats: | 92 | 1 | 11 |
| TOTAL: | 211 | 116 | 70 |
More Republicans turned out to vote for preserving marriage equality than showed up to vote against. Another one in five Republicans found reasons not to show up that day. This is a very far cry from where the Republican Party is nationwide, but turning points always start somewhere. It's fitting that this one should come in the "Live Free or Die" state.
The impossible happened in New Hampshire
Timothy Kincaid
March 21st, 2012
The New Hampshire legislature has a Republican majority. Not just any majority, but a super-majority – the number necessary to override any veto by the Democratic Governor, John Lynche.
Today the House of Representatives did the unexpected. They voted NOT to reverse marriage equality. By a vote of 202 to 133 211 to 116.
We have been hoping (and more recently believing) that there would be enough Republicans voting "no" to sustain a veto of the bill. I certainly did not expect that enough Republicans would oppose the bill so as to not have it pass. And I never dreamed of a loss with a margin like this one.
I don't yet know who was present and who was missing, but at most only 45% 40% of the House's Republican caucus (and I don't think any Democrats) showed up and voted to repeal marriage equality.
This is indeed a very important day.
NH is voting on marriage reversal
Timothy Kincaid
March 21st, 2012
Unfortunately, I am not receiving the feed in a way that makes any intelligible understanding of the process possible. Adding to the difficulty, the New Hampshire legislature seems to vote on amendment numbers and on items on "page 246″ which is fine for those voting but gives little information to us out here in the blogosphere.
So I cannot give any form of liveblog. Nor have i found anyone doing so.
NOM's mininalist definition of victory
Timothy Kincaid
March 21st, 2012
CNN's Thomas Roberts (who is gay) interviewed Brian Brown, the National Organization for Marriage's President, and Craig Stowell, the Republican co-chair of Stand Up for New Hampshire Families (our side), about the expected vote today in the New Hampshire House of Representatives.
Brown gave his usual posturing and nonsense.
(Segue alert: don't you get tired of talking heads saying the same nonsense over and over regardless of the situation? I laughed out loud this week when Brooke on Dancing With the Has-Beens asked Martina Navratalova about her scores. Instead of the standard "we are really pleased, we went out and gave it our best and had a lot of fun, so we hope America votes for us" that every other contestant said, Navratalova said, "oh, it was the same score we got in rehearsals so I guess it is what it is." Back to the topic.)
He laughably ranted about "special interest groups from out of state" (leaving the New Hampshirite the opportunity to point out that Brian isn't a local boy) and claimed that 119 legislators were "booted out because they took it upon themselves to redefine marriage" (a notion scoffed at by the Republican leaders who ignored the issue for a year and a half because "we were elected to address the economy").
But here's the sentence you need to pay attention to.
"We're looking forward to the vote today. I expect we're going to have a majority here. I think it's going to be historic to have a state vote and have a majority vote say, "this was wrong, we made a tragic mistake two years ago and we're going to right that wrong" and I expect that we're going to see a victory today."
NOM's definition of success is "a majority". And, mind you, this for a bill that would simply revert to full civil union protections.
In terms of actual impact, if NOM eeks out "a majority", we win. Governor Lynch will veto the bill (assuming it survives the Senate) and NOM will scramble to try and find enough votes to overturn the veto.
Keep in mind that Republicans have a veto-proof majority. If this is a party-line vote, then marriage equality would be reversed in that state. But Brown has conceded that NOM isn't expecting a veto-proof majority. They aren't expecting to win, they are just laying the framework to argue that a vote in which they lose all Democrats and a large number of Republicans and which will never become law is "historic".
The vote has not yet happened. And in politics anything can happen. But NOM's admission suggests that the vote today will be good news.
I can feel pity for Brian Brown. Surely it cuts at one's sense of being to constantly spin and lie and pretend. When one goes into quiet contemplation, surely "winning" seems little consolation for giving up your integrity, and when you aren't winning it must seem like an unfair trade. If you sell your soul, shouldn't you at least get something for it?
As Thomas asked him,
Brian… what the National Organization of Marriage does to try and stand against the tide of equality, isn't it exhausting?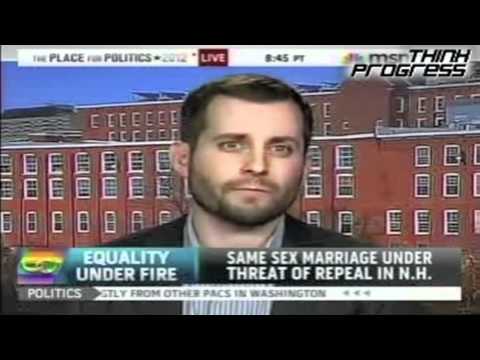 New Hampshire GOP Tries Different Tack On Marriage Repeal
Jim Burroway
March 19th, 2012
New Hampshire's legislature is solidly in Republican hands with sufficient majorities to deliver veto-proof legislation to Democratic Gov. John Lynch. While many in the chamber want to repeal the marriage equality law which Gov. Lynch signed in 2009, it is believed that, so far, there have not been enough votes in the legislature to override an expected veto, leading repeal backers to try a different approach. Last week, Rep. David Bates, the sponsor of the repeal bill, proposed adding a new convoluted and confusing clause which would put before the voters in November this question:
Shall New Hampshire law allow civil unions for same-sex couples and define marriage as the union of one man and one woman?"
The question sets up a perfect trap: A yes vote bans same-sex marriage, but a no vote would … do what? It wouldn't return same-sex marriage back into law, and may instead be used as justification for rescinding civil unions. Or it may do nothing no matter how New Hampshire residents vote, since the proposed referendum would be non-binding. But even as a non-binding referendum, it would still mean that LGBT people would still have to justify their families before New Hampshire voters.
A vote on the proposed bill is expected on Wednesday.
An encouraging sign from New Hampshire
Timothy Kincaid
March 13th, 2012
It is clear that New Hampshire Rep. Bob Bates would ban recognition for same sex couples entirely if he were to have his way. It is becoming increasingly clear that Bates is realizing that he may not get anything.
When Republicans won veto-proof majorities in both state houses, conventional wisdom assumed that they would reverse the state's marriage law.
And bates was quick with a bill that would not only ban equality but make a mockery of civil unions. (AP)
Bates' first amendment to the repeal bill would have allowed civil unions for any two adults and would have let anyone refuse to recognize the unions. It also would have allowed anyone to discriminate against such couples in employment, housing and public accommodations based on religious or moral beliefs.
But with a populace that has accepted – and now supports – the marriage law and with party leadership more interested in fiscal issues, the likelihood of that threat has diminished. Now it seems promising that enough Republicans will vote to retain the law so that Democratic Governor John Lynch's promised veto will hold.
And Bates is beginning to sound a little desperate.
His latest proposal is to revert to civil unions for same sex couples but not siblings or bowling buddies, but to put it to the people in November in a non-binding resolution. While he says that this would give the legislature time to reverse itself if marriage has public support, it is obvious that his hope is that he could marshal enough Republicans to ignore the people's position. (It is politically easier to block the passage offerings equality than it is to reverse it – even against popular opinion).
While watching weather vanes is not a very exact political indicator, this sounds like good news to me.
NH Marriage Foes' Push Is On
Jim Burroway
February 28th, 2012
Marriage opponents in New Hampshire are pushing to repeal that state's law providing marriage equality. The only question is whether Republicans, which control veto-proof majorities in both houses, can actually muster enough votes to override a promised veto from Gov. John Lynch (D). The New York Times tells us what marriage opponents are up to:
A House vote would need to take place by March 29, the deadline for the House to send its legislation to the Senate. Mr. Bates said Monday that he was working on ways to broaden the bill's support in both chambers, like changing or removing a sentence that states, "Children can only be conceived naturally through copulation by heterosexual couples."
NH Repubs have an excuse
Timothy Kincaid
February 7th, 2012
There has been speculation (including my own) that New Hampshire Republicans don't want to stir a hornets nest and reverse a marriage law that has been accepted and is now supported by a strong majority of New Hampshire residents. So far, they have avoided the issue by being far too occupied with advancing legislation that they believe will help their economy.
But now the Ninth Circuit Court of Appeals may have given them an ideal excuse. They can now say that while they had no obligation to advance marriage equality, now that the state has done so taking it away is an impermissible violation of the Fourteenth Amendment. So until that has been addressed by the Supreme Court, they'd best not reverse the law.
If, as I am guessing, they are looking for an excuse. And I rather suspect that our allies in the Democratic Party have already mentioned it.
OMG: New Hampshire Republicans may not vote to repeal marriage!!
Timothy Kincaid
February 2nd, 2012
Yesterday was supposed to be the day that the New Hampshire legislature voted to repeal marriage equality. And all day I kept trying to find out what was going on, only to be met with silence. Now I know why. According to the Boston Globe, the New Hampshire House Republicans have issued a statement listing their 2012 agenda, and repealing marriage equality is not on it.
Okay, I knew it was a possibility. And I'm not totally shocked. But I really didn't dare hope – and I'm still not willing to read too much into this announcement:
Republican House Leader Rep. D.J. Bettencourt of Salem said Thursday the House was focusing on economic and education reforms that would bring job creators to New Hampshire and put citizens back to work.

Hot-button social issues like gun rights, immigration and labor reform were all absent from the agenda, but the biggest hole was left by gay marriage, which is the target of several bills aiming to repeal it.
After hours of meetings and talking with the caucus, they determined that this wasn't a priority.
The Daily Agenda for Wednesday, February 1
Jim Burroway
February 1st, 2012
TODAY'S AGENDA:
New Hampshire Legislature May Vote On Marriage Repeal: Concord, NH. Word has it that the New Hampshire legislature may bring a bill to repeal marriage equality up for a vote today. While Republicans hold veto-proof majorities in both houses, it's unclear whether they will have the votes to override Gov. John Lynch's (D) promised veto. A number of Republicans have come out against repealing marriage equality, while others are keeping mum simply because they want the whole issue to go away. As one former Republican House speaker explained, "It's kind of one of those issues we're going to have to deal with but wish we didn't have to, in my opinion." Marriage equality has been the law of the land since January 1, 2010.
Washington Senate to Vote On Marriage Equality: Olympia, WA. At the other end of the country from New Hampshire, the Washington state Senate is expected to vote on marriage equality later this afternoon or early evening. Twenty-five Senators, including two Republicans, have pledged their support for the proposal, providing the minimum needed for passage in that chamber. A similar bill is awaiting committee action in the House.
TODAY'S BIRTHDAY:

Langston Hughes: 1902.  He was one of the innovators of a new form of poetry: jazz poetry. And it's his poetry that he is best known for. Born in Joplin, Missouri, he moved to New York City to attend Columbia, but was more interested in the goings-on in Harlem. He traveled throughout the world, and while his writings reflect those travels, he remained rooted in the experience of the Harlem Renaissance. His 1934 collection of short stories, The Ways of White Folks
, tells of the intersection of black and white, and his screen play for Way Down South came out in the same year as Gone With the Wind. He remained closeted for his entire life, although some say that if you ignore the pronouns you can see hints of homoeroticism in some of his poems. Other unpublished poems appear to have been written to a black male lover. Another short story, Blessed Assurance," deals with a father's anger over his son's "queerness." But his finances were always precarious, and he would not have been able to afford the fallout of openness about his sexuality. He died in 1967 after abdominal surgery, and his ashes are interred at the Arthur Schomburg Center for Research in Black Culture in Harlem.
If you know of something that belongs on the agenda, please send it here. Don't forget to include the basics: who, what, when, where, and URL (if available).
And feel free to consider this your open thread for the day. What's happening in your world?
NOM: New Hampshire To Vote On Marriage Equality Repeal Wednesday
Jim Burroway
January 30th, 2012
NOM has the details on their blog:
I've got exciting news! We've been told that HB437—a bill to repeal same-sex marriage—will be voted on Next Wednesday, February 1st! Now is the time to call your legislators—especially House members—right away and ask them to VOTE YES ON HB 437! [Emphasis -- and exclamation points! --  in the original]
If you're a New Hampshire resident of voter, NOM helpfully provides easy links so you can call your legislator:
NH Marriage Repeal Vote Delayed
Jim Burroway
January 18th, 2012
There are reports out that Republican leaders in the New Hampshire House has delayed the vote to repeal the state's marriage equality law. The vote has been postponed until February, according to House Majority leader D.J. Bettencourt. Many in the House expected the vote to occur today even though the issue was not on the House calendar. Democratic Gov. John Lynch vowed to veto the repeal if it reached his desk. The delay is seen as a sign that the House does not have a veto-proof majority to pass the legislation.
What New Hampshire Means
Jim Burroway
January 11th, 2012
As with Iowa, not much in national terms, but for different reasons. It remains to be seen whether New Hampshire or Iowa will stand out as an anomaly. But it may mean something in state politics where there are murmurings that the state legislature may take up a bill repealing that state's marriage equality law. If state lawmakers looked to these results as an indication of their own electoral futures, they may notice that two of the three top finishers have kept the National Organization for Marriage at arm's length. Yes, Romney signed and won the primary, but 40% of the the GOP's own voters backed candidates who didn't. What's more, audiences openly booed Santorum's making Teh Gays a central talking point of his campaign, making that the most visible indication of how Granite Staters feel about anti-gay politics.
Whether that matters in the state legislature or not however isn't a given. State Sen. Kelly Ayotte (R) seems to understand the temperature of the state electorate, and warned the GOP candidates to avoid discussing the state's effort to repeal its 2009 marriage equality law, declaring such talk "off message" even though she herself is a staunch opponent of marriage and adoption rights for same-sex couples, having resigned as Attorney General in protest after Governor John Lynch signed the marriage equality bill into law. But social conservatives have an amazing capacity for self-delusions of power and grandeur. Gingrich's victory speech last night, which didn't mention Romney's inconvenient existence, had Gingrich crowning himself the winner of "the conservative primary" as he all but measured the White House's drapes. And in a related late-breaking development, a box of rocks moved ahead to edge him out of his third place finish. Meanwhile Perry has already saddled up for South Carolina after pulling out an upset victory over the write-in candidates. Santorum is already there as well, where he hopes his Iowa streak will leave a mark.
Romney Again
Jim Burroway
January 10th, 2012
The results are in for last night's New Hampshire GOP Primary. There weren't too many surprises with the final results: Romney, as expected, came in with a strong first place showing. Given that he was governor of neighboring Massachusetts, he was practically a native son in political terms, making his strong showing unsurprising. Also, as expected, Ron Paul came in second. Huntsman was expected to do well in the state, having put all of his eggs in the Granite State basket. He came in third, and it's not clear where his campaign goes from here.
Gingrich came up short, pulling on only 10% of the vote, as further evidence of his rapidly dropping popularity. A Box of Rocks came on surprisingly strong, ahead of Santorum and Perry. Cowboy Perry barely outpaced the write-ins to finish at the rear, with Santorum settling in just a short distance up it.
And that's a wrap at BTB Elections Central for New Hampshire. Now it's on to South Carolina where the fun really begins.
Huntsman surges in New Hampshire
Timothy Kincaid
January 10th, 2012
Maybe it was just his time. Maybe it was the fact that in the debates he actually answered questions that reveals an understanding of the issues rather than a memorization of cue cards. And just maybe New Hampshire primary voters wanted someone who wasn't committed to coming in and overturning their laws.
But over the past few days, Jon Huntsman, former governor of Utah (where he has received credit for working with the gay community) and ambassador to China, has had a surge in the polls. And with early poll results coming in, it looks as though Huntsman has performed well above expectation. A strong third place tonight would strengthen Huntsman's campaign.
At (admittedly small) 14% of precincts reporting, the numbers are:
35.6% Mitt Romney 10,393
24.1% Ron Paul 7,029
18.0% Jon Huntsman 5,243
UPDATE:
With 19% of precincts (still small), Huntsman is holding well
35.5% Mitt Romney
24.7% Ron Paul
17.0% Jon Huntsman
UPDATE:
24% are in. Huntsman's initial number is proving a bit weak, but I think he can leave tonight with his head held high. Incidentally, Huntsman is the only remaining Republican nominee to support civil unions because he thinks "this nation can do a better job when it comes to equality."
35.4% Mitt Romney
24.9% Ron Paul
16.9% Jon Huntsman
UPDATE:
With 26% in, I have to leave you for a bit.
35.1% Mitt Romney
25.1% Ron Paul
16.8% Jon Huntsman
UPDATE:
With 96% reporting
39.3% Mitt Romney
22.8% Ron Paul
16.8% Jon Huntsman
In all, not a great night for the extreme wing. And perhaps the results will give Huntsman greater credibility for his more moderate message.
Santorum's New Hampshire Catholic problem
Timothy Kincaid
January 6th, 2012
New Hampshire is about 35% Catholic and when you consider those who vote in the Republican primary, I suspect the percentage is higher. Which is really bad news for Rick Santorum, the candidate running to bring US law into conformity with Vatican dictates.
Because "Catholic" in New Hampshire isn't the same thing as Catholic in the Santorum household (Wall Street Journal)
An October poll by the University of New Hampshire found that state voters overall opposed the repeal bill two-to-one. Among likely GOP primary voters, 47% opposed repeal versus 39% in favor, the poll found.

Pirozzi Monier, a Goffstown, N.H., retiree who was at a town hall held by candidate Rick Santorum Thursday night, says she has "deeply rooted Roman Catholic" beliefs, but said, "Would I be opposed to friends getting married who are gay? No."

In what she described as a typical New Hampshire attitude, she said she believes in staying out of her friends and neighbors' business. "I'm old Yankee stock," she said. 'Good fences make good neighbors."
NOM's Christmas Gift: Deepening Desperation
Rob Tisinai
December 26th, 2011
NOM reports that 61% of New Hampshire voters want to repeal the state's recognition of same-sex marriage. Disappointing, but we have to remember that even this represents progress when compared to public sentiment a decade ago, so –
Wait, hold on, let me check…
So sorry. My mistake. NOM is reporting that 60% of New Hampshire Republicans want to repeal same-sex marriage.
Only 60%.
Of Republicans.
I'm thrilled with that number. And NOM's happy about it, too?  That's quite revealing. Apparently they've set themselves a new, lower threshold for what constitutes good news. Perhaps something like:
Yay! Our base is merely eroding quickly rather than extremely quickly.
Or:
Hoorah! 61% of the most conservative 28% of New Hampshire voters haven't abandoned us yet!
Or:
Yippee! Because, well…yippee!
Actually, they think of it like this, spinning the result in a fashion that blows away any attempt to parody it.
"With more than 3 out of 5 New Hampshire Primary voters favoring the restoration of marriage, the verdict is in: Republicans are united in the fight against the national agenda of wealthy, gay marriage lobbyists," said Jason Rose of the July Fourth Forum PAC.
Emphasis added.  Anyway, Merry Christmas.  From NOM.
How Same Sex Marriage Leads To Incest
Jim Burroway
November 3rd, 2011
Step 1: Pass a law allowing gays to marry.
Step 2: Hold new elections, changing the composition of the state legislature.
Step 3: Propose a ban on same-sex marriages.
Step 4: Drop the proposed ban and go instead for a repeal of same-sex marriage, replacing it with a proposal to institute civil unions for everyone regardless of gender — and regardless of whether they are already related to each other.
So you see? NOM was right. Same-sex marriage does lead to state recognition of incest.
NH anti-marriage amendment dropped
Timothy Kincaid
November 2nd, 2011
In New Hampshire, there has been a two-tiered approach to reversing marriage equality. Anti-gay activists sought to have the legislature repeal its decision and also started a process within the legislature to present the voters with an amendment to the state constitution limiting marriage to opposite-sex couples.
The second endeavor has been dropped: (Globe)
The sponsor of a constitutional amendment to prohibit gay marriage has decided not to pursue the measure next year to clear the way for a debate over repealing New Hampshire's law legalizing the unions.

State Rep. David Bates, the Windham Republican who also is sponsor of the repeal bill, told The Associated Press on Tuesday he wants to let the Legislature consider repealing the law enacted under Democrats two years ago before debating a constitutional change — a process that would take longer to implement.
That, and the fact that polls show that New Hampshire residents don't want to repeal the marriage law.
And as for that bill winding its way through the legislature, it appears to me to have been crafted with pleasing special interest groups in mind, not for actually becoming law. It claims to replace marriage with civil unions … kinda.
The House Judiciary Committee voted last week to recommend replacing the law legalizing same-sex marriage with civil unions for any unmarried adults, including relatives. The committee recommended killing a bill that simply repealed the law.
…
The bill would not enact the same civil unions law that was in effect before gays were allowed to marry. That law granted gays all the rights and responsibilities of marriage except in name. The proposed civil unions law would be open to any two adults and would let anyone refuse to recognize the unions. It also would allow anyone to discriminate against such couples in employment, housing and public accommodations based on religious or moral beliefs.
My cynical side wonders if maybe the Republican leadership – which has shown reluctance to reverse the marriage law – didn't deliberately draft this poison pill bill. It's practically an invitation to vote no.
"Fellow legislators, while I support the age-old institution of marriage as defined by God, I simply cannot vote in favor of legalized incest"
and
"While I believe that civil unions are a better option for New Hampshire, I can't vote for a bill that introduces a special right to discriminate."
And should the bill pass the legislature, to override Gov. Lynch's veto would require two-thirds of those present and voting. I'm fairly sure that a number of legislators, having voted to "protect marriage" once, will be 'sadly unavailable due to an unexpected family emergency' when it comes time for a veto override vote. They too have seen the polls.