NOM's Brian Brown Joins International Anti-Gay Organization
Jim Burroway
January 15th, 2014
In 2012, the National Organization for Marriage watched in horror as voters in three states approved measures to grant marriage equality to same sex couples and defeated a constitutional amendment in Minnesota to write discrimination into that state's charter. In 2013, the U.S. Supreme Court, in two separate actions, struck down Section 2 of the Defense of Marriage Act and opened the way for Californians to resume marrying again. That same year, six more states voted to legalize same sex marriage. More recently, federal judges in Utah and Oklahoma have struck down those states' constitutional bans on marriage equality.
In other words, it's been a bad eighteen months for anti-gay activists generally and NOM in particular. No wonder NOM, like many others, is shifting its attention overseas. Jeremy Hooper at GLAAD discovered that NOM president Brian Brown has joined the board of directors of CitizenGO. Writes Hooper:
CitizenGO, which is based in Madrid (where Brian recently delivered a speech), is essentially a petitioning platform focused on global issues.  In addition to considerable focus on marriage inequality, CitizenGO also promotes and/or directs campaigns in support of speakers who claim that "homosexual activists have played a integral role in the rise of Fascist politics, including Nazism," against the World Health Organization's supposed "promotion" of homosexuality, against Canadian pride parades, and much more.  As you can see, CitizenGO has its eyes fixed all over the world and on all of the planet's LGBT people…

CitizenGO even hosts a petition in support of radical international figure Scott Lively—one that describes homosexuality as "morally wrong and harmful to individuals and society."  It's clear what kind of world CitizenGo is trying to create.  It is now all attached to Brian Brown and to NOM.

But wait, there's more.  It turns out that Brian is not just on the board of CitizenGO.  Instead, it appears that the organization Brian runs in tandem with NOM, the conservative rallying platform called ActRight, has absorbed CitizenGO as its own.  The CitizenGo logo now reads, "CitizenGo: Member of the ActRight Family".
You won't be surprised to learn that CitizenGO, along with the Rockford, Illinois-based World Congress of Families, Linda Harvey's Mission America,  is a huge supporter of Russia's law banning so-called "homosexual propaganda."
NOM thinks their supporters are idiots
Timothy Kincaid
December 27th, 2013
It's amusing to see just how desperate the National Organization for Marriage has become. And cynical.
An organization that at one time attempted to persuade those who might have been uncertain about marriage equality, NOM now has given up. Now they exist solely to funnel money from the Catholic Church unknown sources to anti-gay political campaigns and candidates. And their rhetoric has devolved to name-calling and rants against "the homosexual lobby" and "radical activists judges".
For example, in today's money-beg, Brian Brown complains:
As I mentioned right before Christmas, a federal judge (an Obama appointee) in Utah has issued a ruling invalidating their state constitutional amendment defining marriage as the union of one man and one woman.
So send money money money to "help us defend marriage from radical judges seeking to overturn the will of We the People and to impose their radical social agenda on ordinary Americans!"
And he goes on to explain
This ruling just underscores the importance of the work that NOM is already planning for 2014. I wrote to you earlier this month about the critical importance of retaking the United States Senate in the coming election year. Securing a majority of pro-marriage Senators would allow us to block President Obama's appointments of extremist, activist judges and ensure that he doesn't continue to stack the courts all across the country with activists who want to impose same-sex marriage on every one of us.
Brian Brown is politically savvy enough to know that this is an absurd statement. He knows that not only would a GOP majority have refused to block the appointment of "extremist, activist" Judge Richard Shelby, but that his nomination came from Orrin Hatch (R – Utah) and was strongly supported by Mike Lee (R – Utah).
But Brown thinks that NOM's supporters are not sophisticated enough to discover this for themselves. He thinks they are stupid enough not to notice that it's not just Obama appointees that are ruling for marriage.
He may be right.
Glorious victory in NOMian reality
Timothy Kincaid
July 17th, 2013
Brian Brown with the National Organization for Marriage (theirs, not yours) is celebrating today. (NOMblog)
Our opponents and those in the biased media say, "It's inevitable. You can't win. Give up…"

I couldn't disagree more!

In 2008, I heard the same things when we worked on Prop 8 in California…and we WON!

In 2009, I heard the same things when we worked on Question 1 in Maine…and we WON!

In 2010, I heard the same things when we worked in Iowa to oust state Supreme Court justices…and we WON!

In 2011, I heard the same things when we worked in New York to oust legislators who flipped on marriage and betrayed their constituents…and we WON!

And last year, I heard the same things when we worked in North Carolina to pass an amendment to the state constitution protecting marriage…and we WON!
Ah yes, it's a great day in NOMville. Just look at their glorious victories in California, Maine, Iowa, and New York where the anti-equality group WON!
But over here in the real reality, marriage equality is celebrated in all four of those states. Which, I suppose, bodes well for the future of North Carolina.
This whole declaration of glorious victory is part of Brown's latest pitch for funds. Which suggest to me that either he has no real need for individual support or he thinks his donors are delusional.
Email of the Day
Jim Burroway
August 23rd, 2012
Let's be clear about something: the homosexual lobby and their puppet politicians' assault on Chick-fil-A is just the beginning.

You see, wealthy homosexual activists, such as the so-called Gay & Lesbian Alliance Against Defamation, are not merely threatening, bullying, and attempting to destroy a great American business—they are declaring war on anyone who disagrees with their radical agenda.

And why? To bully and intimidate the media and enough politicians and activist judges to force homosexual marriage as the law of the land—thereby destroying the time-tested, God ordained, traditional institution of marriage.
Wait a minute…. who wrote this?
Dan Savage and Brian Brown's Dinner Conversation
Jim Burroway
August 22nd, 2012
The video you've been waiting for has been posted online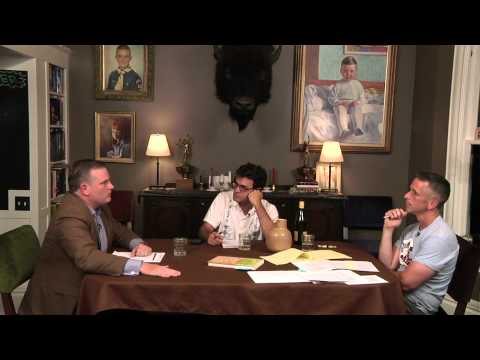 Dear Brian Brown: When it comes to violence and vilification, NOM is there.
Rob Tisinai
August 16th, 2012
Dear Brian Brown,
After Wednesday's shooting at the Family Research Council, you quickly leveraged the event into a self-serving denunciation of the Southern Poverty Law Center. I can't fault you for that. After all, in the wake of Gabrielle Giffords' shooting, I denounced Sarah Palin for lacking the decency to take down her "target map" with its Giffords crosshairs as the Congresswoman struggled through intensive care. However…
However, you'd be more persuasive if you didn't exploit this crime to lie about yourself and your organization.
NOMblog reports your statement:
Today's attack is the clearest sign we've seen that labeling pro-marriage groups as 'hateful' must end. The Southern Poverty Law Center has labeled the Family Research Council a 'hate group' for its pro-marriage views, and less than a day ago the Human Rights Campaign issued a statement calling FRC a 'hate group'—they even specified that FRC hosts events in Washington, DC, where today's attack took place.

NOM has always condemned all violence and vilification connected to our ongoing national debate about the meaning and definition of marriage.
Please, Brian, this event is too important for casual deception. NOM has long, long history, not just of failing to condemn violence and vilification, but of promoting it.
Brian Brown Accepts
Jim Burroway
May 29th, 2012
From the NOM Blog:
Dan — I accept and will look forward to debating you at your dining room table. As I said in my challenge to you, anytime, any place.

While I appreciate the invitation that you have extended to my wife, she will not be able to attend. She is a full-time mom with seven beautiful children and an eighth on the way.
Dan Savage invited National Organization for Marriage's Brian Brown to a debate at Dan Savage's dining table, with the New York Times's Mark Oppenheimer serving as moderator. The original invitation included having Brown's wife and Dan's husband also at the table. A date and time will be announced later, giving Savage time to redecorate his living room and dining room for the occasion.
Dan Savage Proposes Venue for His Debate with NOM's Brian Brown
Jim Burroway
May 23rd, 2012
Earlier this month, the National Organization for Marriage's Brian Brown, in a fundraising letter and blog post, challenged Dan Savage to a debate:
Let me lay down a public challenge to Dan Savage right here and now: You want to savage the Bible? Christian morality? Traditional marriage? Pope Benedict? I'm here, you name the time and the place and let's see what a big man you are in a debate with someone who can talk back. It's easy to make high-school girls cry by picking on them. Let's pick on someone our own size!
Savage quickly picked up the challenge, saying he will name the time and place. In yesterday's Savage Love podcast, Savage named the place:
Where? My dining room table. Place? Seattle, Washington. Here's the deal. We can fill a room with my screaming partisans and your screaming partisans and we'll both play to our respective peanut galleries and I think both of us have a little bit of grandstander in our souls and we will work that and I think that will create more heat than light.

And so what I'd like to do is challenge you to come to my house for dinner. Bring the wife. My husband will be there. and I will hire a video crew and we will videotape sort of an after dinner debate. The trick here is you have to acknowledge my humanity by accepting my hospitality and I have to acknowledge yours by extending my hospitality to you. And I'm willing to do that.
The New York Times's Mark Oppenheimer will moderate the debate. amd the unedited video tape will be posted online. Brian Brown has yet to accept the response to his original anytime/anyplace challenge.
Anti-Gay Groups Conspire to Add Anti-Gay Measures To Defense Authorization Bill
Jim Burroway
May 8th, 2012
Chris Geidner is reporting that Rep. Todd Akin (R-MO) will introduce an amendment to the National Defense Authorization Act before the House Armed Services Committee tomorrow to weaken the implementation of the repeal of "Don't Ask, Don't Tell." The amendment would, in effect, create a "conscience protection clause" for military chaplains, giving them free reign to denounce LGBT servicemembers as shameful and sinful. Another measure, which would prohibit chaplains from performing same-sex marriages under the guise of enforcing the Defense of Marriage Act on military bases, would ironically have the effect of violating the consciences of chaplains who support marriage equality.
Both measures are currently part of the same amendment, but they may instead be broken up into two separate amendments in order to "(give) us the strongest hand going into conference with the Senate," according to an email sent to amendment supporters form Justin Johnson, Akin's legislative director. Similar measures were included in the House version of the 2011 National Defense Authorization Act, but were dropped during conference negotiations with the Senate, which did not include similar measures in their version of the act.
The email had a interesting list of names in the address line:
Among the advocates included in the planning for the amendments being offered and from whom Johnson was seeking input were Elaine Donnelly of the Center for Military Readiness; Brian Duggan, a lobbyist for the National Organization for Marriage; Austin Nimocks and Daniel Blomberg, lawyers with the Alliance Defense Fund; Arthur Schulcz, a Virginia lawyer who brought a lawsuit on behalf of chaplains claiming religious discrimination even prior to the repeal of DADT; Tom McClusky from the Family Research Council; Doug Lee and Ron Crews from the Chaplain Alliance for Religious Liberty; members of the Archdiocese for the Military Services; Nathaniel Bennett, the director of government affairs for the American Center for Law and Justice; and the president of the Associated Gospel Churches, which has highlighted on its main page a link to the organization's "Resolution on Homosexuality and the Military." FRC has been designated as a hate group by the Southern Poverty Law Center.
Well, This Will Be Fun
Jim Burroway
May 4th, 2012
Dan Savage has accepted NOM's Brian Brown challenge to a debate to the death. It's Orville Redenbacher time.
Email of the Day
Jim Burroway
April 13th, 2012
Right now we're under relentless attacks—that are draining us of critical resources that could be deployed in states and at the federal level to directly affect the future of marriage…. . . and these bullies think they can get away with it!

Friend, I know in my heart that they are wrong. They can't get away with it, because you and those like you all across the country have stepped up time and time again.

But I urgently need you to stand with us today. So far, we have raised just $29,672 in this campaign. In order to respond to these latest attacks and continue to be effective throughout 2012, we NEED to reach our goal of $200,000 over the next several days. I know that a few of you reading this message can afford a gift of $5,000 or even $10,000 or more. If that is you, please consider what you can do to help at this pivotal moment.
But we're all on the hook, responsible for how we use whatever resources we have.

If we stand united, we cannot be stopped. But if we don't, our opponents will silence us one at a time until there is no one left to speak for marriage. So whether it's $20 or $20,000, it's important that we stand together in this battle.
Oh wait, that conspiratorial email didn't come from Eugene Delgaudio. It's from National Organization for Marriage's Brian Brown. Lately I've been having trouble telling them apart.
NOM Boycotts Starbucks
Jim Burroway
March 21st, 2012
Maggie Gallagher and Johnathan Baker, National Organization for Marriage's director for what they call "The Corporate Fairness Project," attended the annual Starbucks shareholder meeting today. Baker, as a Starbucks shareholder, addressed the meeting and took the board to task for the "controversial stand Starbucks has taken here in Washington in support of same-sex marriage." Citing a Starbucks message endorsing Washington's Referendum 74, a proposal that would allow marriage equality to take effect in the state, as reflecting Starbucks' core values as a company, Baker asked if that decision was made by the board of directors and questioned whether the decision would hinder the company's efforts to expand internationally. Starbucks CEO Howard Schultz responded:
Any decision of this type or magnitude has be made with great thoughtfulness and I would assure you that a senior team of Starbucks discussed this. And it was, to be candid with you, not something that was a difficult decision for us and we did share this with some members of the board as well. [Applause and cheers]

I don't want to answer the question in any way that would be disrespectful to you or other people who might see it differently. I think Starbucks has many constituents, and from time to time we are going to make a decision that we think is consistent with the heritage and the tradition of the company that perhaps may be inconsistent with one group's view of the world or a decision we may make. I said earlier in my prepared remarks that we're not perfect, and from time to time we may make a mistake or people may view it as a mistake. But we made that decision, in our view, through the lens of humanity and being the kind of company that embraces diversity."
And with that, NOM announced their boycott:
"Unlike our opponents, we do not target whole companies for the actions of an individual business executive in that company," said Brian Brown, NOM's president. "But Starbucks has taken a corporate position in support of redefining marriage for all of society. We will not tolerate an international company attempting to force its misguided values on citizens. The majority of Americans and virtually every consumer in some countries in which Starbucks operates believe that marriage is between one man and one woman. They will not be pleased to learn that their money is being used to advance gay marriage in society."
Letting People Do Things They Used To Be Prohibited From Doing Is Just Like Slavery
Jim Burroway
March 21st, 2012
Or something like that, according to NOM's Brian Brown who likened his efforts to roll back marriage equality to those of abolitionists "in the late 1800s."
NOM's mininalist definition of victory
Timothy Kincaid
March 21st, 2012
CNN's Thomas Roberts (who is gay) interviewed Brian Brown, the National Organization for Marriage's President, and Craig Stowell, the Republican co-chair of Stand Up for New Hampshire Families (our side), about the expected vote today in the New Hampshire House of Representatives.
Brown gave his usual posturing and nonsense.
(Segue alert: don't you get tired of talking heads saying the same nonsense over and over regardless of the situation? I laughed out loud this week when Brooke on Dancing With the Has-Beens asked Martina Navratalova about her scores. Instead of the standard "we are really pleased, we went out and gave it our best and had a lot of fun, so we hope America votes for us" that every other contestant said, Navratalova said, "oh, it was the same score we got in rehearsals so I guess it is what it is." Back to the topic.)
He laughably ranted about "special interest groups from out of state" (leaving the New Hampshirite the opportunity to point out that Brian isn't a local boy) and claimed that 119 legislators were "booted out because they took it upon themselves to redefine marriage" (a notion scoffed at by the Republican leaders who ignored the issue for a year and a half because "we were elected to address the economy").
But here's the sentence you need to pay attention to.
"We're looking forward to the vote today. I expect we're going to have a majority here. I think it's going to be historic to have a state vote and have a majority vote say, "this was wrong, we made a tragic mistake two years ago and we're going to right that wrong" and I expect that we're going to see a victory today."
NOM's definition of success is "a majority". And, mind you, this for a bill that would simply revert to full civil union protections.
In terms of actual impact, if NOM eeks out "a majority", we win. Governor Lynch will veto the bill (assuming it survives the Senate) and NOM will scramble to try and find enough votes to overturn the veto.
Keep in mind that Republicans have a veto-proof majority. If this is a party-line vote, then marriage equality would be reversed in that state. But Brown has conceded that NOM isn't expecting a veto-proof majority. They aren't expecting to win, they are just laying the framework to argue that a vote in which they lose all Democrats and a large number of Republicans and which will never become law is "historic".
The vote has not yet happened. And in politics anything can happen. But NOM's admission suggests that the vote today will be good news.
I can feel pity for Brian Brown. Surely it cuts at one's sense of being to constantly spin and lie and pretend. When one goes into quiet contemplation, surely "winning" seems little consolation for giving up your integrity, and when you aren't winning it must seem like an unfair trade. If you sell your soul, shouldn't you at least get something for it?
As Thomas asked him,
Brian… what the National Organization of Marriage does to try and stand against the tide of equality, isn't it exhausting?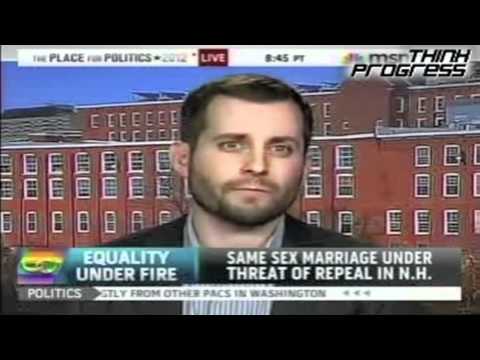 NOM: "This is it. The whole ball game. If we back down here, it will be all over."
Jim Burroway
February 23rd, 2011
When others see an important step toward an end to discrimination, National Organization for Marriage's Brian Brown sees a fundraising opportunity:
Dear Marriage Supporters,

This may be the most important email I've ever sent to you. Please read, take action and forward this message to at least 5 friends immediately.  

The Obama administration has just announced that they will no longer defend the Defense of Marriage Act (DOMA) in court. In a statement released this morning, Attorney General Eric Holder explained that President Obama has decided that the definition of marriage contained in DOMA is unconstitutional, and has ordered that the Department of Justice should abdicate its constitutional duty and no longer defend DOMA against constitutional challenges.   
Click Here to read the rest of NOM's fundraising shill.
Anti-Gay Activists React to DOMA Announcement
Jim Burroway
February 23rd, 2011
Brian Brown from National Organization for Marriage lost his already limited capacity for original thought and channels John Paul Jones:
We have not yet begun to fight for marriage," said Brian Brown, president of NOM."The Democrats are responding to their election loss with a series of extraordinary, extra-constitutional end runs around democracy, whether it's fleeing the state in Wisconsin and Indiana to prevent a vote, or unilaterally declaring homosexuals a protected class under our Constitution, as President Obama just did," said Brown. "We call on the House to intervene to protect DOMA, and to tell the Obama administration they have to respect the limits on their power. This fight is not over, it has only begun!"
Maggie Gallagher chimes in:
On the one hand this is a truly shocking extra-constitutional power grab in declaring gay people are a protected class, and it's also a defection of duty on the part of the President Obama," said Maggie Gallagher, Chairman of NOM, "On the other hand, the Obama administration was throwing this case in court anyway. The good news is this now clears the way for the House to intervene and to get lawyers in the court room who actually want to defend the law, and not please their powerful political special interests."
Liberty Counsel's Mat Staver, who charged that allowing same-sex marriages would lead to an epidemic of violent crime, called Obama the most divisive President in US History:
Regardless of President Obama's own ideological agenda, as President, he and his Attorney General have a duty to defend lawfully passed legislation, especially when the essence of the law has been upheld by many courts. Thirty states have passed marriage amendments affirming marriage as one man and one woman. Today President Obama has abandoned his role as President of the United States and transformed his office into the President of the Divided States. He has been the most divisive president in American history. He has today declared war on the American people and the fundamental values that are shared by most Americans. His radicalism resulted in the historical push-back in the 2010 elections. His radicalism today will come back around when the people respond to this betrayal in 2012," said Staver.
Focus On the Family's Tom Minnery wants Congressional Republicans to drop whatever they're doing and pick up the flag:
"We would hope Congress uses the tools at its disposal to counter this decision and defend marriage," Minnery said.
What should Congress do? Family Research Council's Tony Perkins wants Congress to take Holder's bait by dropping their "only interested in the deficit" mantra and reveal what many suspect to be their true colors:
"With this decision the President has thrown down the gauntlet, challenging Congress. It is incumbent upon the Republican leadership to respond by intervening to defend DOMA, or they will become complicit in the President's neglect of duty," concluded Perkins.
American Family Association's Bryan Fischer, who recently said that he would "fight to the last ditch" for marriage discrimination, has Perkins's back:
"I think it's a clear sign that we simply cannot avoid engaging on the social issues," Bryan Fischer, director of issue analysis for the group, told TPM. "Mitch Daniels has called for a truce on social issues and that would be fine if the homosexual lobby was willing to lay down arms, but they're obviously not and this proves it. A truce is nothing more than a surrender."
So far, House Speaker John Boehner is staying on message and has declined to take the bait:
A spokesman for House Speaker John Boehner, R-Ohio, criticized the administration change of position. "While Americans want Washington to focus on creating jobs and cutting spending, the president will have to explain why he thinks now is the appropriate time to stir up a controversial issue that sharply divides the nation," said spokesman Brendan Buck.
Update: Potential GOP Presidential candidate and former Arkansas Governor Mike Huckabee found a clever way to blame gay marriage for increasing the deficit:
Nonetheless, Huckabee opposes gay marriage on the grounds that, according to him, it destroys traditional families.  "There is a quantified impact of broken families," Huckabee said. "[There is a] $300 billion dad deficit in America every year…that's the amount of money that we spend as taxpayers to pick up the pieces because dads are derelict in their duties."
If you don't like it, you gotta ban it?
Rob Tisinai
February 19th, 2011
NOM is trumpeting a new Maryland poll about same-sex marriage:
By a 54-37 margin, Maryland voters believe that marriage should only be between a man and a woman, according to a new poll released today by Lawrence Research.
And here's the question they asked:
As far as you personally are concerned, should marriage be between a man and a woman, or should it also be available to same-sex couples.
Emphasis added, for one simple reason: This is not an either/or question!
People could say, without contradicting themselves:
Yes, I believe marriage should be between a man and a woman, and yes, it should also be available to same-sex couples.
Just as they could say:
I believe everyone should abstain from alcohol, and I think it should be available to adults.
or
I believe birth control is wrong, and I think people should have the option of deciding that for themselves.
So much for Live and let live.  So much for letting people make their own decisions. So much for any conception of liberty.  If, "as far as you personally are concerned," you disapprove of something, it never occurs to NOM that your respect for freedom might keep you from trying to control your neighbor's life.
Nope, according to NOM, if you think something is wrong, then you want impose that belief on everyone.
This attitude pops up again and again.  Remember Miss America contestant Carrie Prejean?
Well I think it's great that Americans are able to choose one way or the other. We live in a land where you can choose same-sex marriage or opposite marriage. And, you know what, in my country, in my family, I think that, I believe that marriage should be between a man and a woman, no offense to anybody out there. But that's how I was raised and I believe that it should be between a man and a woman.
Taken literally, she's offering support for marriage equality even as she expresses her personal belief that it's wrong. That's not what she intended, but it's what she said, without even realizing it.
Obama's just as guilty:
I'm a Christian. And so, although I try not to have my religious beliefs dominate or determine my political views on this issue, I do believe that tradition, and my religious beliefs say that marriage is something sanctified between a man and a woman.
If he's offering this to explain why he opposes legalizing same-sex marriage, he's failed.  He can believe exactly what he said and still support marriage equality.
I suppose, then, it's not fair to single out NOM for this. They're just the latest perpetrators.
My hunch is that NOM is so blind to their own assumptions, they didn't even realize they weren't asking an either/or question.  Another possibility, though, is that they knew exactly what they were doing.
Look at the opening phrase: As far as you personally are concerned, should marriage be between a man and a woman…
It's almost as if they added "As far as you personally are concerned" as a deliberate attempt to distract people from the issue of legalizing same-sex marriage.  As if NOM knew the wording would let them dishonestly claim for their own side those respondents with a live-and-let-live attitude, those who think it should be legal despite their own personal disapproval.
As if they knew they could then distort these results to understate Maryland's support for legal equality.
So which is it? A careless mistake or a conscious manipulation of the question?  I bet the answer depends on whose mind you're looking into:  that of Maggie Gallagher (a canny operator) or Brian Brown (a blundering bull).
Ultimately, I see one lesson take away from this. We need to add another weapon to our rhetorical arsenal this one for people who are more comfortable with liberty than with homosexuality:
You can disapprove of something and still think it should be legal!
Newsweek runs offensive puff piece on Brian Brown
Timothy Kincaid
November 15th, 2010
Lately it seems that the only time I take notice of Newsweek is when they have run yet another biased article which paints gay people in a bad light and our opponents favorably. While I would not go so far as to label the magazine as being homophobic – I doubt that they are aware of the extent to which they write pejorative about gay people – clearly editorial staff suffer under heterosexist presumptions.
Their latest is a puff piece on Brian Brown, the president of the National Organization for Marriage, by Eve Conant. Brown is a legitimate topic for discussion, but Conant's portrayal of him – and even moreso of us – serves as little more than an appeal to sympathy for Brian Brown and validation of his anti-gay efforts. Brown's talking points are repeated as though objective data and those of us who oppose his efforts are characterized as irrational or violent.
Conant opens her piece by casting Brown as a martyr and implying that those who oppose his anti-gay advocacy are a dangerous threat. Even before telling her audience what Brown does, the tone is set: "Brian Brown's hate mail is divided into two categories: messages that go straight to the police and those he dumps into a growing computer file labeled OPPOSITION."
Conant's second error is to parrot Brown's declarations of success.
A big reason for their frustration is that Brown is succeeding. His National Organization for Marriage played a key role in financing the Nov. 2 ouster of three Iowa Supreme Court justices who ruled to legalize same-sex marriage there in 2009.
…
As gays and lesbians battle in the courts and legislatures for marriage rights, Brown is on a mission to match their determination and dollars. Using direct-mail campaigns, donor outreach, and bus tours around the country, he spreads NOM's message that preserving "traditional marriage" is necessary to protect families and ensure religious freedom. "We believe the marriage issue is the last frontier in the fight," he says. "We have to hold the line there." Although NOM operates with a skeleton staff, its budget has ballooned from $500,000 in 2007, when Brown cofounded the group, to more than $13 million today. With that war chest, it was able to pour some $5 million into 100 races in the recent elections.
In a display of shockingly naive journalism, Canant accepts Brown's stated accomplishments – which may as well have been gleaned from one of his many "look what I've done, send me money' emails. She provides no evaluation of the success of those high-profile races in which NOM intervened (all, other than the judge, failed), the bus tours (laughably incompetent), or whether NOM's message is resonating.
While it is true that three judges were not confirmed – due in part to NOM's efforts – to declare that "Brown is succeeding" requires that one ignore the total picture and focus only on one incident. And in pronounceing that "the jury is out" on whether marriage equality in an eventuality, Conant used but the scantest of thought:
Though both sides like to claim they're winning this fight, the jury is out. This year New Hampshire and Washington, D.C., joined Iowa, Connecticut, Massachusetts, and Vermont in legalizing gay marriage. And polling shows support for it is on the rise, up from 27 percent of Americans in 1996 to 44 percent today, according to Gallup. But in the 31 states where gay marriage has been put to a vote, it's lost every time.
There is a thoughtful argument for the uncertainty of future outcomes, but this isn't it. Discussing state DOMA amendments without discussing timelines and geography is simplistic to the point of meaninglessness. So too are discussion of states which have marriage equality without an analysis of possible repeal.
But the most offensive part of Connant's article is that it serves not only as a "feel good" piece on Brown, but it positions those who disagree with him in a negative light. They are not supporters of equality, rather they are enemies of this good man. This is, indeed, the underlying theme and is present in nearly every paragraph:
Paragraph 1: OPPONENTS of Brown send hate mail, tell him on the phone that they want to burn him while his children watch, and threaten to send a pipe bomb. Even the least threatening are "frustrated".
Paragraph 2: Repeats that they are frustrated
Paragraph 4: "Critics like to paint Brown as…" The structure of this phrase assumes that anything which follows is a false portrayal. Evan Wolfson, who comments on the likelihood of NOM's efforts as a "last hurrah" is set up to be dismissed as a falsely painting critic and then Connant presents a counter to the "like to paint" position which is competely irrelevant to the point.
Paragraph 5: Here we have a good guy v. bad guy comparison. Brown "mostly tries to avoid demonizing gays and lesbians" while a marriage supporter "tapes Brown's events and posts them online as fuel for gay activists." Look again at "fuel for gay activists." That is not, under any circumstances, a neutral statement.
Paragraph 6: Here we see two "he said, they said" presentations of the views of those who oppose NOM. It's subtle, but the comparison leads the reader to one conclusion:
First, "gay-rights advocates say the group is a carefully orchestrated front for…" But Connant's response is "In fact, it's almost impossible to characterize Brown's supporters." This isn't even presented as Brown's position, it's presented as fact and thus the gay-rights activists are either deluded, paranoid, or liars.
The second is trickier. It's the presentation of two accusations. First Brown accuses those who are demanding that NOM follow election laws: "his donors could be targeted and harassed by gays and their supporters." Note that these are specific allegations and cast "gays and their supporters" as harassers and dangerous. Note also that the opening words of this piece assign validity to Brown's claim.
Then the opposite side's position is misstated: "gay advocates say he's simply flouting campaign-finance laws." No, we don't think his purpose has anything to do with the anarchistic notion of "simply flouting laws." We have specific concerns but they are not presented. Rather, you see the vague and slightly paranoid (and probably truncated): "You have to look at why they are fighting tooth and nail to not disclose their donors." There is no mention as to the reason why we think NOM wants hide the identities of major donors: to allow them to seek to change law in secret, without any fear of public criticism or reprisal.
Fear of secret political machinations of wealthy organizations, churches, or individuals may resonate with Newsweek's readers. They may share our concerns that the Mormon Church or Catholic Church some other entity or individual almost single-handedly funded a state-wide campaign – and did so in secret and without the voter's knowledge. One has to wonder why Connant did not articulate this concern.
Paragraph 7: Brown's "detractors" are baffled. His efforts are a "mystery." And Brown presents his case to quickly slap down the strawman of confusion that Connant presented. His explanation is – and we aren't mystified, we've heard it over and over – accepted as fact. Gay folk aren't too befuddled to point out the hollowness of Brown's statements, Connant simply chose not to report it.
Paragraph 8: This is perhaps the most insidious of Connant's insinuations. Characterization by anecdote is not new to yellow journalism; those who wish to present good guy v. bad guy imagery find it a most useful tool. While Susan, Brown's wife, is a sympathetic character who "understands" the "frustration" of the people who so badly abuse her, gay folk are presented less charitably:
At an event in Providence, R.I., she says, "they walked up to my kids and asked them, 'Is Mommy raising you to be a good little bigot?'?"
Paragraph 9: This last paragraph, indeed the final words, remind the reader about who is the hero and who is the villain of this article:
Until that day—and perhaps long after—Brown is prepared to keep getting hate mail.
I understand that human interest stories are not in the same vein as hard-hitting journalism. But this goes beyond being a puff piece and instead is a smear on those who support marriage equality. Yet again, "Gays are a threat to be feared" is the theme of a Newsweek article.
NOM blatantly appeals to homophobia
Timothy Kincaid
August 30th, 2010
The National Organization for Marriage has now officially become part of the wackadoodle extremist end of the anti-gay religious right. While Maggie Gallagher was officially at the helm, they managed to carry a pretense of civility and wore the mask of being issue driven rather than just acting out of animus and contempt.
But now that Brian Brown is the name on the masthead, the mask has come off. NOM no longer pretends to be civil, but instead now is openly using the tactics and language of those who seek not just to "protect traditional marriage" but to demonize gay people themselves and stir up hatred towards them.
No longer content with scare tactics such as "Mommy, I can grow up to marry a princess", NOM is now spreading fear about radical homosexual activists and putting "gay marriage" in scare quotes. NOM has now become indistinguishable from Peter LaBarbera or Brain Camenker or Eugene Delguadio.
When the District of Columbia voted for marriage equality, NOM has become infuriated. And so they have involved themselves in the Washington DC councilman race.
Ward 5 Councilman Harry Thomas voted for marriage equality in the nation's capital, so NOM has declared him to be an enemy and has funded a mailer for his opponent, Delano Hunter. It is as disgusting a piece of blatant nastiness as one would expect to find coming from MassResistance or the Traditional Values Coalition:
Thousands of dollars from homosexual activists outside Ward 5 are attacking Delano Hunter become he supports our right to vote on whether the District legalizes "gay marriage."

Radical, gay marriage activists are flooding Ward 5 with money to defeat Delano Hunter, not because they don't like his plan to improve our community, but only because the supports the Biblical definition of marriage.

The outside gay activists don't care about our right to home rule and right to vote on gay marriage. They only care about their agenda to redefine marriage. Don't let them target Delano Hunter.
There is, of course, no explanation of why the Sister is in the picture. We don't need one; we know exactly why that picture was selected. The Sisters are "scary" and for those who don't know better she makes a good illustration of just what a radical homosexual looks like.
And, of course, since it's NOM, the claim is a complete lie. Not a cent has been given to Thomas from "militant gay activists" in San Francisco or New York.
NOM's Maggie Gallagher loves nothing more than to complain that mean gay marriage supporters are calling her names. "They call us bigots," she whines at every opportunity.
At BTB we seldom engage in slinging slurs like "bigot" or "homophobe" or "liar" at those who oppose our equality. It serves no purpose and tends to shut down any possible hope for dialogue. And the truth is that most of those who don't favor equality actually aren't motivated by hatred or animus. Prejudice, presumption, and apathy are probably more to blame.
But while I am not calling Brian or Maggie names or accusing them of being bigots or homophobes, this particular mailer seeks to do nothing other than to appeal to hatred and fear. This mailer is, without question, bigoted and homophobic.
Schadenfreude Alert, Part 3: NOM's Meltdown Continues
Jim Burroway
August 4th, 2010
We already saw Brian Brown's head explode over the Prop 8 ruling. Several hours later, and he still hasn't recovered. He was supposed to be in a live-chat with his many supporters and contributors, but he was a no-show. Jeremy Hooper has the chat log. As one participant called it after waiting twenty minutes, "NOM FAIL – You are the weakest link GOODBYE."