Brian Brown, Sharon Slater Are Also At Moscow's Totally-Not-The-World-Congress-Of-Families
Jim Burroway
September 11th, 2014
Brian Brown is on the left. According to this online program, (Google translate here), he is spoke at a plenary panel this morning on "The Family, its Present and Future" at the Cathedral of Christ the Savior's main hall. Patrick Buckley, an anti-abortion activist from Ireland, Thomas Ward of Britain's National Association of Catholic Families, and John Weston of Canada's Lifesite News were also on the panel. Just to give you an idea of the kind of company they're keeping, other panel members include Abdolreza Azizi of Iran's Islamic Consultative Council.
The program indicates that Austin Ruse is speaking today on "the status of life and family issues at the United Nations,"  ex-gay promoter and anti-abortion activist Miriam Grossman will present on whether "reproductive freedom frees procreation," CBN's Stephen Weber will speak on "restoration of paternity transformation of culture" (Google Translate may have mangled this),  Janice Shaw Crouse will speak on "successful communications strategy," and Family Watch International's Sharon Slater will speak on the "protection of children and families in the United Nations."
Sharon Slater is a particularly ugly piece of work. Her organization, Family Watch International, which has managed to obtain consultative status with the United Nations, proudly features Ugandan Pentecostal pastor and "kill-the-gays" bill supporter Martin Ssempa as an African Coordinator for FWI. She has also spoken out in favor of Uganda's horrific Anti-Homosexuality Bill, as well as similarly draconian laws in Nigeria and elsewhere. She has also worked closely with ambassadors from Syria and Iran to push her anti-gay agenda in the United Nations.
At least a couple dozen other Americans, Canadians and Europeans are speaking at the Totally-Not-The-World-Congress-Of-Families despite American and European sanctions against several of the conference's Russian sponsors over the illegal annexation of Crimea and the Russian military's incursions into Eastern Ukraine. Two of the American organizers of the Totally-Not-The-World-Congress-of-Families, World Congress of Families' managing director Larry Jacob and communications director Don Feder, have prime speaking slots — although, ostensibly, they aren't representing the World Congress of Families while speaking at the Totally-Not-The-World-Congress-of-Families conference. They are speaking on behalf of  Jacobs Consulting and Don Feder Associates, respectively, which I think are similar in nature to Burroway Consulting and Timothy Kincaid Associates.
The Totally-Not-The-World-Congress-Of-Families is taking place in several venues in the Kremlin and at the Cathedral of Christ the Savior, in the very same venues as the previously cancelled World Congress of Families, on the same dates, under the same theme, and with many of the same line-up of speakers. But remember: it's not the World Congress of Families. Which is fitting, when you think about it. The Totally-Not-The-World-Congress-Of-Families is taking place in the land of the Totally-Not-Invading-Eastern-Ukraine. Authoritarian demagogues with totally-unbelievable propaganda machines seem to have a way of finding each other.
The Not-The-World-Congress-of-Families Launches Moscow Conference
Jim Burroway
September 10th, 2014
Despite Russia's illegal invasion of the Crimea and eastern Ukraine and its complicity in downing of a commercial aircraft filled with hundreds of innocent civilians, quite a number of American anti-gay activists are willing to look past all that in order to congratulate Putin's empire for its growing campaign against its own LGBT citizens. A year ago, before the conflict in Ukraine exploded into armed combat, six American conservative groups signed on to a statement praising Russia's so-called "anti-propaganda" law which prohibits persons and organizations from expressing their free speech rights for LGBT people. (Of course, free speech rights against LGBT people are fully protected while anti-LGBT violence is officially ignored.) Those six were Austin Ruse's Catholic Family and Human Rights Institute, Chris Carmouche's GrassTopsUSA, Don Schmierer's His Servants (of the 2009 Uganda Conference infamy), Linda Harvey's Mission America, Steven Mosher's Population Research Institute, and Larry Jacobs's World Congress of Families, which had planned to hold its next World Congress in Moscow beginning today.
That Congress was set to take place in the Kremlin itself, with funding from Vladimir Putin's allies and featuring a joint session with the Russian Parliament. The theme for the Congress was "Every Child A Gift: Large Families, the Future of Humanity." Those plans were re-affirmed last March, even after fighting broke out in eastern Ukraine. A few weeks later, Jacobs announced that the World Congress in Moscow was suspended after several leading American anti-gay activists pulled out. At the time, WCF said, "The World Congress of Families takes no position on foreign affairs, except as they affect the natural family." In June, WCF said in their newsletter that they were canceling the Congress altogether, citing "possible liability" arising from American and European sanctions against Russia and several targeted leaders, including some who were helping to organize the Moscow Congress.
Except now it appears that they didn't exactly "cancel" their planned Congress in Moscow, but merely changed it's name and, perhaps, some of its funding sources. The event is now the International Family Forum — with the old WCF theme, "Large Families, the Future of Humanity" — remaining intact. Until just last week, Jacobs and WCF communications director Don Feder were listed among event's organizers. Their names have since been removed after J. Lester Feder's Buzzfeed article called attention to the new conference. Jacobs denied to Buzzfeed that the new Forum was a World Congress of Families event and that "any one who calls it that is wrong, mis-informed or lying." He denied that WCF was providing any funding and said that WCF president Allan Carlson would not be there to speak. Jacobs later confirmed to Mother Jones that he and Feder would be there and "speak as individuals and not as representatives of the World Congress of Families." Austin Ruse, who also said he'd be there, had no doubts about the nature of the conference:
Austin Ruse of the Catholic Family and Human Rights Institute, an American who was on the organizing committee for the Moscow meeting before WCF withdrew its sponsorship, said the local organizers decided to go forward on their own after the international organization pulled out. But he was planning to attend along with several other Americans active with the WCF.

"A lot of us are still going to over there and attend," Ruse told BuzzFeed. "WCF will vocally support the meeting that is happening in Russia."

Jacobs responded to Ruse's comments by email, saying "Austin does not speak for WCF."
And so the Totally-Not-The-World-Congress-Of-Families is meeting today in the very same venues as the "cancelled" World Congress of Families, with precisely the same theme, with much of the same program, with all of the same goals, and with many the same organizers. Duck metaphors are flying across the sky. Hannah Levintov at Mother Jones asks whether these American anti-gay activists have skirted U.S. sanctions on Russian:
Both (conference organizers Elena) Mizulina and (Vladimir) Yakunin are among WCF's heartiest supporters. Mizulina sponsored both pieces of anti-gay legislation that caused international uproar in the run-up to the Sochi Winter Olympics in February. WCF has expressed support for these laws. She has met repeatedly with Jacobs, has attended a number of WCF's Russian events, and has invited a WCF planning committee member to speak before Duma members about anti-gay policies.
The billionaire Yakunin helped pay for the 2011 Moscow Demographic Summit, the WCF's first major conference in Russia. Last spring, he launched Istoki, a fund that backs three charities—two co-run by him, and a third headed by his wife, Natalia. All three organizations have ties to WCF's work in Russia. Three of the Large Families conference's five sponsors are affiliated with Yakunin: the Sanctity of Motherhood Foundation, the Center for National Glory, and St. Andrew the First-Called Foundation. The latter two are run by Yakunin and all three are funded by Yakunin's Istoki fund.

Yakunin and Mizulina are currently on OFAC's Specially Designated Nationals and Blocked Persons list. Once someone is on the list, American citizens and businesses "are generally prohibited from dealing with them," according to OFAC, which administers economic and trade sanctions. Sanction rules hinge on what counts as "dealing" with an SDN, which isn't clearly defined. "If a US individual or entity wanted to deal with a sanctioned entity on the SDN list, we would encourage them to reach out to OFAC for guidance on a case-by-case basis," a Treasury spokeswoman told Mother Jones. "Generally what is prohibited are 'dealings' with SDNs. Doing business or doing transactions—all of that is covered in the regulations. But dealings is a general term." She said that the agency does not comment on specific cases.
The Human Rights Campaign is calling on the U.S. Treasury to investigate the WCF's leadership for possibly violating U.S. sanctions against Russia.
Update: Janice Shaw Crouse, a WCF board member who may or may not still be the Executive Director of Concerned Women for America's Beverly LeHaye Institute, is also in Moscow for the totally non-Congress:
Another Update: The Moscow Times updates us on the upstanding characters that Jacobs, Feder, Ruse and Crouse are consorting with:
The lineup of conservative crusaders also included "the Russian Soros," Konstantin Malofeyev — founder of Marshall Capital Partners investment fund that has been linked to insurgents in Ukraine — and Yelena Mizulina, a conservative State Duma lawmaker who has championed laws banning the adoption of Russian orphans by Americans and banning the promotion of "nontraditional sexual relations" to minors.

Both were sanctioned by either the U.S. and EU — or both — over their alleged involvement in the Ukraine crisis and Crimea annexation.
Vladimir Putin sent his greetings via an emmisary as the conference got under way.
World Bank Delays $90 Million Loan to Uganda
Jim Burroway
February 28th, 2014
The World Bank yesterday announced that it was delaying a US$90 million loan to Uganda's health system, citing the country's draconian new Anti-Homosexuality Act that President Yoweri Museveni signed into law on Monday.
"We have postponed the project for further review to ensure that the development objectives would not be adversely affected by the enactment of this new law," World Bank spokesman David Theis said in an email.

…The World Bank, a poverty-fighting institution based in Washington, usually refrains from getting involved in countries' internal politics or in issues such as gay rights to avoid antagonising any of its 188 member countries.

World Bank president Jim Yong Kim, however, sent an email to bank staff saying the bank opposes discrimination, and would protect the safety of all employees.

He said passage of the Ugandan law was not an isolated incident, as 83 countries outlaw homosexuality and more than 100 discriminate against women.

"In the coming months, we will have a broad discussion about discrimination with staff, management, and our board on these issues," Kim said in the email. "Now is the right moment for this conversation."
The bank's executive board was set to approve the loan today. The $90 million loan is part of a larger $1.56 billion portfolio the bank has with Uganda. World Bank President Jim Yong Kim wrote an op-ed discussing the broader problems of discrimination of all kinds around the world and how that played into his decision:
These recent anti-gay laws, and many others that have been on the books for years, are acutely ironic. Just 15 years ago, a small band of gay men and women — largely in the United States but also in Europe and parts of Africa — fought with all their intellect, energy and creativity to expand access to treatment for all people with HIV/AIDS. In 2000, just 50,000 people in the developing world received AIDS treatment. Today, largely thanks to the work of these gay activists and others, more than 10 million people are being treated with AIDS drugs — most of them African.

At the World Bank Group, we will have a full internal discussion over the coming months about discrimination more broadly and how it would affect our projects and our gay and lesbian staff members. My view is that the fight to eliminate all institutionalized discrimination is an urgent task.
Norway, Demark and the Netherlands announced this week that they are cutting a combined US$27 million in aid to the Ugandan government. U.S. Secretary of State John Kerry said that the State Department is currently reviewing its relationship with Uganda. The U.S. currently gives more that $486 million in bilateral aid.
Meanwhile, Museveni is seeking alternative benefactors. He may find one in Russia:
President Museveni has said he will work with Russians because they don't meddle in the internal affairs of other countries. …[W]hile commissioning a new flight simulator at the air force headquarters in Entebbe on Friday, Mr Museveni told Obama to stop interfering in the affairs of Uganda, adding he will work with Russia instead of America. "Russia has worked in Africa since 1917, meaning they have been here for more than 100 years. I want to work with Russia because they don't mix up their politics with other country's politics," Mr Museveni said.
Scott Lively Blames Russian Gay Bashings on "Ultra-Macho" Gay Nazis
Jim Burroway
February 11th, 2014
Scott Lively has a long history of blaming gay people when they become hate crime victims. So it comes as no surprise that in a rambling blog post at Matt Barber's website, Lively says that the recently viral compilation of videos posted by Russian anti-gay extremists of their gay bashings are fake because Nazis!
I have one final, very important point to make in this article.  I am NOT saying that all of the incidents described in the video are fakes. While it is true that "gay" activists are masters of public deception, and their ranks include not just veteran political propagandists but also billionaires like George Soros and movie producer David Geffin — with the capability of staging any possible scenario flawlessly –  I believe some of the incidents depicted on the film are probably real.

But that raises the question, who are these perps?  Q. What sort of men go out of their way to find and harass effeminate "gay" men on the public streets?  A. They are, literally, NAZIs!  Ultra-Macho Nationalists, of which Russia has many.  Q. And who makes up a significant part of the Nationalist movement everywhere in the world through all of modern history?  A. Masculine oriented homosexual men of the very same sort that created the Nazi Party of Germany.
In the infamous 2009 anti-gay conference in Kampala, Uganda which ultimately led to the introduction of the draconian Anti-Homosexuality Bill in that nation's Parliament, Lively blamed the 1994 Rwandan Genocide on "super-macho" homosexuals.
The compilation of videos assembled by Human Rights Watch that Lively refers to is here: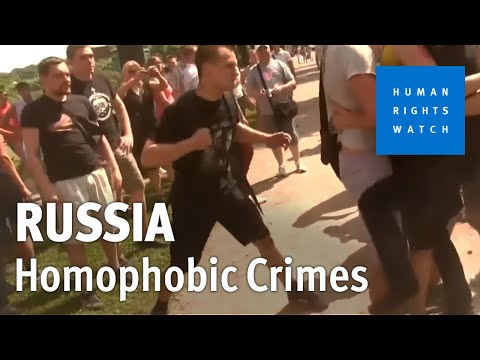 Sochi 2014, the Gay Prequel
Randy Potts
February 7th, 2014
The Winter Olympics in Sochi officially start today and a lot of digital ink has been spilled in the last six months about Russia's "gay propaganda" law. Here is a brief recap of some of the highlights:
Box Turtle Bulletin's coverage, in one convenient link.
Jeff Sharlet of Rolling Stone, GQ, et al, went to Russia and wrote the definitive guide on how bad it really is on the ground for LGBT people — marauding klan-like groups, gay people with children living in fear, jobs being lost, and, most interesting to me, some links between anti-gay groups in the US and the violence in Russia, all here: Inside the Iron Closet: What It's Like to Be Gay in Putin's Russia
All the way back in August, the NYT wrote this report on the violence already occurring within two months of the passage of the "gay propaganda" law: Gays in Russia Find No Haven, Despite Support From the West
Scott Long's dissection of Truths behind the gay torture images from Russia is a good balance to some of the rumors and unsubstantiated stories that have been and will continue to pour out of Russia.
The NYT in its update on Billie Jean King also links to reports on how much the Obama administration has gone out of its way to put LGBT people front and center in Sochi:Billie Jean King Won't Join U.S. Olympic Delegation – neither Obama or Biden will be in attendance.
Remember the Stoli boycott? The Chicago Phoenix does a recap here including the news that the bar Sidetrack is ending its boycott but will donating a portion of sales to a Russian pro-LGBT fund.
Julia Ioffe, Russian American journalist for The New Republic, writes here of all the schadenfreude over the many problems in Sochi — already, the Twitter account @SochiProblems has more followers than the official Sochi Winter Olympics account. In case you wanted to know, "schadenfreude" in Russian is "злорадство/ zloradstvo" and I don't think any of us feel very guilty about it.
On that subject, here are some people to follow on Twitter for Sochi/LGBT updates:
Leonid Ragozin
MaxSeddon
Tweets in Russian (& some English):
Masha Gessen, lesbian freelance writer for the NYT et al.
Nikolai Alekseyev who has, it must be said, doggedly put on Pride protests for over 5 years now in Moscow and, apparently, sued the Russian state multiple times over its mistreatment of LGBT people. He's also a Russian nationalist with a history of anti-semitism.
Last but not least, Box Turtle also has a new Twitter account, follow here.
*Update: already, 4 LGBT activists in St. Petersburg, including a pregant woman, have been arrested.  #CheerstoSochi . . .
Google Doodles the Rainbow for Sochi
Jim Burroway
February 6th, 2014
If you go to the Google search page, you'll see this Google Doodle in place of Google's logo in honor of the Sochi Olympics, which officially opens tomorrow. In case anyone somehow misses Google's message in the graphic, they helpfully quote from the Olympi charter:
 The practice of sport is a human right. Every individual must have the possibility of practicing sport, without discrimination of any kind and in the Olympic spirit, which requires mutual understanding with a spirit of friendship, solidarity and fair play." –Olympic Charter
This appears to be going on Google's pages worldwide, including such anti-gay hot spots as Uganda, Nigeria, Cameroon, Ghana, Jamaica, Iran, Saudi Arabia, and, most importantly right now, Russia, where Google is likely violating that country's "anti-propaganda" law.
Meanwhile, Britain's Channel 4 is rebranding its during the duration of the Olympics by dressing its logo in Rainbow colors. And tomorrow, just as the opening ceremonies air on BBC2, Channel 4 will counter with the television debut of its "Gay Mountain" ad campaign:
The tongue-in-cheek ad, which will run for a week, features a "bear" cabaret act singing a song which features lyrics including "good luck gays, on gay mountain". Using a play on the term "out", denoting when a person declares publicly that they are gay, the TV ad runs with the strapline "good luck to everyone out in Sochi".

"This is a typically Channel 4 way of celebrating the start of the Winter Games and showing our support to all of the athletes out in Sochi, gay or straight," said the Channel 4 chief marketing and communications officer, Dan Brooke.
Something tells me you're not gonna see anything like this on NBC: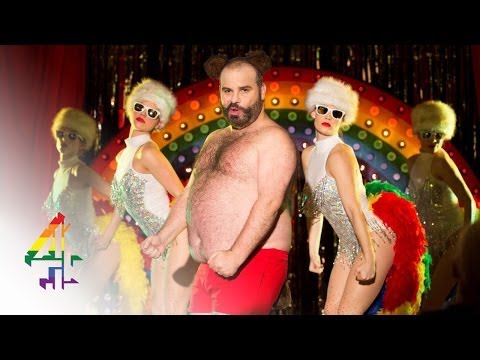 Clearly a threat to the kiddies
Timothy Kincaid
January 20th, 2014

Vladimir Putin has repeatedly insisted that the homophobic law in Russia which illegalizes any public support for gay people is merely a crackdown on pedophilia. On Friday he again insisted that this was the case. (NYDailyNews)
"We have no ban on nontraditional sexual relations. We have a ban on propaganda of homosexuality and pedophilia. I want to underline that, on propaganda among minors," he said.

"We aren't rounding up anyone, we have no criminal punishment for such relations unlike many other countries," he said. "One can feel relaxed and at ease, but please leave the children in peace."
These claims seem difficult to reconcile with the reality that the crackdown is broad and that "propaganda" is, in implementation, inclusive of just about anything.
A gay Russian protester was detained on Saturday for unfurling a rainbow flag during the Olympic torch relay as it passed through his hometown of Voronezh, 560 miles north of Sochi, where the games will begin Feb. 7.

Photos uploaded by his friends show Pavel Lebedev pulling out the flag and then being detained by Olympic security personnel, who wrestle him to the snow as they wait for police to arrive.

Lebedev, reached by The Associated Press on the phone, said he was still in the police station and undergoing questioning.
Anti-Gay Messaging in Ukraine Fails, but Putin is all "Onward Christian Soldiers"
Randy Potts
December 10th, 2013
Ukraine holds the largest demonstration in its recorded history while, back in Moscow, Putin decides to restructure the Russian state press agency the very next day.  To head up the newly-reformed agency Putin chose Kiselyov, who famously said that the internal organs of homosexuals should not only be banned from consideration in organ transplants but should also be burned and buried separately from heterosexuals.
I've been arguing that while there's no direct evidence Putin has spearheaded anti-gay legislation in Russia (it started as a grass roots movement in the provinces), he has been quick to capitalize on the legislation's potential.  His popularity waning, Putin has sought to bolster his support by reaching out to the Russian Orthodox leadership, harassing immigrants (and sparking a recent anti-immigrant pogrom in a Moscow suburb), and signaling that the Kremlin will stand behind any and all movements seeking to discredit homosexuality.  Anti-gay attacks are on the increase across Russia with bomb threats at St. Petersburg's recent LGBT film festival, teachers and journalists fired for being gay, vigilante groups baiting and  torturing gay men — all this while the state press turns a blind eye.
The protests in Ukraine have been an interesting test case on anti-gay sentiment in the slavic world.  Buzzfeed recently reported that pro-Russian groups in Ukraine as well as leaders in Moscow attempted to drum up Ukrainian anti-gay sentiment as a means to discredit the pro-EU movement in Kiev with advertisements, tweets, and articles telling Ukrainians that choosing EU membership would mean choosing gay marriage.  While EU membership does not require gay marriage rights, it is true that the EU demands a certain level of respect for LGBT people to which Eastern Europe is unaccustomed.  It has all been, seemingly, for naught — Ukrainians have ignored the anti-gay messaging and instead come out in force to protest President Yanukovych's recent tilt away from EU and towards Russia, somewhere between 500,000 and 1 million people showing up to show solidarity with the pro-EU movement on Sunday.
What does all this mean for Sochi and the Winter Olympics?  Putin's choice of Kiselyov is a clear indication that he's not taking the failure to drum up anti-gay sentiment in Ukraine to heart; meanwhile, activists in the U.S. are planning to openly protest anti-gay Russian legislation at the Winter Olympics by encouraging Olympic athletes and spectators to wear "Principle 6" clothing, a reference to the non-discrimination section of the Olympic charter.   It's hard to imagine that a protest that subtle will be understood by Russians watching the Olympics on state television, but if the goal is encouraging pro-gay solidarity in the West then it may well help.
Ukrainians, for their part, seem to have spoken — however unpopular gay people may be in Eastern Europe, Putin and his Customs Union is even less so.
Putin Reorganizes State Media, Names Anti-Gay TV Host As Head
Jim Burroway
December 10th, 2013
Via QueerRussia:
Russian president Vladimir Putin have signed a decree which assigns a homophobic TV presenter Dmitry Kiselev as a head of the restructured state sponsored news agency "Rossiya Segodnya" (Russia Today). Kiselev stirred controversy in April, 2012 when during his TV show he said that imposing fines on gays for homosexual propaganda is not enough, they should be "banned from donating blood, sperm, and their hearts should be buried or burned in case of a car crush as unsuitable for prolonging someone's life".
Putin has decreed that RIA Novosti, the previous Russian news agency, will be shut down, along with state radio Voice of Russia. The BBC adds some context:
During Mr Putin's time as Russia's leader, RIA Novosti has tried hard to produce balanced coverage for Russian and international audiences, our correspondent says. Although state-owned, it has reflected the views of the opposition and covered difficult topics for the Kremlin, our correspondent adds.
Just last August, Kiselev told his television audience on state-owned Russia 1:
I think that just imposing fines on gays for homosexual propaganda among teenagers is not enough. They should be banned from donating blood, sperm. And their hearts, in case of the automobile accident, should be buried in the ground or burned as unsuitable for the continuation of life."
Russia allows foreign adoption only by Italians
Timothy Kincaid
November 30th, 2013
It appears that the Russian government's children's rights minister, Pavel Astakhov, has determined that Italy is the only nation that meets Russia's qualifications to allow Russian children to be adopted. (rbth)
"It turns out that Italy is currently the only country whose citizens are able to adopt Russian children because, first of all, this country refused to recognize same-sex marriage, which, for its part, does not require Russia to change the existing agreement, and, secondly, they [the Italians] abide by the terms of this treaty. That is all," Astakhov said.
Russian legislators recently banned heterosexual parents living in countries where same-sex marriage is legal from adopting their precious baby Russians. This appears to be expanded, de facto, to any nation that offers any measure of equality or dignity to their gay citizens. Italy does not.
But if Russian children go without families, don't point at them.
"It is not our fault. You [foreign partners] should work harder if you want international adoption to continue. Our priorities differ from yours. We generally prioritize the adoption of children inside the country," he said.
Although this sounds too wacky to be anything but a spoof, it comes from Russia Beyond the Headlines, a Russian state-owned newspaper.
Moscow Gay Club Targeted in Gas Attack
Jim Burroway
November 25th, 2013
Central Station, a popular Moscow gay club, sustained what was described as a "gas attack" Saturday night.
In the night of November, 23 a well-known Moscow gay club "Central Station" was again under attack.  Unknown malefactors sprayed some harmful gas inside the club among about 500 attendees. Several people sought medical attention but refused to go to a hospital.

The club staff immediately turned on a smoke removal machine which eliminated the gas from the premises in a couple of minutes, LifeNews reports.

"Today is the fourth provocation against the club arranged by unknown persons. We believe that they are connected with the building owner",  says Andrey Leschinsky, the club general director. "They are spaying the gas inside the club premises, thereby trying to express their extremist views against LGBT community, which likes to visit our club".
On the previous Saturday, security cameras caught two men harassing patrons outside Central Station, and then shot at the club's exterior when security refused their admission. No one was injured. Police have not made any arrests in either incident.
Russian LGBT Film Festival Opening Delayed By Bomb Threat
Jim Burroway
November 22nd, 2013
St. Petersburg's sixth annual Side by Side (Бок о Бок) Film Festival opened yesterday after about a two hour delay due to a bomb hoax. QueerRussia reports:
The  grand festival opening scheduled for the evening  of November, 21 is disrupted. A call of a bomb threat in the "Warshavsky Express" cinema is delaying the opening ceremony and screening of the first film of the festival. With all guests being evaquated, police began checking up the building.

About 200 guests arrived at the opening. Aggressive opponents of LGBT also gathered near the cinema, but police is holding them back. After checking, the building is still going to host the first screening, Rosbalt reports.

Earlier this day, a regular guest at LGBT events and concurrently the head of the St. Petersburg " Narodniy Sobor" antigay group Anatoly Artyukh attacked LGBT activist Kirill Kalugin. "I was in a coffee shop at the "Warshavsky Express " drinking coffee when I was attacked by Artyukh. He snatched a mug from my his hands, trying to pour it over me and to pull the earring out of my ear , grabbed my hands and spitted on me . Now I'm in the 77 police station. Artyukh said I was trying to assult him", Kirill told Rosbalt.
The film festival began after the police cleared the shopping center. Organizers say they are " in contact with police chiefs in order to oversee the safety and order at events." On November 30, Side by Side will feature a special screening of the film Milk, followed by a discussion with director Gus Van Sant, producer Bruce Cohen, and screenwriter Dustin Lance Black.
Just last month, Side by Side won an important court battle when the City Court of St. Petersburg overturned two previous court decisions which found the film festival guilty of failing to register as a "foreign agent."
Russian MP Temporarily Withdraws Bill To Remove Children from Gay Parents
Jim Burroway
October 19th, 2013
Russia's RAI Novosti's headlines makes it sound like good news — "Russian MP Withdraws Bill Taking Children Away from Gay Parents" — but you only have to go to the second paragraph to see the other shoe drop:
A bill that proposes stripping gays with children of their parental rights, introduced by Russian lawmaker Alexei Zhuravlyov, has been withdrawn from the parliament, a spokesperson for the lawmaker said Saturday.

"Yes, he has indeed withdrawn it," spokesperson Sofia Cherepanova said, adding that the document would be later revised and again submitted to the Russian State Duma. She said that the author's position on the matter "remains unchanged." "Anyway, we are interested in passing the bill," Cherepanova added.
The bill had been scheduled to come up for debate in February, at about the same time Russia would take center stage internationally as host to the Winter Olympics. Given that Zhuravlyov intends to resubmit the bill, this may be a delaying tactic to avoid drawing attention to Russia's dismal human rights record while the television cameras are on in Sochi.
State Department Updates Travel Warning for LGBT Visitors to Russia
Jim Burroway
October 4th, 2013
The update isn't dated, so I don't know when it came out, but recent anti-gay legislation in Russia has the State Department issuing this warning for LGBT visitors:
Attitudes towards lesbian, gay, bisexual, and transgender (LGBT) individuals: Discrimination based on sexual orientation is widespread in Russia. Harassment, threats, and acts of violence targeting LGBT individuals have occurred. Government officials have been known to make derogatory comments about LGBT persons.

In June 2013, the State Duma passed a law banning "the propaganda of nontraditional sexual relations" to minors. Russian citizens found guilty of violating the law could face a fine of up to 100,000 rubles ($3,100). Foreign citizens face similar fines, up to 15 days in jail, and deportation. The law is vague as to what will be considered propaganda of nontraditional sexual relations. As a result, commentators have suggested that the law may make it a crime to promote LGBT equality in public. Violence against the LGBT community has increased sharply since the law was passed, including entrapment and torture of young gay men by neo-Nazi gangs and the murder of multiple individuals due to their sexual orientation. Many view this legislation as encouraging such violence, with the majority of attacks against members of the LGBT community going unreported.

LGBT travelers should review the LGBT Travel Information page.
Georgia President Warns Putin's Anti-Gay Campaign Part of Larger Effort To Influence Ex-Soviet Republics
Jim Burroway
October 3rd, 2013
Buzzfeed's report by Max Seddon is the only original source I've run across, but I think it deserves attention. Outgoing Georgia President Mikheil Saakashvili told the United Nations General Assembly last week that Russia's foreign policy under President Vladimir Putin is "fueled by intolerance" in a bid to increase its influence over other countries of the former Soviet Union. The Russian delegation walked out during Saakashvili's remarks. Saakashvili later expanded his comments in an interview with Seddon:
Saakashvili is concerned that a wave of anti-gay pressure inspired by Russia's law may spread to Georgia: Moldova has already adopted a similar law, and Armenia came close to doing so last month. In May, 50 LGBT activists who attempted to hold a pride parade in the capital, Tbilisi, had to flee after thousands of Georgians – led by Orthodox priests – chased them through the streets, roughing up anyone they suspected of being gay. In the aftermath, anti-gay Georgians told media that they were angry that tolerance was being forced upon them by the West.

Saakashvili says the Kremlin's embrace of anti-gay policies is Putin's last desperate attempt to rein in his old empire. "He had nothing to offer to his former zone of influence. He has no soft power. He has no economic benefits to offer them," Saakashvili says. "So what he's telling them: 'OK, Europe is promising you much more, it's a better market, they might give you subsidies, they might give you lots of new opportunities and openings. But what you should know is Europe is all about gay rights. If you go to Europe, your family values will be undermined, your traditions will be destroyed. So we as Orthodox unity, we should stick together.'"
In 1991 and 1992, Georgia fought a war against Russian separatists in the Georgian republic of South Ossetia. That war ended with much of South Ossetia in the hands of a Russian-backed government that was unrecognized elsewhere in the world. In 2008, Georgia launched an attack to regain control of South Ossetia in a war that saw Russian troops cross into Georgia to occupy South Ossetia and Abkhazi, where they remain today.