Google Doodles the Rainbow for Sochi
Jim Burroway
February 6th, 2014
If you go to the Google search page, you'll see this Google Doodle in place of Google's logo in honor of the Sochi Olympics, which officially opens tomorrow. In case anyone somehow misses Google's message in the graphic, they helpfully quote from the Olympi charter:
 The practice of sport is a human right. Every individual must have the possibility of practicing sport, without discrimination of any kind and in the Olympic spirit, which requires mutual understanding with a spirit of friendship, solidarity and fair play." –Olympic Charter
This appears to be going on Google's pages worldwide, including such anti-gay hot spots as Uganda, Nigeria, Cameroon, Ghana, Jamaica, Iran, Saudi Arabia, and, most importantly right now, Russia, where Google is likely violating that country's "anti-propaganda" law.
Meanwhile, Britain's Channel 4 is rebranding its during the duration of the Olympics by dressing its logo in Rainbow colors. And tomorrow, just as the opening ceremonies air on BBC2, Channel 4 will counter with the television debut of its "Gay Mountain" ad campaign:
The tongue-in-cheek ad, which will run for a week, features a "bear" cabaret act singing a song which features lyrics including "good luck gays, on gay mountain". Using a play on the term "out", denoting when a person declares publicly that they are gay, the TV ad runs with the strapline "good luck to everyone out in Sochi".

"This is a typically Channel 4 way of celebrating the start of the Winter Games and showing our support to all of the athletes out in Sochi, gay or straight," said the Channel 4 chief marketing and communications officer, Dan Brooke.
Something tells me you're not gonna see anything like this on NBC: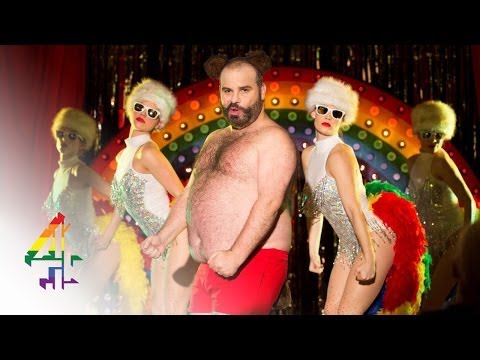 Warning: God will send volcanoes to Ghana
Timothy Kincaid
December 12th, 2013
Or so says popular Ghanaian Pastor, Rev. Ebenezer Opambour Adarkwah Yiadom of the Ebenezer Miracle Worship Center in Kumasi, if Ghana repeals its sodomy laws. In an interview with News-One, he explains why Ghana should not follow the lead of Western countries: (GhanaWeb)
The fingers are not equal and should not be made to do some things simply because they are all fingers? And it is not every leaf that is medicinal, so the fact that a foreign country is okay with gays does not mean we should do same here. We should also talk about the earthquakes, tsunamis, hurricanes, fire outbreak, volcanoes and the bad things that happen in the Western countries and see if we are ready to have that here. Gays are destroying Ghana with their same sex activities because God hates it, and God punishes people who love the things He hates. This is biblical, and we need to pray Ghana does not fully legitimize homosexual activities.
UK To Cut Aid To Countries Which Persecute Gay People
Jim Burroway
October 10th, 2011
British Prime Minister David Cameron has warned that countries which persecute gay people will find their foreign aid budget cut. International Development Secretary Andrew Mitchell also told the Daily Mail that Britain has already cut aid to Malawi over it abuse of human right violation, citing the country's conviction of Steven Monjeza and Tiwonge Chimbalanga, a same-sex couple who entered into a traditional engagement ceremony in violation of that nation's anti-sodomy laws.
Mitchell's comments however don't quite line up with the chain of events in Malawi. The couple were pardoned by Malawi President Bingu wa Mutharika in May, 2010. Earlier this year, a Wikileaks cable revealed that the British ambassador warned  that Malawi's President was becoming increasingly autocratic and intolerant of criticism. Mutharika responded by expelling the ambassador while violently cracking down on dissent in the impoverished nation, thereby proving the ambassador's point. Britain began cutting aid to Malawi in July 2011.
Malawi received about £200 million from Britain over the past three years, before Britain announced cuts of £19 million.
Mitchell also cited Uganda (which is due to received £70 million this year) and Ghana (which received £36 million each year) as possible targets for future cuts if they enact further criminal legislation against gay people. No mention was made of Zimbabwe, which received £69 million last year.
Ghana Regional Minister Orders All Gays Arrested
Jim Burroway
July 19th, 2011
From the the website of Ghana radio Joy 99.7, it looks like a full-fledged witch-hunt is imminent:
The Western Region Minister Paul Evans Aidoo has ordered the immediate arrest of all homosexuals in the region.

He has tasked the Bureau of National Investigations and all security agencies to smoke out persons suspected to be engaging in same sex. He also enlisted the services of landlords and tenants to provide reliable information which will lead to the arrest of homosexuals.

His directive follows months of campaigns against the practice of homosexuality in the country. Only yesterday, the Christian Council of Ghana capped months of protestations against the practice of homosexuality with a strongly worded message against the practice and courting Ghanaians not to vote for any politician who believes in the rights of homosexuals.
This is worrying, not only for the human rights disaster this roundup would pose, but it would also represent a huge betrayal for those 8,000 who signed up at an HIV/AIDS workshop funded by the United States Agency for International Development (USAID). According to Ghanaian radio, that report sparked a series of religious demonstrations with the Muslim and Christian communities in the Central and Western regions.
The website of AfricanActivist has background on the story. Homosexuality is currently a misdemeanor in Ghana. Ghana's president John Evans Atta Mills denies reports that he intends to institute a new anti-gay law, after witnesses claimed that he told one religious gathering that he would " do something about the homosexuality menace in Ghana." Last June, Ghanaian vice president John Dramani Mahama told delegates at a high level UN meeting on HIV/AIDS that it was essential to include Ghana's LGBT community in its strategy to fight HIV/AIDS. He also acknowledged that current attitudes toward gay people make that strategy difficult. With the latest calls for mass arrests and the rising prospect of violence, that strategy is now in serious jeopardy, along with the safety and security of thousands of citizens of the West African nation.
 [via Warren Throckmorton]