Google Doodles the Rainbow for Sochi
Jim Burroway
February 6th, 2014
If you go to the Google search page, you'll see this Google Doodle in place of Google's logo in honor of the Sochi Olympics, which officially opens tomorrow. In case anyone somehow misses Google's message in the graphic, they helpfully quote from the Olympi charter:
 The practice of sport is a human right. Every individual must have the possibility of practicing sport, without discrimination of any kind and in the Olympic spirit, which requires mutual understanding with a spirit of friendship, solidarity and fair play." –Olympic Charter
This appears to be going on Google's pages worldwide, including such anti-gay hot spots as Uganda, Nigeria, Cameroon, Ghana, Jamaica, Iran, Saudi Arabia, and, most importantly right now, Russia, where Google is likely violating that country's "anti-propaganda" law.
Meanwhile, Britain's Channel 4 is rebranding its during the duration of the Olympics by dressing its logo in Rainbow colors. And tomorrow, just as the opening ceremonies air on BBC2, Channel 4 will counter with the television debut of its "Gay Mountain" ad campaign:
The tongue-in-cheek ad, which will run for a week, features a "bear" cabaret act singing a song which features lyrics including "good luck gays, on gay mountain". Using a play on the term "out", denoting when a person declares publicly that they are gay, the TV ad runs with the strapline "good luck to everyone out in Sochi".

"This is a typically Channel 4 way of celebrating the start of the Winter Games and showing our support to all of the athletes out in Sochi, gay or straight," said the Channel 4 chief marketing and communications officer, Dan Brooke.
Something tells me you're not gonna see anything like this on NBC: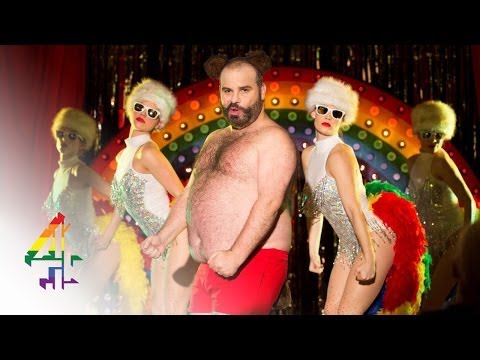 Cameroon Gay Rights Activist Found Tortured, Murdered
Jim Burroway
July 16th, 2013
Human Rights Watch reports that Cameroon journalist, activist, and executive director of the Cameroonian Foundation for AIDS (CAMFAIDS) Eric Ohena Lembembe was found dead Monday night in his home in Yaoundé, Cameron:
Lembembe's friends discovered his body on Monday evening after being unable to reach him by telephone for two days, and went to his home. They found his front door padlocked on the outside, but could see Lembembe's body lying on his bed through the window. Lembembe's friends alerted the police, who broke down the door. According to one friend, Lembembe's neck and feet appeared to have been broken, and his face, hands, and feet had been burned with an iron.

…Lembembe's killing follows several attacks on the offices of human rights defenders, including those working for equal rights for LGBTI people. On June 26, 2013, unidentified assailants burned down the Douala headquarters of Alternatives-Cameroun, which provides HIV services to LGBTI people. A few days earlier on June 16, the Yaoundé office of human rights lawyer Michel Togué, who represents clients charged with same-sex conduct, was burgled, and his legal files and laptop stolen. Both Togué and Alice Nkom, another lawyer who represents LGBTI clients, have received repeated death threats by email and SMS, including threats to kill their children. Although activists have reported all of these incidents, the Cameroonian authorities have not apprehended a single suspect.
Lembembe contributed to the blog Erasing 76 Crimes, where he posted one of one of the blog's most popular articles,"What traditional African homosexuality learned from the West." According to that blog's notice of Lembeme's murder:
 That article is included in the book From Wrongs to Gay Rights, along with his articles about Roger Mbede, who was imprisoned because of an amorous text message to a man; Franky Djome and Jonas Kumie, who were imprisoned because they are a transgender couple; anti-gay blackmailer/extortioner Albert Edward Ekobo Samba; and the homophobic attack on last year's IDAHO celebration in Yaoundé.
Cameroon criminalizes same-sex relationships with penalties of up to five years in prison and fines of 20,000 to 200,000 Central Africa Francs (up to US$400) where the average per-capita income is around US$1,200 per year. The U.S. State Department's 2012 Human Rights Report for Cameroon (PDF: 207 KB/40 pages) describes a country with an exeptionally poor human rights record and where:
Police were ineffective, poorly trained, and corrupt (see section 4). Impunity was a problem. Citizens often resorted to vigilante violence rather than calling police (see section 6).
Also:
During the year at least five persons were arrested for suspected homosexual activity, although none were engaged in homosexual acts at the time of arrest.

Gay men and lesbians generally kept a low profile because of pervasive societal stigma, discrimination, and harassment as well as the possibility of imprisonment. Gay men and lesbians suffered from harassment and extortion by law enforcement officials. According to one human rights NGO, government officials and private citizens sometimes conspired to make false allegations of homosexuality to harass enemies or extort money.

In February police arrested three women in Ambam, South Region, on suspicions of engaging in same-sex conduct. Police charged two of the women with practicing homosexuality and with defaming a third woman, whose husband reported their relations to the authorities. Defense lawyers requested that the judge dismiss the case and submit a judgment of "No Case to Answer," based on a number of violations of basic human rights and international agreements affecting the procedure. On March 29, the Ambam lower court rejected the defense's arguments and ruled that it would hear the case. Defense lawyers appealed the ruling, and at year's end the case was pending in the South Court of Appeal.

On July 16, the Yaounde First Instance Court released Jean-Claude Roger Mbede on bail. In March 2011 the Yaounde lower court had sentenced him to three years in jail for sending a sexually explicit text message to another man. On December 17, the Center Court of Appeal confirmed the initial verdict and sentenced Mbede to three years' imprisonment. Mbede's lawyers decided to appeal to the Supreme Court.

In July 2011 police detained three men returning from a bar in Yaounde because two of the men appeared effeminate, according to the Association for the Defense of Homosexuality and Human Rights Watch. The three were jailed for one week before being charged, and the two who allegedly appeared effeminate (Jonas Kumie and Frankie Djome) were beaten on the soles of their feet until they confessed to being gay, according to a civil society group working on their behalf; the third man was released. After repeated postponements, a trial was held in September 2011 at which the two men who confessed to being gay were sentenced to five years in prison and fined 200,000 CFA francs ($400). An arrest warrant was issued for the third man, who was convicted and sentenced in absentia to the same punishment. A final ruling was expected in October but was rescheduled for January 2013.

Several lesbian, gay, bisexual, and transgender organizations operated in the country. These organizations claimed there was a pattern of discrimination against members of such groups, although no official cases were available for citation.
Ten Women Arrested in Cameroon, Accused of Being Lesbians
Jim Burroway
February 23rd, 2012
The same Associated Press story which reported on Liberia's Senate taking up a bill making gay relationships a felony, also reported on the arrests of ten women in the west African nation of Cameroon and are being held pending trial. Alice Nkom, founder of the Association for the Defense of Homosexuals, says that detainees in Cameroon are often tortured by police to force confessions from them:
"It's getting worse," Cameroon gay rights defender Nkom said of homophobia. "People accused of homosexuality are put in jail straight away" she told reporters in November after three men were each sentenced to five years in prison for homosexual acts.
Nkom told AP that she has received numerous death threats. Cameroon law provides a five year prison sentence for those convicted for homosexuality. A draft proposal floating around last December would have increased the penalty to fifteen years imprisonment.
Is Cameroon Next?
Jim Burroway
December 8th, 2011
From the African news blog Behind the Mask:
Alternatives Cameroon, an LGBTI organisation, reports that government policy makers last week convened to endorse a preliminary draft of a law that imposes harsher penalties for homosexual acts.

…Existing laws criminalise homosexual practice with prison sentences lasting up to five years in prison and a fine of 20,000 CFA to 200,000 CFA francs (US$41 to US$410). The proposed new law will impose harsher penalties with up to 15 years in prison for homosexual acts.

This action comes after several arrests of alleged homosexual men in Douala and Yaoundé, the country's biggest cities, over the past three months and the sentencing of two others to five years in prison for homosexual acts in November.