Google Doodles the Rainbow for Sochi
Jim Burroway
February 6th, 2014
If you go to the Google search page, you'll see this Google Doodle in place of Google's logo in honor of the Sochi Olympics, which officially opens tomorrow. In case anyone somehow misses Google's message in the graphic, they helpfully quote from the Olympi charter:
 The practice of sport is a human right. Every individual must have the possibility of practicing sport, without discrimination of any kind and in the Olympic spirit, which requires mutual understanding with a spirit of friendship, solidarity and fair play." –Olympic Charter
This appears to be going on Google's pages worldwide, including such anti-gay hot spots as Uganda, Nigeria, Cameroon, Ghana, Jamaica, Iran, Saudi Arabia, and, most importantly right now, Russia, where Google is likely violating that country's "anti-propaganda" law.
Meanwhile, Britain's Channel 4 is rebranding its during the duration of the Olympics by dressing its logo in Rainbow colors. And tomorrow, just as the opening ceremonies air on BBC2, Channel 4 will counter with the television debut of its "Gay Mountain" ad campaign:
The tongue-in-cheek ad, which will run for a week, features a "bear" cabaret act singing a song which features lyrics including "good luck gays, on gay mountain". Using a play on the term "out", denoting when a person declares publicly that they are gay, the TV ad runs with the strapline "good luck to everyone out in Sochi".

"This is a typically Channel 4 way of celebrating the start of the Winter Games and showing our support to all of the athletes out in Sochi, gay or straight," said the Channel 4 chief marketing and communications officer, Dan Brooke.
Something tells me you're not gonna see anything like this on NBC: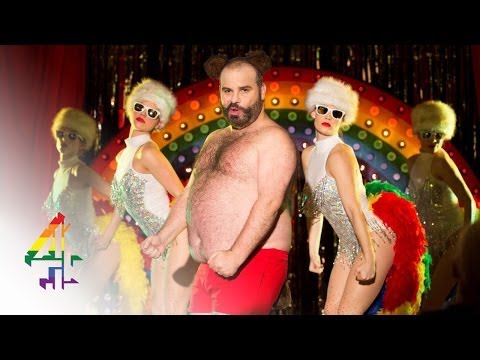 We Don't Have Homosexuals On Grindr
Jim Burroway
September 20th, 2011
A BTB reader sent this in:
Look who I ran into last night on GRINDER.

found him under "Iranian Lover" – Ahmadinijad – Iran's President.

I couldn't resist myself and talked to him. He is in town for the UN general assembly.

"he" was very funny.
The real Mahmoud Ahmadinejad really is in New York this week to attend the United Nations General Assembly. In 2007, the Iranian President gave a talk at Columbia University, saying, "In Iran we don't have homosexuals like in your country."
State Department Issues Annual Human Rights Report, Highlights Uganda
Jim Burroway
March 12th, 2010
The State Department has issued its annual Country Reports on Human Rights Practices for 2009, which shows that LGBT people continue to experience state-sanctioned or permitted violence and discrimination. For example, the report notes the following cases of human rights violations against LGBT people in Uganda:
For example, on April 5, police in Mbale District arrested SMUG activists Fred Wasukira and Brian Mpadde. On April 17, a court in Mbale charged Wasukira and Mpadde with homosexual conduct and remanded the suspects to Maluke prison. On May 20, the court released Wasukira on police bail; Mpadde was released on June 16. The case was ongoing at year's end.

On June 19, police in Kitgum interrogated former police coach Charles Ayeikoh over allegations that he was involved in homosexual acts. An investigation was ongoing at year's end.

In July the administration of Mbalala Senior Secondary School in Mukono District dismissed student John Paul Mulumba after he acknowledged that he was a SMUG member.

During the year the UHRC stopped investigating the July 2008 case in which SMUG activist Usaam Mukwaya alleged that police tortured and humiliated him during an illegal detention; Mukwaya reportedly decided not to pursue the case.

During the year police dismissed for lack of evidence a September 2008 case against SMUG members George Oundo and Brenda Kiiza, who were charged with indecent practices.

LGBT persons were also subject to societal harassment and discrimination.

For example, on March 17, the Uganda Joint Christian Council and the Family Life Network launched a campaign to curb homosexual conduct in higher institutions. SMUG accused the organizers of using religion to attack the LGBT community in the country.
The report also mentions arrests, executions, and other violence and abuses in Malawi, Senegal, Nigeria, Egypt, Iran, Iraq, Saudi Arabia, Jamaica, and elsewhere around the world.
CORRECTION: Video Determined To Be From Iraq, Victims Likely Weren't Gay
Jim Burroway
March 19th, 2009
So, that video that Gays Without Borders posted of gay Iranians being tossed from a rooftop appears to have been something very different.  It was of Iraqi troops being "disciplined" during the Saddam era. The video was part of footage first shown in a CNN report in 2003.
I've updated the original post with the full details, including a timeline of how the video ended up on Gays Without Borders. I apologize for the error.
CORRECTION: Video Determined To Be From Iraq, Victims Likely Weren't Gay (Was: Video of Iranian Gays Thrown From Roof)
Jim Burroway
March 18th, 2009
This disturbing video comes to us via Gays Without Borders. It's how one country deals with the "crime" of homosexuality. This video shows Iranian gay men being thrown off of a rooftop as their sentence for homosexuality.  According to Gays Without Borders, this video purported to show Iranian gay men being thrown off the roof of a building as punishment. They apparently found the video on the French-language Iran-Resist.org web site, posted on Feb 21, 2009. Iran-Resist.org, in turn, appears to have obtained that video from IranPressNews, which published a story containing that video on Feb 20, 2009.  Gays Without Borders posted the video on March 5.
However, thanks to Steven Milerton we've been able to confirm that the video appeared much earlier in a 2003 CNN report, which showed troops from Iraq's Fedayeen Saddam throwing soldiers off the roof in order to "instill discipline."
A few hours before Steven left his comment, I posed a question asking Gays Without Borders to provide information as to the video's authenticity. That's how I got the two links to IRanPressNews and Iran-Resist.org. I am now attempting to notify Gays Without Borders about what appears to be the actual source of the video. 
Gays Without Borders has posted the video twice, once at the link where we first noticed it, and again as an introduction to a reprinted opinion piece by UK LGBT advocate Peter Tatchell. (Tatchell's original article does not include the video.)
Meanwhile, we have removed the misidentified video from BTB. We regret the error.
Update: Gays Without Borders has now taken down the video from their web site.
No Homosexuals In Iran
Jim Burroway
April 7th, 2008
Last September, Iranian President Maumoud Ahmadinejad told a gathering at Columbia University, "We don't have homosexuals… I don't know who told you we had it." Oh, how we laughed for days.
San Francisco activist Michael Petrelis noticed last week that the Human Rights Watch appears to be saying the same thing:
If the president of Iran, Mahmoud Ahmadinejad, became interested in what the Human Rights Watch had to say in their Iran section of their latest annual World Report about homosexuals in his country, and the abuse of human rights for gays there, shockingly, he'd find nothing in that section.

HRW, for unknown reasons, omits gays not just from their 2007 country roundup, but actually from the 2006, 2005, and 2004 versions.
Sure enough. The report, while detailing the general deterioration in Iran's observance of human rights, there is no mention of the continuing brutal punishments and executions of gays and lesbians in that country.
It's as if gays and lesbians don't exist there. Except this time it's not so funny.
Iranian Anti-Gay Crackdown Continues
Jim Burroway
March 29th, 2008
365Gay.com is reporting that thirty men have been arrested during a raid on a private home in the Iranian city of Esfahan. The men are being accused of consensual homosexual conduct, drinking alcohol, and other "morals" charges. Iranian law provides punishments up to death by hanging for penetrative same-sex sexual activity between men on the first conviction. Men convicted of non-penetrative consensual same-sex activity can receive up to 100 lashes. For women, homosexual conduct is punishable with death on the fourth conviction.
Gays Should Be Hanged
Jim Burroway
November 13th, 2007
Mohsen Yahyavi, Iranian member of Parliament, said that gays in Iran deserve to be executed or tortured, and possibly both. I assume he was speaking hypothetically.
Ahmadinejad: "We Don't Have Homosexuals"
Daniel Gonzales
September 24th, 2007
Maumoud Ahmadinejad, speaking at Columbia stated
"We don't have homosexuals… I don't know who told you we had it."
Ahmadinejad's statements were met with laughter and boos after each translation.
The Best Message?
Jim Burroway
July 19th, 2006
Yesterday was the one year anniversary of the hanging of two Iranian youths, Mahmoud Asgari and Ayaz Marhoni, who were accused of having a gay affair. They were seventeen years old when they were murdered by the Iranian authorities. Several vigils and protests marked the occasion in cities around the world.
[Update: San Francisco activist Michael Petrelis, who, more than anyone, organized the vigils worldwide has a complete roundup of those vigils. And the Washington Post today has an excellent article on the mainstream media's silence about Mahmound and Ayaz.]
The picture for gays is very bleak in the Middle East. In addition to ongoing active persecution in Iran, the situation is deteriorating rapidly in Iraq. According to the United Nations:
16. UNAMI HRO has received several reports indicating that, since 2005, homosexuals have been increasingly threatened and extra-judicially executed by militias and "death squads" because of their sexual orientation. It is believed that such incidents are underreported, because families are unwilling to admit that targeted members were homosexual for fear of further abuse. It has been difficult to independently verify the information received due to the fact that members of this group maintain a low profile, preferring instead to go into hiding or leave the country.

17. From October 2005 to 30 June 2006 at least twelve homosexuals were reportedly killed in targeted attacks. Militias are reportedly threatening families of men believed to be homosexual, stating that they will begin killing family members unless the men are handed over or killed by the family. In March 2006, a 29-year-old man was kidnapped in Baghdad and his family threatened for allowing him to lead a homosexual lifestyle. The family paid a ransom for the man's release but the mutilated body of the kidnapped victim was instead found dead a few days later. In another case reported a homosexual man was allegedly victim of "honour crime." It was reported in the press that the man's father was released without trial once he explained that he had hanged his son after discovering that he was homosexual.
An editorial in The Advocate also notes pervasive persecution inside the Palestinian Authority:
Tarek, a young Palestinian gay man suspected of homosexuality, was sentenced to a "reeducation" camp run by Muslim clerics under Palestinian Authority jurisdiction. He said that for a period of two months he was "subjected to beatings with belts, clubs, and was forced to sit on bottles which were inserted into my rectum. I was hanged by the hands, I was deprived of sleep, and when I finally did sleep, my limbs were tied to the floor."
Meanwhile, just one day earlier the House of Representatives turned back an attempt to amend the constitution to ban same-sex marriage. But supporters of the amendment were not daunted, nor were they apologetic over the fact that while Beirut burns, the House fiddles. After the vote, House floor leader Rep. Phil Gingrey (R-Ga.) commented:
This is probably the best message we can give to the Middle East in regards to the trouble we are having over there right now.
Message received. Unfortunately.