Google Doodles the Rainbow for Sochi
Jim Burroway
February 6th, 2014
If you go to the Google search page, you'll see this Google Doodle in place of Google's logo in honor of the Sochi Olympics, which officially opens tomorrow. In case anyone somehow misses Google's message in the graphic, they helpfully quote from the Olympi charter:
 The practice of sport is a human right. Every individual must have the possibility of practicing sport, without discrimination of any kind and in the Olympic spirit, which requires mutual understanding with a spirit of friendship, solidarity and fair play." –Olympic Charter
This appears to be going on Google's pages worldwide, including such anti-gay hot spots as Uganda, Nigeria, Cameroon, Ghana, Jamaica, Iran, Saudi Arabia, and, most importantly right now, Russia, where Google is likely violating that country's "anti-propaganda" law.
Meanwhile, Britain's Channel 4 is rebranding its during the duration of the Olympics by dressing its logo in Rainbow colors. And tomorrow, just as the opening ceremonies air on BBC2, Channel 4 will counter with the television debut of its "Gay Mountain" ad campaign:
The tongue-in-cheek ad, which will run for a week, features a "bear" cabaret act singing a song which features lyrics including "good luck gays, on gay mountain". Using a play on the term "out", denoting when a person declares publicly that they are gay, the TV ad runs with the strapline "good luck to everyone out in Sochi".

"This is a typically Channel 4 way of celebrating the start of the Winter Games and showing our support to all of the athletes out in Sochi, gay or straight," said the Channel 4 chief marketing and communications officer, Dan Brooke.
Something tells me you're not gonna see anything like this on NBC: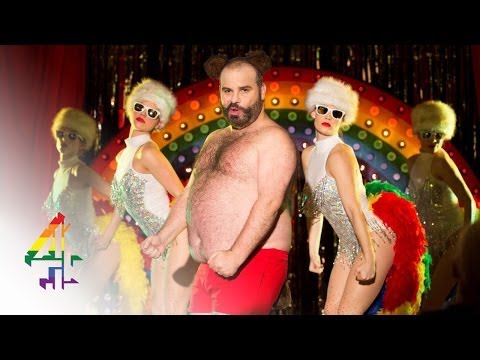 Gay Saudi Diplomat Seeks Asylum
Jim Burroway
September 12th, 2010
Ali Ahmad Asseri, the first secretary of the Saudi consulate in Los Angeles, has told NBC News that he has asked for political asylum in the United States. He has reportedly informed the U.S. Department of Homeland Security that Saudi officials have refused to renew his diplomatic passport after discovering that he was gay and close friends with a Jewish woman. He was questioned by a DHS official on August 30 after formally applying for asylum. DHS and Saudi officials decline to comment.
Without a diplomatic passport, Asseri has been effectively fired from his job and has no legal means of remaining in the U.S. In an email to NBC news, Asseri said, "My life is in a great danger here and if I go back to Saudi Arabia, they will kill me openly in broad daylight."
Saudi Arabia follows Sharia law, which calls for the death penalty and/or lashings for homosexuality.
State Department Issues Annual Human Rights Report, Highlights Uganda
Jim Burroway
March 12th, 2010
The State Department has issued its annual Country Reports on Human Rights Practices for 2009, which shows that LGBT people continue to experience state-sanctioned or permitted violence and discrimination. For example, the report notes the following cases of human rights violations against LGBT people in Uganda:
For example, on April 5, police in Mbale District arrested SMUG activists Fred Wasukira and Brian Mpadde. On April 17, a court in Mbale charged Wasukira and Mpadde with homosexual conduct and remanded the suspects to Maluke prison. On May 20, the court released Wasukira on police bail; Mpadde was released on June 16. The case was ongoing at year's end.

On June 19, police in Kitgum interrogated former police coach Charles Ayeikoh over allegations that he was involved in homosexual acts. An investigation was ongoing at year's end.

In July the administration of Mbalala Senior Secondary School in Mukono District dismissed student John Paul Mulumba after he acknowledged that he was a SMUG member.

During the year the UHRC stopped investigating the July 2008 case in which SMUG activist Usaam Mukwaya alleged that police tortured and humiliated him during an illegal detention; Mukwaya reportedly decided not to pursue the case.

During the year police dismissed for lack of evidence a September 2008 case against SMUG members George Oundo and Brenda Kiiza, who were charged with indecent practices.

LGBT persons were also subject to societal harassment and discrimination.

For example, on March 17, the Uganda Joint Christian Council and the Family Life Network launched a campaign to curb homosexual conduct in higher institutions. SMUG accused the organizers of using religion to attack the LGBT community in the country.
The report also mentions arrests, executions, and other violence and abuses in Malawi, Senegal, Nigeria, Egypt, Iran, Iraq, Saudi Arabia, Jamaica, and elsewhere around the world.