Google Doodles the Rainbow for Sochi
Jim Burroway
February 6th, 2014
If you go to the Google search page, you'll see this Google Doodle in place of Google's logo in honor of the Sochi Olympics, which officially opens tomorrow. In case anyone somehow misses Google's message in the graphic, they helpfully quote from the Olympi charter:
 The practice of sport is a human right. Every individual must have the possibility of practicing sport, without discrimination of any kind and in the Olympic spirit, which requires mutual understanding with a spirit of friendship, solidarity and fair play." –Olympic Charter
This appears to be going on Google's pages worldwide, including such anti-gay hot spots as Uganda, Nigeria, Cameroon, Ghana, Jamaica, Iran, Saudi Arabia, and, most importantly right now, Russia, where Google is likely violating that country's "anti-propaganda" law.
Meanwhile, Britain's Channel 4 is rebranding its during the duration of the Olympics by dressing its logo in Rainbow colors. And tomorrow, just as the opening ceremonies air on BBC2, Channel 4 will counter with the television debut of its "Gay Mountain" ad campaign:
The tongue-in-cheek ad, which will run for a week, features a "bear" cabaret act singing a song which features lyrics including "good luck gays, on gay mountain". Using a play on the term "out", denoting when a person declares publicly that they are gay, the TV ad runs with the strapline "good luck to everyone out in Sochi".

"This is a typically Channel 4 way of celebrating the start of the Winter Games and showing our support to all of the athletes out in Sochi, gay or straight," said the Channel 4 chief marketing and communications officer, Dan Brooke.
Something tells me you're not gonna see anything like this on NBC: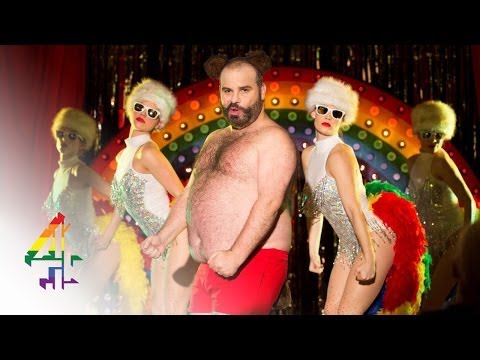 Peter LaBarbera Wants to Throw You In Prison
Jim Burroway
December 10th, 2013
Of course, he can't do that in his home state of Illinois or any of the other states and territories of the United States. But Jamaica still has its colonial-era buggery law which means you can be imprisoned for ten years. That seems to be to LaBarbera's liking, because he went through the effort and expense to travel there for a conference put on by two anti-gay Jamaican outfits, the Jamaican Coalition for a Healthy Society and the Christian Lawyers' Association in Kingston to urge them not to rescind their buggery law:
I do not stand with my government. I'm a patriotic American, but I do not stand with the current United States government in its promotion of homosexuality and gender confusion. But I do stand with the Jamaican people … I pray that you will learn from our mistakes and from lessons of history and avoid the inevitable moral corruption and health hazards and the danger to young people that come from capitulating to this sin movement that calls itself gay. It is almost now can be predicted with 100 percent accuracy, if the law is a teacher: If you take down this law, it will only lead to more demands. Appeasement does not work.
A lot of pro-gay web sites are being rather mealy-mouthed about what LaBarbera's doing. They're saying things like he went to Jamaica to "export homophobia" or "promote hate." But he's doing something much, much more specific: the "if-you-take-down-this-law" in question is the buggery law, the law that threatens gay and lesbian Jamaicans with lengthy prison terms, and which, by that very threat, gives homophobes and police open license to assault LGBT Jamaicans, to rape lesbians, to murder gay men and women in their homes, on the streets, in the stores, or wherever else they find them, and to call on others to do the same or to explain it away. And why not assault them? What can they do? Go to the police and risk arrest and imprisonment? The very same police which is, in some cases either assaulting or standing by while others assault them.
But in case that's not enough to bring out the vigilantes, LaBarbera threw out some classic red meat to the crowd:
LaBarbera, a longtime activist opposing LGBT rights in America, said he was working on a book on the connection between "homosexual activism and pedophiles." He said that after winning rights like marriage and protection for gay kids in schools, U.S. activists were now championing the rights of MAPS, or "minor-attracted persons."

"Homosexuals are always on offense," he said. "It's another secret that American activists don't like to tell is that NAMBLA, the North American Man-Boy Love Association, used to march in gay pride parades."
LaBarbera is far from alone. On this trip he was joined by Andrea Minichiello Williams, founder of United Kingdom's Christian Concern. She also wants to throw you in prison, and let there be no mistaking that:
Williams warned that removal of Britain's sodomy law was the start of a process that has led to more and more permissive laws, including equalizing the age of consent laws for homosexual and heterosexual intercourse.

"Once you strip away all this stuff, what you get is no age consent … nobody ever enforces that law anymore," she said. "We already have a strong man-boy movement that's moving in Europe."
Exodus Board Member Resigns
Jim Burroway
June 15th, 2012
In a remarkable show of accountability, Exodus International has announced that board vice chairman Dennis Jernigan has resigned his position at Exodus following a controversial visit to Jamaica in May.
Jamaica, which has a very long and violent history towards its LGBT population, is under international pressure, including from the Obama Administration, to rescind its anti-gay law which provides up to ten years imprisonment for consensual same-sex relationships. Jernigan denounced the pressure from the Obama administration in remarks to a Jamaican newspaper.
Jernigan also spoke with reporters alongside local anti-gay activist Peter Garth, who read out portions of a 1987 satire by Michael Swift, titled "A Gay Revolutionary," which the more extreme anti-gay activists often mis-identify as "the gay agenda." The satire begins, "We shall sodomize your sons, emblems of your feeble masculinity, of your shallow dreams and vulgar lies…." (The satire labels itself as a satire in the prologue, which is typically omitted when deployed by anti-gay extremists.) Following that partial reading, Jernigan, who identifies as ex-gay, said, "If I was still in that group and was still a part of that agenda, of course I would take that as my battle cry and I would do everything in my power to bring it to pass."
In a statement released by Exodus International, the group's president Alan Chambers said:
"Dennis shared his belief that President Obama is deceived about homosexual behavior and the biblical morality of it. Dennis assured me he is not for the criminalization of homosexuality, and he will release his own statement on this matter. However, Jernigan offered this immediate response":

"I believe my heart and intent were misconstrued and therefore, may have harmed Exodus' mission of ministering to those struggling with same-sex attraction (SSA). To that end, as of this moment, I step down as Vice Chairman of Exodus."
The statement notes that "Exodus board member, Don Schmierer, experienced a similar collision with the media on a trip to Uganda in 2009." The statement also reiterates Exodus's new policy statement which places the organization on record as opposing the criminalization of homosexuality. It continues:
It is our resolution that unfortunate incidents like this do not happen again in the future," said Chambers. "As president of Exodus International I take full responsibility for any board member, staff member or ministry affiliate's ignorance of global issues, especially as they travel. I will make it a priority to keep all who are professionally affiliated with Exodus apprised of the nations where legislative initiatives or laws clearly violate our policy opposing criminalization of homosexuality. We will also craft a policy for our ministry that prohibits our involvement with groups and nations that violate our policies."
You can read the full statement below.
This positive development stands in remarkable contrast to Exodus's handling of board member Don Schmierer's disastrous participation in a 2009 anti-gay conference in Uganda. Fifteen months later, Exodus president Alan Chambers apologized for its connection to that conference and for Exodus's slow response to the criticism. He also announced the organization's first policy statement against criminalization.
On a personal note: When I wrote about this yesterday, I finished with this: "In a truly accountable organization Jernigan would hand in his resignation. But don't count on that happening." With this announcement coupled with forthcoming policies to head off future international incidences, this marks yet another notable change at Exodus.
Click here to read Exodus's full statement.
Exodus Leader Supports Jamaica's Anti-Gay Laws; Exodus Responds With Statement Opposing Criminalization
Jim Burroway
June 14th, 2012
Today, Exodus International released a new statement:
Criminalization of Homosexuality
Exodus International believes that every human life, regardless of sexual orientation, is of inestimable and equal worth to God and that defending this principle is foundational in offering a Christian response to any issue. As such, Exodus International has not supported and will not support any legislation that deprives others of life and dignity based on their sexual orientation or the expression of such within the confines of a consensual adult relationship. We stand with all who are defending this basic, biblical tenet and remain committed to sharing the compassion, hope and life-giving grace and truth of Jesus Christ.

Finally, we stand with the LGBT community both in spirit, and when necessary, legally and physically, when violence rears its head in Uganda, Jamaica or anywhere else in the world.
We've long followed the rippling aftermath of Exodus board member Don Schmierer's disastrous participation in an anti-gay conference in Uganda. It took Exodus president Alan Chambers fifteen months to express regret over that and issue its first policy statement against criminalization. That statement is no longer available on Exodus's web site. This new statement, which can be read more broadly, is now on a page alongside other Exodus policy statements.
The sudden reference to Jamaica may be puzzling to those who are unaware of recent events. Taken from a glass-half-full scenario, it can be seen as another positive sign that Chambers takes seriously his commitment to being more pro-active when these issues arise. It was just yesterday when Mike Airhart at Truth Wins Out revealed that another Exodus board member stepped into yet another international incident:
On May 29, Exodus board vice chairman Dennis Jernigan blogged about his work the previous week in Jamaica to defend that nation's antigay laws and criticize President Obama and British Prime Minister David Cameron for their support of Jamaican LGBT human rights. We reprint Jernigan's May 29 complete blog post below, with the key text highlighted by us.
The highlighted test from Jernigan's blog post describes a meeting that Jernigan had with the Jamaican Observer's editorial staff:
… this is when I first realized what I had been thrust into! In a boardroom with about 30 editorial staff members and reporters, I discovered that the Prime Minister of Jamaica was receiving pressure from our president and the prime minister of Great Britain to change the anti-sodomy laws of Jamaica … or risk losing financial support. That is when I knew why I was there. I shared my entire story and then fielded questions – for almost two hours! When asked about what I thought about President Obama's recent remarks concerning homosexuality, I told them I love my president but I believe he is greatly deceived and risks undermining the very foundation of our nation … the family. Incidentally, the paper began publishing the interview the very next day on the first three pages … the headline being my quote concerning my belief that President Obama is deceived! I felt the grace of God in those interviews. I never felt fear at all … and feel I impacted an entire nation in the process. [Emphasis Mine]
Jamaica has an exceptionally long history of often shocking violence against LGBT people. Popular musicians often exhort audiences to kill gay people in their lyrics, and violence against gay people is often glorified in social media and on the streets. Sometimes those abuses occur in the context of trying to "cure" people of their homosexuality. According to the U.S. State Department's 2011 report on human rights:
The Jamaica Forum for Lesbians, All Sexuals, and Gays (J-FLAG) continued to report serious human rights abuses, including assault with deadly weapons, "corrective rape" of women accused of being lesbians, arbitrary detention, mob attacks, stabbings, harassment of gay and lesbian patients by hospital and prison staff, and targeted shootings of such persons. Police often did not investigate such incidents. During the year J-FLAG received 84 reports of sexually motivated harassment or abuse, which included 71 cases of attempted or actual assault, including at least two killings, and 21 reports of displacements. Members of the police force reportedly were the perpetrators in 12 cases. J-FLAG data showed that young people, ages 18 to 29, continued to bear the brunt of violence based on sexual orientation. This violence created a climate of fear that prompted many gay persons to emigrate, while the gross indecency laws left those who remained vulnerable to extortion from neighbors who threatened to report them to the police unless they were paid off.

…The trial of six suspects arrested for the 2005 robbery and murder of prominent gay rights advocate Lenford "Steve" Harvey, initially begun and then postponed in 2007, had not resumed by year's end.

…Gay men were hesitant to report incidents against them because of fear for their physical well-being. Human rights NGOs and government entities agreed that brutality against such persons, primarily by private citizens, was widespread in the community.
Jamaica's anti-sodomy law makes consensual relationships a felony, punishable by a ten-year prison sentence. There is considerable international pressure on Jamaica to repeal its sodomy law and to offer basic human rights protections against violence directed at LGBT people, but even those minimal calls remain highly controversial and deeply unpopular.
It is in this climate that Jernigan boldly stepped into. In actions which are highly reminiscent of board member Don Schmierer's ill-fated and notorous trip to Uganda, Jernigan strongly supported Vice-president of the Jamaica Association of Evangelicals Rev. Peter Garth's reading of Michael Swift's 1987 satire "A Gay Revolutionary" which the more extreme anti-gay activists often mis-identify as "the gay agenda." (The satire labels itself as a satire in the prologue, which is typically omitted when deployed by anti-gay extremists.) Jernigan's comments only served to lend further credence to the satire's so-called validity:
According to Garth, the gay community has been instructed to talk about gays as loudly as possible and to portray them as victims, not as aggressive challengers and to make them look good and the people opposed to them look bad. As such, Garth said the Church is trying to influence others to look at the structure which provides value for our nation.

A former member of the gay community, Rev Dennis Jernigan, said that community has all the creative, financial and intellectual power. According to Jernigan, an American citizen, the gay community gives more than the 10 per cent tithe that Christians give to the church, as they are very adamant about their agenda. "If I was still in that group and was still a part of that agenda, of course I would take that as my battle cry and I would do everything in my power to bring it to pass," he said.
In another Jamaica Observer article which identifies Jernigan as Exodus's vice chairman (and thus suggesting that Jernigan was speaking on the organization's behalf), he describes himself as having fully changed his sexuality:
Jernigan said he was transformed that night.

"All of a sudden, I felt a level of freedom, a level of acceptance, a level of affirmation I had not expected. That night, God gave me a brand new identity, that is the best way I can put it to you," Jernigan said, likening the experience to the biblical tale of Lazarus, who is described as rising from the dead through Jesus's power.

"He told me, 'son, that homosexuality is not what I intended for you, that's a deception. Put that off and put on the truth," Jernigan said.

"All of a sudden, my sexuality changed. I was intending never to be married. I said, I'll just be celibate for the Lord, I want to be pure. But God said, 'no, I have even greater plans for you. I will give you a wife, I will bless you with a wife'. And then because I felt so robbed of life for so much of my life, God said 'I will give you, as many children as you want. I said okay," Jernigan told the Monday Exchange with a chuckle, his wife laughing as she chimed in beside him, "I agreed."

Jernigan is vice-chairman of the board of directors of Exodus International, a group that calls itself the largest ministry for homosexuals in the world and which specialises in so-called 'gay conversion'.
The Exodus vice-chairman's statements stand in remarkable contrast to actions and statements recently take by Exodus's president. Last January, Chambers acknowledged, "The majority of people that I have met, and I would say the majority meaning 99.9% of them, have not experienced a change in their orientation." Exodus removed all Reparative Therapy books from its online bookstore and began disassociating itself from the National Association for Research and Therapy of Homosexuality (NARTH), which is the biggest proponent of Reparative Therapy. Earlier this month, Exodus responded to a proposed California bill which would prohibit licensed therapist from providing Sexual Orientation Change Efforts (COCE) to minors with a statement which read, in part, "As an organization, we do not subscribe to therapies that make changing sexual orientation a main focus or goal."
But obviously, the Exodus vice chairman and Exodus president are not even close to reading from the same script. Jernigan made the goal of changing sexual orientation the centerpiece of his message:
While the US has been racked by heated debate about the 'gay conversion' religious movement, Jernigan says his own conversion isn't all that uncommon in his country.

"This may sound really mystical to you," he said, "But I know hundreds of men and women in the United States who have walked out of homosexuality and now walking the true freedom. That's the story you are not hearing, but that's the truth."

"That is why I am so adamant about this, freedom is possible," he declared, his voice cracking with emotion. It is a message he is determined to impart to Jamaicans.

When the vice-chairman of Exodus International left his home in Muskogee, Oklahoma for Jamaica a few weeks ago, intending to share his music in Christian concerts and in ministry, he had no idea that homosexuality was a hot-button issue here. When he found himself in the middle of a huge debate about homosexuality and gay marriage he said he questioned why God had led him to this country at this particular time.

"I said, 'hmmm… God, what are you up to? You've plunged me right in the middle of this'.

"But I want to save your nation. I don't want to do anything other than minister to you, to tell you my story, to serve the people of Jamaica, because I don't want to see happen here, what happened in America," he said.
Jernigan also appeared in this video, in which he repeated the classic Reparative Therapy line of what causes homosexuality. He also placed his ex-gay message in a very political context:
As I said, the fact that it only took Chambers one day to respond to this latest revelation can be seen as a glass half-full. This is measurable progress and I don't want to lose sight of that.
But the glass is also still half empty. Once again we are learning of an Exodus official traveling to a volatile country in full ignorance — and an admitted ignorance — of the fact that "homosexuality was a hot-button issue here." Exodus may feel that they have a special expertise on helping conservative Christians resist their same-sex attractions, but they clearly have no expertise about how homosexuality itself is perceived in other cultures.
It is extremely reckless of them to parachute into countries where they have no idea what's going on, and then leaving it up to the local LGBT community to deal with the aftermath when they jet home. They already have ample evidence of what happens when Exodus officials neglect to do their homework before traveling to volatile countries. There is just no excuse for making this same mistake yet again.
At some point, you would expect there would be consequences to making these kinds of errors. In a truly accountable organization Jernigan would hand in his resignation. But don't count on that happening. Three years after the Uganda debacle, Don Schmierer is still serving as Exodus's treasurer.
Jamaica's New PM on Gay Rights
Jim Burroway
January 5th, 2012
Homosexuality became a surprising topic in Jamaica's elections last December in which members of Jamaica's ruling Labor Party charged that the opposition was funded by gays. That tactic didn't stave off their electoral loss however. Labor lost to the opposition People's National Party in a landslide and PNP leader Portia Simpson Miller was sworn in as Prime Minister.
Here is Simpson Miller addressing the issue of gays serving in government during a December televised debate. Her remarks stood in stark contrast to the lengthy non-answers delivered by Labor leader Andrew Holness.
Gay baiting party loses in Jamaica
Timothy Kincaid
December 30th, 2011
Election results are in and the ruling Labor Party's appeal to homophobia did not save them from economically driven discontent. The People's National Party won elections by a landslide.
The two parties are not starkly different and the new Prime Minister, Portia Simpson Miller will be challenged in finding solutions for the debt ridden and deeply impoverished nation.
But gay Jamaicans are without doubt celebrating the change in leadership. While no promises were made, the PNP has stated a willingness to at least consider revisiting the colonial-era sodomy law. And with the Labor Party's last minute effort to make the election a referendum on institutionalized homophobia, there may even be a publicly accepted perception that it's time for a lessening of the cultural revulsion towards gay people.
While I don't predict any immediate adoption of pro-gay positions in what Time once labeled the Most Homophobic Place on Earth, this election is without question a cause for celebration.
Going into today's elections, Jamaican officials claim opposition funded by gays
Timothy Kincaid
December 29th, 2011
Taking a page out of the politics of African politicians in Nigeria and Uganda, Daryl Vaz, a JLP member and (ironically) Minister of Information and Telecommunications, ran with the desperate claim that opposition party PNP is funded and obliged to nefarious gay advocates. (Jamaica Observer)
"We are not happy about the opposition leader introducing the issue of homosexuality into the campaign and we are wondering how deep it goes and how much involved the international gay community is with the PNP. We have been hearing of the interest that that community has taken in our elections since her pronouncement," said Vaz. "It is the first time that we have seen such strong interest from the gay community in any Jamaican election," he added.
Now he's claiming that these mythical wealthy nefarious gay election manipulators have made threats on his life as the result of him exposing them.
According to Vaz, he got two calls on Sunday in which the callers, he said, admonished him for "fighting against" gays after threatening his life.

"Yu mus' dead before election," Vaz reported one of the callers as saying. The other, he said, told him: "Yu gwine cause PNP fi lose."
Polls have closed in Jamaica and we'll let you know the results when we know them.
Watching Jamaica
Timothy Kincaid
December 28th, 2011
There have been some interesting developments in Jamaica recently.
Institutionalized homophobia has died down a bit – or at least the press has fewer stories of mob murders or police cover-ups of homophobic violence. But as the elections are going into their final days, the sodomy law is becoming something of an issue. (USA Today)
But during a debate last week with Prime Minister Andrew Holness, opposition chief Portia Simpson Miller called for a review of the law. She argued that professional competence, not sexual orientation, will determine who is selected for a Cabinet post if her People's National Party wins.

Since then, some top Labor candidates have made homophobic comments at political rallies, among them Cabinet minister Daryl Vaz, who said "God created Adam and Eve and not Adam and Steve," prompting applause and anti-gay slurs from his West Portland constituents.

Labor's candidate for West Central St. James, Energy Minister Clive Mullings, asserted that easing up on laws against homosexuality would bring God's wrath down on Jamaica, while West Kingston candidate, Kingston Mayor Desmond McKenzie, used an epithet at a rally while an anti-gay dancehall song played.
I'll be watching the results of Thursday's election to see if either party – currently neck and neck – is a clear winner.
There is another potential story to the uptick in homophobia, but I'm waiting on responses before discussing it further.
US Pushes Hard on LGBT Rights Around the World
Jim Burroway
December 6th, 2011
The Obama administration has issued a flurry of documents and Secretary of State Hillary Clinton gave a groundbreaking speech on the need for protecting the human rights of LGBT people around the world. It began this morning with the White House memorandum directing American international agencies to take action in countries where LGBT abuses are taking place. That was followed by fact sheets from the White House and the State Department outlining the new policies as well as past accomplishments. Of particular interest is the State Department's description of its engagement in Uganda over concerns about the proposed Anti-Homosexuality Bill:
Alongside Ugandan civil society's strong and sustained outreach to parliamentarians and the Uganda Human Rights Commission, and advocacy of other governments, U.S. Government advocacy against Uganda's proposed Anti-Homosexuality Bill established a precedent for the United States, the international donor community and civil society to collaborate to counter efforts to criminalize same-sex conduct. [Emphasis mine]
While activities in Uganda are mentioned, Africa was not alone in receiving the State Department's attention over the past few years. Also mentioned are Jamaica, Slovakia, Indonesia, Guinea, Serbia, and India. Meanwhile, Secretary Clinton gave what has been described as a groundbreaking speech in Geneva in advance of Human Rights Day this Saturday. I wasn't able to see the speech and hope to have the transcript as soon as possible. (Update: It's here, and it's a doozy.)
It remains to be seen how the actions today will be reported in the popular media and what the response will be in countries which stand to be affected by today's announcements. But past events does give us a clue as to how today's developments are likely to be received in world capitals where LGBT persecution is either official policy or the social norm. Russia had earlier denounced American diplomatic protests over a proposed bill in St. Petersburg which would prohibit LGBT advocacy in public, and Deputy Prime Minister Dmitry Kozak followed that with a suggestion that the St. Petersburg proposal could be made a federal law. In Africa, following comments from British Prime Minister David Cameron warning that countries which prosecute LGBT people could see their foreign aid cut (a warning that was later modified to say that the aid would be redirected to NGO's instead), African leaders, including those who oppose LGBT oppression, warned that the statement could backfire on efforts to head off legislation which would severely increase penalties against LGBT people. African LGBT advocates also warn that if changes in foreign funding force cutbacks in governmental services, the local LGBT communities would feel the brunt of the blame, making the work of LGBT advocacy much more difficult in countries where the prevailing belief is that homosexuality is a Western import.
None of that is to say that these pronouncements from the US and IK aren't unwarranted or improper. But every action has an equal and opposite reaction, and as they say in Africa, when elephants fight, the grass suffers. Since Cameron's announcement in October, there has been a measurable uptick on African newspaper articles mentioning homosexuality popping up through November and December in my Google Alerts for the continent, and those articles are rarely positive. The Ugandan Parliament revived the Anti-Homosexuality Bill by the end of October, and the Nigerian Senate greatly increased the penalties in a bill which makes same-sex unions a felony in November.
Now to be clear, neither action was a response to Britain's announcement; both events almost certainly have occurred anyway. But if anyone had been inclined to speak out against those two bills before, the current politics now makes that all but impossible. No African politician has ever lost influence by standing up to "meddling" by foreign and (especially) colonial powers. And no politician anywhere in the world — east, west, north or south — has survived the taint of being accused of colluding with foreign governments, no  matter how manifestly untrue, unjust, or an irrelevant distraction those accusations may be.
In the short term, these announcements are likely to exacerbate the situation. That is just a simple fact of life, but pointing that out isn't to say that this is not a good change in direction. It is merely to say that we will need to be forewarned and prepared for the inevitable reaction which will come of it. Fasten your seat belts.
Jamaican Facebook Page Glorifies Violence Against Gays
Jim Burroway
October 10th, 2011
Gay Jamaica Watch found this disturbing Facebook page that appeared Sunday:
The Facebook page is here. Particularly disturbing is the photo, from 2007 of a young man who was surrounded and attacked by a menacing mob, with a title "Bun Batty Man." Gay Jamaica Watch explains:
Songs such as Capleton's Battyman Fi Get Boom (gays are to be killed) is posted as captioned in the screen pics above also songs like "Man Nuh Lotion Man" (men do not lotion men – which suggests romantic intimacy between men) as well from Capleton who is deemed the fireman leader against gays with his music as Buju Banton is out of business serving time for his own troubles.

Act now friends but there is a strangeness to this group as many of the members have been accused of being "closet cases" which is a fundamental issue not properly looked into that of downlow accusing others of being gay to the point of outright homophobia to supposedly cover their own tracks or to enact revenge on some person or issue they may have had. This dangerous practice if it is that what obtains here can have disastrous effects
You can report the page to Facebook with this link.
LGBT Jamaicans and Allies Protest "Corrective Rapes"
Jim Burroway
September 25th, 2010
A small group under the auspices of Jamaica Forum for Lesbians All-sexuals and Gays (J-FLAG) held a silent protest at Emancipation Park, a major Kingston landmark, on Friday. The protest was in response to two incidents within days of each other earlier this month, when knife-wielding thugs carried out 'corrective rapes' of two lesbians. This follows at least six reported rapes against lesbians in 2009.
According to J-FLAG, several LGBT allies joined in the protest, including representatives from Jamaica AIDS Support for Life, members of Jamaicans for Justice, Pride in Action, Women for Women, Sex Work Association of Jamaica, Sunshine Cathedral Jamaica, Caribbean Vulnerable Communities Coalition and AIDS Free World. J-FLAG continues:
International defence attorney Lord Anthony Gifford, QC, noted that "the issue of violence against gays and lesbians is a human rights issue and I was taking a stand to support that as it is important to keep the issue of rights in the public's consciousness."

Susan Goffe, member of Jamaicans For Justice, said "it is important to understand the effect of homophobic rhetoric and the feeling that it is alright to target members of the LGBT community. The state must clearly illustrate by its action that it defends and protects the rights of women and this includes all women regardless of their sexuality. The acts against these women should unambiguously be condemned."
While the protest was numerically small and lasted only a half hour, it was an audacious showing considering the dangerous atmosphere LGBT people in Jamaica live in. Jamaican society has a deplorable track records when it comes to anti-gay sentiment, where popular dance-hall artists regularly call for killing gay people in their concerts and recordings. Jamaican law currently outlaws male homosexuality with up to ten years in prison. Police mistreatment, mob attacks, death threats, murders all occur on an all-too regular basis under official indifference.
State Department Issues Annual Human Rights Report, Highlights Uganda
Jim Burroway
March 12th, 2010
The State Department has issued its annual Country Reports on Human Rights Practices for 2009, which shows that LGBT people continue to experience state-sanctioned or permitted violence and discrimination. For example, the report notes the following cases of human rights violations against LGBT people in Uganda:
For example, on April 5, police in Mbale District arrested SMUG activists Fred Wasukira and Brian Mpadde. On April 17, a court in Mbale charged Wasukira and Mpadde with homosexual conduct and remanded the suspects to Maluke prison. On May 20, the court released Wasukira on police bail; Mpadde was released on June 16. The case was ongoing at year's end.

On June 19, police in Kitgum interrogated former police coach Charles Ayeikoh over allegations that he was involved in homosexual acts. An investigation was ongoing at year's end.

In July the administration of Mbalala Senior Secondary School in Mukono District dismissed student John Paul Mulumba after he acknowledged that he was a SMUG member.

During the year the UHRC stopped investigating the July 2008 case in which SMUG activist Usaam Mukwaya alleged that police tortured and humiliated him during an illegal detention; Mukwaya reportedly decided not to pursue the case.

During the year police dismissed for lack of evidence a September 2008 case against SMUG members George Oundo and Brenda Kiiza, who were charged with indecent practices.

LGBT persons were also subject to societal harassment and discrimination.

For example, on March 17, the Uganda Joint Christian Council and the Family Life Network launched a campaign to curb homosexual conduct in higher institutions. SMUG accused the organizers of using religion to attack the LGBT community in the country.
The report also mentions arrests, executions, and other violence and abuses in Malawi, Senegal, Nigeria, Egypt, Iran, Iraq, Saudi Arabia, Jamaica, and elsewhere around the world.
Jamaican Prime Minister: "No Acceptance of Same-Sex Unions"
Timothy Kincaid
October 14th, 2009
Jamaica's parliament is considering a major proposed amendment to the constitution relating to rights and Bruce Golding, the Prime Minister, wants everyone to know that they aren't even considering rights for gay citizens. (AP)
"I make no apology in saying decisively and emphatically that the government of Jamaica remains irrevocably opposed to the recognition, legitimization or acceptance of same-sex marriages or same-sex unions," Golding said on Tuesday.
…
"There is the possibility that sometime in the future parliament could pass a law that says same-sex unions are legal but it won't be done in this parliament. Not as long as I sit here."
Although his words were limited to the legality of same-sex unions, Golding has made it abundantly clear that he sees no need to rein in the culture of anti-gay violence, hatred and murder that permeates all aspects of Jamaican life.
Let this serve as a reminder that whether or not you are gay, you should not consider Jamaica as a safe place to vacation. Those who celebrate the murder of gay men and women will not hesitate to find some reason to celebrate the mistreatment of you too.
Gay Jamaicans get Church
Timothy Kincaid
September 25th, 2009
Micah Fink went to Jamaica to see first hand how hungry gay Jamaicans were for a safe space to worship and socialize together. Rev. Robert Griffin, a preacher with the Metropolitan Community Church comes monthly from Florida to hold secret church services. (MinnPost)
"We have to operate underground because of the hostility towards the gay and lesbian community here in Jamaica," said Griffin, explaining that the location of this meeting is a closely held secret and that every service is arranged through word of mouth. "If it was known publicly where this congregation meets, I'm pretty sure there would be some type of violence toward the congregation."
He also reports some of the first-hand stories that parishioners have shared with him.
And while firm statistics detailing anti-gay assaults, beatings and murders are difficult to find — mostly because the police are as likely to harass a victim of a gay assault as they are to help — it seems that almost every member of Jamaica's gay community that I encountered had at least one, if not several, personal horror stories to relate.

In just one packed afternoon, I met one woman who was shot several times by a gunman who shouted out "de lesbian fi dead" (the lesbian must die), as he pulled the trigger. One man told me his best friend was murdered, chopped into pieces with a machete, and had the skin flayed from his face; he then went on to relate how another gay friend was locked up in his parent's house by a group of gunmen who then set the building on fire and burned him alive.

Then there was another congregant whose features appeared in video shot at a gay birthday party that became a black-market best seller after a copy was stolen and then released on the streets. He's had to abandon his home twice, in two different cities, after neighbors saw the video, recognized him and made plans to kill him. And he's one of the lucky ones, the man says, since he's lived to tell the tale — unlike four other gay men he knows who had the misfortune to appeared in the video and were later hunted down and murdered.
And Griffin knows that those who should be standing against evil are instead encouraging it.
"Ministers here are endorsing violent acts, calls for murder, to incite riots," Griffin said. "I hear it being done here, I read it in the papers here, I have even heard it myself. They tell me: 'We don't believe in homosexuality and homosexuals should be killed because that's what the scripture says.'"
I commend Griffin for seeking to start a new dialogue, one in which religion is not a cover for murder, one which calls for decency and humanity. Truly he is putting his life at risk.
Jamaican Police Deny Murder was Gay Hate Crime
Timothy Kincaid
September 14th, 2009
When Honorary British Consul in Jamaica John Terry was murdered in Montego Bay, his naked body was accompanied by a note that said, "This is what will happen to ALL gays." But this was not reported in the Jamaican media.
Now Jamaican police, responding to the word getting out from British and other media sources, have "ruled out" homophobia as a cause for Terry's murder.
local police say nothing in their investigation is consistent with that theory and have asked the media to desist from reporting this misleading information.
Somehow it seems to me as though the police are far more concerned with the reputation of their country than they are about the crimes committed against gay residents.
Meanwhile Jamaican media are still downplaying the possibility of anti-gay animus as the cause of the crime. I've not found any reference to the note, and the Jamaica Gleaner is serving up additional bias by misstating British coverage:
Questions have swirled in British media that Terry, 65, was a homosexual who was probably killed by a lover.
Perhaps time will reveal that this is not an anti-gay murder. But it appears at this time as though Jamaican police and media are seeking to cover up facts rather than solve this crime.
PLEASE TAKE NOTICE: If you are gay or if someone may mistakenly guess that you are gay, you are not safe to visit Jamaica. You may be subjected to violence – or even murdered – and the Jamaican police probably will not come to your aid.
If you know of anyone who is planning on visiting this cauldron of hatred and violence, please give them warning. Jamaica is not safe for tourism.