Videos Surface of Ugandan Activists Stirring Anti-Gay Fervor; Fears of Violence Grow
Jim Burroway
March 28th, 2009
We've gotten word from three separate Ugandan sources that local gays and lesbians in Uganda are worried about imminent violence, with many making plans to go into hiding or leave the country. The word on the street is that police detentions are pending (which one government minister has already promised) and that Stephen Langa's Family Life Network is preparing another round of public vigilantism. LGBT citizens believe that Wednesday's press conference, carried live by three television channels, was just the opening salvo. This press conference follows well-recognized patterns from previous anti-gay campaigns, which were cheered on by the media. Gay sources in Uganda report being terrified, with few daring to venture out of their homes.
David Roberts at Ex-Gay Watch has obtained exclusive video of the March 15th meeting conducted by Stephen Langa. That meeting was a follow-up to a March 5-8 conference at Uganda's posh Triangle Hotel featuring three American anti-gay activists: Exodus Board member Don Schmierer, Holocaust revisionist Scott Lively, and Richard Cohen protegé Caleb Lee Brundidge. That conference applauded Uganda's draconian law which calls for life imprisonment for those convicted of homosexual acts, and called further for those convicted be subject to forced ex-gay therapy. Schmierer's continuing silence on those proposals have been taken by Ugandan activists as an endorsement of those policies by American ex-gay experts.
In the first of the two videos posted at Ex-Gay Watch, we see Stephen Langa quoting material from Scott Lively's The Pink Swastika in this perverse version of the history of the gay movement: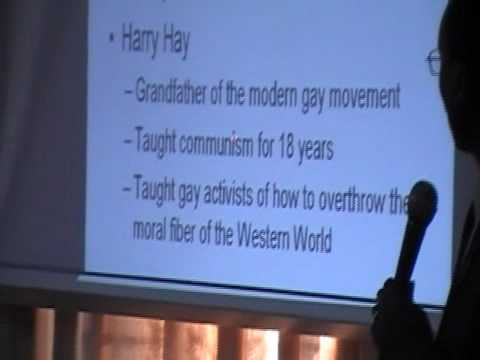 "Alright. The history of the modern gay movement. This is from Mr. Lively, he was here last week, and he was one of the people who was having a lot of research on homosexuals. He wrote this book you can see, The Pink Swastika: Homosexuality and the Nazi Party. He has a lot of data, lot of data, lot of data on homosexuality and on the homosexual movement.

"Now, in America this gentleman, Henry Garber [sic], was a German-American soldier who served in Germany after the First World War. He was among the occupational forces that was in Germany during and after the First World War. And then he went back to America and began activism, but in a very small way, a very small way. And Henry Garber [sic] molested a boy by the name Champ Simmons. When Champ Simmons grew up, he also molested a boy known as Harry Hay. This Harry Hay is the grandfather of the modern gay movement.

"This man here in the '40s, they guy who really began what is now today the gay movement that has taken over the whole world. He taught communism for eighteen years, and during that time he learned how society can be taken over. Because communists taught how society can be taken over using economic means. But he understood those tactics and taught the gay activists on how to overthrow the moral fiber of the Western World, which was based on marriage and the family. So he took these guys' tactics and strategies on how to overthrow a society. And so they began to do their work, they began to do their work. And the gay movement you see today and all these things you see around the world are as a result of what this guy taught these people, and his disciples are now busy and enforces what he has said, including those who are in this country. They all came out of this guy's movement."
As we've reported throughout this series, these activists have exhibited a particular obsession with the idea that homosexuality can be transmitted like a virus through child molestation. Notice Langa's macabre assertion that homosexuality passed via molestation from Garber to Simmons to Hays, as though it were a simple yet genealogical line. This idea that was reinforced by Exodus board member Don Schmierer, who provided the germ of that scientifically untenable theory in his talk at the March 5-8 conference in Kampala.
(This "genealogy" is a very good example of the many distortions which thoroughly permeate The Pink Swastika. Jonathan Katz, whose 1976 book Gay American History is purportedly the "source" of Lively's genealogy, reports Hays' "recruitment" very differently. Quoting Hays: "I enticed an 'older' gentleman (he must have been at least 33) to 'bring me out' by finagling his picking me up in Los Angeles's notorious Pershing Square. Poor guy — he was appalled to discover, subsequently, that I was both a virgin and jailbait!" Hays was seventeen at the time. So much for his innocent "molestation.")
In the second video, Langa remains focused on the gays-as-predators theme, citing Michael Swift's satire, "A Gay Revolutionary," as though it were a factual manifesto. As he dramatically reads aloud portions of that now-famous satire, notice the camera panning across the room to the shocked audience which is taking it all in: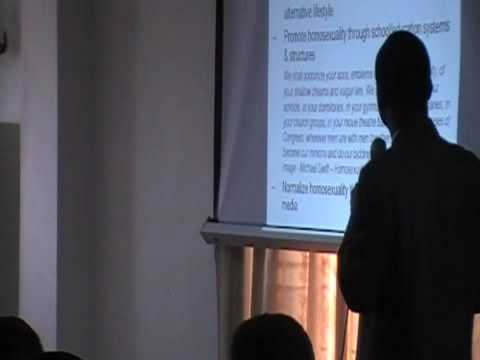 "…as we see here. This is not a joke, what we're dealing with here is not a joke. And of course, their cause — they don't care about you. They want your children! Look at what this homosexual activist said:

"We shall sodomize your sons, emblems of your feeble masculinity, of your shallow dreams and vulgar lies. We shall seduce them in your schools, in your dormitories, in your gymnasiums in your seminaries, in your church groups, in your movie theater bathrooms, in your houses of Congress, wherever men meet with men. Your sons shall become our minions and do our bidding. They shall be recast in our image."

"Criminals! That's what the gays want to do, that's what the gays want to do. They are after your children."
"It's not a joke"?
As a matter of fact, this passage is a joke. It's an intentional, outrageous joke on the part of the writer, and that fact is part of the public record. While anti-gay extremists love reading this aloud to incite hatred towards gays and lesbians — and Langa's dramatic recitation is par for the course — they invariably omit the preface, which sets the context for the entire piece:
This essay is an outré, madness, a tragic, cruel fantasy, an eruption of inner rage, on how the oppressed desperately dream of being the oppressor.
That's right. It's a work of fiction, a satire — and the author said so when it originally appeared in the Gay Community News way back in 1987. In fact, the anonymous writer used the pseudonym "Michael Swift," which is an obvious homage to the English language's most famous satirist, Jonathan Swift.
It's hard to improve on David Robert's observation:
Depicting this work of satire written in the heat of the AIDS crisis as having serious intent is nothing less than an incitement to violence. Combined with the prestige provided by supposed American "authorities" on homosexuality in the meetings of March 5-8, Langa here brings to the surface the greatest fear, and one that has been used by so many campaigns against marginalized groups throughout history — they are a danger to your children. A lie served up by a "man of God," backed by "experts" from the West and representatives of their own government. This is all a dangerous recipe for violence against anyone who is, or is perceived to be, gay in Uganda.
Click here to see BTB's complete coverage of recent anti-gay developments in Uganda.
Comments