Lively Responds to Lawsuit
Jim Burroway
March 15th, 2012
Scott Lively yesterday responded to the lawsuit filed in Federal District Court by Sexual Minorities Uganda alleging that Lively engaged in a decade-long effort to help plan and encourage the persecution of LGBT people in Uganda in violation of international law. Lively defends his actions as the simple exercise of his freedom of speech, telling The New York Times, ""That's about as ridiculous as it gets. I've never done anything in Uganda except preach the Gospel and speak my opinion about the homosexual issue." He also told Bob Unruh at World Net Daily:
I am an American citizen [being targeted] over the persecution of homosexuals as they define it as a crime against humanity – for speaking the truth of the Bible in a foreign country," Scott Lively, of Abiding Truth Ministries, told WND today after he found out about the legal action.
Warren Throckmorton responded to that rather quickly:
Where does the Bible say that homosexuality is responsible for the Holocaust? For the Rwandan genocide? That gays are pedophiles? Are those Biblically based beliefs?
Warren also notes that Exodus International board member Don Scmmierer and International Healing Foundation's Caleb Lee Brundidge also spoke at that 2009 conference, but neither of them are named in this lawsuit.
Lively also told World Net Daily:
"Frankly, I don't this is actionable," Lively told WND. "They make it clear that this suit is … premised on speeches or writings.

"I spoke to members of parliament in their assembly hall, and advised them to focus on therapy and not punishment [for homosexuality]," he said.

"What they're suggesting here is that the duly elected legislative representatives of Uganda, the cream of Ugandan society, cannot be responsible for their own [legislative] actions – that they adopted legislation because a white evangelical came and said something to them," he said.
Casting this in racial terms is desperate. The complaint also notes that Lively has traveled to Moldova, Russia and Latvia with similar goals. The measure if his influence in those areas are mixed. Frank Mugisha, Executive Director of Sexual Minorities Uganda, notes that there was a clear difference in the atmosphere for LGBT people in Uganda after 2009 when compared to the time before that fateful 2009 conference.
Lively's strongest argument so far however is his contention that "this suit is … premised on speeches or writing." The Center for Constitutional Rights senior staff attorney Pam Spees emphasized that the suit is not about his speeches or beliefs, but about a series of planning meetings that took place since 2002 that reached its fruition in the events of 2009. "He was the go-to guy," she told reporters in a conference call, "the man with the plan." The challenge in court will be for CCR to provide enough evidence to support their contention of that plan to keep the lawsuit away from being solely about Lively's speech and beliefs.
While speech alone cannot be the sole basis for this lawsuit (It would, and should, be thrown out immediately if it is), I can envision that Lively's speeches can be a major part of the evidence presented. Since Lively opened the subject of the Rwandan genocide during his talk in Kampala in 2009, let me return to those events as an example. As the Hutu militias were engaged in a bloodthursty orgy of murder and mayhem in 1994, they were urged on by radio announcers broadcasting anti-Tutsi propaganda, complete with announcements of which Tutu's live where so that mobs could find them. Were the radio announcers simply exercising free speech? Or were they accomplices in crimes against humanity? International law sides with the latter.
When Lively appeared on Ugandan media, he too broadcast his own virulent brand of anti-gay propaganda, although he didn't call out people by name and address and urge that they be hunted down. His friends did that instead. Mercifully, Uganda did not slide into genocide, although the proposal before Uganda's Parliament, if enacted into law, would result in a state-sanctioned outcome that would be remarkably similar. (Lively disavows the proposed death penalty, although he struggled with it a while before finally deciding that it was not something that he would support.) The real question, then, is what specific role did Lively play, in addition to his public talks, which led to the events of 2009? That is CCR's challenge before the court.
Finally, Lively also had this response for the Associated Press:
"Most of the ostensibly inflammatory comments attributed to me are from selectively edited video clips of my 2009 seminars in Kampala," he said. "I challenge the plaintiffs and their allies to publish the complete footage of the seminar on the Internet. They will not do this or their duplicity would be exposed."
It's my understanding that the Kampala-based Family Life Network, who sponsored the 2009 conference, owns the copyright to the video. While it is legal to publish excerpts of the video under the "fair use" clauses of U.S. copyright law, it would be illegal for anyone who is not the copyright owner to post the entire video. Why hasn't Stephen Langa's Family Life Network published the video? Who knows. It's theirs to do as they wish. But by not publishing it, they leave the door open for Lively to complain about "selectively edited clips."
Lawsuit Filed Against Scott Lively For Instigating Anti-LGBT Persecution in Uganda
Jim Burroway
March 14th, 2012
The Center for Constitutional Rights has announced this morning that they are filing a lawsuit on behalf of Sexual Minorities of Uganda (SMUG) against American anti-gay extremist Scott Lively for his role in "the decade-long campaign he has waged, in coordination with his Ugandan counterparts, to persecute persons on the basis of their gender and/or sexual orientation and gender identity." CCR announced its action this morning in a conference call with reporters. I was among those participating in the call.
The complaint (PDF: 2.2MB/47 pages) was filed in U.S. District Court in Massachusetts at Springfield, where Lively currently resides. CCR is bringing the suit under the Alien Tort Statute, which provides federal jurisdiction for "any civil action by an alien, for a tort only, committed in violation of the law of nations or a treaty of the United States." In other words, it allows a foreign national to sue in U.S. courts for violations of U.S. or international law conducted by U.S. citizens overseas. According to CCR, the U.S. Supreme Court has affirmed that ATS is a remedy for serious violations of international law norms that are "widely accepted and clearly defined."
The crime against humanity in international law that CCR alleges that Lively violated is the crime of persecution, which is defined as the "intentional and severe deprivation of fundamental rights contrary to international law by reason of the identity of the group or collectivity." CCR alleges that the defendant plaintif, Sexual Minorities Uganda, as well as individual staff members and member organizations, suffered severe deprivations of fundamental rights as a direct result of a coordinated campaign "largely initiated, instigated and directed" by Scott Lively.
In a conference call with reporters, CCR Senior Staff Attorney Pam Spees said that the Alien Tort Statute act had been applied in other specific cases of human rights violations against individuals. But she acknowledged that if this case prevails, it would establish a precedent for applying it to the crime of persecution, which, as a crime against a group, is different from a general "ordering the killing of people in his custody." She pointed out U.S. asylum cases have acknowledged sexual orientation and gender identity and expression as legitimate claims for persecution.
Lively is best known for his role, reported first here on BTB, as featured speaker at an anti-gay conference held in Kampala in March 2009. During that conference, Lively touted his book, The Pink Swastika, in which he claimed that gays were responsible for founding the Nazi Party and running the gas chambers in the Holocaust. Lively then went on to blame the Rwandan genocide on gay men and he charged that gay people were flooding into Uganda from the West to recruit children into homosexuality via child sexual molestation.
During that same trip, Lively met with several members of Uganda's Parliament. Only two weeks later, there were already rumors that Parliament was drafting a new law that "will be tough on homosexuals." That new law, in its final form, would be introduced into Parliament later in October. Meanwhile, the public panic stoked by the March conference led to follow-up meetings, a march on Parliament, and a massive vigilante campaign waged on radio and the tabloid press. Lively would later boast that his March 2009 talk was a "nuclear bomb against the gay agenda in Uganda."
In the complaint filed in Federal District Court, CCR provides details of Lively's activities in Uganda going back to 2002, when Lively began touring Uganda and establishing contacts with leading Ugandan figures, including Stephen Langa (who organized the March 2009 conference) and Pentecostal pastor Martin Ssempa. While there, he was interviewed for major daily newspapers and appeared on radio and television. In a conference call with reporters, Spees said that Lively's particular influence on Uganda's religious leaders was the primary avenue for "telegraphing the sense of terror" through his accusations against the gay community, and that influence picked up significantly following the 2009 conference. The complaint includes several examples where Lively's rhetoric showed up virtually verbatim in statements from Ugandan religious and political leaders. She also pointed out that the preamble of the bill's original draft included language that was lifted straight out of conference materials.
Tarso Luís Ramos, Executive Director of Political Research Associates, echoed Spees's assertion that Lively's influence played a major role in the growing climate of persecution in Uganda. He described the main avenue of influence as from religious leaders like Lively to prominent Ugandan religious leaders who also wield considerable moral and political influence. Ramons said that during Lively's 2009 trip to Uganda, he also met with members of the Ugandan Christian Lawyers Association and members of Parliament, and spoke at an assembly of 5,000 college students and at major pentecostal churches. According to the complaint, M.P. David Bahati, author of the Anti-Homosexuality Bill, was among those who attended the Kampala conference. Bahati and former Ethics and Integrity Minister James Nsaba Buturo were also named as co-conspirators in the complaint.
Ramos and Spees contrasted Lively's role with that of the secretive U.S. organization known as The Family or The Fellowship. Spees described Lively as the "go-to guy whose rhetoric went into hyperspace to stamp out" LGBT people "in a strategic way." She alleged that he provided a "tangible, clear plan" in contrast to The Family, which tried to distance itself from the bill. One  part of the "clear plan" outlined in the complaint was Lively's recommendation for the criminalization of LGBT advocacy in Uganda. That recommendation became Clause 13 in the Anti-Homosexuality Bill.
Spees emphasized that while Lively's "violent anti-gay rhetoric" forms a basis for the evidence of the complaint, the case is not about hate speech but what she described as his systematic efforts to provoke persecution in Uganda and elsewhere. She described Lively as a "key player in persecution" in a concerted effort to deprive and remove rights for LGBT Ugandans.
Speaking via telephone form Uganda, SMUG Executive Director Frank Mugisha welcomed the filing. He said that when the March 2009 Kampala conference was announced, they had no idea how far that conference's influence would go. Before 2009, he described an atmosphere where people were somewhat freer to live in groups as gay people, but after the conference there were demonstrations, meetings, reports of arrests, people being thrown out of their houses and churches, beatings, and severe curbs on freedom of assembly. Just last month, Ugandan authorities raided a meeting by LGBT leaders at a hotel in Entebbe and tried to arrest Kasha Jacqueline Nabagese, founder of the lesbian rights group Freedom and Roam Uganda.
More information about the lawsuit against Lively can be found at the CCR web site.
Update: The New York Times has this reaction from Lively:
Reached by telephone in Springfield, Mass., where he now runs "Holy Grounds Coffee House," a storefront mission and coffee shop, Mr. Lively said he had not been served and did not know about the lawsuit. However, he said: "That's about as ridiculous as it gets. I've never done anything in Uganda except preach the Gospel and speak my opinion about the homosexual issue. There's actually no grounds for litigation on this."
Religious Groups Push for Uganda's Anti-Gay Bill Revival
Jim Burroway
September 6th, 2011
There has been a lot of talk about the pending revival of Uganda's Anti-Homosexuality Bill (a.k.a., the "Kill the Gays" Bill) in the next month or so, or even as early as this week. This morning's Daily Monitor, Uganda's largest independent newspaper, reports on one important religious group in Uganda that is organizing a campaign to pressure Parliament to take up the bill. According to Daily Monitor:
Parents under the Family Life Network and Uganda Coalition for Moral Values (UCMV) have opened a fresh campaign to force the government abandon economic and foreign policy considerations and pass the Anti-Homosexuality Bill 2009."We urge you to do what is right even if it is not politically correct. Remember that your first obligation and loyalty should be to the citizens of Uganda and our children who are our future," they urged government in a statement signed by Mr Steven Langa, the executive director Family Life Network.

Mobilising under the 'Uganda National Parents Network,' the "Pass the BILL Now Campaign" the parents addressed journalists in Kampala yesterday and outlined their course of action, following revelations lately that Cabinet had abandoned the bill owing to international pressure from donor countries.
Langa's Family Life Network was the organizer of the infamous March 2009 conference in Kampala which featured American anti-gay extremists Scott Lively, Exodus International boardmember (and current Treasurer) Don Schmierer, and Caleb Lee Brundidge of Richard Cohen's International Healing Foundation. It was at Langa's conference where Lively dropped his now-famous "Nuclear Bomb." Langa followed that meeting with another one in which he repeated the falsehoods he learned from Lively, Schmierer and Brundidge. He also organized a press conference with a claimed Ugandan "ex-gay", who was later found to have been paid by anti-gay extremists for his cooperation. Langa also appeared on local FM radio announcing the names of gay people in Kampala and demanding mass arrests, and he organized a march on Parliament demanding stiffer penalty against gay people.
Langa is a member of Phoenix-based Disciple Nations Alliance. According to the DNA's web site, he heads the Uganda affiliate called Transformation Nations Alliance (TNA). The first DNA Vision conference in Uganda was held in 2000 at Stephen Langa's Watoto Church (then known as Kampala Pentecostal Church). The second conference in 2001 was held at the same church. The DNA claims that Langa's mission at TNA is to lead "to the restoration of God's original plan for creation." The DNA's mission is very similar to the Dominionist "Seven Mountain's Mandate," particularly where they say:
The Disciple Nations Alliance began in 1997 as a joint initiative of Food for the Hungry International www.FH.org and the Harvest Foundation www.harvestfoundation.org to envision and equip local churches worldwide to fulfill their strategic role in the transformation of communities and nations. The Disciple Nations Alliance began by promoting a "school of thought" centered on the power of Biblical Truth for cultural transformation, the strategic role of the church in society, and the importance of wholistic, incarnational ministry.
In the latest report from Daily Monitor, Langa promises to launch a recall campaign against any member of Parliament who fails to support the bill's reintroduction into Parliament.
American Evangelical Connections: The Disciple Nations Alliance and Uganda's "Kill Gays" Bill
Jim Burroway
December 14th, 2009
Grove City College professor Warren Throckmorton and Gay City Newshave separately named the Disciple Nations Alliance as a possible connection to Uganda's "Kill Gays" Bill through Stephen Langa, whose Family Life Network organized the March 5-7 anti-gay conference that kick started the latest anti-gay pogrom in Uganda. Langa followed that meeting with further meetings, including some with members of Parliament, to promote "strengthening" Uganda's already draconian anti-homosexuality law, which currently provides for lifetime imprisonment for those convicted of homosexuality. That has ultimately led to the introduction of the Anti-Homosexuality Act before Uganda's Parliament, which includes the death penalty and other measures seeking to legislate LGBT people out of existence.
Langa, it turns out, is a member of Phoenix-based Disciple Nations Alliance. According to the DNA's web site, he heads the Uganda affiliate called Transformation Nations Alliance (TNA). The first DNA Vision conference in Uganda was held in 2000 at Stephen Langa's Watoto Church (then known as Kampala Pentecostal Church). The second conference in 2001 was held at the same church. The DNA's report continues:
Stephen Langa is a member of the Africa Working Group of Samaritan Strategy Africa, the network whose objective is to spread DNA training across the continent of Africa. In addition to serving as an Elder at Watoto Church, he also provides leadership to the Family Life Network, a pro-family advocacy organization. He also serves as Director of the Uganda Youth Forum, a youth ministry organization founded by the First Lady of Uganda in 2001.

The mission of Transformation Nations Alliance is to engage and disciple all sectors of society, through a biblical worldview centred, holistic approach to ministry, leading to the restoration of God\'s original plan for creation. Towards this end, TNA has trained and mentored a team of certified Ugandan trainers who regularly facilitate Vision Conferences throughout the nation. Hundreds of Ugandan church leaders have been impacted. In addition, these trainers have been called upon to train the local staff of several large mission and development organizations, including World Vision and Compassion International.
The history of Disciple Nations Alliance is provided on their web site:
The Disciple Nations Alliance began in 1997 as a joint initiative of Food for the Hungry International www.FH.org and the Harvest Foundation www.harvestfoundation.org to envision and equip local churches worldwide to fulfill their strategic role in the transformation of communities and nations. The Disciple Nations Alliance began by promoting a "school of thought" centered on the power of Biblical Truth for cultural transformation, the strategic role of the church in society, and the importance of wholistic, incarnational ministry.

This school of thought was initially spread through five-day "Vision Conferences"which featured the teaching of DNA co-founders and master trainers, Darrow Miller and Bob Moffitt. The first Vision Conference was held in Lima, Peru in 1997. Since then, hundreds of Vision Conferences have occurred in more than 50 nations and thousands of church leaders have been impacted.
DNA and Langa have worked together in the past to influence Ugandan law to the detriment of Uganda's gay community. In 2006 DNA co-founder Darrow Miller worked with Langa to ensure that the Equal Opportunities Bill, which was then being debated in Uganda's Parliament, would not include equal opportunities for LGBT people. The question now is what role has DNA played in Langa's efforts to impose the death penalty for that nation's gay community?
[Hat tip: Warren Throckmorton and Gay City News]
Click here to see BTB\'s complete coverage of the past year's anti-gay developments in Uganda.
What Did Don Schmierer Know?
Timothy Kincaid
December 9th, 2009
Don Schmierer, a member of Exodus International's Board of Directors was one of three Americans who traveled to Uganda to participate in an anti-gay conference last spring. That conference was the springboard from which anti-gay Ugandans propelled a pogrom against gay people which has resulted in proposed legislation to imprison gay Ugandans, to execute "repeat offenders" and HIV positive gays, to ban pro-gay advocacy, and to require friends, family, and acquaintances of gay people to turn them in to the government.
See our full coverage here.
Nine months after we here at Box Turtle Bulletin began our campaign to inform the world of this attack on human rights – after his participation was exposed by Rachel Maddow – Don Schmierer released a statement on the Exodus blog. In order to ensure that this statement is retained in its original form, it is included in its entirety at the bottom of this commentary.
The theme of Schmierer's statement is that he was ignorant of any anti-gay political activism at the conference, that his message was redemptive and compassionate, and that he has no responsibility for the current state of affairs in Uganda.
But this is just the latest in the efforts of those at Exodus to position Schmierer in a such a way as to deflect criticism. We will inspect Schmierer's statement, along with those of Exodus, and determine whether Don Schmierer was duped by anti-gay political activists or whether Don Schmierer is untruthfully seeking to cover up his part in an attack on human rights.
Let's start at the beginning.
February 24, 2009 – Box Turtle Bulletin became aware of Don Schmierer's scheduled attendance at the Uganda conference. We wrote a commentary condemning this decision and warning of possible consequences.
This conference will be taking place on very dangerous ground for LGBT citizens and residents of Uganda. Martin Ssempa, the influential evangelical pastor at Makerere Community Church, has called for open season on LGBT people – This is no idle threat.
Although we know that Exodus is aware of content at BTB, we left nothing to chance. I emailed Alan Chambers, President of Exodus International, and made certain that he was aware that a Board Member of his organization would be participating in the conference. Further, I made certain that Alan was aware of Lively's anti-gay advocacy and give the following warning:
Considering Lively's history, there is little doubt that the crux of his presentation will be to make claims about the nature and intent of gay persons in Uganda and to encourage reprisals, state action, and public abuse of gay persons in that country. His political and religious efforts in Balkan states has contributed greatly to physical harassment of gay persons in that area (including pelting gay Christians with excrement and rotten food), a result that he did not discourage.
March 1, 2009 – Alan replied off the record and I will respect that request by not making his communication public.
My response included the following:
Please let me know if you and the Exodus leadership develop a position on Don Schmierer's activities in Uganda. We will, of course, be interested in seeing whether the statements of Scott Lively or event organizer Stephen Langa will be similar to the light-the-torches-grab-the-pitchforks language they have both used in the past and will be looking to see whether Schmierer denounces or implicitly endorses their rhetoric.
NOTE: By March 1, we had already warned Exodus/Chambers/Schmierer that the conference would be political in nature, would likely result in physical harm to gay Ugandans, and that Schmierer would need to denounce the rhetoric or that his participation would be perceived as an implicit endorsement.
March 5, 2009 – the Uganda anti-gay conference started. Steven Langa introduced the purpose of the conference and its American guests. Our reporting from that day:
Langa began his talk by saying that Uganda law, which provides a life sentence for those convicted of homosexual acts, isn\'t strong enough.
He then announced that foreign gays were bribing Ugandan children to spread homosexuality. And then the rest of the day was provided for Don Schmierer to tell attendees that "one of the biggest causes of homosexuality is the lack of "good upbringing" in families—children should be brought up in proper Christian ways."
We have received private communication from some in attendance that Don Schmierer did present himself as a Board Member of Exodus International and left listeners with the impression that he was representing that organization at the conference.
NOTE: On the day that Schmierer spoke but before his presentation, Langa spoke about increasing civil penalties for homosexuality above their current life-sentence punishment. We have no report that Schmierer objected.
March 6, 2009 – A government official announced to the conference that Uganda would soon be considering a bill to crack down on homosexuality. Our reporting from that day:
The Minister of Ethics and Integrity, Dr. James Nsaba Buturo has today told a conference organized to discuss the ways to fight Homosexuality that he will soon submit a bill on pornography and homosexuality for discussion in Parliament.
Scott Lively encouraged the government to force gay people into ex-gay therapy.
That day Schmierer continued his discussions on family life. He made no assertions about the nature of homosexuality or gay people, but he gave his implicit endorsement of the assertions that would be presented by Lively.
After someone claimed that homosexuality is unnatural, Kasha asked, "Who decides what is natural?" Schmierer responded directly to the second question saying that his role at the workshop involves teaching about family values; other facilitators would answer questions about homosexuality being unnatural later in the conference.
A relatively unknown ex-gay named Caleb Lee Brundidge, an associate of Richard Cohen, shared his testimony that afternoon. However, first Steven Langa continued his attacks on gay people from a political perspective.
Langa was the first to take the floor. A harangue. Uganda is going into total moral collapse. It is worse and more serious than economic collapse. Soon, the world will turn inside out and upside down, and homosexuals will be presidents….!
Concerned by the reports out of Uganda, Dr. Warren Throckmorton, a supporter of traditional perspectives on sexuality with a history and contacts in the ex-gay world, recognized the situation in that nation to be volatile and dangerous and called on Alan Chambers to have Schmierer disavow the political agenda of the convention.
March 7, 2009 – The conference continued. Scott Lively spoke. Having been told that homosexuality is preventable by Don Schmierer and that it is changeable by Caleb Lee Brundidge, Lively was there to depict gay people as evil and the source of most of the world's greatest inhumanities.
On Saturday, Lively repeated his discredited historical revisionist theory in which he claims that the cornerstone of Germany\'s Nazi lies firmly in the gay movement, and that the gay movement today, if left unchecked, will result in a similarly murderous fascism wherever it goes. In Kampala, he went further by expanding his examples of what he calls homosexuals\' murderous impulse by blaming the 1994 Rwanda genocide on gay men.
Lively also played one of his favorite themes, equating homosexuality with pedophilia. As this is also one of Langa's themes, their bold declarations that gay foreigners were preying on Uganda's children was readily accepted.
To the best of our knowledge, Don Schmierer said absolutely nothing to contradict Lively's absurdities, to dampen the fires of hatred and bigotry, to oppose oppressive political schemes, or to call for compassion or redemption.
March 8, 2009 – We note that Exodus International links to Scott Lively's Nazi-revisionist claims with the title Homosexuality and the Nazi Party
March 9, 2009 – Exodus removes the link to Scott Lively without comment.
March 11, 2009 – We published an open letter to the Executive Board of Exodus calling on them to oppose the Ugandan political action and remove those responsible.
But truly concerned about the situation in Uganda and the shocking refusal of Exodus or Schmierer to respond, I took the additional step of contacting the executive director of an Exodus member ministry. Although we disagree about theology and the effectiveness of reorientation therapy, I respect his integrity.
We established a communication through which I was able to again reach out to Alan to plea for action to counteract the damage done at the conference.
March 13, 2009 – the Christian Post quotes Alan Chambers on the Uganda conference.
In response, Exodus International said it applauds its board member Don Schmierer, who attended the Uganda conference, for his effort to convey an "alternative message that encompasses a compassionate, biblical view of homosexuality," according to a statement by Exodus International president Alan Chambers to The Christian Post on Wednesday.
The full statement:
"Unfortunately, Uganda as a country has demonstrated severe hostility towards homosexuals supporting criminalization of homosexual behavior and proposing compulsory therapy – positions that Exodus International unequivocally denounces. It is our sincere desire to offer an alternative message that encompasses a compassionate, biblical view of homosexuality not just here in America, but around the world. We applaud our board member\'s attempt to convey these truths to a country in need."
There was nothing from Schmierer, not even acknowledgment of the applause.
March 14, 2009 – Someone commenting on a site for Australian skiers said the following:
Last week I sat next to this guy (Don Schmierer) on a flight from USA to Europe. He was on his way to Uganda to speak at a conference there on how to convert people from homosexuality.

We started talking and he was interesting. He was a nice guy, moderate in tone and personality, and concerned not to offend me in case I had different views.

Of course, he has batsh!t crazy ideas that The Gay is caused by a domineering parent, or neglected kids or broken homes. Or something. Whatever, it's a 100% acquired condition. Also the Nazis were all gay.

He works for Exodus International, which apparently is the leading Christian ministry focusing on the ex-gay (conversion) thing. They are not short of cash as it's funded by billionaire Howard Ahmanson. Africa is a big focus for them – it's religious and predominantly anti-gay, and Exodus wants to keep it that way.

Anyway, if anyone wants "Preventing the Homosexual Condition in Today's Youth" I now have a copy.
I was unaware of this comment until a few days ago when a reader linked to it. I am attempting to follow up with the commenter. Until then, I cannot vouch for its veracity.
NOTE: If this statement is accurate, it suggests that Schmierer was not only aware or Lively's Nazi-revisionism, but was in agreement. Further, it appears that Schmierer was aware of the political implications of his trip.
March 28, 2009 – I asked the executive director of the ex-gay ministry with whom I was communicating for one final favor:
I know that Don Schmierer has contact info for Steven Langa. It was Langa that organized the conference he spoke at which was the initiation point for this political effort. Can you please contact Don and ask him if he will speak to Langa and do what he can to prevent violence.
My contact, distressed by the situation, said he would be happy to do so.
Summer 2009 – Caleb Bundidge writes of his trip to Uganda in Richard Cohen's newsletter. (PDF: 7MB/12 pages)
The forty seminar participants were professional ministers, clergy, teachers, counselors, and SSA strugglers. All were greatly enlightened by the content of the presentations. Lives were changed forever thanks to those who contributed to my trip to Uganda! One Bishop in attendance was more affirming of the gay agenda. Through the course of the conference, he became more informed and had a change of mind and heart.
NOTE: Bundidge makes no mention whatsoever of a gay bishop in attendance. Nor has anyone else reporting about the conference from any perspective.
November 16, 2009 – Exodus prepares a letter which objected to specific provisions of the "Kill Gays" bill. They limited their criticism to only those portions that would impact the ability of ex-gay ministries to counsel same-sex attracted persons.
In the comments on our thread, Alan Chambers strengthened his objections to the bill and pledged to help work against it. He described Don Schmierer's involvement as follows:
I remain absolutely sure that Don Schmierer had no idea what all of this was about until on the ground there and that his desire in speaking was to teach what he always teaches about giving grace to those in need.
December 2, 2009 – Rachel Maddow breaks the story naming Schmierer and his involvement in the conference.
December 3, 2009 – Don Schmierer broke his silence. He issued the statement we've included below and signs on, after the fact, to the Exodus letter which has previously been sent.
In reviewing the chain of events as I personally know them to be, and comparing them to the statement issued by Schmierer, I see some significant discrepancies. Frankly, I have difficulty in seeing Schmierer's statement as being truthful.
If Don Schmierer would like to make another statement, one that is reflective of the facts, I invite him to do so. I would also remind him that true repentance includes attempting to remedy his wrong.
If Don Schmierer wants the gay community – or God – to forgive him for the evil that has resulted from his actions, he is morally obligated to do whatever he can – and my expectations are very high – to repudiate this bill and all that it represents, to denounce the political efforts of Steve Langa and Scott Lively, and to expend time, effort, finances, and political capital in seeing that gay Ugandans do not suffer as a result of his own personal contribution to the situation.
To do otherwise will tell us in no uncertain terms that while Don Schmierer speaks of love and compassion, these words are but sounding brass and tinkling cymbals.
Click here to see BTB\'s complete coverage of recent anti-gay developments in Uganda.
Click here to read Don Schmierer's statement.
Uganda's Anti-Gay Campaign Snares LGBT People and Rival Pastors, Tabloid Promises More "Outings"
Jim Burroway
May 14th, 2009
The situation in Uganda continues to deteriorate, with the latest anti-gay campaign now descending into what appears to be a circular firing squad among rival Pentecostal pastors. But while that civil war is going on, LGBT Ugandans continue to be caught up in the crossfire. The anonymous blogger Gay Uganda reproduced a statement from Sexual Minorities Uganda about the arrest of two gay men in Mbale:
Sexual Minorities Uganda – SMUG, visited Mbale and learnt that Fred Wasukira who is commonly known as Namboozo Margrete is business man in Mbale town who owns a bar and several houses in Mbale. On the night of 7th April 2009, the two were witnessed in a romantic mood at a bar in Namakweki Mbale district and according to the Police officer we talked to, the two were calling each other by names "darling , sweetheart" , we were told that from the bar Fred and Brian proceeded to their house where they were followed by residents, who alerted area local councils and the Police. They were caught kissing and cuddling at their house. Police and area local councils picked them up and took them to Mbale Police station, where they were held until the 17th April. 2008. At Maluke Prison we were not allowed to visit the prisoners saying it was not a visiting day, however we confirmed that they are on remand at Maluke Prison in Mbale.
That was in early April. On April 30, Gay Uganda reported that the two were still being held by police. He also reports of a seventeen year old male in Mukono who has been sentenced to life imprisonment, and another case in Entebbe. Gay Uganda continues:
Suddenly, prison is becoming something that anyone suspected of being gay gets rail roaded to. Doesn\'t matter that you may not be gay. Or you may not be guilty. Fact is, us seasoned gay people are kind of too suspicious to be caught in the act. But damn!
This latest campaign began nearly two and a half months ago when three American anti-gay activists spoke at a conference in Kampala organized by Pastor Stephen Langa's Family Life Network. That conference featured Exodus board president Don Schmierer, Holocaust revisionist Scott Lively, and purported raiser-of-the-dead and Richard Cohen protegé Caleb Lee Brundidge.
The March 3-5 conference called for Uganda's laws against homosexuality — which currently call for a life sentence — to be "strengthened" with an option to force those convicted into ex-gay therapy. Exodus International "applauded" Schmierer\'s role at the conference, but Exodus President Alan Chambers later tried to wash his hands of responsibility for it as the repercussions of the conference unfolded.
Those repercussions include a public outing campaign which named more than sixty people in the pages of the tabloid newspaper The Red Pepper. In an interview posted Monday on the South African web site Beyond the Mask, the News Editor for The Red Pepper, Ben Byarabaha, promised to continue the outing campaign. Byarabaha said, "We are just exposing the vice, the immorality from colonialists that is eluding African culture. As long as the practice is still illegal, we shall continue the campaign."
LGBT people aren't the only ones in danger of being caught up in this latest anti-gay vigilante campaign. Uganda's anti-gay religious leaders are taking advantage of the opportunity to accuse rival pastors of homosexuality.
The first round in this pastor-against-pastor conflict was fired soon after George Oundo claimed to have been saved and became an immediate "ex-gay" in Pastor Martin Ssempa's Makerere Community Church in Kampala. Oundo's "salvation" occurred sometime after he went sought money from Uganda's fledgling LGBT rights organzation, Sexual Minorities Uganda. Apparently snubbed by the LGBT community, Oundo found a savior in Ssempa and Pastor Stephen Langa, director of Kampala-based Family Life Network.
Ssempa had led several anti-gay campaigns in the past, but this time he appears to be taking a back seat to Langa, who organized a news conference featuring Oundo. It was at that news conference where Oundo named a popular Catholic priest, Fr. Anthony Musaala, as a homosexual. Musaala, whose Charismatic Renewal Movement has a huge youth following, just happens to be a longtime rival of Ssempa.
Other pastors are jumping onto the "outing" bandwagon to settle scores as well, and the rivalries are so complex that it takes some diagramming to keep it all straight. Here goes: Pastor Solomon Male of Arise for Christ Ministry accused Pastor Robert Kayanja of the Rubaga Miracle Center Cathedral of being a homosexual, along with "a group of other pastors." Kayanja's Rubaga Miracle Center is a very large and prosperous megachurch in Kampala. (Controversial American faith healer Benny Hinn will present a "Fire Conference" at that church on June 5th and 6th.) But an apparent friend of Kayanjka, Pastor Joseph Serwadda of the Victory Christian Centre, another megachurch in the Ndeeba section of Kampala which operates two FM stations, accused Male of of being an impostor, saying that he doesn't even have a church.
Kayanja's personal aide, Chris Muwonge, was allegedly kidnapped and tortured by armed men and held for five days. His captors allegedly wanted him to make a video statement accusing Kayenja of molesting young boys. Kayanja accused his rival, Pastor Michael Kyazze of the Omega Healing Center of being behind the plot. Kyazze's assistant, Pastor Robert Kayiira was arrested earlier for trying to sneak a laptop computer into Kayanja's Miracle Center. His close friend? Pastor Solomon Male. Kayanja reportedly believes that Martin Ssempa is involved in the allegations against him as well.
Solomon decries the kidnapping as "a desperate but tactical attempt to divert attention from the broader anti-homo and cult awareness campaign." That's right. He also accuses his rivals of fraud, "miracle faking," and human sacrifices. And now there is a report that another Kayanja aide, Herbert Tumukunde, was kidnapped and tortured. He was reportedly rescued just as he was drenched in kerosene and was about to be set on fire.
Meanwhile, Bishop Christopher Senyonjo of the Church of Uganda was fending off insinuations that he was gay. The Rt. Rev. Senyonjo believes those insinuations came from the Church of Uganda's Archbishop Luke Orombi. Senyonjo is the retired bishop of West Buganda Diocese. He has written and spoken out in support of Uganda's beleaguered LGBT community. Senyonjo isn't gay, but merely speaking up in support of LGBT people can draw dangerous accusations in the current climate.
That, or being a rival pastor.
Click here to see BTB\'s complete coverage of recent anti-gay developments in Uganda.
Uganda Gays Arrested, Blackmail Attempts Reported
Jim Burroway
May 4th, 2009
The situation in Uganda shows no sign of slowing down anytime soon. The Uganda press continues to play up the time-honored gays-as-child-predators slander, with the claim that the only reason for repeated generations of gay people is that they must "recruit" the next generation.
While that's going on, Uganda's Parliament appears poised to consider strengthening its already draconian law against homosexual acts. That action has the backing of Uganda's President, Yoweri Museveni. Current law already provides a maximum lifetime sentence for conviction of participating in same-sex relations. This latest efforts appear aimed at making the condition of homosexuality itself illegal.
We now have media reports of one gay couple arrested in Mbale. It is believed others have been arrested and sentenced as well. We also have reported blackmail attempts, in which anti-gay activists demand money in exchange for not publicly denouncing the individual as gay.
One person at the center of the blackmail allegations is  Uganda's "ex-gay" star, George Oundo, who continues to play a prominent role in the national outing campaign of private citizens. He has also made some very splashy allegations against well-known public figures as well. Those allegations have appeared in print, and on radio and television.
One such appearance was on Uganda's NTV television on March 29. The International Gay and Lesbian Human Rights Commission (IGLHRC) has obtained video of that broadcast: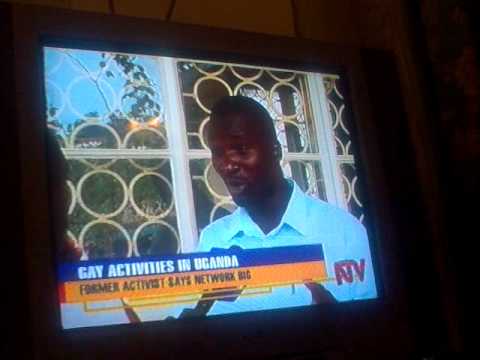 The video features Oundo describing his "recruiting" efforts in Uganda's schools. Strangely, his open admission of engaging in sexual acts with underage children has not led to calls for his arrest.
The television report intersperses brief shots of a pro-gay press conference held on August 16, 2007, which called on the Uganda government to allow LGBT people to live in peace. Many LGBT people attending that conference wore masks to shied their identity. That "Live In Peace" meeting led to that year's public anti-gay vigilante campaign, with the tabloid Red Pepper playing a major role in that year's campaigns.
As we reported earlier, Oundo got his first taste of public notoriety last September when he appeared on the pages of the hated Red Pepper seeking to embarrass the Ugandan LGBT community in a blatant bid for money. With that effort having come up dry, he appears now to be casting his lot with Stephen Langa's Family Life Network
Langa's Family Live Network began this latest round of anti-gay vigilantism with an anti-gay conference Kampala on March 3-5. That conference featured Exodus board president Don Schmierer, Holocaust revisionist Scott Lively, and purported raiser-of-the-dead and Richard Cohen protegé Caleb Lee Brundidge. Exodus International "applauded" Schmierer's role at the conference, while Exodus President Alan Chambers tried to wash his hands of responsibility for the aftermath of Schmierer's actions.
Click here to see BTB\'s complete coverage of recent anti-gay developments in Uganda.
Uganda Anti-Gay Activists March, "Storm Parliament"
Jim Burroway
April 24th, 2009
The Daily Monitor of Uganda has this report on a march by local anti-gay activists held on Tuesday:
Activists against homosexuality in Uganda stormed parliament on Tuesday protesting against the practice and demanded a probe into the practice in the country.

The activists who were holding banners denouncing the activity were led by the Family Life Network in conjunction with religious leaders.

The groups led by the Executive Director of Family Life Network, Mr Stephen Langa while handing over their petition to the Deputy Speaker, Ms Rebecca Kadaga said the Parliamentary select committee should also assess the extent of the damage homosexuality has caused to children and Ugandans.

…Mr Langa said the homosexuals under the group Sexual Minorities Uganda spend huge sums of money to recruit University students and those in secondary schools into homosexuality. They did not give details.
Another Uganda news outlet, UGPulse, reported that Deputy Speaker Kadaga "promised to push for the amendment of Article 31 of the Constitution which prohibits homosexual marriages. Langa had earlier noted that the article prohibits gay marriages but not the actions."The Daily Monitor's article indicates that the group explained that they wanted the proposed amendment to be broadened to "openly prohibit homosexuality, bisexuality, transsexuality and other related practices." According to some reports, there are moves afoot to make merely being gay a crime.
The anonymous blogger GayUganda reports that the demonstration began at Makerere University, the principle university in Kampala. Makerere University serves as host to pastor Martin Ssempa's weekly anti-gay talks known as "Prime Time." From Makerere University, the march worked its way through Kampala to the Parliament building. Portions of the march were carried on local Ugandan television.
This march follows Sunday's full-page article in the gossip tabloid The Red Pepper, which provided first names and other identifying features of more than fifty gays and lesbians in Uganda. Identifying features included places of residences, employers, partners' names, and types of cars driven. The article does not appear on The Red Pepper's web site. The Red Pepper promises another round of public outings next Sunday.
The same tabloid gained notoriety for conducting a similar public outing campaign in 2007. That campaign led to mob assaults, arrests, extra-judicial punishment, and drove some LGBT Ugandans into hiding or exile.
This year's anti-gay campaign traces its origins to a March 3-5 conference held in Kampala featuring three American anti-gay activists. Conference speakers included Exodus board president Don Schmierer, Holocaust revisionist Scott Lively, and purported raiser-of-the-dead and Richard Cohen protegé Caleb Lee Brundidge.
Click here to see BTB\'s complete coverage of recent anti-gay developments in Uganda.
Uganda Columnist: "Happy Easter …Irrespective of Sexual Orientation"
Jim Burroway
April 10th, 2009
Columnist Bernard Tabaire, writing for Uganda's Daily Monitor, offers a very refreshing and sane take on the latest round of anti-gay agitation taking place in Ugandan media. His column is so wonderful and refreshing, it's hard to know where to start. He starts this way:
It is Holy Saturday, today, the final day of Holy Week and of Lent – "a period of spiritual preparation for Easter which typically involves fasting, penance and prayer". Besides fasting, penance and prayer, the Lent period in Uganda this year has been characterised by something else: virulent gay-bashing.
Tabaire calls out Stephen Langa, director of Kampala-based Family Life Network, on this latest round of public gay-bashing with remarkable clarity and logic. He notes the obvious rivalries between Langa and other "Christian" leaders — petty rivalries which appear to behind charges that one prominent Catholic priest was gay. Those charges were made by some so-called "ex-gays" that were trotted out by Langa at a press conference. But of the more concerning accusations — that gay Ugandans are "recruiting" schoolchildren, Tabaire asks the questions that ought to be obvious:
But enticing minors into sexual activity, any sexual activity, is illegal as well. So why are the Georginas [referring to George Oundo and Emma Matovu] not reporting this matter to the police? Why do they report to Mr Langa\'s little outfit? If they do not know about the rights of children, surely, Mr Langa knows. Why does he then not encourage them to report these things to the police?

In fact, the police should swing into action and arrest anyone, straight or gay, who has lured children to sexual activity. Otherwise they will stand accused of going along with Mr Langa\'s posturing as the guarantor of morality in Uganda.

Indeed, the main point that has come out of Mr Langa\'s shrill anti-gay crusade is that adults are messing with our children. This, though, begs the question: what has recruitment of children into homosexuality got to do with two consenting adults having a sexual relationship? In his zeal, Mr Langa appears over his head here. He needs to straighten his priorities not gays and lesbians.
Tabaire also points out the obvious dangers which stem from this latest upsurge of anti-gay rhetoric and accusations:
There is something potentially dangerous in what Mr Langa is doing in inveighing against fellow Ugandans just because they are not heterosexual. It will come as no surprise if individuals falsely name others as gay or lesbian to settle personal scores.
Tabaire's column is a very welcome island of sanity in the sea of madness we've seen lately. I hope this will encourage others to raise their voice as well.
And maybe — just maybe — Exodus President Alan Chambers will be moved by the celebration of the Easter season to muster the courage that Bernard Tabaire has demonstrated. Maybe.
Chambers rushed to Peter LaBarbera's defense, and LaBarbera's life and liberty isn't close to being threatened. Meanwhile, we hear that Ugandan television followed police as they arrested two gay men in their own homes. Those men will reportedly spend their Easter weekend in jail.
I hope that in this season, Alan Chambers may find the courage to contact Ugandan media — as Warren Throckmorton did, so we know it's not that difficult to do — and call for a halt to the vigilantism that his fellow Exodus board member facilitated. A member of his organization helped to create this mess; he can make a big difference in trying to correct the situation.
Alan, the ball is in your court. You can choose to do the right thing, or you can continue to remain silent. The choice is yours. Happy Easter, irrespective.
Click here to see BTB\'s complete coverage of recent anti-gay developments in Uganda.
Exodus Maintains Month-Long Silence Amid Ugandan Gov't Calls For LGBT Arrests
Jim Burroway
April 2nd, 2009
Update: Calls for mass arrests on radio continue. For more information, see the end of this post for the latest update.
The situation in Uganda continues to escalate. Late yesterday, Uganda's New Vision followed up on Stephen Langa's launch of a public forced "outing" drive against Ugandan LGBT individuals and against rivals who are alleged to be gay. On Monday, Langa sponsored a press conference in which another allegedly "former gay activist" Paul Kagaba accused a very popular Catholic priest and gospel singer, Fr. Anthony Musaala, of being gay.
Musaala is a well-known figure, and the Catholic church is seen as a rival to Stephen Langa's evangelical organization. New Vision followed up with a statement from Fr. Musaala's colleagues and from Musalla himself:
Father Francis Ssemuddu, the head of St. Matia Mulumba parish in Old Kampala, said the accusations "were untrue". Ssemuddu said the church was clear about aberrant sexual practices and how to guide offenders get out of "the abnormal behaviour".

Musaala, the charismatic preacher and gospel music award winner, was on Tuesday accused by a self-confessed former homosexual of eight years of promoting the illegal practice. Paul Kagaba said the priest had often held parties for the gays at his residence in Gayaza near Kampala.

…Musaala argued that as a church minister, he had given spiritual guidance to homosexuals, lesbians and prostitutes since 1999, but he was not gay himself. "But ethically, I cannot name them," he said.

Explaining why people take to homosexuality, the dancing priest, as he is sometimes called, blamed the desire for money and "inherent feelings that drive them". His involvement, he said, was limited to helping the gay abandon the practice some of whom "want to commit suicide". "I want to show them the true path to salvation," he said. "This is a journey that requires someone to walk with as a guide."

"These people are stigmatised and I am totally against this because they need our help," said Musaala.
Meanwhile, parliament members are outraged that Ugandan authorities permitted Sexual Minorities Uganda (SMUG) to hold a public news conference. In an indication of the risks that are taken whenever anyone identifies themselves as being gay, members of parliament are demanding that those identified at the news conferences be arrested:
Latif Sebaggala (DP) said the Government was tolerant because donors had threatened to cut funding if homosexuals were stopped. "We are worried about our children. If the Government is silent, it means it is silent approval," he said.

Henry Banyenzaki (NRM) blamed poor enforcement of laws which he said had escalated homosexuality, rape, defilement and child sacrifice. In reply, Daudi Migereko, the Government chief whip, argued that anybody was free to hold a press conference without permission from the Government.

However, he said, by doing so, the gays had exposed themselves and the Government would go after them."Homosexuality is illegal. The Minister of Ethics, Dr. Nsaba Buturo, has been clear on the matter. Those involved will face the long arm of the law," he said.

Henry Kajura, the second deputy Prime Minister, said the Government would not compromise on moral and cultural values because of donor pressure.

"The Government will soon show its teeth," he warned. "Our society abhors homosexuality."
Uganda's latest spasm of anti-gay actions is a direct outcome of a three-day conference organized by Family Life Network's Stephen Langa, featuring three American anti-gay activists, including Holocaust revisionist Scott Lively and Exodus board member Don Schmierer. Leaders of that conference applauded Uganda's draconian anti-homosexuality laws, which provide a life sentence for those convicted. Conference leaders called for strengthening the law to proved for forcing gays and lesbians into conversion therapy. Schmierer, the supposed "expert" on ex-gay therapies and policies at the conference, remained silent on policy questions, and instead pointedly referred those questions to other speakers at the conference, including Lively.
Exodus released a very tiny three-sentence statement claiming to be against the policy proposals coming out of Uganda, while simultaneously "applauding" Schmierer's participation in the conference which promulgated those proposals. That statement has not been released publicly, and it does not appear anywhere on Exodus' web site. There is also no evidence that Exodus is making any attempt to convey any statements to Uganda media.
Grove City college professor Dr. Warren Throckmorton, meanwhile, was able to get an interview into the news outlet Uganda Pulse condemning the conference. This indicates strongly that if Exodus wanted to make a statement to the Ugandan people, there are means with which they could do it. Instead, Exodus continues to do nothing.
Update: The public calls for mass arrests continue in the media:
At 6 p.m., popular radio station KFM played clips from interviews with Dr. James Nsaba Buturo and Member of Parliament, Latif Sabagala. Sabagala said that homosexuality is unacceptable because it interferes with the moral values of Ugandans. He sent out a message to government agencies telling them to hunt down homosexuals and arrest them since they have exposed themselves. Dr. James Nsaba Butuaro said that they would discuss the issue in Parliament and get some action. The 9 o'clock news played another clip of Sabagala, saying that there are no laws protecting gays in Uganda.

…I spoke to Frank Mugisha, the chairperson of Sexual Minorities Uganda (SMUG). "The LGBTI-community is still scared," he said. "After our press release yesterday, the public is confused. They do not know what to believe. Those who are thinking through everything they have heard from the ex-gay activists have begun to realize that this is just an agenda to crush the gay rights movement, and it is full of lies."
Click here to see BTB's complete coverage of recent anti-gay developments in Uganda.
Press Release from Ugandan LGBT Advocacy Group
Jim Burroway
April 2nd, 2009
We mentioned earlier a press conference held by Sexual Minorities Uganda (SMUG) refuting anti-gay extremists charges in that country that gays were being paid by foreign LGBT advocacy groups to "recruit" children in Uganda's schools. We now have this press release from SMUG:
Uganda: Official Statement From LGBTI Ugandans

For immediate Release: Tuesday 31 March 2009

Press Release

To: Fellow Citizens of Uganda

Over the past few weeks, very serious allegations of 'recruitment' into homosexuality, have been leveled against Homosexual Citizens of Uganda by various people and institutions.

We have been accused of accepting huge amounts of money for the so called 'recruitment' drives , by the Family Life Network (FLN).

We affirm that we are homosexual. That means that we are different in sexual orientation from most of our fellow Ugandans. That does not make us criminals.

We, like all other Ugandans, are responsible and law abiding citizens.

Homosexual Ugandans do not condone or support recruitment of people into homosexuality at any level. We strongly and fiercely condemn it.

We know that sexual orientation is not changeable. We are homosexuals and cannot change. In the same way, we cannot change heterosexuals into homosexuals. We cannot recruit. WE CANNOT, DO NOT, HAVE NEVER, AND WILL NEVER 'recruit'.

We can only deduce that those leveling these claims aim to inflame the public against us, a minority group.

The allegation that we receive huge amounts of money for the so called 'recruitment' services is simply ridiculous. We do not receive any money for 'recruitment'. It is absurd that some assume we would be paid to do something impossible.

We strongly affirm that these allegations are not only false and ridiculous, they are also far from the truth.

Our campaign for gay rights is rooted in the fact that, as Ugandans, we deserve the respect and protection of the law, just like all other Ugandans. We do not deserve to be discriminated against. We do not deserve to be criminalized. We do not deserve to be treated as criminals simply because we are Lesbian, Gay, Bisexual, Transgender, Inter-sex.

We call upon all Ugandans to reject this campaign of falsehoods, inflammatory statements and hatred. Ours is a peaceful plea to inform fellow Ugandans about us, to have attitudes changed, so that fellow citizens do not think that we are, as we have been accused of being; ie. insane, pigs, sick, inhuman, un-natural, un-Ugandan and un-African.

We are fellow Ugandans. We deserve equal rights and protection under the Law and Constitution. We don't deserve to be demonized and falsely accused in the name of ignorance of who and what we are.

For and on behalf of all the Lesbian, Gay, Bisexual, Transgender or Inter-sex,People of Uganda.

For God and My Country!

—
Pepe Julian Onziema
HUMAN RIGHTS DEFENDER

Program Coordinator
SMUG
P.O.Box 70208,
Clock Tower
Kampala.
Uganda.
Office: +256 312 294 859
Cell: +256 772 370 674
Alt Email: onziema@gmail.com
URL: www.sexualminoritiesuganda.org
Click here to see BTB's complete coverage of recent anti-gay developments in Uganda.
Forced Outings Continue As Uganda LGBT Advocates Allege Oundo Is In It For The Money
Jim Burroway
March 31st, 2009
The campaign of forced public "outings" of alleged LGBT individuals have continued in Uganda, including allegations against a popular Catholic priest and gospel singer, among others:
In his remarks, [Paul] Kagaba also named an employee of a Kampala city hospital and a European residing on Entebbe road among the prominent gay promoters in the country.
Meanwhile, Sexual Minorities Uganda (SMUG) held a sparsely attended news conference to call for the protection of equal rights for that nation's LGBT citizens:
Victor Mukasa, the coordinator of the Uganda Minority Sexual Rights group says the campaign against homosexuals in the country is based on wrong information that homosexuality is an acquired behavior which can be taught to people.

Mukasa says homosexuals are naturally born attracted to people of the same sex and do not "change like weather". Mukasa says it is wrong for Langa and his group to accuse homosexuals of being in a campaign to recruit and change school children into homosexuality. He says these allegations are aimed at making Ugandans to hate homosexuals and force the government to become punish homosexuals.
One interesting detail from this Uganda Pulse article is this very obliquely stated allegation:
But the Family Life Network recently presented a group of former homosexuals who claimed they used to recruit students through offering them money and friendship. Mukasa says the people claiming to have been working to promote homosexuality in schools have been paid to talk bad about homosexuals in order to make Ugandans hate homosexuals, instead of appreciating their differences. [Emphases mine.]
This brings to light earlier allegations about George Oundo that I have heard privately from anonymous sources. Those private sources have told me that the widespread belief in Uganda's LGBT community is that Oundo "switched sides" for financial gain.
As we've noted, the charge that gays are "recruiting" Ugandan children has been a recurrent them in this and past anti-gay campaigns. Oundo threw more fuel on that fire when he became a centerpiece for an anti-gay press conference carried live by three Ugandan television stations. At that press conference, Oundo claimed that after having been a gay activist, he is now — only five months later — heterosexual. He also claimed that during his time as an activist, he was paid by wealthy foreign activists to recruit children into homosexuality. If this were true, that would mean that Oundo admitted to having committed the crime of child sexual abuse. But that technical detail is being overlooked as Oundo threatens to publicly name private individuals from among Uganda's beleaguered gay community.
We published some background information on Oundo's transformation from gay activists to gay denouncer, which included several arrests and detentions by police and a surprise appearance in the hated Ugandan tabloid Red Pepper last October. That paper had led previous anti-gay vigilante campaigns by outing private gay citizens to employers, neighbors and police. The Red Pepperarticle included Oundo's complaints that the gay community was refusing to provide financial assistance.
The private reports that I had received alleged that Oundo had come to believe that LGBT activism was a lucrative trade and he began demanding his cut, and they cite his appearance in the hated Red Pepper as a public gambit for payment. That allegation is certainly consistent with the main theme behind the Red Pepper article.
Now SMUG's chairperson has gone on record with similar allegations, saying that Oundo's turning away from the LGBT community has less to do with suddenly finding Jesus, and more to do with finding the highest bidder:
A confession by George Oundo and his claim that he has abandoned homosexuality seems to be nothing more than him trying to get back at the LGBTI movement in Uganda since he accuses the leaders of Sexual Minorities Uganda (SMUG) of neglecting him and his friend when they were in need.

…Oundo also said that the other eight men who confessed are people who also have grievances with the LGBTI movement in Uganda.

…Frank Mugisha, Chairperson of SMUG said that George Oundo expected too much from the LGBTI movement.

"It is bad that he is using his sexual orientation for selfish gains. When his demands were not met by the LGBTI community, he sought a new tactic. We believe he has not changed he is still gay and will always be, it is a matter of time before we will all find out that he is lying", Mugisha concluded.
Update: Minutes after posting this, an email newsletter from SMUG landed in my inbox. It contained this update:
The situation is still hostile, minutes after holding our press conference, the anti gay religious groups with  ex-gay Ouudo George also held a press conference. In the press conference they 'outed' more LGBTI people, our partners and uttered continuous false accusations, insults and threats.
The outings and threats continue…
Click here to see BTB's complete coverage of recent anti-gay developments in Uganda.
Uganda Activist Cites Disbarred "Therapist" As Authority on Homosexuality
Jim Burroway
March 31st, 2009
David Roberts at Ex-Gay Watch has posted another exclusive video of Ugandan pastor Stephen Langa, as he cites Richard Cohen's 2000 book, Coming Out Straight, as an authority on the homosexual agenda. The video was taken during a March 15th follow-up meeting to the three-day conference conducted by American anti-gay activists, which included Richard Cohen protegé Lee Caleb Brundidge.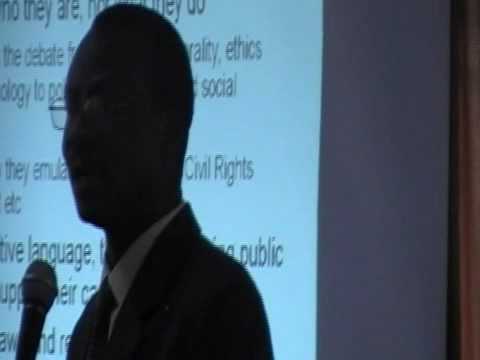 What are some of their strategies? One: redefine homosexuality as an inborn condition based on genetics and biology, so that it will be regarded as irreversible. There is no proof, there is no study that has found that homosexuality is genetic. None, none. In fact, this man has a whole chapter on it. Now this man is a former homosexual, he has a whole chapter on all the science, on all the studies that homosexuals claim […] the genetics of homosexuality, and all of them don't qualify. They are unrepeatable. You cannot politicize… […] an experiment cannot be done, it cannot happen. It doesn't work. It's not there. But we see they portray it as such. They portray it as such.

Second, focus on who they are and not what they do. It's a very critical tactic. A very critical tactic. What does that mean? This shifts the debate from the arena of morality, ethics and psychology to politics, human rights and social injustice. Here's how clever they are. This is a matter of morality. This is a matter ethics. This is a matter of psychology. But now they shift it to politics, human rights and social injustice. They play on your sense of justice. "Oh, but look at the injustice. See?" They're like the Blacks, and that is wrong. You see, and here it is. "In this way they emulate the pattern of the Civil Rights movement." In America, what was the civil rights movement? People are being discriminated against because they are Black.

Now the difference between that and a legitimate civil rights issue and an issue which is not a civil rights issue is this: If that thing is something you have no choice about and something inborn, then it is a civil rights issue. For example, your tribe, if somebody discriminates against your tribe, your color, you know? Those kinds of things. Those are things which are legitimate civil rights and human rights items. But issues of choice, if I choose to be a thief, if I choose to be a murderer, I cannot stand up and say, "Oh, you see, I was born this way." No.

But you see, these guys are clever. They want to equate legitimate issues that demand or that deserve human rights protection with things that don't. And that is how they were able to win in South Africa, because they say, "Well oh, Blacks were discriminated against, the Blacks in South Africa. So we are also like that." And so the South African government, as the other people passed, they also passed. And in America, this came up at the time when they see Black civil rights had just gained prominence and had just got their rights, and so they also smuggled themselves into the middle of it. And they came together with the Blacks. But that's the tactic. It's the tactic. It's the tactic.
There is so much in this short clip that is wrong that it's hard to know where to begin. But there is one thing that bears mentioning. Anti-gay activists who assert that there is no biological basis for homosexuality for anyone pretend that there were only three studies worth mentioning. Those studies include Simon LeVay's 1994 brain study, Bailey and Pillard's 1991 twins study, and Dean Hamer's 1993 X-chromosome study. As far as activists are concerned, these are the only studies that have ever been published, and none of them "proved" that homosexuality is biological or genetic.
The truth is however that there have literally been hundreds of studies published in peer-reviewed journals in the past twenty years or more, the preponderance of which suggest a biological basis for homosexuality in many people. Anti-gay activists refuse to acknowledge those studies. Instead, they only pick on the three weakest and easiest to disprove studies.
This is the sort of "science" one would expect from Richard Cohen. He has been banned for life from the American Counseling Association, and his controversial "holding" or "touch" therapy techniques — which are also clearly demonstrated in that same book Langa is so fond of — has made him the laughingstock of the ex-gay movement. Seeing it being used as fodder for Uganda's latest anti-gay campaign, while Exodus — America's largest and best known umbrella organization of ex-gay "experts" — remains silent is no laughing matter.
Click here to see BTB's complete coverage of recent anti-gay developments in Uganda.
Uganda Situation Continues To Deteriorate; Exodus Washes Their Hands
Jim Burroway
March 30th, 2009
The anonymous blogger GayUganda is reporting that Stephen Langa, the director of Family Life Network who has been leading the latest anti-gay vigilante campaign, is now speaking on Ugandan FM radio stations advocating the arrests of Ugandan LGBT leaders. GayUganda also reports that Langa is calling some of those very leaders requesting meetings. No word on what he intends to say or do at the proposed meeting. LGBT Ugandans, naturally, are very cautious.
Meanwhile, GayUganda has a very prescient suspicion about Exodus:
Did his American friends know that they were stirring up this kind of hatred and hate mongering? They will throw up their hands in helplessness. They never planned this, they will say, with wide eyed innocence.
GayUganda nails it, as this describes Exodus' behavior perfectly. Publicly, we've only seen the lame three sentence statement that was issued on March 13. But privately, we do know that they are playing the innocence card exactly as GayUganda predicts.
Exodus has the capacity to contact Ugandan media to publicly condemn the latest anti-gay campaign. After all, if a professor from a small northeastern Christian college can do it, so can Alan Chambers. And that professor didn't have the benefit of direct contacts that Don Schmierer has. Yet Exodus continues to wash their hands of any responsibility for their own board member who has provided "expert" cover for Langa's latest campaign.
GayUganda writes that plans for April including gathering signatures for a petition and, more worrisome, a mass rally in one of the stadiums with a march on Parliament.
Click here to see BTB's complete coverage of recent anti-gay developments in Uganda.
Videos Surface of Ugandan Activists Stirring Anti-Gay Fervor; Fears of Violence Grow
Jim Burroway
March 28th, 2009
We've gotten word from three separate Ugandan sources that local gays and lesbians in Uganda are worried about imminent violence, with many making plans to go into hiding or leave the country. The word on the street is that police detentions are pending (which one government minister has already promised) and that Stephen Langa's Family Life Network is preparing another round of public vigilantism. LGBT citizens believe that Wednesday's press conference, carried live by three television channels, was just the opening salvo. This press conference follows well-recognized patterns from previous anti-gay campaigns, which were cheered on by the media. Gay sources in Uganda report being terrified, with few daring to venture out of their homes.
David Roberts at Ex-Gay Watch has obtained exclusive video of the March 15th meeting conducted by Stephen Langa. That meeting was a follow-up to a March 5-8 conference at Uganda's posh Triangle Hotel featuring three American anti-gay activists: Exodus Board member Don Schmierer, Holocaust revisionist Scott Lively, and Richard Cohen protegé Caleb Lee Brundidge. That conference applauded Uganda's draconian law which calls for life imprisonment for those convicted of homosexual acts, and called further for those convicted be subject to forced ex-gay therapy. Schmierer's continuing silence on those proposals have been taken by Ugandan activists as an endorsement of those policies by American ex-gay experts.
In the first of the two videos posted at Ex-Gay Watch, we see Stephen Langa quoting material from Scott Lively's The Pink Swastika in this perverse version of the history of the gay movement: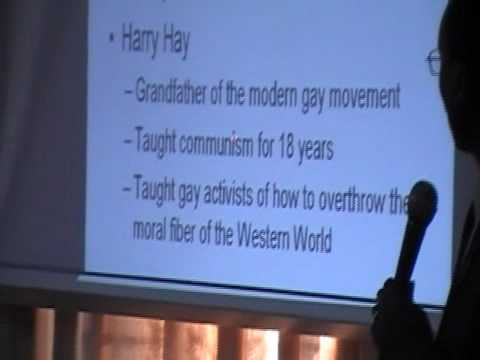 "Alright. The history of the modern gay movement. This is from Mr. Lively, he was here last week, and he was one of the people who was having a lot of research on homosexuals. He wrote this book you can see, The Pink Swastika: Homosexuality and the Nazi Party. He has a lot of data, lot of data, lot of data on homosexuality and on the homosexual movement.

"Now, in America this gentleman, Henry Garber [sic], was a German-American soldier who served in Germany after the First World War. He was among the occupational forces that was in Germany during and after the First World War. And then he went back to America and began activism, but in a very small way, a very small way. And Henry Garber [sic] molested a boy by the name Champ Simmons. When Champ Simmons grew up, he also molested a boy known as Harry Hay. This Harry Hay is the grandfather of the modern gay movement.

"This man here in the '40s, they guy who really began what is now today the gay movement that has taken over the whole world. He taught communism for eighteen years, and during that time he learned how society can be taken over. Because communists taught how society can be taken over using economic means. But he understood those tactics and taught the gay activists on how to overthrow the moral fiber of the Western World, which was based on marriage and the family. So he took these guys' tactics and strategies on how to overthrow a society. And so they began to do their work, they began to do their work. And the gay movement you see today and all these things you see around the world are as a result of what this guy taught these people, and his disciples are now busy and enforces what he has said, including those who are in this country. They all came out of this guy's movement."
As we've reported throughout this series, these activists have exhibited a particular obsession with the idea that homosexuality can be transmitted like a virus through child molestation. Notice Langa's macabre assertion that homosexuality passed via molestation from Garber to Simmons to Hays, as though it were a simple yet genealogical line. This idea that was reinforced by Exodus board member Don Schmierer, who provided the germ of that scientifically untenable theory in his talk at the March 5-8 conference in Kampala.
(This "genealogy" is a very good example of the many distortions which thoroughly permeate The Pink Swastika. Jonathan Katz, whose 1976 book Gay American History is purportedly the "source" of Lively's genealogy, reports Hays' "recruitment" very differently. Quoting Hays: "I enticed an 'older' gentleman (he must have been at least 33) to 'bring me out' by finagling his picking me up in Los Angeles's notorious Pershing Square. Poor guy — he was appalled to discover, subsequently, that I was both a virgin and jailbait!" Hays was seventeen at the time. So much for his innocent "molestation.")
In the second video, Langa remains focused on the gays-as-predators theme, citing Michael Swift's satire, "A Gay Revolutionary," as though it were a factual manifesto. As he dramatically reads aloud portions of that now-famous satire, notice the camera panning across the room to the shocked audience which is taking it all in: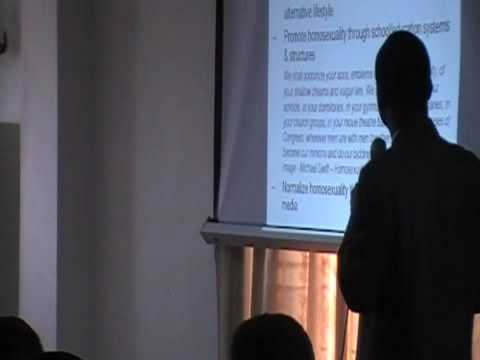 "…as we see here. This is not a joke, what we're dealing with here is not a joke. And of course, their cause — they don't care about you. They want your children! Look at what this homosexual activist said:

"We shall sodomize your sons, emblems of your feeble masculinity, of your shallow dreams and vulgar lies. We shall seduce them in your schools, in your dormitories, in your gymnasiums in your seminaries, in your church groups, in your movie theater bathrooms, in your houses of Congress, wherever men meet with men. Your sons shall become our minions and do our bidding. They shall be recast in our image."

"Criminals! That's what the gays want to do, that's what the gays want to do. They are after your children."
"It's not a joke"?
As a matter of fact, this passage is a joke. It's an intentional, outrageous joke on the part of the writer, and that fact is part of the public record. While anti-gay extremists love reading this aloud to incite hatred towards gays and lesbians — and Langa's dramatic recitation is par for the course — they invariably omit the preface, which sets the context for the entire piece:
This essay is an outré, madness, a tragic, cruel fantasy, an eruption of inner rage, on how the oppressed desperately dream of being the oppressor.
That's right. It's a work of fiction, a satire — and the author said so when it originally appeared in the Gay Community News way back in 1987. In fact, the anonymous writer used the pseudonym "Michael Swift," which is an obvious homage to the English language's most famous satirist, Jonathan Swift.
It's hard to improve on David Robert's observation:
Depicting this work of satire written in the heat of the AIDS crisis as having serious intent is nothing less than an incitement to violence. Combined with the prestige provided by supposed American "authorities" on homosexuality in the meetings of March 5-8, Langa here brings to the surface the greatest fear, and one that has been used by so many campaigns against marginalized groups throughout history — they are a danger to your children. A lie served up by a "man of God," backed by "experts" from the West and representatives of their own government. This is all a dangerous recipe for violence against anyone who is, or is perceived to be, gay in Uganda.
Click here to see BTB's complete coverage of recent anti-gay developments in Uganda.