Homosexuality Again A Topic As Uganda Gets New Anglican Archbishop
Jim Burroway
December 18th, 2012
Rt. Rev. Stanley Ntagali was installed as Archbishop of the Anglican Church of Uganda this weekend, and the topic that seems to be on everybody's mind there continues to be the debate over the Anti-Homosexuality Bill. In this clip from NTV, Uganda's largest independent television network, we hear President Yoweri Museveni addressing the crowd at Namirembe Cathedral:
(@1:47) We're not going to kill them. (unintelligible) because we didn't kill them in the past. We are not going to persecute them. We are not going to marginalize them. But there should be no promotion, and sex here is confidential.
The Anti-Homosexuality Bill which is currently before Parliament however would, in its current form, bring the death penalty or life imprisonment for gay people, and would endanger everyone else with lengthy prison terms for either knowing, providing services, or defending them.
The new Archbishop also addressed homosexuality and corruption as two areas that he would address as the Church's new leader. And speaking of corruption, Ntagali accepted a brand new Toyota SUV from the President. Museveni routinely furnishes them to select religious leaders who he favors.
According to the anti-gay web site Anglican Mainstream,  Rev. Robert W. Duncan, who heads an American breakaway Anglican movement which recognizes the Archbishop of Uganda as its spiritual leader (he is incorrectly identified as "Archbishop and Primate of the Anglican Church in North America"), was in attendance and spoke at the ceremony. It is not clear however whether he addressed either directly or indirectly the controversy over the Anti-Homosexuality Bill.
Ntagali succeeds retired Archbishop Henry Luke Orombi, who as recently as last June called for the Parliament to pass the Anti-Homosexuality Bill. When asked whether the Anglican Communion has reached a point of full schism during the 2010 All Africa Bishops Conference (which Archbishop of Canterbury Rowan Williams attended as head of the worldwide Anglican Communion), Orombi announced that "there is already a break." Orombi has published invitations to American parishes to break from their own bishops to seek "spiritual guidance" from Orombi instead of the established Episcopal Church.
Ugandan Catholic, Anglican, Orthodox Bishops Call for Anti-Homosexuality Bill's Revival
Jim Burroway
June 12th, 2012
Daily Monitor, Uganda's largest independent newspaper, reported this worrisome call on Sunday:
Top religious leaders from across the country have asked Parliament to speed-up the process of enacting the Anti-Homosexuality law to prevent what they called "an attack on the Bible and the institution of marriage".

Speaking after their recent annual conference organised by the Uganda Joint Christian Council (UJCC), an ecumenical body which brings together the Anglican, Catholic and Orthodox churches, the bishops resolved that the parliamentary committee on Gender should be tasked to engage the House on the Bill which is now at committee level.

"We also ask the Education committee to engage the Ministry of Education on the issue of incorporating a topic on human sexuality in the curricula of our schools and institutions of learning," the resolutions signed by archbishops Henry Luke Orombi, Cyprian Kizito Lwanga and Metropolitan Jonah Lwanga, indicated.
This is a worrying development. Roman Catholic Archbishop Lwanga's Christmas message of 2009 included his opposition to the Anti-Homosexuality Bill. He reiterated that message the following January. He was also a signatory to a multi-faith letter in 2010 which criticized the bill. More than a year later, we learned that prior to the Archbishop's statements, the Vatican had intervened with its opposition to the bill. This statement now appears to be an about-face on the part of Lwanga.
Meanwhile, the Anti-Homosexuality Bill's sponsor, M.P. David Bahati, continues to lie about the bill's provisions:
Among some of the propositions in the Bill was one of death and life sentence for those for those caught engaging in homosexuality for a second time.

However, Mr Bahati said these penalties had since been removed from the Bill.
This is as untrue now as it has been every time Bahati has repeated this lie since the bill's first introduction in 2009. It was referred to the Legal and Parliamentary Affairs Committee, where it languished until 2011. When the committee finally reported the bill back onto the House floor in May, 2011 they suggested removing some clauses of the bill while adding of a new clause criminalizing the conduct of same-sex marriages. As for the death penalty provision, the committee recommended a sly change to the bill, removing the explicit language of "suffer(ing) death," and replacing it with a reference to the penalties provided in an unrelated already existing law. That law however specifies the death penalty. Which means that the Legal and Parliamentary Affairs Committee recommended that the death penalty be retained through stealth. Bahati then went on to claim that the death penalty was removed even though it was still a part of the bill. The Eighth Parliament ended before it could act on the committee's recommendation.
On February 7, 2012, the original version of the bill, unchanged from when it was first introduced in 2009, was reintroduced into the Ninth Parliament. The bill was again sent to the Legal and Parliamentary Affairs Committee. Despite reports to the contrary, the original language specifying the death penalty is still in the bill, and will remain there unless the committee recommends its actual removal and Parliament adopts that recommendation in a floor vote.
Uganda's President Calls for "Tolerance" At African Bishop's Conference
Jim Burroway
August 30th, 2010
The All Africa Bishops Conference wrapped up its meeting in Entebbe yesterday, calling on the Worldwide African Communion, according to Uganda's Daily Monitor, to "stick to their culture and reject Western ways tearing the church apart." Among the "Western ways" specifically denounced is the Western church's positions on the equal dignity and worth for LGBT people and the ordination of women. According to Daily Monitor:
While addressing a press conference yesterday, the clergy men, led by Archbishop Henry Luke Orombi, said Western cultures like homosexuality should be shunned. He said they will not change their stand on homosexuality, saying the practice is against the scriptures.
On Tuesday, President Yoweri Museveni, without a hint of an awareness of the irony of his remarks, called on the 400 Anglican bishops gathered at Entebbe to embrace tolerance as a biblical imperative, saying that Christians should not "have one minute of time wasted" by those promoting prejudice:
"I am always looking for the good Samaritan," he said. "Jesus says you shall know them by their fruits. You shall know them by their actions. Not by their words, not by their addresses, not by their titles, but by their works, by their deeds, by the products of their works."

The President said those of all denominations or faiths needed to recognise one another's right to exist: "If you are a Muslim, so what? I am a Christian. OK, so what's your problem? You are what you are, but I am what I am. We're different…I'm here by the permission of God. You must accept me the way I am whether you want it or not."
That tolerance obviously does not extend to gay people. Museveni has spoken out repeatedly against what he sees as the "foreign influence" behind the presence of LGBT people in Uganda. A member of his ruling party, MP David Bahati, last October introduced the draconian Anti-Homosexuality before the nation's Parliament. Following an international outcry that threatened foreign aid to the impoverished country, Museveni urged Parliament (of which some two-thirds are members of his National Resistance Movement) to "go slow" on the bill. He has nevertheless since then repeated several of the common Ugandan talking points about LGBT people. In speeches for Martyr's Day, a national holiday in Uganda, Museveni charged that Europeans were intent on "imposing homosexuality":
"The church in Africa is very strong and has been at the fore in fighting homosexuality and moral decadence. We must look for modern ways of instilling discipline in society. The Europeans are finished and if we follow their western culture, we shall be headed for Sodom and Gomorrah (the two places which God destroyed because of sexuality)," he said.
The latest Anglican conference wrapped up yesterday. Sunday Monitor's report on the conference wrap-up seems to indicate that  discussions concerning homosexuality were dominant in the talks. Among the comments:
"Homosexuality is not a new phenomenon in the society but the only trouble is that the issues dividing us (church) now are very difficult to handle. They are threatening the unity of the church because they disobey the authority of the scriptures," says [Archbishop Nicholas Okoh of the province of Nigeria]. He says homosexuality is a result of some people engaged in making their culture to be superior to the biblical teachings. "It is two sided; while some people want to be obedient to their culture to determine the content of the church, others say no and it must be the guidance of the bible," he added.

The primates describe homosexuality as an imposed interpretation and alien culture that has hindered the growth of an authentic church which could respond to its people. "We are saying homosexuality is not compatible with the word of God. We are saying that this culture of other people is against the traditional belief of marriage held by the Anglican Communion," says the Archbishop of the Church of Uganda, Henry Luke Orombi. Bishop Orombi says that the Anglican Church will never accept homosexuality because the scriptures too do not allow people of same sex to join in marriage.

"Homosexuality is evil, abnormal and unnatural as per the Bible. It is a culturally unacceptable practice. Although there is a lot of pressure, we cannot turn our hands to support it," says Bishop Orombi.
The Archbishop Ian Ernest of the Province of Indian Ocean candidly denounced the Worldwide Communion's refusal to "reign in" western churches which instituted policies which recognize the dignity and worth of LGBT people:
We cannot afford to continue to lurch from one crisis to the next in our beloved Communion. Despite attempts to warn some western provinces, action has been taken to irrevocably shatter the Communion. Sadly existing structures of the Anglican Communion have been unable to address the need for discipline," says Bishop Ernest, the chairman of CAPA. He says the teachings of homosexuality are irrelevant to the needs of Africans and are unrepresentative demographically hence the need for new structures that are credible and representative of the majority.
Archbishop of Canterbury Rowan Williams, the head of the worldwide Anglican Communion, attended the opening sessions of the conference amid open declarations of de-facto schism between the African arm of the church and the West. Williams appeared to give his nod to African "leadership" in his remarks, saying, "God raises up different countries and cultures in different seasons to bear witness to his purpose in especially marked ways. This indeed may be His will for Africa in the years ahead."
Anglican Head Cedes Leadership To Africa
Jim Burroway
August 24th, 2010
According to this NTVUganda news report, Archbishop of Canterbury Rowan Williams appears to have thrown in the towl in the face of the African rebellion. Responding to Ugandan archbishop Henry Luke Orombi's call to "send missionaries to America and Europe to take back the gospel from these sending nations," Williams conceded that it may indeed be "God's Will" that African bishops continue to foment division within the Worldwide Anglican communion:
God raises up different countries and cultures in different seasons to bear witness to his purpose in especially marked ways. This indeed may be His will for Africa in the years ahead."
There is also a clip of Uganda's Prime Minister Apollo Nsibambi declaring to warm applause that "Africa has been exemplary, at least in not accepting homosexuality."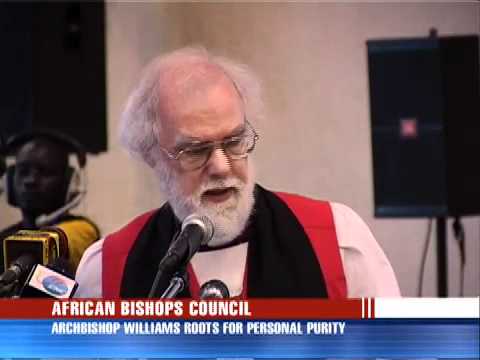 "There is Already A Break": Ugandan Archbishop Declares De-Facto Schism
Jim Burroway
August 24th, 2010
About 400 African bishops of the Anglican Union have gathered in Entebbe, Uganda for a six-day All Africa Bishops Conference organized by the Council of Anglican Provinces of Africa (CAPA). The head of the worldwide African Union, Archbishop of Canterbury Rowan Williams arrived in Entebbe on Monday to speak at the conference, which began this morning. His job is to try to hold the Anglican Communion together over deep rifts over homosexuality and the ordination of women. In Williams' opening remarks, he didn't address homosexuality specifically, but said this in his typically indirect, round-about way:
"We must learn to listen to those we lead and serve to find out what their hopes and needs and confusions are. We must love them and attend to their humanity in all its diversity," Williams said.
But African clergy weren't waiting to hear Williams' watered-down messages, and they were far more direct in speaking with reporters. Before the conference began, the conference's host and Ugandan Archbishop Uganda Henry Luke Orombi had already fired the opening salvo:
"Homosexuality is incompatible with the word of God," Orombi said. "It is good (that) Archbishop Rowan is here. We are going to express to him where we stand. We are going to explain where our pains are."

Orombi also said that disputes over homosexuality had already divided the global Anglican community.

"There is already a break. It doesn't need to be announced. It is in the way people act," he said.
The virulently anti-gay web site Virtue Online confirmed Orombi's statement to reporters. David Virtue, who runs the web site and is attending the conference,  also described Orombi's comments in Williams' presence at the conference itself:
Archbishop Henry Luke Orombi told 400 African Anglicans bishops in the presence of the Archbishop of Canterbury Dr. Rowan Williams and Uganda's Prime Minister that there was a hunger for the Word of God in England where he recently spoke to 17,000 people. "I called back home to send missionaries to America and Europe to take back the gospel from these sending nations. It is an ailing church in need of guidance."

Addressing delegates to the All Africa Bishops conference sponsored by CAPA – the Council of Anglican provinces of Africa, Orombi said, "We must be free to go to Europe and to the Mother Church [CofE] desperate for the gospel."
Orombi, along with Nigeria's Archbishop Peter Akinola, have been particularly active schismatic activities for several years. Virtue's web site has published invitations from Orombi's diocese to American parishes inviting them to break from their own bishops to seek "spiritual guidance" from Orombi.
Virtue also relays comments made by Orombi and Uganda's Prime Minister Apollo Nsibambi at a later press conference. According to Virtue, Orombi again reiterated that a schism has already occurred:
Asked about whether schism was now a reality in the Anglican Communion, Orombi said there was already schism in the face of doctrinal teaching. "The break took place a long time ago. We said in 2005 in Northern Ireland that if the gay movement does not check itself it is walking away from the Anglican Communion. The same was said in Dar es Salaam. Now in Uganda we are talking about a communion that is already broken. It is not the way people act. We have put out a moratorium. One part [of the Communion] breaks it so they have walked away. We as Africans are holding to the core of the faith of the communion.
In remarks to reporters according to Virtue, Prime Minister Nsibambi listed homosexuality alongside terrorism and corruption as among the problems Uganda was facing. (Uganda was hit by suicide bombers from Somalia in July.) According to Virtue, Nsibambi said:
"We believe that God the almighty is able to grapple with these problems. We need exemplary leaders, not sycophants. The East African Revival is the driving force of the Church of the Uganda. Africa has been exemplary in not accepting homosexuality. As we challenge the problems we must not point fingers at others but repent of our own sins."
African Homophobia Moves Forward As Ugandan Archbishop Threatens Schism
Jim Burroway
August 20th, 2010
More talk of schism is coming out of Africa, this time from Archbishop Henry Luke Orombi, head of the Anglican Church in Uganda. Speaking at the opening of a three-day provincial Assembly in Mukono, Orombi declared that the Anglican Communion is "broken":
What I can tell you is that the Anglican Church is very broken," Bishop Orombi said. "It (church) has been torn at its deepest level, and it is a very dysfunctional family of the provincial churches. It is very sad for me to see how far down the church has gone."

He proposed that the Church of Uganda engages church structures at a very minimal level until godly faith and order have been restored. "I can assure you that we have tried as a church to participate in the processes, but they are dominated by western elites, whose main interest is advancing a vision of Anglicanism that we do not know or recognise. We are a voice crying in the wilderness," he said at the Church's top assembly that convenes every two years.
By "engaging church structures at a very minimal level," Orombi is referring to the Ugandan church's participation in the worldwide Anglican Communion. African Bishops have been increasingly restive over overtures that the Anglican Communion in the west has made toward LGBT inclusion, particularly with the ordination of gay bishops in the United States.
Principal Judge of the High Court of Uganda, Justice James Ogoola, was also at the Anglican meeting in Uganda. According to Uganda's Daily Monitor, Ogoola spoke of the court's "need to deeply reflect on the fear of God."
Tensions continue to rise throughout much of Africa as countries become increasingly homophobic. Burundi, a little to the south of Uganda, is the only nation in the world buck the last two decades' decriminalization trend by adding homosexuality to its criminal statutes in 2008. Malawi has just gone through its own spasm of anti-gay prosecutions with arrest, conviction, and subsequent pardon of a couple who held a traditional engagement ceremony in late 2009.
And back in Uganda, the draconian Anti-Homosexuality Bill was introduced into Parliament in October, 2009, which would add the death penalty under certain circumstances and change the legal definitions of homosexuality to make prosecution much easier. It would also lead to criminal penalties for anyone renting to or providing services for LGBT people, and would impose a three year prison sentence for failure to report LGBT people to police.
Due largely to international outcry, that bill remains bottled up in two Parliamentary committees, where it appears likely the bill may quietly die when this Parliament ends with the 2011 elections. The bill still does not appear on Parliament's final agenda. Speaker of Parliament Edward Ssekandi has sent Parliament into recess until September 13 in order to accommodate party primaries in advance of the elections. When Parliament returns, the main business is expected to be passing the budget. After that is done, there will be tremendous pressure to adjourn Parliament so MP's can campaign for re-election.
But that doesn't mean the danger has passed for Uganda's LGBT community. While Uganda's law currently calls for a lifetime prison sentence depending on how prosecutors chose to press charges, much of the day-to-day struggles LGBT people face stem more from societal attitudes which are amplified from time to time by media, politicians, and other opinion makers. Uganda media are prone to waging public vigilante campaigns in which ordinary LGBT citizens are named and places of residence and employment are identified. The most recent major campaign occured in April, 2009, shortly after an anti-gay conference put on by three American anti-gay activists the month before. Another smaller-scale campaign broke out in December at the height of the controversy over the draconian legislation.
While the anti-gay legislation appears to be on hold, Uganda's leaders continue to issue anti-gay statements. It is widely believed in Uganda and elsewhere in Africa that homosexuality is a Western import, and that it is spread by Americans and Europeans who supposedly bribe young Ugandans to become gay. First lady Janet Museveni, speaking on a wide range of moral issues at a youth convention two weeks ago, condemned pro-gay advocacy which she described as an abomination in the African culture:
"In God's word, homosexuality attracts a curse, but now people are engaging in it and saying they are created that way. It is for money… The devil is stoking fires to destroy our nation and those taking advantage are doing so because our people are poor," she said.

Mrs. Museveni advised the youth not only to listen to messages on how they can make money but also focus on spiritual growth. "You know that you will lose everything else when you lose your soul.
Scam Alert: Uganda Beheading Story Revealed As A Hoax
Jim Burroway
July 7th, 2010
The story seemed solid. I first saw it on the Episcopal pro-LGBT site for Changing Attitudes , in a post written by the Rev. Colin Coward, who is the founder and director of the U.K.-based organization. I also found two Uganda media reports that confirmed that a headless body and a body-less head were found on and near a farm owned by the Uganda Electoral Commission chairman Badru Kiggundu. With three separate sources, that seemed like confirmation enough for me to go forward with yesterday's story about a Ugandan LGBT Advocate found beheaded.
We Americans (and Westerners in general) can be a myopic bunch. Our ignorance about the rest of the world renders us naïve as a people, and vulnerable to scams and hoaxes. Nigerian scam artists figured this out more than a decade ago. And that is what this story appears to be, another scam.
Here is what we do know: a young man was brutally murdered, that he was mutilated and his head was cut off and dumped into a latrine. That much is true. But we have now confirmed that the young man had no connections with Integrity Uganda. Furthermore, the story about the missing Rev. Henry Kayizzi Nsubuga's disappearance following a pro-LGBT sermon also appears increasingly unlikely. Yes, the man is reported to be missing, but so far the only sources indicating that he gave a pro-LGBT sermon are from Rev. Coward himself and the virulently anti-gay Anglican web site Virtue Online. In short, there is almost nothing about the article published by Rev. Coward that appears credible. And the more I dig into this story, the greater the likelihood it appears to me that the story may have been planted by an anti-gay activist who has defrauded to LGBT community in the past.
I have tried to contact Rev. Coward for comment and to ask him where he got his story, but so far he hasn't returned my email.
To unwind the story, let's go back to two key quotes that were included in the original Changing Attitudes article that Rev. Coward posted yesterday. The first is from Bishop Christopher Senyonjo, founder of Integrity Uganda, the organization that the murder victim was said to be a volunteer for. Rev. Coward posted this reaction from Bishop Senyonjo:
Bishop Christopher Senyonjo, Chairperson of Integrity Uganda lamented the murder of this young man as 'absurd' adding that, 'clearly, the values of tolerance and social inclusion are sadly being sacrificed on the altar of state ignorance, ineptness and good old colonial stupidity'.
This morning, I received an email from Bishop Senyonjo himself. He denied making that statement. And as the Chairperson of Integrity Uganda, he said that the individual who was murdered has no connection with Integrity Uganda. This has been confirmed through multiple sources in Uganda, many of them expressing exasperation that this story has made headlines.
The heart of the hoax, and it's biggest clue, is the quote attributed to Rev. Erich Kasirye, who Coward identifies as the "Director General" of Integrity Uganda. Kasirye supposedly said:
'Pasikali and his partner Abbey joined Integrity Uganda in June 2007 and during the last three years, Integrity Uganda has seen an increase in coordination and harmonisation of youth activities. Pasikali emphasized the promotion of the concept of care across the continuum through the formation of voluntary home care groups for young LGBTIs who continue to live in fear. He will be greatly missed by the entire LGBTI fraternity'.
Multiple sources in Uganda, as well as Bishop Senyonjo himself, confirm that Kasirye is not associated with Integrity Uganda, and that he has had no connection with the organization since 2004.
According to multiples sources with close ties to  Uganda's LGBT community, Kasirya was a part of Integrity Uganda when it was founded by Bishop Senyonjo. Kasirya was identified as a co-founder in this newsletter (PDF: 448KB/16 pages) published in the Spring of 2001 by Integrity USA, and he quickly established himself as the de-facto spokesperson for Integrity Uganda to the American LGBT community. Kasirya penned two articles in the Integrity USA newsletter for the Summer/Fall  2001 issue (PDF: 664KB/16 pages) and he contributed another article the following year (PDF: 300KB/20 pages). In that later article about Uganda's sex eduction policy, Kasirya braged that the anti-gay Anglican leadership in Uganda was "unable to keep pace with Integrity Uganda" and that the people of Uganda were "now eager to open up to the homosexual reality than ever before."
But two years later, all of that would come tumbling down. Multiple sources who requested confidentiality have told me that by late 2003 or early 2004, it was learned that Kasirya had been using his connections with Integrity Uganda to defraud American and European donors with false stories of a supposed imprisonment for his advocacy on behalf of Uganda's LGBT community. According to one source, he tried to induce American supporters to purchase a farm out in the bush. Later published reports confirmed that he diverted funds intended for Uganda's LGBT community to himself and his wife, Patricia Kasirye (who is sometimes identified as Colonel Josephine Luboyera). One source complained about how long it took for Integrity USA to see the red flags, describing the leadership at that time as "naïve." But by February 2004, the evidence proved conclusive to all doubters, and Integrity USA issued a joint statement with Bishop Senyonjo announcing that Kasirye had been kicked out due to his fraudulent activities:
Leaders of Integrity USA and Integrity Uganda have been in joint consultation for several weeks concerning troubling accounts of the activities of one of the members of the leadership team of Integrity Uganda, the Rev. Erich Kasirye. Fr. Kasirye was among the founders of Integrity Uganda in 2000 and has served frequently as its chief spokesperson.

It is now, sadly, clear to us that Fr. Kasirye has been involved in a number of scams in order to raise money for himself personally using his connection with Integrity Uganda. In particular, in January 2004 he solicited funds from a number of organizations and individuals claiming to have been imprisoned because of his connection to Integrity Uganda, a claim which has turned out not to have been true. At the same time he has, in Uganda, publicly renounced his connection with Integrity to church officials and turned over to them the Kitemu Community Center, which has been the base of Integrity ministry in Uganda. Kitemu Center was built largely with funds raised by Integrity USA.
Integrity USA is under different leadership today and has no official comment for this story other than to confirm past problems with Kasirye, according to spokeswoman Louise Brooks.
Just a couple of weeks after Kasirye's scam was publicized, the anti-gay Anglican web site Virtue Online crowed:
Integrity USA, ECUSA's official pansexual organization for sex outside of marriage between a man and a woman, announced, at its website, that the Rev. Erich Kasirye, one of the founders of Integrity Uganda in 2000 had been enriching himself at the expense of the poor and downtrodden and those suffering with AIDS. He was involved in a number of scams in order to raise money for himself personally using his connection with Integrity Uganda, said a joint statement.

…Not only was Kasirye skimming money he has now publicly renounced his connection with Integrity to Uganda church officials… This is a serious blow to Integrity's desire to gain a foothold on the African continent, and probably its last. The question is was Kasirye playing Integrity USA for suckers all along? The Anglican Church of Uganda maintains that the organization was an elaborate confidence scam since its formation. The former Primate Livingston Nkoyoyo called Integrity Uganda "a fiction and a sham".
In fact, sources tell me that this debacle was a serious setback, not only for Integrity Uganda, but for the state of LGBT advocacy in Uganda in general. Today, Integrity Uganda has re-emerged from the scandal with new financial oversight controls in place. Other LGBT activists in Uganda, I'm told, took this scandal as an example, reinforcing what they had already recognized as the importance of independence from foreign connections and the development of clear trust and transparency among members within the community.
While it took years for Integrity Uganda to recover from the betrayal, it didn't take at all long for Kasirye to land on his feet. Before the year was out, his name would surface again, except by this time he had changed teams. On Dec 3, 2004, Orombi boasted to Virtue Online that the Anglican church in Uganda was growing while the head of Integrity Uganda was "cut off":
Asked why the liberal retired bishop in Uganda was promoting the Integrity organization, Orombi said it was purely for the money. "The good news is that his assistant the Rev. Eric Kasirye has left him and returned to the church. Praise God."
By mid-2005, New Hampshire Bishop Gene Robinson, the world's first openly gay prelate in the Anglican communion, had been in office for little more than a year. In response, several American parishes severed themselves from Robinson and other bishops who supported Robinson's installation and aligned themselves under the direction of African anti-gay bishops. Nigeria's Archbishop Peter Akinola and Uganda's Archbishop Henry Luke Orombi were particularly active in recruiting American Episcopal anti-gay parishes away from their American bishops. It is against this background that Erich Kasirye re-emerged, again with this notice on Virtue Online:
LOOKING FOR A DIOCESE OR PROVINCE THAT WILL GIVE YOU COVER. I got a note this week from the Rev. Erich Kasirye, Diocesan Mission Coordinator for Bishop Samuel Ssekkadde, in the Diocese of Namirembe. This was the first Diocese in East and Central Africa which now has over 5 million membership.

Kasirye wrote saying: "This is to inform you that my Diocese would like to adopt a parish in the States which is orthodox and lacks ecclesiastical protection. Kindly let us know those churches which might need some pastoral and personal support. We are very much aware of the poisonous efforts of the revisionist forces which face orthodox churches in ECUSA-and we do not want them to be vulnerable."
The Diocese of Namirembe is seated at St. Paul's Namirembe Cathedral in Kampala, Uganda's capital. It is the resident church for the Archbishop of Uganda, Henry Luke Orombi.
Integrity Uganda would go on to slowly and painfully recover from Kasirye's 2004 betrayal. Bishop Christopher Senyonjo has recently concluded a speaking tour of the U.S. and U.K. I was able to meet with him for an evening and morning in Irvine, California. You can find two articles I wrote about him here and here. I find him to be incredibly sincere, brave, and a steadfast ally to the LGBT community. Meanwhile, the state of Uganda's LGBT advocacy has continued to grow despite the incredible obstacles they continue to face. In addition to Sexual Minorities Uganda, there is Freedom and Roam Uganda and Icebreakers Uganda providing vital services and support for the LGBT community.
It is now clear that the entire story published by Rev. Colin Coward is a complete hoax. The purpose of the hoax is unknown, but a few possibilities come to mind. Some believe that the story was planted by Kasirye to discredit the Ugandan LGBT community, foreign bloggers, and Integrity Uganda specifically when the story is inevitably revealed to be a fraud. Other possibilities include Kasirye's using this story for another run at fraudulent fundraising. At any rate, it's hard not to imagine the source of the story somehow tracing itself back to Kasirye himself in some form or fashion. Rev. Coward certainly knows who the person or persons are who planted the story, but so far he has not revealed who they may be.
Update: Nearly simultaneous to this article being posted, Rev. Coward posted his explanation of where he got the story:
The original report by Erich Kasirye was emailed to the SOGI list which had been receiving reports for the past week from activists and media about the disappearance and murder of LGBTI people from Integrity Uganda. [Emphasis mine.]
So it appears that Erich Kasirye himself was the source of the hoax, much as I suspected. Coward suspects that Kasirye planted the story on behalf of Archbishop Orombi, pointing to this paragraph from an article posted on the anti-gay Virtue Online last May:
Asked why the liberal retired bishop in Uganda was promoting the Integrity organization, Orombi said it was purely for the money. "The good news is that his assistant the Rev. Eric Kasirye has left him and returned to the church. Praise God."
Coward sees it as evidence that Kasirye is still working on Orombi's behalf. But as I noted above, this paragraph is a word-for-word repeat from an article posted in December, 2004. It appears that this is not a fresh quote, but is a recycled paragraph from six-years ago. Hence, by itself, it is not a good indicator that Kasirye colluded with Orombi in planting the hoax. But Rev. Coward is not the only one to raise this suspicion. I, for one, think it is a very fair question. Is Kasirye still working for Orombi?
Another update: The government-owned New Vision today has an update on Fr. Henry Kayizzi Nsubug, who remains missing. Again, no mention of a gay-sermon connection, probably because there is none. It does say that Fr. Nsubug was in an auto accident on June 10 and "sustained minor injuries." The descriptions of his behavior a few days after the accident suggest to me that he may have suffered a head injury. His whereabouts remain unknown.
Did the Anglican Church of Uganda Endorse Criminalization With Death Penalty?
Jim Burroway
February 9th, 2010
See important updates below.
This is a very surprising turn of events, considering that just last fall the head of the Ugandan Anglican Church questioned the "need" for the death penalty in the proposed Anti-Homosexuality Bill. Now, Christianity Today reports that the Church of Uganda has endorsed the bill, but suggests the following amendments:
Ensure that the law protects the confidentiality of medical, pastoral and counseling relationships, including those that disclose homosexual practice in accordance with the relevant professional codes of ethics.
Language that strengthens the existing Penal Code to protect the boy child, especially from homosexual exploitation; to prohibit lesbianism, bestiality, and other sexual perversions; and to prohibit procurement of material and promotion of homosexuality as normal or as an alternative lifestyle, be adopted.
Ensure that homosexual practice or the promotion of homosexual relations is not adopted as a human right.
Existing and future Educational materials and programmes on gender identity and sex education are in compliance with the values and the laws of Uganda.
The involvement of additional stakeholders in the evaluation of the gaps in the existing legislation, including, but not limited to, the Ministry of Health, the Ministry of Education, and the Ministry of Internal Affairs, its Department of Immigration and other relevant departments.
The undertaking of a comprehensive legislative and literature review of all the laws and literature related to the subject at hand in order to identify the actual gaps in the existing legislations.
In fact, this recommendation amounts to a tacit opinion that the draconian bill, even in its breathtaking scope and breadth, doesn't go far enough as far as the Anglican Church in Uganda is concerned. It also represents a rift between the Ugandan Church and the Anglican Communion's head, Archbishop of Canterbury Rowan Williams, who quietly and meekly condemned the proposed legislation in December.
A number of Conservative Anglican churches in the U.S. have sought to align themselves with the Anglican Archbishop Henry Luke Orombi, in an ongoing schism taking place here in America. Those American parishes are now fully aligned with an overseer who is on record as being perfectly fine with unleashing a genocidal wave against LGBT people in Uganda.
Update: Uganda's largest independent newspaper Daily Monitor has a different take from The Christian Post. The Monitor calls the Anglican statement a "rejection" of the bill. According to the Monitor, the statement calls for the bill's withdrawal and existing laws modified to specifically address child exploitation and bestiality. Without access to the statement itself, it's hard to know how to reconcile the two accounts. We'll keep you posted as we learn more.
Click here to see BTB\'s complete coverage of the past year\'s anti-gay developments in Uganda.
Archbishop of Canterbury Mumbles Something About Uganda
Jim Burroway
December 13th, 2009
Britain's Daily Telegraph published a fawning interview Saturday with the Archbishop of Canterbury Rowan Williams, the head of the worldwide Anglican Communion, in which the topic of Uganda's Anti-Homosexuality Act happened to come up ever so briefly:
"Overall, the proposed legislation is of shocking severity and I can\'t see how it could be supported by any Anglican who is committed to what the Communion has said in recent decades," says Dr Williams. "Apart from invoking the death penalty, it makes pastoral care impossible – it seeks to turn pastors into informers." He adds that the Anglican Church in Uganda opposes the death penalty but, tellingly, he notes that its archbishop, Henry Orombi, who boycotted the Lambeth Conference last year, "has not taken a position on this bill".
Apart from invoking the death penalty, it's hard to say that the Archbishop of Canterbury took much of a position either. In contrast, Saddleback Pastor Rick Warren is looking positively bold when he said, "I oppose the criminalization of homosexuality. The freedom to make moral choices is endowed by God." Fortunately, reporter George Pitcher quickly changed the subject before things became too uncomfortable for the good Archbishop.
Click here to see BTB\'s complete coverage of the past year's anti-gay developments in Uganda.
The "Biblical" Worldwide Anglican Communion
Jim Burroway
November 7th, 2009
When Pilate saw that he was getting nowhere, but that instead an uproar was starting, he took water and washed his hands in front of the crowd. "I am innocent of this man's blood," he said. "It is your responsibility!" — Matthew 27:24
I guess the worldwide Anglican Communion can't be accused of being unbiblical after all.
We reported earlier that the Rev. Canon Aaron Mwesigye of the Anglican Province of Uganda spoke mostly in favor of the proposed Anti-Homosexuality Bill in Uganda. Mwesigye expressed reservations over the death-penalty and extraterritorial provisions, but was perfectly happy with the lifetime imprisonment and other provisions that would criminalize free speech on behalf of LGBT people.
The Uganda Province has now released a statement in which it is "studying" the bill and has no other comment on it. Well, except to repeat the wild, unsubstantiated rumors — and here they freely admit that they are rumors but push them nevertheless — of rich, predatory homosexuals supposedly recruiting children in schools. Most appallingly, it is Uganda's Archbishop Henry Luke Orombi who is spreading the slanderous gossip:
In April 2009, Archbishop Henry Luke Orombi said, "I am appalled to learn that the rumours we have heard for a long time about homosexual recruiting in our schools and amongst our youth are true. I am even more concerned that the practice is more widespread than we originally thought. It is the duty of the church and the government to be watchmen on the wall and to warn and protect our people from harmful and deceitful agendas."
Meanwhile, the rest of the Anglican Communion — much like most of Christianity in general — has remained silent.
Click here to see BTB\'s complete coverage of recent anti-gay developments in Uganda.
Uganda's Anti-Gay Campaign Snares LGBT People and Rival Pastors, Tabloid Promises More "Outings"
Jim Burroway
May 14th, 2009
The situation in Uganda continues to deteriorate, with the latest anti-gay campaign now descending into what appears to be a circular firing squad among rival Pentecostal pastors. But while that civil war is going on, LGBT Ugandans continue to be caught up in the crossfire. The anonymous blogger Gay Uganda reproduced a statement from Sexual Minorities Uganda about the arrest of two gay men in Mbale:
Sexual Minorities Uganda – SMUG, visited Mbale and learnt that Fred Wasukira who is commonly known as Namboozo Margrete is business man in Mbale town who owns a bar and several houses in Mbale. On the night of 7th April 2009, the two were witnessed in a romantic mood at a bar in Namakweki Mbale district and according to the Police officer we talked to, the two were calling each other by names "darling , sweetheart" , we were told that from the bar Fred and Brian proceeded to their house where they were followed by residents, who alerted area local councils and the Police. They were caught kissing and cuddling at their house. Police and area local councils picked them up and took them to Mbale Police station, where they were held until the 17th April. 2008. At Maluke Prison we were not allowed to visit the prisoners saying it was not a visiting day, however we confirmed that they are on remand at Maluke Prison in Mbale.
That was in early April. On April 30, Gay Uganda reported that the two were still being held by police. He also reports of a seventeen year old male in Mukono who has been sentenced to life imprisonment, and another case in Entebbe. Gay Uganda continues:
Suddenly, prison is becoming something that anyone suspected of being gay gets rail roaded to. Doesn\'t matter that you may not be gay. Or you may not be guilty. Fact is, us seasoned gay people are kind of too suspicious to be caught in the act. But damn!
This latest campaign began nearly two and a half months ago when three American anti-gay activists spoke at a conference in Kampala organized by Pastor Stephen Langa's Family Life Network. That conference featured Exodus board president Don Schmierer, Holocaust revisionist Scott Lively, and purported raiser-of-the-dead and Richard Cohen protegé Caleb Lee Brundidge.
The March 3-5 conference called for Uganda's laws against homosexuality — which currently call for a life sentence — to be "strengthened" with an option to force those convicted into ex-gay therapy. Exodus International "applauded" Schmierer\'s role at the conference, but Exodus President Alan Chambers later tried to wash his hands of responsibility for it as the repercussions of the conference unfolded.
Those repercussions include a public outing campaign which named more than sixty people in the pages of the tabloid newspaper The Red Pepper. In an interview posted Monday on the South African web site Beyond the Mask, the News Editor for The Red Pepper, Ben Byarabaha, promised to continue the outing campaign. Byarabaha said, "We are just exposing the vice, the immorality from colonialists that is eluding African culture. As long as the practice is still illegal, we shall continue the campaign."
LGBT people aren't the only ones in danger of being caught up in this latest anti-gay vigilante campaign. Uganda's anti-gay religious leaders are taking advantage of the opportunity to accuse rival pastors of homosexuality.
The first round in this pastor-against-pastor conflict was fired soon after George Oundo claimed to have been saved and became an immediate "ex-gay" in Pastor Martin Ssempa's Makerere Community Church in Kampala. Oundo's "salvation" occurred sometime after he went sought money from Uganda's fledgling LGBT rights organzation, Sexual Minorities Uganda. Apparently snubbed by the LGBT community, Oundo found a savior in Ssempa and Pastor Stephen Langa, director of Kampala-based Family Life Network.
Ssempa had led several anti-gay campaigns in the past, but this time he appears to be taking a back seat to Langa, who organized a news conference featuring Oundo. It was at that news conference where Oundo named a popular Catholic priest, Fr. Anthony Musaala, as a homosexual. Musaala, whose Charismatic Renewal Movement has a huge youth following, just happens to be a longtime rival of Ssempa.
Other pastors are jumping onto the "outing" bandwagon to settle scores as well, and the rivalries are so complex that it takes some diagramming to keep it all straight. Here goes: Pastor Solomon Male of Arise for Christ Ministry accused Pastor Robert Kayanja of the Rubaga Miracle Center Cathedral of being a homosexual, along with "a group of other pastors." Kayanja's Rubaga Miracle Center is a very large and prosperous megachurch in Kampala. (Controversial American faith healer Benny Hinn will present a "Fire Conference" at that church on June 5th and 6th.) But an apparent friend of Kayanjka, Pastor Joseph Serwadda of the Victory Christian Centre, another megachurch in the Ndeeba section of Kampala which operates two FM stations, accused Male of of being an impostor, saying that he doesn't even have a church.
Kayanja's personal aide, Chris Muwonge, was allegedly kidnapped and tortured by armed men and held for five days. His captors allegedly wanted him to make a video statement accusing Kayenja of molesting young boys. Kayanja accused his rival, Pastor Michael Kyazze of the Omega Healing Center of being behind the plot. Kyazze's assistant, Pastor Robert Kayiira was arrested earlier for trying to sneak a laptop computer into Kayanja's Miracle Center. His close friend? Pastor Solomon Male. Kayanja reportedly believes that Martin Ssempa is involved in the allegations against him as well.
Solomon decries the kidnapping as "a desperate but tactical attempt to divert attention from the broader anti-homo and cult awareness campaign." That's right. He also accuses his rivals of fraud, "miracle faking," and human sacrifices. And now there is a report that another Kayanja aide, Herbert Tumukunde, was kidnapped and tortured. He was reportedly rescued just as he was drenched in kerosene and was about to be set on fire.
Meanwhile, Bishop Christopher Senyonjo of the Church of Uganda was fending off insinuations that he was gay. The Rt. Rev. Senyonjo believes those insinuations came from the Church of Uganda's Archbishop Luke Orombi. Senyonjo is the retired bishop of West Buganda Diocese. He has written and spoken out in support of Uganda's beleaguered LGBT community. Senyonjo isn't gay, but merely speaking up in support of LGBT people can draw dangerous accusations in the current climate.
That, or being a rival pastor.
Click here to see BTB\'s complete coverage of recent anti-gay developments in Uganda.
Rick Warren's Religious Takeover in Africa
This commentary is the opinion of the author and may not necessarily reflect those of other authors at Box Turtle Bulletin.
Timothy Kincaid
December 22nd, 2008
Pastor Rick Warren of the Saddleback Church loves to tell time and again about all the good he and his church are doing for AIDS victims in Africa. But what else is he doing on that continent?
From all evidence, it appears that he is meddling in the Church of England's internal conflict over homosexuality. As we have discussed, the Anglican Church worldwide is threatened with schism because Bishops in Africa and Asia think that the American Episcopalians and Canadian Anglicans are too pro-gay. Since the 2003 ordination of gay Bishop Gene Robinson, several Bishoprics have been in open rebellion.
One of the rules of the Anglican Church is that each geographic location is distinct. You do not poach churches. But some of the African Bishops have gone so far as to work with rebel US congregations and to declare that they are now under their jurisdiction (or that of a South American Bishop).
Although Rick Warren is not Episcopal and has no business whatsoever in intruding himself into the debate, that has not slowed him at all in taking sides with the anti-gay Africans and encouraging schism.
In March, AllAfrica reports:
"The Church of England is wrong and I support the Church of Uganda(CoU) on the boycott,"Dr Warren said on Thursday shortly after arriving in Uganda.

The Bishops are protesting the Church of England's tolerance a homosexuality. Announcing the boycott in February, Archbishop Henry Luke Orombi said that Uganda's action had been prompted by the invitation of bishops of The US Episcopal Church (TEC) who in 2003 elected as bishop, Gene Robinson, a divorced man living in an active homosexual relationship.

Dr Warren said that homosexuality is not a natural way of life and thus not a human right. "We shall not tolerate this aspect at all," Dr Warren said.
And for those who think that perhaps the divisions are not solely over gay issues and that Warren isn't just being anti-gay by taking sides, on August 1, Dr. Orombi stated that the division was over this issue in no uncertain terms.
The American decision disregarded biblical authority by violating clear biblical teaching against homosexual behaviour. For this reason, the Church of Uganda and other Anglican provinces broke communion with the Episcopal Church in America in 2003, and we continue in that state of broken communion today.
Another of those African Bishops in "broken communion", is Archbishop Peter Akinola of Nigeria. In 2006 – 2007, Akinola led the charge for a bill that would
provide for five years' imprisonment to anyone who "goes through the ceremony of marriage with a person of the same sex," "performs, witnesses, aids or abets the ceremony of same sex marriage" or "is involved in the registration of gay clubs, societies and organizations, sustenance, procession or meetings, publicity and public show of same sex amorous relationship directly or indirectly in public and in private."
Akinola must have really impressed Rick Warren because on April 30, 2006, Warren wrote a piece for Time Magazine in which he acknowledges his anti-gay activism and said
New African, Asian and Latin American church leaders like Akinola, 61, are bright, biblical, courageous and willing to point out the inconsistencies, weaknesses and theological drift in Western churches.

With nearly 18 million active Anglicans in Nigeria, Akinola's flock dwarfs the mother Church of England's membership. And since he is chairman of the 37 million—member Council of Anglican Provinces in Africa, when he speaks, far more than just Anglicans pay attention. Akinola has the strength of a lion, useful in confronting Third World fundamentalism and First World relativism.
…
I believe he, like Mandela, is a man of peace and his leadership is a model for Christians around the world.
Behind Warren's AIDS support in Africa appears to be a less selfless motivation. It seems that Warren seeks to build a "Purpose Driven" empire in Africa. He first effort was in Rwanda which adopted his Purpose Driven Living program in 2005 (in 2007 the President of Rwanda supported a law criminalizing same-sex conduct), followed by his trip to Uganda in 2006.
"Uganda should be a purpose-driven nation as well," [Orambi] said. "But it takes people of purpose to build purpose driven-churches, purpose-driven communities, and a purpose-driven country. Someday, we will have a purpose-driven continent!"

During a meeting with Ugandan church leaders, the American megachurch pastor said that he believes the future of Christianity is not in Europe or North America, but in Africa, Asia, and Latin America.
It appears to me that Rick Warren seeks to replace the authority of the Archbishop of Canterbury with himself and to direct Christianity in the African Continent according to his own theology and ideology. And to do so he has joined with those who seem to determine orthodox Christianity solely by the extent to which one mistreats gays. And he has no hesitation in aligning himself with those who come to the United States seeking to damage the internal integrity of the Episcopal Church. And it's all over the issue of homosexuality.
But his meddling in the Anglican Church raises a much larger objection than just that of the gay community. Why is Barack Obama honoring a man who is an activist in a religious secessionist movement? Having Rick Warren give the Invocation is a slap in the face of every Episcopalian in the nation and every loyal Anglican around the world.
The Most Rev. Dr. Katharine Jefferts Schori, Presiding Bishop of the Episcopal Church, should officially object.