Archbishop of Canterbury Admits Church Has Failed Gay People
Jim Burroway
September 10th, 2012
Archbishop of Canterbury Rowan Williams, who steps down in December, admitted that the church has been "wrong" in its past treatment of gay people, and says that he personally shares some of that blame, particularly lately in the recent dust-up where the Church of England voiced opposition to British Prime Minister David Cameron's plan to introduce marriage equality in the United Kingdom:
Dr Williams is critical of the "embarrassment" the Prime Minister has caused the Church. A "very inadequate" consultation overlooked the legal position of the Churches and marriage. By opposing the change, however, the Church attracted accusations of homophobia, and for good reason, he thinks. It has been too – he says "lily mouthed" before correcting himself: "We've not exactly been on the forefront of pressing for civic equality for homosexual people, and we were wrong about that."

To those who fear the constitutional consequences, he says legalising gay marriage would not of itself trigger disestablishment. "We've been assured that there will be no pressure on the Church to perform marriages, but of course as things stand, every citizen has the right to be married in Church. That's alright, so long as the State's definition of marriage and the Church's definition are the same. If the State's definition shifts … then we have a tangle."

That word "tangle" illustrates that Archbishop Rowan conundrum. Where others would want to hear clarion clarity about a crisis that goes to the very heart of the Church, he shies away and hedges. To his critics, this is the reason why the Church appears weak, because he does not communicate certainty.
Williams's lilly-mouthiness has become legendary at BTB.When Uganda in 2009 was in the midst of an intense debate over whether they should make the slaughter of gay people a matter of national policy, Williams could barely muster a mumble. It took him two years before he could finally declare the entire Anti-Homosexuality Bill "unacceptable," and that at the last possible minute when Parliament was about to bring the bill up for a vote, and only after he already ceded leadership to homophobic bishops on the issue.
Archbishop of Canterbury: Uganda's Anti-Gay Bill Is Unsupportable
Jim Burroway
May 10th, 2011
The Archbishop of Canterbury Rowan Williams has issued this short statement on Uganda's pending Anti-Homosexuality Bill:
Overall, the proposed legislation is of shocking severity and I can't see how it could be supported by any Anglican who is committed to what the Communion has said in recent decades. Apart from invoking the death penalty, it makes pastoral care impossible – it seeks to turn pastors into informers.
Anglican Head Cedes Leadership To Africa
Jim Burroway
August 24th, 2010
According to this NTVUganda news report, Archbishop of Canterbury Rowan Williams appears to have thrown in the towl in the face of the African rebellion. Responding to Ugandan archbishop Henry Luke Orombi's call to "send missionaries to America and Europe to take back the gospel from these sending nations," Williams conceded that it may indeed be "God's Will" that African bishops continue to foment division within the Worldwide Anglican communion:
God raises up different countries and cultures in different seasons to bear witness to his purpose in especially marked ways. This indeed may be His will for Africa in the years ahead."
There is also a clip of Uganda's Prime Minister Apollo Nsibambi declaring to warm applause that "Africa has been exemplary, at least in not accepting homosexuality."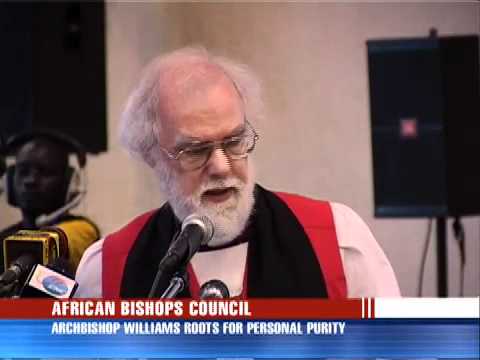 "There is Already A Break": Ugandan Archbishop Declares De-Facto Schism
Jim Burroway
August 24th, 2010
About 400 African bishops of the Anglican Union have gathered in Entebbe, Uganda for a six-day All Africa Bishops Conference organized by the Council of Anglican Provinces of Africa (CAPA). The head of the worldwide African Union, Archbishop of Canterbury Rowan Williams arrived in Entebbe on Monday to speak at the conference, which began this morning. His job is to try to hold the Anglican Communion together over deep rifts over homosexuality and the ordination of women. In Williams' opening remarks, he didn't address homosexuality specifically, but said this in his typically indirect, round-about way:
"We must learn to listen to those we lead and serve to find out what their hopes and needs and confusions are. We must love them and attend to their humanity in all its diversity," Williams said.
But African clergy weren't waiting to hear Williams' watered-down messages, and they were far more direct in speaking with reporters. Before the conference began, the conference's host and Ugandan Archbishop Uganda Henry Luke Orombi had already fired the opening salvo:
"Homosexuality is incompatible with the word of God," Orombi said. "It is good (that) Archbishop Rowan is here. We are going to express to him where we stand. We are going to explain where our pains are."

Orombi also said that disputes over homosexuality had already divided the global Anglican community.

"There is already a break. It doesn't need to be announced. It is in the way people act," he said.
The virulently anti-gay web site Virtue Online confirmed Orombi's statement to reporters. David Virtue, who runs the web site and is attending the conference,  also described Orombi's comments in Williams' presence at the conference itself:
Archbishop Henry Luke Orombi told 400 African Anglicans bishops in the presence of the Archbishop of Canterbury Dr. Rowan Williams and Uganda's Prime Minister that there was a hunger for the Word of God in England where he recently spoke to 17,000 people. "I called back home to send missionaries to America and Europe to take back the gospel from these sending nations. It is an ailing church in need of guidance."

Addressing delegates to the All Africa Bishops conference sponsored by CAPA – the Council of Anglican provinces of Africa, Orombi said, "We must be free to go to Europe and to the Mother Church [CofE] desperate for the gospel."
Orombi, along with Nigeria's Archbishop Peter Akinola, have been particularly active schismatic activities for several years. Virtue's web site has published invitations from Orombi's diocese to American parishes inviting them to break from their own bishops to seek "spiritual guidance" from Orombi.
Virtue also relays comments made by Orombi and Uganda's Prime Minister Apollo Nsibambi at a later press conference. According to Virtue, Orombi again reiterated that a schism has already occurred:
Asked about whether schism was now a reality in the Anglican Communion, Orombi said there was already schism in the face of doctrinal teaching. "The break took place a long time ago. We said in 2005 in Northern Ireland that if the gay movement does not check itself it is walking away from the Anglican Communion. The same was said in Dar es Salaam. Now in Uganda we are talking about a communion that is already broken. It is not the way people act. We have put out a moratorium. One part [of the Communion] breaks it so they have walked away. We as Africans are holding to the core of the faith of the communion.
In remarks to reporters according to Virtue, Prime Minister Nsibambi listed homosexuality alongside terrorism and corruption as among the problems Uganda was facing. (Uganda was hit by suicide bombers from Somalia in July.) According to Virtue, Nsibambi said:
"We believe that God the almighty is able to grapple with these problems. We need exemplary leaders, not sycophants. The East African Revival is the driving force of the Church of the Uganda. Africa has been exemplary in not accepting homosexuality. As we challenge the problems we must not point fingers at others but repent of our own sins."
Archbishop of Canterbury reacts to lesbian bishop
Timothy Kincaid
December 6th, 2009
Via the Guardian
Rowan Williams, spiritual leader of the world's 77 million Anglicans, urged restraint following the choice of the Rev Mary Glasspool to become the second openly gay bishop in the global Anglican fellowship. The election needs approval from a majority of Episcopal church dioceses before she can be consecrated.

Williams said: "The election of Mary Glasspool by the diocese of Los Angeles as suffragan bishop elect raises very serious questions not just for the Episcopal church and its place in the Anglican communion, but for the communion as a whole.

"The process of selection, however, is only part complete. The election has to be confirmed, or could be rejected, by diocesan bishops and diocesan standing committees. That decision will have very important implications."
That decision has already been made when the body of the church voted to no longer hold itself constrained by the biases and animus of foreign churches. So you have plenty of reason to be concerned, Archbishop.
Your first concern, however, should be whether you will embody Christ's welcome and inclusion or whether your fears of schism will bind you to the policies of ignorance and exclusion that dominate the enemies of love.