Ugandan MP Failed In Call for Africa-Wide Support for Anti-Homosexuality Bill
Jim Burroway
October 10th, 2012
Uganda is marking its 50th anniversary as an independent nation this week with dignitaries flying in from all over the world. But as neighboring Kenya's Daily Nation reported, Uganda's proposal to execute gay people has become a "blot" on that nation's Jubilee celebrations when the subject came up in "the otherwise languid Pan African Parliament":
Dr Moussa Idriss Ndele from Chad moved the motion in recognition of Uganda's big day which was seconded by his Kenyan counterpart Mr Gideon Mung'aro and unanimously adopted by the House. MPs praised President Yoweri Museveni, saying his leadership had seen Uganda move from a dictatorship to democracy. …But a remark by South African opposition MP Santosh Vinita Kalyan challenging Uganda government's hostility towards homosexuality momentarily changed the momentum of the debate.

(South African opposition MP Santosh Vinita) Kalyan, the Democratic Alliance's party whip had started off by showering praises on the Museveni government for placing health 'on top of its agenda" citing the fight against the AIDS pandemic as an example. However, she said, homophobia was "a blot" in the progress the Ugandan government had made.

"Uganda has a blot in terms of its stand and attitude towards homosexuals. Regrettably, they want to criminalise homosexuality," Ms Kalyan said while supporting the motion on Uganda.

The issue,she said, was not about "whether one supports homosexuality or not" but it is about their human rights. She praised her country's constitution saying it allowed gays and lesbians their rights.
Ugandan MP Cecilia Atim Ogwal stood up to announce that she was proud of Uganda's proposal. According to the South African Broadcasting Corp:
Ugandan parliamentary member Atim Ogwal Cecilia Barbara told the PAP seating: "Africa must stand up. We must pass a resolution condemning homosexuality because it is not an African culture. We are not allowed to practice polygamy in other countries, why should we be forced to do what is not natural?"
Ogwal offered a second resolution "to uphold the value of God and values, of Africa," saying:
"We abhorr homosexuality and value our God, culture and there is no way we shall allo a man to step on top of another man or a woman to lie on top of another," said Ms Ogwal, the leader of Uganda's delegation to the continental Parliament.
Ogwal's resolution failed:
South African parliamentary member Santosh Vanita Kalyan says the resolution that Uganda is calling for, is "bizarre."

Kalian went further to say: "It will never pass in this parliament, especially from members like us who feel that the rights of all should be respected."

Also making their point across, Namibian member of parliament Peter Katjavivi said: "If that is acceptable to a particular member state, let it be." But Katjavivi was quick to point out that such a resolution "should never be made a continental-wide affair. We should respect laws as they affect individual countries", he went on to say.
Here is SABC television's report: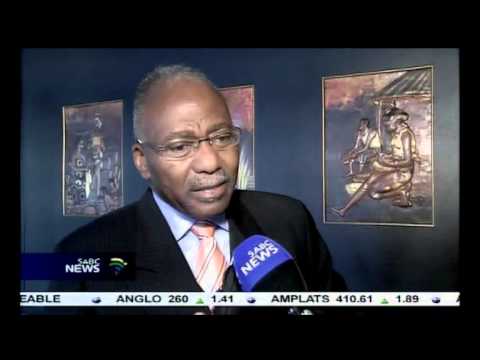 GOP reportedly sides with incarceration and execution of gay Africans
Timothy Kincaid
August 27th, 2012
Think Progress has posted a portion of what they claim is the GOP platform on foreign aid. If this is an accurate and complete statement, then the Republican Party has, in effect, assured African nations that if they return to power, the US will not oppose the horrific mistreatment of gay Africans.
The effectiveness of our foreign aid has been limited by the cultural agenda of the current Administration, attempting to impose on foreign countries, especially the peoples of Africa, legalized abortion and the homosexual rights agenda. At the same time, faith-based groups — the sector that has had the best track record in promoting lasting development — have been excluded from grants because they will not conform to the administration's social agenda. We will reverse this tragic course, encourage more involvement by the most effective aid organizations, and trust developing peoples to build their future from the ground up.
In Africa – other than South Africa – "the homosexual rights agenda" is not about marriage or adoption or other matters of civil equality. It's about not being murdered in the street, it's about being able to meet without police crackdowns, it's about not being thrown in jail for decades, it's about not being executed by your government for "repeat offenders", it's about existence.
And it is this that is "the administration's social agenda". The Obama administration has taken efforts to require that those nations who receive US taxpayer dollars treat their citizens with some small measure of respect.
With this platform, the GOP will "reverse this tragic course… and trust developing peoples to build their future from the ground up."
You want to throw gay people in jail for 14 year in Malawi? We trust you. You want to pass legislation in Uganda to execute gay people, like couples, who "repeat" the "offense" of having sex with each other? We trust you. You want to incarcerate anyone who "aids or abets" same-sex unions in Nigeria? We trust you.
Yes, I know that the platform has no bearing on the policies of the candidates. Yes, I know that both parties tend to turn the platform over to the less-mainstream members and ignore it thereafter.
But this is extreme. This is the sort of policy statement that really can't be interpreted to be anything other than horrific. And if the Republican Party members leave this in their platform when it is voted on from the floor this week, it will result in shock and embarrassment when regular people, good ol' voters, just normal family folks who aren't really all that concerned about gay people either way hear what it means.
Because it's one thing to "disagree about the definition of marriage". It's quite something else to endorse the execution of people for being gay.
And when we say "we're everywhere" …
Timothy Kincaid
August 25th, 2011
Libyan rebels have ended the 42-year long rule of Moammar Gadhafi. And, as has now become the standard practice for deposing Middle East dictators, the palaces of Gadhafi and his family have been looted.
The rebels and locals alike were shocked at the extravagant and, ahem, esthetically-challenged display of careless wealth. And amidst the ghastly tackiness and excess, there was this (AP)
In an office area in the villa, reporters saw large piles of catalogues for yachts and cars. A catalog by the firm Benetti had a yellow handwritten post-it note attached listing the price for a 30-meter-long yacht as 7 million euros. A DVD with gay porn entitled "Boyz Tracks" slipped out of the stack of documents.
Oh yes, when we say we're everywhere, that isn't always a good thing.
Uganda's President Calls for "Tolerance" At African Bishop's Conference
Jim Burroway
August 30th, 2010
The All Africa Bishops Conference wrapped up its meeting in Entebbe yesterday, calling on the Worldwide African Communion, according to Uganda's Daily Monitor, to "stick to their culture and reject Western ways tearing the church apart." Among the "Western ways" specifically denounced is the Western church's positions on the equal dignity and worth for LGBT people and the ordination of women. According to Daily Monitor:
While addressing a press conference yesterday, the clergy men, led by Archbishop Henry Luke Orombi, said Western cultures like homosexuality should be shunned. He said they will not change their stand on homosexuality, saying the practice is against the scriptures.
On Tuesday, President Yoweri Museveni, without a hint of an awareness of the irony of his remarks, called on the 400 Anglican bishops gathered at Entebbe to embrace tolerance as a biblical imperative, saying that Christians should not "have one minute of time wasted" by those promoting prejudice:
"I am always looking for the good Samaritan," he said. "Jesus says you shall know them by their fruits. You shall know them by their actions. Not by their words, not by their addresses, not by their titles, but by their works, by their deeds, by the products of their works."

The President said those of all denominations or faiths needed to recognise one another's right to exist: "If you are a Muslim, so what? I am a Christian. OK, so what's your problem? You are what you are, but I am what I am. We're different…I'm here by the permission of God. You must accept me the way I am whether you want it or not."
That tolerance obviously does not extend to gay people. Museveni has spoken out repeatedly against what he sees as the "foreign influence" behind the presence of LGBT people in Uganda. A member of his ruling party, MP David Bahati, last October introduced the draconian Anti-Homosexuality before the nation's Parliament. Following an international outcry that threatened foreign aid to the impoverished country, Museveni urged Parliament (of which some two-thirds are members of his National Resistance Movement) to "go slow" on the bill. He has nevertheless since then repeated several of the common Ugandan talking points about LGBT people. In speeches for Martyr's Day, a national holiday in Uganda, Museveni charged that Europeans were intent on "imposing homosexuality":
"The church in Africa is very strong and has been at the fore in fighting homosexuality and moral decadence. We must look for modern ways of instilling discipline in society. The Europeans are finished and if we follow their western culture, we shall be headed for Sodom and Gomorrah (the two places which God destroyed because of sexuality)," he said.
The latest Anglican conference wrapped up yesterday. Sunday Monitor's report on the conference wrap-up seems to indicate that  discussions concerning homosexuality were dominant in the talks. Among the comments:
"Homosexuality is not a new phenomenon in the society but the only trouble is that the issues dividing us (church) now are very difficult to handle. They are threatening the unity of the church because they disobey the authority of the scriptures," says [Archbishop Nicholas Okoh of the province of Nigeria]. He says homosexuality is a result of some people engaged in making their culture to be superior to the biblical teachings. "It is two sided; while some people want to be obedient to their culture to determine the content of the church, others say no and it must be the guidance of the bible," he added.

The primates describe homosexuality as an imposed interpretation and alien culture that has hindered the growth of an authentic church which could respond to its people. "We are saying homosexuality is not compatible with the word of God. We are saying that this culture of other people is against the traditional belief of marriage held by the Anglican Communion," says the Archbishop of the Church of Uganda, Henry Luke Orombi. Bishop Orombi says that the Anglican Church will never accept homosexuality because the scriptures too do not allow people of same sex to join in marriage.

"Homosexuality is evil, abnormal and unnatural as per the Bible. It is a culturally unacceptable practice. Although there is a lot of pressure, we cannot turn our hands to support it," says Bishop Orombi.
The Archbishop Ian Ernest of the Province of Indian Ocean candidly denounced the Worldwide Communion's refusal to "reign in" western churches which instituted policies which recognize the dignity and worth of LGBT people:
We cannot afford to continue to lurch from one crisis to the next in our beloved Communion. Despite attempts to warn some western provinces, action has been taken to irrevocably shatter the Communion. Sadly existing structures of the Anglican Communion have been unable to address the need for discipline," says Bishop Ernest, the chairman of CAPA. He says the teachings of homosexuality are irrelevant to the needs of Africans and are unrepresentative demographically hence the need for new structures that are credible and representative of the majority.
Archbishop of Canterbury Rowan Williams, the head of the worldwide Anglican Communion, attended the opening sessions of the conference amid open declarations of de-facto schism between the African arm of the church and the West. Williams appeared to give his nod to African "leadership" in his remarks, saying, "God raises up different countries and cultures in different seasons to bear witness to his purpose in especially marked ways. This indeed may be His will for Africa in the years ahead."
Big Brother Africa and the World We All Live In Together
Jim Burroway
August 28th, 2010
Big Brother, the Dutch reality series that has been exported in localized versions around the world, also has an Africa version which throws together house guests from Angola, Botswana, Ethiopia, Ghana, Kenya, Malawi, Mozambique, Namibia, Nigeria, South Africa, Tanzania, Uganda, Zambia and Zimbabwe. Big Brother Africa follows the same formula as all the other versions, including edited daily television broadcasts and a lavish web site with live video streaming.
As is the case with Big Brother editions elsewhere in the world, the titillation of sexual voyeurism is a key part of the attraction to Big Brother Africa, and fans got their fill recently when Meryl, a 24-year-old woman from Namibia, and Sheila, a 25-year-old Kenyan, were seen on the live feed sharing a bed under the covers when a housemate, 29-year-old Tanzanian Mwisho, walked in.
Mwisho seemed to have handled the situation delicately, but what I thought was interesting was this report of the scene in Malawi's Nyasa Times. Malawi, you may recall, entered the world's consciousness over the arrest, conviction, and pardon of Tiwonge Chimbalanga and Steven Mongeza for having participated in a traditional same-sex engagement ceremony. Some of the reactions noted by Nyasa Times include:
"I am shocked. But these things are happening everywhere – maybe these are signs of the end of times," said Winnie Makumbe-Machekano from Malawi.

Expressing her disappointment on her Facebook page, Kathay Katengeza another Malawi viewer wrote: "Lets hope Meryl gets nominated next week, I'll b the first one to vote against her…akakhala [when it comes to] Sheila atuluka [she is getting evicted] Sunday."

Another viewer known as ChrissieBee wrote: "Africa! Oh Africa! Where art thou cultures and believes? If it were the US or anywhere else, I wouldn't have a problem with it! This is Africa for God's sake!"

"Oh, and Sheila, you are a hypocrite. What happened to "I can't f*** in this house" "I can't do anything like that in this house?"

Fidelyn commented: "They do it on TV; they don't do it on TV, what's the difference? Either ways it doesn't change the fact that these things happen in real life. Sheila is just being real….she said she's bi. Whilst Meryl never mentioned she even does women."
You can find more reactions on BBA's forum here. BBA's facebook page is here. Much of Africa is deeply conservative and discussions or depictions of homosexuality are extremely rare. But with this rather innocuous display (innocuous in our eyes at least), another debate opens where it had not previously taken place. As is the case with North America many decades ago when LGBT people were first beginning to become noticed, the reaction is harsh and outrageous. But that harshness and outrage isn't universal, and it is in those differences that the stage for debate is set.
BBA demonstrates in microcosm a new phenomenon that has become ubiquitous, but it's one that we've barely noticed. The constant presence of cameras, television, the Internet, and mobile phones has drawn our world ever more tightly together. Whether it's Twitter in Iran, SMS messages in Mogadishu, or video cameras attached to mobile phones in Kampala, we know today in an instant what is happening in places that would have gone completely unnoticed just ten years ago.
Without the Internet, I certainly would not have learned that a three-day anti-gay conference was about to take place in Kampala in 2009. And without email, or mobile phones with video cameras, we wouldn't have been able learn about the Anti-Homosexuality Bill that was introduced in Uganda's Parliament and the public debates and demonstrations that took place afterwords. The world is shrinking, and ideas are being exchanged as a result. Nothing happens in a vacuum anymore. Through the process, everything we previously knew about personal privacy has been completely obliterated. But if there is an upside to that, it is this: evil cannot be hidden so easily, and the powerful can no longer hide people like Meryl and Sheila and pretend that homosexuality doesn't exist. Modern communications won't make tyranny impossible; it is just another tool that can be used to suppress as well as liberate. But it does mean that oppression can no longer be hidden. The individual now has the power to strip tyranny naked, and we will know this when the next genocide is live-blogged and YouTubed.  Such is the age we live in, and the power that virtual communications has in transforming the world. The entire world.
Anglican Head Cedes Leadership To Africa
Jim Burroway
August 24th, 2010
According to this NTVUganda news report, Archbishop of Canterbury Rowan Williams appears to have thrown in the towl in the face of the African rebellion. Responding to Ugandan archbishop Henry Luke Orombi's call to "send missionaries to America and Europe to take back the gospel from these sending nations," Williams conceded that it may indeed be "God's Will" that African bishops continue to foment division within the Worldwide Anglican communion:
God raises up different countries and cultures in different seasons to bear witness to his purpose in especially marked ways. This indeed may be His will for Africa in the years ahead."
There is also a clip of Uganda's Prime Minister Apollo Nsibambi declaring to warm applause that "Africa has been exemplary, at least in not accepting homosexuality."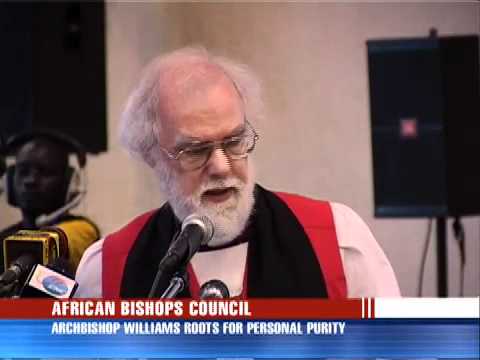 "There is Already A Break": Ugandan Archbishop Declares De-Facto Schism
Jim Burroway
August 24th, 2010
About 400 African bishops of the Anglican Union have gathered in Entebbe, Uganda for a six-day All Africa Bishops Conference organized by the Council of Anglican Provinces of Africa (CAPA). The head of the worldwide African Union, Archbishop of Canterbury Rowan Williams arrived in Entebbe on Monday to speak at the conference, which began this morning. His job is to try to hold the Anglican Communion together over deep rifts over homosexuality and the ordination of women. In Williams' opening remarks, he didn't address homosexuality specifically, but said this in his typically indirect, round-about way:
"We must learn to listen to those we lead and serve to find out what their hopes and needs and confusions are. We must love them and attend to their humanity in all its diversity," Williams said.
But African clergy weren't waiting to hear Williams' watered-down messages, and they were far more direct in speaking with reporters. Before the conference began, the conference's host and Ugandan Archbishop Uganda Henry Luke Orombi had already fired the opening salvo:
African Newspaper Roundup: Homosexuality Not A Western Import, and Other "Horrors and Revulsions"
Jim Burroway
May 26th, 2010
When straight African writers offer opinions that homosexuality should not be harshly condemned, they are often constrained to politely concede the widespread condemnation of LGBT people throughout Africa. And part of the typical formula is to register their own personal disgust over the idea of gay sex. Janet Otieno, writing for the online Africa Review out of Kenya avoids the latter part of the formula and counters the oft-told argument that homosexuality is an un-African western import. Not true, she says:
Further evidence for the existence of homosexuality is that pre-colonial African ethnic groups ascribed tribal classifications to gay people.

Certain tribes in pre-colonial Burkina Faso and South Africa regarded lesbians as astrologers and traditional healers, while a number of tribal groups in Cameroon and Gabon believed homosexuality had a medicinal effect.

In pre-colonial Benin, homosexuality was viewed as a boyhood phase that males passed through and eventually grew out of according to Zimbabwean Standard newspaper.

The Egyptian Pharaoh Akhenaten and his lover Smenkhkare were also documented as male couple in history. Their homosexuality does not seem to have bothered Akhenaten's contemporaries, but his challenge to the clergy brought his downfall.
She then goes briefly goes into the nature-nurture debate, and in her discussion of the importance of sex education in the home, it's hard to know where she stands on that issue — or for homosexuality in general, although the calm tone of the article carefully hints at her tacit support for LGBT people. That tacit support becomes overt in her penultimate paragraph:
Such individual formation within the family means that sex education is indistinguishable from religious and moral development in other virtues such as temperance, fortitude, and prudence.

Africans should therefore not afford themselves the luxury of being hateful and intolerant to this particular group.

Whether Africa will face up the reality and accept homosexuals, or uphold its traditional values, remains to be seen as the debate rages on.
This piece contrasts very sharply from another op-ed that ran in Kenya's Daily Nation today with the title, "Homosexuality is an abomination in the sight of God and man." Three guesses on which side of the fence Dorothy Kweyu sits on. But what makes this piece interesting is that Kweyu reveals that as the Daily Nation's Revise Editor, she contributed to a relatively positive article by Emeka-Mayaka Gekara which ran last week about LGBT Christians in Kenya who worship privately at a Nairobi branch of the Metropolitan Community Church.
I guess that article left both of them exposed to suspicions that they both endorsed LGBT equality, even though Kweyu's name is not mentioned in the article. But to settle any confusion the mere presence of the report may have raised, Kweyu saw a burning need to set the record straight:
It occurred to me that as a mother and a Christian, I would be failing in my responsibilities, albeit as a layperson, if I did not express the utter horror and revulsion that was mine at reading such brazen affirmation of an evil. I can, therefore, confirm that my revision task was as "unenviable" as was the writer's — something you do because you have no option; it's all in a day's work.
Lutherans in Tanzania shun those in the West
Timothy Kincaid
May 7th, 2010
There are a lot of Lutherans in Tanzania. With 5.3 million Lutherans, there are more there than in any nation other than Sweden (and Swedes take their religion a bit laxly).
And while the Lutherans in Scandinavia and, increasingly, the United States are welcoming of gay people and supporting of gay rights and relationships, the Tanzanians are not at all happy. They are so very pissed off at their fellow believers that they want nothing to do with them. Or their money.
From the Ecumenical News International
The Evangelical Lutheran Church in Tanzania says it will not accept money or help from groups that allow or support the legalization of same-sex marriages.

"Those in same-sex marriages, and those who support the legitimacy of such marriage, shall not be invited to work in the ELCT," says a statement posted to the church's Web site on April 29. "We further reject their influence in any form, as well as their money and their support."
It's very sad. African remains largely hostile to gay people; so much so that at times it tears at the fabric of their shared faith.
Tendi discusses African myths about homosexuality
Timothy Kincaid
March 23rd, 2010
Blessing-Miles Tendi, writing in the Guardian, examines myths about homosexuality that are commonly believed by Africans and African-Americans.
The standard explanation offered by Africans opposed to gay rights is that homosexuality is alien to their culture and was introduced to Africa by European colonialists. A good deal of African-American homophobia relies on the same justification. But late 19th-century records on Africa and African oral history show that homosexual practices existed in pre-colonial Africa.
State Department Investigating LGBT Treatment In Uganda and Throughout Africa
Jim Burroway
March 4th, 2010
Last January, we reported that Sen. Ron Wyden (D-OR) wrote to Secretary of State Hillary Clinton and US Trade Representative Ron Kirk, asking them to "communicate immediately to the Ugandan government, and President Yoweri Museveni directly, that Uganda's beneficiary status under AGOA (African Growth and Opportunity Act) will be revoked should the proposed legislation be enacted." The legislation he's referring to, of course, is the draconian Anti-Homosexuality Bill that is, as far as we are able to determine, awaiting its second reading before Parliament.
The State Department has now responded to Sen. Wyden's request. In a letter dated Feb 22, 2010 and released by Sen. Wyden's office, Assistant Secretary for Legislative Affairs Richard Verma responded that the department has "identified this issue as a priority in our bilateral relationship" with Uganda (PDF: 112KB/2 pages):
We have reached out at the highest levels; Secretary Clinton and Assistant Secretary for African Affairs Johnnie Carson have discussed our concerns directly with President Museveni. In addition, our embassy in Kampala has been in close and regular contact with key political, media and civil society actors on the ground in Uganda, registering strong opposition to the bill and warning the Ugandans of potential consequences if it passes. The ambassador reiterated our concerns with President Museveni as recently as January 25, and Under Secretary for Democracy and Global Affairs Maria Otero just visited Uganda on January 29. She met and offered support and encouragement to civil society groups opposed to the legislation and underscored our views to senior Ugandan officials. We are following this bill very closely.
In Museveni's remarks urging Parliament to "go slow" on considering the draconian legislation, he cited a long conversation with Secretary Clinton in declaring that the bill was not just a domestic issue but also had foreign policy considerations.
Assistant Secretary Verma characterized Uganda's proposed bill "a serious affront to internationally accepted human rights standards." And interestingly, the State Department's concerns aren't limited to Uganda:
The State Department is also evaluating attitudes and laws that marginalize and criminalize and penalize the LGBT community in Africa more broadly.  We have asked all of our embassies in Africa to report on host country laws and pending legislation that criminalizes homosexuality.  In addition, our Bureau of Democracy, Human Rights and Labor has established a task force on LGBT issues to strategize a United States Government response to LBGT issues worldwide.
New Zealand Herald looks at gay scapegoating by African leaders
Timothy Kincaid
January 10th, 2010
Life is becoming dangerous in Kampala for Dr. Paul Semugoma (NZHerald.com)
"They are saying that I'm the 'gay tycoon', spreading the infectious disease of homosexuality in Uganda," he says with a bitter laugh. "It's such nonsense."

In reality, he is a respected doctor who has volunteered his time to help with HIV and safe sex education programmes and writes a weekly medical advice column for a popular newspaper.

But in the last month he has been publicly outed as a homosexual four times with government officials offering money to anyone willing to inform on his private life.
Dr. Semugoma had been named in Uganda's notorious tabloid Red Pepper as one of the "city tycoons who bankroll Ugandan homos." Although Box Turtle Bulletin has focused a good deal on the situation in Uganda over the last year, the proposal to execute gays or imprison them for life is but the most drastic measure in a continent-wide effort by politicians to blame their nations' ills on the "Western import" of homosexuality.
Writing for the New Zealand Herald, Daniel Howden provides a picture of a picture of Africa that is disconcerting. In addition to Uganda and the Milawi couple being held without bail,
"Sodomy laws", legislation criminalising same-sex intercourse, are under consideration in new commonwealth member Rwanda and in neighbouring Burundi.

In Nigeria, a bill awaiting legislative action would impose criminal penalties for engaging in or performing same sex marriage ceremonies.

In Senegal, nine men, including a prominent HIV prevention worker, were sentenced to eight years in prison last year for "engaging in acts against the order of nature".

Their sentences were commuted to a fine and they were finally released three months later after an international outcry.
…
The current anti-homosexual crackdown is drawing worldwide attention, but 38 out of 53 African countries had already criminalised consensual gay sex.

And in many cases, sodomy laws had remained on the books from the colonial era.
In many ways the Western world is only just beginning to realize the extent to which homophobia and homohatred has become instilled in African cultures. And it is just now beginning to see the danger of western missionaries stirring the fires of bigotry into conflagrations that they cannot control.
Let's hope that with increased knowledge will come increased responsibility. Sadly, so far, those who have been most guilty have shown no desire to accept or acknowledge their responsibility.
Click here to see BTB\'s complete coverage of the past year's anti-gay developments in Uganda.
"Un-African" Homosexuality?
Jim Burroway
January 10th, 2010
Many of those behind Uganda's proposed Anti-Homosexuality Bill complain that homosexuality is a foreign import, despite the ironic fact that it was Europeans who imposed bans on homosexuality on their African colonies — and despite the huge impetus given the current drive to legislate LGBT people out of existence by three American anti-gay extremists. The idea of homosexuality being somehow "un-African" is widely believed, despite being ignorant nonesense. Douglas Foster, writing for the Los Angeles Times, provides proof of that from his visits to a Johannesburg, South Africa gay nightclub which served as a haven for Africa's gay diaspora:
To get to Simply Blue's curved bar and large dance floor, patrons had to climb a long flight of stairs and go through a security pat-down. You could always spot newcomers because they usually sat off to the side in the shadows, on broken-down couches, their eyes wide and jaws slack. Many of them literally had had the idea beaten into them that they were part of a cursed, despicable, tiny minority.

There was the middle-aged man from Zimbabwe, formerly married, whose brother had plotted to have him killed because of the shame he'd brought to his family when he'd switched to dating men. There was a young Nigerian who lingered on the sidelines for weeks before inching out onto the dance floor, but then moved in an explosion of long-suppressed joy at finding himself dancing in public across from another man. I met an older fellow, a soft-spoken farmer from Uganda who'd raised his children before leaving his home, his wife and his country. He'd finally decided he couldn't live to the end of his life without having the chance to express his truest self.
[Hat tip: BTB reader Regan DuCasse]
Click here to see BTB\'s complete coverage of the past year's anti-gay developments in Uganda.
Uganda's "Kill Gays" Bill Is "Providing Leadership to the World"
Timothy Kincaid
November 9th, 2009
The Ugandan legislature is considering a bill that would enhance sentencing for gay people to include the death penalty for "repeat offenders", among other "aggravated homosexuality" offenses, and life imprisonment for others. This bill, needless to say, is considered inhumane by most of the West and, indeed, anyone who cares about human right.
But rather than consider how their barbarism is viewed by the civilized world, Uganda's political leadership thinks this reflects positively on them. (IPS)
But Uganda\'s ethics and integrity minister sees the uproar surrounding the Bill as a positive sign that Uganda is "providing leadership" to the world. The minister, James Nsaba Buturo, tells IPS he is happy the Bill is causing a lot of debate globally.

"It is with joy we see that everyone is interested in what Uganda is doing, and it is an opportunity for Uganda to provide leadership where it matters most. So we are here to see a piece of legislation that will not only define what the country stands for, but actually provide leadership around the world," he says.
Click here to see BTB\'s complete coverage of recent anti-gay developments in Uganda.
Namibia Political Parties Hesitantly Supportive
Timothy Kincaid
November 6th, 2009
Often the news out of Africa can shade Westerners' perceptions of the continent with an image of intolerance and ignorance. Yet one of the seven countries in the world which recognizes nation-wide marriage equality is South Africa.
And now a neighbor, Namibia, seems to be somewhat cautiously moving in the direction of tolerance and support. At a recent political forum, the question of discrimination arose. (allAfrica.com)
At a forum with political parties as part of the Women Claiming Citizenship Campaign, respecting and ensuring the rights of gay, lesbian, transgender, bisexual and intersex Namibian citizens – who are often discriminated against for their gender or sexual orientation – was highlighted as a major issue for political parties to address.

When push came to shove in stating their positions, most of the eight parties present – the All People's Party (APP), the Congress of Democrats (CoD), the National Democratic Party (NDP), the Namibia Democratic Movement of Change (NDMC), Nudo, the Rally for Democracy and Progress (RDP), Swanu, UDF – declared that human rights were for everyone, irrespective of their sexual orientation.

Only NDP and UDF remained silent on the issue.
It seems that this subject has often been taboo and that politicians are struggling with an approach that is enlightened.
While Nudo described homosexuality as a "strange new" issue, party representative Utjiua Muinjangue also made it clear that Nudo's position was to respect human rights, irrespective of sexual orientation.

She emphasised that there was a need for openness in discussing homosexuality, adding that "the fact of the matter is that we have these people amongst us, and we need to look at the issue differently, accept them, and all live happily."
Sodomy laws still exist and remain in force in Namibia. But perhaps conversations like this will lead to greater freedom.