EXCLUSIVE VIDEO: Ssempa and Bahati Discuss Uganda's Anti-Gay Bill
Jim Burroway
December 27th, 2009
Our anonymous reader in Uganda has sent us some more fascinating video from state-run UBC television. In these series of clips, taken from the program Matters of Policy broadcast on December 23, 2009, Pentecostal pastor Martin Ssempa and member of Parliament David Bahati discuss the proposed Anti-Homosexuality Bill that is now before Parliament.
In the first part, Ssempa announces a nationwide rally for January 19, 2010 in support of the bill. Bahati says the bill is necessary to fight a "creepng evil in our society," alleging that wealthy gays are recruiting children in schools. This is a recurring theme in Uganda's stereotypes about gay people, a stereotype that was vigorously reinforced by the March 5-7 conference put on by three American anti-gay activists.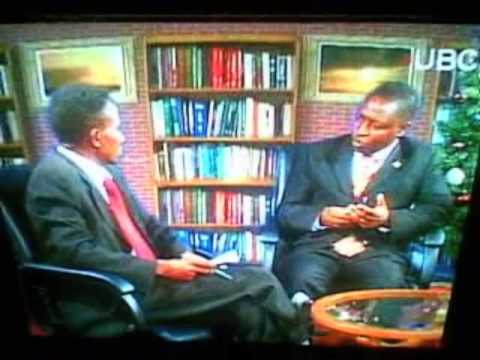 In the second part of the video, Martin Ssempa rails against Barack Obama and other foreign leaders for denouncing the Anti-gay bill. He also completely misrepresents the "aggravated homosexuality" clause of the proposed bill, which provides the death penalty for LGBT people under certain circumstances. Ssempa claims that those circumstances are limited to rape or child sexual abuse. In fact, the proposed bill (the full text of which we've posted online) defines "aggravated homosxuality" this way:
3. Aggravated homosexuality.
(1) A person commits the offense of aggravated homosexuality where the

(a) person against whom the offence is committed is below the age of 18 years;

(b) offender is a person living with HIV;

(c) offender is a parent or guardian of the person against whom the offence is committed;

(d) offender is a person in authority over the person against whom the offence is committed;

(e) victim of the offence is a person with disability;

(f) offender is a serial offender, or

(g) offender applies, administers or causes to be used by any man or woman any drug, matter or thing with intent to stupefy overpower him or her so as to there by  enable any person to have unlawful carnal connection with any person of the same sex,

(2) A person who commits the offence of aggravated homosexuality shall be liable on conviction to suffer death.

(3) Where a person is charged with the offence under this section, that person shall undergo a medical examination to ascertain his or her HIV status.
In other words, the bill also includes anyone who is HIV-positive (and mandates testing of anyone suspected of homosexuality to determine their eligibility for the death sentence) or anyone who is a "serial offender" — which could include anyone who has had more than one partner in his or her lifetime. Ssempa (and Bahati) are clearly lying when they claim that "aggravated homosexuality" is limited to rape or molestation. The text of Bahati's own bill proves the lie.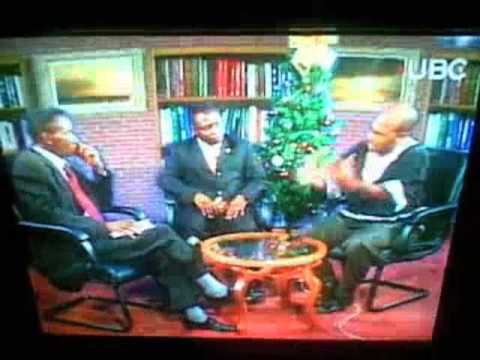 In the third part, Bahati insists that the bill will not be dropped. He says that it is now before the Parliamentary Committee of Legal Affairs and also the Presidential Affairs Committee. He believes the bill will pass when Parliament returns from recess in February. He and Ssempa also claim to have been under death threats since the bill was introduced. In a recent story by the independent Daily Monitor, Bahati claims that a cousin is missing and blames the controversy over the anti-gay bill, but he doesn't repeat that claim here. (That story has now gone missing from the Monitor's web site.)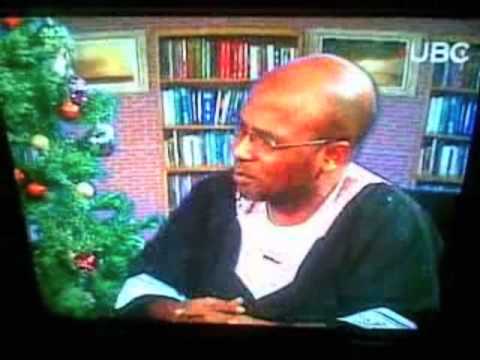 Click here to see BTB\'s complete coverage of recent anti-gay developments in Uganda.
Transcript of the Ssempa and Bahati interview from the Matters of Policy broadcast.
Ssempa: …meat, can be another man's poison. So they want us to eat their poison of homosexuality, we are saying no. So, we want people to show how they feel because I don't know how they underst… so, on January 19, there's been a task force that met, of religious leaders, and we realise it's Christmas time, but we have to send a message, a strong message out, and we did yesterday, thanks for the coverage, but there was an agreement, people were saying, 'no! I have to show that I support my president, that I support my Parliament, that I support my culture', and so… on January 19, we are going to have a couple days where Ugandans are going to show how they feel about this issue of homosexuality. So, we are going to have people coming from all over the country, converging on the city, even other cities there's going to be shows of expression of support. So, we are expecting more than 3 million people to show up that day, maybe 5… but this is, this is an issue that people feel very deeply and passionately about.
Tegule: Okay, great! And let me go to Honorable Bahati… you're you're you seem a lot more, i mean… on the outside/outsert, you  seem a quiet harmless fellow  who would never harm anybody else, and then you come up with this private member's bill that's causing a ruckus all over the world, erm, just give us a brief background, what was the rationale behind this particular bill that you came up with?
Bahati: Two aspects to this. The first aspect is that the constitution of Uganda prohibits same sex marriage. The penal code act, talks about and outlaws unnatural behavior against the order of nature, but it falls short of mentioning specifically homosexuality. Yet on the other side, we know that homosexuality has become a big issue. It's a creeping evil in our society. There's a lot of recruitment, of single sex, single sex school, in single sex schools of our children. There's also a lot of promotion of this evil in our society. And at the same time, the population of Uganda, 95% of Ugandans, oppose homosexuality. So, it is really a summation of the aspiration and values of Ugandans. So the bill comes in to bridge the gap, in the legal system, but to fulfill the aspiration of people who do not support homosexuality.
Tegule: So, you are saying that you are not introducing anything new, really, because already the constitution actually prohibits it, and the penal code as well prohibits it and therefore, you simply trying to put the icing on the cake that's already existing?
Bahati: It's not simply. It's not simply, just to add. But there are things that are already, that are not in the penal code act that are necessary for us to look at. For example, if you talk about promotion of homosexuality, it's not covered in the existing law. If you talk about homosexuality itself, in specific terms, comparing it to the gravity of the problem, it's not handled in the current laws. So it is coming in really to strengthen the current law but also to give it a boost, to catch areas which are not already covered in the law.
Tegule: Great! And just… before I go to Martin once again, just give us a brief about what a private member's bill is, because I'm sure many of our viewers might not quite understand, say "private member's bill? what is that? how do we differentiate it from other bills that come into Parliament?"
Bahati: Our rules of procedure and indeed the constitution provides that a member of Parliament, what we call a 'backbencher', we have people who sit on the front row, the cabinet ministers and the state ministers, and also we have members of Parliament who sit behind the ministers.Normally, laws are brought by the executive, which is the cabinet ministers, but also a private, a private member, a backbencher, has a right, if he sees that there is something urgent,there's something that can help the society, to help society, he has a right to move a private member's bill. This is a proposed law brought by a member, an ordinary member like me, of Parliament. And if that law, if that bill does not have, or the government  thinks that the current financial arrangement will cater for the law that is being proposed, then we seek for a private, rather, a certificate of financial implications, which we we really got. So this is the difference between a bill brought by government, and a bill brought by an ordinary member of Parliament. In this case, it's a bill brought by an ordinary member of Parliament. But of course it is supported by the majority of member of Parliament, not only from the ruling party (NRM – National Resistance Movement), but also members of the opposition. I was er, seconded and supported by a member of the great party, UPC (Uganda People's Congress), and also, members of the opposition on the FDC (Forum for Democratic Change) side, all parties, CP – mention them, DP (Democratic Party), we are all in this together, this is one of the common grounds that we have in Parliament.
Tegule: Actually, that is… you should say, that is one of the very few common grounds that that you find Parliament, you know, you are like agreeing on anything, because most of the time you're disagreeing on every other thing, but before I go to Martin, once a private member's bill, once passed into law, it gets the full force of law?
Bahati: Certainly.
[Begin part 2.]
Tegule: Okay. Well, Matters of Policy tonight is considering the Anti-Homosexuality Bill that is in Parliament, tabled by Honorable David Bahati, member of Parliament for Ndorwa West, and we're talking to him tonight as well as Pastor Martin Ssempa who yesterday did lead an Anti-Homosexuality demonstration here in Kampala, did cause a bit of ruckus as a matter of fact, and he's here to tell us a little bit about that, and what lies ahead in the fight against homosexuality, especially in the face of growing opposition, from the powers that be, from the west, from the Americas and the Europe as well. When our big brothers say no to this, I mean, it does take guts for somebody to say, 'whatever the donors say, we're gonna stand up for what we believe in'. Martin, talk to me about the reaction that you saw from the west, from the Americas as well as the Europeans, I mean… did, do you feel intimidated or you feel 'this is our Parliament(?) we're gonna get on with it'?
Ssempa: First, I think that er, I wanna thank God for Honorable David Bahati, as well as the members of Parliament, the deputy speaker of Parliament, the president, the cabinet… I really wanna thank God because they've taken such a hit/heat(?) and pressure, for having introduced this very progressive law. This law is different from any other country's in the world. So I wanna thank God and I wanna thank Honorable Bahati and I ask everybody to support, our cabinet, our members of Parliament, and our president. The second thing, you you asked Honorable Bahati about, this is not a new law, you pointed something… there there there is an element where some media practitioners both in Uganda, I've looked at members, er papers like The Monitor, Observer,  Reuters, and others… where they are, whether knowingly or unknowingly, misleading the public. That they are saying, that this, there is the the law is criminalizing homosexuality. And, that is not true. Homosexuality, as you said has been criminal for at least 50 years. Section 145 of our penal code, our consitution is clear, unnatural sexual offenses. However, they have not been as defined, clearly, as Honorable Bahati has mentioned now.
The other part is the missing propaganda, conspiracy to promote it. So there is been misinformation, and unfortunately it's been deliberate, in some cases. So some of the homosexual sympathizers, from Europe, from America, who are always looking to spread the gospel of homosexuality, when they hear that now Uganda is going to criminalize homosexuality, they think that, 'oh my god! these people are taking the right away of homosexuals! we better come in and demand that they dont take the rights away!". So, unfortunately, because of that, there has been some countries that either knowingly or unknowingly have threatened cutting off funding, businesses that are saying, 'no, if you stop homosexuals having freedom we will not visit Uganda, diplomatic tensions have come, Sweden has threatened to cut off aid, Obama used his pulpit to be a bully, okay… very undemocratic by saying that he doesnt support this bill, even before the bill is discussed exhaustively. You see, Gordon Brown at commonwealth, came out and voiced his concern, and said that, 'no, this…' and Gordon Brown had promised that he would use his pulpit as a bullying pulpit to expand homosexual rights across the world. Canada, people in the HIV/AIDS community… So in this regard, this progressive bill — I don't call it controversial, I call it very progressive — has unfortunately received negative coverage, and part of it is our local media.
The second part that I've found is, that there is deliberate obfuscation of information. There is deliberate withholding of information, to create a deception. Now one of the section, in the bill, is 'aggravated homosexuality' which is equal to 'aggravated defilement'. The same way you defile a girl and you receive capital punishment, is the same way you defile a boy. We are saying, the law is saying, equal, equal rights, equal responsibility, equal protection. So if a man rapes a boy who is below 18 or a woman rapes a girl who is below 18, 2) or a handicapped person, those two. or even if they, the vic… the perpetrator can be any different. If you do that, it's classic, these two victims that are being protected, are termed as 'aggravated homosexuality'.
Now, unfortunately, this is pedophilia, this is rape. Unfortunately, whenever Monitor or other newspapers are reporting, they usually say that this bill recommends death in 'some' cases… so when you say 'some cases', and you've already said that there is no law, that you are introducing a new law, people are getting hysterical! Because now when they say 'some cases' thinking that these guys are lining up homosexuals and shooting them in a firing squad. They are looking at er Honorable David Bahati as Nazi, they're calling him Hitler, they're calling us, the president, there is been irresponsible journalism of the highest order in this. And there is, there is necessity to check it.
But on the last end, er Honorable, er… my brother… er, er… (Bahati: "Tegule!") Tegule… I want to say even if Sweden… my message is, even if Sweden or… decides to cut off aid, our response is simple. If the price, for getting malaria mosquito nets, or fansidars, or HIV drugs is getting re-receiving sodomy and homosexuality, then we are saying we'd rather die in dignity with our malaria than betray the the 5000 years of written history, of our people from Timbuktu, from Cairo, from Buganda, Bunyoro, all the way down to South Africa. Our fathers have handed down to us, the knowledge, homosexuality is illegal, even if Obama says that is illegal a thousand times, Hillary Clinton dances around a thousand times, and they are joined to roll on the ground and beg us… I mean really, I have said, look. if Obama comes and rolls around in front of me, and begs me to accept homosexuality, I will say I will never. Even if he's joined by Hillary, even if they are joined by Bill… er that, who who… (Tegule/Bahati: "Gordon Brown") Gordon Brown, yeah… and they all roll in the mud, I'll say no! Even the Martyrs of Uganda, Uganda Martyrs died in 1986, huh? (Tegule/Bahati: "1886"), …huh? 8086… that is, 26 of them, fighting this same thing, we can't betray. So if they want to take their aid, they can get their aid and take it away. God has given us oil, we are now like Abu Dhabi, Saudi Arabia, Kuwait… amongst the powerful nations of the world!

Tegule: Okay, well… you're watching Matters of Policy with me (Gareth?) Tegule, and the man exploding there is Pastor Martin Ssempa… who, does that all the time. [laughter]
[Begin part 3.]
Tegule: …and I'm also talking to member of Parliament for Ndorwa West, Honorable David Bahati, and we're discussing the Anti-Homosexuality Bill that he himself introduced in Parliament the other day, and unfortunately we dont have time for talkback (viewer calls) hearing from you. But, nevermind, just listen in and that'll be good to go. But we have about 5 minutes left, I wanna… let's wrap this up very concisely. What is the timetable for this bill? When should we expect to see it on the floor of Parliament being debated and then maybe passed into law?"
Bahati: Just in a second, just to emphasize what Pastor Ssempa has said, that actually there has been a lot of distortion, er on the clauses within the bill. Er, the pro-gay community picked on the death, the word death, in the bill, and just turned it around to attract sympathy in their country. We are not providing for death penalty for two adults, we are providing for death penalty to be consistent with the Defilement Act that we passed in 2007, er where an adult, engages, rapes, a minor of 18 years and below… (Ssempa: a girl) and when that adult has HIV/AIDS, or you are a guardian, you are a parent, you want to rape the kid that you are looking after, this is what we are proposing.
And it is important also to note, that actually this is still a bill. It's still a proposal, and people are are welcome to to come in, if you think some clauses are not good, to to tear them down and get them off. If you think that there's something that we are forgetting, to put it in.
Now, moving forward… moving forward, of course there is no option… (Ssempa: "…to remove it, the bill") to remove this from the table. It's a very necessary bill. It's a bill that will protect our family, a bill that will defend our children, a bill that will defend all Ugandans, and provide decency in freedom.
Moving forward, the bill now is under the Parliamentary Committee of Legal Affairs, and is going to be handled jointly with the Presidential Affairs Committee. Parliament went on recess yesterday, and we hope that when we come back in February… (Tegule: "February!? Wow!") we will be able to look at this and maybe go through the committee stages. And we hope end of February, early March, this bill would be passed into law.
And Ugandans, we know that Ugandans, you are anxiously waiting for this bill, and we want to tell you that as members of Parliament, as your representatives in Parliament, we will not waver, we are moving forward to protect your families, we are moving forward to protect your children and we will ensure that this law is passed.

Tegule: We just heard that you've been receiving, receiving death threats and (Bahati/Ssempa: "yeah!") over the phone or whatever… just, quickly tell us about that."
Bahati: Er, since we moved this bill, er we have received a number of threats. We have received a number of information that manouvers…  to fabricate a number of things about us, we have informed the relevant authorities, and above all we know that God who who cares for all of us is in charge, and we think that we are safe.
Tegule: Okay. Martin, have you also received death threats? I'll be surprised if you didnt.
Ssempa: Ye… Oh! My friend! You know, these homosexuals, there was one, we were discussing about carrying guns… hm? … to come to attack me. And I had me and Buturo and Bahati… And I said, 'you people! you are discussing about killing us!? you guys are evil!' and then they say, 'oh no no no, we're just joking! what what' …but you know, it is… my children are… you know, I have to keep an eye, you have to go in a higher level of prayer and I ask guys to pray for Honorable Bahati. He's not a pastor, he's a legislator, okay? And he's doing a law that is putting resolve on what we believe as a people. For us, you know, homosexuality is illegal, it is ungodly, it is against our culture, it is against the laws of our land, and the laws of our God. So this law is helping translate that.
The other one that I want to say is, January is gonna be a month of fasting and prayer, really, for this law. December 31, we are asking all those who are in (overnight) prayer meetings, bring this issue up, you know. Namboole (mandela national stadium – a popular venue for overnight prayers on new year's eve/day)… Mu-whatever… Nakivubo (sports stadium)… this issue is gonna be given prominence.
And then lastly, I want everybody to to get the phone number of your member of Parliament, because I'm beginning to see evidence of… you know, Red Pepper (local tabloid, extremely unreliable source) gave a story of that a lot of money was being powered into the country, and I know millions are being powered in, to bribe people… media people… officials… so, a) every person, it is your role, to get a telephone of your member of Parliament, and send him a text message and tell him, 'Ssebo(sir)! Please! DON'T stop this Anti-Homosexuality Law, because if you do, you are going to have to depend on Americans to vote you in, okay?'  …really you have to tell these people, even… I mean…
Bahati: I just want to come in here and say I have all the confidence, that the members of Parliament I know in that house, who gave me a go-ahead to come up with the law, will not be bribed" (Ssempa: "very good!")… will not be bribed. We are standing together in this. As I said, this is a common ground, and I'm sure that this law will pass into law.
Ssempa: Very good! So, all the same, send a message, text message of support. Just send them, say 'Please! Christmas Greetings! Honorable, please!! Support the bill, we are with you! ..all the way!… pakalast! (to the end!)'… eh?" *laughter*
Tegule: Okay, okay, okay. Well, gentlemen I'd like to say thank you very much for being with us. (Bahati: "You're welcome") I think we've had a good engagement about what we think is a very very important step in our country's history, and also our country's future because it's about protecting this generation and also the future generations. And I'd like to thank you very much, I'll be calling on you anytime just to come and say something more about this particular bill. But until then, I wish you the best of luck, and God's blessings even as you fight forward."

Ssempa: Thank you! I just wanna give my phone number, in case somebody wants to send me a text message, that is 077-2-641028 (+256-772641028), 077-2-641028. Also, if you want to support this cause, because we have to make sure that we educate people, there's got to be education, workshops… We want to find people who are going to be able to support this cause. So anyway, please get in touch with me, or if you want to email me… familypolicycenter, familypolicycentre[at]gmail[dot]com, familypolicycenter[at]gmail[dot]com… we'll be sure to get in touch with you, even send you a copy of the bill. Thank you.
Bahati: "I just want to wish a Merry Christmas to all Ugandans.
Ssempa: Yeah!
Tegule: Okay, thank you very much and from me Gareth(?) Tegule, and the crew here at UBC, have a good night, God bless you, Merry Christmas, and stay with us.
Comments