BREAKING: Audio and News Reports of Uganda President's Comments on Anti-Gay Bill
Jim Burroway
January 12th, 2010
Uganda's NTV has posted video of President Museveni's announcement at a meeting of his ruling party that he will be speaking to MP David Bahati about the Anti-Homosexuality bill. The reporter suggests that Museveni's remarks were a final "nail in the coffin" for the draconian measure.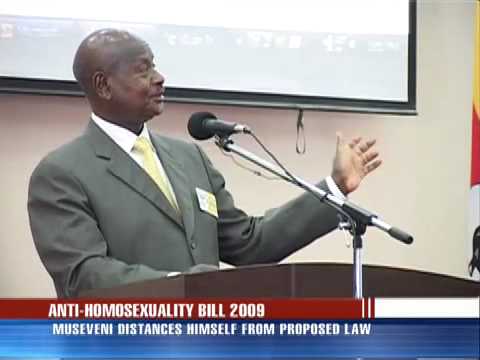 An anonymous Ugandan reader sent audio to BTB and Grove City College professor Warren Throckmorton. In this audio clip, we can hear President Museveni speaking before a rowdy crowd at State House, Entebbe, before a meeting of his National Resistance Movement party. After recounting numerous phone calls and personal conversations he has had with foreign leaders and representatives, he announced that he and the Cabinet will sit down with MP Bahati "to see how best to handle this issue":
Audio clip: Adobe Flash Player (version 9 or above) is required to play this audio clip. Download the latest version here. You also need to have JavaScript enabled in your browser.
I strongly advise you that we agree that the cabinet sit down with Bahati and see how best to handle this issue…

Because it is a foreign policy issue, it is not just our internal politics, and we must handle it in a way which does not compromise our principles but also takes into account our foreign policy interests. So let's be systematic among ourselves, and then we dialogue with these Europeans and the Americans and then we shall come up with a final position.
Click here to see BTB\'s complete coverage of the past year\'s anti-gay developments in Uganda.
Comments