Ugandan Leaders to Strategize Ways to Re-Enact Anti-Homosexuality Act
Jim Burroway
August 11th, 2014
Daily Monitor reports that the Parliamentary caucus of the National Resistance Movement, Uganda's ruling party, will meet today to discuss the way forward for re-enacting the Anti-Homosexuality Act, which was nullified by the Constitutional Court just days before President Yoweri Museveni was to attend a White House dinner in Washington, D.C. Museveni has confirmed that he will attend the meeting, according to MP David Bahati, who sponsored the original bill in 2009. According to Daily Monitor, there is a great deal of impatience among some of the MPs to get the law back on the books:
These MPs want Parliament to put on hold the handling of the ongoing Budget process and first ensure the restoration of the anti-gays law. There is also a request to the Speaker for the suspension of the House rules of procedure to allow the Bill to be passed without going through all the lengthy phases.
The Roman Catholic Archbishop of Kampala Cyprian Kizito Lwanga has reportedly given his support for the act.
Kampala is rife with rumors about how and why the AHA came to be struck down, especially since Ugandan courts are not known for acting with the kind of speed the Constitutional Court acted. The Ugandan magazine The Independent has a lengthy report outlining why they believe the law was nullified and Museveni's options going forward. It's hard to know how much stock to place in this report. None of the article's sources are identified, and the point where the Independent discusses the judiciary's independence — "No judge who opposes gay rights is ever appointed, according to those familiar with the process" — seems very unlikely. But it does show the kinds of rumors that are floating around Kampala.
Uganda's Attorney General Files Notice of Appeal to Supreme Court to Reinstate Anti-Homosexuality Act
Jim Burroway
August 8th, 2014
Nicholas Opiyo, one of the attorneys for the ten petitioners who succeeded on convincing Uganda's Constitutional Court to nullify the Anti-Homosexuality Act on procedural grounds last Fiday, has tweeteed that the Attorney General of Uganda has made good on his vow to appeal the ruling to the country's Supreme Court:
Attorney General of Uganda has lodged a notice of appeal against the AHA ruling of the constitutional court. We'll head to the Supreme Court

— Nicholas Opiyo (@nickopiyo) August 8, 2014
@JosephOkito At this point it is only a notice. The grounds of appeal will be filed later. That is the procedure

— Nicholas Opiyo (@nickopiyo) August 8, 2014
Opiyo spoke to TIME magazine about what has and hasn't changed since the Anti-Homosexuality Act was struck down:
Nothing has changed much. The deep sense of homophobia in Uganda remains unchanged. In any case, it's only been made worse by this ruling, because the debate has been reopened in a more bitter and fierce manner than we've seen before. To be positive, certain incidental things that are good will happen because of the ruling. First, individuals and organizations that have been facing arrest, intimidation or investigation will now have all those cases against them dropped, because the very foundation for these cases has now been declared unlawful. Organizations that have been closed under the [Anti-Homosexuality Act] will now have their operations resume without the fear of the law constricting their work. Even if parliament is resolved, as they are now, to reintroduce the law … they will at least pay attention, some attention to the issues that we have raised in our petition, and perhaps have a somewhat watered down or even—I'm hoping—progressive law in that regard.

This law was one of a couple of instances of morality politics coming into play in Uganda. What do you think the draw is to laws like this in Uganda and across Africa?

There has been a growing influence of American evangelical ideologies in the policies of government in Uganda. The examples are plenty in Uganda—in the HIV/AIDS campaign, Uganda was praised for its response to the HIV/AIDS campaign because it had the message for condom use. When the Christian evangelists got a foothold in influencing government, the policies changed from condom use to abstinence and being faithful. Condoms were "by-the-way;" that was the influence of what we call in Uganda people who are saved. If you look at the laws that have passed since then, whether it is a media law or an NGO law, it has a strong element of public morality. That's new, what seems to be in my view, a moralization of the legislation process. They have a strong foothold in government mainly because the Pentecostal movement is a big movement. They have numbers, they have young people, and they have a huge following. Politicians like numbers.
MP Fox Odoi Oywelowo, one of the ten named petitioners to Uganda's Constitutional Court, has criticized AHA supporters for petitioning Speaker Rebecca Kadaga to circumvent Parliament's rules again and call for a snap vote on the law without formally reintroducing it in Parliament and following the normal procedures for passing a bill:
A day earlier, well-respected journalist Andrew Mwenda, who was also one of the petitioners, appeared on an NTV Uganda talk show to talk about the Anti-Homosexuality Act in a global context:
Daily Monitor, Uganda's largest independent newspaper, reports that the Netherlands, Sweden, United Kingdom and the U.S. are resuming foreign aid to Uganda. And just four days after the court nullified the law, President Barack Obama and the First Lady welcomed Ugandan President Yoweri Museveni for a White House dinner during a three-day summit of 50 African heads of state in Washington, D.C. The photo of the three, which was released by the State Department, drew criticisms from human rights advocates:
"Rolling out the literal red carpet for some of Africa's longest serving dictators that clearly do not respect the fundamental human rights of their citizens will always paint an unfortunate picture of the U.S. and our relationship with the continent," Jeffrey Smith of the Robert F. Kennedy Center for Justice and Human Rights told the Washington Blade on Thursday. "It provides easy ammunition to critics who claim the U.S. is only interested in working with those who lend a hand in the fight against terrorism, like Uganda, or those who sit on vast oil reserves, as in Nigeria."

Nikki Mawanda, a transgender advocate from Uganda who is currently seeking asylum in the U.S., also questioned Obama's decision to invite Museveni to the White House. "It's basically beyond proper," Mawanda told the Blade on Thursday. "It shows us the president is very comfortable with what Museveni is doing and basically they can sit and mingle."
Also attending the White House dinner were:
Nigerian President Goodluck Jonathan, who signed a similarly draconian anti-gay law last January.
Gambian President Yahya Jammeh, who once threatened to "cut off the head" of any LGBT person he found in his country.
Cameroonian President Paul Biya and his wife. Cameroon has conducted several roundups of LGBT people over the past several years. Eric Ohena Lembemb, an LGBT rights advocate, was found tortured and murdered in his home in 2013.
Mauritanian President Mohamed Ould Abdel Aziz. Maurtiania imposes the death penalty for those convicted of consensual same-sex relationships.
Ugandan TV Coverage of the Court Decision Striking Down Anti-Homosexuality Act
Jim Burroway
August 2nd, 2014
The first video is an excellent report from NTV Uganda.
The second video has one very minor error: the Anti-Homosexuality Bill was introduced in 2009, not 2007. Otherwise, it's a very good recap of the bill's progress through Parliament and ends with an overview of the debate over Parliament's lack of quorum. In between, you'll see reactions from the bill's supporters including the bill's sponsor, MP David Bahati.
The government-run UBC doesn't run an active YouTube channel, but on its Facebook page, it gave this response from President Yoweri Museveni:
President Museveni's response on the Anti-homosexuality Ruling yesterday. " I belong to a political party called NRM. I don't answer questions on a freelance way. I have not had time to meet the caucus. When i meet with the NRM caucus, i will have an answer, I am sent bills by the authorised people and I sign them if I agree with the contents.
World Bank Delays $90 Million Loan to Uganda
Jim Burroway
February 28th, 2014
The World Bank yesterday announced that it was delaying a US$90 million loan to Uganda's health system, citing the country's draconian new Anti-Homosexuality Act that President Yoweri Museveni signed into law on Monday.
"We have postponed the project for further review to ensure that the development objectives would not be adversely affected by the enactment of this new law," World Bank spokesman David Theis said in an email.

…The World Bank, a poverty-fighting institution based in Washington, usually refrains from getting involved in countries' internal politics or in issues such as gay rights to avoid antagonising any of its 188 member countries.

World Bank president Jim Yong Kim, however, sent an email to bank staff saying the bank opposes discrimination, and would protect the safety of all employees.

He said passage of the Ugandan law was not an isolated incident, as 83 countries outlaw homosexuality and more than 100 discriminate against women.

"In the coming months, we will have a broad discussion about discrimination with staff, management, and our board on these issues," Kim said in the email. "Now is the right moment for this conversation."
The bank's executive board was set to approve the loan today. The $90 million loan is part of a larger $1.56 billion portfolio the bank has with Uganda. World Bank President Jim Yong Kim wrote an op-ed discussing the broader problems of discrimination of all kinds around the world and how that played into his decision:
These recent anti-gay laws, and many others that have been on the books for years, are acutely ironic. Just 15 years ago, a small band of gay men and women — largely in the United States but also in Europe and parts of Africa — fought with all their intellect, energy and creativity to expand access to treatment for all people with HIV/AIDS. In 2000, just 50,000 people in the developing world received AIDS treatment. Today, largely thanks to the work of these gay activists and others, more than 10 million people are being treated with AIDS drugs — most of them African.

At the World Bank Group, we will have a full internal discussion over the coming months about discrimination more broadly and how it would affect our projects and our gay and lesbian staff members. My view is that the fight to eliminate all institutionalized discrimination is an urgent task.
Norway, Demark and the Netherlands announced this week that they are cutting a combined US$27 million in aid to the Ugandan government. U.S. Secretary of State John Kerry said that the State Department is currently reviewing its relationship with Uganda. The U.S. currently gives more that $486 million in bilateral aid.
Meanwhile, Museveni is seeking alternative benefactors. He may find one in Russia:
President Museveni has said he will work with Russians because they don't meddle in the internal affairs of other countries. …[W]hile commissioning a new flight simulator at the air force headquarters in Entebbe on Friday, Mr Museveni told Obama to stop interfering in the affairs of Uganda, adding he will work with Russia instead of America. "Russia has worked in Africa since 1917, meaning they have been here for more than 100 years. I want to work with Russia because they don't mix up their politics with other country's politics," Mr Museveni said.
VIDEO: Ugandan TV Covers the Five Year History of the Anti-Homosexuality Bill
Jim Burroway
February 25th, 2014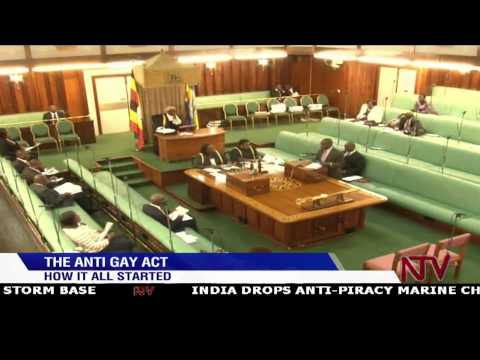 VIDEO: Museveni Speaks To Reporters After Signing Anti-Homosexuality Bill
Jim Burroway
February 24th, 2014
You can see the live signing beginning at about the 53:00 minute mark. You can read President Yoweri Museveni's prepared remarks here, although he made several significant departures from his prepared remarks from time to time. At one point, he asked his scientists to introduce themselves individually.
Museveni's Full Speech At the Anti-Homosexuality Bill's Signing Ceremony
Jim Burroway
February 24th, 2014
Daily Monitor just published it moments ago:
It seems the topic of homosexuals was provoked by the arrogant and careless Western groups that are fond of coming into our schools and recruiting young children into homosexuality and lesbianism, just as they carelessly handle other issues concerning Africa.

Initially, I did not pay much attention to it because I was busy with the immediate issues of defense, security, electricity, the roads, the railways, factories, modernization of agriculture, etc.

When, eventually, I concentrated my mind on it, I distilled three problems:

1. those who were promoting homo-sexuality and recruiting normal people into it;

2. as a consequence of No. 1 above, many of those recruited were doing so for mercenary
reasons – to get money – in effect homosexual prostitutes; these mercenary homosexual prostitutes had to be punished;

3. Homosexuals exhibiting themselves; Africans are flabbergasted by exhibitionism of sexual acts – whether heterosexual or otherwise and for good reason. Why do you exhibit your sexual conduct? Are you short of opportunity for privacy – where you can kiss, fondle (kukirigiita, kwagaaga) etc.?

Are we interested in seeing your sexual acts – we the Public? I am not able to understand the logic of the Western Culture. However, we Africans always keep our opinions to ourselves and never seek to impose our point of view on the others. If only they could let us alone.

It was my view that the above three should be punished harshly in order to defend our society from disorientation. Therefore, on these three I was in total accord with the MPs and other Ugandans. I had, however, a problem with Category 4 or what I thought was category 4 – those "born" homosexual.

I thought there were such people – those who are either genetic or congenital homosexuals. The reason I thought so was because I could not understand why a man could fail to be attracted to the beauties of a woman and, instead, be attracted to a fellow man. It meant, according to me, that there was something wrong with that man – he was born a homosexual – abnormal.

I, therefore, thought that it would be wrong to punish somebody because of how he was created, disgusting though it may be to us. That is why I refused to sign the Bill. In order to get to the truth, we involved Uganda Scientists as well as consulting Scientists from outside Uganda.

My question to them was: "Are there people that are homosexual right from birth?". After exhaustive studies, it has been found that homosexuality is in two categories: there are those who engage in homosexuality for mercenary reasons on account of the under – developed sectors of our economy that cause people to remain in poverty, the great opportunities that abound not withstanding; and then there are those that become homosexual by both nature (genetic) and nurture (up-bringing).

The studies that were done on identical twins in Sweden showed that 34% – 39% were homosexual on account of nature and 66% were homosexual on account of nurture.

Therefore, even in those studies, nurture was more significant than nature. Can somebody be homosexual purely by nature without nurture? The answer is: "No". No study has shown that. Since nurture is the main cause of homosexuality, then society can do something about it to discourage the trends. That is why I have agreed to sign the Bill.

Since Western societies do not appreciate politeness, let me take this opportunity to warn our people publicly about the wrong practices indulged in and promoted by some of the outsiders.

One of them is "oral sex". Our youth should reject this because God designed the human being most appropriately for pleasurable, sustainable and healthy sex. Some of the traditional styles are very pleasurable and healthy. The mouth is not engineered for that purpose except kissing. Besides, it is very unhealthy. People can even contract gonorrhea of the mouth and throat on account of so-called "oral sex", not to mention worms, hepatitis E, etc.

The Ministry of Gender and Youth should de-campaign this buyayism imported from outside and sensitize the youth about the healthy life style that is abundant in our cultures.

We reject the notion that somebody can be homosexual by choice; that a man can choose to love a fellow man; that sexual orientation is a matter of choice. Since my original thesis that there may be people who are born homosexual has been disproved by science, then the homosexuals have lost the argument in Uganda.

They should rehabilitate themselves and society should assist them to do so.
Museveni Signs Anti-Homosexuality Bill Into Law
Jim Burroway
February 24th, 2014
As announced late last night, Uganda President Yoweri Museveni signed the Anti-Homosexuality Bill into law in a ceremony at State House in Entebbe earlier this morning. He signed the bill into law at about 1:50 p.m. East Africa Time (5:50 a.m. E.S.T). It is highly unusual for Museveni to sign a bill publicly, but
The president was in combative mood in a speech after the signing and while answering questions from journalists. He suggested that the law was made necessary by arrogant western groups promoting a behaviour that threatens Ugandans' "way of life".

…The president suggested he could not to understand how men could fail to be attracted to Uganda's beautiful women and, instead, get attracted to fellow men.

The president also paraded the mostly Ugandan scientists who concluded that homosexuality wasn't generic. The signing is expected to attract more attention and reaction from human rights defenders and the Western world, who have consistently been against the president's assent since the bill was passed by Parliament in December 2013.
The bill will formally becomes law when it is published in the Uganda Gazette. That will also be the first time we will be able to get an official look at the bill's final form. You can see the bill's original form here. The bill originally included the death penalty for anyone convicted of "aggravated homosexuality," which includes sex with minors, sex while HIV-positive (regardless of informed consent), incest, sex while being "a person of authority over the person", sex with a disabled person (regardless of consent, or being a "serial offender", of any other part of the bill. When Parliament passed the bill in December, the death penalty was dropped in favor of lifetime imprisonment.
Other provisions remaining in the bill include lifetime imprisonment for entering into a same-sex marriage, seven years for conducting one, five to seven years for advocacy by or on behalf of LGBT people, five years for providing housing to LGBT people, and seven years for providing services to LGBT people.
Last weekend, President Barack Obama said that signing the bill "will be a step backward for all Ugandans and reflect poorly on Uganda's commitment to protecting the human rights of its people." He also warned that "enacting this legislation will complicate our valued relationship with Uganda." During today's signing ceremony, Museveni dismissed that warning:
On the issue of losing aid by signing the bill, President Museveni, quoting the story of Esau in the bible said that Uganda will not give up their rights because of food like Esau did. He then took the chance to remind the gathering that Uganda does not need aid. "Uganda is very rich, we do not need the aid," He said.
Spokesman: Uganda President to Sign Anti-Homosexuality Bill Monday Morning
Jim Burroway
February 23rd, 2014
Moments ago, Uganda's governmental spokesman Ofwono Opondo tweeted that President Yoweri Museveni will sign the Anti-Homosexuality Bill at 11:00 a.m. Monday Morning at State House in Entebbe (3:00 a.m. E.S.T). The Tweet went out at about 6:50 a.m. Monday morning local time in Uganda, or 10:50 Sunday night E.S.T. He then quickly followed that with two more tweets taunting President Obama:
Obama has labeled the Ant-Homosexuality Bill "odious" and warned that signing the bill  "would complicate (our) valued relationship."
As for the Arizona bill which has not been signed into law, not one person would be thrown in jail for as much as an hour if Gov. Jan Brewer made the insane decision to sign it. Uganda's Anti-Homosexuality Bill however will impose a lifetime sentence in prison for conviction of homoseuxality, lifetime imprisonment for entering into a same-sex marriage, seven years for conducting one, five to seven years for advocacy by or on behalf of LGBT people, five years for providing housing to LGBT people, and seven years for providing services to LGBT people.
If Museveni follows through with signing the bill Monday morning, it will occur exactly five years to the very day after BTB first learned that Scott Lively and two other American ant-gay activists were about to conduct one of the most infamous and far-reaching  anti-gay conferences in memory. Lively would later boast that his talk at that conference was a "nuclear bomb against the gay agenda."
Ugandan Psychologist: Museveni's Party Caucus "Left Out Vital Facts In Our Report"
Jim Burroway
February 22nd, 2014
It's fair to say that the  "Scientific Statement on Homosexuality" written by members of the Ugandan Ministry of Health and Makerere University leaves a lot to be desired, leaving out as it does so much of the research on research on the biological origins of homosexuality. There are a lot of points in the report that can be criticized, but beyond that it's also important to notice that the ruling National Resistance Movement (NRM) press release on the report differs from the report itself in very significant ways.
Peter Mwesige, of the African Centre for Media Excellence, an African journalism watchdog, digs into those differences and concludes that the NRM press release distorts the statement's conclusions that in saying "Homosexuality is not a disease but merely an abnormal behavior which may be learned through experiences in life," when the statement itself says "homosexuality is not an abnormality." Mwesige  points to those differences and admonishes journalists for not publicizing the discrepancies:
Regardless of where they stand on the gay debate, journalists still have a responsibility to subject statements from the President and other political leaders to scrutiny and to seek out the opinion of people who are knowledgeable about such complex issues, in this case the scientists whose advice the President and his party purport to have relied on in reaching a key decision on the anti-gay bill.

One of the experts is my friend Paul Bangirana (Ph.D.), a clinical psychologist who was part of the team of scientists that authored the report on homosexuality.

He told me in a phone interview that he was "personally disappointed by the Caucus. We didn't say homosexuality is an abnormality. We categorically state it is NOT an abnormality. We also report that there [may be] a biological basis for the behaviour but there is no conclusive link as of now. They left out some vital facts in our report."

Dr Bangirana said he can understand if some of the media reports were filed by journalists who didn't have the report of the scientists. "But if they had the report, they have a responsibility to inform the nation based on factual reporting."

And [balanced] factual or accurate reporting would also include journalists not ignoring the human rights-based argument that the gay community invokes in defending their sexuality.
[Hat tip: Warren Throckmorton]
Is Ugandan President Looking For a Way Out of the Anti-Homosexuality Bill?
Jim Burroway
February 21st, 2014
As I wrote earlier, the political incentives weighing on Uganda President Yoweri Museveni to sign the draconian Anti-Homosexuality Bill into law are extraordinarily powerful. But Museveni can't ignore the international cost of doing so, especially given Obama's warning that signing the bill "would complicate (our) valued relationship." That relationship includes, among many other things, U.S. technical military assistance in Uganda's ongoing fight against the Lord's Resistance Army insurgency.
Earlier today, Uganda's Observer published a lengthy statement by Museveni defending his decision last weekend to sign the Anti-Homosexuality Bill on the basis of a statement by Ugandan scientists that homosexuality is "not genetic." He then called on the U.S. to "help us by working with our Scientists to study whether, indeed, there are people who are born homosexual. When that is proved, we can review this legislation."
Since then, that same identical statement has appeared in its entirety in all five major Ugandan publications with a web presence. In addition to the opposition-friendly Observer, the full statement is also being carried in the government-owned New Vision, the independent Daily Monitor, Uganda's The Independent, and even in the notoriously anti-gay tabloid Red Pepper. The statement is dated last Sunday, February 18, but it's being reprinted in full, virtually simultaneously, in all five publications today.
More typically, a government press office releases a statement and publications quote from this. The unusual detail is this: all five publications have reprinted Museveni's entire statement in full. In my five years of watching events in Uganda, I cannot recall a any other time where all the major papers published an official statement verbatim on the same day. This represent a high degree of coordination at the very least, and it may possibly be the result of a direct order from the government. Museveni plainly wants everyone to see this.
And since he wants everyone to see it, I'll include it here also:
Click here to read Museveni's statement
Uganda President Seeks More Scientific Input on Homosexuality
Jim Burroway
February 21st, 2014
Uganda President Yoweri Museveni seems to be looking for a way out of the mess. A statement by Museveni appeared in Uganda's Observer this morning justifying his previous announcement that he would sign the Anti-Homosexuality Bill based on the "scientific" was provided to him by members of the Ministry of Health and Makarere University. Now, he says he needs more information:
I have now received their signed document, which says there is no single gene that has been traced to cause homosexuality.  What I want them to clarify is whether a combination of genes can cause anybody to be homosexual.  Then my task will be finished and I will sign the Bill.

After my statement to that effect which was quoted widely around the World, I got reactions from some friends from outside Africa.  Statements like: "it is a matter of choice" or "whom they love" which President Obama repeated in his statement would be most furiously rejected by almost the entirety of our people.

It cannot be a matter of choice for a man to behave like a woman or vice-versa.  The argument I had pushed was that there could be people who are born like that or "who they are", according to President Obama's statement.

I, therefore, encourage the US government to help us by working with our Scientists to study whether, indeed, there are people who are born homosexual.  When that is proved, we can review this legislation.

I would be among those who will spearhead that effort.  That is why I had refused to sign the Bill until my premise was knocked down by the position of our Scientists.
His statement also directly addresses President Barack Obama's condemnation of the Anti-Homosexuality Bill, in particular Obama's warning that signing it would "complicate our valued relationship." That particular line seems to have gotten his attention.
This statement would appear to contradict yesterday's unconfirmed report that Museveni had already signed the bill.
Last Sunday, Uganda's Foreign Affairs Permanent Secretary, Ambassador James Mugume, told reporters that U.S. National Security Adviser would provide "some materials and evidence that they feel were left out by our scientists." You can read Uganda's "scientific statement" here.
Unconfirmed Reports: Museveni May Have Signed the Anti-Homosexuality Bill
Jim Burroway
February 20th, 2014
CNN's Mike Krever quoted Ethics and Integrity Member (and defrocked former priest) Simon Lokodo:
Ugandan President Yoweri Museveni has just signed that bill, according to the minister, but has not yet handed it over to parliament.
It's not clear to me whether Lokodo is much of an insider in Museveni's government. He may be speaking out of personal knowledge, but he also may be working with second-hand information.  Meanwhile, the Uganda Media Centre, the president's official press office, posted the following contradictory statement on its Facebook page earlier today:
Press Statement
February, 20, 2014

Government statement on the Anti-Homosexuality Bill

Following the passage of the Anti-Homosexuality Bill by the Parliament of Uganda in December, 2013, fears have been expressed by sections of the international community that this could lead to the persecution of some sections of Ugandan society.

The 1995 Constitution is the supreme law of Uganda.

Article 21(1)… of the said Constitution states "All persons are equal before and under the law in all spheres of political, economic, social and cultural life and in every other respect and shall enjoy equal protection of the law.

Article 21(2) states "Without prejudice to clause (1) of this article, a person shall not be discriminated against on the grounds of sex, race, colour, ethnic origin, tribe, birth, creed or religion, social or economic standing, political opinion or disability."
Government of Uganda reiterates its commitment to uphold and protect the fundamental rights and freedoms of all persons in Uganda as guaranteed by the Constitution.

No person shall be prosecuted outside the provisions of the law.

Government of Uganda therefore reassures all Ugandans and the international community of its continued commitment and respect for the rule of law in Uganda.

Ofwono Opondo
EXECUTIVE DIRECTOR/GOVERNMENT SPOKESPERSON
UGANDA MEDIA CENTRE
The Facebook comments to that post show that the statement is throwing everyone into confusion: Did he/will he sign the bill?
Museveni's Political Calculus and the Anti-Homosexuality Bill
Jim Burroway
February 20th, 2014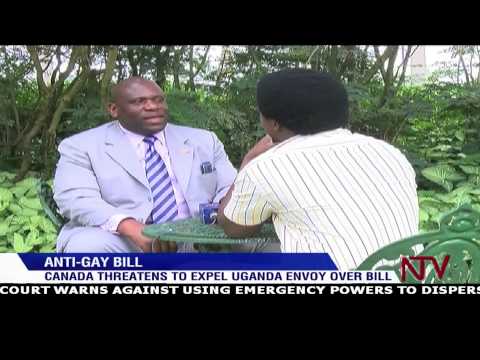 NTV Uganda recaps events since President Yoweri Museveni's announcement that he will sign the Anti-Homosexuality Bill, and reports that about 20% of Uganda's budget is funded by donor money. In response to statements from donor countries that their aid would be jeopardized by the Anti-Homosexuality Bill, State Minister for Regional Affairs Asuman Kiyingi said, "What I've heard from the public… is that Ugandans are willing to forfeit the support that the donors are giving if it means that the support is conditioned on sacrificing their values. But I'm sure we're going to find a middle ground."
Kiyingi's belief that there will be a "middle ground" with respect to foreign aid suggests that Museveni feels more confident that he won't suffer severe international consequences if he signs the bill. Uganda has raised its strategic profile in the past couple of years, well-positoned geographically and sharing borders with Rwanda, Congo and Southern Sudan. Uganda provides peacekeeping (and sometimes not so peacekeeping) troops to Southern Sudan and Somalia, and regularly meddles in guerrilla fighting in Congo. Uganda is also central to that battle against the murderous Lord's Resistance Army, and it receives a great deal of military technical assistance from the U.S. in that fight. This morning, Daily Monitor's Daniel K. Kalinaki explains what all of that means:
Museveni also understands the centres of power in America. The White House and the State Department might be critical of him and his decisions but he has been around long enough to understand that the CIA and the Defence Department often deal in the cold rational reality of real-politick.

Thus while cuts in military support to the UPDF would hurt, there would be grave concerns for the Pentagon if Uganda were to withdraw its troops from Somalia, for instance. Museveni understands that US national security comes first, ahead of everything else. As long as he is willing to put boots on the ground to keep the regional peace and support the war against terror, he will always have friends at the Pentagon willing to help him manage his relations with the State Department.
There are also a number of internal political considerations that likely went into Museveni's decision. Again, Kalinaki:
It is telling that President Museveni announced his intentions at a meeting of NRM MPs amidst a plot to endorse him as the sole party candidate for the 2016 elections. In signing, he gives the MPs a blank cheque. Having forced Prime Minister Amama Mbabazi on the defensive, he also cuts from underneath Speaker Rebecca Kadaga one of her populist planks within Parliament.
Mbabazi and Kadaga both were believed to be vying to challenge Museveni for the party's nomination in 2016. This moves places Mbabazi on the defensive because he was the most vocal in pointing out that Parliament passed the Anti-Homosexuality Bill without a quorum. At the time, Mbabazi appeared to be speaking for Museveni, since Museveni himself had argued against the bill's passage, and complained about the lack of quorum Speaker Kadaga in a letter written a week after the bill's passage. Museveni's sudden U-turn left Mbabazi stranded out on a very weak political limb. At the same time, Kadaga, who sought to build her political legacy on the Anti-Homosexuality Bill, is now seeing the oxygen being sucked out of the room with Museveni's announcement. Mbabazi signed on to endorse Museveni's 2016 bid, but Kadaga didn't.
Kalinaki also points out that the political costs for signing the bill are minimal when compared to the benefits:
First, he is exercising power without responsibility for his actions; he is signing a Bill he never wanted, passed by Parliament against his advice, and on the recommendation of scientists. It wasn't me, he could easily say. Secondly, Museveni must surely know that several lawyers have lined up to challenge the constitutionality of the law; one of them, your columnist hears, is Mr Fox Odoi, who spent many years doing legal work for the President and remains close to the inner circle.

Such a challenge would hold up the law in the courts for at least a couple of years. If the courts uphold it, it wasn't me, the President would say. If they strike it down, it still wasn't him. Throw in a few more years on appeal in the Supreme Court and you have a Bill all dressed up with nowhere to go.
A man like Museveni doesn't stay in power for twenty-eight years as he has without either brute force or cynical cunning. Museveni prefers the latter but isn't afraid of the former. It is, after all, how he came to power in the first place. So the question now is whether Museveni was correct in minimizing the political costs to signing the bill or did he misjudge? The Human Rights Campaign's Chad Griffin wants the U.S. to up the political costs to Museveni. He has called on the U.S. to withdraw its ambassadors to Uganda and Nigeria, which recently recently enacted similarly draconian anti-gay legislation:
"The Ugandan and Nigerian governments' decisions to treat their LGBT citizens like criminals cannot be accepted as business as usual by the U.S. government. We urge Secretary Kerry to recall both Ambassadors for consultations in Washington to make clear the seriousness of the situation in both countries," said HRC President Chad Griffin.
Ugandan Press Secretary: Museveni "Cannot Be Intimidated"
Jim Burroway
February 18th, 2014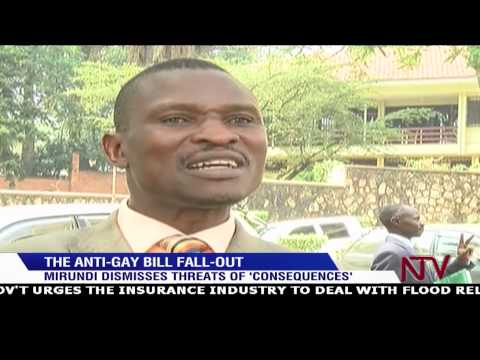 In the above clip from NTV Uganda, President Yoweri Museveni's press secretary Tamale Mirundi responds to US President Barack Obama's statement blasting Museveni for agreeing to sign the Anti-Homosexuality Bill. Mirundi tells reporters that Museveni "cannot be intimidated." On the question of foreign aid, Mirundi said, "we can do without that aid."