Museveni's Political Calculus and the Anti-Homosexuality Bill
Jim Burroway
February 20th, 2014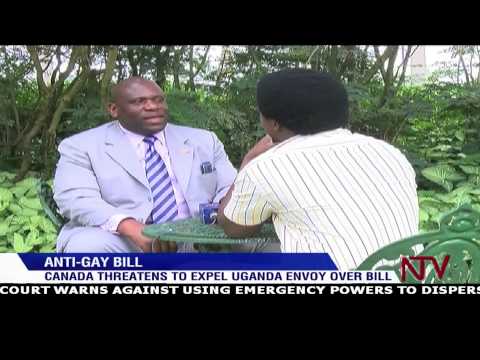 NTV Uganda recaps events since President Yoweri Museveni's announcement that he will sign the Anti-Homosexuality Bill, and reports that about 20% of Uganda's budget is funded by donor money. In response to statements from donor countries that their aid would be jeopardized by the Anti-Homosexuality Bill, State Minister for Regional Affairs Asuman Kiyingi said, "What I've heard from the public… is that Ugandans are willing to forfeit the support that the donors are giving if it means that the support is conditioned on sacrificing their values. But I'm sure we're going to find a middle ground."
Kiyingi's belief that there will be a "middle ground" with respect to foreign aid suggests that Museveni feels more confident that he won't suffer severe international consequences if he signs the bill. Uganda has raised its strategic profile in the past couple of years, well-positoned geographically and sharing borders with Rwanda, Congo and Southern Sudan. Uganda provides peacekeeping (and sometimes not so peacekeeping) troops to Southern Sudan and Somalia, and regularly meddles in guerrilla fighting in Congo. Uganda is also central to that battle against the murderous Lord's Resistance Army, and it receives a great deal of military technical assistance from the U.S. in that fight. This morning, Daily Monitor's Daniel K. Kalinaki explains what all of that means:
Museveni also understands the centres of power in America. The White House and the State Department might be critical of him and his decisions but he has been around long enough to understand that the CIA and the Defence Department often deal in the cold rational reality of real-politick.

Thus while cuts in military support to the UPDF would hurt, there would be grave concerns for the Pentagon if Uganda were to withdraw its troops from Somalia, for instance. Museveni understands that US national security comes first, ahead of everything else. As long as he is willing to put boots on the ground to keep the regional peace and support the war against terror, he will always have friends at the Pentagon willing to help him manage his relations with the State Department.
There are also a number of internal political considerations that likely went into Museveni's decision. Again, Kalinaki:
It is telling that President Museveni announced his intentions at a meeting of NRM MPs amidst a plot to endorse him as the sole party candidate for the 2016 elections. In signing, he gives the MPs a blank cheque. Having forced Prime Minister Amama Mbabazi on the defensive, he also cuts from underneath Speaker Rebecca Kadaga one of her populist planks within Parliament.
Mbabazi and Kadaga both were believed to be vying to challenge Museveni for the party's nomination in 2016. This moves places Mbabazi on the defensive because he was the most vocal in pointing out that Parliament passed the Anti-Homosexuality Bill without a quorum. At the time, Mbabazi appeared to be speaking for Museveni, since Museveni himself had argued against the bill's passage, and complained about the lack of quorum Speaker Kadaga in a letter written a week after the bill's passage. Museveni's sudden U-turn left Mbabazi stranded out on a very weak political limb. At the same time, Kadaga, who sought to build her political legacy on the Anti-Homosexuality Bill, is now seeing the oxygen being sucked out of the room with Museveni's announcement. Mbabazi signed on to endorse Museveni's 2016 bid, but Kadaga didn't.
Kalinaki also points out that the political costs for signing the bill are minimal when compared to the benefits:
First, he is exercising power without responsibility for his actions; he is signing a Bill he never wanted, passed by Parliament against his advice, and on the recommendation of scientists. It wasn't me, he could easily say. Secondly, Museveni must surely know that several lawyers have lined up to challenge the constitutionality of the law; one of them, your columnist hears, is Mr Fox Odoi, who spent many years doing legal work for the President and remains close to the inner circle.

Such a challenge would hold up the law in the courts for at least a couple of years. If the courts uphold it, it wasn't me, the President would say. If they strike it down, it still wasn't him. Throw in a few more years on appeal in the Supreme Court and you have a Bill all dressed up with nowhere to go.
A man like Museveni doesn't stay in power for twenty-eight years as he has without either brute force or cynical cunning. Museveni prefers the latter but isn't afraid of the former. It is, after all, how he came to power in the first place. So the question now is whether Museveni was correct in minimizing the political costs to signing the bill or did he misjudge? The Human Rights Campaign's Chad Griffin wants the U.S. to up the political costs to Museveni. He has called on the U.S. to withdraw its ambassadors to Uganda and Nigeria, which recently recently enacted similarly draconian anti-gay legislation:
"The Ugandan and Nigerian governments' decisions to treat their LGBT citizens like criminals cannot be accepted as business as usual by the U.S. government. We urge Secretary Kerry to recall both Ambassadors for consultations in Washington to make clear the seriousness of the situation in both countries," said HRC President Chad Griffin.
HRC Names New President
Jim Burroway
March 2nd, 2012
The Human Rights Campaign has announced that Chad Griffin, a founding member of the California-based LGBT group that is challenging Proposition 8 in Federal Court, has been selected to become the HRC's president.  He will succeed Joe Solmonese when his contract expires March 31.
Despite Griffin's extensive ties with Democratic and progressive causes — he is an enthusiastic supporter of President Barack Obama's political campaign, as well as  causes encompassing equal rights, clean energy, universal health care, stem cell research and early childhood education — Griffin has also sought support from people on all sides of the political spectrum. As a founding board member of Americans for Equal Rights, Griffin is credited for recruiting Ted Olson and David Boies as the dream-team attorneys in AFER's fight against  Prop 8. Griffin will remain on AFER's board of directors.
It's worth noting that when that lawsuit was first announced, many other LGBT organizations openly questioned whether AFER was taking too bold a risk. Some tried to derail it, others tried to hijack it, but AFER remained the sole litigant in the challenge that is now before the Ninth Circuit Court of Appeals. Where Solmonese showed timidity and a reluctance to challenge political leaders, Griffin has a rather different track record. Is Griffin big enough to lead the HRC to becoming a genuine advocacy group for its constituents — you know, LGBT people and not elected political leaders? HRC is larger than just a president. There's an entire board of entrenched establishment figures whose access to power and celebrity is at least as important to them as the community's goals, even when there is conflict between the two. Griffin's appointment looks promising.
Update: Griffin was also an Executive Producer of Outrage, a documentary about the politics of "outing." Again, another sign that he's not one to defer to power.