Ugandan Leaders to Strategize Ways to Re-Enact Anti-Homosexuality Act
Jim Burroway
August 11th, 2014
Daily Monitor reports that the Parliamentary caucus of the National Resistance Movement, Uganda's ruling party, will meet today to discuss the way forward for re-enacting the Anti-Homosexuality Act, which was nullified by the Constitutional Court just days before President Yoweri Museveni was to attend a White House dinner in Washington, D.C. Museveni has confirmed that he will attend the meeting, according to MP David Bahati, who sponsored the original bill in 2009. According to Daily Monitor, there is a great deal of impatience among some of the MPs to get the law back on the books:
These MPs want Parliament to put on hold the handling of the ongoing Budget process and first ensure the restoration of the anti-gays law. There is also a request to the Speaker for the suspension of the House rules of procedure to allow the Bill to be passed without going through all the lengthy phases.
The Roman Catholic Archbishop of Kampala Cyprian Kizito Lwanga has reportedly given his support for the act.
Kampala is rife with rumors about how and why the AHA came to be struck down, especially since Ugandan courts are not known for acting with the kind of speed the Constitutional Court acted. The Ugandan magazine The Independent has a lengthy report outlining why they believe the law was nullified and Museveni's options going forward. It's hard to know how much stock to place in this report. None of the article's sources are identified, and the point where the Independent discusses the judiciary's independence — "No judge who opposes gay rights is ever appointed, according to those familiar with the process" — seems very unlikely. But it does show the kinds of rumors that are floating around Kampala.
Ugandans Celebrate Anti-Homosexuality Act
Jim Burroway
April 1st, 2014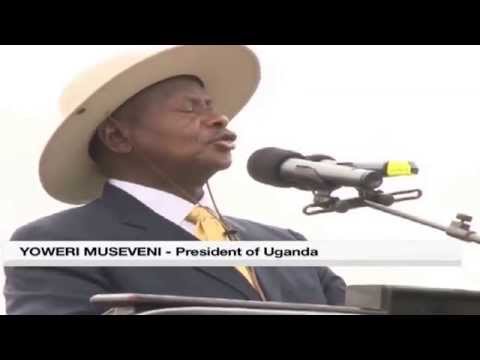 Uganda's Inter-Religious Council, a coalition of religious denominations, organized a ceremony of prayer and thanksgiving yesterday at the Kololo Independence Grounds, the nationally-revered site where Uganda's independence was declared in 1962. Religious and political leaders gathered to honor President Yoweri Museveni for signing the Anti-Homosexuality Act into law despite widespread international condemnation. Buzzfeed's J. Lester Feder was there and described the carnival atmosphere at Kololo:
Fire jugglers, acrobats, and schoolchildren performed at a five-hour ceremony in the Ugandan capital on Monday called to celebrate the country's new Anti-Homosexuality Act.

Speakers paid tribute to President Yoweri Museveni, the official guest of honor, and linked Uganda's fight against homosexuality with shedding its colonial past in an event that had the feeling of a campaign rally.

"Today, we come here again [to celebrate] sovereignty and freedom … [and] to take charge of our destiny," said David Bahati, the lawmaker who sponsored the bill, noting that the event was taking place at the Kololo Independence Grounds, the parade grounds where Ugandan independence was granted in 1962. "The citizens of Uganda are with you, Mr. President. The religious and cultural leaders are with you, Mr. President. The members of parliament and the nation is behind you."
Sheik Shaban Mubajje, Mufti of Uganda, spoke on behalf of the Inter-Religious Council in offering prayers of thanksgiving for the Anti-Homosexuality Act, while complaining that foreign donors have cut US$3.5 million in aid to the group that had been earmarked its HIV/AIDS programs. HIV/AIDS providers and legal experts have warned that the overly broad wording of the Anti-Homosexuality Act's "aiding and abetting" clause would, at best, have a chilling effect on the delivery HIV/AIDS services to LGBT people, and, at worst, could be interpreted as criminalizing it. Other religious leaders offering thanksgiving prayers included Roman Catholic Archbishop Cyprian Lwanga, Anglican Archbishop Stanley Ntagali, and evangelical pastor Simon Peter Emiau. Ahead of the celebration, Pastor Martin Ssempa, of "eat-da-poo-poo" fame and staunch supporter of the new law, led a march of supporters from Makarere University to Kololo.
Museveni charged that Western countries were "attacking our culture, which is the bedrock of our survival," and promised to support a domestic fund to replace lost foreign dollars for HIV/AIDS.
Ugandan Catholic, Anglican, Orthodox Bishops Call for Anti-Homosexuality Bill's Revival
Jim Burroway
June 12th, 2012
Daily Monitor, Uganda's largest independent newspaper, reported this worrisome call on Sunday:
Top religious leaders from across the country have asked Parliament to speed-up the process of enacting the Anti-Homosexuality law to prevent what they called "an attack on the Bible and the institution of marriage".

Speaking after their recent annual conference organised by the Uganda Joint Christian Council (UJCC), an ecumenical body which brings together the Anglican, Catholic and Orthodox churches, the bishops resolved that the parliamentary committee on Gender should be tasked to engage the House on the Bill which is now at committee level.

"We also ask the Education committee to engage the Ministry of Education on the issue of incorporating a topic on human sexuality in the curricula of our schools and institutions of learning," the resolutions signed by archbishops Henry Luke Orombi, Cyprian Kizito Lwanga and Metropolitan Jonah Lwanga, indicated.
This is a worrying development. Roman Catholic Archbishop Lwanga's Christmas message of 2009 included his opposition to the Anti-Homosexuality Bill. He reiterated that message the following January. He was also a signatory to a multi-faith letter in 2010 which criticized the bill. More than a year later, we learned that prior to the Archbishop's statements, the Vatican had intervened with its opposition to the bill. This statement now appears to be an about-face on the part of Lwanga.
Meanwhile, the Anti-Homosexuality Bill's sponsor, M.P. David Bahati, continues to lie about the bill's provisions:
Among some of the propositions in the Bill was one of death and life sentence for those for those caught engaging in homosexuality for a second time.

However, Mr Bahati said these penalties had since been removed from the Bill.
This is as untrue now as it has been every time Bahati has repeated this lie since the bill's first introduction in 2009. It was referred to the Legal and Parliamentary Affairs Committee, where it languished until 2011. When the committee finally reported the bill back onto the House floor in May, 2011 they suggested removing some clauses of the bill while adding of a new clause criminalizing the conduct of same-sex marriages. As for the death penalty provision, the committee recommended a sly change to the bill, removing the explicit language of "suffer(ing) death," and replacing it with a reference to the penalties provided in an unrelated already existing law. That law however specifies the death penalty. Which means that the Legal and Parliamentary Affairs Committee recommended that the death penalty be retained through stealth. Bahati then went on to claim that the death penalty was removed even though it was still a part of the bill. The Eighth Parliament ended before it could act on the committee's recommendation.
On February 7, 2012, the original version of the bill, unchanged from when it was first introduced in 2009, was reintroduced into the Ninth Parliament. The bill was again sent to the Legal and Parliamentary Affairs Committee. Despite reports to the contrary, the original language specifying the death penalty is still in the bill, and will remain there unless the committee recommends its actual removal and Parliament adopts that recommendation in a floor vote.
Wikileaks: Vatican Lobbied Against Uganda's Anti-Homosexuality Bill
Jim Burroway
September 11th, 2011
A leaked U.S. diplomatic cable dated December 15, 2009, reveals that the U.S. Embassy to the Vatican lobbied the Catholic church to oppose the proposed Ugandan Anti-Homosexuality Bill. According to the cable:
Embassy Vatican has actively lobbied Holy See officials to take a stand against pending legislation in Uganda that would criminalize homosexuality and in extreme cases, even punish it with death (reftel). On December 11, after the Ambassador raised USG (U.S. Government) concerns, Cardinal Antonelli Ennio, President of the Pontifical Council for the Family, reaffirmed the Church's position that legal approaches to homosexuality are inappropriate. Antonelli admitted that he had not followed the Uganda controversy closely, but agreed that Catholic bishops there or anywhere should not/not support the criminalization of homosexuality. The Ambassador urged the Cardinal to make sure bishops in Uganda understood this. Embassy poloff followed up with the Cardinal, providing information about the bill and USG concerns about it

On December 8, DCM met with Monsignor Peter Wells, Assessor in the Vatican Secretariat of State's Section for General Affairs (NSC equivalent) and raised these issues. Monsignor Wells expressed the Vatican's view that the Church considers homosexuality sinful but does not believe it should be criminalized. Moreover, the Church is opposed to the death penalty.

…The Vatican likely will not want bishops in Uganda to support the criminalization of homosexuality, so Embassy efforts may well translate into Vatican officials communicating with bishops in Uganda to reaffirm the Church teaching that homosexuality is a personal moral decision, which should not be penalized in any way by judicial authorities. The Vatican, however, likely will shy away from instructing the bishops directly to denounce the bill, as bishops everywhere are given a lot of leeway in deciding how to conduct pastoral work in their own dioceses. Embassy Kampala may want to reach out to the Holy See's Nuncio and to the President of the Ugandan Conference of Catholic Bishops to further underline USG concerns.
On December 10, 2009, the Vatican released a statement which opposing "all grave violations of human rights against homosexual persons," particularly "the murder and abuse of homosexual persons are to be confronted on all levels, especially when such violence is perpetrated by the State." The statement didn't reference Uganda by name, but that last statement was taken as an oblique reference to the proposed Anti-Homosexuality Bill. Shortly before Christmas Day that year, the Roman Catholic Archbishop of Uganda, Cyprian Lwanga, denounced the proposed Anti-Homosexuality Bill in his annual Christmas message from Rubaga Cathedral. That message was broadcast over several Ugandan television channels.
See also:
Feb 17, 2011: Wikileaks Posts Cables from US Embassy in Uganda Concerning Anti-Homosexuality Bill
Feb 17, 2011: More Wikileaks Cables on Uganda's Anti-Homosexuality Bill
Sep 10, 2011: Wikileaks: Ugandan First Lady "Ultimately Behind" Anti-Homosexuality Bill
Sep 11: 2011: More On Ugandan First Lady's Support For Anti-Homosexuality Bill
Sep 11, 2011: Wikileaks: Vatican Lobbied Against Uganda's Anti-Homosexuality Bill
Sep 12, 2011: Wikileaks on Uganda's Homosexuality Bill: Museveni "Surprised" and Buturo "Obsessed"
Sep 12, 2011: Ugandan Presidential Aide Confirms Wikileaks Conversation
Sep 23, 2011: Ugandan First Lady Affirms Support For "Kill The Gays" Bill
Coalition of Ugandan Catholic, Anglican, Muslim, Other Leaders Unite Against Anti-Gay Bill
Jim Burroway
March 13th, 2010
Not only is this major news, but it was carried exclusively in Uganda's state-owned New Vision, which is the largest daily newspaper in Uganda. The statement was released on Tuesday, but with the non-descriptive headline of "Position of ICRCU" [sic], I didn't notice its importance. (GayUganda also missed the statement when it came out.)
The Inter-Religious Council of Uganda (IRCU) is a coalition composed of the supreme heads of Uganda's largest officially-recognized religions: Roman Catholics, Anglicans, Muslims, Christian Orthodox and Seventh-Day Adventists. Among the Council's goals are to "promote non-violence, peaceful coexistence and respect for human rights." But with respect to the draconian Anti-Homosexuality Bill that is now before Parliament, the IRCU's position had been in direct conflict with their stated goal. Shortly after the anti-gay bill was introduced into Parliament last fall, the IRCU met with a Parliament committee and strongly supported for the bill, although some of the individual council members expressed reservations over the death penalty. This became the official position of the Ugandan Anglican Church, while the head of Uganda's Roman Catholics called for the bill to be rejected altogether.
Now, with this latest statement from the IRCU, it appears that the Council's position has evolved toward a position which is closer to rejecting the bill. It's unclear that they reject the bill entirely — they throw in the caveat that "we recognize the need to improve on the Penal Code as it has gaps which can be addressed by some provisions contained in the proposed Bill" — this statement may well be interpreted politically as a rejection. Despite the strong prejudices and vitriol expressed in the statement (they openly call for another vigilante campaign in point #7), it is nevertheless a notable criticism of the proposed legislation. Here's the statement:
IRCU is an initiative that brings together different religious institutions to address issues of common concern.

Its membership comprises of the Roman Catholic Church in Uganda, the Uganda Muslim Supreme Council, the Church of Uganda, the Uganda Orthodox Church and the Seventh Day Adventist Church.

Vision: A divinely Peaceful, prosperous and HIV/AIDS free Uganda

We the Council of Presidents of the Inter-Religious Council of Uganda (IRCU) gathered this 10th day of February, 2010, at IRCU Secretariat;

Having read and considered carefully the provisions in the Anti-Homosexuality Bill yet to be debated by Parliament;

Aware of our mandate to nurture and protect the moral fibre of our society, guided by the Holy Scriptures of the religions we subscribe to;

Hereby state that:

1. The Bible, the Quran and other Holy Teachings treat homosexuality as a sin. Both the Bible and Qur'an are categorical in their objection to same sex relationships (Lev. 18:22; Surah Ash'shura 26:165-166). Homosexual acts are contrary to the natural divine law, and under no circumstance can be approved.

2. The IRCU Council of Presidents, therefore, condemns homosexuality as an undesirable evil that should not be allowed in our society.

3. Our religious teachings promote respect, compassion and sensitivity. We, therefore, condemn the sin but welcome the sinners to confess, repent and seek a new beginning. This is based on the belief that all people are called by God to fulfill His will in their lives; IRCU, therefore, decries the proposed death penalty and life imprisonment in the proposed Bill as unwarranted. We believe homosexuals need conversion, repentance, support, and understanding and love in order to abandon their practices and return to God fully.

4. Since the proposed death penalty and life imprisonment do not provide the sinner an opportunity to repent, hence falling short of compassion to those who need conversion, repentance, support and hope, they are unnecessary.

5. Even the proposal to prosecute those who fail to disclose information regarding homosexual acts is inconsistent with the trust, confidentiality and professional ethics of persons such as parents, priests, counselors, teachers, doctors and leaders, to whom the sick, troubled and repentant sinners turn in search of support and advice for rehabilitation. The proposed law does not provide for the rehabilitation of repentant homosexuals. Yet as Religious Leaders, we are mandated to reach out to all people of God in a show of love and compassion (Mt. 9:10-13). The proposed Bill also has the potential to destroy the family as it is likely to undermine the important role of parents in providing guidance to their children.

6. Additionally, in our view the proposed Bill may not be called for considering that acts of sodomy are already condemned under section 145 of the Penal Code. However, we recognize the need to improve on the Penal Code as it has gaps which can be addressed by some provisions contained in the proposed Bill.

7. We the Council of Presidents of the Inter – Religious Council of Uganda, therefore, advise government, and all well-meaning groups and individuals to take remedial measures against this evil that has crept into our society by:

a. Exposing the people and organizations funding homosexuality in the country;
b. Providing enough information on recruitment and funding to the public in the interest of transparency and accountability;
c. Establishing facts on homosexuality and gay activities in Uganda and publishing a brochure which IRCU can distribute through its structures;
d. Emphasizing our core cultural and religious values and undertaking moral education in schools; and
e. Counteracting the distortion and misrepresentation of the debate on homosexuality by the media.

His Eminence Metropolitan Jonah Lwanga: Archbishop of the Uganda Orthodox Church; Chairperson, IRCU Council of Presidents

His Grace the Most Rev. Henry Luke Orombi: Archbishop of the Church of the Province of Uganda/Member IRCU Council of Presidents

Pr. Dr. John Kakembo
President, Seventh-day Adventist Uganda; Union/ Member IRCU Council of Presidents

His Eminence Sheikh Shaban R. Mubaje: Mufti of Uganda/ Member IRCU Council of Presidents

His Grace Dr. Cyprian Kizito Lwanga
Archbishop of Kampala Archdiocese
Member IRCU Council of Presidents
As I said, it's difficult to get to the bottom line in this message, but there are some encouraging elements to this. First, while this is still a deeply homophobic and ill-informed document, it represents the strongest criticism yet of the Anti-Homosexuality Bill by Uganda's mainline religious leaders. Catholics, Anglicans and Muslims together make up almost 90% of Uganda's religious adherents.
It is also significant that this statement was published in full in the state-owned New Vision newspaper. Not only is it Uganda's largest newspaper, but it can be reasonably assumed that New Vision's content is closely monitored by the government. While Uganda has the trappings of a democracy, it is effectively a one-party state which has been ruled continuously for twenty-four years by President Yoweri Museveni and his New Resistance Movement (NRM). One reflection of New Vision's short leash with the government is the fact that despite the tremendous controversy the bill has drawn both inside and outside of Uganda, New Vision has been almost completely silent on the controversy. In fact, their reporting has been so scant that if one were to rely solely on New Vision for information about the Anti-Homosexuality Bill, one might be left with the impression that there is no such bill before Parliament. New Vision, despite being Uganda's largest mass-circulation newspaper, has been almost completely missing in action on this story.
[Update: Another significant point to notices is that this statement repeats a line others have put forward as possible justification for dropping the bill. "In our view the proposed Bill may not be called for considering that acts of sodomy are already condemned under section 145 of the Penal Code," they say in point #6. This has been put forward by other less prominent critics as a face-saving way out of the mess by pointing out that Ugandan law already criminalizes homosexuality, and it also criminalizes child sexual abuse and rape in gender-neutral terms. While this line of objection comes across as very weak to western ears (slanderously equating, as it does, homosexuality with pedophilia and other sex crimes), when raised in the context of how the debate surrounding the proposed legislation has been framed in Uganda until now, it would be a serious mistake to overlook its importance. The IRCU is now the most prominent body to raise this particular objection.]
These two three factors are encouraging signs, which may help to explain something else I've noticed but haven't publicly asked until now: Where is the bill itself? When Parliament returned from recess in February, it was expected to be near the top of Parliament's business in the Legal Affairs and Presidential Affairs committees. Some six weeks have passed, and we still have heard of no action on this supposedly urgent, high-priority bill from either committee.
One possible explanation for this inaction may well be the massive landslides that Uganda has been grappling with in the Bubuda district in eastern Uganda on March 3. While we've been hearing a lot about the Haitian and Chilean earthquakes in the west, Uganda's media has been consumed with their own natural disaster at Mt. Elgon near the Kenyan border which has claimed at least 300 lives.
But that doesn't explain the delay through February. There is now some speculation that there may well be a conscious slow-down on the measure, as "suggested" by President Museveni at January's meeting of the ruling party's Executive Council at State House Entebbe.
If the bill is not passed into law, the next more likely scenario would be for the bill to die a quiet, unannounced death. It is inconceivable that Parliament would vote to defeat the measure, and making an official announcement of its withdrawal would likely inspire political unrest ahead of the 2011 elections. Even though Uganda's Electoral Commission is packed with Museveni's supporters and the fairness of the upcoming elections is very much in doubt, such unrest would only serve to further stain Museveni's rather shaky reputation as a reformer. Museveni is expected to run for another five year term as president. If the 66-year-old President completes that term, the "democratic reformer" will have ruled Uganda for an unprecedented thirty uninterrupted years.
It's difficult and perhaps foolhardy to try to read the tea leaves in Uganda politics — especially by a foreigner some 9,5000 miles and ten time zones away — but I don't believe that we will ever see this bill officially "killed." It also appears that Museveni doesn't have the stomach to incur worldwide condemnation by passing this law, not now when his government is already under heightened scrutiny in advance of its upcoming elections. Instead, after observing what is going on in Uganda's state-owned media, coupled now with this statement by Uganda's most influential religious leaders, it appears increasingly possible that this bill may remain in the two committees (most notably, in the Presidential Affairs committee)  to be "studied" and "revised" for a very, very long time.
[Hat tip: GayUganda]
Click here to see BTB's complete coverage of recent anti-gay developments in Uganda.
Head of Uganda's Catholic Church Rejects Anti-Gay Bill
Jim Burroway
January 11th, 2010
Uganda's largest independent newspaper The Monitor reports:
The titular head of the Catholic Church in Uganda has weighed in on the proposed anti-homosexuality law, saying he rejects it because it is "at odds with the core values" of Christians. But while Kampala Archbishop Cyprian Lwanga's opposition to the 2009 Anti-Homosexuality Bill is based on compassion, the cleric retains the view that homosexuality is immoral and violates God's will. "The Bible says homosexuality is strictly forbidden," Dr Lwanga said in a statement made public yesterday.

"However, the Church equally teaches the Christian message of respect, compassion, and sensitivity. The Church has always asked its followers to hate the sin but to love the sinner… In our view, the proposed [law] is not necessary considering that acts of sodomy are already condemned in the Penal Code."

…Still, in a country where homosexuality is taboo and where many preachers have condemned gays, Dr Lwanga's comments will be seen as unlikely opposition to a piece of legislation that proposes death or life imprisonment for gay people.
Based on the Montor's reporting, it appears that the Bishop may have rejected the entire Anti-Homosexuality Bill, and not just the death penalty provision. The Monitor carefully distinguishes this difference between the Catholic bishop's position and that of the Anglican Church in Uganda:
Essentially, however, Dr Lwanga's views run counter to the position of Uganda's Anglican community, whose leaders have supported the proposed law but opposed the death penalty, and alienate junior priests who have expressed contrary views. In Uganda's Pentecostal community, where pastors like Martin Ssempa have supported the proposed law in its current shape, homophobia is even more intense.
About 42% of Ugandans are Roman Catholic.
Click here to see BTB's complete coverage of recent anti-gay developments in Uganda.
Anti-Gay Bill Dominates Ugandan Christmas Messages
Jim Burroway
December 28th, 2009
A typical Christmas message goes something like this: "Peace on earth, goodwill toward men." In Uganda, goodwill toward LGBT people is very hard to come by this Christmas season. The nation's television airwaves were saturated with Christmas messages from various pastors and denominations, and they all had one thing in common: urging for the passage of the proposed Anti-Homosexuality Bill.
This is what Christmas day looked like for one BTB reader in Uganda.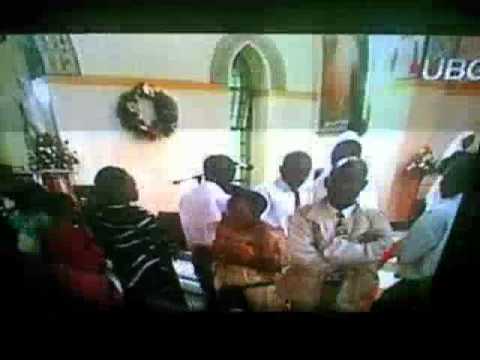 The speaker of Parliament, Edward Sekandi, had one good observation on the proposal to criminalize those who fail to report LGBT people to police within twenty-four hours:
For instance, how do you imprison a father? Do you think a father should go and tell the police that this my son is doing this and the other?
But he also denounced donor countries for their warnings against the bill. "No… I think, I think even a poor man must, you know, respect himself," he said.
Click here to see BTB's complete coverage of recent anti-gay developments in Uganda.
Click here to read a transcript of the Christmas broadcasts.
Catholic Doublespeak In Uganda – Did The Bishop Tacitly Support Anti-Gay Bill During Christmas Mass?
Jim Burroway
December 26th, 2009
On Wednesday, Archbishop Cyprian Lwanga of the archdiocese of Uganda appeared on national television to denounce the proposed Anti-Homosexuality Bill. Today's issue of the independent Daily Monitor has a round-up of Christmas sermons which reveals that the archbishop may support some aspects of the bill:
Bishop of Kampala Archdiocese Cyprian Kizito Lwanga, who led celebrations at Rubaga Cathedral, told hundreds of Christians that homosexuality is immoral and forbidden.

"The Catholic bishops of Uganda applaud the government's effort to protect families and the church teachings remain clear. Homosexuality acts are immoral and evil and are against the divine laws of nature," he said.

He added: "The church condemns homosexuality because we were created in God's image and we must remain that." The archbishop attacked donors whom he accused of forcing their harsh positions onto Ugandans desperate for aid. "We shall not allow acts of homosexuality to be promoted in the country and we shall not accept the donors' positions," he said.

He, however, said MP David Bahati's Bill that seeks to criminalise homosexuality is unnecessary since there are already laws that outlaw the practice.

The clause in the Bill that calls for the death penalty in cases of "aggravated homosexuality" is uncalled for, Dr Lwanga said, adding that it does not allow for rehabilitation.
Combined with his Wednesday statement, it's hard to know exactly what the Archbishop supports. He says that the Bahati bill isn't needed because "there are already laws that outlaw the practice," which is a very positive statement. If there is any hope for this bill being dropped, it will be for that reason alone and not out of a sudden awakening to the fact that criminalizing LGBT people goes against all principals of human rights.
But if the death penalty were dropped, as many of the bill's supporters have hinted, would it then past muster with the Archbishop despite all the other draconian penalties that the bill would provide for gay people and straight people as well?
That ambiguity however doesn't extend to his Anglican counterparts:
At St. Paul Cathedral, Namirembe, Bishop Wilberforce Kityo Luwalira urged the faithful to oppose all external forces seeking to promote homosexuality in the country, adding that it is against the order of nature. "We know what we want as Ugandans and we shall not be intimidated to accept homosexuality because it is against the order of nature," he said, drawing a standing ovation from the congregation that included Prime Minister Apolo Nsibambi.

Rev. John Bosco Sendagala, of Christ the King Church, Kampala, said everyone should fight homosexuality. The same call was made by the Bishop of Ankole Diocese, the Rt. Rev Dr. George Tibesigwa.
Click here to see BTB's complete coverage of recent anti-gay developments in Uganda.
Full Text of Catholic Archbihop's Condemnation of "Kill Gays" Bill
Jim Burroway
December 24th, 2009
BTB brought you exclusive video of the Catholic Archbishop of Uganda's denunciation of the proposed Anti-Homosexuality Bill in his annual Christmas message from Rubaga Cathedral. Thanks to BTB reader Lynn David, we now have the full text of that message below.
Click here to see the Archbishop's denunciation of the bill.
EXCLUSIVE VIDEO: Uganda's Catholic Archbishop Opposes Anti-Homosexuality Bill
Jim Burroway
December 24th, 2009
The Roman Catholic Archbishop of Uganda, Cyprian Lwanga, has denounced the proposed Anti-Homosexuality Bill in his annual Christmas message from Rubaga Cathedral.
In a report from Uganda's independent NTV, Archbishop Lwanga is shown denouncing "the introduction of the death penalty and imprisonment for homosexual acts." While maintaining the Catholic Church's condemnation of homosexual acts, the Archbishop condemned the bill, saying it "targets people, rather than seeking to counsel and reach out in compassion to those who need conversion, repentance, support and hope."
Approximately 42% of Ugandans are Roman Catholic, making Catholicism the country's largest Christian denomination.
A BTB reader in Uganda provided this cell-phone capture of the Archbishop's remarks from last night's broadcast of NTV Eleven.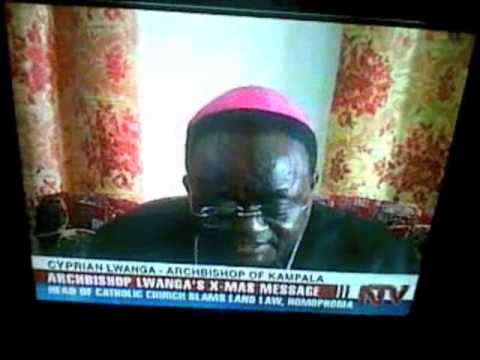 Update: We now have the full text of the Archbishop's remarks.
Click here to see BTB's complete coverage of recent anti-gay developments in Uganda.
Click here to read a transcript of the NTV broadcast.