Ugandans Celebrate Anti-Homosexuality Act
Jim Burroway
April 1st, 2014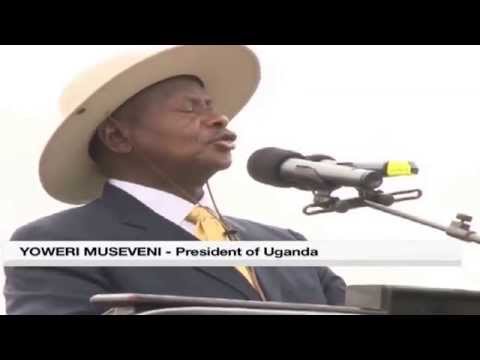 Uganda's Inter-Religious Council, a coalition of religious denominations, organized a ceremony of prayer and thanksgiving yesterday at the Kololo Independence Grounds, the nationally-revered site where Uganda's independence was declared in 1962. Religious and political leaders gathered to honor President Yoweri Museveni for signing the Anti-Homosexuality Act into law despite widespread international condemnation. Buzzfeed's J. Lester Feder was there and described the carnival atmosphere at Kololo:
Fire jugglers, acrobats, and schoolchildren performed at a five-hour ceremony in the Ugandan capital on Monday called to celebrate the country's new Anti-Homosexuality Act.

Speakers paid tribute to President Yoweri Museveni, the official guest of honor, and linked Uganda's fight against homosexuality with shedding its colonial past in an event that had the feeling of a campaign rally.

"Today, we come here again [to celebrate] sovereignty and freedom … [and] to take charge of our destiny," said David Bahati, the lawmaker who sponsored the bill, noting that the event was taking place at the Kololo Independence Grounds, the parade grounds where Ugandan independence was granted in 1962. "The citizens of Uganda are with you, Mr. President. The religious and cultural leaders are with you, Mr. President. The members of parliament and the nation is behind you."
Sheik Shaban Mubajje, Mufti of Uganda, spoke on behalf of the Inter-Religious Council in offering prayers of thanksgiving for the Anti-Homosexuality Act, while complaining that foreign donors have cut US$3.5 million in aid to the group that had been earmarked its HIV/AIDS programs. HIV/AIDS providers and legal experts have warned that the overly broad wording of the Anti-Homosexuality Act's "aiding and abetting" clause would, at best, have a chilling effect on the delivery HIV/AIDS services to LGBT people, and, at worst, could be interpreted as criminalizing it. Other religious leaders offering thanksgiving prayers included Roman Catholic Archbishop Cyprian Lwanga, Anglican Archbishop Stanley Ntagali, and evangelical pastor Simon Peter Emiau. Ahead of the celebration, Pastor Martin Ssempa, of "eat-da-poo-poo" fame and staunch supporter of the new law, led a march of supporters from Makarere University to Kololo.
Museveni charged that Western countries were "attacking our culture, which is the bedrock of our survival," and promised to support a domestic fund to replace lost foreign dollars for HIV/AIDS.
Comments