EXCLUSIVE VIDEO #2: Ugandan Minister Considers Forced Counseling to "Rehabilitate" Gays
Jim Burroway
December 23rd, 2009
Thanks to an anonymous reader in Uganda, BTB has been able to obtain cell-phone video of a Ugandan news broadcast showing Tuesday\'s anti-gay demonstration in Kampala by pastors Martin Ssempa, Solomon Male and Michael Kyazza.
This clip of a NTV News broadcast by the independent NBS television on Dec 22 begins with a short description of "aggravated homosexuality," as "when one subjects a minor to gay acts or deliberately infects them with HIV." This repeats the persistent mischaracterization of the actual text of the Anti-Homosexuality Bill that is now before Parliament. The bill would actually include anyone who is HIV-positive (whether they "deliberately infect" someone or not), and it also includes anyone who is a "serial offender," which could conceivably ensnare anyone who has had more than one lover, or who had sex with the same lover more than once. In recent days, MP David Bahati, the prime sponsor of the Anti-Homosexuality Bill, has mischaracterized the true of the bill numerous times, as has Pentecostal pastor Martin Ssempa. These lies are now being repeated in Uganda's media.
The clip shows scenes of an anti-gay rally organized by Ssempa, Male and Kyazza. I don't know if this is the same rally shown in the Platinum News clip uploaded earlier today. It then cuts to a video of Ethics and Integrity Minister James Nsaba Buturo defending the bill, while raising the possibility of adding a forced conversion clause to the measure. This forced conversion idea was first brought up during an anti-gay conference put on last March by three American anti-gay activists.
From there, the report shows a "pressure group" (one of whom is Pentecostal pastor Martin Ssempa) meeting with the Deputy Parliament Speaker Rebecca Kadaga to urge swift passage of the Anti-Homosexuality Bill. The reporter observes that Kadaga "appears to back the bill," but the Deputy Speaker then read a passage from the existing law against homosexuality which already provides for a life sentence.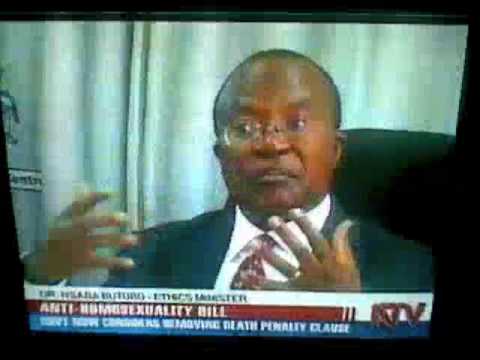 Click here to see BTB\'s complete coverage of recent anti-gay developments in Uganda.
Transcript of the NTV Tonight Broadcast.
…as proposed in the controversial Anti-Homosexuality Bill, that has drawn protests from human rights activists and international donors. Aggravated homosexuality is when one subjects a minor to gay acts or deliberately infects them with HIV. State minister for ethics and integrity Dr Nsaba Buturo this morning told journalists here in Kampala, that the death penality may be replaced with a life sentence in the bill. Isabel Nakirye has more on this probable change of heart by government.
The controversial private members bill that was tabled by Ndorwa West MP David Bahati continues to attact international concern, with the donor community vowing to stop funding to Uganda if it's passed into law. But government has stood its ground and reaffirmed its position that debate on the bill will continue until a comprehensive law is passed by parliament. However, it now appears government is ready to concede some ground. The ethics minister says the proposed death sentence for aggravated homosexuality that has attracted heated criticism, may be replaced by the life sentence, "…we are saying, that look… instead of killing somebody, provide mechanisms for counseling, and other supports, so that the person may actually be rehabilitated. And I see logic in that one, because already we have some former homosexuals who are being rehabilitated."
However, minister Buturo says government is not bowing to international pressure, but out of concern from religious leaders in the country. But moments after Buturo's address, this pressure group that supports the Anti-Gay Bill, was handing over a petition to deputy parliament speaker, Rebecca Kadaga, to ensure that the proposed law sails through the way it is. But Kadaga who appears to back the bill, quoted a section of the penal code that provides for life sentence, "any person… a) who has carnal knowledge of any person against the order of nature, b) has carnal knowledge of an animal, or c) permits a male person to have carnal knowledge of him or her against the order of nature, commits an offence and is liable to imprisonment for life."
Isabel Nakirye, NTV Tonight.
Comments