Ugandan LGBT Advocate Found Beheaded (Updated — It's A Hoax)
Jim Burroway
July 5th, 2010
NOTE: This story has been revealed to be a complete hoax. Complete details can be found here.
Important update, 7/6/2010: Despite three sources providing some corroborating details, the veracity of this story has been called into question. Sources in the U.S. and Uganda now tell me that the young man in question was not connected with Integrity Uganda, and that Bishop Christopher Senyonjo did not make the statement attributed to him by Changing Attitudes. I am still looking for more information and will provide updates as soon as I have them.
Update @14:45 PST: More fingerprints of a hoax are emerging. The Rev. Erich Kasirye, identified as the "General Secretary, Integrity Uganda" and who gave an extensive quotation that I reproduced below, appears to have been involved with a few money-raising scams through his connection with Integrity Uganda in 2004. He also absconded with the Kitemu Community Center, which had been built using funds from Integrity USA, by turning it over to the Anglican Church of Uganda while renouncing his connections with Integrity Uganda to church officials. Integrity USA and Integrity Uganda severed ties with Kasirye at that time. More information here.
…
A reader tipped me to this horrible news. The severed head of a volunteer for Integrity Uganda, the pro-LGBT organization founded by Bishop Christopher Senyonjo, was found in a pit latrine on a farm in Makindye Sabagabo, Wakiso District.
Judith Nabakooba, a police spokesperson, identified the head as that of Pasikali Kashusbe, one of the workers on Kigggundu's farm and a member of Integrity Uganda. Pasikali and his partner Abbey are youth workers with Integrity Uganda charged with the responsibility of mobilising young LGBT people in activities which build community capacity to face up to the challenge of homophobia, especially in the area of attitude change and care through drama and sports activities.

According to the police, a mutilated torso which was earlier in the week discovered in Kabuuma Zone, about half a kilometre away from Kiggundu's farm was probably Pasikali's The torso was described as belonging to a young man and had no genitals.

Pasikali went missing over three and half weeks ago when the country was celebrating Uganda Martyrs Day. All efforts by his partner Abbey and other family members to find him had been fruitless.

Bishop Christopher Senyonjo, Chairperson of Integrity Uganda lamented the murder of this young man as 'absurd' adding that, 'clearly, the values of tolerance and social inclusion are sadly being sacrificed on the altar of state ignorance, ineptness and good old colonial stupidity'.
Uganda's Martyr's Day, a national holiday, is a particularly dangerous time for LGBT people. The holiday commemorates the death of several Anglican and Catholic missionaries converts ordered by the Bugandan King Mwanga II, who felt that foreign religious influences posed a threat to his kingdom. In fact, his fears proved correct; the executions prompted Britain to invade Uganda and turn it into a British colony. Popular lore has it that King Mwanga II, who himself was a teenager, killed the martyrs because they refused his homosexual advances. While that belief is widespread, this particular allegation is typically not found in more reputable hagiographies. It is unclear how much of that part of the story is true or how much of it is lore that was reinforced by the British colonial government to discredit the king.
The farm where Kashusbe's head was found is reportedly owned by Badru Kiggundu, who is the chairman of Uganda's Electoral Commission. Police found the head while searching for a missing priest, Rev Henry Kayizzi Nsubuga, who disappeared almost two and half weeks ago after delivering a speech at St. Paul's Church in Kanyanya supporting homosexuality in Uganda.
The independent television network NTV Uganda posted this video three days ago, but doesn't mention the circumstances which appear to have led to Pasikali's murder: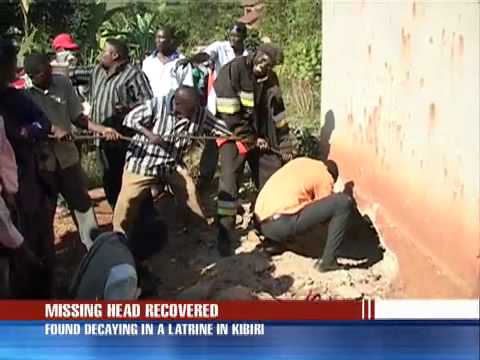 Daily Monitor, Uganda's largest newspapers, has a few more sparse details here. In this report, the victim is identified as Paschal Kashushu. Amid conflicting reports, it appears that at at least one man has been arrested, possibly a relative. I'm trying to get more information directly from Uganda.
Changing Attitudes has this statement from Rev Erich Kasirye, General Secretary, Integrity Uganda:
Pasikali and his partner Abbey joined Integrity Uganda in June 2007 and during the last three years, Integrity Uganda has seen an increase in coordination and harmonisation of youth activities. Pasikali emphasized the promotion of the concept of care across the continuum through the formation of voluntary home care groups for young LGBTIs who continue to live in fear. He will be greatly missed by the entire LGBTI fraternity.
As for the missing priest, the only direct news reports that I can find about him appear in the government-owned New Vision. There is no mention of Rev. Nsubuga's sermon. Instead, it appears that relatives are painting the missing priest as mentally "stressed." A report by a reporter from Kamulali Newspaper and re-published on the virulently anti-gay web site Virtue Online provides more hints about the possible link between Rev. Nsubuga's disappearance and his pro-gay sermon.
Comments