Uganda Activist Cites Disbarred "Therapist" As Authority on Homosexuality
Jim Burroway
March 31st, 2009
David Roberts at Ex-Gay Watch has posted another exclusive video of Ugandan pastor Stephen Langa, as he cites Richard Cohen's 2000 book, Coming Out Straight, as an authority on the homosexual agenda. The video was taken during a March 15th follow-up meeting to the three-day conference conducted by American anti-gay activists, which included Richard Cohen protegé Lee Caleb Brundidge.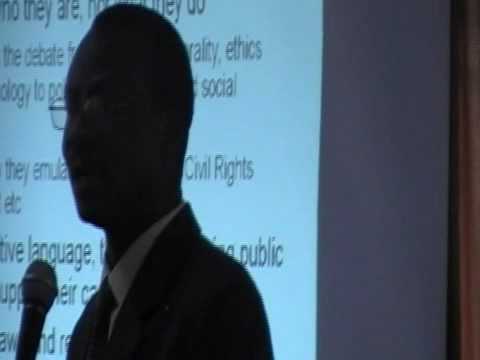 What are some of their strategies? One: redefine homosexuality as an inborn condition based on genetics and biology, so that it will be regarded as irreversible. There is no proof, there is no study that has found that homosexuality is genetic. None, none. In fact, this man has a whole chapter on it. Now this man is a former homosexual, he has a whole chapter on all the science, on all the studies that homosexuals claim […] the genetics of homosexuality, and all of them don't qualify. They are unrepeatable. You cannot politicize… […] an experiment cannot be done, it cannot happen. It doesn't work. It's not there. But we see they portray it as such. They portray it as such.

Second, focus on who they are and not what they do. It's a very critical tactic. A very critical tactic. What does that mean? This shifts the debate from the arena of morality, ethics and psychology to politics, human rights and social injustice. Here's how clever they are. This is a matter of morality. This is a matter ethics. This is a matter of psychology. But now they shift it to politics, human rights and social injustice. They play on your sense of justice. "Oh, but look at the injustice. See?" They're like the Blacks, and that is wrong. You see, and here it is. "In this way they emulate the pattern of the Civil Rights movement." In America, what was the civil rights movement? People are being discriminated against because they are Black.

Now the difference between that and a legitimate civil rights issue and an issue which is not a civil rights issue is this: If that thing is something you have no choice about and something inborn, then it is a civil rights issue. For example, your tribe, if somebody discriminates against your tribe, your color, you know? Those kinds of things. Those are things which are legitimate civil rights and human rights items. But issues of choice, if I choose to be a thief, if I choose to be a murderer, I cannot stand up and say, "Oh, you see, I was born this way." No.

But you see, these guys are clever. They want to equate legitimate issues that demand or that deserve human rights protection with things that don't. And that is how they were able to win in South Africa, because they say, "Well oh, Blacks were discriminated against, the Blacks in South Africa. So we are also like that." And so the South African government, as the other people passed, they also passed. And in America, this came up at the time when they see Black civil rights had just gained prominence and had just got their rights, and so they also smuggled themselves into the middle of it. And they came together with the Blacks. But that's the tactic. It's the tactic. It's the tactic.
There is so much in this short clip that is wrong that it's hard to know where to begin. But there is one thing that bears mentioning. Anti-gay activists who assert that there is no biological basis for homosexuality for anyone pretend that there were only three studies worth mentioning. Those studies include Simon LeVay's 1994 brain study, Bailey and Pillard's 1991 twins study, and Dean Hamer's 1993 X-chromosome study. As far as activists are concerned, these are the only studies that have ever been published, and none of them "proved" that homosexuality is biological or genetic.
The truth is however that there have literally been hundreds of studies published in peer-reviewed journals in the past twenty years or more, the preponderance of which suggest a biological basis for homosexuality in many people. Anti-gay activists refuse to acknowledge those studies. Instead, they only pick on the three weakest and easiest to disprove studies.
This is the sort of "science" one would expect from Richard Cohen. He has been banned for life from the American Counseling Association, and his controversial "holding" or "touch" therapy techniques — which are also clearly demonstrated in that same book Langa is so fond of — has made him the laughingstock of the ex-gay movement. Seeing it being used as fodder for Uganda's latest anti-gay campaign, while Exodus — America's largest and best known umbrella organization of ex-gay "experts" — remains silent is no laughing matter.
Click here to see BTB's complete coverage of recent anti-gay developments in Uganda.
Comments