Uganda Gays Arrested, Blackmail Attempts Reported
Jim Burroway
May 4th, 2009
The situation in Uganda shows no sign of slowing down anytime soon. The Uganda press continues to play up the time-honored gays-as-child-predators slander, with the claim that the only reason for repeated generations of gay people is that they must "recruit" the next generation.
While that's going on, Uganda's Parliament appears poised to consider strengthening its already draconian law against homosexual acts. That action has the backing of Uganda's President, Yoweri Museveni. Current law already provides a maximum lifetime sentence for conviction of participating in same-sex relations. This latest efforts appear aimed at making the condition of homosexuality itself illegal.
We now have media reports of one gay couple arrested in Mbale. It is believed others have been arrested and sentenced as well. We also have reported blackmail attempts, in which anti-gay activists demand money in exchange for not publicly denouncing the individual as gay.
One person at the center of the blackmail allegations is  Uganda's "ex-gay" star, George Oundo, who continues to play a prominent role in the national outing campaign of private citizens. He has also made some very splashy allegations against well-known public figures as well. Those allegations have appeared in print, and on radio and television.
One such appearance was on Uganda's NTV television on March 29. The International Gay and Lesbian Human Rights Commission (IGLHRC) has obtained video of that broadcast: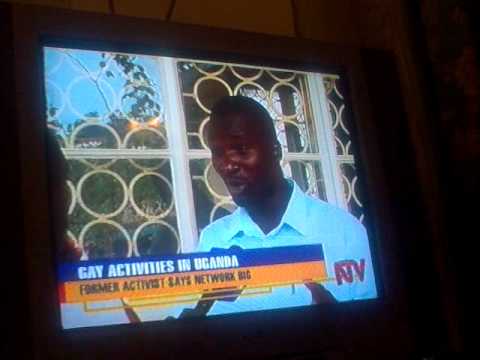 The video features Oundo describing his "recruiting" efforts in Uganda's schools. Strangely, his open admission of engaging in sexual acts with underage children has not led to calls for his arrest.
The television report intersperses brief shots of a pro-gay press conference held on August 16, 2007, which called on the Uganda government to allow LGBT people to live in peace. Many LGBT people attending that conference wore masks to shied their identity. That "Live In Peace" meeting led to that year's public anti-gay vigilante campaign, with the tabloid Red Pepper playing a major role in that year's campaigns.
As we reported earlier, Oundo got his first taste of public notoriety last September when he appeared on the pages of the hated Red Pepper seeking to embarrass the Ugandan LGBT community in a blatant bid for money. With that effort having come up dry, he appears now to be casting his lot with Stephen Langa's Family Life Network
Langa's Family Live Network began this latest round of anti-gay vigilantism with an anti-gay conference Kampala on March 3-5. That conference featured Exodus board president Don Schmierer, Holocaust revisionist Scott Lively, and purported raiser-of-the-dead and Richard Cohen protegé Caleb Lee Brundidge. Exodus International "applauded" Schmierer's role at the conference, while Exodus President Alan Chambers tried to wash his hands of responsibility for the aftermath of Schmierer's actions.
Click here to see BTB\'s complete coverage of recent anti-gay developments in Uganda.
Comments