LaBarbera heads back to Chicago
Timothy Kincaid
April 15th, 2014
The Gazette is reporting that Peter LaBarbera has been released from custody and, in agreement with Canadian border control, has decided to call his stay short and return to the States.
An American anti-gay and pro-life activist has decided to voluntarily cut his visit to Saskatchewan short following another run-in with the Canadian Border Services Agency.

Peter LaBarbera was questioned by CBSA Tuesday morning in relation to his arrest at the University of Regina on Monday.

The Regina Police Service held LaBarbera in custody overnight at CBSA's request, said police spokeswoman Elizabeth Popowich in an email Tuesday morning.

LaBarbera had been initially denied entry to Canada on April 10 under hate speech laws. He appealed and won, under the agreement he would leave the country by April 17.
It seems that he had scheduled to visit another university today, but decided that the martyr thing was more fun in theory than in practice.
LaBarbera arrested in Canada
Timothy Kincaid
April 15th, 2014

Much to Peter LaBarbera's disappointment, Canada allowed him to enter the country. It didn't stop those who are part of the anti-gay industry to rant about how The Peter was languishing in jail, despairing but resilient, but his brief detainment for review just didn't have quite the impact he was hoping for.
However, the police in Regina, Saskatchewan, obliged The Peter in arresting him and finally awarding him the martyrs crown that he so desperately sought. (CBC)
U.S. anti-gay activist Peter LaBarbera and a Saskatchewan man were arrested on the University of Regina campus on Monday and will be charged with mischief, police said.
…
At one point, with news cameras rolling, an unidentified university official approached Whatcott, 46, and LaBarbera, 51, and asked them to leave. During that encounter, Whatcott said he had attempted to get permission to set up an information table and, since he was denied, proceeded to set up a table anyway.

"I'm not leaving," Whatcott told the official, "You guys are intolerant and should be ashamed of yourselves for shutting down our message without even considering it."

A short while later, several Regina police officers arrived and Whatcott and LaBarbera were handcuffed and taken off campus.
I'm not sure what other option the police had; clearly The Peter and Whatcott were violating an legal request to leave. However, I think the university would have been wiser to let him stand there with his smutty pictures and his vile positions and ignore him.
And the school could probably have done without the following statement, which appears to have been made without the slightest registration of the inherent irony.
"We are a diverse campus, we are a welcoming campus," Tom Chase, one of the vice presidents of the university said. "We celebrate that diversity and our staff felt that the material and some of the things they had with them simply contravened that policy and we asked them to leave."
The school is certainly within its rights to deny a public spectacle. But it's an unfortunate decision when an institution of learning chooses to define "diversity" in such a way as to limit viewpoint or restrict perspective.
LaBarbera will now be questioned by border officials and is scheduled to appear in court on mischief charges on May 26.
UPDATE:
It appears that the t shirt The Peter is wearing says:
NO to HATE CRIMES Against CHRISTIANS who Disagree with HOMOSEXUALITY
and has the picture of Mary Stachowicz, who was murdered in 2002 by a deranged young gay man whom she had been harassing. Because martyrdom.
LaBarbera detained in Canada (Updated)
Timothy Kincaid
April 11th, 2014
Peter LaBarbera of the ironically named Americans for Truth about Homosexuality was scheduled to participate in the Saskatchewan Pro-Life Association this weekend. I'm not sure what Canadian pro-life has to do with American homosexual truth, but this event appears to be a gathering of the religiously disgruntled and The Peter definitely fits in that crowd.
However, something called Intolerance Free Weyburn initiated a complaint to have him barred from entry to Canada. And The Peter is reporting that it worked. (AFTAH)
After questioning me about the purpose of my scheduled presentation at the SPLA event; rifling through my luggage, which contained numerous books and literature related to homosexuality (pro and con); examining the contents of my laptop and my cell phone; playing a DVD of my speech Wednesday at Sinclair Community College in Dayton, Ohio; and critically viewing AFTAH's website–a preliminary decision was made to deny my entrance into Canada on the basis that my speech at the SPLA would violate Canada's "Hate Propaganda" law (essentially the potential for "public incitement of hatred" against a group of people based on their "sexual orientation"). The Orwellian experience at Customs dragged on for more than three hours as a formal document was issued outlining my denial of entry under Canada's Immigration and Refugee Protection Act (citing the Hate Propaganda code). Finally, after 1:00 A.M., I was released pending my appeal of the decision today (Friday). My passport was seized until I arrive back at Customs today at noon for my appeal before a "Minister's Delegate Review."
I favor freedom of speech. And while I have no say in how Canadians choose to structure their society, I do hope that the US does not go down the road of silencing the voices of those who do not fit current social or political norms.
But irrespective of Canada's laws, this was not a wise choice.
Peter LaBarbera was scheduled to go talk to people who already agree with him. And should his presentation ever reach those who were not already convinced of the evils of Teh Ghey, that can be a good thing. After a few minutes of The Peter, most decent souls feel a compulsion to wrap themselves in a rainbow flag and march for marriage equality.
This move accomplishes no real tangible advance for our community. It merely feeds the narrative that anti-gay activists are weaving about how homofascists are trying to shut them up and how True Christians are under attack. It gives a physical example to rally around. And for someone who knows nothing about the Peter, he does come across as the sympathetic character in the situation.
Already fellow travelers have taken up the cause of portraying The Peter as a victim of oppression. Over at Matt Barber's BarbWire, Laurie Higgins is wailing about how he was "detained by the Canadian thought police who searched his luggage, computer, and phone" (though I'll give her credit for spelling my name correctly).
And though LaBarbera's undoubtedly elated about his ability to now wear the marty's suit, it must have been a harrowing experience. And since then, I'm sure that he's been bored, stuck waiting for a response to his appeal.
But fortunately The Peter brought "literature related to homosexuality" and if he's been afforded any privacy, I'm sure that the selections from his vast collection of gay porn have been put to good use.
In his ongoing efforts to document the seedier side of gay life.
Update by Jim B: LaBarbera says they're letting him in after all.
Peter LaBarbera and Scott Lively Are Getting Hitched
Jim Burroway
February 20th, 2014
They're joining forces to form a new anti-gay organization:
A press conference will be held to announce the formation of a new organization, the Coalition for Family Values, whose purpose is to unify and coordinate pro-family groups around the United States and the world to more effectively oppose the now-global LGBT agenda.

Press Conference Details

When: Friday, February 21, 10:00 a.m.

Where:
National Press Club,
Zenger Room,
529 14th Street N.W.,
Washington, DC

The coalition is being organized by Dr. Scott Lively of Defend the Family International, based in Springfield, Massachusetts, and Peter LaBarbera of Americans for Truth About Homosexuality (AFTAH), based outside Chicago, Illinois — with the assistance of other existing pro-family groups and leaders in the United States and abroad.

The first action of the coalition will be to issue a statement of support for the Russian pro-family laws of 2013 and 2014 — e.g., the prohibition of pro-homosexual propaganda to minors — and to urge other nations of the world to follow the Russian example.
This is the first instance I've noticed where Lively has appended the word "International" to the name of his outfit.
Peter LaBarbera Wants to Throw You In Prison
Jim Burroway
December 10th, 2013
Of course, he can't do that in his home state of Illinois or any of the other states and territories of the United States. But Jamaica still has its colonial-era buggery law which means you can be imprisoned for ten years. That seems to be to LaBarbera's liking, because he went through the effort and expense to travel there for a conference put on by two anti-gay Jamaican outfits, the Jamaican Coalition for a Healthy Society and the Christian Lawyers' Association in Kingston to urge them not to rescind their buggery law:
I do not stand with my government. I'm a patriotic American, but I do not stand with the current United States government in its promotion of homosexuality and gender confusion. But I do stand with the Jamaican people … I pray that you will learn from our mistakes and from lessons of history and avoid the inevitable moral corruption and health hazards and the danger to young people that come from capitulating to this sin movement that calls itself gay. It is almost now can be predicted with 100 percent accuracy, if the law is a teacher: If you take down this law, it will only lead to more demands. Appeasement does not work.
A lot of pro-gay web sites are being rather mealy-mouthed about what LaBarbera's doing. They're saying things like he went to Jamaica to "export homophobia" or "promote hate." But he's doing something much, much more specific: the "if-you-take-down-this-law" in question is the buggery law, the law that threatens gay and lesbian Jamaicans with lengthy prison terms, and which, by that very threat, gives homophobes and police open license to assault LGBT Jamaicans, to rape lesbians, to murder gay men and women in their homes, on the streets, in the stores, or wherever else they find them, and to call on others to do the same or to explain it away. And why not assault them? What can they do? Go to the police and risk arrest and imprisonment? The very same police which is, in some cases either assaulting or standing by while others assault them.
But in case that's not enough to bring out the vigilantes, LaBarbera threw out some classic red meat to the crowd:
LaBarbera, a longtime activist opposing LGBT rights in America, said he was working on a book on the connection between "homosexual activism and pedophiles." He said that after winning rights like marriage and protection for gay kids in schools, U.S. activists were now championing the rights of MAPS, or "minor-attracted persons."

"Homosexuals are always on offense," he said. "It's another secret that American activists don't like to tell is that NAMBLA, the North American Man-Boy Love Association, used to march in gay pride parades."
LaBarbera is far from alone. On this trip he was joined by Andrea Minichiello Williams, founder of United Kingdom's Christian Concern. She also wants to throw you in prison, and let there be no mistaking that:
Williams warned that removal of Britain's sodomy law was the start of a process that has led to more and more permissive laws, including equalizing the age of consent laws for homosexual and heterosexual intercourse.

"Once you strip away all this stuff, what you get is no age consent … nobody ever enforces that law anymore," she said. "We already have a strong man-boy movement that's moving in Europe."
LaBarbera goes for new title
Timothy Kincaid
December 1st, 2013

Peter LaBarbera is probably known best for three things: the vast collection of gay porn he has assembled for his anti-gay research (earning him the nickname "Porno Pete"), his deliciously absurd rantings about The Homosexual Agenda, and his abject failure to get anyone in Illinois to pay attention to him. But now he's seeking fame for a new accomplishment: the record for the most instances of scare quotes in one article.
In Pete's writings, gay becomes "gay" (because they aren't gay at all, they're miserable godless homosexuals) and gay marriage becomes homosexual "marriage" (because it's not marriage at all, no, no, no it's not!). So it's pretty common for LaBarbera's rants to have more than their share of misplaced and improperly used quotation marks.
But in his most recent recitation of his record of wrongs, all the instances – real or contrived – in which Christians have been imposed upon in some manner, Pete really outdoes himself.
Now I can't claim a clean tally, as LaBarbera is rather grammatically challenged to begin with and hasn't the slightest clue how to use quotations correctly. For example, he puts The Rush Limbaugh Show in quotations, along with his own created Victims of Homosexualism list. And some are questionable; was LaBarbera quoting someone when he insisted that gays are not "civil rights victims", or does he not believe that such a thing exists?
Anyway, allowing for subjective calls on my part, I get a grand total of 111 separate instances of scare quotes in his article. And that's pretty impressive.
Perhaps he should now be known as Porno Pete, the King of Scare Quotes.
And look who showed up
Timothy Kincaid
November 21st, 2013
While most protest to the marriage bill was celebrating an exorcism, the Chicago Police cordoned off a space in front of the UIC Forum – where the signing ceremony was being held – for protest, should anyone wish to do so. And look who showed up, our old buddy Peter LaBarbera, the head of Americans For Truth About Homosexuality.
Poor, poor Peter. He looks a bit lonely.
(photo shamelessly stolen from Joe.My.God)
Schadenfreude Alert
Jim Burroway
November 5th, 2013
From an Illinois resident:
Arrogance of Liberals: #Illinois becomes 15th state to defy God by creating legal "marriage" based on the perversion of homosexuality. #tcot

— Peter LaBarbera (@PeterLaBarbera) November 5, 2013
Reactions to Exodus's Closing Continues To Pour In
Jim Burroway
June 20th, 2013
@eshep Now Exodus International + Alan Chambers need to apologize to all the Bible-believing #Christians they bamboozled. #tcot @jmattbarber

— Peter LaBarbera (@PeterLaBarbera) June 20, 2013
Good news: @ExodusIntl has closed its apostate doors helping biblically sound @RestoredHopeNet to minister to those w/ unwanted SSA #Hope

— Matt Barber (@jmattbarber) June 20, 2013
Also, this:
Exodus International, criticized for 'reparative therapies' for gay Christians, to shut down http://t.co/Bu3l31dUzg

— mia farrow (@MiaFarrow) June 20, 2013
HRC Promotes LaBarbera's "Press Conference" at HRC HQ
Jim Burroway
June 5th, 2013
Peter LaBarbera, whose sparsely attended press conference yesterday in front of the Human Rights Campaign headquarters ("the world's most powerful homosexual lobby organization," he calls it) but hidden away behind a temporary construction wall, "was a success," so sez The Peter. I guess HRC agrees. They posted video of the event so you don't have to miss it.
A sad sad day for The Peter
Timothy Kincaid
January 15th, 2013
I think this one needs some imaginary context. So picture, if you will, a huge cruise ship pulling away from dock right on schedule. And if I can so direct you mind, place a passenger on the dock stamping his feet, furious that everyone dared, dared, to sail away and leave him behind.
Got it? Okay, now here's Peter LaBarbera on the court settlement ensuring that (some) gay soldiers get the same discharge pay as heterosexual soldiers. (OneNewsNow)
"When the 'don't ask, don't tell' repeal was first proposed, we didn't hear anything about giving money to past soldiers who were let go under the policy of excluding homosexuals based on their homosexual behavior," he tells OneNewsNow.

"Now we're paying for discharged homosexuals as if we did something wrong. We did not do something wrong."
Ah that's a good piña colada. But wait, there on the dock, is that a little man screaming and waving his arms and throwing a fit? No, no, I'm sure you're right. I'm sure it's nothing.
Peter LaBarbera Reacts
Jim Burroway
November 8th, 2012
His side lost because they weren't nasty enough:
Pro-family advocates must stop looking for short cuts and return to their principled duty of educating citizens – especially brainwashed youth — on why homosexual behavior is wrong, unnatural, unhealthy and – most important – changeable. (Thousands of former homosexuals like DL Foster testify to the reality of ex-"gay" change.)

Reframing the debate to "defending marriage" – a "positive" approach once seen as the salvation of the pro-family movement – only gave well-organized "gay" activists a big, fat target to shoot at: "Marriage." And on Tuesday, they scored several direct hits on that target. By pretending that the fight to preserve real marriage is somehow separate from homosexuality, pro-family advocates undermined their core principles – leading to long-term (and even short-term) defeat.

Who are we kidding? This titanic fight has always been about homosexuality, not just "defending marriage." We need to stop conceding the moral high ground in a fearful bid to appear "tolerant": one pro-family group, Protect Marriage Maine, asserted that "same-sex couples are entitled to respect" – a claim at odds with historic Scriptural teaching. While Christians should respect all persons as made in God's image, we must never "respect" behaviors and relationships grounded in sexual sin.
Meanwhile on Twitter…
Jim Burroway
May 8th, 2012
It looks like someone want's Dan Savage to pay attention to him.
Remember When You Could Beat Up Gay People And Nobody Would Bat An Eyelash?
Jim Burroway
February 14th, 2012
Peter LaBarbera and North Carolina pastor Patrick Wooden reminisce over the good old days: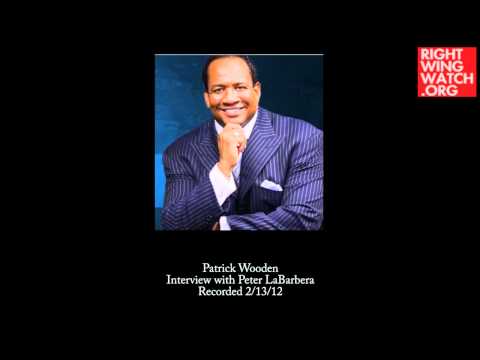 Wooden: My heart breaks and I literally mourn over what has happened to the NAACP. Ben Jealous says he has a brother who is transgendered in his family, the little boy grew up dressing like Diana Ross or somebody when he was a child, well I say his parents should've took the child and whooped the child's behind and taught the child how to dress.

…

Wooden: If you want to get knocked out just go into a male bathroom in the African American community or any community I would think and you're standing there in a dress and many times the people are trying to hit on people, trying to make sexual responses, one man there, you know, you don't want to be in there feeling like another man is trying to look at your penis. We've always had a hostile response, or a disrespect if you will, for that kind of behavior.

LaBarbera: It used to be common of course, I've heard many stories. I remember a story from a military guy, saying a guy came and he was a sailor and they had some temporary little day off at port and some guy hit on him and he decked him.

Wooden: That's normal.

LaBarbera: When you make a sexual advance against a man on man, that is a normal response, and yet I fear in the rise of political correctness what's going to happen is, somebody is going to find out that there was a man in his wife's—his wife was in the restroom when a transgendered man, a biological male, was in the female restroom and he's gonna punch him, but then the man who punches him is gonna be charged with a hate crime, that's what I'm afraid of.

Wooden: We're not promoting, advocating violence here.

LaBarbera: Of course not!
Oh, well, of course not. But they were the gold old days Peter, weren't they?
Yes, hate groups have African Americans too
Timothy Kincaid
January 17th, 2012
The Southern Poverty Law Center has long since earned its reputation as an honest monitor of racially based hate groups. At some point they expanded their scope to include hate groups which exist to instigate animus towards gay people as well.
It isn't easy to get on the SPLC's Hate Group listing. This isn't the Maggie Gallagher and Dr. James Dobson and Southern Baptist preacher crowd. Ignorance, prejudice, callous disregard and presumptions of superiority are not nearly enough to quality.
To qualify as a Hate Group, one must engage in active defamation. In other words, a hate group must intentionally spread vicious lies which they must know – or certainly should know – to be untrue for the purpose of stirring up animus against gay people. These are the folks who manufacture fake studies, distort research, make totally fabricated claims, and do so under the presence of telling the real truth that the AMA, the APA, and everyone else with an education and credible reputation are conspiring to keep secret.
In total only 16 groups currently make the cut:
Being called a "hate group" is infuriating to those who identify as Christians. (For a year now I've been intending to address hate and love from the perspective of Christian theology, what qualifies as each, where boundaries lie and the difficulty of being human while aspiring to spiritual goals. Frankly, I've put it off because to do it justice is a daunting task, but I really do think it may be time to attack the job.)
In the past, those listed have mostly ignored the SPLC. As they didn't run in circles in which advocating for the cessation of racism was highly admired, they didn't much care what the "liberal activist group" thought of them. But with the addition of some more vocal and politically connected organizations, attention has been given to the SPLC's listing. And, naturally, rather than ponder whether their behavior was hateful and should change, a decision was made to discredit the Southern Poverty Law Center.
So today a collection of Hate Groups protested at SPLC headquarters. It was the rather sad souls that we have become accustomed to seeing: Peter LaBarbera, who organized the event, and his best buddy Matt Barber, the Associate Dean of Liberty University School of Law. Also showing up to represent the "Nazis were gay" viewpoint was Rachel Connor of Scott Lively's Abiding Truth Ministries.
But in hopes of embarrassing this institution know for is advocacy for racial equality, this cluster of unhappy clowns was beefed up by including some African American preachers, some particularly nasty hate-filled African American preachers.
DL Foster I've dealt with before. He's perhaps the most mean spirited, personally vile, directly hateful individual I've encountered (with Robert Gagnon as his competitor). He's the type of guy who blames the suicide of bullied kids on "homosexual activists". He's the sort of fellow who thinks that the beatings and murders of gay people in Jamaica are godly. Oh yeah, and DL is ex-gay.
Tim Johnson, founder of the Fredrick Douglass Foundation, doesn't have a high profile for anti-gay activism. He is, however, a convicted domestic violence felon. On Christmas Day 1995 he beat his wife because "that's the only way I can get her attention." She was hospitalized with a broken nose and toes.
Then included was a collection of ministers from Church of God in Christ, DL Foster's denomination: Pastor Glen Sawyer, New Mt. Zion Church of God in Christ, Elizabeth City, NC; Pastor Wil Nichols, Victorious Praise Fellowship COGIC, Durham, NC; Pastor Jon Robinson, Kingdom C.O.M.E. Ministries, Clairton, PA; and Pastor Kenneth Jefferson, Greater Harvest COGIC. The Church of God in Christ is a Pentecostal Holiness black church and it is HUGE, with about five million members and 12,000 congregations in the US alone. By comparison, the largest non racially specific pentecostal church, the Assemblies of God, has about three million US members.
But perhaps no participant in LaBarbera's little "we got Blaa People too" charade is quite such an example of the type of Blaa People that are so blinded by their evil imagination and their hatred of gay people that they would seek to discredit a respected civil rights organization as Dr. Patrick Wooden, pastor of Upper Room Church of God in Christ. Right Wing Watch caught this particular doozy from an interview with The Peter of just a few days ago (via Joe Jervis):
My belief is that if the medical community would just step forward and just would share with the American people what happens to the male anus, what the problems that homosexuals have with their rectums, the damage that is done, the operations that are needed to sew up their bodies, if you will. And how many of the men don't even give the stitches time to heal, before they're back, they're out there, practicing that wicked behavior. Some are "bleeders", men who are not turned off by ingesting the feces of other men. If the truth was told, people would literally gag. And no one would want to be in a lifestyle like that. Who wants to practice anything that is ultimately going to lead a grown man to – by the time he's in his 40′s or 50′s or whatnot – having to wear a diaper or a "butt-plug" just to be able to contain their bowels?
Who indeed? Certainly no one I've ever met, encountered, read about, or who ever existed outside the disturbed imagination of Dr. Wooden. If he keeps that sort of nonsense up, the Southern Poverty Law Center may find itself in the unenviable and ironic position of having to add an African American church to its list of Hate Groups.
Heterosexual Menace: BBIAB
Timothy Kincaid
December 8th, 2011
BBIAB ("Being buried in a box") is a societal menace and it is time we take a stand. Mollifying the proponents for immorality has only made the problem worse and pretending that it isn't happening won't make it go away. It's time we look at the cause of this problem and who is behind it.
I propose we take steps – now – to correct this cultural malaise and return our society to the good wholesome 70′s.
TEACH KIDS REAL RISKS IN THE CLASSROOM: Stop pretending that all lifestyles are at equal risk for being buried in a box – because BBIAB is NOT behaviorally- or lifestyle-neutral. Instead, teach students in school health classes the DOCUMENTED REALITY that certain behaviors, especially heterosexual sex, are particularly high-risk for BBIAB.
RE-STIGMATIZE DANGEROUS BEHAVIORS: In the wider culture and especially among youth, re-stigmatize heterosexual sex and other (predominantly) heterosexual acts (e.g., "golddigging," heterosexual slang for granpa-bimbo perversion). If other behaviors were as dangerous as heterosexual sex, there would be well-funded PR campaigns and government mobilizations to curtail them. Political Correctness is no excuse for failing to educate against bad and harmful behaviors.
(Satire inspired by The Peter)
LaBarbera calls (possible) vandalism a "hate crime"
Timothy Kincaid
October 21st, 2011
Peter LaBarbera (who calls himself "Americans for Truth About Homosexuality") is delighted about the instance of (possible) vandalism experienced by Christian Liberty Academy. He hasn't had this much attention in years.
Again today the American Family Association's newsletter gave him an opportunity to get his picture in front of potential donors. And, Pete never loses an opportunity to play a victim of the insidious homosexual agenda (send money). He has been a victim of a hate crime, you see.
Americans for Truth About Homosexuality (AFTAH) founder Peter LaBarbera tells OneNewsNow police are investigating the incident on the basis of vandalism, even though he sees it as a hate crime. Though he is no fan of hate crime laws, LaBarbera wonders if some victims of hate are more important than others.

"It seems that if this were a crime against homosexuals, there would be immediate calls, that this would be prosecuted as a hate crime," he suggests. "But when Christians are the victims of hate, there's not much talk about that."
A hate crime is one that identifies its victims not based on anything that they have personally done, but rather solely because of their identity within a group. It is a crime against a group, intended to intimidate that group, and only incidentally about the individual.
This appears to be the opposite. This is a crime (if it is indeed a crime) directed specifically towards individuals, Scott Lively and Peter LaBarbera. One could even say that the manifesto is devoted to Lively with a few mentions of LaBarbera and is extremely personal in its focus.
So unless Scott Lively is his own social demographic, no hate crime was committed.
Gay vandalism claim likely a hoax
Timothy Kincaid
October 19th, 2011
[Edited to include Point 6, provided by Jim Burroway]
On October 15, someone called "Pissed" posted a statement on the Chicago Independent Media Center website claiming that they had "put two chunks of concrete through the glass windows and doors of the Christian liberty academy" because of the scheduled Americans for Truth fundraiser featuring Scott Lively that evening.
I think it is a hoax.
Now it's possible that the school was vandalized. It's even possible that the vandalism was performed by outsiders and not staged for media effect. And if that happened, it's likely that the vandals were either gay or gay-supportive. But the statement simply isn't believable.
First off, Peter LaBarbera (who calls himself "Americans for Truth About Homosexuality") claims that the statement was e-mailed to Christian Liberty Academy, Americans For Truth, Scott Lively and others within a few hours of the event. Those who blog know that this is some pretty quick writing.
Which leaves one of three possible scenarios: 1) the perpetrator of the violence rushed home to write a manifesto, research the details of Lively's involvement in Uganda, and find the phone numbers and email addresses of a number of individuals; 2) the event was planned in advance with the decision to use strikingly different language in the statement than in a note accompanying the event; or 3) the author of the statement had no need to research the details contained in the statement or the email addresses to whom it should be sent.
I think the third scenario most likely.
After a while you learn the language of gay activists, the language of anti-gay activists, and (more importantly in this case) what anti-gay activists think is how gay people speak. This particular declaration is a combination of standard anti-gay-speak peppered with the phrase "hate group" and a few anecdotes to make it seem like it comes from a gay or gay-supportive individual.
Take, for example, the following paragraph:
In 2009, Lively and other American homophobes spoke at a conference in Uganda called "Exposing the Truth About Homosexuality and the Homosexual Agenda". This conference stirred the anti-gay atmosphere that already exists in Uganda, a country with laws that punish homosexual acts with up to 14 years in prison. As a direct result of this conference, participants have drafted a bill that, if passed, would increase the sentencing for homosexual acts to life sentences and execution and make it a legal responsibility to report homosexuals in the community. Lively has also co-written a book called "The Pink Swastika" which claims that homosexuals created the Nazi Party and were responsible for the Holocaust, a book that has been repeatedly denounced as inaccurate by historians.
While this might fly with someone who was unaccustomed to reading the rants of those on both sides of the Culture War, this raised red flags with me.
Few gay activists, especially of the 'throw bricks' variety, know the name of the Ugandan conference. In fact, here at Box Turtle Bulletin – the source of that source and the most thorough reporter of its detail – we referenced only once that this was the stated theme of the conference.
Note the passivity of the language. Gay activists tend to discuss this event as being primarily driven by the Americans. This takes the opposite stance – they only "spoke at" the conference. (The truth lies in between. The American anti-gay evangelists were not the original organizers, but were the stars of the show. As published American authors with claims of political and religious authority, they were granted the opportunity to speak before the Ugandan Parliament, were treated with deference, and their statements accepted as fact.)
This paragraph depicts the Kill the Gays Bill as being directed solely towards "homosexual acts." Find me a single gay activist – brick thrower or otherwise – who describes the Ugandan Homosexuality Bill of 2009 in these terms. We rightly note that in Uganda (as in American and everywhere else) bills that target "homosexual acts" in reality target gay people. We know that America's sodomy laws very seldom resulted in prosecution for actual sodomy but were, rather, the legal basis behind harassment of gay people. The raiding of gay bars, the cruel custody decisions, the military bans and other governmental employment bans, the prohibition of recognition of marriage, and other such official positions were not for the purpose of preventing "homosexual acts" and we don't pretend that they were. Only those who refuse to recognize the humanity of gay people speak as though anti-gay laws are about "acts".
One of the more chilling aspects of the Ugandan Kill the Gays Bill (aside from executing gay people) is the requirement that family, neighbors, friends, doctors, ministers, and others report gay people to the government. And that if they fail (or refuse) to do so, they face the threat of years in jail. Scott Lively supports that provision. And I think "a legal responsibility to report homosexuals in the community" is exactly how he would word it.
And look at the mild nature of criticism of the Pink Swastika: "a book that has been repeatedly denounced as inaccurate by historians." No, it's not "inaccurate", it's historical revisionism at its most insidious and it is denounced by every scholar of the Holocaust as being intentionally dishonest. But to the crowd to whom LaBarbera and Lively appeal, "historians" are ivory tower elitists dedicated to leftist views and therefore immediately suspect.
Who calls gay people "homosexuals" anymore? That right there is a red flag. This "manifesto" uses the word "homosexuals" as a noun for gay people. Gay people or people purporting to support gay rights NEVER call gay people "homosexuals." /li>
And that's just one paragraph. Other language in the article feels more at home within the anti-gay industry than in the gay community (e.g. "counter the Homosexual Agenda") and taken in its totality, this feels more like "this is what they say about us" than it does like the words of a gay person. For me, thee clincher was the listing of phone numbers to invite abuse.
So why would an anti-gay person write and post this?
That one's pretty obvious. To portray the gay community as violent and lawless with goals of "shutting down" anyone who disagrees and, as The Peter put it, "signalling a new brazennes [sic] by homosexual activists". And, equally important to their cause, to portray anti-gay activists as victims who are, in the words of this piece, "under constant attack."
As could be expected, the more rabid members of the anti-gay community are chiming in. The American Family Association sent out a news article featuring Matt (Bam Bam) Barber:
"We are going to speak God's truth in love without fear of reprisal, or even in this case, without fear of violence," the attorney assures. "So I have a message to the gay terrorists that perpetrated this crime: Your terrorist tactics have failed, and you will not succeed in silencing God's truth."
So goal achieved.
But, of course, my analysis is based only on experience and familiarity with the language of activists. I have no inside information on this article and no way of knowing for certain that the person who wrote it was not gay. And though suspicion of the event is shared by others (Joe Jervis of Joe.My.God, for example), we could all be mistaken.
As I said above, it is entirely possible that someone did vandalize the Christian Liberty Academy. Peter LaBarbera has on his website pictures of a paver with "shut down Lively" written on it, along with a note saying "This is just a sample of what we will do if you don't shut down Scott Lively and AFTAH … Fuck Scott Lively. Quit the homophobic shit".
Now this sounds much more like an gay activist of the brick-throwing variety. Not very bright, not well thought out, stupid lashing out without any thought of consequence. And here at Box Turtle Bulletin we unreservedly condemn this behavior. It is wrong and if the perpetrators can be found, they should be held liable for their actions.
According to LaBarbera, the Arlington Heights police are investigating the situation. I wish them the very best success in finding out who threw the pavers, who wrote the statement, and whether they are the same party.
Towards this goal, I call on the Chicago Independent Media Center to voluntarily provide any information that can assist the police in identifying the person who posted the statement. There are times to stand strong on the media's constitutional right not to divulge sources, and then there are times when a paper, as part of a community, can choose to participate in the protection of the community. I hope they do not to become a pawn of the author of the statement.
If a gay person or group vandalized the Christian Liberty Academy and then wrote a statement bragging of the event, I think I can speak for the overwhelming majority of "brazen homosexual activists" when I denounce the action and say that I hope that they are brought to justice.
And if the statement is a hoax written by an anti-gay activist posing as gay, I hope that they are exposed and that statutes dealing with false police claims are brought into play and that they find themselves facing jail time.

Full statement after the break
The Daily Agenda for Saturday, October 15
Jim Burroway
October 15th, 2011
TODAY'S AGENDA (OURS):
Campus Pride College Fair and Prep Day: Los Angeles, CA. Campus Pride's College Fair is an opportunity for LGBT students and their families to discuss educational opportunities with participating LGBT-affirming colleges and universities. The fair features expert advice about LGBT-friendly colleges, scholarship resources and even effective tips for campus visits. The West Coast College Fair takes place today at the University of Southern California from 11:30 a.m. to 1:30 p.m. More information can be found here.
AIDS Walks This Weekend: Atlanta, GA; Austin, TX; Los Angeles; CA; Philadelphia, PA; Tucson, AZ and Watertown, NY.
Pride Celebrations This Weekend: Bakersfield, CA; Jacksonville, FL;  Memphis, TN; Minsk, Belarus; Oklahoma, OK (Black Pride) and Tucson, AZ.
Also This Weekend: Floatilla, Hong Kong and Fort Lauderdale Gay and Lesbian Film Festival.
TODAY'S AGENDA (THEIRS):
Scott Lively Featured Guest At Americans for Truth Banquet: Arlington Heights, IL. Tonight will be a rare event in the constellation of SPLC-designated anti-gay hate groups: the alignment of two of the brightest stars in one locations. Scott Lively, who calls himself Abiding Truth Ministries, will be the featured guest of Peter LaBarbera, who calls himself Americans for Truth About Homosexuality, a a banquet LaBarbera is throwing to try to raise money. And in their bizarre galaxy where truth is unrecognizable, exporting hate is good, and killing gays in Uganda is "the lesser of two evils," LaBabera will be giving Lively something he calls a "truth teller's award." Moody Church pastor Erwin Lutzer will also speak a the event, which will take place beginning at 6:00 p.m. this evening at Christian Liberty Academy, 502 W. Euclid Ave. in Arlington Heights, IL, Moody Church pastor Erwin Lutzer will also speak a the event. The Chicago-based Gay Liberation Network will be organizing a protest, also beginning at 6:00 p.m. outside the venue. If you are in the Chicagoland area, please do what you can to be there.
TODAY IN HISTORY:
National Gay Task Force Founded: 1973. Dr. Howard Brown made the front page of The New York Times two weeks earlier when the the former Health Administrator for New York Mayor John Lindsay's administration came out of the closet. Brown had resigned in 1967 when he learned than an investigative reporter planned to expose homosexuals in City Hall.  His secret was not revealed, which meant the reasons for his resignation remained a mystery until he came out 1973. The response, he said, was overwhelmingly favorable, so much so that he decided to establish a new gay advocacy group. This new group, the National Gay Task Force (later to become the National Gay and Lesbian Task Force, or NGLTF) would be the first such organization with a truly national scope. According to an article in The Village Voice:
The Gay Task Force will work nationally on gay civil rights legislation and discrimination against gay parents in custody and visitation cases, and will coordinate information from all parts of the country about the progress toward gay civil rights. According to a spokesman for the group, a major coming out of the closet of other well-known people is expected in the near future.
Dr. Bruce Voeller served as its first Executive Director. Other leaders of the new organization included historian Martin Duberman, pioneering activist Barbara Gittings, and Ronald Gold who would had already played a pivotal role in the APA pending delisting of homosexuality as a mental illness later that year.
AIDS a Laughing Matter at the White House: 1982. The very first public mention of AIDS at the White House was not an auspicious one. It was the subject of jokes and laughter between the press and White House Deputy Press Secretary Larry Speaks:
Q: Larry, does the President have any reaction to the announcement ­ the Centers for Disease Control in Atlanta, that AIDS is now an epidemic and have over 600 cases?

SPEAKES: What's AIDS?

Q: Over a third of them have died. It's known as "gay plague." (Laughter.) No, it is. I mean it's a pretty serious thing that one in every three people that get this have died. And I wondered if the President is aware of it?

SPEAKES: I don't have it. Do you? (Laughter.)

Q: No, I don't.

SPEAKES: You didn't answer my question.

Q: Well, I just wondered, does the President ­

SPEAKES: How do you know? (Laughter.)

Q: In other words, the White House looks on this as a great joke?

SPEAKES: No, I don't know anything about it, Lester.

Q: Does the President, does anyone in the White House know about this epidemic, Larry?

SPEAKES: I don't think so. I don't think there's been any ­

Q: Nobody knows?

SPEAKES: There has been no personal experience here, Lester.

Q: No, I mean, I thought you were keeping ­

SPEAKES: I checked thoroughly with Dr. Ruge this morning and he's had no ­ (laughter) ­ no patients suffering from AIDS or whatever it is.

Q: The President doesn't have gay plague, is that what you're saying or what?

SPEAKES: No, I didn't say that.

Q: Didn't say that?

SPEAKES: I thought I heard you on the State Department over there. Why didn't you stay there? (Laughter.)

Q: Because I love you Larry, that's why (Laughter.)

SPEAKES: Oh I see. Just don't put it in those terms, Lester. (Laughter.)

Q: Oh, I retract that.

SPEAKES: I hope so.

Q: It's too late.
If you know of something that belongs on the agenda, please send it here. Don't forget to include the basics: who, what, when, where, and URL (if available).
And feel free to consider this your open thread for the day. What's happening in your world?
LaBarbera Meltdown Over Gay Magazine by Fox News Parent
Jim Burroway
August 25th, 2011
News Corp, the parent company of über-conservative Fox News and the consistently homophobic New York Post, is, more than anything, a media company looking to make a buck. Which might explain why a company that owns a television network that often portrays gay people and causes in a bad light would also launch a magazine celebrating same-sex weddings. Wedding Pride ("The magazine for gay and lesbian wedding planning") launches in September with an initial printing of 35,000 for the New York City area.  Poor Peter "Porno Pete" LaBarbera thinks Fox News has gotten brain cooties from those icky New Yorkers:
"Conservative and faith-based Americans do not look to Fox to promote sin. And yet, every time Fox promotes homosexuality, that's exactly what they're doing; they're promoting bad morality," LaBarbera contends.

According to him, that is the network's trend, as some talk show hosts do not even address the subject. But he argues that neutrality on the issue is not what Fox's constituency deserves.

"I think the problem is Fox News is based in New York City, which is a gay Mecca. That's one of the problems," he suggests. "But, it's this idea [of] sort of going with the media, going with the popular culture."