This you must see
Timothy Kincaid
April 24th, 2015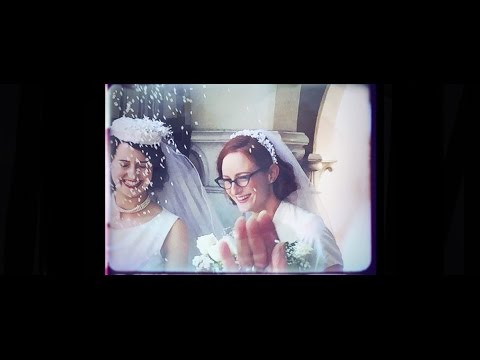 Happy Canada Day
Timothy Kincaid
July 1st, 2014

To our Canadian readers, have a joyous holiday.
Ontario Selects Lesbian as Premier
Jim Burroway
June 16th, 2014
Ontario voters gave the nod to the Liberal Party in the province's parliamentary elections, giving the party a sweeping majority over the Progressive Conservatives and New Democratic Party. This win confirms Liberal leader Kathleen Wynne as Ontario's first woman premier and Canada's first elected openly gay provincial leader.
Ms. Wynne's Liberals utterly dominated Toronto and the surrounding suburbs, and appeared poised to make gains in both. The PCs looked set to lose seats on the back of Mr. Hudak's hard-right platform, while Andrea Horwath's New Democrats made modest gains.

The Grits jumped out to a lead almost as soon as the polls closed and never lost it through the night. Around 9.30 p.m. ET, as it became clear they would win, supporters began to filter into Ms. Wynne's victory party in a downtown Toronto hotel ballroom, where the Premier was expected to speak later in the evening. They burst into a sustained, minute-long cheer at 10 p.m. ET when it was obvious Ms. Wynne had won a majority.
The Globe and Mail describes Wynne's victory as a dramatic come-from-behind win, with her wife, Jane Rounthwaite, at her side every step of the way. She had become Premiere in February of 2013 after the resignation of her predecessor, Dalton McGuinty and she became the new party leader. The Liberal Party had been ruling as a minority party until the NDP rejected the 2014 Liberal Budget, a move which triggered new elections.
LaBarbera heads back to Chicago
Timothy Kincaid
April 15th, 2014
The Gazette is reporting that Peter LaBarbera has been released from custody and, in agreement with Canadian border control, has decided to call his stay short and return to the States.
An American anti-gay and pro-life activist has decided to voluntarily cut his visit to Saskatchewan short following another run-in with the Canadian Border Services Agency.

Peter LaBarbera was questioned by CBSA Tuesday morning in relation to his arrest at the University of Regina on Monday.

The Regina Police Service held LaBarbera in custody overnight at CBSA's request, said police spokeswoman Elizabeth Popowich in an email Tuesday morning.

LaBarbera had been initially denied entry to Canada on April 10 under hate speech laws. He appealed and won, under the agreement he would leave the country by April 17.
It seems that he had scheduled to visit another university today, but decided that the martyr thing was more fun in theory than in practice.
LaBarbera arrested in Canada
Timothy Kincaid
April 15th, 2014

Much to Peter LaBarbera's disappointment, Canada allowed him to enter the country. It didn't stop those who are part of the anti-gay industry to rant about how The Peter was languishing in jail, despairing but resilient, but his brief detainment for review just didn't have quite the impact he was hoping for.
However, the police in Regina, Saskatchewan, obliged The Peter in arresting him and finally awarding him the martyrs crown that he so desperately sought. (CBC)
U.S. anti-gay activist Peter LaBarbera and a Saskatchewan man were arrested on the University of Regina campus on Monday and will be charged with mischief, police said.
…
At one point, with news cameras rolling, an unidentified university official approached Whatcott, 46, and LaBarbera, 51, and asked them to leave. During that encounter, Whatcott said he had attempted to get permission to set up an information table and, since he was denied, proceeded to set up a table anyway.

"I'm not leaving," Whatcott told the official, "You guys are intolerant and should be ashamed of yourselves for shutting down our message without even considering it."

A short while later, several Regina police officers arrived and Whatcott and LaBarbera were handcuffed and taken off campus.
I'm not sure what other option the police had; clearly The Peter and Whatcott were violating an legal request to leave. However, I think the university would have been wiser to let him stand there with his smutty pictures and his vile positions and ignore him.
And the school could probably have done without the following statement, which appears to have been made without the slightest registration of the inherent irony.
"We are a diverse campus, we are a welcoming campus," Tom Chase, one of the vice presidents of the university said. "We celebrate that diversity and our staff felt that the material and some of the things they had with them simply contravened that policy and we asked them to leave."
The school is certainly within its rights to deny a public spectacle. But it's an unfortunate decision when an institution of learning chooses to define "diversity" in such a way as to limit viewpoint or restrict perspective.
LaBarbera will now be questioned by border officials and is scheduled to appear in court on mischief charges on May 26.
UPDATE:
It appears that the t shirt The Peter is wearing says:
NO to HATE CRIMES Against CHRISTIANS who Disagree with HOMOSEXUALITY
and has the picture of Mary Stachowicz, who was murdered in 2002 by a deranged young gay man whom she had been harassing. Because martyrdom.
LaBarbera detained in Canada (Updated)
Timothy Kincaid
April 11th, 2014
Peter LaBarbera of the ironically named Americans for Truth about Homosexuality was scheduled to participate in the Saskatchewan Pro-Life Association this weekend. I'm not sure what Canadian pro-life has to do with American homosexual truth, but this event appears to be a gathering of the religiously disgruntled and The Peter definitely fits in that crowd.
However, something called Intolerance Free Weyburn initiated a complaint to have him barred from entry to Canada. And The Peter is reporting that it worked. (AFTAH)
After questioning me about the purpose of my scheduled presentation at the SPLA event; rifling through my luggage, which contained numerous books and literature related to homosexuality (pro and con); examining the contents of my laptop and my cell phone; playing a DVD of my speech Wednesday at Sinclair Community College in Dayton, Ohio; and critically viewing AFTAH's website–a preliminary decision was made to deny my entrance into Canada on the basis that my speech at the SPLA would violate Canada's "Hate Propaganda" law (essentially the potential for "public incitement of hatred" against a group of people based on their "sexual orientation"). The Orwellian experience at Customs dragged on for more than three hours as a formal document was issued outlining my denial of entry under Canada's Immigration and Refugee Protection Act (citing the Hate Propaganda code). Finally, after 1:00 A.M., I was released pending my appeal of the decision today (Friday). My passport was seized until I arrive back at Customs today at noon for my appeal before a "Minister's Delegate Review."
I favor freedom of speech. And while I have no say in how Canadians choose to structure their society, I do hope that the US does not go down the road of silencing the voices of those who do not fit current social or political norms.
But irrespective of Canada's laws, this was not a wise choice.
Peter LaBarbera was scheduled to go talk to people who already agree with him. And should his presentation ever reach those who were not already convinced of the evils of Teh Ghey, that can be a good thing. After a few minutes of The Peter, most decent souls feel a compulsion to wrap themselves in a rainbow flag and march for marriage equality.
This move accomplishes no real tangible advance for our community. It merely feeds the narrative that anti-gay activists are weaving about how homofascists are trying to shut them up and how True Christians are under attack. It gives a physical example to rally around. And for someone who knows nothing about the Peter, he does come across as the sympathetic character in the situation.
Already fellow travelers have taken up the cause of portraying The Peter as a victim of oppression. Over at Matt Barber's BarbWire, Laurie Higgins is wailing about how he was "detained by the Canadian thought police who searched his luggage, computer, and phone" (though I'll give her credit for spelling my name correctly).
And though LaBarbera's undoubtedly elated about his ability to now wear the marty's suit, it must have been a harrowing experience. And since then, I'm sure that he's been bored, stuck waiting for a response to his appeal.
But fortunately The Peter brought "literature related to homosexuality" and if he's been afforded any privacy, I'm sure that the selections from his vast collection of gay porn have been put to good use.
In his ongoing efforts to document the seedier side of gay life.
Update by Jim B: LaBarbera says they're letting him in after all.
Ugandan TV: Canada Threatens to Cut Ties
Jim Burroway
February 19th, 2014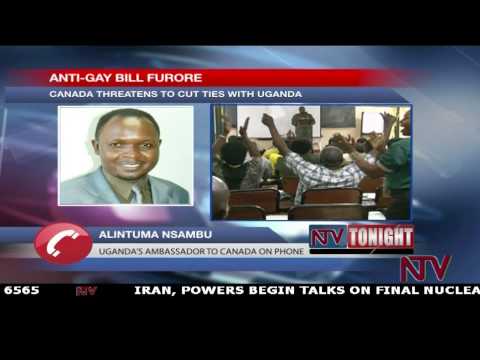 The Canadian government has threatened to cut diplomatic ties with Uganda if the Anti Homosexuality bill is signed into law. Ugandan Ambassador Alintuma Nsambu says he was summoned on Monday by the Canadian Foreign Affairs Minister to explain why Canada should not take that step. Nsambu says if signed, several western countries could isolate Uganda.
Canadian Ex-Gay "Shock Doc" Therapist Sentenced To Prison For Sexually Assaulting Patients
Jim Burroway
February 5th, 2013
Aubry Levin, 74, a South African national who relocated to Calgary, Canada in order to resume his ex-gay therapy in the post-Appartheid era, has been sentenced to five years in prison for fondling his male patients. His wife, Erica, was also charged with "defeating the ends of justice" for trying to bribe a juror in her husband's case.
"Your patients came to you for help. Instead, you were responsible for creating more problems. This was a horrible violation of trust," court of queen's bench Justice Donna Shelley told Levin during sentencing.

Levin was found guilty on three of nine charges against him. His Canadian offences came to light in March 2010 when the original complainant showed two videos, taken on a spy camera, which showed Levin fondling his genitals.
Longtime BTB readers may recall that when Levin was first arrested in 2010, his work for the South African military during the apartheid era drew considerable attention. In the 1980s, electric shock therapies had mostly come to an end throughout the world, but it was still employed in apartheid South Africa right up until the fall of the regime. Levin was one of the more notorious practitioners in South Africa , so much so that he was known as "Dr. Shock":
Among the allegations levelled at Levin was that he used severe electric shocks as part of "aversion therapy" that was supposed to "cure" homosexuals. "Political deviants" who refused to bear arms in the apartheid forces were also referred to Levin, who commanded the major psychiatric wing of the military hospital at Voortrekkerhoogte in Pretoria and rose to become the apartheid government's head of mental health.
Levin fled South Africa just before its transition to democracy, and settled in Calgary where he became a Canadian citizen. He refused to testify before South Africa's Truth and Reconciliation Commission, where it was alleged he had been guilty of gross human rights abuses. According to South Africa's The Daily Maverick:
Ward 22 of 1 Military Hospital at Voortrekkerhoogte, near Pretoria, was where he operated. That's where suspected gays in the army were sent to Dr Aubrey Levin for "treatment". Levin was positively evangelical about curing homosexuality: in 1968 he wrote to Parliament asking to address its members on potential changes to the laws on homosexuality, noting that he had "treated many homosexuals and lesbians and enjoyed some measure of success in therapy."

This "therapy" took the form of drugs, electro-shock therapy and hormone treatment. For those who didn't show signs of responding, it is claimed that chemical castrations or sex-change operations were in store. Most of Levin's patients were young, white and male, and they were referred to him by military officers, chaplains and doctors.
Once settled in Canada, Levin became an expert witness, performing court-ordered psychiatric assessments of convicted offenders awaiting sentence.
According to press reports at the time of Levin's arrest, a 36-year-old former patient had been accusing Levin of sexually abusing him, but he couldn't get authorities to believe him. The break came when the patient went to an appointment with a hidden camera in order to obtain evidence. The videos, which were played in court during the trial, showed Levin undoing the man's belt and jeans and appearing to fondle him. The patient, identified only as R.B. in court, was on probation and had been ordered to see Levin twice a month. Two other accusers were also patients of Levin's while under court order.
A support group of former patients has been established online.
Gay man helms Canada's largest Protestant church
Timothy Kincaid
August 17th, 2012
In a historic vote, the United Church of Canada has elected its first openly gay moderator.

After six ballots and nearly eight hours of voting at the Church's 41st general council in Ottawa on Thursday, Rev. Gary Paterson emerged from a record field of 15 candidates to win the top job at Canada's largest Protestant church. He is thought to be the first openly gay person to head any mainstream Christian de-nomination.
Canada corrects divorce snafu
Timothy Kincaid
February 17th, 2012
Back in January there was ten seconds of panic when it appeared that the Conservative government might seek to invalidate same-sex marriages of non-Canadians. It proved to be either confusion or naive zealousness on the part of a government lawyer and not some plot on the part of Steven Harper and the Conservative leadership to undermine marriage equality.
As it turned out, the problem arose because Canadian law allows for non-residents to marry in Canada, but not divorce. This isn't generally a problem as divorce isn't exactly a destination-based activity ("no honey, let's get divorced on a beach in Hawai'i") and tend to file papers where they live. But same-sex couples who live in locals that don't recognize their marriages were left in a strange limbo, married in some places, single in others, but unable to divorce anywhere.
The government promised to fix the legal glitch and confirm that they do recognize Canadian weddings between same-sex foreigners. They have now submitted a bill to do that.
According to the Vancouver Sun, Justice Minister Rob Nicholson stated that the bill was presented to fix "an anomaly in our civil-marriage laws" and that it would validate the marriages in question and that Canada would allow non-resident same-sex couples to divorce if the were married in Canada and unable to divorce in their place of residency.
All Canadian Marriages Declared Legal and Valid
Jim Burroway
January 13th, 2012
The Globe and Mail today reports that Canada's Justice Minister Rob Nicholson has reiterated that all marriages in Canada are "legal and valid," and will be regarded as such even for non-resident couples who live in areas where same-sex marriage isn't recognized.  Nicholson, a Conservative, laid the blame on the the predecessor Liberal government for the "legislative gap" which he said left thousands of same-sex couples in the lurch. A government lawyer in a divorce case noted that Canada's law does not provide for divorce for couples who do not meet residency requirements. But that filing appeared to go further by declaring that the couple's marriage itself was not valid because they lived in Florida and England, two places which do not recognize same-sex marriage.
Nicholson said that the Civil Marriage Act will be changed to eliminate the "legislative gap" in how Canada handles divorce cases. It's unclear how long it will take for the law to be changed and what impact that has for same-sex couples in the meantime.
Canadian Marriages Invalid? Ctd.
Jim Burroway
January 12th, 2012
News cycles sometimes get mighty short. We opened this morning with the startling news that a lawyer for the Canadian government filed documents in a divorce case of a non-Canadian lesbian couple contending that their marriage is invalid because it isn't legally recognize where they live. The couple was married in Canada, but live in Florida and England, neither of which recognize same-sex marriages.
Now the Conservative government of Stephen Harper is making noises that it will "clarify" the laws on same-sex marriage. The Globe and Mail now reports that Justice Minister Rob Nicholson has backed the claims in the court filing, saying that Canada has no jurisdiction over the divorce despite the fact that the couple wed in Toronto in 2005. But he added, "I will be looking at options to clarify the law so that marriages in Canada can be undone in Canada."
Other Canadian leaders have denounced the government lawyers' position, calling it a global embarrassment for a country that prides itself for being on the forefront of human rights. Liberal leader Bob Ray called the position "illogical" and "ludicrous." Harper said, "We have no intention of further re-opening or opening this issue," although it must be said that if the Justice Department lawyers' position is backed by his government, than Harper has reopened the issue whether it was his intention to or not.
The federal government's position does not yet have the force of law. At this point it is only an argument before a judge, who has yet to issue a ruling. But it has already sparked a political controversy in a country where about two-thirds of its citizens support equal access to marriage.
Canadian marriages invalid?
Timothy Kincaid
January 12th, 2012
A document filed in Canadian court by the federal government seems to argue that the governemt's position is that out-of-nation same-sex marriages are invalid. The Globe and Mail identified documents filed in the divorce case of a lesbian couple who resided in Florida and England, neither of which recognize same-sex marriages.
The position, which seems to have taken Conservative Prime Minister Steven Harper by surprise, in addition to being aggressive and pointless, introduces an issue that Harper insists isn't on the Conservative agenda and is not likely to well serve the image of his government. A poll taken last July found that 61% of Canadians wish to keep legal equality
The courts have yet to weigh in on the matter (but are rather unlikely to weaken equality). And in response to the brouhaha resulting from the Globe and Mail's report, I think it likely that the Harper government will soon 'clarify' that marriages are not invalidated based on their legality in other nations.
UPDATE:
GLAD, the ACLU, Freedom to Marry, NCLR, and Lambda Legal issued a joint statement encouraging gay couples not to worry.
No one's marriage has been invalidated or is likely to be invalidated. The position taken by one government lawyer in a divorce is not itself precedential. No court has accepted this view and there is no reason to believe that either Canada's courts or its Parliament would agree with this position, which no one has asserted before during the eight years that same-sex couples have had the freedom to marry in Canada.
A truly misguided ruling
A Commentary
Timothy Kincaid
January 14th, 2011
The Canadian Broadcast Standards Council has its collective head up its collective butt. (Rolling Stone)
The Canadian Broadcast Standards Council has ruled that "Money for Nothing," a Dire Straits hit from 1985, is too offensive for Canadian airwaves. The song is being singled out for the repeated use of an anti-gay slur — "that little fagg*t" — in its second verse.
The little fagg*t with the earring and the makeup
Yeah buddy, that's his own hair
That little fagg*t got his own jet airplane
That little fagg*t he's a millionaire
Now there is no doubt whatsoever that the lyrics of this song are sexist, racist and homophobic. But the important matter is whether the song celebrates these attitudes or mocks them.
The song narrator is a appliance store delivery man who is resentful of the rock stars he sees on MTV who "ain't working" but are "banging on the bongos like chimpanzees" and have "the earring and the makeup" and who get their "money for nothing and their chicks for free." And the lyrics are based on direct quotes from one such guy in a New York appliance store who Mark Knopfler overheard making some of the exact comments, grabbed a pencil, and scribbled down.
But along with the resentment is envy and regret, the acknowledgment that he didn't "learn to play the guitar" and he doesn't have his own jet airplane and he isn't a millionaire. And, as the song was, ahem, heavily played on MTV, it shouldn't take genius to figure out that the musicians were singing about the attitudes of the people who derided and hated them.
When I first hear Money for Nothing, the "fagg*t" language was jarring… until I finally realized that the protagonists lyrics answer himself, are a reminder of what his own bigoted values have given him. His choices have led him to hauling refrigerators and installing microwave ovens.
But I guess the Very Serious People at the Canadian Broadcast Standards Council just don't get irony or sarcastic social commentary. So no more "I want my, I want my, I want my MTV".
Alberta, Canada Shocked To Learn Homosexuality No Longer A Mental Disorder
Jim Burroway
December 22nd, 2010
The American Psychiatric Association determined some thirty-seven years ago that homosexuality was not a mental disorder. Things move much more slowly in Alberta, Canada, where the province's public health service finally removed homosexuality from its official diagnostic guide.