Lawrence sodomy case was sexless
Timothy Kincaid
March 7th, 2012
What if John Lawrence and Tyrone Garner were innocent? What if the men arrested in Lawrence v. Texas, the case that found that gay couples had the right to intimate expression of their relationship were not in a relationship, not a couple, and had never intimately expressed anything to each other.
And that is what Dale Carpenter claims in Flagrant Conduct, his new book covered in a well written and informative New Yorker review (I've not yet read Carpenter's book but anticipate that it will be fully enjoyed). The two men arrested for anal sodomy never had sex.
I expect that anti-gays will triumphantly declare this to be "an admission" that it was all contrived, a "hoax". It wasn't, but that's beside the point.
I think it is appropriate that Texas' sodomy laws were overturned in a case of non-sodomy. That wasn't why they existed (and still exist) on the books.
Sodomy laws morphed with the times. When sodomy was a crime against nature by two men, it was a punishable crime. But when society came to recognize that it was not "two men"l in general but rather a distinct class of people, they took on a different role.
Now their purpose was placing and keeping gay people in an inferior social and legal position. They did not criminalize sex, they criminalized identity.
That is one reason it was so difficult to have them challenged. Arrests were extremely rare. The threat of arrest and the classification of a group of people as inherently criminal provides few victims in the eyes of the court.
In fact, Lawrence and Garner we're not really arrested for sex, though some officers imagined that they saw sex occurring. But it was the setting – the erotic art, the clearly gay men – that gave these officers enough 'proof' of a crime. Their biases provided the rest.
So it is only fitting that sodomy laws, the legal prohibition on being gay, was decided on a case in which it was that status, rather than sex acts, was the cause of arrest.
India's Supreme Court affirms decriminalization of homosexuality
Timothy Kincaid
February 16th, 2012
UPDATE: strike all below. They have not made a decision, this was just the direction of their questions.
There has been, for some years, increased tolerance and acceptance of sexual minorities in India. The largest break-through was in 2009 when the New Delhi High Court found that sodomy laws were unconstitutional and the government chose to apply that ruling to the nation as a whole.
In response some religious and other organizations and individuals petitioned the Supreme Court to overturn the ruling. Today the court confirmed the decision of the New Delhi High Court and officially ended the nation's ban on homosexuality.
The justices took an interesting approach, pondering the meaning of Section 377 of the Indian penal Code which prohibits "carnal intercourse against the order of nature". In an age of invitro fertilization and surrogacy, they decided that banning same-sex expression as being against the order of nature made little sense. And referring to sculptures of Khajuraho, they determined that gay sex was not originally an offense to Indians, but that the laws prohibiting it were colonial imports from Britain.
Bryan Fischer Wants To Put Everyone In Jail
Jim Burroway
October 14th, 2011
At least he's not just picking on gay people: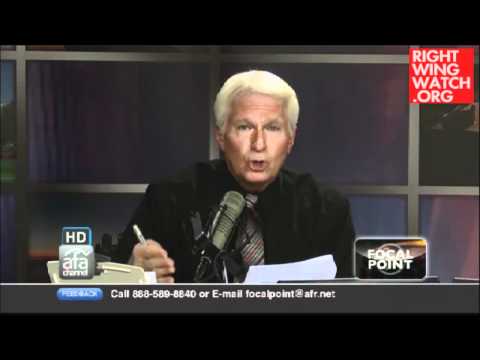 These are behaviors that can be made illegal, and should be made illegal: those who strike their fathers and mothers, for murderers, the sexually immoral – that means it's perfectly appropriate to have laws against what the law calls fornication, absolutely appropriate to make that illegal; men who practice homosexuality, perfectly permissible – in fact, we're directed, we're told in the Scriptures that it's a good idea, this is the purpose of the law, it's for the lawless and disobedient to engage in homosexuality – it's perfectly appropriate for that kind of behavior to be against the law.
CO Civil Unions Defeated In House Committee
Jim Burroway
April 1st, 2011
The crazies came out again in Colorado last night to defeat the Senate Bill 172, which would have provided Civil Unions and other protections for LGBT Coloradans. The bill died in the committee on a 6-5 strict party-line vote. All Republicans voted no, including Rep. Brian DelGrosso (R-Loveland) whose uncle is gay. "It was tough," said DelGrosso. As tough as it is for his uncle?
Rep. B.J. Nikkel (also R-Loveland), after voting no herself, thanked members of the committee and the bill's sponsor for "a very thoughtful, civil dialogue about the issue of civil unions." That "civil dialogue" not only included the "anus lady," but last night featured the testimony of Paul Cameron.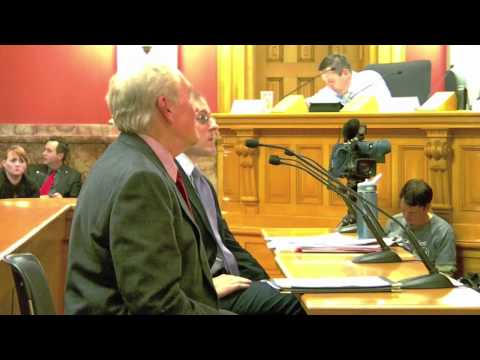 To give you some perspective about where Cameron gets these crazy ideas, as recently as five years ago, the head of the Eastern Psychological Association publicly denounced Cameron for fraudulently passing off a paper he wrote as having been presented before the assembled association at a meeting in Philadelphia. Cameron has been removed from the rolls of the American Psychological Association for ethical violations in his fraudulent "research", and his he has also been denounced by the Nebraska Psychological Association, the American Sociological Association (twice), and the Canadian Psychological Association, all for consistently misinterpreting and misrepresenting research on sexuality, sexual orientation, and the gay community.
You would think that were bad enough, but it gets worse. In a March 1999 edition of his newsletter, Cameron wrote glowingly of how the Nazis "handled" homosexuality. Specifically singling out the policies of Rudolf Höss, the mastermind behind Auschwitz. This echoes what Cameron said in 1985 at a CPAC conference, in which he proclaimed, "Unless we get medically lucky, in three or four years, one of the options discussed will be the extermination of homosexuals." Cameron's manifesto calls for the recriminalization of homosexuality and the denial of private domestic partner benefits to anyone who is HIV-positive. He would ban LGBT people from teaching or working at schools or day care centers, and mandate that all course material present homosexuality as "a public health hazard."
To the shame of Coloradans everywhere, arguments like Cameron's carried the day.
Update: ThinkProgress has more audio.
Montana House Blocks Attempt to Decriminalize Homosexuality
Jim Burroway
March 30th, 2011
The Montana House last night shot down an attempt to remove the state's law making consensual gay sex illegal. Even though laws like Montana's was struck down by the 2003 U.S. Supreme Court decision Lawrence v Texas, Montana lawmakers in the house moved to preserve the unconstitutional law yesterday:
The motion by Rep. Diane Sands, D-Missoula, to blast Senate Bill 276 out of the House Judiciary Committee, received 51 votes in the 100-member House but failed to secure the 60 votes needed. The vote was 51-47.

The Senate passed SB276, by Sen. Tom Facey, D-Missoula, 35-14, but the House Judiciary Committee tabled the bill.

Before the court ruling in 1997, gays and lesbians in Montana risked being charged with felonies and if convicted, they could have faced a maximum penalty of a 10-year prison sentence and a $50,000 fine, said Sands, a lesbian.
Incredibly, this was the reason given for the law's retention:
Judiciary Chairman Rep. Ken Peterson, R-Billings, who is an attorney, said the Supreme Court didn't find the law unconstitutional.

Its ruling held that same-sex adults, in private, not-for-commercial purposes, are protected by the right to privacy, Peterson said. The court didn't say the law was unconstitutional, he said.

"It should not be repealed because of situations it might apply in," he said.
In other arguments to keep the law, Rep. Michael More, R-Gallatin Gateway, reportedly cited Scripture, natural law and "eternal law."
Montana's confusing day
Timothy Kincaid
February 23rd, 2011
The legislature in Montana has been having a lot to say today about gay folk. And it's all over the place.
The Senate decided to remove the unenforceable anti-gay language from their books: (Gazette)
The Montana Senate has voted to remove an obsolete state law that criminalized homosexual relations.

The state Supreme Court struck down the law in 1997. Senate Bill 276 would remove the language from state code.

The Senate endorsed the bill Wednesday 41-9.
While the House voted to reverse any municipality's LGBT non-discrimination ordinances.
Montana GOP lawmaker seeks to repeal anti-gay law
Timothy Kincaid
September 20th, 2010
Back in June we, along with many others, noted that the platform of the Montana Republican Party included this position:
We support the clear will of the people of Montana expressed by legislation to keep homosexual acts illegal.
As it turns out, this was a position that had sat in their platform since 1997 and no one really noticed that it was there. But the attention proved to be embarrassing to some in the party. (AP)
"I looked at that and said, 'You've got to be kidding me,'" state Sen. John Brueggeman, R-Polson, said last week. "Should it get taken out? Absolutely. Does anybody think we should be arresting homosexual people? If you take that stand, you really probably shouldn't be in the Republican Party."
Revising the Party platform requires a process involving committees and conventions and cannot happen over night. However, this has prompted Brueggeman to take action where he can. He is going after the defunct sodomy law that, though unenforceable, still sits on the Montana law books. (Bozeman Daily Chronicle)
State Sen. John Brueggeman says he is requesting a draft of a bill to strike down the law. The bill would be considered by the 2011 Legislature, which convenes in January.
…
The Polson Republican has criticized the GOP platform statement. He now says Montana shouldn't have such a discriminatory law, even if it can't be enforced.
I guess a little embarrassment can be a motivator.
The Peter's wackadoodle school exposed
Timothy Kincaid
August 11th, 2010
Last weekend Peter LaBarbera and a host of wackadoodle anti-gay activists held a three day seminar to teach young recruits how to demean, disparage, and fraudulently portray gay people. Hemant Mehta, the Friendly Atheist, sent in two infiltrators to report on Peter's nonsense.
They provide some interesting information about the speakers and the audience:
Quite honestly, I found that many of these people were not "hateful" in the sense that they don't actively wish LGBT people harm. They truly believe that if homosexuals would only live the lifestyle and hold the beliefs they themselves hold, those homosexuals would go on to live richer, more fulfilling lives. I experienced many of those attending the conference to be kind, concerned individuals.
…
By my count, around 45 people attended the conference on any given day. That's including the speakers and the families of the speakers, so actual attendee numbers on any given day were lower, and some new attendees were there on Friday and Saturday. Of the people attending, a large majority were older. On the first day there were only around five people attending who looked to be under the age of 30.
Also present are synopses of the speakers' views. For example, this is from a group session:
Barber: We should not be politically correct. It's natural for gays to be reviled. It's important to focus on the health risks of homosexuality, but we need to be aggressive and unapologetically loving.

Quinlan: If you Bible-thump or talk about sex, it turns pro-gays off. If you give them the science, you sound like somebody in authority and they don't know how to respond to that.

Goldberg: We need to use the term "homosexual" instead of "gay" because it has a more negative connotation. No one is gay; they're only "gay identified."

Kincaid: This issue of homosexuality affects you because gays are demanding to give blood. The hemophiliacs are outraged by the homosexual lobby saying they have a right to give blood. They want to force themselves into the blood supply in a callous and arrogant manner. Mothers need to speak up. Mothers, your children are at risk!

Quinlan: The church has to be involved in politics. Politics are dirty. Our Founding Fathers were all religious men. They weren't all just deists. They were Bible-believing men. We do have the truth and the truth is this: a family is made up of a mother and a father because it takes a mother and a father to raise a child.

Higgins: Parents need to remove their children from public schools. Even after doing that, they need to make law changes because our taxes go to the public schools. When we are silent on this issue, we teach our children through role-modeling to be cowardly conformists. We bequeath a legacy of much greater oppression to our children and our grandchildren. At least I can say to my children that I did everything I could.

Lindevaldsen: We need to work to completely eliminate public schools — government schools — and push a Christian/Biblical model of educating our children

Sorba: We need to unify behind common winning talking points. Boycott the term "gay." They are in no way attached to any kind of identity because it's not an identity. They're not functioning in accord with their design. We need to repeat over and over and over again that there is no scientific evidence that people are born gay. There is no study that proves causation. Psychiatrists need to reclassify homosexuality as a mental disorder.

LaBarbera: "Born gay" evidence is unreliable. There was once a pro-gay activist yelling as loud as he could that I was a maniac who wanted to kill gay people. This shows how unstable these guys are.

Sorba: Genes code for proteins, not for behaviors. The "born gay" thing is a debate that we're definitely going to win. Nobody's a meat puppet dangling from the strings of the chemical reactions of their brain. It's letting your emotions rule instead of your reason. It's a debate about if you're able to define reality vs. your ability to intellectually understand the reality of world around you. We should be able to argue for the re-criminalization of sodomy and overturn Lawrence v. Texas — the punishment would just be a fine. It would inhibit gay night clubs from springing up where AIDS is spread. It'll inhibit pornography. We need to go on the offense. Then we know we're gonna win. You're not born gay; it's a vice. These people need help.

Barber: The reality of ex-gays poses an enormous threat to the homosexual movement. Their entire argument hinges on the immutability of homosexuality.

LaBarbera: [Discussing LGBT protesters] They come there with their hateful signs; this is the level of fanaticism we're dealing with. It's just as hard to convey how radical the movement is as how bad the behavior is.

Barber: At gay pride parades, they have sex in the street in front of children.

Kincaid: Left-wing student groups are leading boycotts of blood drives, because they're "discriminatory." This movement is expanding. If this keeps getting bigger and bigger, we are going to face a shortage of blood. It's extortion. I remember when AIDS happened. I remember covering this. You have to be older to understand what was happening at this time. I really don't think a lot of the young people today remember the panic and catastrophe that enveloped the nation because of AIDS. They don't understand how it developed. They don't understand the devastation. We need to educate the young people about this disease as well as new-and-potentially-just-as-deadly diseases that may not be being detected currently through blood tests. It's not a matter of discrimination. It's a matter of life.

Sorba: Of course romantic attraction can happen between any two people, but the question is whether it adheres with the "Good." A thing is Good insofar as it helps actualize the potential for humanity. Man is a rational animal. His final end is to know God and truth; truth means correlation with reality. Absent truth, what's the point? Absent correspondence with reality, what are we doing here, dreaming? If Eros is the thing by which you define the Good, a man leaves his wife and kids in the name of "love." Love is not the supreme decision maker for us. The Good is.
Go check out the multi-page report. It is well worth reading
Lou Engle's Uganda Sermon Endorses Country's "Stand for Righteousness"
Jim Burroway
June 23rd, 2010
TheCall's Lou Engle has been trying to have it both ways in addressing questions of whether he supports Uganda's draconian Anti-Homosexuality Bill. These questions were especially pertinent when it was announced that Engle would be putting on one of his TheCall rallies in Kampala last May. Engle issued a statement denying that he was going there to promote the bill.
We then learned through multiple sources that he had, in fact, promoted the bill at the rally. He was surrounded on stage with key supporters of the bill: Pastor Julius Oyet; the bill's sponsor, MB David Bahati; and Ethics and Integrity Minister James Nsaba Buturo. Engle later issued another statement saying he regretted promoting the bill at the rally, but in contradiction to eyewitness accounts, Engle protested that the bill's promotion took place after he left.
Current TV's Vanguard reporter Mariana van Zeller's outstanding documentary, "Missionaries of Hate," explored the relationship between American Evangelicals and the rising anti-gay campaigns that have been taking place in Uganda over the past year. Engle's TheCall Uganda appeared briefly in that documentary. Today, Mariana posted an extended clip of what Engle said at that rally.
And I went through a personal wrestling in my own heart whether we should come here and join you. We know that Uganda has been under tremendous pressure in the church. We felt that same pressure. But I felt like the call was to come and join with the church in Uganda to encourage you, that in the nation you are showing courage to take a stand for righteousness in the earth. [Applause]

Jesus is a merciful savior today for everyone trapped in sin. But he is also the architect of society and the great governor of the universe. Establish marriage between a man and a woman from the beginning so that society would be preserved and read right and it would be for the well-being of the children.

And so we've come here to join you to pray that your government would have wisdom to uphold righteousness in this land. We are restraining, trying to restrain an agenda that's going to hurt the nation and hurt families. Right now that homosexual agenda is sweeping into our education system, and parents are losing their rights over the education of their children. I believe there's only one hope. Help us God! Help us! But I believe Uganda has suddenly become ground zero, not because they asked for it, but God brought you to make a statement and a stand for righteousness.
Keep in mind, Engle said this right after Oyet took the stage to call for the bill's passage, and Engle was immediately followed by Buturo, who also called on the Parliament to pass the bill. It's no surprise that Oyet and Bahati left the rally ecstatic in the belief that they had Engle's full support. I don't see how anybody watching could have walked away from the rally with any other conclusion. Engle fully supported the bill, and that his support was so strong that he he felt that "the call was to come and join with the church in Uganda to encourage you."
And now we have Engle's more recent statement saying he supports criminalization. The only thing he criticize now is the death penalty. But even there, he believes that the death penalty is biblically sound. That's not exactly a rousing denunciation. Not nearly as rousing as the full-bore, no-exceptions support he gave to the people of Uganda.
Uganda's latest American kill-the-gays bill supporter is now in St. Louis, where he has been speaking nightly at the Gateway House of Prayer on S. Lindbergh Blvd. in the western St. Louis suburb of Rock Hill. He will be speaking every night through July 12.
Lou Engle Supports Criminalization of Homosexuality
Jim Burroway
June 22nd, 2010
Lou Engle, the Dominionist evangelical preacher behind TheCall, has confirmed more or less what Uganda MP David Bahati told author Jeff Sharlet: That Engle supports Uganda's Anti-Homosexuality Bill – at least some form that is similar to the one that is currently under consideration.
Sarah Posner, author of God's Profits: Faith, Fraud, and the Republican Crusade for Values Voters
, posted an interview she conducted with Engle for the Religion Dispatches web site. In this exchange, Engle denied knowing MP David Bahati (the bill's sponsor) or Julius Oyet, who appears to be a major behind-the-scenes player in promoting the draconian bill in Uganda, and he denied supporting the bill when meeting with Uganda's Ethics and Integrity Minister James Nsaba Buturo. But he also said that "we appreciated the two guys [Bahati and Oyet] whose hearts were to bring forth a principled bill."
Posner asked a series of questions specific to the bill. Engle denied supporting the death penalty provision, although he believed that there was a biblical basis for having one under certain circumstances. She also asked what other provisions in the bill he didn't support:
I pressed him about which penalties in the bill he didn't support — and he did say that although he could see someone supporting the death penalty, he did not, and he did not support "hard labor" as punishment or the requirement that churches report LGBT people to the authorities. But when I asked him if he would support a bill with less harsh penalties, he added: 

My main thing is to keep — is to not allow it to be legalized, so to speak, so then it just spreads through the legal system of the nation. So I'm not — I'm not making a statement as to what I think the penalties should be. It's not my job to do that. I do think, I do think that these leaders are trying to make at least some kind of statement that you're not just going to spread the agenda without some kind of restraint, a legal restraint and punishment. And I don't know what the line is on those, but I can't go that far as I understand that bill already said. [emphasis mine]

Engle admitted that his praise for the bill's supporters' "principled stand" might have led them to believe that he supported the bill. Although he insisted he did not support the bill as written, "I did support the principle of a nation saying, restraining it from coming into their nation." He then went on to maintain that because homosexuality hasn't been "restrained" in the United States, "I don't think it's going to be good for the nation, it sweeps into the education system, and the church is going to end up losing its privilege to have its own voice. Gender rights, will trump religious rights. I think it's wrong, it's not good for society. Those are the statements I came with, so frankly I was quite surprised to be thrown into this huge controversy."
According to this interview, it appears that Lou Engle's position on Uganda's proposed Anti-Homosexuality Bill is virtually identical to that of Holocaust revisionist Scott Lively. Lively, too, says that he doesn't support the death penalty, but he finds the rest of the bill acceptable. Lively has called the bill "a step in the right direction" several times. More recently, he told Current TV's Marianna van Zeller that passage of the bill would be "the lesser of two evils." When asked whether that endorsement includes the death penalty, Lively had to struggle with that option for quite a long time before finally deciding that he still doesn't support it, even as the "lesser of two evils."
Engle now appears to hold the exact same position as Lively.
Lies and death, brought to you by corporate advertising
Timothy Kincaid
April 1st, 2010
In February, we shared with you a video by Molotov Mitchell in which he defended Uganda's Anti-Homosexuality Bill. Mitchell endorsed the idea of executing gay people and called the Ugandan bill "more American than Americans".
Make no mistake, Mitchell would delight to have homosexuality recriminalized in the West and would have no problem with death as the punishment. Because, as he says, God makes the rules and Jesus didn't abolish the Old Testament.
But calling for the execution of gay people doesn't sit comfortably with most Americans, even those who are socially conservative. So Mitchell is back with a new video, one in which he clarifies which gay people should be hanged at dawn.
And to do it, he lies about the Ugandan Anti-Homosexuality bill. Mitchell claims to have read the bill and tells us that it is limited to three things: intentionally spreading HIV, child molestation, and coercion. Either he has never read the bill, is just lying about its contents, or he is a blithering idiot without any ability to comprehend simple English. (Unlike Mitchell and every other supporter of the bill, we provide it so that you can read for yourself).
But this time, Mitchell's endorsement of executing some gay people is funded by corporate advertising. Depending on when viewed, Mitchell's call for death is preceded by an advertisement encouraging you to buy Dell computers or French's fried onions or search the internet on Bing (or perhaps even others).
Those who wonder why Bing, Dell or French's would pay for propaganda designed to justify and deceive about the criminalization and execution of gay people can inquire with those companies by calling:
Reckitt Benckiser (French's) USA: (973) 404-2600
Dell: (512) 338-4400
Microsoft: (800) 518-5689
Our international readers may wish to find their own local number for Reckitt Benckiser here.
I don't know much about French's, but Dell and Microsoft pride themselves on their inclusive diversity programs.
Family Research Council's Peter Sprigg Wants To Throw You In Jail
Jim Burroway
February 2nd, 2010
Don't believe me? Then check this out:
Peter Sprigg was on Chris Matthews's Hardball to talk about "Don't Ask, Don't Tell," the ban on gays in the military. Sprigg, of course, is against ending the ban. But skip ahead  to about the 8:15 mark, and you can see what Sprigg really wants to do:
MATTHEWS: Let me ask you Peter, do you think people choose to be gay?

SPRIGG: Uh, people do not choose to have same-sex attractions, but they do choose to have homosexual conduct. And that's conduct also , which incidentally is against the law within the military. It violates the Uniform Code of Military Justice. It doesn't make any sense for us to be actively recruiting people who are going to be violating the Uniform Code of Military Justice.

MATTHEWS: Do you think we should outlaw gay behavior?

SPRIGG: Well, I think certainly it's defensible.

MATTHEWS: I'm just asking you, should we outlaw gay behavior?

SPRIGG: I think that the Supreme Court decision in Lawrence v. Texas, which overturned the sodomy laws in this country, was wrongly decided. I think there would be a place for criminal sanctions against homosexual behavior.

MATTHEWS: So we should outlaw gay behavior.

SPRIGG: Yes.
This is the guy who nearly two years ago said we should "export" gays: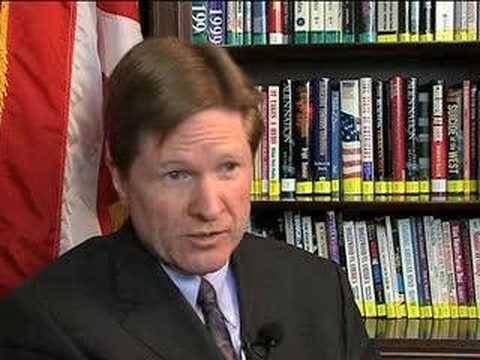 Uganda Parliament Takes Up Anti-Gay Bill Adding Death Sentence and Bans on Free Speech
Jim Burroway
October 14th, 2009
Uganda's Parliament took up the new Anti-Homosexuality Bill of 2009 today, giving the bill its first reading. Bills undergo three readings before becoming law. BTB previewed the bill last month when we received a surreptitious copy dated April 20. According to the pro-government New Vision newspaper, the bill appears unchanged from the earlier draft:
Aggravated homosexuality will be punished by death, according to a new bill tabled in Parliament yesterday. …A person commits aggravated homosexuality when the victim is a person with disability or below the age of 18, or when the offender is HIV-positive. The bill thus equates aggravated homosexuality to aggravated defilement among people of different sexes, which also carries the death sentence.

The Bill, entitled the Anti-Homosexuality Bill 2009, also states that anyone who commits the offence of homosexuality will be liable to life imprisonment. This was already the case under the current Penal Code Act. However, it gives a broader definition of the offence of homosexuality. A person charged with the offence will have to undergo a mandatory medical examination to ascertain his or her HIV status. The bill further states that anybody who "attempts to commit the offence" is liable to imprisonment for seven years. The same applies to anybody who "aids, abets, counsels or procures another to engage in acts of homosexuality" or anybody who keeps a house or room for the purpose of homosexuality.

The bill also proposes stiff sentences for people promoting homosexuality. They risk a fine of sh100m or prison sentences of five to seven years. This applies to people who produce, publish or distribute pornographic material for purposes of promoting homosexuality, fund or sponsor homosexuality.
The bill's language prohibiting "promoting homosexuality" does not restrict itself to "pornographic material." That is an invetion of the New Vision reporter, who equates anything advocating on behalf of LGBT people as pornographic. Instead, the bill addresses anyone invloved in the "production, trafficking, procuring, marketing, broadcasting, disseminating, publishing homosexual materials," or "who acts as an accomplice or attempts to legitimize or in any way abets homosexuality and related practices."
The bill also adds an unusual extraterritorial jurisdiction for those who are Ugandan citizens but who engage in same-sex relationships or LGBT advocacy overseas.
Opposition to the bill appears minimal according to The New Vision. It is highly unlikely that many lawmakers will vote against the bill, given the current environment where accusations of homosexuality have become a potent political tool.
This drafting of this bill appears to have coincided with intense lobbying efforts by anti-gay activists following a conference held in Kampala which featured American Holocaust revisionist Scott Lively and Exodus International board member Don Schmierer. Exodus International released a statement "applauding" Don Schierer's participation in the conference which ended with calls to strengthen Uganda's homosexuality laws. Exodus International president Alan Chambers denies that Exodus supports criminalizing homosexuality. Scott Lively, however, defended criminal laws against gay people.
That anti-gay conference quickly spawned other anti-gay meetings and rallies, including a march on Parliament on April 24, about the time this draft was written. By then, rumors were already circulating that anti-gay politicians sought to eliminate free speech by criminalizing LGBT advocacy, a rumor which was confirmed in Julyby Uganda's Minister of State for Ethics and Integrity James Nsaba Buturo. Meanwhile, a full-fledged public vigilante campaign was released on Uganda's gay community, leading to several reports of arrests and investigations.
The full text of the draft is available here.
Click here to see BTB's complete coverage of recent anti-gay developments in Uganda.
Judge Jerry Buchmeyer (1933-2009)
Jim Burroway
September 21st, 2009
The Dallas Voice is reporting that Federal district court Judge Jerry Buchmeyer has passed away. Judge Buchmeyer declared Texas' anti-sodomy law unconstitutional in 1982, writing, "Homosexuals are not ill or mentally diseased… Homosexuality is not communicable… There is simply no rational connection between the acts proscribed by [the law] and the claimed interests of morality, decency, health, welfare, safety and procreation." Judge Buchmeyer's ruling in Baker v. Wade was later overturned by the Fifth Circuit Court of Appeals. Texas's anti-sodomy law remained on the books until 2003, when the U.S. Supreme Court overturned it in Lawrence v. Texas, a ruling that also swept away all other remaining anti-sodomy laws nationwide.
One of may notable points in Baker v. Wade is that Judge Buchmeyer had to deal with Paul Cameron, who was just starting out in his career as an "expert witness" on homosexuality. Let's just say Judge Buchmeyer wasn't impressed with Cameron's professionalism. In his written opinion, Judge Buchmeyer condemned Cameron by name for having "himself made misrepresentations to this Court," and called out two specific examples:
(i) his sworn statement that "homosexuals are approximately 43 times more apt to commit crimes than is the general population" is a total distortion of the Kinsey data upon which he relies–which, as is obvious to anyone who reads the report, concerns data from a non-representative sample of delinquent homosexuals (and Dr. Cameron compares this group to college and non-college heterosexuals);

(ii) his sworn statement that "homosexuals abuse children at a proportionately greater incident than do heterosexuals" is based upon the same distorted data–and, the Court notes, is directly contrary to other evidence presented at trial besides the testimony of Dr. Simon and Dr. Marmour. (553 F. Supp. 1121 at 1130 n.18.) n30
We have more details on those distortions here. Judge Buchmeyer's smackdown stung Cameron, who is still complaining about it on his Family Research Institute web site nearly thirty years later.
Judge Buchmeyer was nominated by President Jimmy Carter as federal judge for the Northern District of Texas on August 3, 1979. He was confirmed by the U.S. Senate on October 4, and received his commission on October 5, 1979. He served as chief judge from 1995 until his retirement in 2002. According to Wikipedia, he was known around the courthouse as a Talking Heads fan, and after retirement he maintained a legal humor blog with the Texas Bar.
Draft Anti-Gay Bill Circulating In Uganda
Jim Burroway
September 15th, 2009
Uganda appears to be inching closer to "strengthening" its already draconian anti-gay laws which already provide for a possible life sentence for those convicted of homosexuality. A draft of the proposed bill obtained by Box Turtle Bulletin indicates that Ugandan lawmakers intend to go much further.
In a draft dated April 20, 2009 and being circulated surreptitiously, the proposed bill creates an offense of "aggravated homosexuality" and provides for the death penalty under specific circumstances. It also provides for at least five years imprisonment (and no apparent maximum) for advocating on behalf of LGBT people. This extends not just to activists and organizations, but to individuals as well, including bloggers or anyone else using the internet or mobile phones — as well as anyone who makes a donation or offers a safe refuge for LGBT people. Furthermore, if anyone is "aware of the commission of any offense under this Act" and fails to report it to the police, they will be liable of up to six months imprisonment.
The draft also extends jurisdiction to people who are Uganda citizens or permanent residents but who commit offenses outside the country.  This could mean that LGBT Ugandans abroad who engage in advocacy work could find themselves in danger of being imprisoned should they return to Uganda. LGBT Ugandans fleeing the country could also face extradition should they find themselves in a similarly hostile country.
The accompanying memorandum calls on the Uganda government to withdraw from any international obligations or treaties which the government interprets as running counter to the country's anti-gay policies.
It is unclear at this time whether the proposed bill has undergone any modifications since April. There is no word yet on when the bill will be formally introduced into Parliament. It is believed that under current conditions when accusations of homosexuality have become a potent political tool, that few if any lawmakers will vote against the bill. It will be passed into law upon its third reading.
This drafting of this bill appears to have coincided with intense lobbying efforts by anti-gay activists following a conference held in Kampala which featured American Holocaust revisionist Scott Lively and Exodus International board member Don Schmierer. Exodus International released a statement "appauding" Don Schierer's participation in the conference which ended with calls to strengthen Uganda's homosexuality laws with a proposal to force LGBT people into ex-gay therapy upon conviction. That proposal does not appear in this draft.
That anti-gay conference quickly spawned other anti-gay meetings and rallies, including a march on Parliament on April 24, about the time this draft was written. By then, rumors were already circulating that anti-gay politicians sought to criminalize LGBT advocacy, which this draft appears to confirm. In July, Uganda's Minister of State for Ethics and Integrity James Nsaba Buturo confirmed their intention to eliminate free speech for and on behalf of LGBT people. Meanwhile, a full-fledged public vigilante campaign was released on Uganda's gay community, leading to several reports of arrests and reports.
The following is the full text of the draft that we received.
APRIL 20, 2009
THE ANTI – HOMOSEXUALITY BILL,   2009
 MEMORANDUM
1. The Principle
 The object of this Bill is to establish a comprehensive legislation to protect the traditional family by prohibiting (i) any form of sexual relations between people of the same sex; and (ii) the promotion or recognition of such sexual relations in public institutions as healthy, normal or an acceptable lifestyle, including in the public schools, through or with the support of any government entity in Uganda or any non- governmental organization inside or outside the country.  Research indicates that the  homosexuality has a variety of negative consequences including higher incidences of violence, sexually transmitted diseases, and use of drugs.  The higher incidence of separation and break-up in homosexual relationships also creates a highly unstable environment for children raised by homosexuals through adoption or otherwise, and can have profound psychological consequences on those children.  In addition, the promotion of homosexual behavior undermines our traditional family values.
Given Uganda's historical, legal, cultural and religious values which maintain that the family, based on marriage between a man and a woman is the basic unit of society. This Bill aims at strengthening the nation's capacity to deal with emerging internal and external threats to the traditional heterosexual family.  These threats include: redefining human rights to elevate homosexual and transgender behavior as legally protected categories of people.    
This legislation is aimed at halting the advance of the "sexual rights" agenda, which seeks to establish additional legally protected classes based on sexual preferences and behaviors, as well as claims that people have rights based on these preferences and behaviors.  Sexual rights activists have created new euphemisms to promote this agenda such as "sexual orientation," "gender identity," "sexual minorities" and "sexual rights."
This legislation further recognizes the fact that same sex attraction is not an innate and immutable characteristic and that people who experience this mental disorder can and have changed to a heterosexual orientation.  It also recognizes that because homosexuals are not born that way, but develop this disorder based on experiences and environmental conditions, it is preventable, especially among young people who are most vulnerable to recruitment into the homosexual lifestyle.
The Republic of Uganda needs comprehensive and enhanced legislation to protect our cultural, legal, religious, and traditional family values against the attempts of sexual rights activists seeking to impose their values of sexual promiscuity on Uganda.
There is also need to protect our children and youths who are made vulnerable to sexual abuse and deviation as a result of cultural changes, uncensored information technologies, parentless child developmental settings and increasing attempts by homosexuals to raise children in homosexual relationships through adoption, foster care, or otherwise. 
2. Defects in the existing law.
This legislation is designed to fill the gaps in the provisions of the constitution of Uganda and the penal code Act by establishing that, in Uganda, marriage is only between a man and a woman and that no other sexual unions or relationships will be recognized by the government. 
The Penal Code Act (Cap 20) does not directly address this issue of homosexuality. It instead talks about unnatural offenses under section 145. This section does not specifically talk about homosexuality as an offense. It does not even have any reference to homosexuality. Not surprisingly the Act does not have a definition for homosexuality in the definition section.
The Penal Code Act does not explicitly address the issue of same sex unions and gender identity disorders which are damaging the social fabric of our nation at an alarming rate. There are no provisions in the Penal Code Act panelizing the procurement, promotion, disseminating literature and other forms of report for the offenses of homosexuality hence the need for legislation to provide for charging, investigating, prosecuting, convicting and sentencing of offenders   on the above law. There is need for equal treatment of man and woman before the law in regard to homosexual offenses.
This legislation comes to complement and supplement the provisions of the Constitution of Uganda and the Penal Code Act by   not only criminalizing same sex marriages but same -sex sexual acts and other related acts.
3.1. The objectives of the Bill 
The objectives of the Bill are:
(a) To protect marriage as that only between a man and a woman in Uganda;
(b) To prohibit homosexual behavior and related practices in Uganda as they constitute a threat to the traditional family; 
(c) To safeguard the health of Ugandan citizens from the negative effects of homosexuality and related practices;
(d) To establish progressive legislation protective of the traditional family that can serve as a model for other countries;
(e) To prohibit ratification of any international treaties, conventions, protocols and declarations which are contrary or inconsistent with the provisions of this Act;  
(f) To ensure that no international instruments to which Uganda is already a party can be interpreted or applied in Uganda in a way that was never intended at the time the document was created; 
(e) To withdraw from any international agreements to which Uganda already is a party, or file reservations to them, which are re-interpreted to include protection for homosexual behavior, or that promote same-sex marriage, or that call for the promotion or teaching about homosexuality as being healthy, normal, or an acceptable lifestyle choice, or that seek to establish sexual behavior, sexual orientation, or gender identity, or sexual minorities as legally protected categories of people; and
(f) To prohibit Uganda from becoming a party to any new international instruments that expressly include protection for homosexual behavior; promote same-sex marriage; call for the promotion or teaching about homosexuality or homosexual relations as being healthy, normal, or an acceptable lifestyle choice; and/or seek to establish sexual behavior, sexual orientation, gender identity or sexual minorities as legally protected categories of people
3.2. Part 1 of the Bill incorporating clauses 1 and 2 provides for Preliminary matters relating to commencement and Interpretation of the words and phrases used in the Bill
3.3. Part II of the Bill incorporating clause 3 to clause 6 prohibits homosexuality and related practices by introducing the offences of engaging in homosexuality, and the penalties of imprisonment upon conviction. This part also creates offences and penalties for acts that promote homosexuality, failure to report the offence and impose a duty on the Community to report Suspected Cases of homosexuality.
3.4. Part III of the Bill incorporating of clause 7 to clauses 9 provides for the jurisdiction of Ugandan Courts in Case of Homosexuality, including extra territorial Jurisdiction.
3.5. Part IV of the Bill incorporating clauses 10 and 11 provides for miscellaneous provisions on International Treaties, Protocols, Declarations and Conventions and the Minister to make regulations to give effect to the Act.
4. Schedule 1 of the Bill gives the value of the currency.
Hon. David Bahati
MP, Ndorwa County West
Kabale
ARRANGEMENT OF CLAUSES 
PART I ­-PRELIMINARY
Clause.
1. Commencement
2. Interpretation
PART II – PROHIBITION OF HOMOSEXUALITY
3. Offence of Homosexuality
4. Aggravated Homosexuality
5. Promoting Homosexuality
6. Failure to report  offence
PART III – JURISDICTION
7. Jurisdiction
8. Extra – territorial Jurisdiction
9. Extradition
PARTIV – MISCELLANEOUS PROVISIONS
10. International treaties
11.  Regulations
 Schedule 1
Currency point.
PART I – PRELIMINARY
1 – Commencement
This Act shall come into force upon publication in the Gazette.
2 – Interpretation
In this Act, unless the Context otherwise requires –
"Gender" means male or female;
"Homosexuality" means same gender or same sex sexual acts;
"Homosexual" means a person who engages or attempts to engage in same gender sexual activity.
"Minister" means the Minister responsible for Ethics and Integrity.
 "Sexual act" means –
(a)  Stimulation or penetration of a vagina or mouth or anus or any part of the body, however slight of any person by a sexual organ;
(b)  The use of any object or organ by a person on another person's sexual organ or anus or mouth;
"Sexual organ" means-a vagina or penis.
 
PART II:  PROHIBITION OF HOMOSEXUALITY AND RELATED PRACTICES
3. Prohibition of homosexuality
(1)  Homosexuality is prohibited.
(2)  Any person who engages in homosexuality contrary to sub-section (1) commits an offense and on conviction is liable to a fine not exceeding 500 currency points or imprisonment not exceeding 10 years or both.
4. Aggravated homosexuality
(1)  Any person who commits the offense mentioned in section 3 above with another person who is below the age of 18 years in any of the circumstances specified in sub-section (2) of this section commits the  offense and on conviction is liable to suffer death.
(2)  The circumstances referred to in sub-section (1) are as follows: -
(a)   Where the person against whom the offense is committed is below the age of 14;
(b)   Where the offender is infected with HIV;
(c)  Where the offender is a parent or guardian or a person in authority over, the person against whom the offense is committed;
(d)  Where the victim of the offense is a person with disability; or
(e)  Where the offender is a serial offender.
(3)  Any person who attempts to commit the offense of homosexuality with another person below 18 years in any of the circumstances specifies in sub-section (2), commits an offense and is liable on conviction to imprisonment for life.
(4)  Where a person is charged with the offense under this section, that person shall undergo a medical examination to ascertain his or her HIV status.
(5)  Any person who without the consent of an adult victim being under their authority or not commits the offense mentioned in this section
5. Promotion of homosexuality
(1)  Any person who,
(a) Participates in production, trafficking, procuring, marketing, broadcasting, disseminating, publishing homosexual materials;
(b) Funds or sponsors homosexuality and related activities
(c) Offers premises and other fixed or movable assets
(d) Uses electronic devices which include internet, films, mobile phone and
(f) Who acts as an accomplice or attempts to legitimize or in any way abets homosexuality and related practices
Commits an offense and on conviction is liable to a fine of five thousand currency points or imprisonment of at least five years or both.
(2)     Where the offender is a corporate body or a business or an association or a Non-governmental organization conviction its Certificate of Registration shall be cancelled and the Director(s) or proprietors or promoter(s) shall be criminally liable. 
6. Failure to report the offense
Any person who being aware of the commission of any offense under this Act omits to report the offense to the relevant authorities within 24 hours commits an offense and on conviction is liable to a fine not exceeding five hundred currency points or imprisonment not exceeding six months year.
PART IV -JURISDICTION
7. Jurisdiction.
Save for aggravated homosexuality which shall be tried by the High Court, other offenses under this Act shall be tried by the Magistrates Court.
8. Extra – Territorial Jurisdiction.
This Act shall apply to offences Committed outside Uganda Where-
(1)  A person who, while being a citizen of, or permanently residing  in Uganda, Commits an act Outside Uganda, which act would Constitute an offence had it been Committed in Uganda.
(2)  The offence was committed partly outside and or partly in Uganda.
9. Extradition.
A person charged with offence under this Act shall be liable to extradition under the existing Extradition laws.
PART V-MISCELLANEOUS
10.  Nullification of inconsistent International treaties, protocols, declarations and conventions.
(1). Any international legal instrument whose provisions are contradictory to the spirit and provisions enshrined in this Act, are null and void to the extent of their inconsistency.
(2). The foreign definitions of "sexual orientation", "sexual rights", "sexual minorities", "gender identity" shall not be used in anyway to legitimize homosexuality, gender identity disorders  and related practices in Uganda.
11. Regulations.
The Minister may by statutory instrument make regulations to effect implementation of the provisions of this Act, and Promote the objects of this Act.
 SCHEDULE  1
CURRENCY POINT
One currency point is equivalent to twenty thousand Shillings.
Click here to see BTB's complete coverage of recent anti-gay developments in Uganda.
India's Reversal of Sodomy Laws to go Nationwide
Timothy Kincaid
September 2nd, 2009
In July, the Delhi High Court declared that India's law which criminalizes sex between consenting adults of the same gender is a violation of fundamental human rights. Since that time, various factions have argued against the decision and there was some uncertainty as to whether this was binding only in the Capital.
It now appears that the government will allow the decision to apply to the entire nation. (AFP)
The July verdict by the Delhi High Court was non-binding outside the Indian capital, meaning the government had the choice to appeal to the Supreme Court or repeal the law nationwide.

A note from the cabinet, reproduced by the CNN-IBN television network, recommended that the government should accept the court ruling while letting the Supreme Court rule on appeals by some religious groups.

Prime Minister Manmohan Singh is expected to make a final decision this week, but CNN-IBN said he was in favour of following the advice in the cabinet note.
Teen Arrested In Senegal For Homosexuality
Jim Burroway
August 21st, 2009
The International Gay and Lesbian Human Rights Commission (IGLHRC) reports that a 17-year-old Senegalese man from the town of Darou Mousty in Louga, Senegal, was arrested for sexual acts "against nature." The young man will stand trial on August 24. According to the IGLHRC, two other men, also from the same town, were convicted on identical charges during the week of August 10, 2009. They were sentenced to two and five years in prison respectively. According to the HRC, the only evidence against them were denunciations from neighbors.
All three men were arrested on June 19. A fourth man was arrested, but his current status is unknown. Homosexual acts are punishable in Senegal with prison terms of one to five years.
Nine AIDS workers were jailed earlier this year on similar charges. The judged sentenced them to prison terms ranging from one to eight years. He added three more years for being members of a "criminal group," presumably the HIV services organization they worked for which provided services for Senegal's beleaguered gay community. Tthe men were freed in April following an international outcry.
Uganda May Ban All LGBT Advocacy
Jim Burroway
July 3rd, 2009
Uganda's Minister for Ethics and Integrity, James Nsaba Buturo, announced at a press conference on Wednesday that he would be submitting a bill before the Uganda Parliament to ban all forms of expression in support for LGBT people in that country:
He noted that once the Bill is passed into law, it will be an offence to publish and distribute literature on homosexuality or advocate for it. He also stated that it would become impossible for homosexuals to address press conferences and attract people to their cause, once the Bill becomes law. He, however, declined to reveal the penalties for offenders.
Buturo acknowledged that several donor organizations have asked for the elimination of that nation's draconian anti-sodomy law. Many of those service organizations see the law as being a huge roadblock to their health and anti-HIV/AIDS efforts. Current law punishes homosexual acts with a lifetime sentence. Buturo was defiant against calls to ease these restrictions:
"I have been pressured by some donors to allow homosexuality, but I have told them they can keep their money and the homosexuality because it is not about charity at the expense of our moral destruction," Mr Buturo said.

Mr Buturo said the homosexual forces are very powerful and operating through powerful governments to have their desire fulfilled but Uganda will not succumb to any pressure to legalise unnatural sex and homosexuality in particular.
Click here to see BTB's complete coverage of recent anti-gay developments in Uganda.
Times of India: Delhi Court Ruling Legalizing Homosexuality Binding Nationwide
Jim Burroway
July 3rd, 2009
The Times of India answers the question of whether the Delhi High Court ruling which "read down" Section 377 of the India Penal Code is binding nationwide:
Since a high court has a limited territorial jurisdiction, is homosexuality decriminalized only in Delhi or the whole country? Although legal pundits are divided on this, the law laid down by a 2004 SC judgment implies that homosexuals across the country may rest assured that they too are entitled to the benefits of the historic Delhi high court decision on Section 377 IPC.

In Kusum Ingots vs Union of India, a three-judge bench of the Supreme Court had ruled: "An order passed on writ petition questioning the constitutionality of a Parliamentary Act, whether interim or final, will have effect throughout the territory of India subject of course to the applicability of the Act."
Thursday's Delhi High Court ruling touches on the constitutionality of an Act of Parliament in effect throughout the country like the one stuck down in Kusum Ingots vs Union of India, The Times concludes that this ruling is also binding nationwide. This makes the impact of this ruling staggering. With a population of over one billion people, seventeen percent of the world's gays and lesbians have now been legalized in one fell swoop.
The case is expected to be appealed to India's Supreme Court. Also according to The Times of India, the India government now appears unlikely to challenge the ruling to the Supreme Court.
[Hat tip: Rex Wockner]
Delhi High Court: Homosexuality Is Not A Crime
Jim Burroway
July 2nd, 2009
It appears that about seventeen percent of the world's population of gay people are about to become legal. The Delhi High Cort "read down" section 377 of the Indian Penal Code, striking India's law which criminalizes sex between consenting adults of the same gender. The court ruled that the law is a violation of fundamental human rights:
A bench of Chief Justice Ajit Prakash Shah and Justice S Muralidhar said that if not amended, section 377 of the IPC would violate Article 21 of the Indian constitution, which states that every citizen has equal opportunity of life and is equal before law.

The court said that this judgement will hold till Parliament chooses to amend the law.

"In our view Indian Constitutional law does not permit the statutory criminal law to be held captive by the popular misconception of who the LGBTs (lesbian gay bisexual transgender) are.

"It cannot be forgotten that discrimination is antithesis of equality and that it is the recognition of equality which will foster dignity of every individual," the bench said in its 105-page judgement.
This ruling, which is being hailed as "India's Stonewall" by India's LGBT advocates, appears to be legally binding only in the Union Territory of Delhi over which the Delhi High Court has jurisdiction. But it is expected to become an important precedent for the rest of the country. It is also expected that opponents will appeal the ruling to the Supreme Court.
The ruling overturns a 148-year-old colonial law left over from the British Raj. Homosexual acts were punishable with a ten year prison sentence.