Senegal Court Frees Nine Men Convicted Of Homosexuality
Jim Burroway
April 26th, 2009
Last January we reported on nine men who were sentenced to eight years in prison on charges of engaging in an "unnatural act." Those men were ordered free last Monday by a Dakar appeals court. According to Biram Sassoum Sy, the lead lawyer for the defense, the nine have been completely cleared and the case has been dropped.
Most of the defendants worked for HIV/AIDS programs targeting men who have sex with men. They were arrested at the home of a prominent gay activist in December without warrants, and police elicited confessions after mistreatment, according to the group's lawyers. Senegalese law provides for a five year prison sentence on conviction of homosexual acts, but the court piled on an additional three years for "criminal association."
The conspiracy charge appears to be related to their work with AIDES Senegal. The men were arrested only days after Senegal hosted the 15th International Conference on AIDS and STIs. This conviction has had a deep chilling effect among all HIV/AIDS workers in Senegal.
CORRECTION: Video Determined To Be From Iraq, Victims Likely Weren't Gay (Was: Video of Iranian Gays Thrown From Roof)
Jim Burroway
March 18th, 2009
This disturbing video comes to us via Gays Without Borders. It's how one country deals with the "crime" of homosexuality. This video shows Iranian gay men being thrown off of a rooftop as their sentence for homosexuality.  According to Gays Without Borders, this video purported to show Iranian gay men being thrown off the roof of a building as punishment. They apparently found the video on the French-language Iran-Resist.org web site, posted on Feb 21, 2009. Iran-Resist.org, in turn, appears to have obtained that video from IranPressNews, which published a story containing that video on Feb 20, 2009.  Gays Without Borders posted the video on March 5.
However, thanks to Steven Milerton we've been able to confirm that the video appeared much earlier in a 2003 CNN report, which showed troops from Iraq's Fedayeen Saddam throwing soldiers off the roof in order to "instill discipline."
A few hours before Steven left his comment, I posed a question asking Gays Without Borders to provide information as to the video's authenticity. That's how I got the two links to IRanPressNews and Iran-Resist.org. I am now attempting to notify Gays Without Borders about what appears to be the actual source of the video. 
Gays Without Borders has posted the video twice, once at the link where we first noticed it, and again as an introduction to a reprinted opinion piece by UK LGBT advocate Peter Tatchell. (Tatchell's original article does not include the video.)
Meanwhile, we have removed the misidentified video from BTB. We regret the error.
Update: Gays Without Borders has now taken down the video from their web site.
US To Call for Worldwide Decriminalization
Jim Burroway
March 17th, 2009
The Obama administration will endorse a U.N. declaration calling for the worldwide decriminalization of homosexuality that then-President George W. Bush had refused to sign, The Associated Press has learned.

U.S. officials said Tuesday they had notified the declaration's French sponsors that the administration wants to be added as a supporter. The Bush administration was criticized in December when it was the only western government that refused to sign on.

…The official added that the United States was concerned about "violence and human rights abuses against gay, lesbian, transsexual and bisexual individuals" and was also "troubled by the criminalization of sexual orientation in many countries."

"In the words of the United States Supreme Court, the right to be free from criminalization on the basis of sexual orientation 'has been accepted as an integral part of human freedom'," the official said.
In light of recent failures of American ant-gay leaders to denounce recently announced criminalizing initiatives in Uganda and elsewhere, this is very welcome news.
Nine Men Jailed in Senegal for Homosexuality
Jim Burroway
January 8th, 2009
Diadji Diouf, who heads an organization which provides HIV prevention services to gay men in Senegal, was been convicted along with eight other men of homosexuality and sentenced to eight years in prison. This depite the fact that Senegalese law only provides for five years in prison for homosexuality. The judge added three more years, claiming the men were also members of a "criminal group," presumably the HIV services organization.
Diouf's organization, AIDES Senegal, provided condoms and HIV treatment out of his apartment. Police raided his apartment on December 19 and arrested the men. The raid came just weeks after Senegal hosted an international AIDS conference which included LGBT participants.
The head of a Senegalese gay rights group, speaking anonymously to AFP news, said that conditions in the country were getting steadily worse for LGBT people. "Many gays are already fleeing to neighboring countries because of our living conditions," he said.
Is Pope Benedict XVI Just Being Ironic?
Jim Burroway
December 11th, 2008
The Catholic Church is not known for its ironic sense of humor. But how else do we read this statement from Pope Benedict XVI on the occasion of 60th anniversary of the Universal Declaration of Human Rights?
Some 60 years ago, on Dec. 10, the U.N. General Assembly, meeting in Paris, adopted the Universal Declaration of Human Rights, which still today constitutes a very high point of reference in the intercultural dialogue on liberty and the rights of man. The dignity of every man, really guaranteed only when all his fundamental rights are recognized, protected and promoted. The Church has always confirmed that the fundamental rights, beyond the different formulations and the different weight they might carry in the realm of the different cultures, are a universal fact, because they are inscribed in the very nature of man.

…I support these good wishes with the prayer that God, Father of all men, will enable us to build a world where every human being feels accepted with full dignity, and where relations between individuals and peoples are governed by respect, dialogue and solidarity."
The Vatican has taken a nonsensical, contradictory position by opposing a U.N. resolution calling for the elimination of anti-homosexuality laws around the world, even though a Vatican spokesman claims they oppose all criminal penalties against homosexuality. The Vatican has staunchly opposed the death penalty while opposing a measure calling on nations to lift the death penalty and other criminal penalties for LGBT people.
And despite all of that, the Pope calls for a world where people are "goverened by respect, dialogue and solidarity." What solidarity? What respect? What dialogue? I am truly at a loss for words.
I think maybe he's confused the meaning of Matthew 6:3. He must think it says, "Don't let your left hand catch what your right hand is doing.
U.S. Catholic Groups To Hold Vigils At Cathedrals
Jim Burroway
December 10th, 2008
Three Catholic groups which support LGBT equality have announced plans to hold vigils in five U.S. cities today to call attention to the Vatican's opposition to a U.N. resolution calling for the decriminalization of homosexuality. DignityUSA, New Ways Ministry, and Call To Action will hold vigils in the following locations:
Hundreds Protest Vatican's Opposition to Decriminalization of Homosexuality
Jim Burroway
December 8th, 2008
According to AFP, about 250 people protested in St. Peter's Square on Saturday over the Vatican's opposition to a U.N. resolution calling for member nations to decriminalize homosexuality.
Vatican spokesman Federico Lombardi exhibited more of the Vatican's intrinsically disordered logic by saying the Church opposed "all forms of violent or discriminatory penal law regarding homosexuals…. No one obviously wants to defend the death penalty for homosexuals." Some 80 countries have laws against homosexuality, with some including the death penalty or long terms of up to life imprisonment.
And yet the Vatican claims to oppose all "discriminatory penal law regarding homosexuals" by actively lobbying against a U.N. resolution calling for the repealing of all such laws. It certainly can't get any more contradictory than that.
Here is an Italian news report of the protest: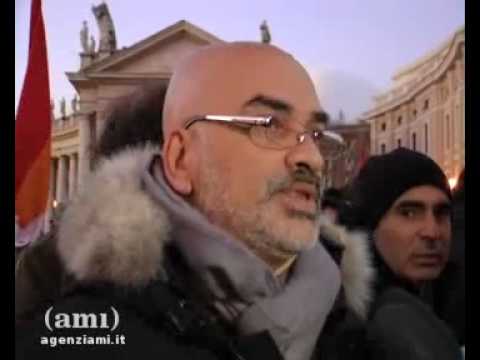 [Hat tip: Towleroad]
Vatican's Intrinsically Disordered Opposition To Decriminalizing Homosexuality
Jim Burroway
December 2nd, 2008
The Catholic church — as part of a what it sees as a consistent "pro-life" ethic — opposes the death penalty. But the Vatican's representative in the United Nations is opposing a measure calling on governments around the world to decriminalize homosexuality — including countries which impose the death penalty on gays:
Archbishop Celestino Migliore said the Vatican opposed the resolution because it would "add new categories of those protected from discrimination" and could lead to reverse discrimination against traditional heterosexual marriage.

"If adopted, they would create new and implacable discriminations," Migliore said. "For example, states which do not recognize same-sex unions as 'matrimony' will be pilloried and made an object of pressure," Migliore said.
The proposed measure does nothing to extend rights to anyone — unless you consider the elimination of the death penalty, imprisonment or fines for homosexuality a special right. Because that's all the proposed resolution does: it only calls for decriminalization.
Homosexuality is still punishable by imprisonment or fines in more than 85 countries. Some, including Afghanistan, Iran, Saudi Arabia, Sudan and Yemen, impose the ultimate penalty of death. A Vatican spokesman argues that the church is against all that, saying that "no one wants the death penalty or jail or fines for homosexuals." And yet the Vatican opposes a measure calling for the elimination of these very penalties that "no one wants." Because, according to the Vatican, the only way to prevent adding "new categories of those protected from discrimination" is to preserve the most egregious examples of discrimination — criminal sanctions against gay people.
No wonder an editorial in Italy's La Stampa called the Vatican's stance "grotesque." Me, I think that this sort of flawed and inconsistent reasoning is just instrinsically disordered.
Burundi Outlaws Homosexuality
Jim Burroway
November 23rd, 2008
The central African nation of Burundi adopted a new set of laws abolishing the death penalty for the first time in the troubled nation's history. The sweeping law was seen as an important reform. It incorporated parts of international law on genocide, war crimes and crimes against humanity. It includes important safeguards against torture as well as sexual violence against women and children.
It also criminalizes homosexuality.
The law was overwhelmingly passed by Burundi's Parliament, 90-0 with ten abstentions. It still needs to be ratified by the Senate and signed by President Pierre Nkurunziza, which is seen as a mere formality. Nkurunziza is described as an ex-Hutu rebel leader and born-again Christian, whose presidency has been marred by accusations of assassinations and torture. Burundi is still emerging from a twelve-year civil war that engulfed neighboring Rwanda.
[Hat tip: Stefano]
Today In History: Lawrence vs. Texas Begins Its Journey Through The Courts
Jim Burroway
November 20th, 2008
Ten years ago today, on November 20, 1998, John Geddes Lawrence and Tyrone Garner pleaded no contest to charges of violating the Texas "Homosexual Conduct" law which banned "deviant sexual intercourse with another individual of the same sex." They were convicted of the Class C misdemeanor by a Justice of the Peace in Houston, and were fined $250 with an additional $141.25 in court costs.
That conviction led to a series of appeals: the Texas Criminal Court (which rejected the defense's request to dismiss the charges), a three-judge panel of the Texas 14th Court of Appeals (which ruled the law unconstitutional), and the full nine-judge panel of the 14th Court of Appeals (which reversed the three-judge panel).
The appeals then reached the Texas Court of Criminal Appeals, which serves as Texas's Supreme Court for criminal cases. That court refused to hear the case, which left the lower court's decision standing.
Lawrence vs. Texas was then appealed to the U.S. Supreme Court, which agreed to hear the case. On June 26, 2003, the U.S. Supreme Court, in a 6-3 ruling, struck down the Texas anti-sodomy law, along with similar laws in twelve other states.
At last report, John Lawrence still works as a medical technologist in Houston. Tyrone Garner died in 2006 of meningitis.
Today In History: A Bugger Was Hung
Jim Burroway
August 12th, 2008
"Buggery" — the quaint British legal term for homosexual activity — was a capital offense until 1861, when the laws were finally relaxed to allow for life imprisonment. But that change came almost thirty years too late for Captain Henry Nicholas Nicholls, who was hanged 175 years ago today for the "abominable vice."
According to the London Courier:
Captain Henry Nicholas Nicholls, who was one of the unnatural gang to which the late Captain Beauclerk belonged, (and which latter gentleman put an end to his existence), was convicted on the clearest evidence at Croydon, on Saturday last, of the capital offence of Sodomy; the prisoner was perfectly calm and unmoved throughout the trial, and even when sentence of death was passed upon him. In performing the duty of passing sentence of death upon the prisoner, Mr. Justice Park told him that it would be inconsistent with that duty if he held out the slightest hope that the law would not be allowed to take its severest course. At 9 o'clock in the morning the sentence was carried into effect. The culprit, who was fifty years of age, was a fine looking man, and had served in the Peninsular war. He was connected with a highly respectable family; but, since his apprehension not a single member of it visited him.
[Hat tip: ExecutedToday.com (which proves that there is truly a blog for everything!) via Andrew Sullivan.]
Lawrence vs. Texas Revisited
Jim Burroway
June 26th, 2008
Driver error led me to prematurely celebrate the five year anniversary of the Supreme Court ruling which struck down anti-sodomy laws across the nation. Dr. Gregory Herek apparently is in better control of his blogging software than I am of mine.
Dr. Herek is a prolific researcher and professor of psychology at U.C. Davis. Today he posted excerpts from a longer article he wrote to commemorate the ruling. In it, he explores the role that social science played in that ruling and what it tells us today in our current debates over same-sex marriage. He concludes:
Because current debates about law and policy concerning sexual orientation inevitably raise questions about the nature of intimate relationships, parenting, family dynamics, and the personal impact of sexual stigma – phenomena that have been extensively studied by behavioral and social scientists – psychologists and other behavioral scientists have an ongoing role to play in communicating our knowledge to policy makers, jurists, and the public.

By doing so, we will continue to fulfill our longstanding commitment to take the lead in removing the stigma historically attached to homosexuality and same-sex intimate relationships.
Like everything else Dr. Herek writes, this is well worth reading and bookmarking.
This Week In History: Lawrence vs. Texas
Jim Burroway
June 23rd, 2008
It's been only five years since the United States Supreme Court struck down anti-sodomy laws with its 6-3 ruling in Lawrence vs. Texas. Writing for the majority, Anthony Kennedy said, "the intimate, adult consensual conduct at issue here was part of the liberty protected by the substantive component of the Fourteenth Amendment's due process protections." Sandra Day O'Connor wrote a separate concurring opinion, but she based her arguments on equal protection instead of due process. Dissenting were Antonin Scalia, Chief Justice William H. Rehnquist, and Clarence Thomas.
Update: The actual date when the decision was released was June 26, 2003. When I wrote this, I meant to post date it so it wouldn't show up until Thursday, which is the actual anniversary. I typically write these history things several days in advance. But given that this is a Monday and all, well … TA-DAH!
Raleigh, NC Pair Charged With Sodomy
Jim Burroway
May 25th, 2008
… even though Lawrence vs. Texas invalidated out all sodomy laws in the U.S. nearly five years ago.
What's worse, Nelson Keith Sloan, 40, was charged after calling police to his apartment complaining of an assault. Also charged, Ryan Christopher Flynn, 25, who was also charged with assault in addition to sodomy.
Flynn is using the "he asked for it" defense, claiming that they were engaging in rough "consensual" sex, a claim that Sloan denies.
"I didn't allow anything," he said Saturday after being reached at home by phone. "They knew it and turned it around and arrested me. I have never been so humiliated in all my life. It's just awful."

Police did not charge Flynn with any sort of sexual assault.
Sloan's outrage is completely justified. When someone is attacked and calls the police, the last thing that person expects is to be charged with a crime — in this case, a nonexistent one — unless the complainant filed a false report. One wonders how Raleigh police and the D.A. would have handled this had this been a woman attacked by a man.
Unbelievable.
Pam Spaulding has more background on recent attempts to wipe this anachronistic law off the books.
Russian Bill To Recriminalize Homosexuality Introduced
Jim Burroway
May 20th, 2008
365gay.com is reporting that a bill was introduced in Russia's lower house to recriminalize homosexuality, providing for up to five year in prison for anyone convicted of the crime. The bill, introduced Monday by Deputy Nikolay Kuryanovich, would also make it a crime for gays to congregate, which would prohibit meetings or gay pride marches .
It's unclear how far Kuryanovich's bill will go. Earlier this month, Russian Vanguard, a monarchist group with ties to the Russian Orthodox Church demanded that Article 121, which had banned homosexuality in the former Soviet Union, be restored.
Next week will mark the fifteenth anniversary of Article 121′s repeal. It was repealed on May 27, 1993.
Does Exodus Global Alliance Support Criminalization of Homosexuality?
Jim Burroway
April 8th, 2008
Mike Airhart at Truth Wins Out asks a very good question. They did in 2006. That's when Exodus Global Alliance sponsored a conference in Barbados. Here's the banner of their promotional flyer that year:
Exodus International, the American arm of the evangelical ex-gay movement, meets anti-gay violence in the U.S. with silence and opposition to anti-bullying measures. In Jamaica, homosexuality carries a maximum penalty of ten years at hard labor and Christian pastors there consider it offensive when we suggest that Christians ought not murder people. Meanwhile, murder music — with its explicit calls for burning, stabbing, and chopping gay people to death — fill the airwaves and dance halls. Somewhere in all of this stands the Exodus Global Alliance.
A Picture Is Worth Two Words
Jim Burroway
March 4th, 2008
Nicaragua Drops Sodomy Laws
Timothy Kincaid
November 15th, 2007

In a surprise move, Nicaragua dropped anti-sodomy laws from their books. Blabbeando reports:
In adopting a new national civil code on Monday, the Nicaraguan National Assembly sidestepped the longstanding law that penalized sodomy between members of the same-sex with up to five years in prison by overwhelmingly voting to approve a new civil code that simply did not mention it.
In a trend that seems to be growing in Latin American countries, this move was not the result of legislation or even focused lobbying but in a growing recognition by elected representatives that all persons are deserving of freedom. Sadly, in the US there would still be sodomy laws in a dozen states if the Supreme Court had not invalidated such laws. I wonder if it embarrasses some of the more conservative patriots in the US that developing nations in the Americas seem intent on usurping the title of Land of the Free.
(hat tip Queerty)
Homeland Security's "Suitability Matrix"
Jim Burroway
October 5th, 2007
The Department of Homeland Security retains the option of denying you a clearance for sodomy and other acts of "carnal knowledge." Seems incredible, but an applicant for a security clearance at NASA has the goods. It turns out that the Office of Personnel Management has published a quaintly-named "Suitability Matrix" (PDF: 12.6 MB/12 pages) which lists sodomy as a Severity C (with D being most severe) "criminal and moral conduct" issue for denying a clearance.
Lawrence v. Texas — or any other court ruling or law for that matter — has very little meaning in the age of terror.