Will Lou Engle Unleash Another "Nuclear Bomb" In Uganda?
Jim Burroway
April 22nd, 2010
Here is an audio recording of Lou Engle's The Call rally held in Las Vegas on September 25, 2007.  (I have posted the transcript after the jump for those with slow Internet connections.)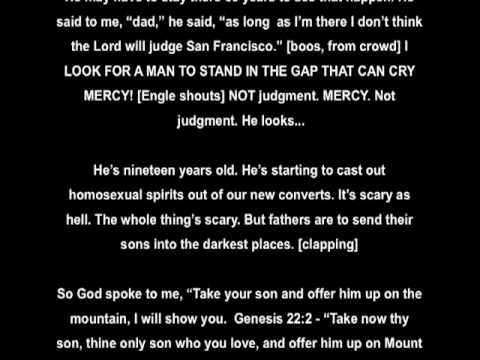 This provides a good idea of how Engle sees gay people, and it raises reasonable fears that he will provide similar over-the-top rhetoric when he holds another The Call rally in Kampala, Uganda on May 2.
Now compare Engle's rhetoric to Scott Lively's "Nuclear Bomb" from last year: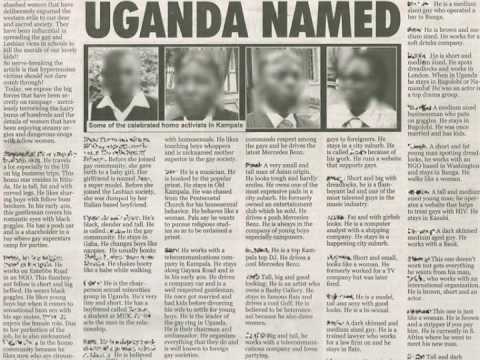 That talk, along with subsequent meetings with members of Parliament, added fuel to an already raging anti-gay bonfire, which eventually led to the introduction of the draconian Anti-Homosexuality Bill into Parliament later that year. That bill calls for executing gay people who happen to be HIV positive or who are "serial offenders" of homosexuality and related offenses — related offenses which include advocating on behalf of LGBT people, providing aid and services to LGBT people, and failing to turn LGBT people over to police.
That was just the official reaction. Unofficial reaction to that "Nuclear Bomb" include demonstrations, public outing campaigns of private individuals, arrests, and even at least one death.
This is the tinderbox that Engle will strut into with his flame-throwing rhetoric in a little more than a week. If he deploys similar rhetoric as he did in Las Vegas — and there's absolutely no reason to believe he will in any way modify his well-established routine — the aftermath will be entirely predictable. We have a well-documented precedent.
If Engle continues on his well-trodden course, he cannot pretend that no one can forsee the consequences of what he says. He risks unleashing another round of bloodletting in Uganda. And if he does, he will bear those stains for the remainder of his days.
Lou Engle, at Las Vegas, Sept. 25, 2007
See, people say, "Well, we don't want to be involved in politics. We don't want to be involved in this…" Come on! You better be involved in it all. The reason is because He's King of Kings and Lord of Lords. It's not a nice name that we use in our worship songs. He seeks to manifest it now, in this Earth, in preparation for the Millennial Reign of Christ. Right now, we begin to rule with him.
So what does he do? He promotes his guys to the highest realm, removes three guys, Shadrach, Meshach and Abednego are then promoted into the highest places. That's what he wants to do. He wants to top guys of the kingdom to rule!
And they don't do it with the [?]. They do it with servitude. They do it with meekness. They do it with fasting and prayer. And they do it with revelation. But they're better! They're ten times better!
…My son Jesse, he's nineteen years old. God has given him dreams to go to San Francisco to launch a house of prayer one lock from the Castro District, where the homosexuals boast the dominion of darkness. He's going there with weeping in his heart. With the dream that prayer is stronger than the dominion of that spirit.
He's not going with an angry right. He's going with violence in the heavens and a [?] on the Earth. He may have to stay there sixty years to see that happen. He said to me, "Dad," he said, "as long as I'm there I don't think the Lord will judge San Francisco. [The crowd boos.]
look for a man to stand in the gap that can cry Mercy! Not Judgment, mercy! Not judgment. …
He's nineteen years old. He's starting to cast out homosexual spirits out of our new converts. It's scary as hell. The whole thing's scary. But fathers are to send their sons into the darkest places.
So God spoke to me, "Take your son and offer him up on the Mountain. I will show you." Genesis 22:2: "Take now thy son, thine only son who you love, and offer him up on Mount Moriah." God's been speaking to us about this and I was weeping…. God said, "Send your son to San Francisco and offer him up on those mountains." And I'm thinking, "God, that's the worst place to send him." I couldn't deny…. I was burning in my heart and burning in his heart.
So I was praying about this: I was in Kansas City. You know, in this hotel. I was meeting with these people, and this girl said, "I just dreamed that my son… your son Jesse was in San Francisco and he was praying for the Free Man." St Francis — Francis means "free man." San Francisco is the city of the Free Man. And he said, "It's Mount Moriah Free Man."
I walk… that night I go to the IHOP [International House of Prayer] Meeting in KAnsas City. I'm driving out of the hotel, and the road, the driveway into the hotel, it goes right out into the mortuary and it says, "Mt. Moriah Free Man Mortuary." And I freak out. And I know the Lord… "Offer your son unto death for the sake of the homosexual in America."
What I am saying is that God wants every stronghold!
Comments