Lou Engle's TheCall Going To Uganda in 2010?
Jim Burroway
December 21st, 2009
Bruce Wilson at Talk To Action has uncovered some very troubling information. Lou Engle, organizer of TheCall who believes that gays are possessed by demons, may be planning on taking his violence-laden rhetoric to Uganda in 2010.
Wilson uncovered a couple of indications that plans are in the works for a massive stadium rally in Uganda for late spring of 2010. Jo Anna Watson, founder of Touching Hearts International, says her November 2009 ministry newsletter:
I attended the International Call Summit, October 28 -30 hosted by Lou Engle and Stacey Campbell. Over 20 participants for other nations were gathered who are interested in holding a Call in their nation. This summit was very informative as we were filled with the DNA of the CALL and encouraged to follow through with what God has placed on our heart. On October 30th I flew to Chicago to attend the last two days of Pastor John Mulinde\'s prayer summit. We met on Saturday to discuss in more detail and make preparations for the CALL Uganda to be held May 29, 2010. I will arrive in Uganda on January 6 and will be living in Uganda to partner with Pastor John Mulinde as we prepare and mobilize this Sacred Assembly, similar to the one described in Joel 2. I ask you to keep theCall Uganda and our team in prayer and if possible to fast one day a week or month, along with us, in preparation for the Call Uganda on May 29, 2010.
According to the Touching Hearts International web site, Watson has been traveling to Uganda yearly since 2002. According to a note on THI's home page, Touching Hearts International will partner with Kampala-based World Trumpet Mission, which is headed by founder John Mulinde. World Trumpet Mission also has extensive staff in Orlando, Florida under International Director Mark Daniel.
Three weeks ago, we discussed reports by Grove City College professor Warren Throckmorton and Talk to Action's Bruce Wilson describing the importance of  the Seven Mountains Mandate and Transformations theology as key connections between many U.S. evangelical anti-gay extremists and current events in Uganda. Mulinde is an adherent to Transformations theology, which calls on churches to establish theocratic control over governments and civil society. Another Transformations adherent, Julius Oyet, heads the Kampala campus of U.S. based College of Prayer International and has been identified as a key supporter of the proposed Anti-Homosexuality Bill which is now before Parliament.
If a rally by TheCall takes place in Uganda, this is the sort of reckless, fear-mongering and violence-inducing rhetoric we can expect: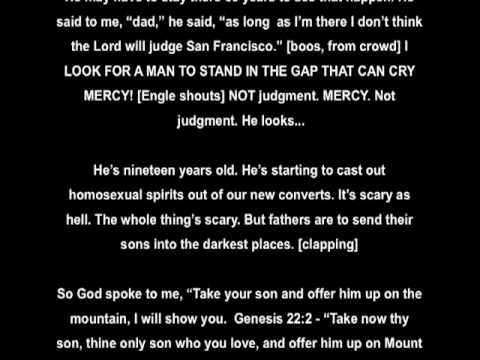 Click here to see BTB\'s complete coverage of recent anti-gay developments in Uganda.
Comments