Montana committee narrowly defeats removal of marriage ban language
Timothy Kincaid
February 5th, 2015
In November 2014, federal courts ruled that Montana's ten year old constitutional ban on same-sex marriage violates the US Constitution. Marriage equality has been in place since.
Montana's constitutional ban (along with statutory bans) on same-sex marriage remains on the books. Depending on how the Supreme Court rules in June, it is possible (though unlikely) that the marriage ban could be reinstated.
However, some Montana legislators decided to preempt the Supreme Court, and remove the ban from the civil code. This likely has no legal impact on the state constitution, but could serve as a symbolic gesture of support for equality.
House Bill 282 was authored by Bryce Bennett (D – Missoula) and today the Judiciary Committee voted on whether to bring it to the full floor. By a tied vote of ten to ten, the Judiciary Committee tabled the bill. It will not go to the full house at this time.
I do not yet have the vote breakdown. However, there were six Democrats on the Judiciary Committee and fourteen Republicans, which indicates that there was significant bipartisan support.
And the purple grows
Timothy Kincaid
November 20th, 2014
As Jim has let us know, we now can add Montana to the states in which one can legally marry their same-sex partner. Also, the Supreme Court has denied a stay in South Carolina and marriages there have begun.
We are now up to 36 states (plus the District of Columbia) in which there is marriage equality (purple).
There are four states in which federal courts have ruled for marriage equality but which are within the Sixth Circuit Court of Appeals, the only appeals court in which the bans on same-sex marriage have been upheld (red).
The remaining states are in circuits in which an appellate court has not ruled and, in some cases, in which neither a federal nor state court has yet heard the marriage question.
In Texas and Arkansas, federal courts have ruled for equality but the ruling is stayed pending appeal. In Florida, a pro-equality ruling is stayed until January. In Louisiana, a federal judge ruled for exclusion and a state judge ruled for equality (but under the federal, not state constitution).
Marriage Equality Has Finally Arrived To Big Sky Country (Updated)
Jim Burroway
November 19th, 2014
Federal District Judge Brian Morris has issued a ruling striking down Montana's ban on same-sex marraige. His reason for doing so was simple and straight-forward. It all comes down to Latta v. Otter, in which the Ninth Circuit Court of Appeals upheld a lower court's ruling which found Idaho's marriage equality ban unconstitutional. The U.S. Supreme Court declined to review the Ninth's ruling, which makes the Ninth's ruling binding on all courts with the Ninth Circuit. (Update: jutta is right in the comments; my memory was faulty. Neither Latta nor any other case from the Ninth Circuit has gone to the U.S. Supreme Court. The Ninth's ruling in Latta, absent a successful challenge, is nevertheless binding on all courts within the Ninth Circuit.) Montana is in the Ninth Circuit, so that pretty much settles the question for Montana (PDF: 76KB/18 pages)
…Defendants argue that Latta misinterprets these Supreme Court cases and arrives at the erroneous conclusion that Baker no longer serves as binding precedent. This Court has reviewed the analysis in Latta and agrees that Baker no longer precludes consideration of challenges to the constitutionality of laws that prohibit same-sex marriage. Nevertheless, even if the Court disagreed with the analysis in Latta, that analysis represents "binding authority" that "must be followed unless and until overruled." …
…The Ninth Circuit in Latta analyzed laws in Idaho and Nevada that imposed nearly identical prohibitions on same-sex marriages as the laws in Montana. Latta determined that these Idaho and Nevada laws discriminate on the basis of sexual orientation. Latta, *3. Montana's laws that ban same-sex marriage likewise discriminate on the basis of sexual orientation….
…The decision in Latta to apply heightened scrutiny to classifications based on sexual orientation, as developed in SmithKline, represents binding precedent. Hart, 266 F.3d at 1170. This Court must evaluate Montana's ban on same-sex marriage using the heightened scrutiny analysis. …
You get the idea. References to Latta appear thirty-five times in Judge Morris's ruling. He basically could have phoned this one in: "Go look up Latta." There's nothing legally original to this ruling, but it is nice to see Judge Morris add his own thoughts on the subject:
Plaintiffs who challenge these Montana laws that ban same-sex marriage come from diverse points across Montana. They hale from communities large and small – Butte, Great Falls, Helena, Bozeman, Billings, Charlo, and Philipsburg. Plaintiffs come from families that have lived in Montana for generations and from recently arrived families. They represent different walks of life that range from public employees, to military veterans, to retail managers, to marketers, to health care workers. They spend their free time engaged in activities that thousands of Montana families enjoy. These couples recreate in the beautiful outdoors that Montana offers. They cheer for their favorite teams at local sporting events. They practice their faiths freely as guaranteed by our Constitution.

And like many families in Montana, some of these same-sex couples raise children. … These families want for their children what all families in Montana want. They want to provide a safe and loving home in which their children have the chance to explore the world in which they live. They want their children to have the chance to discover their place in this world. And they want their children to have the chance to fulfill their highest dreams. These families, like all of us, want their children to adventure into the world without fear of violence; to achieve all that their talent and perseverance allows without fear of discrimination; and to love themselves so that they can love others. No family wants to deprive its precious children of the chance to marry the loves of their lives. Montana no longer can deprive Plaintiffs and other same-sex couples of the chance to marry their loves.
The ruling goes into effect immediately, although the state's Republican Attorney General Tim Fox has already announced that he intends to file a futile yet costly appeal. Hey Timothy! Where's the map?
Lawsuits Challenging Marriage Bans Filed in Montana, South Dakota
Jim Burroway
May 22nd, 2014
Yesterday, the ACLU filed a lawsuit in Federal Court in Great Falls, Montana on behalf of four couples challenging that state's constitutional amendment banning same-sex marriage. The state's Democratic governor, Steve Bullock, issued a statement supporting the lawsuit, saying, "Montanans cherish our freedom and recognize the individual dignity of every one of us. The time has come for our state to recognize and celebrate – not discriminate against – two people who love one another, are committed to each other and want to spend their lives together." But Republican Attorney General Tim Fox's office announced that he "will continue to defend Montana's marriage amendment vigorously."
And now today, Minneapolis attorney Josh Newville filed a lawsuit in Federal Court in Sioux Fall, South Dakota on behalf of six South Dakota couples challenging that state's ban on same-sex marriage. It also challenges Section 2 of the Defense of Marriage Act, which allows states to refuse to recognize legal same-sex marriages performed in other states. That's not the only interestnig twist in this lawsuit. It also claims three violations that are guaranteed in the 14th Amendment to the U.S. Constitution: deprivation of equal protection, due process and right to travel, based on the fact that as soon as a married couple crosses state lines, all of the protections that their marriage provides can vanish. Attorney General Marty Jackley (R) had earlier announced that "It is the statutory responsibility of the attorney general to defend both our state constitution and statutory laws, which I intend to do if a lawsuit is filed."
There have been so many lawsuits filed over the past year that it has become virtually impossible to keep up with them — at least for us here at BTB who all hold real full-time jobs. But I wanted to note these developments because with these two lawsuits, there is now only one state, North Dakota, with a same-sex marriage ban and no lawsuit to challenge it. That may not last long. Newville says he's been contected by several North Dakota couples and is seriously considering their request for representation.
Montana takes a DADT approach to tax filing status
Timothy Kincaid
October 2nd, 2013
The Montana Revenue Director Mike Kadas has said that same sex couples in Montana cannot file joint state income tax returns – even if they do have a valid marriage from another state and their federal filing status is 'married'. However, he won't be asking. (Billings Gazette)
He told the committee the department has had few cases in which a taxpayer's marriage status has been at issue.

"Therefore, we do not believe any compliance initiatives associated with verifying the marital validity of any type of marriage, opposite sex or same sex, is necessary," he said.

Kadas said if the agency undertook a compliance initiative effort to verify marriages, it would apply to all types of marriages — opposite sex, same sex and common law. That would require the department to ask taxpayers to provide it with information that supports their claim that they have a valid marriage, he said.

Unfortunately, the department has no other means to verify taxpayers' marital status other than directly asking them, Kadas said. That is something that at least some taxpayers would find to be intrusive, he said.

"We are also confident that if we did undertake a marriage compliance initiative, the cost of such an initiative would far outweigh any financial benefit received from enforcing Montana's tax laws," he said.
You Won't Be A Felon In Montana Much Longer
Jim Burroway
April 11th, 2013
Montana's law currently reads: "'Deviate sexual relations' means sexual contact or sexual intercourse between two persons of the same sex or any form of sexual intercourse with an animal." Section 45-5-505 then provides the penalties.
45-5-505. Deviate sexual conduct.
(1) A person who knowingly engages in deviate sexual relations or who causes another to engage in deviate sexual relations commits the offense of deviate sexual conduct.

(2) A person convicted of the offense of deviate sexual conduct shall be imprisoned in the state prison for any term not to exceed 10 years or be fined an amount not to exceed $50,000, or both.

(3) The fact that a person seeks testing or receives treatment for the HIV-related virus or another sexually transmitted disease may not be used as a basis for a prosecution under this section and is not admissible in evidence in a prosecution under this section.
That last clause suggests that the Montana legislature found time to reconsider the law sometime over the past thirty years and decided to leave it in place. The law was struck down by the Montana Supreme Court in 1997, but lawmakers have, until now, refused to remove it from the statutes.
During Tuesday's floor debate of the Montana House of Representatives on a bill for a final vote to remove that law from the state's books, opponents sought to clarify why they thought the bill should be kept. KXLH TV posted a clip online of Rep. Dave Hagstrom (R-Billings) saying:
I have a lot of love and respect for a whole number of homosexual friends, so there's no homophobic issues going on here at all with me. My question is, what's the purpose of sex?

… I'll just speak to the bill. I'm going to vote no on this bill, but it's just for this reason. I don't think that homosexual sex is necessarily not deviant. "Deviant" isn't a bad word. Deviant simply means that it's not normal, it's not typical. I kinda liken it like this: this pen has two purposes. The first purpose, of course, is to write. The second purpose is to retract so that it doesn't leave a stain on your shirt or your purse. So it has two purposes, but one is primary and the other is secondary. To me, sex is primarily purposed to produce people. That's why we're all here. Sex that doesn't produce people is deviate. It doesn't mean that it's a problem. It just means it's not doing its primary purpose.
According to Hagstron, about 99% of all heterosexual sex is also deviate sex. Hagstrom only has four children. Poor guy. Also, I was looking forward to meeting his "whole number of homosexual friends," but then I drew on my outstanding Catholic school education and remembered that whole numbers were just numbers without fractions, including zero.
Another Representative was more blunt:
Representative Jerry Bennett (R-Libby) told the House he pledged his life to his wife and to God and supporting the bill would violate those pledges.

"It is the thief, the devil, that comes to steal our life, to kill us, to rob us. Christ said I come so that you might have life to the fullest," Bennett said. "That's my desire for everyone here."
Those voices are what's left of an ever-shrinking minority. The House voted Tuesday, 64-36 to advance the bill for a third and final vote. That vote took place on Wednesday, with the House passing it, 65-34, and sending it to Gov Steve Bullock (D) for his signature.
Gay, Pro-Gay Candidates Win Big
Jim Burroway
November 9th, 2011
Yesterday was a very good day for gay and -pro-gay candidates throughout the country. Here is a wrap-up. Please let me know what else is out there in the comments.
NOM Loses Big: Same-sex marriage remains secure in Iowa as Liz Mathis won big, 56-44%, over her NOM-backed opponent, Cindy Golding, in a special election for the Iowa state Senate. The National Organization for Marriage threw about $40,000 toward their failed attempt to elect Golding by making same-sex marriage an issue in the race. But soon after it was clear Golding lost, NOM's cultural director Thomas Peters tweeted: "That's what happens when a state GOP nominates a weak candidate." Wow. Talk about your fair weather friends.
Virginia's First: Adam Ebbin became the first openly gay state senator in Virginia after defeating his Republican challenger by a margin of 64-35%. His district, which is solidly Democratic, includes parts of Alexandria, Arlington, and Fairfax counties.
First Openly Gay, African-American Republican Mayor: At least that's what we think happened when Bruce Harris was elected mayor of Chatham Borough, New Jersey.
Charlotte's First: LaWana Mayfield became the first openly gay city council member as part of a Democratic landslide in North Carolina's largest city. North Carolina, which will see a marriage amendment on the ballot next year, saw a number of other LGBT victories:
Chapel Hill Mayor Mark Kleinschmidt won re-election with 78% of the vote.
Lee Storrow, a gay 22-year-old UNC grad won his race for a seat on the Chapel Hill city council.
Carrboro incumbent Alderwoman Lydia Lavelle was re-elected to another term for city council.
Cincinnati's First: Chis Seelbach became the first openly gay city council member. He worked in 2004 to help defeat Article XII in the city charter which banned anti-discrimination ordinances for gay people.
Indianapolis's First: Zach Adamson became the first openly gay city council member. S
Missoula's First: Caitlin Copple became the first openly gay city council member. She defeated one of only two city council members who voted against the city's anti-discrimination ordinance in 2010, which made Missoula the first city in Montana to provide discrimination protections in housing and employment regardless of sexual orientation or gender identity.
Youngest Mayor: Alex Morse, 22, beat incumbent mayor Mary Pluta in Holyoke, Massachusetts, to become the nation's youngest mayor.
Houston Re-elects: Mayor Annise Parker was re-elected with more than 50% of the vote, a margin which allows her to avoid a run-off. Mike Laster also became the first openly gay member of Houston's city council.
Traverse City Supports Anti-Discrimination Ordinance: Voters in Traverse City, Michigan voted by a 2-to-1 margin to keep an anti-discrimination ordinance.  The vote came more than a year after Traverse City adopted the ordinance to prevent discrimination against gays in employment, housing and other areas. Opponents of the measure collected signatures to place a referendum for repeal on the ballot.
And on a final note, there were a number of gains in school board elections around the country which I didn't cover, but I would like to point one out anyway: Daniel Hernandez, Jr., Rep. Gabrielle Gifford's openly gay intern, was elected to as seat on the board of the Sunnyside Unified School District in Tuscon's south side. Hernandez was one of the recognized heros during the January shooting at a Northwest side Safeway which killed  six and critically injured Rep. Giffords. And on a more personal note, I couldn't be happier about the stunning news that Arizona Senate President Russell Pearce, architect of infamous anti-immigrant S.B. 1070 which was later found unconstitutional, was ousted by voters in favor of a political newcomer in Mesa.
Montana "Pastor" Blames Gays For His Legal Woes
Jim Burroway
September 30th, 2011
Last February when Hamilton, Montana "pastor" Harris Himes (I'll get to the scare quotes in a minute) spoke before a Montana House committee in favor of a statewide ban on all protections for gay people, he said the ban was justified because the Bible condemns gay people to death. Since then, the president of Montana's chapter of  Phylis Schlafly's Eagle Forum has been charged with six felonies, in an alledged scheme to convince an investor to put in $150,000 to fund a phony company:
According to court records, Himes and (James "Jeb") Bryant claimed to own a business, Duratherm Building Systems, and promised at least one investor a large return on his $150,000. But the investor claimed to have never received any returns or confirmation of sale, nor could he get his money back.

Duratherm Building Systems was connected to another company, Monarch Beach Properties, which Himes and Bryant claimed was a "type of parent corporation." The state investigation revealed several inconsistencies with respect to these companies. For one, Monarch is solely owned by Bryant and his wife, and the business address linked to the money-wiring instructions given to the alleged victim is for an apartment complex in Rockville, Md. The state of Maryland has no listing for Monarch.
Duratherm Building Systems reportedly operates in Mexico, where Bryant spends most of his time.
And speaking of schemes, further investigation that Himes's "church," Big Sky Christian Center, is located inside a post office box in Hamilton.
Himes claims to have been ordained as a pastor by Chuck Smith of Calvary Chapel, where he served for a few years, said Pastor Kevin Horton. But Himes split from the chapel, Horton said, and proclaimed himself pastor of the Big Sky Christian Center, which lists its address as Himes' post office box.

"For the first five years, we didn't think much of him," Horton said. "But to call him a pastor isn't accurate because he doesn't have a church. There are accountability structures built into a church. He's a self-proclaimed pastor, and at our last ministerial meeting, we discussed what we could do with Himes."
Himes now says that's not the only scheme in town. The pastor with the tiny, tiny church-in-a-box nows says that gays and abortionists are behind his legal troubles.
Montana House Blocks Attempt to Decriminalize Homosexuality
Jim Burroway
March 30th, 2011
The Montana House last night shot down an attempt to remove the state's law making consensual gay sex illegal. Even though laws like Montana's was struck down by the 2003 U.S. Supreme Court decision Lawrence v Texas, Montana lawmakers in the house moved to preserve the unconstitutional law yesterday:
The motion by Rep. Diane Sands, D-Missoula, to blast Senate Bill 276 out of the House Judiciary Committee, received 51 votes in the 100-member House but failed to secure the 60 votes needed. The vote was 51-47.

The Senate passed SB276, by Sen. Tom Facey, D-Missoula, 35-14, but the House Judiciary Committee tabled the bill.

Before the court ruling in 1997, gays and lesbians in Montana risked being charged with felonies and if convicted, they could have faced a maximum penalty of a 10-year prison sentence and a $50,000 fine, said Sands, a lesbian.
Incredibly, this was the reason given for the law's retention:
Judiciary Chairman Rep. Ken Peterson, R-Billings, who is an attorney, said the Supreme Court didn't find the law unconstitutional.

Its ruling held that same-sex adults, in private, not-for-commercial purposes, are protected by the right to privacy, Peterson said. The court didn't say the law was unconstitutional, he said.

"It should not be repealed because of situations it might apply in," he said.
In other arguments to keep the law, Rep. Michael More, R-Gallatin Gateway, reportedly cited Scripture, natural law and "eternal law."
Montana's confusing day
Timothy Kincaid
February 23rd, 2011
The legislature in Montana has been having a lot to say today about gay folk. And it's all over the place.
The Senate decided to remove the unenforceable anti-gay language from their books: (Gazette)
The Montana Senate has voted to remove an obsolete state law that criminalized homosexual relations.

The state Supreme Court struck down the law in 1997. Senate Bill 276 would remove the language from state code.

The Senate endorsed the bill Wednesday 41-9.
While the House voted to reverse any municipality's LGBT non-discrimination ordinances.
Montana House Votes to Ban All LGBT Protections
Jim Burroway
February 23rd, 2011
Montana's House voted 60-30 to pass House Bill 516, which would prohibit any local government from passing any anti-discrimination ordinances to protect LGBT people. The bill, written by Tea Party-backed Rep Kristin Hansen (R-Havre), was written in response to a 2010 Missoula ordinance that bans discrimination against city residents based on their sexual orientation, gender identity, or gender expression. The bill faces a final vote in the House before moving on to the Senate.
Hansen represents the branch of the G.O.P. which advocates for local control of important issues which impact the community without interference from higher levels of government, except for where they don't.
Update: During testimony for Hansen's bill in the Montana House Judiciary Committee, pastor Harris Himes of the Hamilton, MT's Big Sky Christian Center and an attorney for the Alliance Defense Fund, testified in defense of HB516, saying that LGBT people should be discriminated against because the Bibles condemns them to death: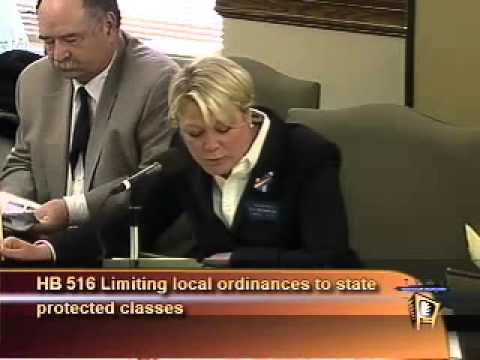 Montana GOP lawmaker seeks to repeal anti-gay law
Timothy Kincaid
September 20th, 2010
Back in June we, along with many others, noted that the platform of the Montana Republican Party included this position:
We support the clear will of the people of Montana expressed by legislation to keep homosexual acts illegal.
As it turns out, this was a position that had sat in their platform since 1997 and no one really noticed that it was there. But the attention proved to be embarrassing to some in the party. (AP)
"I looked at that and said, 'You've got to be kidding me,'" state Sen. John Brueggeman, R-Polson, said last week. "Should it get taken out? Absolutely. Does anybody think we should be arresting homosexual people? If you take that stand, you really probably shouldn't be in the Republican Party."
Revising the Party platform requires a process involving committees and conventions and cannot happen over night. However, this has prompted Brueggeman to take action where he can. He is going after the defunct sodomy law that, though unenforceable, still sits on the Montana law books. (Bozeman Daily Chronicle)
State Sen. John Brueggeman says he is requesting a draft of a bill to strike down the law. The bill would be considered by the 2011 Legislature, which convenes in January.
…
The Polson Republican has criticized the GOP platform statement. He now says Montana shouldn't have such a discriminatory law, even if it can't be enforced.
I guess a little embarrassment can be a motivator.
Bozeman, MT To Support Marriage Rights
Jim Burroway
September 18th, 2010
The Bozeman, Montana, city commission is expected to pass a resolution voicing support for a lawsuit by seven same-sex couples for marriage rights in the state of Montana. Two Bozeman couples are part of the lawsuit.  All five members of the city commission say they support the resolution, and Mayor Jeff Krauss believes that Bozeman can set an example for all of Montana:
"These couples are really walking out on a limb to put their faces forward, to put their stories forward, and I think they deserve the support," Krauss told the Chronicle.

…A draft of the resolution the Bozeman City Commission plans to consider states that, "the Montana 'marriage amendment' precludes same-sex marriages, it does not preclude all couples from having the same fundamental rights of individual dignity, privacy, due process and the pursuit of life's basic necessities guaranteed to all Montanans under the Montana Constitution's Declaration of Rights.

"Same-sex couples are denied the basic legal rights of different-sex couples to succession to property upon the death of a spouse, employment rights, tax benefits, health insurance, rights to visitation in the event of illness, health care decisions, fish and game law licensing and many more," the resolution continues.
The American Civil Liberties Union filed the lawsuit on behalf of fourteen plaintiffs against the state of Montana in July. The ACLU claims that the state is violating the Montana Constitutional by denying same-sex couples many of the rights that married couples enjoy in health care, financial matters, inheritance, and other matters. The lawsuit calls for providing these rights through a civil union or domestic partnership arrangement in order to comply with the state constitution's ban on same-sex marriage.
Montana Tea Party Members Back Canned President
Jim Burroway
September 9th, 2010
When the board of Montana's Big Sky Tea Party Association voted to remove president Tim Ravndal over comments he posted on Facebook which appeared to have mocked Matthew Shepard's murder, Tea Party leaders characterized the move as evidence that the Tea Party is not interested in anti-gay issues. But it turns out that grass roots members of Montana's Tea Party are very interested, and are voicing their objection to Ravndal's removal. The the board has now promised to consider reinstating his membership:
[Board member Tom Baird] called the move [to remove Ravndal] "a knee-jerk reaction that cannot be reversed." He abruptly left the meeting, saying he was resigning from the organization. "My worry is that the association will turn tail and run in the opposite direction," he said.

Board member Bobette Madonna abstained from that vote, but joined the group consensus that Ravndal could have been perhaps just reprimanded and removed from leadership, and that the complete ejection was too quick and harsh.

"What happened to Tim is cruel, it's unnecessary," said Madonna. "They're making a fool of people who are responsible and decent."
Kristi Allen-Gailushas, a GOP nominee for state legislator, had resigned her position as the group's secretary and posted a comment on her Facebook page announcing, "The Gay community wants a war….They've got one!!" According to the Helena Independent's account of the Big Sky Tea Party Tuesday night meeting, her post wasn't discussed. In fact, there doesn't even appear to be that much discussion over Ravndal's post either, just the fallout and the need for damage control. Board chairman Roger Nummerdor remarked, "It's such a small comment, but it has big implications. And the implications will hurt us, You know as well as I do they're looking for a target."
Montana Tea Party Removes President Over Anti-Gay "Joke," Group's Secretary Resigns In Protest
Jim Burroway
September 7th, 2010
There has been a lot of talk about the Tea Party's insurgence being a benign development as far as LGBT rights are concerned. When journalists ask national Tea Party officials what the movement's position is concerning LGBT equality, they reliably demur, saying that the only thing they care about is the deficit — and lately, newer wedge issues like immigration and Muslim-Americans. Gays? No problem.
The problem I have with that is that everyone wants to tell you that the Tea Party is not a top-down movement, but a spontaneous uprising from among people who are disturbed that our president is an immigrant Muslim who plunged our nation into debt. Or something like that. So, if it's really a spontaneous grass-roots movement, why is anyone bothering to ask Tea Party leaders? Shouldn't they be talking to the grass roots? Like, say, the Plymouth Rock and South Boston Tea Parties?
Montana's Tea Party, on the other hand, is trying to tilt the lever back away from social issues,  but not generating quite a bit of controversey within its own ranks. In a July facebook posting, Tim Ravndal, the President of Montana's Big Sky Tea Party Association, responded to an ACLU lawsuit over domestic partnerships by writing that he thought marriage should be between a man and a woman. Unfortunately, his comments didn't end there:
Then Ravndal expressed support for a commenter who (in apparent reference to the Matthew Shepard murder) said, "I think fruits are decorative. Hang up where they can be seen and appreciated. Call Wyoming for display instructions."

Answered Ravndal: "Where can I get that Wyoming printed instruction manual?"
To Montana's Big Sky Tea Party's credit, they booted Ravndal from the party following an emergency meeting.
We are extremely disappointed by Mr. Ravndal's commentary," wrote Walker, who could not be reached for this story. "The discussion in that Facebook conversation is entirely outside the position of the Big Sky Tea Party. Even though Mr. Ravndal was having a personal conversation and made no reference to our group, we felt strongly that swift and decisive action was required as we cannot accept that sort of behavior from within our membership, let alone from an officer of the corporation.

"We continually make it known that we will not tolerate bigoted dialog, behavior or messages at our functions, our meetings or within our ranks," Walker continued. "If a person demonstrates bigotry relative to race, sex, ethnicity, etc. they are not welcome in our organization. The Tea Party movement is about standing up for individual freedom for everyone."
In case you were wondering, I think we're supposed to assume that sexual orientation and gender identity and expression are meant to fall under "etc."
Not all Tea Partiers in Montana are on board with that decision. Kristi Allen-Gailushas, secretary of the Big Sky Tea Party Association and Republican nominee for a state legislative seat, announced that she is quitting the group over Ravndal's removal. The Helena Independent Record reports that Allen-GAilushas may have facebook problems of her own. Following Ravandal's removal, Allen-Gailushas posted to her facebook page, "The Gay community wants a war…they've got one!!"
The Montana GOP platform currently calls for "legislation to keep homosexual acts illegal." Apparently the U.S. Supreme Court has no jurisdiction in Montana.